May, 28, 2013
5/28/13
6:52
AM ET
The thing about Mike Tyson was that everybody saw him coming. From the opening bell it felt as if his opponents were fighting from check, trying to avoid the savage exchange that would end, inevitably, in a violent checkmate. He was cageside for UFC 160, and to this day his celebrity transcends the fight game. When the MGM Grand flashed him on the screen, the place filled with that same old familiar apprehension and awe.
The thing about
TJ Grant
is, nobody saw him coming, apart from a few Nova Scotia residents and prelim connoisseurs. Grant came into his fight with
Gray Maynard
as a slight underdog. He had won four fights in a row at his new weight of 155 pounds, but in a standing-room only division of elites, he was a sort of fringe. When he crashed Matt Wiman's momentum in January, the UFC saddled him with Gray Maynard, who had to drop out of a more profiled fight with
Jim Miller
because of a knee injury. In the interstices, things changed.
Anthony Pettis
volunteered for a fight with
Jose Aldo
at 145 pounds,
Gilbert Melendez
lost to
Benson Henderson
and Miller fought (and lost to)
Pat Healy
.
Somehow, Grant's fight with Maynard became a conditional sort of No. 1 contender bout.
And did he ever make the most of it. Grant stood toe-to-toe with the hard-hitting Maynard, and ate a heater that made his ears ring. But then he got his in. He rocked Maynard with a shot that sent him reeling. As he reeled on the fence, Grant smelled blood on the water and slammed a knee into Maynard's head. He then pursued him with a flurry of big shots that dropped Maynard for good. The win was emphatic enough for Dana White -- on the fence about whether Grant should get the shot or not, given his perpetual prelim residence of yore -- to put Grant's odds of fighting for the lightweight belt next at "100 percent."
You know who else liked it? Mike Tyson. There was something in Grant's kill-switch that rang home for him. Though Junior dos Santos' late spinning wheel-kick knockout of
Mark Hunt
went in for frills, Grant's KO of Maynard was a blood-dimmed tide. So, when White got ready to award dos Santos with a bonus check for knockout of the night, Tyson inserted that it should go to Grant. And so it did.
And so the next title shot does.
FIVE QUESTIONS ANSWERED
Can things be different for Bigfoot this time?
Of course! He lasted a full 17 seconds longer with Velasquez the second time through, but once again the referee was prying Velasquez off of him while screaming "that's enough already!" Silva didn't agree with the stoppage, but at that point in the fight his resistances were down to nothing.
Can Hunt KO dos Santos?
He came awfully close to proving that he could, but could never square the follow-up shot to dos Santos' chin. To his credit, he ate a couple of harrowing shots himself, and still managed to last into the final minute of a three-round fight with a crusher like "Cigano."
Is there still wonder to Wonderboy?
Let's put it this way, what
Stephen Thompson
did to
Nah-Shon Burrell
was passable, but it wasn't spectacular. Yes, he whizzed a couple of kicks by Burrell's head (and landed a couple, too), but it was more of a grind than anything. In our basic Wikipedia sense, though, a win's a win.
Is Cain Velasquez the greatest heavyweight champ ever?
This question was posed before the fights somewhat purposefully prematurely. Though it can be asked with a little more timeliness now, the win over Silva realistically only proves that he can guard against complacency. If he works JdS over again, like he did last time? Gentleman, start you coronations!
Does KJ Noons belong in a fight with Donald Cerrone?
That was a licking that Noons took at the hands of Cerrone, yet he hung around long enough to hear the judge's scorecards tell him what we already knew -- no, he didn't belong in that fight with "Cowboy."
FIVE NEW QUESTIONS
Ready for the big trilogy?
Junior dos Santos
took Cain Velasquez's belt back in 2011 with such an effective, tree-felling punch that it was almost unspectacular. Velasquez responded with a five-round battery to reclaim that belt. Now, with a couple of obstacles out of their way, it's time for dos Santos/Velasquez III. Can you dig it?
Where does Hunt go from here?
There's no shame in the way Mark Hunt lost. There was a moment in that first round where he had dos Santos staggered and was very close to cueing the knell with a couple of bombs that just missed. What now? Could roll out Hunt versus
Josh Barnett
or Hunt versus
Antonio Silva
or, eventually, Hunt versus
Roy Nelson
, and there'd be no complaints.
Teixeira as contender?
With his submission of James Te Huna,
Glover Teixeira
is now 4-0 in the UFC, and 19-0 going back to 2005. If that doesn't scream "Geronimo!" in the UFC's light heavyweight division, nothing will. But with the logjam right now, Teixeira -- no fool -- requested a fight with the winner of
Rashad Evans
/
Dan Henderson
next. Sounds good to us.
Can you see the Forrest, through the trees?
In the aftermath of UFC 160,
Forrest Griffin
announced his retirement, and Dana White announced that he and
Stephan Bonnar
-- the seminal figures who socked each other into our collective consciousness back in 2005 at the original TUF finale -- would be inducted into the UFC Hall of Fame. (Slow clap).
Is Nurmagomedov the next big thing?
The idea of
Khabib Nurmagomedov
missing weight might have had Dana White hissing like Nosferatu in a beam of sunlight, but what a nihilistic thing he did to
Abel Trujillo
. Twenty-one takedowns is a company record. By this time next year, we might be talking about Nurmy as a threat to whoever's holding that lightweight belt (hopefully challenging him at something other than a catchweight).
STOCK UP/STOCK DOWN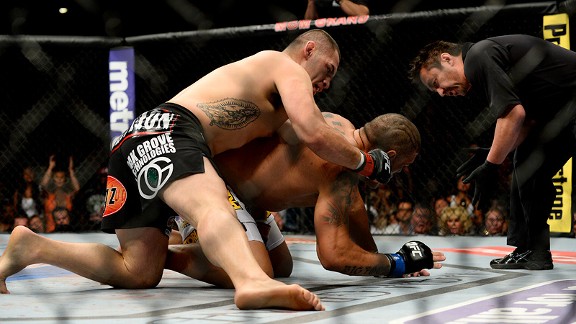 Al Powers for ESPNAntonio Silva's stance as a top-tier heavyweight is under fire following a one-sided loss to Cain Velasquez.
UP
TJ Grant
-- He may have looked like a woodwork contender before Maynard, but afterward he looks like a viable challenge to Benson Henderson. Nova Scotia did not shrink from the spotlight.
Donald Cerrone
-- You know how you make people forget the time you got your liver kicked up through your diaphragm? By doing what Cerrone did to KJ Noons. Looks like Cowboy has another run in him.
Mike Pyle
-- Before we start talking about 37-year-old Mike Pyle ossifying before our eyes, we might want to wait for the judge's decision. Was it a generous scorecard in his split decision victory over
Rick Story
? Definitely. But that's four in a row since losing to
Rory MacDonald
at UFC 133.
George Roop
-- Got to hand it to Roop. He took his lumps early against
Brian Bowles
, but he's resilient -- all 6-foot-1, buck-thirty-five of him is resilient.
DOWN
Antonio Silva
-- When a loss is this one-sided (again), you begin to question the sincerity of the wins to get there. For instance, what happens if
Travis Browne
hadn't been hurt, or if
Alistair Overeem
hadn't been cocky?
Gray Maynard
-- What a tough stretch for the "Bully." He was 11-0-1 heading into 2011, but has since gone 1-2-1. The lone victory in that was the bizarre game of pursuit he played with Guida. For now, Maynard's title aspirations took a bigger hit than anything specific Grant hit him with.
Brian Bowles
-- It had been 18 months since we last saw Bowles, and the WEC champion looked good for that first round. Then the hatch opened up, and Roop was dropping wiry dispatches on him from Tucson.
MATCHES TO MAKE
For Silva
-- A battle with Mark Hunt, or a cruel encounter with Josh Barnett.
For Teixeira
-- Truthfully, if Dan Henderson gets by Rashad Evans at UFC 161, a Teixeira/Hendo fight might require fire marshals and riot units.
For Velasquez
-- That third and most coveted bout with Junior dos Santos, and a chance to become the UFC's greatest heavy.
For Donald Cerrone
-- How fun would a scrap be between Cowboy and Gilbert Melendez?
For Khabib Nurmagomedov
-- Think he could do what he did to Abel Trujillo against Gray Maynard? Only one way to find out.
May, 22, 2013
5/22/13
12:57
PM ET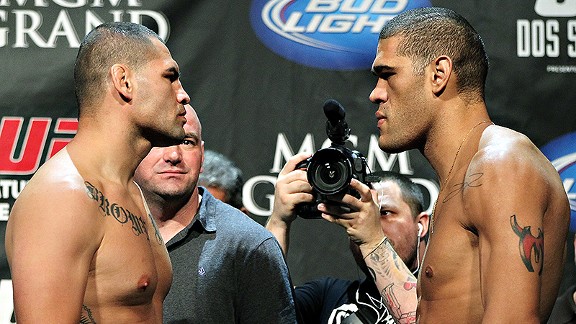 Josh Hedges/Getty ImagesWill history repeat itself when heavyweights Cain Velasquez and Antonio Silva meet a second time?
Heavyweights are now a staple of Memorial Day weekend. Last year,
UFC 146
was to be a heavyweight extravaganza like none we'd ever seen. The whole main card was heavyweights, so the word "unprecedented" was being thrown around pretty dramatically. And why not? The Octagon was going to be littered with dinosaur bones at the end of the night.
You remember the fallout before the fallout, though.
Junior dos Santos
was scheduled to face
Alistair Overeem
-- the one man who could turn that gentle giant's smile into a look of constipation -- for the belt. Then the first domino fell: Overeem's test from his previous fight with
Brock Lesnar
came back with -- to put it gently -- spiked testosterone levels, which meant dos Santos was re-saddled with
Frank Mir
.
Cain Velasquez
, who was supposed to fight Mir that night, was then given
Antonio Silva
. That meant
Roy Nelson
, who was supposed to take on "Bigfoot," ended up fighting
Dave Herman
.
Mark Hunt
, still for the most part a journeyman at this point, was supposed to fight
Stefan Struve
, yet didn't end up fighting at all because he got injured. So Struve fought
Lavar Johnson
-- if we're being generous enough to call what happened that night a "fight."
The players are (basically) the same a year later for
UFC 160
, yet perceptions are slightly different. Overeem again was supposed to appear on the heavyweight showcase, yet again against dos Santos. And once again, he was scotched from the card, this time due to an injury. That means Hunt, and his visa issues, rides an unlikely four-fight winning streak into a confrontation with dos Santos. The winner (likely) will get a shot at the heavyweight belt next.
As for the belt, it's back in the possession of Velasquez, who defends his title on Saturday night against a familiar name: Silva. The stakes are different this go-round, but the memory of Silva's blood covering the canvas floor at UFC 146 is still fresh. One might say too fresh.
And that's your mystery heading into UFC 160: Will history repeat itself? Which, when you think about it, opens up the broader query:
Why
is history repeating itself?
(Answers: Probably; and because history has a wicked sense of humor.)
FIVE STORYLINES
Woodwork contenders
What was a bottleneck situation at the top of the lightweight division is now a mile of open highway. The winner of
Gray Maynard
and
TJ Grant
will get the next shot at
Benson Henderson's
belt. We've seen Maynard in that penultimate spot before. But Grant? Talk about a quiet approach.
Hunt as Cinderella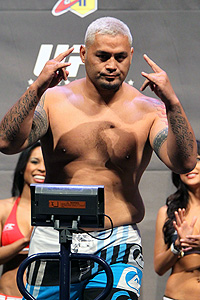 Josh Hedges/Zuffa LLC/Getty ImagesMark Hunt's recent rise from journeyman to heavyweight title contender is something even Hollywood couldn't dream up.
Because you've heard about Hunt's improbable rise from the ashes a million times doesn't make it less amazing. To sum things up: He was inherited in the PRIDE deal, lost to
Sean McCorkle
in his UFC debut, was left for the scrap heap at 5-7 in MMA, and now is a fight away from a title shot. Hollywood couldn't dream up something this unrealistic.
Woodwork contenders II
With a relative dearth of 205-pound contenders to challenge
Jon Jones
,
Glover Teixeira's
name could go from being whispered in polite company to shouted from the mountaintops with an emphatic win over
James Te-Huna
. But let's take it a step further: Can you imagine if Te-Huna wins? Suddenly a
second
New Zealander is on your radar from UFC 160.
Return of Brian Bowles
"Where's
Brian Bowles
?" became MMA's game of "Where's Waldo?" in 2012. So where was he? Finding that drive, baby. Citing apathy as the reason he took some time away from the fight game, the one-time WEC bantamweight champion returns to face all 6-foot-1 and 135 pounds of
George Roop
.
Woodwork contenders III
Right now
Khabib Nurmagomedov
has one more victory in professional MMA than he does letters in his name (19 wins, 18 letters). If he beats
Abel Trujillo
, he'll be a sparkling 20-0. Nurmagomedov is tomorrow's bottleneck at the top of the 155-pound division.
FIVE QUESTIONS
Can things be different for Silva this time?
The more basic question: Can Silva compete this time against the relentlessly aggressive, forward-moving wrestler Velasquez who has cardio for days and a chin made of cinder block? It feels as if we're answering our own question.
Can Hunt KO dos Santos?
Dos Santos has never been knocked out. Knocking people out is what Hunt does. In a fight where the ground is designated for slips and one-way trips, a single punch from either guy ends the co-main. Can it be Hunt on the delivering end? (Smiles and shakes head approvingly.)
Is there still wonder to "Wonderboy"?
[+] Enlarge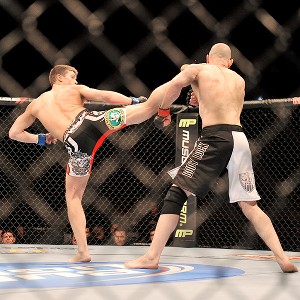 Rod Mar for ESPN.comThe jury is still out as to whether we will see more of the Stephen Thompson who ended Dan Stittgen's night with one kick.
Remember when
Stephen Thompson
had that hot roulette player's moment after knocking out
Dan Stittgen
in his UFC debut with a head kick?
Matt Brown
brought him down to earth in a hurry in April 2012 with a one-sided decision. This bout with
Nah-Shon Burrell
will tell us if it's back to "Wonderboy" or if he's a "one-hit wonder."
Is Cain the greatest heavyweight champ ever?
Take away that glancing moment in the ballyhooed first bout with dos Santos -- a bout that Velasquez should never have been fighting in the first place (knee) -- and the answer is "yup." But what are we talking about? This is the ultimate proving ground, so we'll ask him for more proof. More proof!
Does KJ Noons belong in a fight with Donald Cerrone?
The short answer is no. The correct answer is LOL. Even if you omit the
Ryan Couture
fight (a loss that he actually won),
Noons
still lost three of his previous four fights.
Cerrone
is coming off of that
Anthony Pettis
incident where his liver got rearranged. In other words: Cerrone's the proverbial hornet's nest that Noons is walking into.
WHO'S ON THE HOT SEAT?
Robert Whittaker
He did beat
Brad Scott
in his UFC debut, but a loss to
Colton Smith
, just as the UFC is tightening its belt rosterwise, makes young shakers expendable. (However, if
Robert Whittaker
knocks out Smith like he did Luke Newman on "TUF: The Smashes"? Then it's "Watch out for the Aussie!").
Jeremy Stephens
[+] Enlarge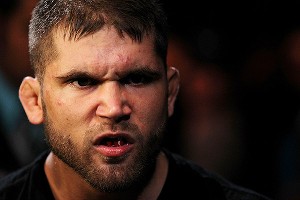 Al Bello/Zuffa LLC/Getty ImagesThe future of Jeremy Stephens' employment with the UFC likely comes down to whether he can snap a current three-fight losing streak on Saturday.
If the fact that he's opening the prelims portion of the card doesn't tip you off, the three-fight losing streak will. This move to 145 pounds is
Stephens'
"all-in" moment. Another loss and it's adios, "Lil' Heathen."
KJ Noons
It would feel a little merciless of the UFC to cut him, particularly because it'd be on the heels of a likely loss to Cerrone, but Noons needs a good showing to remind everyone of the guy who beat
Nick Diaz
in 2007. A fifth loss in six fights, though, is either a red flag or a white one, depending on how you squint.
WHY YOU SHOULD CARE
Because Velasquez might as well dig his hooves in the mat before he charges at Silva as if Silva were a red cape ... because "Bigfoot" has fists the size of pet carriers, yet his gloves weigh 4 ounces, just like everybody else's ... because if you put dos Santos' and Hunt's combined knockouts on a highlight reel, it'd run longer than the average romantic comedy ... because Grant versus Maynard is dog-eared for fight of the night ... because "Cowboy" Cerrone is mad, and Noons, by stepping in with him, is saying "come hither" ... because Grant fights like Ulysses S. Grant ... because Te-Huna and Teixeira will require smelling salts ... because
Dennis Bermudez
was already in one fight of the year candidate (against
Matt Grice
) and
Max Holloway
is a gamer ... because
Mike Pyle
can make it four in a row against
Rick Story
... because what could be more fun than watching Hunt try to stuff his foot into a glass slipper?
April, 3, 2012
4/03/12
11:17
AM ET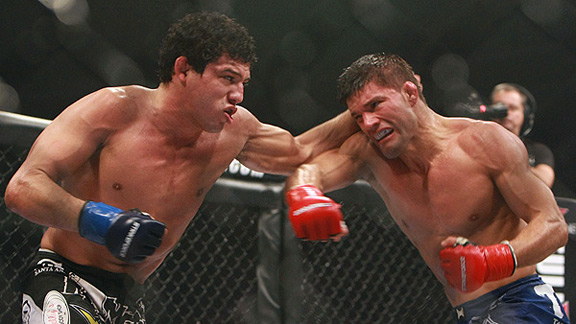 Sherdog.comWhat exactly has Josh Thomson done to deserve another crack at Gilbert Melendez?
For what it's worth,
Gilbert Melendez
/
Josh Thomson
III isn't a bad fight. It's just not the fight people wanted. It just feels obvious and limited and, you know, uninspired.
There was a time not that long ago when Dana White assured everybody that Melendez -- a top three lightweight who happens to be in his prime -- would not be left pining for challenges in Strikeforce. This was before his Dec. 17 Strikeforce bout with
Jorge Masvidal
. This was after reconciliation between White and Showtime. This was right around the time when everybody fell into reverie as to whom, and began envisioning expensive imports (maybe Benson Henderson?
Clay Guida
?
Gray Maynard
?).
Even Melendez's camp couldn't help but imagine the possibilities.
Things have obviously changed.
Melendez has been made into a window shopper. All those elite UFC lightweights that sit on the showroom floor? He's left to browse and wonder with his nose smudged on the glass. Despite those early fits of optimism, Zuffa isn't going out of its way to find Melendez challenges -- it is recycling whatever it can find in the cupboards. Somewhere along the way, things soured (again) between Showtime and White. Melendez is the biggest casualty.
Yesterday Strikeforce announced that Melendez would defend his title against ex-champ Thomson on May 19 in San Jose, Calif.; a rubber match that has an ounce of good drama. Problem is, the fight is a buzzkill for those who are interested in Melendez's upward trajectory. Yes, they've split the previous two matches, but Melendez avenged the first loss easily and has won six in a row all told. Thomson has won exactly one in a row, a unanimous decision over
K.J. Noons
that he said afterward "was s---." Before that, he lost to
Tatsuya Kawajiri
. These aren't the kinds of credentials that earn title fights, even if there are scores to settle.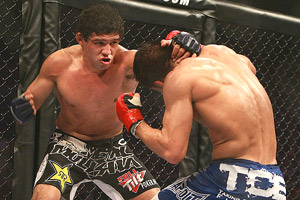 Dave Mandel/Sherdog.comWhile his patience is tested, Gilbert Melendez's skills are being allowed to languish.
That's one of the reasons this trilogy fight will require rose-colored glasses to appreciate. Even if the situation is deeper, it feels like "who cares" matchmaking at its laziest. That is, if you're Gilbert Melendez. If you're Josh Thomson, it's an overly generous chance to reclaim the lightweight belt. And if he does, this will turn the sports world aloof. What could we look forward to then -- Thomson/Healy II? That is true tundra. Keith Wisniewski versus Chris Clements has greater import. Or we could play back Thomson/Melendez IV, and put the thing on a perpetual loop. Strikeforce might have to, because the promotion's lightweight pool is ankle-deep.
If Melendez does lose to Thomson, you'd be left wondering if something like ennui played as big a role as the "Punk" himself. That's why it's hard to swallow. Why should all the favors go to Thomson, the sorta-deserving challenger? Why shouldn't Melendez, the flagship champion of Strikeforce, be better attended? Fans of MMA don't have interest in behind the scenes politics as much as they do in watching two heads of momentum collide.
But chances are Melendez will win, live up to expectations, and then disappear into waiting for the next thing to materialize. That's not the kind of immediate future that lights fires in competitors. Yet that's where Melendez is in 2012 at as Strikeforce lightweight strap holder. A sort of hostage to his throne.
And if he wants to remain the most persecuted champion in MMA, at least for the rest of this year, he'll need to stay hungry for it. Maybe that's what White meant about finding Melendez challenges. Maybe Melendez's biggest challenge in 2012 will be fighting through the set of circumstances, rather than whoever they stick in front of him in the cage.
March, 13, 2012
3/13/12
5:07
AM ET
Alright, so
Gilbert Melendez
will fight on May 19 in San Jose, only five months and two days after beating
Jorge Masvidal
to retain his title.
Though this isn't major news in itself, it's a turnaround that beats nine months of involuntary limbo. Action is good. If nothing else, we can cling to silver linings.
Now the question becomes "against whom?", and Strikeforce is spinning the mystery wheel right now to determine that. Will it be
Josh Thomson
, who went to Columbus under the presumption that if he beat
K.J. Noons
(which he did), the title shot would be his? Will it be a darker horse like journeyman Pat Healy, who put in a yeomen's effort against Caros Fodor to make it four wins in a row? Or will it be ... wait, nope ... the other slots on the mystery wheel are all whammies.
It's Thomson or Healy.
Or, something far bolder if Zuffa is feeling charitable. Is it possible that the UFC will lend out one of its top 10 fighters to challenge Melendez in the hexagon? It's a sister promotion, after all, and there are starving contenders. The UFC's lightweight title picture has had only four people in it for the last two years --
Frankie Edgar
,
B.J. Penn
,
Gray Maynard
and now Benson Henderson. For anybody else, the summit has been closed off. You can see how the temptation might be there to open up an alternative pass to its second peak.
[+] Enlarge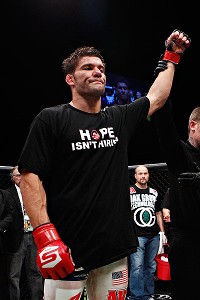 Esther Lin/Getty ImagesIs anyone really clamoring to see Josh Thomson, above, fight Gilbert Melendez again?
And why not? A cross-promotion fight that falls within the same company is all that makes sense for Melendez (who's been promised big challenges) and fans (who've grown suspicious of that promise). Currently, there are some top-selling lightweights available for a Melendez clash.
If you follow Melendez's manager Cesar Gracie's Twitter feed, you know he's dropping a couple of names right off the bat --
Anthony Pettis
and B.J. Penn. Both of these look compelling (read: available) for "El Nino." One just had a title shot snatched from his purview, and the other is semi-retired and in the process of self-discovery. Either would make for a fascinating challenge against Melendez, the only pound-for-pound top 10 fighter that spends so much time in quarantine.
In the special case of the former lightweight champion Penn, it might take a dangling carrot to motivate him -- here would be a chance to add to his collection of UFC belts with a gravy Strikeforce strap. Who knows what happens if he wins, but in some ways, who cares? He will either defend that belt in Strikeforce or expedite himself back into the UFC lightweight picture with a case of unification. Seems like a win/win, should he win. And should he lose, he's in no worse a situation than he is now.
Pettis's case is interesting, too (though his manager Mike Roberts says they haven't been approached). He's 25 years old and not overly concerned with the long haul. Twice since coming over as the reigning WEC champion he's been right there for a title shot, and twice he's been thwarted. I have sort of campaigned that he should do what Edgar was being asked to do, that of dropping down to 145 pounds to challenge
Jose Aldo
for the featherweight belt. Maybe he will. That fight would be a crazy indulgence of some of the game's most dynamic strikers. It would be big business for the feathers.
[+] Enlarge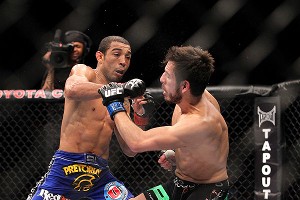 Ed Mulholland for ESPN.comA bout between Gilbert Melendez and Jose Aldo, left, would be explosive.
And of course, Gray Maynard and
Clay Guida
are also out there. If they aren't turned on each other, either could be a candidate for Melendez.
But there is one more option out there that that might not be as far-fetched as it seems. What if Aldo came up to challenge Melendez in Strikeforce while the featherweight picture sorts out? He has been tempted to dip his toe at 155 pounds anyway, ever since the weight cut nearly ruined him when fighting
Mark Hominick
. With
Hatsu Hioki
not quite ready enough (or marketable enough) for a title shot, and
Chan Sung Jung
/
Dustin Poirier
slated for a May fight of their own, can you imagine the potential for fun there? Would that not make for creative matchmaking?
Either way, whoever Zuffa is thinking of putting against Melendez, you have to wonder if there's a trick tucked away up their sleeve. Because right about now there are so many good fights for Melendez that a marquee of "Strikeforce: Melendez vs. Thompson III" in San Jose can't help but feel a little cheap by comparison.
October, 11, 2010
10/11/10
1:18
AM ET

By Jake Rossen
ESPN.com
Archive
Sometimes, ugly is enough to get the job done.
On Saturday, Nick Diaz needed five rounds and another blood-crusted face to best K.J. Noons, nearly three years after a doctor's stoppage gave Noons a win over him. Neither man was particularly graceful in the rematch: Diaz could never quite slide into his volume punching that feels worse than it looks, and Noons was sometimes channeling Leonard Garcia in KO blows that he threw his entire body into.
It's not that it was poor striking; it's that MMA presents too many variables for that striking to ever be as tightly constructed as we see in higher-level boxing matches. Some are going to confuse that for inability, but you do what you have to when takedowns and kicks are part of the equation.
What else did the fight prove? That Noons is probably one of MMA's most skilled boxers, but that he's also undersized for the welterweight division. There's a world of difference between his frame hitting you and that of a 185-pound man who has cut down weight. But what Noons lacks in size he makes up for in speed and technique.
Meanwhile, Diaz posted one of his better career wins Saturday. The bad news? It might be one of the few remaining significant victories currently available to him in Strikeforce.
Next for Diaz: A rematch with Joe Riggs, even though it might be a snooze button of a bout; a middleweight fight with Cung Le, if Strikeforce wants some fireworks for a network show.
Next for Noons: Seeing what he's made of against a takedown specialist like Josh Thomson. (Can't avoid those wrestlers forever.) If he wants more at 170, Maruis Zaromskis would be interesting.
Next for Marloes Coenen: Miesha Tate.
Next for Tyron Woodley: More grooming before anyone brings up the possibility of a title shot.
Awards
Hairy situation award: Shared by Mauro Ranallo and Noons, for spending more time with their bangs than on the task at hand.
Leave the poor guy alone already award: Strikeforce, for cornering Diaz for a backstage interview in which he appeared to be addressing the carpet.
Dead air award: Ranallo (and producers), for introducing at least 10 different ringside fighters in what amounted to one of those Oscar-broadcast dead celebrity popularity contests. (Cung Le: big applause. Another: silence.)
The truthiness in victory award: Thomson, for scolding the judge who awarded him a 30-27 victory over Gesias "JZ" Cavalcante when most sighted observers could see Thomson lost the third round. When a fighter is telling you, the judge, that you've done a horrible job when you've awarded him the winner's share of the purse, it's time to regroup.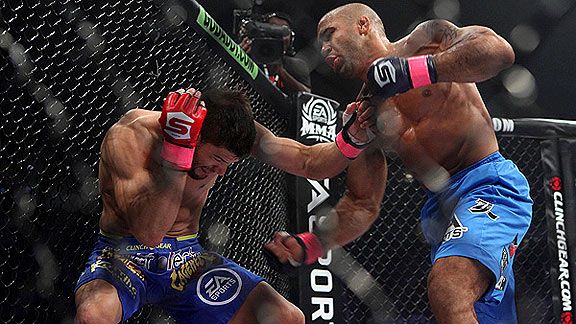 Dave Mandel for Sherdog.comNot even winner Josh Thomson would duck the obvious -- that JZ Cavalcante took Round 3.
New questions: Strikeforce
Is Diaz a better fit in Strikeforce than in the UFC?
Diaz posted an impressive 6-4 record in the UFC from 2003-06. Since leaving the promotion, he has built a 9-1-1 record, with the only loss (to Noons) having been avenged this past weekend.
The difference? The UFC usually puts its fighters in the crosshairs of wrestlers that can stop an opponent's momentum, both literally and figuratively. Outside of the promotion, Diaz has been able to showcase his striking against fighters willing to exchange with him.
Diaz has two bouts remaining on his Strikeforce contract. Between the welterweight and middleweight divisions and the occasional trip to Japan, he probably has the ability to stay busy for years without running into blankets like Jon Fitch and Georges St. Pierre. And between Nate Diaz and Jake Shields, both in the UFC's 170-pound division, a Cesar Gracie pile-up would be inevitable. If he's not hung up on beating top-10 welterweights, Nick Diaz might be one of the few guys for whom a career outside the UFC makes the best sense.
Is Strikeforce going to reward bad behavior?
Showtime's broadcast had barely wrapped up before reports circulated that Diaz and Jason "Mayhem" Miller -- who got into it during a CBS show earlier this year -- were grappling backstage. Strikeforce CEO Scott Coker said he wasn't opposed to matching the two up.
So we're clear: An in-cage mob scene that ended in fines and suspensions, cools CBS on MMA and manages to bleed over into another show months later should result in a payday for the fighters? Where is the incentive for fighters to conduct themselves like professionals?
Will judges ever be accountable?
At the conclusion of the Thomson-Cavalcante bout, judge Susan Thomas-Gitlin scored it 30-27 for Thomson -- an impossible sentiment when you consider that the third round saw Cavalcante throw, mount and strike Thomson without suffering any kickback. Even Thomson was in disbelief at the scorecard.
It's unlikely Thomas-Gitlin will ever be cornered and asked to articulate what she saw Thomson do in that round that earned him a 10-9 victory; some commissions believe a judge should be able to assess bouts without second-guessing media hounding them. It's a nice thought, but when officiating has become so distanced from reality, regular conventions need to be tossed out the window. Judges should be asked to note on the cards why they believed a fighter won a round: "landed more effective strikes," "two successful takedowns" or the like. If that's too much to ask, find someone else to do the job.
Notes
• Noons broke his jaw in the first and his hand in the second. More accurately, Diaz broke his jaw. That Noons kept the fight competitive for five rounds says something about his attrition.
• Sarah Kaufman seemed upset that Coenen, the new 135-pound women's champion, didn't let go of her armbar submission right away -- tension that later cooled in the locker room. The weight class looks like a good fit for Coenen, who has a long, rangy frame that she uses to tie up opponents effectively.
• Nate Diaz sported a UFC hat during his brother's entrance, a small detail that's still indicative that Strikeforce isn't as savagely competitive with the UFC as the UFC is with everyone else.
• Yahoo! Sports' Dave Meltzer reported a crowd of 7,473 fans at the HP Pavilion, a solid turnout for a San Jose, Calif., show that was absent of draws like Frank Shamrock or Cung Le -- and absent their substantial salaries.
• Thomson's win over Cavalcante puts him in line for a third fight with Gilbert Melendez, but it's the kind of fight that might shave a year or two off the already hobbled Thomson's career. The two fighters aren't good for each other from an orthopedic perspective.