December, 26, 2011
12/26/11
3:40
PM ET

By Chuck Mindenhall
ESPN.com
Archive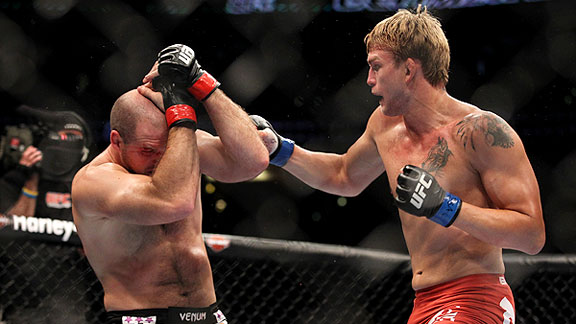 Ed Mulholland for ESPN.com
Had
Rich Franklin
been more privy to
Alexander Gustafsson
, we'd either be talking about the rung-climbing Swede as a foil to
Jon Jones
(more than we are now) or not talking about him at all. It was a tailor-made passing of the guard moment that never happened.
That's because Franklin, who was offered a fight with Gustafsson at UFC 133 on short notice when
Antonio Rogerio Nogueira
was injured, had only the foggiest notions about "The Mauler," so he politely declined the bout. Franklin was interested in marquee fights, and was looking for more of "a name." Gustafsson wasn't that.
Not yet, anyway -- but the times they are a changin'.
Gustafsson was supposed to fight
Vladimir Matyushenko
that night in Philadelphia, but ended up with
Matt Hamill
when Matyushenko was injured. It was a carousel card, full of patchwork matches that soured Joe Silva's understanding of the cosmos. Nevertheless, Gustafsson made the most of his moment, and knocked out Hamill in the second round. Those who witnessed his rude treatment of
James Te Huna
and
Cyrille Diabate
might have seen this coming. That he very abruptly knocked Hamill out of the fight game for good was the surprise.
To cut to the chase, after that performance, Franklin (along with plenty of others) has now heard of Alexander Gustafsson. And that makes his rescheduled match with Matyushenko this weekend at UFC 141 a sort of catapult moment for the 24-year-old. Already a cusp top-10 fighter in the tumultuous 205-pound division, an emphatic win over the stalwart Matyushenko would legitimize Gustafsson as a contender in 2012. As unflattering as it seems, Matyushenko has become a clear definition of the term "gatekeeper."
And if any of this seems hurried, consider that this was a similar situation that Jon Jones found himself in toward the end of 2010, when he himself had to get through the brute wrestler Matyushenko. He did, and with menacing ease. What happened next? Jones went about tyrannizing 2011 by earning, winning and defending his belt (twice). So much for bringing these guys up slowly. Jones tried to clean out the division in the space of a calendar year. Now the word you hear bandied about with his name right now is "unparalleled."
Gustafsson's rise in the ranks has been far quieter, and realistically won't be the expedited course that Jones got. But when you look at his poise in the Octagon, his versatility (two wins by KO, two by submission in the UFC), and the upside -- precision, length, chin, desire -- he has the feel of a noisemaker. The difference is the landscape. When Jones beat Matyushenko, the light heavyweight belt was a hot-potato accessory. A year later, the belt is part of the man. And the pool of challengers is fairly shallow. In fact, there are only three names that come to mind who are close to challenging Jones --
Dan Henderson
,
Rashad Evans
and
Phil Davis
.
Gustafsson has a chance to join that company of Friday night.
How "serious" is he as a contender? It boils down to Matyushenko. Win, and momentum builds into top-10 fights, and guys like Franklin begin to appear as a step backward.
Lose, and the road forks from destination Jon Jones towards the tundra of
Krzysztof Soszynski
.
November, 14, 2010
11/14/10
3:06
PM ET

By Jake Rossen
ESPN.com
Archive
For his efforts against the dangerous Nate Marquardt on Saturday at UFC 122 in Germany, Yushin Okami may have earned himself a nice, warm spot on a bench; the No. 1 ranked middleweight -- at least for as long as Chael Sonnen tries to restore his name amid steroid allegations -- in the UFC has been promised a title shot against Anderson Silva. But when and how that happens wasn't part of the guarantee.
Silva fights Vitor Belfort in February; if he and Georges St. Pierre both win their respective bouts (St. Pierre fights in December), there's absolutely no better time to make that pound-for-pound fight happen. If fans get what they want, Okami might be a year away from contention.
Does he continue to fight, as Chuck Liddell did when Tito Ortiz ran around in circles years ago? Or does he take a cue from Rashad Evans and find a comfortable chair until what's been promised is delivered to him? A title shot and especially a title win can be a lucrative achievement. But "inactive fighter" is an oxymoron. If you're fit to fight, go fight.
Next for Okami: A long vacation; even if Silva is ready post-Belfort, a title shot would still be six months away.
Next for Marquardt: Tumbling back down the ladder; maybe Yoshihiro Akiyama, in what would likely be an exciting kiss-off for the latter.
Next for Amir Sadollah: Continuing to occupy a strange negative zone of credible striking with relatively little wrestling or explosiveness; the winner of next weekend's Dennis Hallman/Karo Parisyan bout.
Awards
Truth-stretching award: Mike Goldberg, for declaring Okami "the last man to beat Anderson Silva." Technically true? Yeah, yeah. But Silva disqualifying himself for throwing an illegal kick is an important detail to leave out.
Tape-delayed reaction award: Spike, for using the stuttered broadcast from Germany as an excuse to stretch round breaks from one minute to two. Because Axe commercials get that much funnier the eighth time around.
Commitment award: Bruce Buffer, for addressing the crowd in German. The man will remain the most entertaining microphone presence in fighting until Manny Pacquiao decides to sing his own national anthem.
Bad omen award: B.J. Penn, for telling Joe Rogan -- and everyone watching -- that he's returned to a more basic training regimen. Possible translation: I'm my own best coach.
New questions: UFC 122
Has the UFC mastered the art of the hard sell?
Anderson Silva taking on Yushin Okami might be a necessary fight, but it's not one that will freeze Ticketmaster's server. Sometimes sports and entertainment veer off in opposite directions.
Because fights like this present themselves as difficult to sell, there's often a strange sympathy afforded to promoters, as though they got stuck with a particularly obscure Pictionary clue to decipher. But practice makes a good tutor: In footage leading into the fight with Marquardt on Saturday, careful editing made Okami look like a stunt man; a strong co-main can virtually shut down complaints. The criticism over January's UFC 125 Frankie Edgar/Gray Maynard main event? Muted since WEC/UFC featherweight Jose Aldo was added. Those weight classes might wind up being the promotion's artificial sweetener.
Is Greg Jackson hurting the cause?
UFC president Dana White blasted Marquardt postfight for playing too conservative a game, dropping the idea that trainer Greg Jackson was partially to blame. "I mean, Nate Marquardt sat here tonight and said that he thought he won the fight. Where the [expletive] is his corner?" White told MMAJunkie.com. "You go into the last round and you're getting outstruck by a wrestler, and you think you won the fight? And this is consistent with the Greg Jackson camp."
Jackson's fighters have the same identifying threads you could apply to certain director trademarks: none fight foolishly, and most value winning over pleasing the crowd. Even Melvin Guillard, who fought like he was shot out of a cannon pre-Jackson, looked sedated in his most recent fight. It's hard to mount much debate in a win, but when you bore in a losing effort, you have no leverage.
Grabbing your own shorts: bad rule?
Krzysztof Soszynski earned a decision over Goran Reljic, but the door was open for a finish when Soszynski worked a bread-and-butter Kimura on Reljic's arm in the first round. Obstacle: Reljic kept his arm out of danger by grabbing a fistful of his own shorts.
It's a legal maneuver. Should it be? Typically, anything artificial that could disrupt the natural course of a bout -- grabbing the fence, holding on to your opponent's shorts or gloves -- is prohibited. Equipment is necessary, obviously -- the Greeks were far less shy about that sort of thing -- but they shouldn't become variables in a fight. Reljic should've kept his hands off himself.
Notes
• The UFC paid Jorge Rivera both his show and win money despite opponent Alessio Sakara dropping out of the fight due to illness, according to MMAJunkie.com. If Rivera still insists on complaining, he was probably lined up for Knockout of the night, a $60,000 bonus that went to Karlos Vemola for spaz-hammering Seth Petruzelli. It would be surprising to see Petruzelli in the UFC again.
• On the heels of a countrywide blackout on television, the UFC saw a 30 percent dip in attendance for its second show in Germany.
• Inevitably, far more people will have paid for the Antonio Margarito/Manny Pacquiao fight in Texas Saturday than watched the UFC for free on basic cable. And thanks to Pacquiao's win -- catharsis for any feeling human loathing Margarito for his loaded gloves and mocking of Parkinson's sufferers -- boxing's Last Big Fight with Floyd Mayweather remains viable. The numbers, though, aren't sport-specific: it's that Pacquiao is one of the two biggest draws in combat sports at the moment. No other prizefighter in any sport wins a head-to-head ratings battle with him.
• Worth a double take: Joe Rogan calling Sadollah's Muay Thai "some of the very best" in the sport. Sadollah is good, but reserve that comment for strikers who can actually finish.