November, 27, 2011
11/27/11
10:24
AM ET

By Chuck Mindenhall
ESPN.com
Archive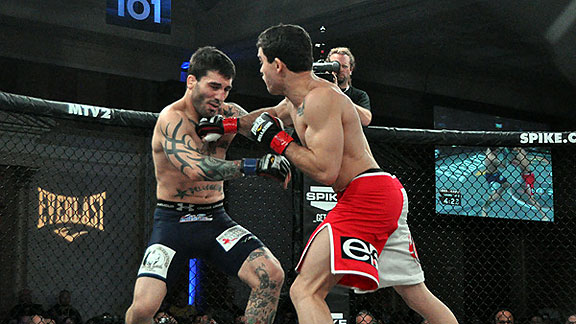 Chris McGuigan for Sherdog.comThere would be no turning back the clock on this night for Kurt Pellegrino.
This time the end to Kurt Pellegrino's career came just 50 seconds into his bout with
Patricky Freire
at Bellator 59. It was a quick technical knockout loss to a guy who we're now catching on to as a burgeoning knockout specialist. It was an early stoppage to boot.
Yet even though the hometown crowd in Atlantic City voiced their dissension on the matter, Pellegrino himself was quick to accept it. He didn't exactly protest. Fifty seconds was all he really needed to know he was through.
"Batman" was over it, and, realistically, he has been -- even if he did waffle with the idea after declaring his retirement last night (again).
Pellegrino (16-7) retired the first time very unceremoniously six months ago on the heels of a narrow split decision loss to
Gleison Tibau
at UFC 128. Having talked to the Point Pleasant native on a couple of occasions, going back to before his decision loss to
George Sotiropoulos
at UFC 116, the signs were on the wall that his heart wasn't entirely in it, maybe even less so with the arrival of his second child, Kurt Jr. He decided to give it another go just an hour down the road from his gym in Belmar, at Caesars in Atlantic City, against a hand-chosen opponent with highlight reel knockouts.
One more, just to see.
"It was like Rocky II when Adrian awoke from the coma and told Rocky to 'win,'" he told MMA Weekly in the weeks leading up of his decision to come back. "I was retired, sitting home watching videos with my son, but I was also training at that time and was in great shape when my wife walked up to me and said, 'If you want to do it again, go for it.'"
Instead Pellegrino, who had hopeful designs of "suffocating" the season four lightweight finalist, became part of Pitbull's KO package, just like Toby Imada and Rob McCullough before him. Not the storybook ending Pellegrino had hoped for, but a bit of finality for the scrappy fighter who beat Jay Isip eight years ago on a Reality Fighting card right there in Atlantic City to get his start.
[+] Enlarge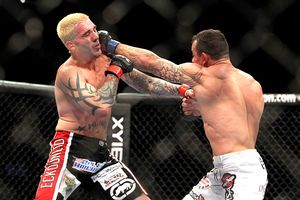 Ed Mulholland for ESPN.comKurt Pellegrino, left, originally decided to hang them up after a loss to Gleison Tibau before reconsidering.
And then again, in some ways it was a storybook night, because it had a beginning, a middle, and an end. Pellegrino was making a promotional debut with Bellator, as part of a homecoming to his New Jersey roots, which ended as a bittersweet goodbye to the world of mixed martial arts.
The last part was the big reveal.
What he was hoping for was to rediscover the Pellegrino that beat
Junior Assuncao
at UFC 64, the one who rattled off four wins in a row against
Thiago Tavares
, Rob Emerson,
Josh Neer
and Fabricio Camoes in the UFC between late 2008 and early 2010. The one who was, for a time, orbiting near top 10 conversation. Pellegrino even said he was prepared to die to win Saturday's bout, that it was the biggest fight of his life --that this bout would define him. Maybe it did, and maybe it didn't, but he found doubtless comfort in the original idea he had after Tibau -- that it was time to move on to coaching and fatherhood.
Was it an early stoppage? Yes, it was obviously a little premature. The 32-year-old Pellegrino was in his wits and clinging to a single leg, trying to recover while eating those hammerfists. That's the micro-sense. But on whole the stoppage was a little late, because there just wasn't any fight left in him. And in a chorus of boos Pellegrino was smart enough to block everything out and listen to the voice of reason going on inside of him -- the one telling him to walk away.
And it wasn't disappointment that he wore on his face afterward, but something far closer to relief.
November, 27, 2011
11/27/11
12:11
AM ET

By Franklin McNeil
ESPN.com
Archive
Veteran lightweight
Kurt Pellegrino
appeared in a non-UFC bout for the first time in five years, but the result wasn't what he expected. Pellegrino was stopped by
Patricky Freire
in the first round at Bellator 59 in Atlantic City, N.J., on Saturday.
Freire landed a left-right combination square on Pellegrino's jaw less than a minute into the fight. The punches sent Pellegrino to the canvas, where Freire continued his striking assault.
Pellegrino grabbed a leg, but was unable to effectively defend himself and the referee to wave the fight off at the 50-second mark.
Afterward, Pellegrino announced his retirement from fighting.
"I really did train hard. I lost fair and square," said Pellegrino, who ends his pro career with a record of 16-7. "This will be the last time you guys will see me fight."
Pellegrino has offered to help Freire prepare for the Bellator lightweight tournament.
Heavyweight final ends prematurely
Bellator heavyweight champion Cole Konrad will have to wait a while longer to defend his title.
The heavyweight tournament final between Eric Prindle and Thiago Santos failed to produce a winner. The New Jersey State Athletic Control Board ruled Bellator 59's main event a no contest.
At 1:24 of the first round, Santos landed an "accidental" kick to the groin of Prindle, who was on his back at the time.
After the kick, pain was etched on Prindle's face. He was given 5 minutes to recover, but was unable to continue.
A date for another fight between Santos and Prindle has yet to be announced. The winner will face Konrad.
Dantas beats Vila in bantamweight final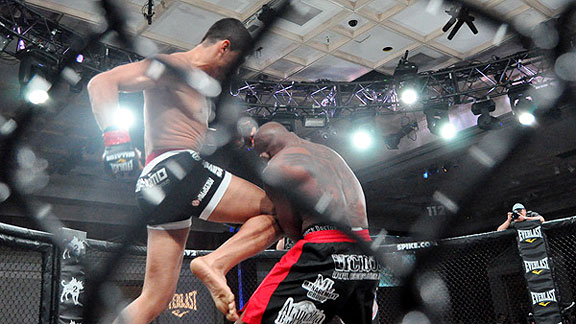 Chris McGuigan for Sherdog.com Alexis Vila's first loss came at the hands (and knees) of Eduardo Dantas.
Eduardo Dantas
handed
Alexis Vila
his first professional loss and landed a bantamweight title shot with a unanimous decision win.
All three judges scored the fight 29-28.
After being taken to the ground twice in the first round, Dantas used his superior reach to control Vila standing during the second and third rounds to win the bantamweight tournament.
Dantas (13-2) will now face Bellator bantamweight champion
Zach Makovsky
. A date for the bout has yet to be determined.
Vila falls to 11-1.
Held holds off Nover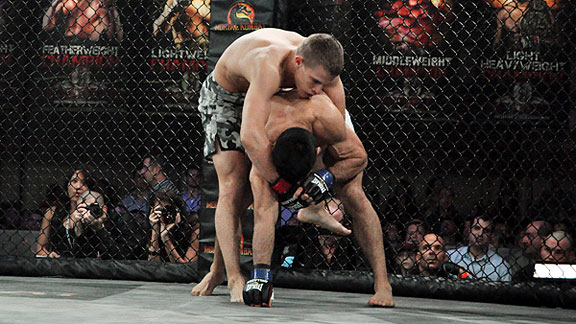 Chris McGuigan for Sherdog.com Marcin Held's numerous submission attempts helped him win over the judges.
Phillipe Nover
escaped several submission attempts, but could not escape with a win against Marcin Held.
Nover came out on the short end of a split decision in the three-round lightweight battle.
Two judges scored the fight for Held, 29-28. Nover got the edge on the third card, 29-28. ESPN.com saw it for Nover 29-28.
Held improved to 12-2, while Nover (6-4-1) lost for the fourth time in five fights.
October, 25, 2011
10/25/11
5:46
PM ET

By Franklin McNeil
ESPN.com
Archive
Lyman Good
returns to action Nov. 26 against Michael Costa in a Bellator Season 6 welterweight tournament qualifier at Caesars Atlantic City, N.J.
The fight will be Good's first bout since April 2, when he suffered a split-decision loss to
Rick Hawn
. Good (11-2) has lost two of his three most recent bouts and is eager to regain his winning touch.
"Coming off of that last fight, it really made me go back to the drawing board and start fresh," Good said. "I felt like I got away from some things that made me who I was as a fighter, and I needed to get back to my roots."
Costa will make his Bellator debut against Good. He will enter the cage with a pro mark of 10-5-1.
Good-Costa is part of the Bellator 59 card that includes a lightweight tilt between
Kurt Pellegrino
and
Patricky Freire
.
August, 8, 2009
8/08/09
5:39
PM ET
I opened the New York Post on Friday and noticed an advertisement notifying that Larry Flynt's Hustler Club would be airing "UFC 101: Declaration" with "complimentary admission."
If you are in the New York area, I cannot compete with this. Residents outside the tri-state area should refresh this page for live updates and observations from tonight's card.
12:40 a.m. ET -- Penn works over Florian from mount, back mount, then finishes with a choke. The Philadelphia fans, happy to see a violent finish, agree to release the hostages.
12:36 a.m. ET -- Penn is getting the better of the infighting, smacking Florian upside his head when Florian ducks for a takedown. Penn appears to be too tired to have any murderous intent, but it's enough to keep Florian behind on the cards.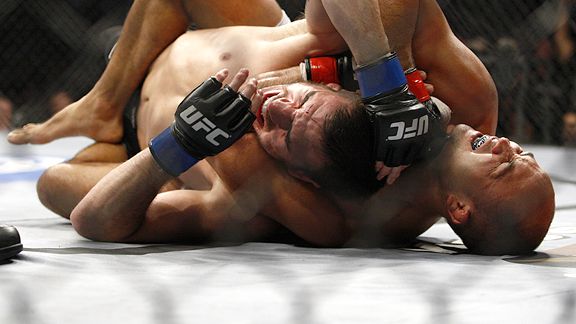 Ed Mulholland/ESPN.comLocked in: B.J. Penn rear-naked choke proved too deep for Kenny Florian to escape.
12:25 a.m. ET -- Florian keeps attempting takedowns. Florian is not great at takedowns. Penn is great at takedown defense. This is probably meant to be unpredictable. Falling to the floor and sobbing would also be unpredictable. Doesn't mean it would work.
12:22 a.m. ET -- There's plenty of chatter that Penn is looking fatigued, but the flying knee is a conversation closer. An easy first round for Penn. Penn could get bored midway through the fight; Kenny is otherwise in deep.
12:18 a.m. ET -- A very keyed-up Penn is way, way torqued at that "kill the master" business and cracks Florian right away. He's stalking; Florian is evading.
12:12 a.m. ET -- Penn enters with the weird affectation of flicking his tongue out like a lizard.
12:08 a.m. ET -- Florian comes out to a Mick riff from "Rocky." You do what you gotta do. This crowd is dangerous. Liddell was mugged in his seat and didn't say squat.
12:07 a.m. ET -- "It's time to kill the master." At some point, someone got hold of Kenny Florian and instructed him on the art of the interview. Around 2006, he was sheepish and polite. Sometime in 2008, he turned into Brutus Beefcake.
12:02 a.m. ET -- B.J. Penn-Kenny Florian. If Penn put in the time, then Florian will be going five rounds with a wood chipper. If he didn't, Florian will take the later rounds.
11:59 p.m. ET -- Leonidas is significantly less intimidating without the beard. Kimbo should take note.
11:50 p.m. ET -- Griffin begins playing Silva's game. You should probably try fighting Silva, not kickboxing him, but -- oh, no but. Silva drops him with a right. Silva is getting amped and wades in. This is knife versus stick. Silva knocks him out with an almost apathetic air. Griffin is laid out, waves off further punishment, then runs out of the ring and backstage. That's probably not neurologist-recommended.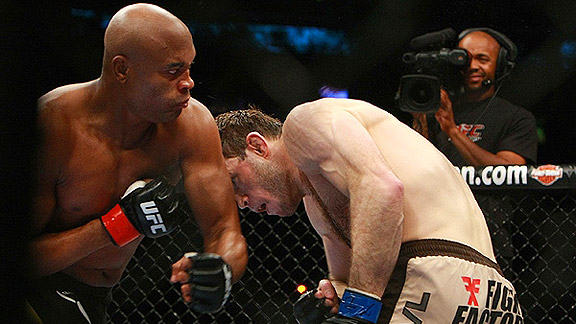 Dave Mandel for Sherdog.com Anderson Silva, left, finished off Forrest Griffin with a furious assault in Round 1.
11:48 p.m. ET -- Silva mugs in mock concern when the crowd hisses at him.
11:43 p.m. ET -- Former McDonald's employee (honestly) Silva enters to a mixed reaction. He looks a little thick around the edges. This is what happens when the best-cheesesteak debate starts.
11:38 p.m. ET -- Anderson Silva and Forrest Griffin, two men who could not provoke two more different audience reactions, are up; Griffin jogs to the ring, probably to avoid getting stabbed along the way.
11:35 p.m. ET -- The Philadelphia judges briefly stop throwing punches at one another to award Riley the decision.
11:30 p.m. ET -- The crowd goes wild in reaction to a fight in the stands. Philadelphia: where the security detail needs security detail.
11:27 p.m. ET -- "Rahh!" At round's end, Riley tosses Nelson to the ground. No finesse, just an angry grunt followed by a thud. Sometimes simple is best.
11:25 p.m. ET -- Backstage, Forrest Griffin is tying his shoelaces. This is riveting.
11:22 p.m. ET -- Revenge is apparently a pretty good teacher: Riley is muscling Nelson around and landing. At round's end, some fans catch sight of themselves on camera and start waving. At themselves.
11:17 p.m. ET -- Not for nothing, but Kenny Florian looks extremely stern backstage, like he's just been audited. I'm not sure if motivation can overcome experience and ability, but if it can, Florian appears to be willing himself into a title.
11:12 p.m. ET -- Aaron Riley enters to try and resolve the ambiguous finish (a loss) against Shane Nelson from March. He's 28 and has been fighting for 12 years. Not sure how that math shakes out.
11:03 p.m. ET -- Hendricks uses his extensive knowledge of wrestling to punch the crap out of Sadollah, pummeling him into the fence; referee Dan Miragliotta runs in like he was in a time trial. The crowd is not happy.
11:01 p.m. ET -- Sadollah runs out of the arena, telling officials he forgot to turn off his oven.
11:00 p.m. ET -- As you may recall, Amir Sadollah earned "The Ultimate Fighter" title in April 1995 and has yet to appear since, citing everything from infection to injury to constipation. I sincerely hope he can make it to the cage without succumbing to scabies.
10:58 p.m. ET -- The entering Johny Hendricks is a 4-time Division 1 All-American. I know that sounds like a bunch of obtuse nonsense; all you need to know is that it qualifies him to snap the spine of 99.9 percent of the population. With a toothpick in his mouth.
10:50 p.m. ET -- Almeida looks visibly fatigued as the referee implores him to return to his feet. The blanket and pillow may have been a little much. He decides to rest in Grove's guard instead. He'll win a decision, though Grove makes a valiant attempt to confuse judges by raising his hands.
10:46 p.m. ET -- Grove nearly nails an armbar on Almeida, and he's lucky to have escaped: Renzo Gracie probably would've finished tearing it off to beat him with it later in the evening. If you are a jiu-jitsu black belt and someone nicknamed "Da Spyder" submits you, you're not -- hey, Jeff Blatnick sighting -- you're not going to live it down easy.
10:44 p.m. ET -- Almeida is all over Grove, refusing to give him any space. Grove might be one of those weird "tweener" types, too lanky to cut to 170 and too lanky to be competitive at 185. Almeida is making it look very easy to toss him.
10:38 p.m. ET -- Tito Ortiz is spotted on a UFC telecast for the first time in over a year. The crowd appears less than excited and more than a little bothered.
10:37 p.m. ET -- Grove steps in. I get the feeling his nickname, "Da Spyder," was given to him in jest, and he's the only one who didn't know it.
10:33 p.m. ET -- Neighboring New Jersey resident Ricardo Almeida enters the arena to face Kendall Grove. Almeida is thinking of dropping to 170 pounds. How will he handle Grove, who's so tall he appears to be on stilts? I would have advised watching Bruce Lee versus Kareem Abdul-Jabbar.
10:30 p.m. ET -- With 10 seconds to go, Neer decides he should do something, and proceeds to elbow Pellegrino's head until it squirts pasta sauce. Unfortunately, there's that 14 minutes, 50 seconds of being dominated to worry about: 30-27 all across the board for Pellegrino.
10:28 p.m. ET -- You can't blame Pellegrino for sticking with what works: with Neer unable to peel his back off of the mat, Pellegrino is en route to a decision victory. Neer, emboldened with the deepest respect instilled by the rich tradition of the martial arts, backhands him.
10:25 p.m. ET -- The first successful lap for new Octagon girl Natasha Wicks. Quantum physics' loss is the UFC's gain.
10:23 p.m. ET -- In danger of getting the crowd behind him, Pellegrino follows a brief exchange with a takedown and works like holy hell to get the mount. It's amazing how that position -- once good for breaking every bone in a fighter's face -- doesn't mean a whole lot anymore.
Pellegrino finishes the second round in the Heimlich position.
10:18 p.m. ET -- Some vicious hugging; a bronzed Dan Miragliotta implores the men to raise the stakes before the crowd gets their torches. Pellegrino probably won the round.
10:14 p.m. ET -- Pellegrino ge
ts the body slam, Jimmy Snuka-style, and settles into Neer's guard. The Philly fans are giving both athletes a generous 45 seconds before they boo.
10:11 p.m. ET -- Interesting: the Philadelphia Commission checks gloves just prior to fighters entering the cage, not in the dressing room.
10:10 p.m. ET -- Lightweights Kurt Pellegrino and Josh Neer are on deck: two guys who fight like Bolo Yeung just kidnapped their sister.
10:06 p.m. ET -- The Burger King peepcams are live. Griffin looks quite a bit like Johny Hendricks.
10:04 p.m. ET -- They cut to Mike Goldberg. Now I'm just here to pay my electric bill. Emotionally, I'm gone.
10:03 p.m. ET -- This broadcast has about 10 seconds to win me over, and it begins and ends with whether they cut to a shot of the Rocky Balboa statue.
10:02 p.m. ET -- Live from Philadelphia, birthplace of the extremely talented Lawrence brothers. I am partial to Joey, but if you like Andrew, you like Andrew. I'm OK with it.
10 p.m. ET -- "Finally, they put an opponent in front of me that won't run." Anderson Silva ponders the advantages of fighting Forrest Griffin. For a guy who runs 240 pounds outside of camp, there aren't many.
August, 7, 2009
8/07/09
12:41
PM ET
What's far more dangerous than a professional mixed martial arts fight? Weighing in for one. Don't forget to join us at approximately 4 p.m. ET for updates, reactions and uncomfortable analysis of dehydrated abdominal walls in the buildup to Saturday's UFC 101 event from Philadelphia. Stay tuned.
4:23 p.m. ET -- B.J. Penn versus Kenny Florian. "For the UFC light heavyweight lightweight championship," Joe Rogan says. Florian is 155. No shock there. Florian looks like Florian. Penn looks lean at 155 even. Kenny may have the bigger head. If any of this information helps you make a more informed gambling decision, you're welcome.
4:19 p.m. ET -- Anderson Silva versus Forrest Griffin. Griffin jogs out and disrobes like he's going for a record. 205. Silva looks happy to be there. Why not? He's never the guy getting beat up. Solid-looking 205. Pretty electric staredown.
4:16 p.m. ET -- Kendall Grove versus Ricardo Almeida Almeida is 185 on the nose, Grove 185.5. "Fight of the night" material if Almeida has any unleaded in his tank.
4:15 p.m. ET -- Josh Neer versus Kurt Pellegrino. Pellegrino is 154.5, Neer is 155.5.
4:14 p.m. ET -- Amir Sadollah versus Johny Hendricks. Hendricks, sporting a beard that's an easy 7.8 on the Kimbometer, is 171; absentee "TUF" winner Sadollah is a somewhat alarming 166.5. Is 155 in his future?
4:11 p.m. ET -- Shane Nelson versus Aaron Riley. Riley looks better-conditioned than he has in recent memory. 154. Nelson -- who helpfully has "Nelson" tattooed on his stomach -- is 156.
4:09 p.m. ET -- Tamdan McCrory versus John Howard. "Doomsday" Howard, sporting the most bizarre flame-styled haircut of all time, is 169.5; McCrory, with very boring hair, dries off with a towel to get every last ounce. 170.

4:07 p.m. ET -- Thales Leites versus Alessio Sakara. A heavily bearded-and-inked Sakara comes in at 185.5; Leites takes the stage and immediately flops to his back. 185 even.
4:05 p.m. ET -- Matthew Riddle versus Dan Cramer. Cramer steps on the scale, blocking the crowd from ogling new Octagon girl Natasha Wicks. He weighs in at 169.5. Riddle puts on some shades. He still makes 170.
4:04 p.m. ET -- George Sotiropoulos versus George Roop. Roop is 154, Sotiropoulos 155.
4:02 p.m. ET -- Jesse Lennox versus Danillo Villefort. Both welters making their UFC debut. Does that mean the first-time nerves cancel each other out? Villefort clocks in at 170 "and a quarter." Villefort shakes Dana White's hand: White is wearing a Phillies jersey. Shameless. Lennox is 171.
August, 7, 2009
8/07/09
9:41
AM ET
Anderson Silva's glancing up at the giant screens that surround the Octagon venue to see how much time he has remaining is an easily ignored bit of ring strategizing.
But if you listen to Silva talk, you might begin to view it as a metaphor for the dwindling days of his career.
Silva has been vocal about his obsession with the finish line. He has four fights remaining on his UFC contract, and most expect him to either follow Roy Jones Jr. into a gymnasium unannounced or happily corral his children in Curitiba, Brazil, seen only as background detail during the bouts of his friends and training partners. Already, his legacy weighs so heavily on his shoulders that he risked nothing in contests against Thales Leites and Patrick Cote.
Anderson Silva, it seems, is tired of being Anderson Silva.
In an effort to antagonize him, the UFC has enlisted for UFC 101 Forrest Griffin, the brief 205-pound ex-champion who makes a habit of dragging opponents down into a quicksand of dirty fighting. Griffin gets his hands dirty and his face bloody as a matter of course; it seems unthinkable that the bout will be anything but entertaining.
If Silva does manage to inject a paralytic into the event, it won't be the last thing anyone sees -- headlining is a lightweight title fight between B.J. Penn and Kenny Florian, two men who are as combustible as Silva is questionable. If you're only as good as your last fight, the UFC has nothing to worry about.
What: UFC 101: Declaration, an 11-bout card from the Wachovia Center in Philadelphia
When: 10 p.m. ET Saturday (check back here for a live blog during the event)
Why you should care: Because Penn is the most talented 155-pound athlete in the combat sporting world when he chooses to be; because Florian's work ethic and passion haven't yet turned him as apathetic as Penn sometimes appears; because Griffin's linebacker build is a curious problem for the lankier Silva to solve; because Amir Sadollah, the long-shelved "Ultimate Fighter" winner, is going to encounter both ring rust and Johny Hendricks, which is a little like getting both swine flu and food poisoning on the same weekend.
Fight of the night: Penn-Florian will lack "Fight of the night" honors only if the lights go out.
Sleeper fight of the night: Both Josh Neer and opponent Kurt Pellegrino sport two "Fight of the night" awards each, normally awarded to athletes who put crowd interest first and their health second.
Pre-emptive complaint: Alessio Sakara is 4-4 in the promotion, and he's still getting work on a major pay-per-view?
Hype quote of the show: "I can be beaten, but I'm not going to be broken. I'm not going to 'pitter-patter;' I'm not going to run." -- Griffin
Five questions for a big event weekend: UFC 101 and WEC 42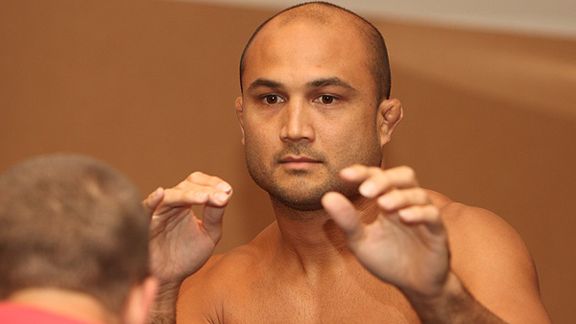 Dave Mandel/Sherdog.comB.J. Penn, above, will have his hands full with Kenny Florian.
If you don't get answers to these questions by 1 a.m. Monday, call and ask for a refund from your cable company. I'm sure it'll understand.
Q: Anderson Silva can deal with Forrest Griffin's striking. But can he deal with his size?
A: Stranger things and all that, but it is unlikely Griffin's muscular striking style will prove to be much of an issue for Silva, who practices Muay Thai like it's his religion. If this becomes a kickboxing match, Griffin will find himself with lots of time to learn what brand and wattage of bulb the house lights use.
But if he can bully Silva into the fence and force the middleweight champion into wasting energy in scrambles, carrying Griffin's weight, he might find himself on the proper end of a decision. Silva is not a small 185-pound athlete, but Griffin -- who actually has seen a scale hit 250 pounds more than once in his life -- is more mechanically dense. Size matters.
Q: Can Miguel Torres pick up where Urijah Faber left off?
A: For a promotion still struggling to adopt an identity even after UFC parent company Zuffa ran off with it, Faber was as good as the flannel-wearing guy who hawks Brawny paper towels: marketable, talented and dominant. Then Mike Brown happened.
While a solid ratings attraction for the Versus network, the WEC has yet to find itself in a position to begin a premium pay-television attack. Its focus on lighter-weight fighters has led to lighter-weight attention. Riding a 17-fight winning streak and able to corral the Spanish-language market, Torres -- who fights Brian Bowles on Sunday -- will either take over Faber's responsibilities as figurehead or cement the idea that the general public just doesn't care about the small guys.
Q: Will UFC 100's record business offer residual success?
A: Per Dave Meltzer's Wrestling Observer, the pay-television take of July 11's UFC 100 event might be in the neighborhood of 1.7 million buys. If true, it would incinerate previous totals and prompt both boxing and professional wrestling to begin staring sheepishly at their loafers.
What we should find out with the eventual business results of UFC 101 is whether a percentage of customers who had never purchased a UFC event prior to the anniversary show want to stick around. If this card is able to pull off an impressive number despite a lack of high-caliber drawing power, Dana White's proposition of global domination will seem increasingly less far-fetched.
Q: Can Javier Vazquez become a 145-pound threat -- again?
A: Celebrated for gutting out a 2003 war against Alberto Crane after tearing his ACL early in the fight, Vazquez left fighting because of too much pain and too little reward. A 2009 comeback hasn't made up for much; opponent Din Thomas dropped out of a June show, and in July, Vazquez got a call telling him a bout with LC Davis was scrapped, along with Affliction's entire promotional franchise.
Now the WEC has picked up the Vazquez-Davis fight intact, and talk inevitably will turn toward whether the jiu-jitsu expert has the tools to pose a threat to that promotion's deep 145-pound division.
Q: Is B.J. Penn doing the right thing?
A: Penn has admitted on several occasions that he is the director of his own movie and that no one has the cache or job description to tell him what to do. Training in Hawaii, he might be the best guy in the room on any given day. Contrast this with Georges St. Pierre, who -- when he wants to wrestle -- climbs into a ring with Rashad Evans.
For Kenny Florian, Penn has traveled to California and enlisted the help of Mark Marinovich, a somewhat infamous strength and conditioning coach to NFL athletes. This follows a round of testing last year with Mackie Shilstone, a world-renowned fitness authority who helped Michael Spinks and Roy Jones Jr. put on proper mass for higher-weight bouts. (Penn elected not to stay in New Orleans under Shilstone's guidance.)
Whatever you think of his training regimen, "consistent" is not the word that should immediately come to mind. While hiring Marinovich is an interesting addition, you have to wonder whether Penn's thoughts of grandeur -- he has, at various points, wanted to fight Wanderlei Silva and Ken Shamrock -- are up to the task of competing at 155 pounds and against a man who doesn't possess the adoptive legacy of a St. Pierre.
The biggest question mark is the one Penn dangles over his own head.
Back Against the Mat (BAM): UFC 101 and WEC 42 edition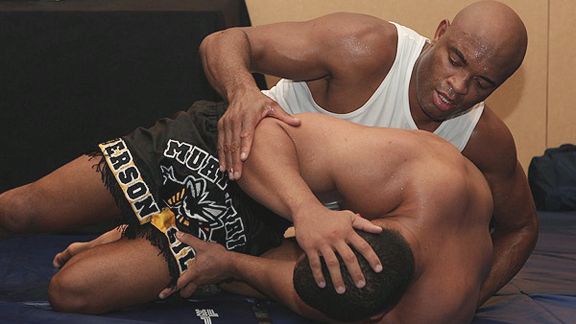 Dave Mandel/Sherdog.comAnderson Silva can't afford to look anything but stellar at UFC 101.
Because some fighters have more to lose than others.
Anderson Silva. Back-to-back insomnia solutions ported Silva from professor to pariah overnight. If he finds a way to behave eccentrically against Forrest Griffin, the UFC is going to have to consider arming his next opponent.
Jeff Curran. The WEC featherweight has lost three straight bouts against stiff competition. If he can't chamber a new career at 135 pounds against Takeya Mizugaki, he's probably due for the Phone Call.
Amir Sadollah. The ersatz Griffin and "Ultimate Fighter" finalist -- who entered the show with zero professional bouts -- impressed with the underdog victory in June 2008, but Sadollah dropped out of sight due to a broken clavicle and leg infection. Not his fault, but it's also not exactly setting the world on fire. Absentee attractions don't move tickets.
B.J. Penn. The athletically temperamental lightweight said he likely would have retired if he had defeated Georges St. Pierre in January, casting his interest in doubt; he also put off fans by dwelling on GSP's lubricated torso. Fortunately, fans remember only what you did last. If he can beat Florian convincingly, it'll be an amnesic to what's been an otherwise forgettable year.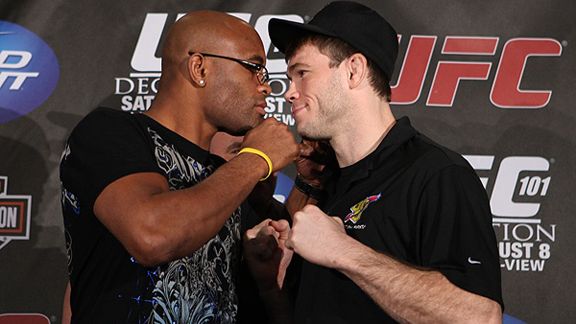 Dave Mandel/Sherdog.comForrest Griffin, right, tends to put his best foot forward against his toughest opponents.
Forrest Griffin's career since his 2005 "Ultimate Fighter" run has been repeatedly marked by bookmaker suspicion. In his bouts with Tito Ortiz, Mauricio Rua, Quinton Jackson and Rashad Evans, he was given little chance to win; bouts were handicapped with the idea Griffin would be opposing a speeding motor vehicle instead of a human being. (To the pleasure of those holding tickets in his favor, he went 2-2.)
Against Anderson Silva this Saturday, it should come as no surprise that he is again eliciting more sympathy than support. Wagering sites will give you $300 for every $100 risked if Griffin wins. It might not be their personal belief, but the numbers reflect what they think is needed to entice fans into backing him. The day Griffin is given a solid chance to win against any ranked opponent is the day pigs taste like chicken.
What it means: For Griffin, the chance to rise to new levels of stardom by beating a celebrated pound-for-pound great; for Silva, an opportunity to reinvigorate fan enthusiasm in his career.
Third-party investors: Vitor Belfort, Dan Henderson and Wanderlei Silva, all of whom are looking at a high-profile meeting with Anderson Silva somewhere down the line; and the UFC, which has trumpeted Silva's skills to the clouds only to wind up with egg on its face. Twice.
Who wins: Silva. Griffin can be a bully, but he's unlikely to finish Silva on the mat -- and Silva will have at least three chances to stay on his feet and light a fire.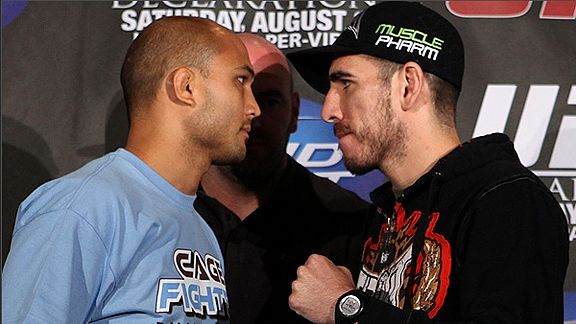 Dave Mandel for Sherdog.com B.J. Penn, left, can put the "GreaseGate" fiasco behind him with a win against Kenny Florian.
"It's time to kill the master" is not the most sporting of declarations, but with six straight wins -- and only one decision -- in the UFC since 2007, Kenny Florian has sweat and bled enough to earn a little hyperbole.
More than a few observers see Florian as the ultimate example of a non-gifted athlete who clawed his way into success and respect. (And they're right -- there's no video footage of Florian jumping out of a pool, which means he's practically useless physically.) Lightweight title holder B.J. Penn has seen more, done more and is more. Right?
Both Florian and Penn beat Joe Stevenson convincingly; Penn hammered Sean Sherk, who defeated Florian. Otherwise, Penn hasn't been nearly as active in the lightweight division as Florian. It's likely he would have handled Florian's opposition -- Roger Huerta, Joe Lauzon, Din Thomas -- but reputations aren't earned on hypotheticals, only what you're killed and eaten. And right now, Florian's appears to be the heartier appetite.
What it means: For Florian, the chance to monetize the status that comes with holding a UFC strap in seminars, how-to videos, appearances and merchandise; for Penn, an opportunity to erase "GreaseGate" from memory.
Third-party investor: Gray Maynard, an "Ultimate Fighter" recruit who holds a perfect record outside of the TUF house and appears due for a shot.
Who wins: Florian's commitment to the sport and physical maturation has been inspiring, and he might even give Penn some trouble standing. But the difference here is Penn's aversion to being controlled -- he can decide where this fight happens. And if he decides he wants Florian on the bottom, it'll go there. Penn by decision.