May, 6, 2012
5/06/12
7:56
AM ET

By Josh Gross
ESPN.com
Archive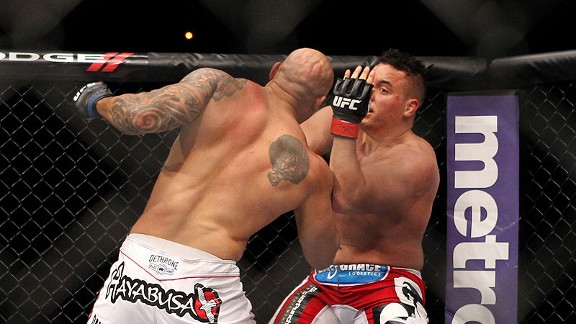 Ed Mulholland for ESPN.comLavar Johnson, whose story was told many times over during fight week, came through on fight night.
Mixed martial arts is filled to the brim with great stories. Not the least of which is the amazing tale of the sport itself.
During the course of this fight week, UFC's third on network TV, we were often reminded of two of its most harrowing: Lavar Johnson taking three bullets in a drive-by and
Alan Belcher
's battle with blindness.
When it comes to opportunities, Johnson and Belcher have to rank among the UFC's most grateful combatants.
With Johnson, it's easy to grasp why. He was the victim of horrific street violence that left his life (never mind his career as a heavyweight fighter) in peril. To survive and rebuild must have been empowering, which you can see in an attitude that led him, improbably enough, to open the Fox-televised UFC card. Johnson is fighting like he has nothing to lose, knocking dudes stiff, and for that he's moving toward the something-to-lose category. It will be interesting to see how the mid-tier heavyweight handles added pressure of success.
Belcher, though. The sport dinged him bad, nearly taking his sight. To cope with the emotions and thoughts that must come with that, the surgery and eventual recovery, to put it all on the line again by fighting dangerous beasts like
Rousimar Palhares
, I'm not sure there are many people who can comprehend what that requires.
Alan Belcher amazed on Saturday, and only in part because of his history.
[+] Enlarge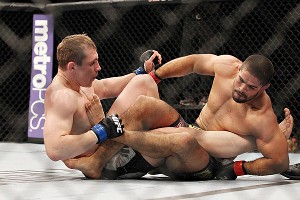 Ed Mulholland for ESPN.comAlan Belcher, left, faced a tense moment or two on the ground before stopping Rousimar Palhares.
The 28-year-old out of Biloxi, Miss., turned the tables on Palhares, attacking the Brazilian at his considerable strength. Leg locks, dare I say, are a dangerous game if played against "Toquinho," but Belcher was obviously well prepared and defended the twisting, turning, bone-breaking attacks as well as he could.
Belcher wasn't supposed to win -- not according to the mythology built up around the Brazilian. Palhares tore people limb by limb, OK? But, you know, Belcher wasn't even supposed to be fighting, either. And there he was, slamming elbows and punches into the head of a stumpy middleweight stuck on his back.
UFC's third card on Fox was its best since finding the brighter spotlight of prime-time network TV. After a too-short title fight followed by an all-decision card, Saturday's effort -- highlighted by Johnson's knockout, Belcher's referee stoppage and Nate Diaz's coming out party -- was a true example of mixed martial arts as spectator sport.
On a big night for combat sports, when UFC action led into Floyd Mayweather out-pointing Miguel Cotto and pocketing a record $32 million in guaranteed money, Belcher's win -- his fourth straight -- feels worth singling out. The streak, halved by the retina detachment in 2010, puts him in position to compete at the upper reaches of UFC's middleweight division.
Palhares, amazingly enough, wasn't ranked coming into tonight. So where does that leave Belcher in a deep, competitive field?
I think he'd beat
Hector Lombard
, Bellator's former champion and Zuffa's newest signee, who has a similar chance to breakthrough on Fox when he fights
Brian Stann
in Los Angeles in August. Can't say I feel so confident in Belcher if he's matched against Stann. Belcher versus the winner between
Ed Herman
and
Jake Shields
makes sense. Perhaps
Tim Boetsch
or
Michael Bisping
, who meet this July. Whatever Zuffa tasks him with next, Belcher will eagerly answer the call.
After all, he didn't come back from the brink of disaster for nothing.
February, 3, 2012
2/03/12
1:11
PM ET

By Chuck Mindenhall
ESPN.com
Archive
Cung Le
attempted to beat
Wanderlei Silva
at UFC 139 with an unlikely game plan -- that of fighting like Cung Le.
It nearly worked. Le tried to kick Silva's liver through his spine, but in the end he was downed with a barrage of strikes that left his nose in crescent form. The scrap was good enough to be a candidate for "fight of the year" but was unfortunate enough to be only the third-most exciting bout of the night. That was the same evening
Michael Chandler
won a back-and-forth battle with lightweight champion
Eddie Alvarez
in Bellator, and
Dan Henderson
outlasted
Mauricio Rua
in a five-round grind.
But the immediate reports back seem to be that Strikeforce fighters like Le are faring pretty well in the UFC. These were supposed to be the B models, slogging it out in a nice regional show. They weren't supposed to be able to compete with the elite of the world. At least that's what we heard from carnival barkers whenever somebody had the audacity to compare a Strikeforce fighter with a UFC fighter.
Yet, since the Zuffa purchase of Strikeforce and the great integration, it looks like Strikeforce had its share of equals and betters. This weekend
Nick Diaz
will fight for the interim welterweight belt against
Carlos Condit
after belting
B.J. Penn
at UFC 137. Win it, and he gets his long-awaited shot at
Georges St. Pierre
. Meanwhile,
Fabricio Werdum
takes on
Roy Nelson
in a fight with very loose title connections in the heavyweight division. Should Diaz and Werdum win -- and Vegas thinks they should -- it will continue a trend that makes Scott Coker look vindicated for something deep inside that could use some vindication. It also diversifies things for matchmaker Joe Silva.
Last weekend, Lavar Johnson scored a knockout of the night against
Joey Beltran
in Johnson's UFC debut. Former Strikeforce light heavyweight champion Henderson came back and beat Rua and is now patiently waiting in line for the
Jon Jones
-
Rashad Evans
winner. Strikeforce titlist and linear champion
Alistair Overeem
kicked
Brock Lesnar
into retirement, and next faces
Junior dos Santos
for the UFC heavyweight strap. Other Strikeforce fighters (not named
Gilbert Melendez
) are making their way from the hexagon to the Octagon, too. In fact, just about anybody who's anybody in the clearance of Strikeforce heavyweights will soon be in the UFC:
Antonio Silva
,
Chad Griggs
,
Daniel Cormier
,
Josh Barnett
, et al.
The floodgates are open.
[+] Enlarge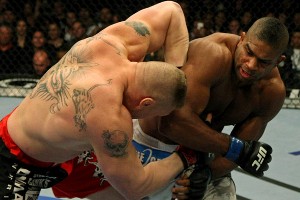 Donald Miralle/Zuffa LLC/Getty ImagesAlistair Overeem came roaring out of the gates in his UFC debut.
Granted, some of the Strikeforce fighters coming over are UFC retreads. But in the early returns the worst you can say is that
Jake Shields
, who jumped ship to the UFC before the acquisition, hasn't lived up to billing. Most Strikeforce fighters are having a happier time of it than when the UFC/Pride partition came down, and the Pride fighters faltered. Same with the WEC, given the potential of Condit and
Ben Henderson
. Yet most of the WEC's talent competed in the bantamweight and featherweight divisions, which didn't exist in the UFC until the beginning of 2011, so it's hard to make a full spectrum comparison.
But think about it -- in mid-to-late 2012, as many as three reigning Strikeforce champions could be wearing UFC gold (Diaz, Henderson and Overeem). If Melendez was ever released from exile, he could challenge for the lightweight belt, too.
What does it all mean? Maybe nothing. Or maybe it's something that we've always suspected and debated about. While the best fighters in the world are generally thought to be in the UFC at all times, there are fighters dying for the chance to be brought in for no other reason than to prove them wrong.
And knowing just how short the fight society's attention span can be, the UFC is only too happy to be wrong when they do.