May, 8, 2012
5/08/12
10:23
AM ET

By Chad Dundas
ESPN.com
Archive
We've come to expect, even look forward to the passionate postfight ramblings of the Diaz brothers.
It wouldn't really feel like a Diaz victory, after all, without copious shout-outs to the homies. It wouldn't feel right without some chest-thumping on behalf of the 209, or Stockton, or NorCal, or just California in general (it seems the place the Diazes call home gets bigger the farther away they get). The evening just wouldn't be complete without the now obligatory praise for a newly vanquished opponent and at least one out-of-the-blue announcement to make us all narrow our eyes at the TV a little bit and go: "Huh?"
On Saturday night in New Jersey, it was Nate Diaz's turn.
Diaz had just defeated
Jim Miller
at UFC on Fox 3 to solidify his position as top contender for the organization's lightweight title. In an absolutely appropriate summation by UFC color commentator Joe Rogan, Diaz had "completely handled" Miller en route to dealing him the first stoppage loss of his MMA career via funky second-round guillotine choke. It was Diaz's third win in a row since dropping back down from welterweight last year. He seems to have suddenly come into his own inside the Octagon and is now set to take on the winner of the Aug. 11 do-over between champion
Ben Henderson
and ex-champ
Frankie Edgar
.
[+] Enlarge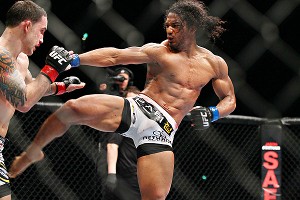 Susumu Nagao for ESPN.comUFC champion Benson Henderson can solidify his claim to the 155-pound title with another win over Frankie Edgar.
When asked by Rogan how he views his own standing in the sport's most competitive division, Diaz first stumbled through the typical clichés about wanting to be top dog, but then tacked on an addendum that -- while not exactly surprising -- speaks to the unique landscape of the 155-pound division right now.
"I'm trying to be the No. 1 in this world," Diaz said. "There's only one person above all of us and that's Gilbert "El Nino" Melendez, the true world champion lightweight."
Diaz, of course, is terribly biased. He and Melendez are longtime teammates on the Cesar Gracie fight team, so it's in no way shocking that he would use a live mic on national television to give the Strikeforce champion his propers. However, it is somewhat surprising that
anyone
on the doorstep of a UFC title shot would so readily and publicly admit he thinks the best fighter in his weight class competes elsewhere.
Also, even if Diaz didn't know it, he had a point. His words actually did much to underscore the fractured state of the lightweight ranks right now.
For perhaps the first time in the modern history of the sport -- or, at least, in recent memory -- there are no fewer than five fighters who can lay somewhat serious claim to being the No.1 lightweight in the world. Sure, maybe not all of them could make overwhelming cases for themselves, but you wouldn't immediately laugh any of them out of the room, either.
Since, as Diaz sort of pointed out, several of said guys don't fight in the UFC, it makes the question of who is truly the best in the world more difficult to answer than ever. It also obviously makes the 155 pound class one of the most interesting in the sport.
[+] Enlarge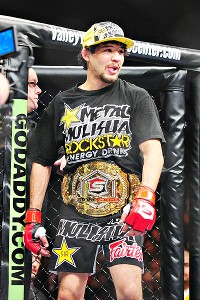 Mark Rebilas for ESPN.comAccording to Nate Diaz, MMA's premiere lightweight is Strikeforce champ Gilbert Melendez.
Considering that what we typically do when we fill out MMA top 10 lists is just insert
"Whoever has UFC Title"
at No. 1, Henderson is the conventional pick as top lightweight of the moment. In the former WEC titlist's case, however, his meteoric rise is undermined a tad by the razor-close decision in his championship victory over Edgar at UFC 144.
At least some observers think Edgar rightly should have gotten the nod in that bout and people who subscribe to the old adage that it's necessary to "take" the title off a standing champion might be able to make a convincing case that Edgar is still the best lightweight on the planet. That matchmakers granted him an immediate rematch against Henderson at UFC 150 only adds fuel to that argument.
Michael Chandler is the undefeated 155-pound champion of Bellator and the 26-year-old Xtreme Couture product has spent the last couple of years laying waste to most of the competition in MMA's highest profile mid-major organization. His title victory over
Eddie Alvarez
was a fight of the year candidate for 2011, but the back-and-forth nature of that affair's three-plus rounds might lead some to wonder if Chandler is truly even the best lightweight in his own promotion right now. As long as Bellator doesn't move to set up a Chandler-Alvarez rematch, instead appearing content to book its champ in quizzical, non-title fights against guys like Akihiro Gono, we might never know how good Chandler actually is.
Since that loss in November, Alvarez might have the least compelling case as a legitimate world No. 1, but nonetheless still deserves to be in the discussion. Prior to that defeat, he'd won seven fights in a row dating back to 2008 and last month followed up the loss of his Bellator title by dispatching erstwhile top-10 lightweight
Shinya Aoki
(also the last guy to beat Alvarez prior to Chandler) in just two minutes, 14 seconds. Alvarez is just barely hanging onto his own top 10 spot in the latest ESPN.com rankings, but remains the sort of guy who could beat any other lightweight on the list on any given night.
You can't have a conversation about who's the best without at least mentioning his name.
Then there's Melendez, who can likely make the best case for the top spot of any non-UFC fighter. At 20-2, he too is undefeated since 2008 and has avenged both his career losses during that current stretch. In his last four fights, Melendez has looked every bit the part of the world's best lightweight but, similar to Chandler in Bellator, Strikeforce just doesn't have the clout to offer him many new an interesting tests, especially with Zuffa still opting not to lessen its own glut of lightweights by sending them Melendez's way.
At this point, it seems the most Strikeforce can do is book him into an endless series of rematches against Josh Tompson. They'll fight for a third time on May 19 and if Melendez wins, his tenure in Strikeforce will seem more pointless and maddening than ever.
Should Melendez lose? Well, that seems like an even worse outcome.
Lightweight remains the most vibrant and hotly-contested weight class in our sport, but it's also the most maddening, considering the wealth of high-level talent spread out over numerous promotions. There are enough contenders jockeying for position in the UFC alone to keep us busy for the next few months, but the question of who can lay legitimate claim to the 155-pound throne will be too-close-to-call until all the top fighters congregate under the same banner.
Until then, at least we know who has Nate Diaz's vote.
February, 29, 2012
2/29/12
7:28
AM ET
February, 26, 2012
2/26/12
1:23
PM ET

By Josh Gross
ESPN.com
Archive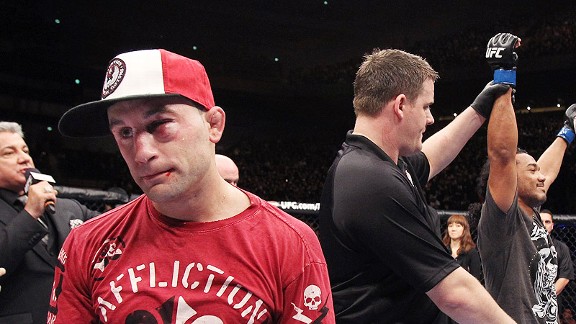 Josh Hedges/Zuffa LLC/Getty ImagesDouble disappointment: On top of losing, former champ Frankie Edgar might have to wait for a rematch.
Frankie Edgar
posed the question.
"I'm not trying to shoot anybody out of anything they deserve, but I had to do two immediate rematches," the now former UFC lightweight champion said after dropping a unanimous decision to Benson Henderson.
"What's right?"
Is there some good faith that needs to be cashed in on? Because that's what Edgar implied.
Based on his set of circumstances -- beating
B.J. Penn
to claim the title (by a more lopsided score than Henderson celebrated in Japan) only for Zuffa to make a rematch; rallying to a draw against
Gray Maynard
, followed by another go against the powerful wrestler (that one was an inarguable must) -- should he have the favor returned?
What's right. Hmm. This is tricky.
Let's start here: Edgar's promoter, who, of course, is also Henderson's promoter, thought the 30-year-old underdog from Toms River, N.J., should have held on to the belt. So if Dana White is saying Edgar won, doesn't that bolster the "second chance" argument?
The fight was close, but not controversial. There's a good case that Henderson deserves to be champion. But there are also grounds to believe Edgar did enough to retain the title. Though this result doesn't inspire the uproar of the first Penn fight -- no judge issued a Doug Crosby-like 50-45 -- I'm not sure how anyone could stomach seeing Edgar sit as another fighter gets the first crack at a belt he went through hell to defend (or, worse yet, Edgar in some three-round, non-title affair).
Edgar gave up something of himself to win and hold the title. Does that factor at all into what's right?
If you say no, if you think a kid like
Anthony Pettis
-- coming off two wins in the UFC against unranked
Jeremy Stephens
and
Joe Lauzon
following a loss to
Clay Guida
-- earned the next shot, I'm not sure how. Pettis' victory over Henderson in the WEC, the incredible "Showtime" kick off the fence late in the fifth, is the main argument for Henderson-Pettis 2. A rematch has the makings of an exciting, competitive contest. I'm not suggesting otherwise.
[+] Enlarge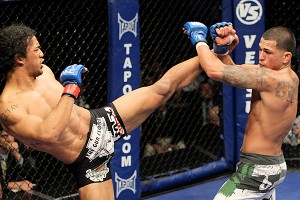 Josh Hedges/Getty ImagesA rematch between Benson Henderson, left, and Anthony Pettis makes sense, but where does that leave Frankie Edgar?
But for all his dynamic ability, has Pettis actually done enough in the UFC to earn a title shot? More than a
Jim Miller
or
Nate Diaz
, who fight in May? Do they get next after Pettis? If yes, where does that leave Edgar?
Sorry for all the questions, but when you're trying to figure out what's right, this sort of stuff happens.
If Zuffa determines that Pettis is next -- a decision that largely comes down to what you, the fans, have to say about it -- will Edgar have to win to get back in the title picture? Or can he take six months off and call next? If he can sit out, wait for Henderson-Pettis 2 to unfold, then face the winner, I'm fine with that. Because, no matter what, the right thing includes Edgar fighting for a title.
This brings me to another option. The one many people, including myself, have long said is Edgar's best bet: dropping to featherweight.
Jose Aldo
needs an opponent. Sure,
Hatsu Hioki
looked very good at UFC 144. Few people believe he'll pull off a shocker against Aldo. That's fine. The fight will come soon enough and the Japanese fighter, ranked No. 2 at 145, should have his chance to prove us all wrong -- much like Edgar did. But it's not an overly attractive fight, and won't sell a lick.
Aldo-Edgar has the potential to be tremendous -- for them, for us, for Zuffa. As of today, that's a dream fight. And it will remain so if Edgar has it in his soul to continue fighting at lightweight. If that's his call, he'll have to negotiate whatever gauntlet is laid in front of him. Zuffa can't force him to drop 10 pounds and fight Aldo, though they can keep him from an immediate title shot. Perhaps in doing so, Edgar's thinking may shift and the Aldo fight would become more attractive. We'll see.
While pondering what's right, how about including Strikeforce champion Gilbert Melendez in this discussion?
Melendez may very well be the best lightweight in the world -- he just needs a chance to prove it. Edgar-Melendez is an insanely attractive fight. It's tremendous business for Showtime. And in the interest of fairness, the fight might be the perfect play for Zuffa. Having Henderson or Pettis versus Melendez or Edgar would unify belts and answer every question about the division at the same time.
Which man would emerge as MMA's true lightweight world champion? The best we can do now is guess, and that's not good enough. As always, the point is finding out -- fighters like Henderson, Edgar, Pettis, Melendez and Aldo deserve nothing less.
That's what's right.
November, 10, 2011
11/10/11
1:27
PM ET

By Josh Gross
ESPN.com
Archive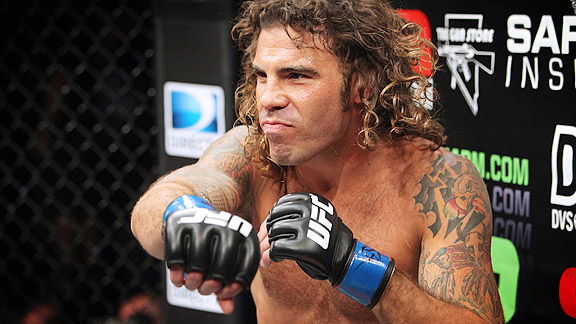 Josh Hedges/Zuffa LLC/Getty ImagesClay Guida wants you to know him more for his fighting ability than for his long locks.
LOS ANGELES -- Less than a week prior to a potentially career-defining fight against
Ben Henderson
,
Clay Guida
finished his last heavy training day by putting a treadmill to the test while watching the Chicago Bears rally to defeat the Philadelphia Eagles on Monday night.
"We're seeing signs of improvements from the Bears," Guida, an Illinois native, beamed two days later.
If nothing else, the game provided a momentary distraction from what's otherwise played out in Guida's mind leading up to a bout as important as Saturday's in Anaheim, Calif. Guida's upcoming clash against Henderson for the right to challenge UFC lightweight champion
Frankie Edgar
is as good a shot as he's had in his career to reaching the pinnacle of his division.
Searching for his third win of 2011 and his fifth straight inside the UFC, Guida, 29, has fought under the UFC banner for five years, and while he's enjoyed some solid runs, nothing compares to his current streak.
Guida credits his resurgence to "becoming a student of the game again."
What got me here? My wrestling," Guida said. "What's going to escalate me to that lightweight title? My ground game, my wrestling."
That back-to-his-roots mentality has a lot to do with a change in attitude after consecutive losses to
Diego Sanchez
and
Kenny Florian
in 2009. Not to be overlooked: Guida's decision to move his training camp to Jackson's MMA in Albuquerque. The impact of training with Greg Jackson, Mike Winkeljohn and others at Jackson's, Guida said, has been key to his redevelopment.
[+] Enlarge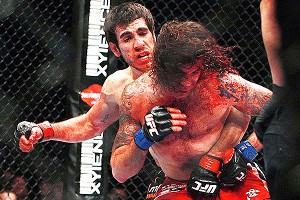 Dave Mandel/Sherdog.comLosses to Diego Sanchez and Kenny Florian, left, convinced Clay Guida it was time for change.
A decade ago Guida was similarly familiar with putting in long hours on the job in Albuquerque. He worked construction at a K-Mart in New Mexico's largest town, rebuilding a fitting room for a company based out of Chicago. These days, Guida (29-11) isn't shy about acknowledging how fortunate he considers himself. He's doing what he loves, and he does it well.
"I've been thinking about how things have come full circle," he said. "It's either I'm doing this or living on a fishing boat or framing houses.
Guida isn't kidding. He's done both and were he to cobble together a résumé, should he ever need to assemble one, it would read like a smattering of odd jobs in odd places. That is, until he found MMA. And, more specifically, the UFC.
Heading into his 15th UFC fight since October 2006, Guida is one of the staples of the company's lightweight division. His boundless energy has generally served him well, and while he's suffered five losses inside the Octagon, Guida's passion has been rewarded in kind by a strong fan reaction.
That momentum has built over the past two years. Three straight submission wins and a smart decision over dangerous
Anthony Pettis
in June rekindled the notion that a floppy-haired, self-described "Dude from the Big Lebowski" was a viable contender for the UFC lightweight belt
Now it's Guida's turn to take on Henderson (14-2), a fight that's illuminated the imaginations of many an MMA watcher. Neither man knows what it's like to fatigue. They're strong grapplers and willing strikers. They move forward, preferring to make opponents wilt away under the stress.
"It's like trying to submit a rubber band," Guida said of Henderson. "His ground-and-pound is second to none."
All things considered, they're similar fighters.
With fans and media focused primarily on the card's main event, a UFC heavyweight championship contest between
Cain Velasquez
and
Junior dos Santos
, Guida's bout against Henderson has not garnered the attention it deserves. Some people who were able to shift their attention away from the anticipated heavyweight contest "are talking fight of the year accolades," Guida said. "I'm thinking about having fun and having my hand raised.
"When you get a fight with guys that push the pace until their opponent snaps under the pressure, you get an all-out war. It's a fight I think fans might get tired first. They might be exhausted, but we're going to leave them cheering for more."
October, 25, 2011
10/25/11
1:15
PM ET

By Chad Dundas
ESPN.com
Archive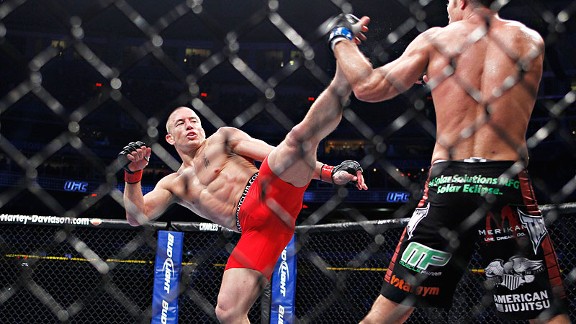 Ric Fogel for ESPN.comWith Georges St. Pierre making it look easy at 170, what would be the reason to move down to 155?
So now it comes to this: After all the speculation, hypothesizing and guesswork about a potential superfight between
Georges St. Pierre
and
Anderson Silva
, trainer Firas Zahabi says everyone might have been looking in the wrong direction entirely.
According to Zahabi, if St. Pierre is to take the plunge and switch weight classes, he might be headed down to lightweight instead of up to middleweight.
"I'd want him to move down to 155 [pounds], if Frankie [Edgar] was not the champion ...," Zahabi tells Sherdog.com this week. "I'd rather him go down to 155 because Georges is not a very big welterweight. People might think he is, but he's actually not very big and making 170 is extremely easy for him ... I really believe he could get down to 155 quite comfortably."
While this is certainly an interesting assertion -- one that sort of slyly points out what a gargantuan task it would be for St. Pierre to take on Silva at 185 pounds -- we can only assume that Zahabi is speaking hypothetically here, as a pragmatic coach who wants the best for his fighter and must be very, very tired of fielding questions about Silva versus St. Pierre.
Because, obviously, any realistic talk of GSP at lightweight totally misses the point of the last couple of years.
The last thing the most dominant welterweight in history needs to do is move
down
in weight. St. Pierre has won nine straight fights against the top 170-pound fighters in the world, has famously lost just one round during his last four consecutive decisions and since a 2007 defeat to
Matt Serra
has so thoroughly run roughshod over his division that prior to the arrival of new contenders like
Carlos Condit
,
Nick Diaz
and
Jake Ellenberger
, people were about ready to call the whole thing off.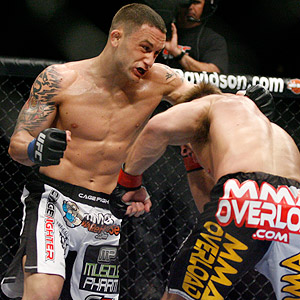 Ric Fogel for ESPN.comOnly Frankie Edgar would have anything to gain in a bout with Georges St. Pierre.
Putting that guy in a division where he'd only have more physical and tactical advantages? That doesn't even seem fair, let alone interesting.
At this point, fans frankly do not care about what is "comfortable" for St. Pierre. They care about finding him a challenge, seeing how he responds to adversity and how he handles being the underdog, for once. Most of all, they want the holy grail of MMA -- a fight between the top two pound-for-pound fighters in the world, to see if the French-Canadian phenom can do the impossible, topple Silva and steal the mantle of being the best in the world.
Clearly, he can't do any of that at lightweight.
The only halfway appealing fight for St. Pierre at 155 pounds would be the one apparently already ruled out, because he and Edgar have ties through Renzo Gracie's New York-based jiu jitsu academy. Even still, that fight would primarily be interesting not because of St. Pierre's involvement, but because of Edgar's, since it would essentially pit a guy many think should be fighting at middleweight against another many think should be fighting at featherweight.
In other words, it would only be important if Edgar won. For St. Pierre, it would just seem easy. Generally speaking, people who open their wallets to watch fighting don't want to see easy. They want to see history.
To provide that, St. Pierre can't look back and he can't look down. He can only look up.