May, 3, 2012
5/03/12
10:18
PM ET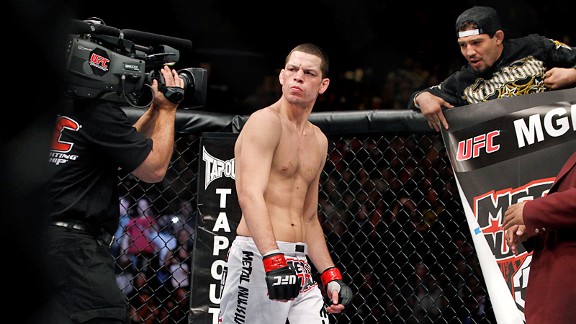 Ric Fogel for ESPN.comNate Diaz first entered the UFC as a work in progress -- and is emerging as a star of his own.
Leading up to the biggest fight of his life this weekend at the UFC's third live show on Fox,
Nate Diaz
has had to answer more than a few questions on behalf of his brother.
Of course, this will only strike you as odd if you don't know who Nate Diaz's brother is, and if you've spent any time at all around MMA, if you are indeed reading this right now, that's probably impossible.
Even as he stands poised for an opportunity at becoming the No. 1 contender for the UFC lightweight title, Nate remains the lesser known of the fighting Diaz men. His older brother, Nick -- he of the impulsive retirement announcement and ongoing marijuana suspension -- remains the bigger draw, the bigger perceived talent and in most tangible ways the all-around bigger deal.
All of this is despite the fact Nate actually has three more UFC appearances (15, in all) and three more Octagon wins (10) than Nick. Despite the fact he's proven to be the more reliable Diaz, the kindler/gentler Diaz and -- if all goes well on Saturday night -- stands a decent chance of going on to become the first Diaz to wear UFC gold.
Also, you know, not to mention the fact that if we take him at his own word, Nick Diaz's MMA career is already over.
Among two different men, such an unequal dynamic might be a problem -- but not with these two. Throughout his career, Nate Diaz has consistently credited his brother not only as a coach and training partner but also lists him first on his official UFC profile page when asked:
Do you have any heroes?
We have no sense at all that Nate Diaz wants to fight his way out of his brother's shadow. In a sport where fighters are seemingly constantly leaving one training facility for another over some perceived slight, where egos run rampant and where there are as many spats and hurt feelings outside of the cage as inside, there has never been a hint of significant strife between the Diaz brothers.
In fact, it's quite the opposite. When asked about his brother's future this week, Nate Diaz contended that Nick still isn't interested in returning to the cage (despite the fact he has a lawsuit pending against the Nevada State Athletic Commission) and in his brother's stead he (Nate, that is) will carry the family's honor into battle on Saturday night against
Jim Miller
.
"I feel like I perform for both of us," Nate said during open workouts in New York. "I don't want to let my team down; my brother down. He helps coach me, and I hope I can go out there and do good and make everyone look good."
Nate Diaz came to the UFC as a work in progress in 2007 and the fact that we've watched him experience some growing pains along the way -- while his brother was dominating the competition in EliteXC and Strikeforce -- likely has a lot to do with why we continue to view him as the lesser of two Diazes. Only in recent appearances have we started to see what he's truly capable of, with his first round submission of
Takanori Gomi
and thorough beatdown of
Donald Cerrone
in 2011.
If he defeats Miller to solidify his status as No. 1 contender, we might have to start thinking of him on equal footing with his better known brother. If he becomes UFC champ, well, then he might wake up one day and find himself the more accomplished of the two.
November, 14, 2011
11/14/11
2:05
PM ET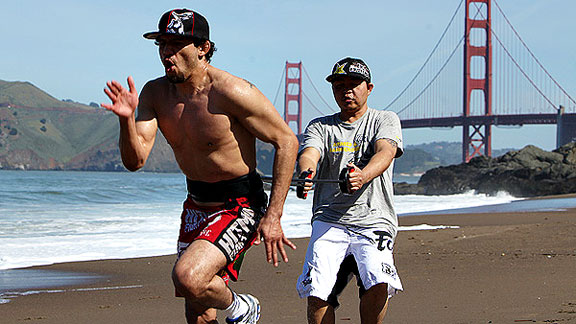 Dave Mandel/Sherdog.com No holding back: Gilbert Melendez feels he won't be denied in his quest to become undisputed.
Gilbert Melendez
knows what you're thinking.
"This is where I'm supposed to choke, right?" the Strikeforce lightweight champ tells ESPN.com on Saturday while in Anaheim to attend the UFC's debut show on network television. "This is where I'm supposed to choke."
Yes, Gilbert, this is where you're supposed to choke.
It's pretty much a classic scenario: Guy gets on a roll, wins five straight fights in a smaller organization and people start talking about how he's going to be a huge star in the UFC. He's ranked No. 2 in the world and the word on the street is he might even get an immediate shot at UFC gold if he can just win this one last fight against an underdog opponent everybody expects him to brutalize.
For Melendez, the fight in question -- the one where he's supposed to gag -- is a Dec. 17 title defense against
Jorge Masvidal
in San Diego. It was already briefly rumored to be off a couple months ago so Melendez could make the jump to the UFC. Now that it's back on, oddmakers make him more than a 3-1 favorite over the scrappy, but inconsistent Masvidal.
Win, and Melendez can likely punch his ticket into the UFC, regardless of the four fights that will be left on his Strikeforce contract. Lose, and it makes Melendez just another cautionary tale alongside all the other "next big things" who've squandered their momentum at the last possible moment.
"That's what motivates me," Melendez says. "I have to find ways to motivate myself for a guy [like Masvidal], who has everything to gain and is a very tough challenge. What motivates me is, this isn't really for the fans or other fighters, this is for myself -- knowing that I can stay focused and keep my eye on the prize."
[+] Enlarge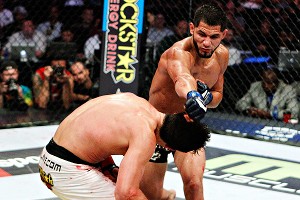 Esther Lin/Getty ImagesJorge Masvidal is exactly the type of fighter Gilbert Melendez knows better than to underestimate.
Exactly when Melendez will find his way to the UFC has been a major topic of conversation for most of 2011. Teammates
Nick Diaz
and
Jake Shields
have already made the jump, vacating their Strikeforce titles in favor of bigger pay days, heightened exposure and stiffer competition.
Nate Diaz
is there too, having recently been thrust into the outskirts of title contention in the same division "El Nino" one day also intends to make his home.
Melendez works their corners at UFC events and regularly attends UFC functions. Essentially, he's already a UFC fighter in every way except the only one that counts: He's never fought in the Octagon.
In light of that, you can't blame Melendez for making his intentions known. His ultimate goal is to be UFC champion and be recognized as the top lightweight in the world, he says. While that may violate the old "one fight at a time" cliché that most guys in his position readily fall back on, Melendez contends he can keep Masvidal in his sights without totally forgetting about his UFC dreams.
"I have to look ahead because it's just part of the business," he says. "[I have to] look ahead of Masivdal while maintaining that I have to train hard and beat him. I know what's on the line here. I'm training my a-- off and staying focused for him."
To hear Melendez tell it, he's already suffered one career letdown. After losses to Mitsuhiro Ishida and
Josh Thomson
during 2007-08, he's had to fight his way back to the top once before and isn't eager to do it again. That's why he guarantees he'll do everything in his power to avoid "choking" against Masvidal next month.
"I've [already] hit that hump where I was 13, 14, 15-0 and ranked in the top three in the world, and then I lost," he says. "I've seen what happens. You fall off, these interviews are gone, you fall out of the rankings. I've been there. I can't guarantee victory, but I can guarantee I'll be 100 percent prepared."
September, 7, 2011
9/07/11
4:36
PM ET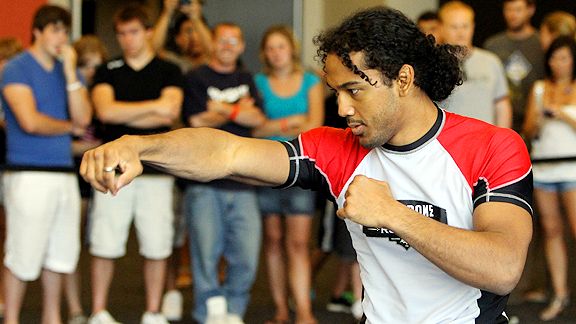 Josh Hedges/Getty ImagesForward march: Ben Henderson is closing in on a coveted UFC title shot.
Call it unfortunate timing, perhaps.
On any ordinary day in MMA, the announcement of a lightweight match-up between
Clay Guida
and
Ben Henderson
would no doubt be the top headline.
As it were, the confirmation that Guida and Henderson will fight on the preliminary card of the UFC's first network television broadcast in November got a bit lost in the shuffle on Tuesday between reports of
Brock Lesnar
versus
Alistair Overeem
,
Josh Koscheck
versus
Matt Hughes
and emerging details of the Octagon's first trip to Japan in more than a decade.
In retrospect, saying it was an unusually busy news day seems like an understatement.
Nonetheless, it would be a mistake to overlook Guida versus Henderson, an important (if not completely unexpected) fight that could finally plot a secure future for a 155-pound title picture beset by false starts and futile plans for most of 2011.
Barring injury or unforeseen calamity, this bout shapes up as the closest thing to a true No. 1 contender fight we've seen at lightweight since
Gray Maynard
beat
Kenny Florian
at UFC 118 a little more than a year ago. The real beauty of it is, it doesn't really matter who wins.
Either Guida or Henderson would make a sensible and marketable challenger for the winner of Maynard versus
Frankie Edgar
III at UFC 136. That's in stark contrast to how the UFC has booked its other top lightweights through the first eight months of this year, when
Evan Dunham
,
George Sotiropoulos
,
Anthony Pettis
and
Jim Miller
all came up short in high-risk, low-reward fights that failed to yield an obvious next title candidate.
That a fight as important as Guida versus Henderson might end up only being seen on the Internet would be a shame if it didn't underscore how serious the UFC is about making a good first impression during its first show on the Fox Network. Instead, you have to believe both guys should take their prelim booking as a compliment. Clearly, UFC brass are counting on Guida and Henderson to put on an exciting scrap that will be perfect for broadcast in the likely event the heavyweight title fight between
Cain Velasquez
and
Junior dos Santos
ends quickly.
Provided somebody actually wins the upcoming meeting between Edgar and Maynard, the timing -- and potential publicity -- will be right to offer up the Guida-Henderson victor for a championship turn. The only potential argument against such a scenario could come from either
Melvin Guillard
or the sudden addition of Strikeforce champ
Gilbert Melendez
to the UFC ranks, but all reports indicate that Melendez will remain in SF through at least the end of the year and Guillard still has to get past
Joe Lauzon
on Oct. 8.
Anyone who's been paying attention to the recent run of bad luck among top lightweight contenders knows that last part is easier said than done. Even if Guillard does take his sixth "W" in a row, the winner of Guida-Henderson feels like he should still have the inside track. Aside from a first-round TKO over Dunham in January, Guillard's run doesn't include any A-list lightweights after all, while Guida and Henderson notched their most recent wins over Pettis and Miller, respectively.
One more win should be enough to give either one of them the nod. In the event their bout makes the Fox broadcast, well, neither Guida nor Henderson will have trouble grabbing his fair share of headlines in the near future.
August, 15, 2011
8/15/11
6:54
AM ET
MILWAUKEE -- Every time we think we're almost out of the woods, the lightweight title picture lapses back into chaos.
Disorder is becoming a nasty habit for the UFC's most competitive division. On Sunday night, the culprit was
Ben Henderson
, who out-wrestled, out-struck and pretty much out-everything'ed
Jim Miller
en route to a lopsided unanimous decision victory in the co-main event of UFC Live 5.
In doing so, Henderson snapped Miller's seven-fight win streak in the Octagon, quashed any plans to have him face the winner of champion Frankie Edgar's upcoming rematch with
Gray Maynard
at UFC 136 and returned the 155-pound class to what is starting to feel like a perennial state of disarray.
We could almost be mad at him, if Henderson didn't appear to be one of the most genuinely likable guys in the sport. Maybe on the planet.
From the moment his music hit inside Milwaukee's Bradley Center, Henderson's energy felt contagious. After dancing and singing his way to the cage, he further worked the crowd into a frenzy by raising his arms and screaming at them through the chain link upon the conclusion of a hard-fought first round and then brought them similarly to a crescendo once he knew victory was assured on the heels of dominant second and third stanzas. Just witnessing his enthusiasm, it was hard not to cheer for the guy.
"I get pretty worked up during my fights; I start going crazy," The former WEC champion said afterward. "I'm a pretty calm, reserved guy, I'm pretty low key, but during my fights I just get worked up. I feed off the crowd, the crowd starts cheering and going crazy and it gets me going and I then I start doing my thing … It's just great positive energy."
Positive for everyone except Miller, who now joins the list of fighters like
Evan Dunham
,
George Sotiropoulos
and
Anthony Pettis
who recently appeared on the cusp of No. 1 contender status, only to fall short at the last moment. For his part, Henderson becomes the latest addition to the short list of guys likely within a fight or two of their own shot at the gold, alongside
Clay Guida
and
Melvin Guillard
.
What happens next is anyone's best guess. Any two of the above trio could conceivably meet to decide a new No. 1 contender. Just to make things even more confusing, there are still additional questions about Strikeforce lightweight champ
Gilbert Melendez
, and how long it will before he finds himself in the Octagon.
As is the custom for men in this exclusive group, however, Henderson politely declined to speculate on what's next for him.
"To be honest with you, I'm not really sure [where this leaves me]," he said. "It's not really my place to say, 'Oh, I'm this guy, No. 7, No. 10, No. 21.' It doesn't matter to me. I just wanted to make sure I got my hand raised."
June, 3, 2011
6/03/11
7:28
AM ET

By Brett Okamoto
ESPN.com
Archive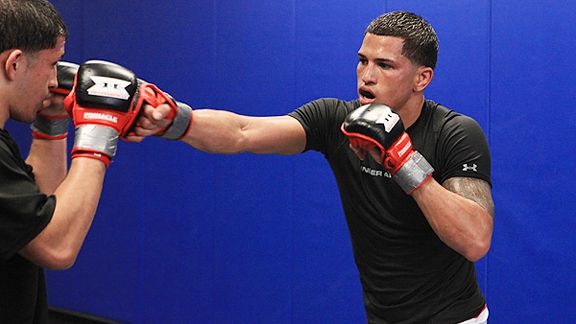 Dave Mandel for Sherdog.com Anthony Pettis isn't one to stand idle and wait for his shot at a title.
LAS VEGAS --
Anthony Pettis
knows exactly what he's risking when he meets
Clay Guida
at The Ultimate Fighter Finale on Saturday in Las Vegas.
And if he comes away victorious -- not at all a foregone conclusion -- he says he's fine with risking it again.
"It's definitely a big chance," Pettis said, on putting his No. 1 contender's status on the line against Guida. "I lose this fight and I'm out of title contention. But I came to the UFC to fight and I'm not going to sit around.
"If I'm healthy and I come out of this fight victorious, I'll take another fight. I saw an interview where Dana [White] said I might have to take another fight -- I have no problem with that."
Pettis, the reigning WEC lightweight champion, was supposed to get a shot at the UFC belt this year, but those plans were put on indefinite hold thanks to a draw between
Frankie Edgar
and
Gray Maynard
in January.
Following that result, Pettis had little choice but to accept the fight with Guida.
His chances of fighting for the title took another hit last month, when both Edgar and Maynard went down with injury, canceling a title fight between the two at UFC 130.
With no official date set between those two, Pettis would likely be looking at a best-case scenario of seven months off should he defeat Guida and elect to wait it out. And that just doesn't sound appealing.
"He was upset but he dealt with it in January and decided to move on," said Duke Roufus, Pettis' head trainer. "When the time is right, he'll fight for the title. Right now he's in the winning business.
"If it's two fights, fine. He's like a kid in the NBA right now, wanting to make a name for himself. I'd have to talk to his management team before saying anything official, but Anthony is not in the waiting game. He wants to get in and win fights."