November, 28, 2012
11/28/12
6:02
AM ET

By Josh Gross
ESPN.com
Archive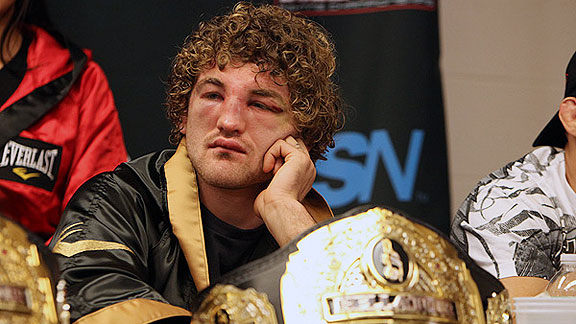 Dave Mandel/Sherdog.comBen Askren, one of the best welterweights in MMA, doesn't know where his future is.
If you're put on hold after dialing Bellator Fighting Championships' office in Newport Beach, Calif., it only takes a second to recognize the supercharged commentary of Sean Wheelock and Jimmy Smith.
Waiting to speak with Bjorn Rebney -- the promotion's promoter -- Wheelock and Smith happened to be screaming over Michael Chandler's epic finish last year of
Eddie Alvarez
, which was perfect, considering what I was calling about Tuesday morning.
Rebney published an open letter on Bellator.com on Monday stating the company's revised position on championship rematches. Essentially: Under the right circumstances, they would promote them.
The obvious place to begin would have been a second tilt between Chandler and Alvarez. Rebney said it's the fight he gets asked about most in airports and arenas during weekly jaunts from show to show.
There's very little doubt in Rebney's mind that "had Chandler-Alvarez happened today, regardless of Ed's situation, I would be on the phone probably four minutes after the fight with Kevin Kay at Spike network saying 'When are we going to do this again?' Because it would have had such a dramatic impact on viewership and fan response."
In reality, he's talking up the rematch that got away. Alvarez is a free agent currently negotiating with the UFC and Rebney sounds accepting of the former champion's likely departure. Still, the outcry to see Alvarez get a chance at avenging his title loss to Chandler, said Rebney, "got the wheels in motion" for change.
"I'm never going to be one that completely plants the flag in the ground and say there's no room for growth, there's no room for deviation," he said. "There's always room to make things better.
"There's always room to make the product better for fans, better for fighters. I think we did that."
Rebney is now promising that if fans call for a rematch, and if there's consensus from Bellator president Tim Danaher and matchmakers Sam Caplan and
Zach Light
, and if Kevin Kay at Spike is interested, then so it shall be. There's also a move down the road to pay-per-view to consider.
"Those are going to be driving concerns," he said.
Less worrying, Rebney noted, was the idea that Alvarez (or any fighter in the same position) could fight for a belt while not being locked up to a deal. If it's worth promoting, he said, they'll do it. And Bellator contracts, considered among MMA's most rigid, would not have to be revised in any way.
"There's just a lot of fights coming up where you just want the option to be able to say, 'That was awesome, you're the champ and you earned your spot. Here, let's do it again,'" Rebney said.
This would appear to be a departure from the concept Rebney put forth in 2009, in which Bellator title shots are earned when a fighter advances through an eight-man qualifying tournament. Rebney said he'd considered the issue for a while and is "at peace with it" because the "decision stays true to who we are and what we're about" and the show maintains a substantial point of difference from other organizations in the sport.
"I think what you're looking at right now is the industry kind of fitting into where the industry will fit for the next five years," Rebney said. "And I think we're heading in a good direction. Any time you've got a huge, powerful, innovative company like Viacom, not just distributing content, but vested, owning a huge piece of the company, and tremendously devoted to its success and brand development, and you've got another major giant out there [Fox] who has made a very large financial commitment to the UFC, who obviously has a vested interest in trying to see that that content does well, I think it's a positive."
During a teleconference Tuesday for UFC's return to Fox on Dec. 8 in Seattle, Eric Shanks, president of Fox Sports Media Group, came off as bullish over the network's partnership with Zuffa heading into 2013.
By no means was this Rebney's most difficult call, but it does indicate that a month before Bellator begins its partnership with Spike that clearing the deck for fan- and television-friendly fights is a big part of the thinking these days.
"No one is talking their way into a world title fight [in Bellator]. Nobody is being groomed a la a boxing format where you get 24 wins against nobodies and get there," he said. "You've got to beat three spectacularly world-class fighters and once you've done it, if you give fans an unbelievable showing, if it's an epic fight, if it's an Alvarez-Chandler type of fight, then it just made sense to me, and I believe we're staying true to who we are. We're not by any stretch of the imagination eliminating the objectivity. We're not eliminating the tournament structure. We're not eliminating the need to earn your shot. But I think it betters who we are."
In the parlance of Bjorn Rebney, "spectacularly world-class fighters"
Lyman Good
and
Andrey Koreshkov
will fight for the welterweight tournament crown Friday at the Soaring Eagle Casino & Resort in Mount Pleasant, Mich. Bellator has roughly 170 fighters under contract as it enters the next phase of its existence, in which Viacom's financial backing and Spike's television platform portend a boost for the promotion.
Good or Koreshkov would fight either titleholder
Ben Askren
or Frenchman
Karl Amoussou
, whomever wins their meeting sometime in January. No date has been announced, though Rebney expects this and other news to be made over the next few weeks.
Rebney said he hopes for three title fights per year at each weight.
"God willing there will be a lot of rematches, because if we're doing a lot of rematches it means we've had a series of epic world title fights," he said. "That's awesome. That's what you want. You want the biggest fights to be the best fights."
November, 9, 2011
11/09/11
1:26
PM ET

By Chuck Mindenhall
ESPN.com
Archive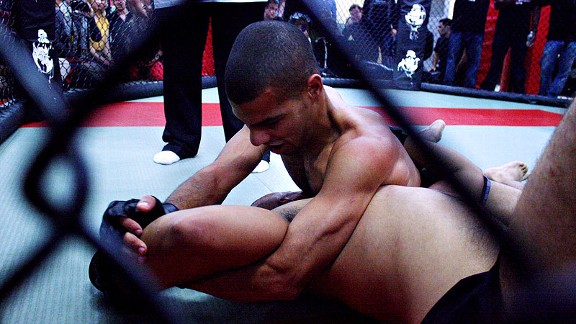 Courtesy Anil Melwani for www.MMA.usTwisted values: New York is one of the few states still holding out on legalizing MMA.
In a very literal underground setting in lower Manhattan, a room of men are being selected at random to fight one another. These men are co-mingling with people there to watch them fight. It's an unnervingly casual intersection. Everybody's in socks to protect the mats, the participants have their hands wrapped, the spectators hold small plates with hors d'oeuvres. It's a mix of gladiator stereotype and bemused hipster curiosity that have all come together to partake in something that's perfectly legal just about everywhere else well above ground -- a mixed martial arts card.
This all adds up to something unusual.
The names are drawn and the fighters square off for a brief moment to almost nobody's attention. They come from area gyms around New York City -- Brooklyn Combat Club, Tiger Schullman's, Steve Katz's school in Queens. There are guys you've never heard of, guys who do it for experience, to catapult to bigger things, to test their mettle, to rid themselves of wild hairs -- it could be anything. Frankie Edgar got his start in these shows. Ditto Lyman Good, and "The Ultimate Fighter" Season 14's green-haired bantamweight Louis Gaudinot. There are lores all over, traveling up and down the halls.
Most of these guys are in great shape and fight-ready. Some of them are just adrenaline junkies. Whatever their reason for showing up, it has nothing to do with money, as they aren't paid. Their reasoning is hard to pinpoint, and it all goes into the mysterious vibe of the show. In fact, it's the crux of a book just released by Jim Genia called Raw Combat, which is all about this underground fight scene and its periphery, treating its old school poetries and absurdities as equals.
And it's a privy thing to see these guys scrap under naked bulbs in whichever of the five boroughs a card is held in. To hear about an upcoming "event," you have to be on organizer Peter Storm's list. The easiest way to find out about a sub rosa fight card on his Underground Combat League (UCL) circuit is to receive a text from Storm with time and location. That's it -- a text with cryptic details. The cards bounce around from place to place to avoid being snuffed out by the police. There's no medical provision should anybody be seriously hurt, no drug testing, none of the sanctiony up-and-up. It's come as you will, leave as you turn out.
Many times, there isn't a ring or a cage, so the spectators form a sort of human phalanx to keep the fights enclosed. At most shows, there are maybe 100 people on hand to view it, and the bulk of them are men. When there's a shortage of fights or an odd number, sometimes they'll ask for volunteers from the audience who meet the weight specifications. A few hands are always raised.
Yet contrary to cinematic depiction, there aren't any fat men with fans of cash taking action. Though it's a traditional smokers show, there isn't any smoke. At this card, no alcohol either.
You might find some of those components at a regular underground fight, but this one is actually more of a medley show, to coincide with the release of Genia's book. Genia has spent a lot of time watching fights in subterranean set-ups, and his book digs into the niche within the niche. It takes a closer look at the characters, some of whom are on tonight's card. He is on hand to celebrate its release along with author Matthew Polly, who also has an MMA book set to release called Tapped Out, which is more of a George Plimpton-esque participatory account of an everyman training for a fight.
Along with authors in the room, there are agents and publicists. Georges St. Pierre's Muay Thai trainer, Phil Nurse, is on hand for Polly, as is submission coach John Danaher, and Joey Varner, Gray Maynard's striking coach from Las Vegas -- a central figure in Polly's book.
In other words, this is the essence of underground fighting parlayed with a PR event.
As ceremony dictates, there won't be any
vale tudo bouts
-- the infamous "anything goes" fights that are agreed upon by handshakes if guys are willing -- but there assurances of blood. On this night they'll do all four fights under the unified rules, which took shape a decade ago in nearby New Jersey, just across the river where all of this sneaking around must seem pretty amusing. The UCL fighters will compete in a miniature cage in an adjoining room, so small that angles won't be cut by choice.
Storm, with his ball cap pulled down close to his eyes, takes the center of it and announces the first fight is about to start, and the herd moves in closer to the cage to hear the thuds over the hum of the ventilation unit above.
It's a secret society affair built in part on its illicit appeal. There's more in play here than just nose-snubbing the authorities and showcasing unheralded talent. There's a Chuck Palahniuk "Fight Club" promise of raw violence. And as fascinating as it might seem, as much as it can be fun to look over your shoulder to see if you're getting by with a fast one, it makes so little sense.
The fight card is held on Nov. 5. In exactly one week, the UFC debuts on national broadcast television -- UFC on FOX from Anaheim, Calif. -- in what is MMA's first big leap toward graduating a scrutinized niche sport to a broadly accepted one.
In the two coastal epicenters, MMA is splitting legitimacy right down the middle.
Empire State behind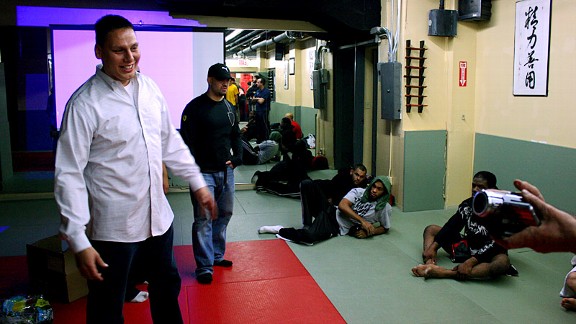 Courtesy Anil Melwani for www.MMA.usAuthor Jim Genia has been a vocal advocate of legalizing MMA in New York.
Though everybody has televisions and the freedom to flip channels as they wish, MMA is still a Dark Ages game on Empire State soil, and it's forced to act that way. Taken piecemeal, all the facets of MMA are legal -- kickboxing, jiu-jitsu, wrestling and boxing. Put together, it adds up to something brutal for political tastes. Forget that Madison Square Garden was intended for combat sports; in 2011 it's still a non-sanctioned spectacle where it sits. Crude shows like Peter Storm's exist to fill a demand -- in fact, they exist almost wholly in spite. On several occasions, Storm thanks the crowd and encourages everyone to keep up the good fight in getting MMA legalized in New York. As much as he's the face of the underground, he talks like somebody who wants to put underground fights out of business.
And it's been the bane of Zuffa's existence for the past few years, getting New York to sanction MMA. Lorenzo Fertitta and Dana White have spent millions of dollars to essentially debunk antique notions of what the sport is about. Though progress gets made each year, MMA hasn't been placed on the Ways and Means Committee agenda in 2011. Once again, it's back to the old drawing board. There's always 2012. And 2013. And so on.
But the UFC can't wait around. It will take the next step for MMA's growth with a free heavyweight title bout between Junior dos Santos and champion Cain Velasquez on national television, making New York itself look like something from the Dark Ages. State assemblyman Bob Reilly is the staunchest opponent of sanctioning MMA, and he cites moral reasons and principles as to why. For people who have tried to follow his objections, it seems like old-fashioned ignorance -- principles can be tolerated, but not if they're built on stubbornness. The problems are far more convoluted than that, but Reilly and MMA lobbyists are still sitting there glaring at each other righteously as time passes.
And that's where we are between seven days and two worlds.
On Saturday, the UFC show will very likely best the highest television ratings in MMA history, which was Kimbo Slice versus Josh Thompson (6.5 million) a Strikeforce event on CBS. The UFC will roll out Velasquez and dos Santos as a red carpet event to serve as a showcase not only of its brand but of the sport. People in New York can watch on television just like anybody else.
Want to talk about a million miles away though? To see a fight live in New York, a text might have to point you in the direction of a Chinese restaurant in the Bronx, down a flight of stairs and away from the probing eyes of the NYPD.
'Are you ready? Are you ready?!'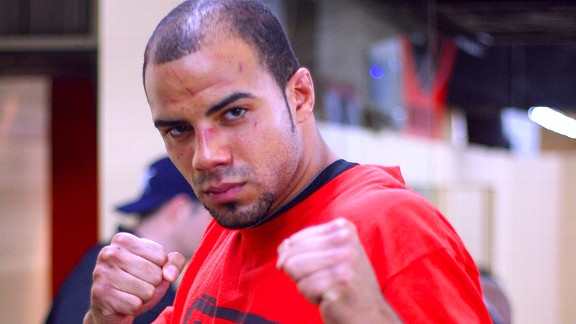 Courtesy Anil Melwani for www.MMA.usFighters like John Padron hope for the day when they can ply their trade in a venue like MSG.
The Raw Combat fights go off as you might expect -- some technical moments, some sloppiness, plenty of haymakers.
The first fight pits a lanky guy named Jonathan Velez, against a fighter who uses an alias, Jon Tex. The referee, a Brooklyn-based fighter named Jason "Rage" Rivas in ordinary street clothes, brings them together with a sound bite tailor-made for the underground theater: "Are you ready? Are you ready? F--- each other up!" Each fight is three, three-minute rounds. They begin swinging in the relative quiet of the gym, and each time one lands it sounds like a salmon being smacked against a brick wall. It's the small room acoustics. Velez ends up winning it.
Eric Blasich of Franklin Square, who is built like Eddie Alvarez, fights Jon Padron to a draw. At one point during that fight, the experienced observer Varner sees a sweep materializing but Padron grabs the fence a couple of times to prevent it. This is where the differences stack up. Little things like grabbing the fence go unnoticed. One of the stars of Genia's book, Kirkland Campbell, loses a rematch to Jonathan Rodriguez the same way he lost the first -- via a triangle choke. And in the main event, heavyweights Israel Martinez and Junior Lubin square off and go back and forth for the three minutes. Martinez can't answer the second round bell.
"He said he couldn't breathe," said referee Rivas. "It might be asthma; I don't know. I tried to ignore him when I first heard him say he couldn't keep going, but he insisted to his corner."
Storm says hold tight -- Lubin is still fresh and ready to go again. He calls up the UCL champion James Braddock, who's somewhere gallivanting in the New York City night, to see if he might come down and fight. Braddock beat Storm for the belt not so long before (Storm usually fights on his own cards), but it's give and take. Everybody waits around to see if the bonus fight will materialize. It doesn't. Braddock is an hour away and can't make it, so that's a wrap. People applaud the action that was provided anyway. They take the action where they can find it, even if it's thrown together spur of the moment in undisclosed locations away from the public eye. Even if as far as public knowledge goes, it never happened.
A defeated Kirkland Campbell walks over and shakes his head. He lost to the same guy again, by submission again. Then he says, "Man, when this thing happens, I just want to fight in Madison Square Garden." This sounds far-fetched from a guy losing on the underground circuit, but it's not the most far-fetched thing in the sentence.
Madison Square Garden is upstairs, protected from any legitimate happenings in the sport he's in.
October, 25, 2011
10/25/11
5:46
PM ET

By Franklin McNeil
ESPN.com
Archive
Lyman Good
returns to action Nov. 26 against Michael Costa in a Bellator Season 6 welterweight tournament qualifier at Caesars Atlantic City, N.J.
The fight will be Good's first bout since April 2, when he suffered a split-decision loss to
Rick Hawn
. Good (11-2) has lost two of his three most recent bouts and is eager to regain his winning touch.
"Coming off of that last fight, it really made me go back to the drawing board and start fresh," Good said. "I felt like I got away from some things that made me who I was as a fighter, and I needed to get back to my roots."
Costa will make his Bellator debut against Good. He will enter the cage with a pro mark of 10-5-1.
Good-Costa is part of the Bellator 59 card that includes a lightweight tilt between
Kurt Pellegrino
and
Patricky Freire
.