September, 11, 2012
9/11/12
1:08
PM ET

By Chuck Mindenhall
ESPN.com
Archive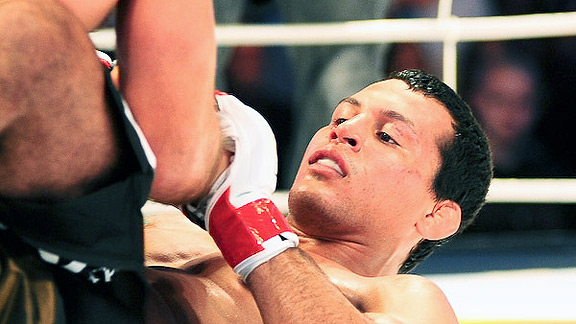 Sherdog.comVinny Magalhaes knows the one-trick pony routine won't get him very far in his second UFC stint.
Vinny Magalhaes is a world-class grappler. That much was obvious from his run through "The Ultimate Fighter" season 8 cast, where he submitted everyone he faced leading up to the final, including his former training partner at Team Quest,
Krzysztof Soszynski
.
Yet, while he was super-slick horizontally, he was shackled by his own subpar stand-up. It was a glaring deficiency, and one he simply couldn't compensate for. We saw it when he was knocked out at the hands of
Ryan Bader
in the "TUF" finale that season, and again when
Eliot Marshall
didn't compromise an inch at UFC 97. The Marshall fight was the shoulder-shrugging moment for the UFC. It served him his walking papers because his game wasn't whole.
By now, the bulletin is an old one that's been passed around and snickered over for years: This is MMA, not "The Singular Thing You're Great At." Disciplines have to come together in concert; otherwise, what shows up isn't the medals earned in world submission grappling tournaments. What shows up instead are your world-class deficiencies. The UFC, after all, is made up of cold-blooded exploitists. When Magalhaes left the UFC, he had an overall professional MMA record that was sub-.500. Things needed to change.
So what did he do?
Well, he relocated to Xtreme Couture in Las Vegas, went on a 7-1 run in the more dimly lit theaters (finishing a couple of fights with something as audacious as
strikes
), captured the M-1 light heavyweight belt, had a son, donned a singlet, began training with
Chael Sonnen
and, by extension, picking up pointers on how to combine orneriness with the naked truth. All for the sake of sports and entertainment.
Now he's back with the UFC, fighting at UFC 152 in Toronto against puncher
Igor Pokrajac
, just in time to see if any of it matters on the big stage.
"Even though there's the whole thing of me getting back to the UFC, in my mind this is my UFC debut," he told ESPN.com. "The first time when I was in the UFC was because I got on ["The Ultimate Fighter"], and I got on the show because of
Dan Henderson
. I had a big name push me to be on the show, and that's why I got on. Of course, I ended up earning my spot and making the finals, but I didn't use anything but my jiu-jitsu to get into the finals, so it's like, I cannot even compare myself back then to what I am right now. I am taking this as my UFC debut."
If MMA is biased, it's that fights start on the feet. It's a jiu-jitsu practitioner's burden to overcome, and it's been the bane of the 28-year-old Magalhaes' career so far. If every fight started on the ground, Magalhaes might be household name right now.
As it stands, Magalhaes has had to figure out a solution. He's not going to turn into Marvin Hagler on the feet, and as a realist, he's not trying to. What he's worked on in the past three years are things as ordinary as game plans, things as disciplined as execution, and things as advantageous as capable wrestling. He's also fiddling with the manipulation of space, known as "Maai" in some circles, which can be boiled down to closing the gap between his comfort zone and eating big Bader overhands.
In short, he feels he's diversified.
"I've gotten much better with my striking, I've gotten much better with my wrestling ... way, way better," he says. "But, I know how to mix things up. That's the difference. Before in my UFC fights, I just didn't know how to close the distance, so I didn't know how to put things together. And I know how to mix things up. I'm not a great striker, but I know how to throw a couple of punches to close the distance and get the fight where I want it.
"I'm also a much smarter fighter now, too. Before I would go into a fight with no strategy. I would just go there and hope the guy would take me down so I could get the fight where I want it."
[+] Enlarge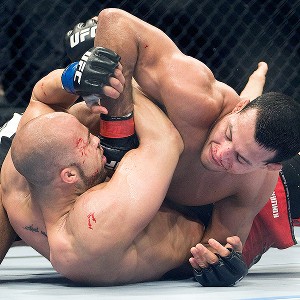 AP Photo/The Canadian Press/Ryan RemiorzVinny Magalhaes had his moments while on the ground against Eliot Marshal, but they were few and far between.
There's little chance of Pokrajac looking for a takedown, so it'll be up to Magalhaes to insist. During Pokrajac's three-fight win streak, he has finished two with strikes (against
Todd Brown
, and later Soszynski). This will be a classic puncher-versus-grappler fight that will alert everyone as to whether Magalhaes has truly evolved.
"I don't keep secrets," Magalhaes says. "My goal is to take this fight to the ground, and if I have to, if I can't take him down, I'm going to be ready to stand up with him."
The truth comes out Sept. 22 in Toronto.
But this improved version of Magalhaes has also proved shrewder in staying in the public's eye, even when not in the UFC.
Who can forget him putting his M-1 Global belt up for auction on eBay, saying later, "it's not worth even a dollar"? Magalhaes has learned a thing from the sultan of talk, Sonnen, whom he helped train for the
Anderson Silva
rematch. He's been fairly vocal about situations (like what happened with him and M-1's Evgeni Kogan) and fighters like
Jon Jones
(UFC 151), and via his Twitter feed and in the media.
His attitude is to dish it like he sees it.
"I'll be honest with you: I think I've gotten that totally from Chael," he says. "I'm not going to be making things up. I'm not going to be bashing somebody else's country like Chael does just to be entertaining. But if I can be entertaining while speaking the truth, I'll do it."
And speaking of Sonnen, who is scheduled to fight Magalhaes' training partner
Forrest Griffin
at UFC 155 in December, just where will his allegiances fall?
"I was talking to Chael, and I was like, I want to be out of both training camps for you guys," he says. "I don't want to help Chael, I don't want to help Forrest. I like Forrest, and I've been training with Forrest for the last four years. He cornered me against Ryan Bader. So I don't want to be involved.
"But then there's the side where I became friends with Chael. I like the guy, I like his personality, so it's a little odd. I'd feel like a traitor if I went there to train with Chael, because I've been training with Forrest for four years. So I'm keeping out of it. I like both of you guys. Whoever wins wins, I don't care. I'm just keeping out of it."
Not that it's Magalhaes' goal to be "training partner to the stars." It's his turn to try to become one. A good showing against Pokrajac would get him back on his feet in the UFC.
And if that happens, maybe this time he'll look a little more comfortable there.
November, 5, 2011
11/05/11
7:09
PM ET

By Chuck Mindenhall
ESPN.com
Archive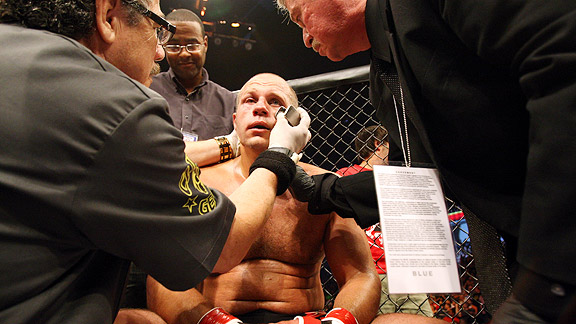 Josh Hedges/Forza LLC/Getty ImagesSnap out of it: Would you rather catch a few winks or watch Fedor try to get back to his winning ways?
On Nov. 20,
Fedor Emelianenko
will fight
Jeff Monson
. If you're at the Olympic Arena in Moscow, Russia, where the fight is being held, this takes place at a reasonable hour; in the United States, it occurs either during your snooze button moments or in full blast REM sleep, depending on your coast (7:30 a.m. ET/4:30 a.m. PT).
M-1 Global and Integrated Sports Media are euphemistically calling this presentation "Breakfast with Fedor," and you can order the fight for "only" $29.95. This is a "suggested retail price," but it's doubtful there's much room for haggling.
Either way, Breakfast with the Beatles was always free. And this fight card -- which also features Xavier Foupa-Pokam, the mysterious "Professor X" -- appears to be aimed at two types: Fedor fetishists and vampires with disposable income.
It's not so much the hour as it is the price to see Fedor try and snap a three-fight losing streak against a 40-year-old anarchist riding a 9-1 run over his last 10 fights. Thirty bucks is a lot to ask to see if that sinking feeling is legit. If you consider Emelianenko one of the greatest fighters of all time, you are not alone; but if you still believe in his ability to get it done, you are the narrowing demographic in play here. You are the turnip out of which blood is being drawn. In that way, you are being punished for caring.
It doesn't help matters that just hours beforehand
Dan Henderson
-- Emelianenko's last opponent -- will have fought
Mauricio Rua
in a PPV event at UFC 139. He could still be celebrating in the wild streets of San Jose when the M-1 Global card gets rolling. Talk about your divergent courses after the two met in Hoffman Estates back in July.
The difference is, the Hendo/Rua fight will have contention at stake. In the early-bird Emelianenko bout with Monson, it's something more like nostalgia -- a desperation heave for relevancy with a fat fee. And if that's how a twilight fighter is being handled in the course of a three-fight losing bender, imagine the next one if he's on a one-fight winning streak? (Don't be surprised if M-1 charges for the violin music, should that losing streak be run to four).
Emelianenko is a legend. He will always have appeal as a fighter, based on his demeanor, his style and his legacy. The truth is, if you like MMA, the idea of two heavyweights swinging acrimoniously at each other as the sun comes isn't going to offend. But, given the context, $30 to watch it might.
And though you'd never want to sleep on a legend like Fedor Emelianenko eking his way back into the picture, this might be the one occasion where it's just too tempting not to.
September, 28, 2011
9/28/11
6:53
AM ET

By Chad Dundas
ESPN.com
Archive
Would you like some Fedor Emelianenko to go with your Sunday brunch?
While there is still no definite plan in place to air Emelianenko's Nov. 20 fight against Jeff Monson on TV in the United States, M-1 Global Director of Operations Evgeni Kogan told
Full Contact Fighter
this week that the management group is still pursuing options that could get the bout on the airwaves. Even if a deal is reached, the time difference between the US and the fight's locale (Moscow) would put the broadcast way, way out of prime time -- likely at around 10 a.m. ET on Sunday.
"I guess there's not a huge amount of time left to do a deal, so maybe within two or three weeks we will have something sorted ...," Kogan said. "I think it's very likely that the bout will be live in North America, albeit, very early on the Sunday morning in the U.S., especially on the West Coast."
Of the options available, Showtime could be the most likely, given the premium channel's ongoing broadcast deal with M-1. The two are still scheduled to air an M-1 event live on Oct. 14 and -- as FCF's Kelsey Mowatt correctly points out -- Showtime agreeing to run with Emelianenko versus Monson a month later could conceivably be seen as a sign the network is open to staying in the MMA business after its current contract with Strikeforce expires at the end of this year.
If Showtime balks, other potential destinations for the fight might include HDNet -- certainly no stranger to airing live fight shows at strange times -- or even Versus, which is likely to be without live MMA programming after it broadcasts its final UFC event on Saturday.
If no television deal can be reached, Kogan said the fight will certainly be available online.
Admit it: if it's on, you'll watch this, if for no other reasons than to see what "The Last Emperor" has left in the tank and why Monson keeps letting promoters talk him into sticking around at heavyweight.