June, 21, 2012
6/21/12
5:37
AM ET

By Josh Gross
ESPN.com
Archive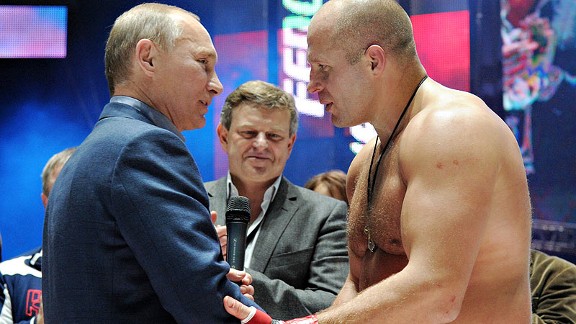 Alexey Druzhinin/Getty ImagesHe might still be considered fighting royalty in Russia, but U.S. fans aren't clamoring to see Fedor fight these days.
Mixed martial arts spans the globe this weekend. While most of the attention will be placed on UFC cards in Atlantic City and Belo Horizonte, Brazil, Bellator also returns with the start of its seventh season in Chester, W.V.
Oh, and in St. Petersburg, Russia,
Fedor Emelianenko
, a man whose appearance once trumped everything else in this sport, fights in relative obscurity outside his country for M-1 Global.
Emelianenko's flagging relevance in North America is as much a result of him losing three straight fights -- shredding an enormous reputation built over seven years of dominance -- as is M-1's failure to promote and maintain interest in the former heavyweight champion outside of Russia.
Emelianenko's contest against veteran Pedro Rizzo isn't being beamed back to the U.S. You need to be in Russia to catch the fight on sports network Russia 2 or via the promotion's geoblocked Web site.
Perhaps that's by design.
M-1 is currently focused on Russia-based projects, said Evgeni Kogan, an executive with the promotion. It's U.S.-promoted challengers events could return in the fourth quarter of 2012, but a Russian MMA Union, which coalesced 49 regions of the country into one body, along with amateur Russian championships held in Moscow this September are taking priority.
"MMA is very popular in Russia nowadays," Emelianenko said via translated email. "More and more kids start going to the gyms. ... We plan to acknowledge MMA as a sport discipline in the closest future."
Asked how important the U.S. market was to M-1 at the moment, Kogan didn't respond.
This drive to propagate MMA in Russia is aided by M-1's relationship with Russian president Vladimir Putin, a longtime admirer of Emelianenko who has watched bouts from ringside.
It would only help things move along if the 35-year-old heavyweight finds a spark and reminds his followers of his long-gone dominance. Leading up to this week's fight at the sold-out Ice Palace in St. Petersburg, Emelianenko said he'll see what happens against Rizzo and wait on God's will to know if he'll retire or not.
Rizzo, 38, used to rank among the top heavyweights in the sport, capitalizing with one of the first money-rich deals from Zuffa that delivered mixed results. However, he hasn't fought since defeating
Ken Shamrock
in 2010 via leg kicks. Such is the competitive territory Emelianenko is keeping these days.
If Emelianenko is troubled by this or anything else related to his MMA life, he's not sharing.
"I don't regret anything," he said. "Speaking about my loses, I thank God for them. Losses teach you more than victories. They make you think, look at your mistakes."
A loss to Rizzo would essentially serve as the final nail in his professional fighting coffin. Still, Emelianenko defended his choice of opponent, calling the former UFC contender a "champion."
"He defeated strong fighters," Emelianenko said. "He started fighting almost from the beginning of the UFC. He is very experienced. When I just came in MMA, Pedro had already become a successful fighter. I respect his achievements very much."
The respect Emelianenko maintains for Rizzo is likely the sort media and fans hold for the once great Russian heavyweight. Yet where people pined to watch him stateside, there's now barely an acknowledgment on the weekends he competes.
His most recent bout came against flop prospect
Satoshi Ishii
, resulting in Emelianenko's first stoppage since he stood over
Brett Rogers
as 5 million people watched on CBS in 2009. Sandwiched between those results, Emelianenko went 1-3, essentially losing his standing as a ranked heavyweight despite owning the top of the division from 2003-2010.
Those halcyon days are long gone. So far gone that his bouts aren't worth showing here anymore? On Thursday, at least, the answer appears to be: yes.
November, 24, 2011
11/24/11
8:47
AM ET

By Chuck Mindenhall
ESPN.com
Archive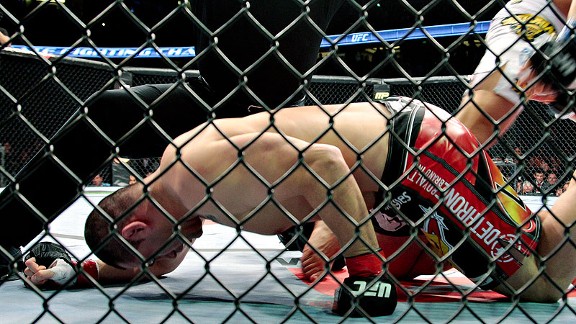 AP Photo/Jason RedmondA KO'd Cain Velasquez would be a handful for Fedor at this point.
In the span of a week,
Cain Velasquez
went from indomitable heavyweight champion to casualty of
Junior dos Santos
' right hand on network television. Meanwhile,
Fedor Emelianenko
went from washed-up heirloom from his Pride days to a surging force to be re-reckoned with on early morning pay-per-view.
This last part is according to Evgeni Kogan, the M-1 Global Director of Operations, who became convinced of the notion while watching Emelianenko chop down
Jeff Monson
for three rounds in Moscow. It was Fedor's first win since 2009, when he beat
Brett Rogers
in the second round after nearly succumbing to Rogers in the first.
From Kogan's point of view, this is new evidence to re-open the Fedor case. And it's a renaissance that is apparently big enough to usurp such trivial matters as the UFC's policy against cross-promotion, and, you know, reality.
You might have seen the Tweet that Kogan sent to Dana White: "Fedor vs Velasquez in 2012, let's make this happen. Fedor is back, and a fight with Cain will prove it." Usually call outs of this nature require two pieces on level ground, within the same promotion and within a framework of actual reason.
In this instance, the challenge seems to be more like a telegraphed thought process -- a win against Velasquez would do wonders for revitalizing Fedor's career. How's that for an offer? Fedor, who has everything to gain, against Velasquez, a Guinea pig that can be borrowed to prove a point. To who, Dana White? The fans? Russia? To the judoka Satoshi Ishii, who is the hurdle to this hypothetical fight, whom Fedor is supposed to meet on New Year's Eve?
And what's in it for the UFC? Velasquez, who was undefeated going in, just fought in front of millions on FOX as the promotion tries to crash headlong into the masses. Fedor broke a three-fight skid in fairly unimpressive fashion, against a guy most assumed he would beat. At this point, who is in a position to broker a deal?
[+] Enlarge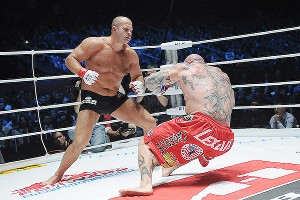 M-1 Global/Sherdog.comFedor ran amuck all over Jeff Monson, but that doesn't Dana White is ready to accept him into the Octagon.
Who do you think would dictate terms?
You might have seen White's response to media inquiries as to whether the UFC would be interested in Fedor. "Hell no!" He used different expletives in different text messages to different media members, but the sentiment was gleefully the same. Talking Fedor, at this point, makes him smile. White is a dude who can hold a grudge. In his mind, Fedor blew his chance.
The bottom line is, a little fun is fine. A little optimism, a little delusion -- why not? The fight game embraces all of it. But either Kogan isn't fully understanding White's personal loathing against Fedor's handlers (himself included) for turning down an out-of-proportion offer from the UFC, or he's just trying a different tact to relevancy (that of fanning a fading legend's fumes). Would it be a fun fight? Sure, and Fedor could feasibly win it. He's still a draw, and he still has mystique. But it makes no sense on just about any level outside the fantasy realm, of which M-1 Global has been accused of operating. In fact, it's absurd.
If Fedor is truly back, he should defeat Ishii at the "Fight for Japan" card, then beat another wanderer on the heavyweight circuit -- somebody with suitable credentials -- and build up a head of steam. Then come to the UFC willing to accept an offer on
their
terms, because -- as much as it stings Fedor's fans and theorists with "what if" scenarios -- all of its prized heavyweights will be off-limits otherwise. There's no way around it. There's no budging.
And only one side has leverage here, no matter how much the other side is deluded enough into thinking otherwise.
November, 22, 2011
11/22/11
6:43
PM ET

By Chad Dundas
ESPN.com
Archive
His awful three-fight losing streak finally snapped,
Fedor Emelianenko
must now turn his attention to a concept he's long been loath to even acknowledge: The future.
After picking apart sitting duck
Jeff Monson
to claim his first win in more than three years on Sunday, Emelianenko took the microphone at M-1 Global in Moscow to proclaim that he's transformed himself into a new man -- one ready to move forward and erase the memory of his recent blunders.
Next stop: Olympic judoka turned occasional MMA fighter Satoshi Ishii in Japan on New Year's Eve.
Of course, for a guy who has always seemed a lot more comfortable dealing with the past, it's hard to believe there could ever be a "new" Fedor. Even if such a creature did exist, it would be equally impossible to know where he's headed.
As the sport underwent an unprecedented period of growth and change during the last five years, Emelianenko steadfastly refused to evolve with it. He never altered his training, never sought out new skills, never changed his fighting style. Essentially, he simply sat on the laurels he had established from 2002-06, when he was Pride's unbeatable champion.
Not surpringly, this approach was met with mixed results, and by the time his disastrous run in Strikeforce ended earlier this year, most everybody was ready to leave his career for dead.
In fairness, though, he did look like something of a changed fighter against Monson. Emelianenko came out of his corner content to work a steady game plan, stalking his opponent down with a barrage of leg kicks and even -- wonder of all wonders -- straight punches. He floored Monson on numerous occasions and if playing a bit of possum was part of the American's strategy, Fedor wasn't going to be fooled again. He didn't rush in to try to swarm the downed man as he might have a couple of years ago, instead proceeding with some uncharacteristic caution before inviting Monson back to his feet again and again.
[+] Enlarge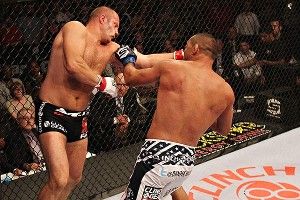 Josh Hedges/Getty ImagesA poor game plan cost Fedor Emelianenko dearly against Dan Henderson.
Is this a Fedor who is finally learning from his mistakes? It's too early to tell -- especially against such a handpicked patsy -- but the performance was, at least, encouraging.
Two of Emelianenko's recent losses can be partially blamed on his own recklessness, after all. His fall from legend-status began when he practically swan dived into Fabricio Werdum's waiting triangle choke in June '10, perhaps considering himself immune to trivialities such as submissions. A little more than a year later Fedor elected to turn an absolute must-win fight against
Dan Henderson
into a veritable coin flip, engaging Hendo exactly where he is most dangerous -- in a brawling slugfest. Emelianenko called tails, and Henderson knocked his head off.
Is it possible that in the wake of those performances someone in his close cadre of advisors finally realized that Fedor's approach wasn't working? Sure. Is it also possible that, with that knowledge in hand, they've transformed him into a fighter who might actually win a few bouts in today's 265-pound division? Absolutely.
But a whole new Fedor? Don't hold your breath.
Clearly any performance against Monson can only be given so much weight. Same with Ishii, who has been fairly stagnant since changing out of gi in 2009. If what Emelianenko wants out his career from here out is to string together a couple of victories, make a little more money and then retire back to Stary Oskol, that's probably doable.
Anything more ambitious than that? Well, that's probably just not in his future.
November, 15, 2011
11/15/11
1:50
PM ET

By Chuck Mindenhall
ESPN.com
Archive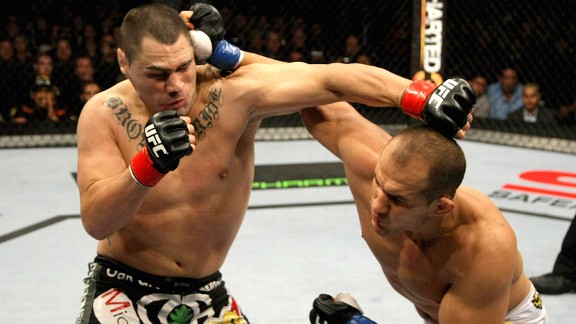 Donald Miralle/Getty ImagesIf you're still fiending for fights after UFC on Fox, perhaps this weekend will be your fix.
Free was nice, and free was big -- and big was always the intention.
But now that we're through with the privilege of bonus title fights on network television and dangling MMA in front of bemused pop culture, it's back to our secular intrigues. Or, you know, back to opening the pocketbook to feed the MMA fix.
This weekend, if you want to enjoy the entire spectrum of fights going on -- and it's a pretty stacked slate of fights spread over three promotions -- it will cost you approximately $75. A little more if you order UFC 139 in high definition (recommended). A little less if you prefer to skip watching
Fedor Emelianenko
take on
Jeff Monson
from Moscow at cockcrow (it's your dime). But around $75 if you want to catch all the action going on behind the pay wall, along with the free preliminary bits and Bellator.
And if planned right, with DVRs and griddles, it actually looks like a ridiculous MMA marathon -- the exact opposite of the showcased 64 seconds of action from this past Saturday's big event between
Junior dos Santos
and
Cain Velasquez
.
Saturday night, UFC 139 is quietly one of the best looking cards of the year -- on paper anyway (which as you know is flammable). There's the return of
Dan Henderson
to the UFC, who may or may not be fighting for a title shot against
Jon Jones
, taking on former champion
Mauricio Rua
. Their paths never crossed in the halcyon days of Pride when both were champions, a bit of restraint that plays nicely over the back-story -- but that's a modest allure. The thing is, somebody will be knocked out. Could be Henderson, who never gets knocked out. And the same goes for the co-main event of debutante
Cung Le
and
Wanderlei Silva
. Le fights are rare, but he is the "Human Highlight Reel." Silva is one knockout from either continuing on as he'd like to, or some alternative (which he refuses to contemplate).
[+] Enlarge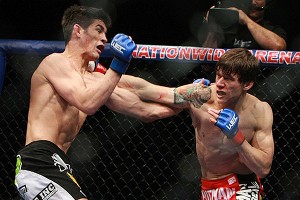 David Mandel/Sherdog.comBantamweight Brian Bowles, right, always give fans their money's worth.
Then there's the
Urijah Faber
/
Brian Bowles
fight to determine who's next for a shot at Dominick Cruz's bantamweight belt;
Martin Kampmann
/
Rick Story
, which could headline a Versus show;
Stephan Bonnar
/
Kyle Kingsbury
,
Ryan Bader
/
Jason Brilz
,
Tom Lawlor
/
Chris Weidman
. It's stacked.
Miguel Torres
is buried on the Facebook undercard fighting
Nick Pace
. Ditto
Rafael dos Anjos
and
Gleison Tibau
. And that's just the first bill of fights.
There's also one of the best Bellator cards happening on MTV2, with two belts up for grabs.
Eddie Alvarez
, who ESPN has ranked No. 4 in the lightweight Power Rankings, against
Michael Chandler
, and
Hector Lombard
in a middleweight title defense against Trevor Prangley. Bonus?
Marlon Sandro
and Raphael Dias. And when all that is through, at 7:30 a.m. on the East Coast the next day, Emelianenko fights Monson for $29.95. It's a steep price for nostalgia on a three-fight skid, but it's Fedor, and there are hopes and denials all over the place. The other thing? Somebody will get knocked out.
That's a big bank of highly combustible MMA action for those willing to splurge. Four former Pride champions, three former WEC champions, two current Bellator champions, one former UFC champion, one reigning Strikeforce champion, and the teetering legacy of Stary Oskol all in a 12-hour window. Not all of it will be free, yet -- especially if you won't be duped into early morning Fedor -- taken as a whole, this weekend's fights can't help but live up to the billing they barely received.
In other words, if you begin with hype and end with the price tag, it's everything that last weekend wasn't.
August, 4, 2011
8/04/11
8:18
PM ET

By Josh Gross
ESPN.com
Archive
Fedor Emelianenko
played the game his way in a sport that crucifies outliers, and the Russian lasted longer than anyone could have imagined.
A monumental career supported like a house overlooking a bluff on W-shaped stilts crashed into the sea Thursday, undermined, it seems, by the corrosive effects of losing. Though it's not Zuffa's contracted place to do so, it makes sense that Emelianenko's "release" from Strikeforce came from the mouth of UFC president Dana White. One imagines the only thing more satisfying to White than signing Emelianenko, which he so desperately dreamed of doing just a couple years ago, was offering the heavyweight a verbal pink slip.
And so he did. That's not the story, though.
No, Emelianenko's fall from grace -- and, to be fair, I'm not sure it's appropriate to so label the Russian's decline -- was easy to see coming.
Winning was all he had.
So important to his place in the sport was the notion of victory, that his promoter and manager, M-1, played the man up as invincible. This was the strongest -- and perhaps only -- negotiating point. And, in the end, it will be held against him when people choose to evaluate his accomplishments in MMA.
Really, it was hype and, in terms White may appreciate, smoke and mirrors. The air cleared, and veiled mirrored reflections were lifted when Emelianenko tapped out to
Fabricio Werdum
. In place of a Superman who told us time and again he was not: A pudgy, small, and tactically inferior heavyweight, not so unlike Mike Tyson at the end, emerged.
Where will Emelianenko go? What will he do?
If Zuffa wants no part of the Fedor business, even on the cheap under-renegotiated terms, which will assuredly happen if he remains fighting on Showtime -- the premium network, which is locked into a contract with Emelianenko, declined to offer any statement on his status -- what's next?
These are the things people wonder now.
[+] Enlarge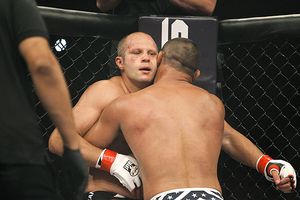 Ross Dettman for ESPN.comFedor Emelianenko doesn't need to step in the cage again if it isn't in his heart to do so.
M-1 cannot support Emelianenko's fee directly. That's why it always required a partner (some may cynically say "parasite"). Maybe there's money to be made in one-off performances in Russia or Japan. Then again, Emelianenko doesn't need the cash. He's a modest man who came from nothing. His is a familiar story for successful fighters. Where there was nothing in the bank, there is plenty; motivation and hunger replaced by contentment and a full fridge.
Business will take care of itself. Either Emelianenko turns into
Mirko Filipovic
, gets to fight for Zuffa, under terms he cannot dictate, lacking leverage, perceived or otherwise, and cashes in with the UFC on what's left of his marketability. Or he continues to live as a frontiersman, striking out on his own, attempting to find paydays in a way few mixed martial artists have or will be able to.
In fighting terms, Emelianenko may be an old man. In the real world, the 34-year-old is hitting his stride. Which brings us to a third option. Walk away. Leave the politics of MMA and the rigors of fighting behind. Focus on family and religion and living in an unimpressive mining town. These are the things he seems to cherish, anyhow.
Is this not the best option?
Emelianenko has nothing to prove. Insinuating the Russian was never any good is not only a disservice to him. It's a lie. If you think Emelianenko sucks, as it seems so many do, then you're suggesting the same of
Antonio Rodrigo Nogueira
. Yes, you are. And that's ridiculous.
Legends of MMA do not need to end up like
Wanderlei Silva
or
Chuck Liddell
, their brains battered for our amusement. Not in any sane world, at least. To see Emelianenko reduced to this would be beyond sad. I don't think it will happen. I'd like to think, nay, hope, it's over.
Fedor Emelianenko is one of the greats, whether his end is befitting of that status or not.
July, 25, 2011
7/25/11
6:01
AM ET
Fedor Emelianenko
meets former two-division Pride Fighting Championships titleholder
Dan Henderson
in the Strikeforce/M-1 Global "Fedor vs. Henderson" main event on Saturday at the Sears Centre in Hoffman Estates, Ill. Will Henderson send Emelianenko into retirement with a third consecutive defeat, or will the Russian great recapture the magic that once made him the most feared man in mixed martial arts?
More »