November, 1, 2011
11/01/11
2:00
PM ET

By Chad Dundas
ESPN.com
Archive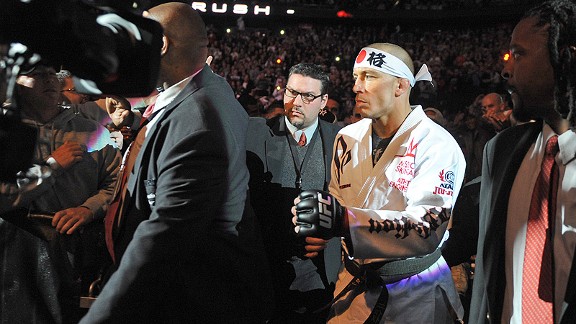 Anthony J. Causi/Icon SMIThings will be a little different by the time Georges St. Pierre returns to the Octagon.
It ain't easy being
Georges St. Pierre
right now.
Turns out, when you're one of the most dominant fighters in the world, possessing of ridiculous athleticism, borderline movie star good looks and nine straight UFC victories in increasingly flawless but conservative fashion, some people aren't going to miss the opportunity to kick you when you're down.
All told, it's enough to make you wonder if things are pretty lonely in the welterweight champion's world right now. You know, aside from the supermodels and high-dollar corporate sponsors and the guy who comes over once a week to clean the pool.
Nick Diaz
called out St. Pierre for what seemed like the thousandth time on Saturday night, insinuating in his subtle way that GSP was so scared of the homie that he faked an injury last month to avoid fighting -- uh --
Carlos Condit
. Now, Condit's camp is mad at St. Pierre for taking the bait, saying they didn't exactly willingly "step aside" after the champ reportedly begged Dana White to let him fight Diaz after all.
"If I were him, I'd want to fight the Strikeforce champion ... but apparently, he didn't think it was too important," Diaz said, before learning that St. Pierre had vowed to give him the worst beating in UFC history. "Apparently, he'd rather fight Carlos Conduit (sic)."
"Last I checked, Carlos was the tougher fight," Tweeted Condit manager Malki Kawa after White announced the GSP-Diaz redux. "So I guess now [St. Pierre] will fight Nick."
See? Sort of a no-win situation for our man Georges.
[+] Enlarge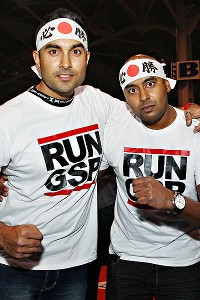 Tom Szczerbowski/Getty ImagesSome Georges St. Pierre fans will stick by him through thick and thin.
This is to say nothing of the seemingly growing number of fans who've decided that St. Pierre's otherworldly dominance has gotten "boring" over the last few years.
Or the handful of people who bought tickets to UFC 137 before GSP was injured and then showed up to the fights last weekend wearing T-shirts that said things like: "GSP and Dana White owe me $4,000."
Or the guy who stood up in front of God and everybody during Frank Mir's Friday afternoon Q&A session at Mandalay Bay and asked Mir what he thought after St. Pierre "b----ed out" of a fight due to a sprained knee.
What, if anything, did St. Pierre do to deserve all this hate? Is he just
too
good?
Too
nice? Is his personal brand
too
impeccably crafted to appeal to the more self-consciously edgy element of the MMA set? And if so, is St. Pierre on the verge of his own minor popularity crisis?
Yeah, probably not. It should be noted that the guy who publicly used the b-word to describe St. Pierre in Las Vegas last week got booed out of the arena. And for every guy strutting around in an anti-GSP T-shirt, there was at least one who attended UFC 137 wearing one of St. Pierre's signature Karate Kid headbands. The man himself remains one of the UFC's biggest draws and, despite this recent injury, one of its most dependable performers.
But assuming that St. Pierre's image needs a little boost to get fans excited about him again; then, perhaps, this rivalry with Diaz comes along at just the right time. Maybe an honest-to-goodness blood feud is just what St. Pierre's nice guy image is missing.
With apologies to Condit and his people, the UFC was absolutely right to jump on the Diaz-St. Pierre fight while it's white hot. Diaz may well be MMA's most must-see star right now and he's already plied some very
un
-GSP-like behavior out of the mild-mannered champion. That can only be a good thing when it comes to promoting this matchup, as fans will likely be happy to see St. Pierre show a little emotion, for once.
With the added promotional power of network television set to give the UFC's Super Bowl weekend show an unprecedented build-up, you couldn't ask for a better matchup in terms of a good guy versus bad boy storyline. In Diaz, St. Pierre will have a foil worthy of his unfiltered disdain and, if he's smart, he'll play it up leading into their scheduled bout in early February.
In the end, if Condit wins at the same event, his title shot will still be there.
So too will the fans who've at least momentarily bailed off the GSP bandwagon. If he beats Diaz in a bonafide grudge match, my guess is most of them come flocking back to him.
Then we can all get past our various gripes about St. Pierre, and go back to wishing we had
his
problems, instead of our own.
July, 8, 2011
7/08/11
8:17
AM ET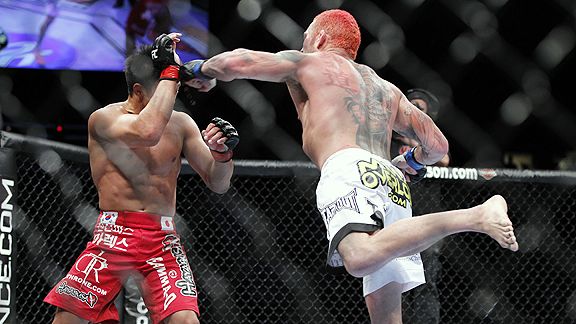 Ric Fogel for ESPN.com In arm's reach: Chris Leben is punching his way to the front of the title contender's line.
With
Yushin Okami
set to take his chances against UFC middleweight champ
Anderson Silva
on Aug. 27 in Brazil, the maneuvering has begun for top-contender status at 185 pounds.
The common belief is that
Chael Sonnen
is next in line if Silva exacts revenge on Okami. But that might be jumping the gun a bit.
Sonnen, who hasn't fought since coming within an eyelash of upending Silva in August 2010, has agreed to face fast-rising
Brian Stann
in October. And it's not hard to imagine Stann's hand being raised at the conclusion of that bout.
A win over Sonnen would put Stann front and center of any title conversation. But Stann wants no part of that discussion.
"I'm not concerned about [getting a title shot] right now," Stann told ESPN.com. "With the person the caliber of Chael Sonnen, I need to focus on one thing, one thing only, and that's Chael Sonnen."
While Stann prefers to stay away from thoughts of a title shot, other middleweights are scrambling to position themselves for the top spot.
Before Stann's next fight was made public,
Mark Munoz
had his eye on the former WEC light heavyweight champion. But Stann isn't the only high-profile middleweight Munoz would like to test his skills against.
[+] Enlarge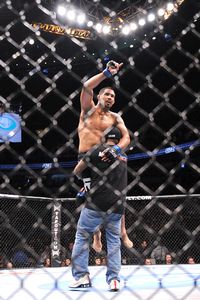 Rod Mar/ESPN.comMark Munoz has more to gain in a fight with Chris Leben.
"At this point we've talked about a few people and Chris Leben's name came up, coming off a big win," Munoz's manager Mike Roberts told ESPN.com. "That is definitely a fight Mark would be interested in.
"There are a lot of good fights for Mark at 185. But we would definitely be interested in
Chris Leben
.
"He's not calling him out or anything. Mark just wants to fight the next guy who will get him closer to a title shot."
Munoz wants a date with Leben, but the feeling isn't mutual. Leben's handlers just don't view Munoz as attractive enough at this time.
"Let's say
Vitor Belfort
beats [Yoshihiro] Akiyama, that fight [with Belfort] makes sense to me," Leben's manager Malki Kawa told ESPN.com. "Vitor is somebody near the top of the division.
"He's a guy who has accomplished a little more than Mark at this point.
"Mark has everything to gain by beating Chris Leben or a Brian Stann at this point, but it's not necessarily the same thing in the opposite way."
Kawa refuses to completely slam the door on a possible Leben-Munoz showdown, but he'd like assurances from UFC officials that a title shot isn't too far down the road if his guy wins.
"I'm looking for fights that will put Chris Leben in position to be the top contender," Kawa said. "If that's Mark Munoz, so be it."
July, 5, 2011
7/05/11
4:06
PM ET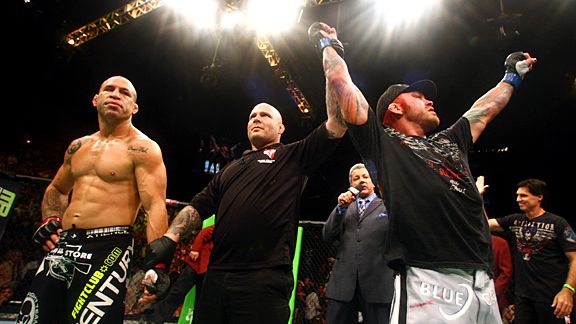 Donald Miralle/Zuffa LLC/Zuffa LLC via Getty ImagesLosing to Chris Leben, right, isn't sitting well with living legend Wanderlei Silva.
Despite suffering the quickest knockout of his illustrious fighting career -- a 27-second drubbing to
Chris Leben
at UFC 132 on Saturday night -- retirement is not on the agenda of former Pride middleweight champion
Wanderlei Silva
. Instead, Silva is determined to redeem himself.
"I cried, I felt ashamed of [myself]," Silva said via his Twitter account. "I thought a lot of crap, but now only think of one thing: Revenge [for this] loss."
The odds of Silva (33-11-1, 1 no contest) getting a rematch with Leben anytime soon are slim. Shortly after the fight, UFC president Dana White stated it might be time for Silva to consider hanging up his gloves.
"We knew [he] and Leben were going to come out and fight until somebody fell down, and it was Wanderlei [on Saturday night]," White said. "People love him so much because of the way he fights, but this is probably the end of the road for Wanderlei."
The idea of an immediate rematch with Wanderlei doesn't sit well with Leben's representatives, either.
"At this point, Chris has absolutely nothing to gain by fighting Wanderlei again," Leben's manager, Malki Kawa, told ESPN.com. "There is just no upside in it for Chris, unless Wanderlei wins two or three fights in a row and is a contender."
Silva has lost six of his past eight fights. In four of those losses, Silva was knocked out.
May, 19, 2011
5/19/11
5:50
AM ET
By ESPN.co.uk
ESPN.com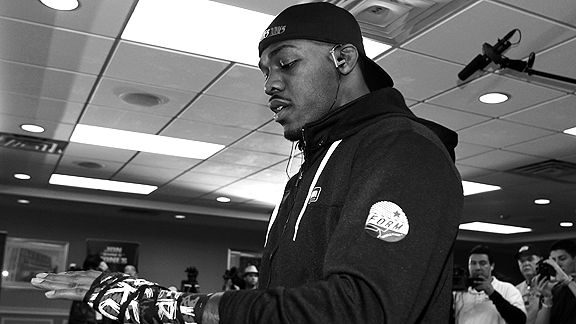 Ed Mulholland for ESPN.comSee you in October (or November?): Jon Jones still has Rashad Evans on his radar.
Jon Jones
' manager has responded to
Rashad Evans
' claims that the UFC light heavyweight champion is ducking him by offering Evans a title showdown in October.
More »
April, 18, 2011
4/18/11
2:25
PM ET
Former UFC light heavyweight champion
Lyoto Machida
has been in the cage with fellow ex-titleholder
Mauricio Rua
on two occasions: Machida won the first title match by disputed unanimous decision; Rua took the rematch by first-round KO.
But when asked
his opinion of Rua's performance
against
Jon Jones
last month in Newark, N.J., Machida questioned if Rua was himself. Jones dominated Rua en route to a third-round TKO win.
"I have no doubt he could have fought better," Machida told Sherdog.com. "I'm sure if Shogun was the same fighter he was when we fought in Los Angeles, the fight would have been much more difficult for Jones."
That statement didn't sit well with Jones' manager Malki Kawa.
"This is Machida's way of saying: 'Hey, I'm not as bad as I seem now.' It's Machida's way of getting himself into the title picture if he beats
Randy Couture
," Kawa told ESPN.com.
"The only reason [Machida] would say something like that is because of the way Jon beat Shogun; it makes it seem that if [Jon] fought Machida, he would do the same thing to him. That's the consensus out there. So, he has to sit there and start answering those types of questions. Instead of making it sound like, 'Holy Cow! Jon Jones is the man at 205,' it's easier to say that Shogun had something wrong with him.
"In reality, Jon Jones would probably beat Machida just as fast, if not faster than he beat Shogun."