October, 21, 2011
10/21/11
2:11
PM ET

By Chad Dundas
ESPN.com
Archive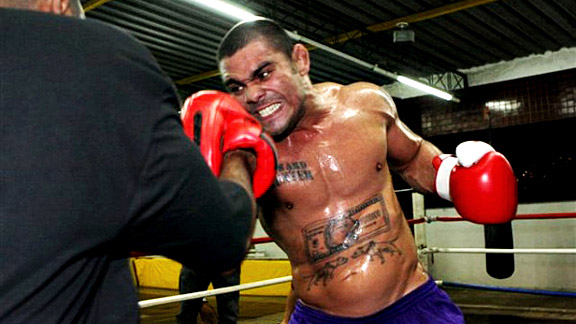 Sherdog.comA little more time spent in the gym might have salvaged Paulo Filho's career to some extent.
Of all the bizarre turns in the troubled career of
Paulo Filho
, his purported exit from MMA might be the strangest twist yet.
Once an undefeated message board darling considered one of the best 185-pounders on the planet, Filho's three-year tailspin into obscurity has finally come to this: The fighter told
Tatame.com
this week that he may well retire after a scheduled bout with
Mamed Khalidov
in November. Meanwhile, Filho's estranged manager contends that he is still dangerously addicted to drugs -- including Rohypnol, of all things -- and has squandered his earnings at the pharmacy as well as on pit bulls and roosters.
"I don't want this anymore," Filho said, making it sound like he would only go through with his fight against Khalidov at a KSW event in Poland because the contracts were already signed.
Though he said he's now over his substance abuse issues, Fliho goes on to claim that he's received death threats in his native Brazil over longstanding drug debts and that he was never paid by manager Rodrigo Riscada after three recent fights. Riscada, naturally, denies this.
"I'm kind of disappointed with this stuff, fighting and not getting paid," Filho said. "I don't want people comforting me; I just want what is mine."
The former WEC middleweight champion's career spiraled out of control after his inexplicable performance during his first career loss, to
Chael Sonnen
in 2008. So far, the 33-year-old has fought four times in 2011, amassing a record of 1-2-1.
If Filho really does call it quits next month, the legacy he leaves in MMA will be one typified by unfulfilled potential.
May, 21, 2011
5/21/11
7:22
PM ET
By Tomasz Marciniak/Sherdog.com
ESPN.com
Archive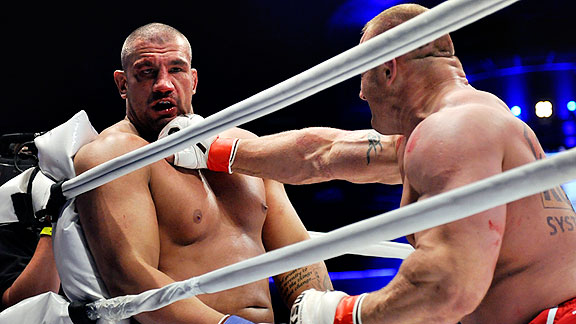 Jumana Totongi for Sherdog.com James Thompson's normally fragile jaw somehow stood up to "The World's Strongest Man's" punch.
GDANSK, Poland -- Although the chorus of Mariusz Pudzianowski's walkout song promised that "you will feel respect," James Thompson did not take those lyrics to heart, submitting an exhausted Pudzianowski in front of a partisan Ergo Arena crowd at Konfrontacja Sztuk Walki 16.
Tested early on by the immense strength of the Pole, "Colossus" was thrown to the ground before quickly regaining his composure. Later in the first round, Pudzianowski unleashed a flurry on the backpedaling Brit, but he could not find Thompson's chin and inevitably gassed himself out. By the three-minute mark, the former strongman looked exhausted. After Thompson took him to the mat late in the period, Pudzianowski expended what little remained of his stamina while attempting to escape Thompson's mount.
The break between rounds did little to lessen Pudzianowski's fatigue. The Pole was promptly taken down to start the second frame, and Thompson pounded away until he spotted an arm-triangle opportunity. Exactly one year after suffering his first pro loss to Tim Sylvia, the former five-time "World's Strongest Man" tasted MMA defeat for the second time.
"I tried. I failed. I apologize to you," said the exhausted and dismayed Pudzianowski. "I'm sure I will be disappointed, but I will go forward."
Khalidov chokes out Lindland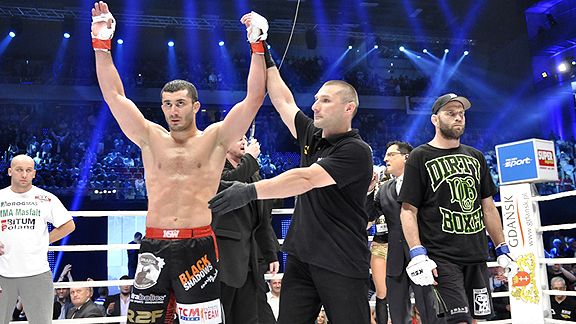 Jumana Totongi for Sherdog.com Mamed Khalidov's march toward stronger competition and bigger paydays continues.
In the evening's main event, hometown favorite Mamed Khalidov put UFC veteran Matt Lindland to sleep with an arm-in guillotine early in the first round.
Khalidov never missed a step in the short fight and took it to the American from the get-go. After the fight hit the floor, Lindland missed a leg lock attempt, and the Greco-Roman specialist left his neck exposed while regaining his base. The Pole seized the opportunity, jumping guard and cinching up a tight arm-in guillotine. Lindland struggled briefly, but "The Law" soon lost consciousness, his body falling limp atop his victorious foe.
"This is all muscle memory from the training sessions," said Khalidov of his extravagant finishing technique. "We're all ready [to fight top opponents] here in KSW, in Poland."


For Sherdog's complete coverage of KSW 16, click here.