December, 5, 2011
12/05/11
1:28
PM ET

By Chuck Mindenhall
ESPN.com
Archive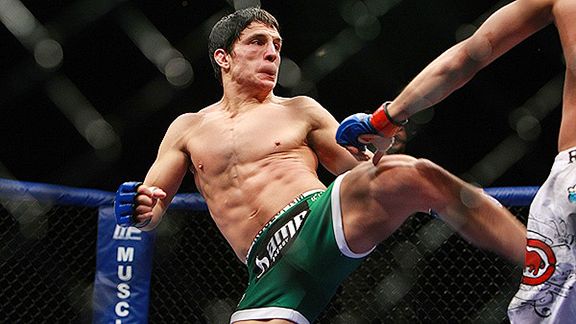 Dave Mandel/Sherdog.comBantamweight contender Joseph Benavidez is one of several fighters campaigning in a higher weight class.
Whether they realize it or not, the UFC has the best flyweights in the world parading around as bantamweights. (They realize it).
Some of them appeared on "The Ultimate Fighter" 14 finale on Saturday night. One of them looked undersized and overmatched (Louis Gaudinot). One of them looked underhyped and overlooked (John Dodson). Some of them are fighting for the bantamweight belt at the size of ventriloquist dummies.
Joseph Benavidez
is easily the No. 2 bantamweight in the world, but as a flyweight he could be a big fish.
Demetrious Johnson
gave
Dominick Cruz
some new looks and came up short. Short is how he'll succeed as a flyweight when the division is introduced in the UFC.
So, the next question is: When will that be? Media could only pry a single word from Dana White on the topic after the TUF 14 finale: Soon.
Soon could be early 2012, as was originally the target. Soon could be at some point in 2012. Or it could be a smokescreen term that means "we haven't really discussed it in earnest yet." Sean Shelby, who is the matchmaker for everything under 155 pounds, dreads the moment this division is introduced. He is already scattering so many jacks over the linoleum between the banties, the feathers and UFC sister outfit Strikeforce's lot.
But Shelby have to find it in him; the reality is that the flyweight division is coming. It has to. There are just too many guys straining to fight as bantamweights that would be better cast in a 125-pound setting. John Dodson didn't have to cut any weight. He was at 134 pounds at weigh-ins with all the cherubic dimples still embedded in his cheeks. Others on the scale dragged like walking dead, gaunt with their eyes set back under dark eaves.
[+] Enlarge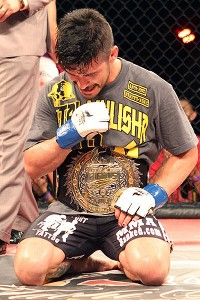 Jeff Sherwood/Sherdog.comIan McCall's prayers might be answered "soon," according to UFC president Dana White.
Besides the aforementioned fighters, there are plenty of guys out there who are licking their chops to prove themselves in the UFC.
Ian McCall
is widely considered one of the best flyweights going, and is the reigning Tachi Palace Fighting champion at 125. All "Uncle Creepy" wants for Christmas is eight sides to his cage. Then there are guys like
Jussier da Silva
and Mamoru Yamaguchi, the latter who looks like a holdover from 1970s Bruce Lee films. In fact, his handle is "the Illest Afro in Asia." There's one of the game's best counter strikers in Yasuhiro Urushitani, who defeated John Dodson by unanimous decision back in the day. And there are always woodwork guys, international discoverables, those yet to emerge.
In other words, there wouldn't be any shortage of talent at 125 pounds. And realistically, with 36 cards planned for 2012, the UFC could use the added division to help supply the workload/demand. It could benefit from one more belt to deepen a "Fight Night" card, or to power a co-main. As has been proven for all those years in the WEC and on this season of TUF, the jockeyweight divisions are loaded with combustible pieces. Dodson is like an electron in the cage. He was flipping off the Octagon posts like one of those "Sphere of Death" daredevils on their motorcycles. These flyweights are all springs and coils. Dueling acrobats.
Just how soon is "soon?" For all intents and purposes, the sooner, the better.
May, 18, 2011
5/18/11
4:57
PM ET
A blockbuster flyweight scrap between Jussier da Silva and Mamoru Yamaguchi is set to go down on Aug. 5 at Tachi Palace Fights 10.
Sherdog.com on Wednesday confirmed the matchup with a source close to the bout, who also stated that Tachi Palace has signed Yamaguchi to a multi-fight contract that is exclusive in the United States.
The bout joins another pivotal 125-pound affair on the card, as TPF flyweight champion Darrell Montague defends his strap against surging WEC veteran Ian McCall at the Tachi Palace Hotel and Casino in Lemoore, Calif. Additionally, former titleholder "Useless" Ulysses Gomez will square off with undefeated Drew Bittner.
Formerly the world's top-ranked flyweight, Da Silva was dealt a setback in his sophomore Tachi Palace effort, as the Brazilian was outpointed by McCall at TPF 8 in February. Unbeaten prior to that fight, Da Silva won Shooto South American 123-pound title before beating then-Shooto world champion Shinichi Kojima in a non-title bout in 2009. "Formiga" made his Tachi Palace debut in December, outpointing Danny Martinez in a unanimous verdict.
Known for his superb striking skills and trademark Afro, Yamaguchi is the reigning King of the Cage 125-pound champ and a former dual-division Shooto titleholder. The Shooting Gym Yokohama representative has won his last six bouts, finishing five of his foes in that span by either knockout or submission. The 33-year-old made his Tachi Palace debut in his most recent outing, knocking out Kevin Dunsmoor in the second round of their May 5 clash.