August, 14, 2013
8/14/13
1:33
PM ET

By Brett Okamoto
ESPN.com
Archive
UFC Fight Night 26
suffers from the same ailment nearly every UFC card will suffer from the rest of the year: It's not
UFC 168
… or
167
… or
166
.
Chris Weidman
versus
Anderson Silva
is a fighting fan's Christmas.
Georges St-Pierre
versus
Johny Hendricks
is Thanksgiving. And
Cain Velasquez
versus
Junior dos Santos
III will feel like a second birthday to us all this year.
Chael Sonnen
versus
Mauricio Rua
this weekend at TD Garden in Boston sort of feels like Flag Day in comparison.
But that said, there's a lot to like about Flag Day. Top to bottom, this is one of the stronger UFC cards fans will witness this year. Some events are structured around one fight and one fight only. Boston, on the other hand, features plenty to watch for.
FIVE STORYLINES
The legend of Conor McGregor
We are all getting way too carried away about McGregor -- but it's impossible not to. Simplest way to put it: When McGregor fights, you want to watch, and when he talks, you want to listen. It's not just that he's entertaining; he has this contagious passion about what he does. During a recent visit to Las Vegas, McGregor said he was so excited he stayed up shadowboxing in his hotel room until 5 a.m. He's in a hurry to be at the top, and
Max Holloway
wants to slow him down.
The curious case of Uriah Hall
You hear all the time how important the mental aspect is in martial arts. Hall has shown he has the physical tools, and on the surface, nothing seems out of sorts for him mentally. But that loss to
Kelvin Gastelum
in
The Ultimate Fighter Finale
was awkward. His team said he liked Gastelum too much to hurt him. Many of those watching called it cockiness. Neither is really an acceptable excuse for a fighter as talented as Hall. Expectations are high for him against
John Howard
.
The resurgence of Mike Brown
Brown hasn't really been under the spotlight for years, but for longtime martial arts observers he'll always be a name that jumps off the page. Two wins over
Urijah Faber
in the WEC put him on the map, but truth is Brown was just one of those guys who was always fun to watch. Something went wrong along the way, and the now 37-year-old endured a 2-4 stretch amid rumors of distractions in his personal life. He's back on a two-fight win streak coming into this fight against
Steve Siler
.
[+] Enlarge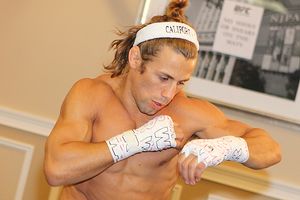 Ed Mulholland for ESPN.comAny loss at this point for MMA veteran Urijah Faber would be considered a major setback.
The quiet contenders
Since 2011,
Matt Brown
and
Mike Pyle
are a combined 11-2 in the Octagon, yet you won't find them on any top 10 welterweight rankings. Neither is willing to make a big point of that publicly, but there's no question both are getting a little anxious. After his last win, Brown said, "Just because a bunch of media people don't believe I'm good enough for a title shot doesn't mean it's true." Pyle, winner of four in a row, is itching to sign a fight against a top-10 opponent.
That Faber guy is back again
You can almost see the bile form in Faber's throat when forced to answer the same questions over and over leading up to these nontitle fights. "How much you got left in the tank, champ?" "Getting close to another title shot, Urijah, what's that feel like?" "Is the belt still the goal, buddy?" We should all come to this understanding that Faber feels great, he's excited to fight, and he wants a title shot, but the UFC won't give him one yet so he needs to keep winning. This fight against
Yuri Alcantara
might not feel big, but it's big for Faber. Any loss is a major setback.
FIVE QUESTIONS
What does Alistair Overeem look like?
He was Superman against
Brock Lesnar
and Clark Kent against
Antonio Silva
. No stranger to performance-enhancing drug accusations, Overeem is in a critical spot. He didn't look the same in February, his first appearance since producing a high testosterone-to-epitestosterone ratio in Nevada last year. He told ESPN.com he would never apply for testosterone-replacement therapy, despite tests that showed low levels after his last fight. There are a lot of variables floating around. Can Overeem be Superman again in the midst of them?
[+] Enlarge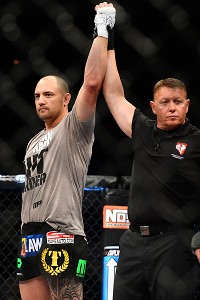 Al Powers for ESPNIf Travis Browne can pass a difficult test against Alistair Overeem, he could be the biggest winner of the night.
Is Travis Browne for real?
Browne passes the eye test. He moves. He has heavyweight knockout power. His grappling is underrated. He seems like he's in shape, and his only loss came after his hamstring busted in the opening minute of a fight. Overeem -- whether he's at his best or not -- is going to test him, though. If Browne is spectacular, he could be the biggest winner of the entire night.
Is 'Shogun' still elite?
Rua is slowing down. It never really felt as though he was going to lose to
Brandon Vera
last August, but we were sort of expecting a windmill dunk and got a weak layup instead. Then in December, it seemed like he was operating on fumes against a physical
Alexander Gustafsson
. Three of the last five men Shogun has defeated are now retired. How worried should we be about this?
Is the self-proclaimed 'Gangster' going to lose three in a row?
Whether you like Sonnen or not, this is a man who does not avoid tough fights. He has gone from Silva to
Jon Jones
to a light heavyweight contest against a former champion in Rua. Sonnen is undersized for this division -- a fact made obvious by his decision to return to middleweight regardless of what happens in Boston. Sonnen can survive a loss if it comes to it, but a proposed fight against
Vitor Belfort
can't.
Is Michael McDonald the third-best bantamweight in the world?
Both ESPN.com and UFC rankings still have McDonald trailing Faber. Both fight on this Boston card. No doubt, a certain contingent of MMA fans would rank McDonald ahead of Faber heading into this weekend, but it's close. If the 22-year-old runs through
Brad Pickett
, it will be difficult not to bump him up.
WHO'S ON THE HOT SEAT?
Michael Johnson
[+] Enlarge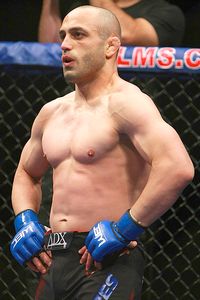 Dave Mandel of Sherdog.comManny Gamburyan is in need of a victory just as bad as Saturday's opponent and former TUF teammate Cole Miller.
The once promising career of a TUF runner-up has hit a major crossroads. Johnson looked like a tough matchup after disposing of
Shane Roller
and
Tony Ferguson
, but he was nearly knocked out by
Danny Castillo
before suffering back-to-back losses. He's still not out of his league against
Joe Lauzon
-- at least we think.
Manny Gamburyan
Seems like a lifetime ago that Gamburyan fought his way to a WEC title shot against
Jose Aldo
. Fighting Gamburyan is like fighting an angry fire hydrant; he's compact and seemingly made of metal. He also has a long history with the UFC, although a 1-3 record in his last four fights is tough to look past.
Cole Miller
Might as well discuss Gamburyan's opponent as well. These two know each other well from their days on the TUF 5 reality set on Team
Jens Pulver
. Now, Miller needs a win just as badly as his former teammate, having gone 1-2 since his drop to featherweight last year.
WHY YOU SHOULD CARE
Because there's still more to 2013 than a middleweight rematch, even though it doesn't feel like it sometimes … because over the course of his career, Shogun is 6-for-6 when it comes to knocking out opponents following a loss … because two of the most explosive heavyweights are incredibly hungry going into the same fight … because Brown and Pyle are fighting each other with the exact same chip on their respective shoulders … because McGregor might be the most fun athlete the UFC has on its roster.
February, 11, 2013
2/11/13
11:53
AM ET

By Franklin McNeil
ESPN.com
Archive
With less than two weeks before UFC 157, the promotion has scratched
Chad Mendes
from the bill due to lack of a viable opponent.
Mendes initially expressed his doubts as to his participation on the Feb. 23 card via Twitter on Sunday.
"Well guys it looks like I'm off the Anaheim card," Mendes announced via Twitter. "Sucks pretty bad. I'll keep everyone updated with what I find out. Sorry."
Mendes' status on the card became questionable on Feb. 8 when his original opponent, Manny Gamburyan, suffered an injury while training.
In the crowded featherweight contender race, being removed from UFC 157 could prove to be a big setback for Mendes. Currently ranked No. 1 among featherweights by UFC and third by ESPN.com, Mendes was seeking to secure his standing in the division with a victory over the hard-hitting Gamburyan. A win at UFC 157 would have been Mendes' third in a row since his first-round knockout loss to champion
Jose Aldo
in January 2012.
Other featherweights currently jockeying to supplant Mendes for top-contender status include
Ricardo Lamas
and
Chan Sung Jung
.
Meanwhile, Aldo is scheduled to defend his title Aug. 3 against lightweight contender
Anthony Pettis
. Aldo recently defeated former lightweight champion
Frankie Edgar
by unanimous decision at UFC 156.
June, 28, 2011
6/28/11
7:36
PM ET
Questionable and at times maddening officiating was on display at UFC Live 4 on Sunday in Pittsburgh, as two officials routinely interjected themselves into bouts. The time has come to end such practices, writes Jason Probst.
More »
October, 1, 2010
10/01/10
11:49
AM ET

By Jake Rossen
ESPN.com
Archive
Every time a dominant champion is established, the same question comes up: Do audiences like seeing a man operating clearly above his competition, or do they grow bored if the suspense is leaking out of the bouts? Considering the purpose of titles is to find the best, it makes more sense that people would enjoy a clear and concise answer. Jose Aldo is providing it.
The follow-up: When champions are this dominant, do they get too complacent? Anderson Silva, with 12 wins in the Octagon, has turned in several bizarre performances; Georges St. Pierre walked into a fight with Matt Serra giving him only the same respect fans did, which wasn't much. If Aldo ever develops similar boredom, he's vulnerable. If he insists on using the cage as a pommel horse, he might one day feel very stupid. Either way, Aldo's biggest threat in the WEC's featherweight division will probably remain himself.
Next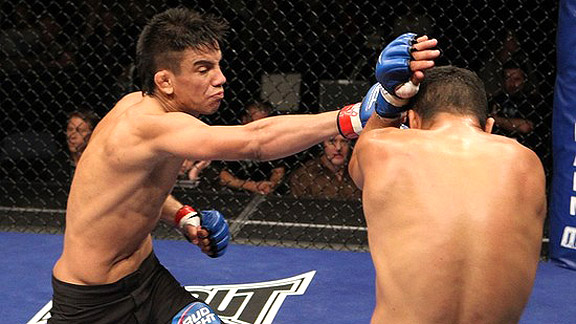 Josh Hedges/Zuffa/UFCMiguel Torres got back to his winning ways by taking out Charlie Valencia.
Next for Aldo: Josh Grispi, a 14-1 athlete who faces Erik Koch on Nov. 11.
Next for Miguel Torres: Urijah Faber if he gets past Takeya Mizugaki in November -- that fight sells pay-per-views.
Next for Donald Cerrone: Chris Horodecki; deleting his Twitter account.
New questions: WEC 51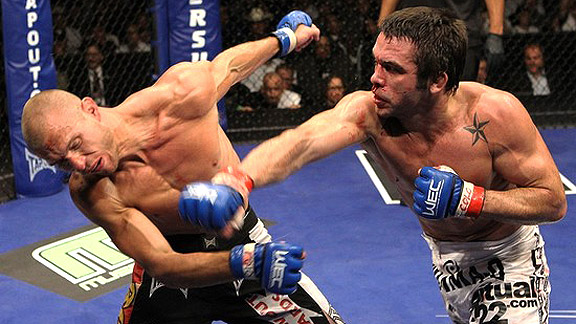 Josh Hedges/Zuffa/UFCTrue (bad) blood: Jamie Varner, right, and Donald Cerrone let it all hang out.
Q: Is Aldo running out of options?
A: In blitzing Manny Gamburyan, Aldo took out one of the few remaining challenges for him in World Extreme Cagefighting. Josh Grispi remains a standout performer, as does Mark Hominick; Chad Mendes may have the wrestling to give him issues. But there's no one defining fight left for Aldo -- unless the WEC is able to capture the services of Joe Warren, a fairly tenacious wrestler who makes up for his lack of technical ability by being relentless.
There's always talk of Aldo moving up a weight class, and the UFC could certainly provide a better living in fight-of-the-night bonuses alone. But Aldo is only 24, which gives him years to grow into a bigger frame that might be better suited for the steamrollers of that division. There are potential challenges left at 145. Aldo should be interested in cementing a legacy in one class before rushing into another.
Q: Is Leonard Garcia being unkind to his own career?
A: Garcia is a take-three-to-give-one kind of fighter, which translates into an entertaining style for fans but doesn't stop to consider Garcia's longevity as an athlete. Against Mark Hominick, Garcia winged strikes with such unnecessary momentum that he left himself vulnerable; he was also wildly winded by the third round. Most of his losses are decisions -- stretches of time when he puts himself through the grinder. Eleven years in, he's one of the guys to worry about.
Q: Is Tiequan Zhang a sign of things to come?
Zhang, the WEC's first Chinese fighter, put Pablo Garza to rest with a guillotine choke Thursday, along with concerns that Chinese-bred fighters were far behind on the ground game. While it's still one win in one fight, Zhang's display couldn't have been better for an industry increasingly looking at China as the next big port of expansion.
A: Was Donald Cerrone-Jamie Varner one of the better first rounds in recent memory?
In a sport where grudges are often manufactured to drive ticket sales and attention, there's a genuine and obvious dislike between Cerrone and Varner. And while most of these "bad blood" fights rarely spill a drop in the first round, the two went at it like alley cats for the first five minutes of their bout. It's nice to see there are still some authentic rivalries alive and kicking.
September, 29, 2010
9/29/10
1:04
PM ET

By Jake Rossen
ESPN.com
Archive
Watch mixed martial arts for any length of time and you'll discover how dizzying its effects can be on your enthusiasm. A fight like Frank Mir-Mirko "Cro Cop" Filipovic, which dogged the weekend, can sink hearts. Thursday's Jose Aldo-Manny Gamburyan match is likely to make everyone forget all about it.
Aldo is in that amazing physical and emotional space where he's old enough to have power and skill but young enough to not realize he's mortal. He's fast, he's aggressive, and his "strategy" consists of not appearing to have any strategy. He just moves and reacts faster than everyone he fights. One day, he'll be defeated and his ego will leak. Until then, he's not going to put on a bad show.
The same is true for the WEC itself, which is populated almost exclusively by fighters who can't depend on overwhelming physical strength. That usually means a surplus of technique, without all of the cage-clinching that's becoming a significant part of big-guy MMA.
What: WEC 51, an 11-bout card from the 1st Bank Center in Broomfield, Colo.
When: Thursday, Sept. 30 at 9 p.m. ET on Versus.
Why you should care: Because Gamburyan is a fireplug with feet who has done an incredible job since dropping to 145 pounds; because -- dumb Twitter comments aside -- Donald Cerrone and Jamie Varner bring out the best in one another; because Miguel Torres is trying to halt a recent career slide and hungry fighters usually equal exciting fighters; and because anything has to be better than Mir-Filipovic, including a loss of signal.
Fight of the night: Cerrone-Varner, which should probably go longer than the can of compressed-air violence in the Aldo-Gamburyan bout.
Hype quote of the show: "I don't see any trouble. I know what he's going to do. He's going to throw a lot of knees, kicks, leg kicks, high kicks, low kicks. I know exactly his game plan." -- Manny Gamburyan, to MMAWeekly.com.
I know what a gun does. Doesn't mean I don't get shot.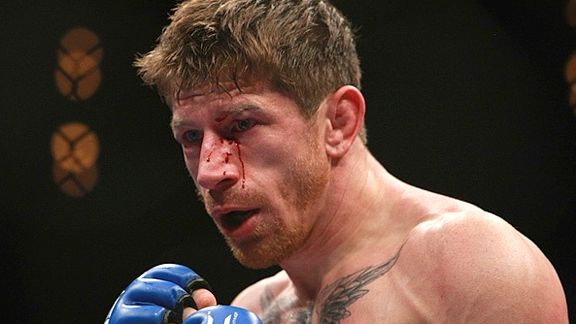 Dave Mandel for Sherdog.comNow that his unbreakable aura has been replaced by two losses in a row, is Mike Brown on the outs?
Questions: WEC 51
What will it take to beat Aldo?
No weapons allowed? No chance. Aldo has won 10 straight, seven of which came in the highly competitive WEC, where he has stopped everyone but Urijah Faber. His striking is phenomenal, his wrestling counters are sharp, and he's never on the ground long enough to worry about submissions. It's not a style that will age too well, but he's only 24.
To slow down his footwork, you need to have a terrific lower-body attack with kicks; to suck the wind out of him, you need a guy who cuts a ton of weight to lean on him; in the late rounds, you need a wrestler who can take Aldo's tired body and plant it in one place on the ground. Aldo hasn't met that guy yet. And unless Gray Maynard wants to cut to 145, Aldo might never come across him.
Can China become a viable resource for MMA talent?
Tie Quan Zhang will become the first Chinese fighter to compete under the Zuffa banner when he meets Pablo Garza on Thursday. When you consider that China is the promised land for much of corporate America, it's obvious that this fight is about more than just a win-loss result. A population of billions can add a lot to your bottom line.
The problem is that China, like many countries late to adopt MMA, is a few years behind the talent curve. Grappling wasn't a strong part of the country's curriculum as recently as a few years ago, and no Chinese athletes have made any significant waves internationally. (The Chinese government typically subsidizes efforts that can result in Olympic medals, not tire endorsements.) Zhang's performance could indicate how far that population has come -- or how far it has to go.
Are Mike Thomas Brown and Miguel Torres fading out?
A little more than a year ago, both Mike Thomas Brown (who crushed Urijah Faber) and Miguel Torres (who was spoken of highly in the maddening pound-for-pound debate) seemed untouchable. Then Jose Aldo knocked out Brown, a feat repeated by Manny Gamburyan; Torres dropped two straight, both inside the distance, and was escorted away from the best-ever talk. MMA has a short-term memory.
Brown, 35, is nearly the featherweight's version of Brock Lesnar: all steam-powered aggression. He will remain a handful. Torres, age 29 -- and 10 pounds lighter -- is in a division that places greater value on speed. Both are looking at the possibility of a third straight loss Thursday. Although that may not make them any less dangerous, it certainly makes the chances of a long-term recovery a hell of a lot worse.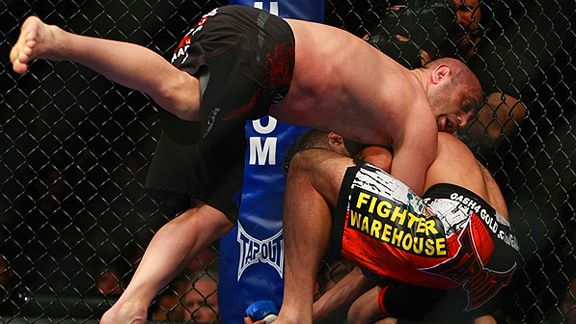 Dave Mandel for Sherdog.comManny Gamburyan's judo background is an advantage, but that may not hold back Jose Aldo.
Red Ink: Aldo vs. Gamburyan
One of the most direct and effective strategies in MMA is to be a terrific striker with fantastic takedown defense. Easy equation: If an opponent can't take you down, he's forced to stand -- and likely to lose.
Chuck Liddell and Cro Cop made long and lucrative careers out of this math, up until the point they met more devastating opposition on the feet. (It happens.) Jose Aldo hasn't, though, and it's why he's looking for an eighth consecutive win in the WEC's talent-rich cage.
Manny Gamburyan is not a better striker than Aldo, but he does have one enormous advantage: He can initiate unique trips and throws from the clinch thanks to a sturdy judo background. He's also built like a brick wall with legs. Power and unpredictability are another combination that has won more than it has lost.
Might look like: Aldo's fight with Brown, with the bigger bully being too slow to react.
Wild card: The ground scrambles -- Aldo is agile anywhere this goes.
Who wins: Close one. Gamburyan has found his natural weight class, but it happens to be one in which Aldo has all-time confidence. Gamburyan might muscle him down early, but who knows what happens to his slimmer body in the championship rounds? Aldo by TKO.
April, 25, 2010
4/25/10
4:36
PM ET
By Jake Rossen/Sherdog.com
ESPN.com
Archive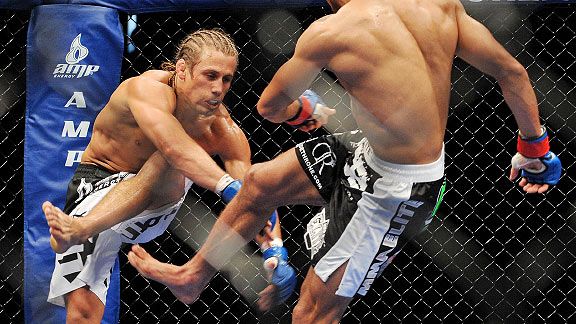 Jon Kopaloff/Getty ImagesOn his last legs: Did former featherweight king Urijah Faber peak too early for his own good?
It does not take a coach or a book to understand that fighters train to peak at the right time. Camps build toward a fight date so that athletes are in the best possible condition without falling into the exhaustion of too much work, too much pain and too much sweat. It's the difference between a therapeutic dose of medication and a toxic one.
The idea of timing your skill to the right calendar date can also apply to an entire career. The catch is, fighters can't plan to be at their lifetime best when it's most beneficial for them. Frank Shamrock might have been the pound-for-pound greatest in 1999 when he looked sensational in a four-round war against Tito Ortiz. Today, that kind of fight would send him into the stratosphere. But the UFC couldn't afford to keep him, and his prime years were largely spent on the couch.
Urijah Faber's best might have come during the latter part of the last decade. Now that his World Extreme Cagefighting employer is breaking into the lucrative pay-per-view market and a livable wage is suddenly an option for smaller men, Faber may find that he peaked too soon.
Against Jose Aldo on Saturday, Faber discovered that his speed was no longer unmatched and his shot no longer effective. Aldo breezed out of the way of his strikes, shrugged off his clinch, and landed a steady thump of leg kicks to Faber's thigh that eventually crippled him. It turned into a night when Faber was applauded for surviving, not attacking.
The bout follows two tough losses to Mike Thomas Brown, a bear of a 145-pounder who completely shut down Faber's grappling. Instead of looking invincible, Faber has gone 1-3 at a time when his skills would be most appreciated.
It's not his fault, obviously: The body takes only so much instruction before it does its own thing. And as time wears on, going the distance with a mauler like Aldo may wind up being a remarkable achievement. (The champion has stopped his last six opponents.) Faber will continue to draw, but based on the force of his personality and fight style, he won't get the same results. He'll cash checks, but perhaps not in the amount a championship would bring.
In fighting, everything comes down to timing. Faber just didn't have it.
Next for Aldo: Lots of talk about moving to 135 pounds and eventually 155 pounds. He might not want to overlook potential contender Manny Gamburyan, who looked like a pitbull in taking out Mike Thomas Brown on the undercard.
Next for Faber: Reinvention. He's too small for 155, but a drop to 135 isn't unrealistic.
Next for Ben Henderson: Most expected a summer sequel to his five-round war with Donald Cerrone; observers cautioned him to look out for Cerrone getting a submission. Instead, Henderson strangled him purple. Having already done the same to Jamie Varner, Henderson might be outgrowing the WEC's limited lightweight field. If Aldo is serious about wanting to challenge himself, a Henderson-Aldo main event for the WEC's second pay-per-view would be a high-voltage attraction.
Awards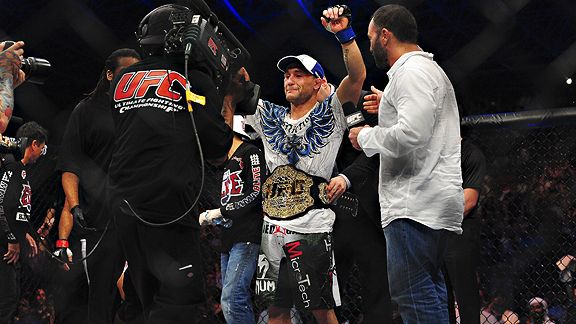 Martin McNeil for ESPN.com Hey, Zuffa: Remember Frankie Edgar? The man who beat the man for
the
lightweight title?
The we-know-what-you're-saying award: Kimbo Slice, for creating the term "commitmentship" to describe his dedication to MMA.
The blank slate award: Zuffa, for erasing virtually all trace of the World Extreme Cagefighting brand from its highly touted pay-per-view debut. Introducing Henderson as "the lightweight champion" makes Frankie Edgar what, exactly? "A" lightweight champion? "One of" the lightweight champions? Or just annoyed?
The Sloppy Joe award: Leonard Garcia and Chan Sung Jung, for delivering a haymaker-heavy fight predicated on that $65,000 bonus that was either one of the most exciting things you've seen or one of the most embarrassing.
The mind games award: Dana White, for being seen with an arm draped around Strikeforce's Jake Shields. (We're one pencil-eraser 'do and a couple of mini flags away from a complete metamorphosis, gang.)
New questions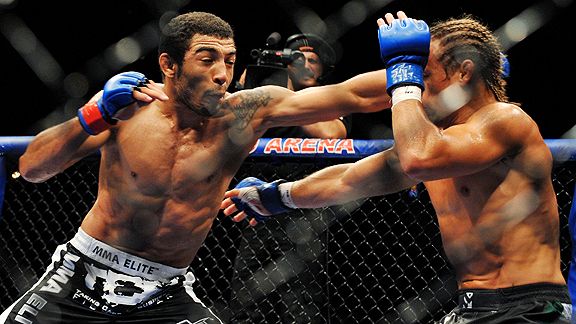 Jon Kopaloff/Getty ImagesAfter just one title defense, is Jose Aldo already setting his sights too high for his own good?
Q: Has Zuffa stuck it to Versus?
A: During the postfight news conference, White elaborated on the lack of a WEC presence in the promotional material for the event: Stripping it meant he could promote the show on Viacom-owned stations like MTV and Spike without voiding any exclusivity agreements with the Versus channel.
The legal parameters make sense, but only on a superficial level. Why would Versus ever object to seeing the WEC brand get a burst of mass exposure on other cable networks? If the hurdle came from Spike, which may not want to promote the brand of a rival network, why bother agreeing to showcase fighters who may wind up fighting on another channel?
And if the rationale was completely without conspiracy and Zuffa simply needed the power of bigger networks to push its wares -- what is it doing on Versus in the first place?
Versus is an under-the-radar network: The WEC represented an opportunity to create a destination channel for fight fans. Getting completely eradicated from a high-profile pay-per-view promotion is a giant leap backward.
Q: Is Aldo too ambitious for his own good?
A: For reasons unknown, fighters managed under Ed Soares enjoy voicing some lofty goals. Lyoto Machida wants Brock Lesnar; Anderson Silva wants Roy Jones, then Frank Mir. Now Aldo wants title bouts at 135 and 155 pounds, despite having only defended his 145-pound title one time. Is it really ambition, or a desire to break out of the financial ceiling of their current slot?
Q: Where does Faber go from here?
A: The idea that one fighter is responsible for the fortunes of an entire fight promotion is a foundation built on sand, a lesson Affliction and ProElite learned the hard way. It's to the WEC's credit that its star, Faber, was at least a genuine competitor who could live up to the hype. For a while.
Aldo was one of his remaining chances to return to the top of the featherweight division. If it was competitive, a rematch would've been lucrative. Instead, Faber was systematically demolished after a competitive first round, leaving him with little business left in the class.
Moving to 155 made sense when he was making short work of his competition: Now that his division has advanced, it's not a promising decision. A better fit would be 135 pounds, where matches against Brian Bowles, Miguel Torres, or champion Dominick Cruz would provide some clean-slate promotion.
Etc.
• If Jung felt wronged in a split-decision loss against Garcia, earning $65,000 for Fight of the Night eased his frustrations considerably. Their collective purse was probably the richest in featherweight history outside of Faber or Japan.
• Aldo outstruck Faber 126 to 39 in their 25-minute title bout. Faber went 0-5 in takedown attempts. If Faber did indeed pass the torch Saturday, he got burned doing it.
• MMAJunkie.com reported a $1 million gate paid by more than 14,000 spectators in Sacramento's Arco Arena, a WEC company record for an event that bore no sign of the WEC brand.
• Pay-per-view promotional material on InDemand's website contained lots of WEC language, indicating that a complete whitewash wasn't always on the books: That material is frequently submitted to companies months in advance.
• Lost in the hype of the weekend: The retirement of Hidehiko Yoshida, who debuted in 2002 and had two very memorable fights with Wanderlei Silva during Pride's primetime days in Japan. He lost a decision to fellow Judoka Kazuhiro Nakamura. The night went more smoothly for a returning Enson Inoue, who submitted Antz Nansen in just over a minute. Inoue had not fought for six years; Antz, presumably, was picked on from first grade onward. The promotion, Astra, picked up a crowd of more than 10,000, solid by U.S. standards but a far cry from the golden age of that country.
• White outed Mike Thomas Brown as having personal issues preceding his loss to Gamburyan on Saturday. Emotional problems are an obvious drain, but that kind of talk doesn't do Gamburyan many favors.
April, 22, 2010
4/22/10
5:16
PM ET
By Jake Rossen/Sherdog.com
ESPN.com
Archive
If you had any doubt at all that carrying a separate brand for lighter-weight fighters is a shaky premise, you should probably grab a look at the UFC's home page: As of Thursday evening, a link to information on Saturday's World Extreme Cagefighting pay-per-view is shamelessly listed as "UFC," with no mention whatsoever of Zuffa's little-brother promotion.
It's not unlike seeing "STALLONE" in big block letters on a video cover, getting it home, and realizing you've been stuck with Frank and not Sylvester.
Misleading? Maybe. But it's difficult to find a lot of fault in a company doing its level best to attract attention for notoriously undervalued weight divisions. The WEC does only modest business as a cable attraction on Versus; Urijah Faber remains the sole superstar. When he competes, ratings take off. When he does not, they gurgle. It's not a complicated pattern.
Naturally, Faber is the headliner for the WEC's first attempt to entice pay audiences. Whether there will be a second attempt depends largely on Faber's being able to stuff the attack of Jose Aldo, a fresher, younger and violently tenacious champion who mugged Mike Thomas Brown for the title. If Faber, 30, cannot solve him, it would indicate he's being phased slightly out of the equation.
This would be very bad news for a promotion counting on him and would indicate the WEC is in need of a more stable headliner to rely on. Fortunately, I hear the UFC logo takes very few vacation days.
Fans who want good fights and pay no attention to industry politics won't really care about any of this: Thanks to athletes who have to rely on technique and conditioning to thrive, these weight classes always deliver excitement. But fighters who have come as far as Aldo and Faber have probably deserved the attention -- and paycheck -- only the UFC can attract. For the WEC's talent, success might come only if Saturday is a miserable failure.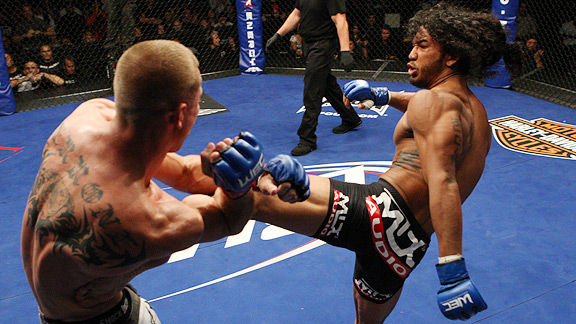 Josh Hedges/Zuffa/UFC Look for Benson Henderson, right, and Donald Cerrone to steal the show Saturday.
What: WEC 48, an 11-bout card from the Arco Arena in Sacramento
When: Saturday at 10 p.m. ET on pay-per-view, with a preliminary special at 9 p.m. ET on Spike
Why you should care: Because both Aldo and Faber have no idea what it means to be boring; because Ben Henderson and Donald Cerrone will probably steal the show from them with another fight-of-the-year candidate; and because the WEC's overall stellar-to-stinker ratio might be the best of any fight promotion anywhere.
Fight of the night: Henderson-Cerrone, which should be every bit as wild as their first fight -- unless they've beaten the energy out of each other already.
Hype quote of the show: "I wish I could bet on myself and make some cash, but I think that is illegal." -- A confident Faber, to ABC's News10 in Sacramento. (It's actually not illegal.)
Questions: WEC 48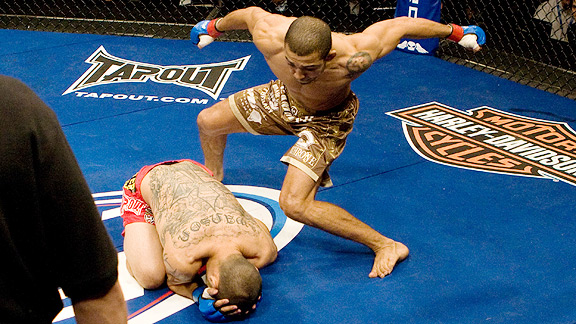 Josh Hedges/Zuffa/UFCShould fighters run for cover when they see Jose Aldo standing across from them?
Q: How do you beat Aldo?
A: Aldo has one of the best package deals in combat sports: He's usually much better than anyone he faces standing, and he can work his torso like a hydraulic piston when it comes to stuffing takedowns. Faber will have to think of more creative ways to get this fight to the ground than Brown, who attempted to outmuscle Aldo with no result.
Q: Does Faber need to win for the WEC's continued survival?
A: As ProElite and Affliction learned the hard way, building a brand around a single fight attraction is risky business. While the WEC held hopes for Miguel Torres and others, only Faber has made substantial differences in the company's bottom line. A loss to Aldo on Saturday wouldn't completely erase his drawing power, but it would put a serious dent in a company looking to gain entry in the pay-TV model. Faber with the featherweight belt is solid ground; Faber going 0-3 against the toughest opposition out there isn't.
Q: Can Cerrone-Henderson be MMA's Arturo Gatti-Micky Ward …
A: There are few trilogies in MMA that ever really lived up to their billing. (Quinton Jackson-Wanderlei Silva was a dynamic series, but less about wild action than violent finishes; Chuck Liddell-Randy Couture turned one-sided.) Much of the problem is that smaller gloves don't permit the kind of extended exchanges seen in boxing: if you connect with a few clean, rooted punches, it's time for the sponsor plugs.
The fight Henderson and Cerrone waged in 2009 could wind up being the model for what constitutes a classic mixed martial arts fight: Sharp striking that doesn't suffer from gassed victims or Hail Mary heavyweight punches; groundwork constantly in motion; and two very evenly matched athletes.
Henderson won a razor-thin decision the first time; they'll rematch Saturday, and a third fight seems inevitable.
Q: … and will they pay the price for it later?
A: There is always a tax on great athletic careers, and it's usually calculated by how much stress you've put on your body. Cerrone has had four Fight of the Night honors in five fights: While that's good supplemental income, that kind of output has a shelf life. Without the benefit of history, there's no real way of knowing whether the wars we see today are the orthopedic surgeon's income of tomorrow.
Red Ink: Aldo-Faber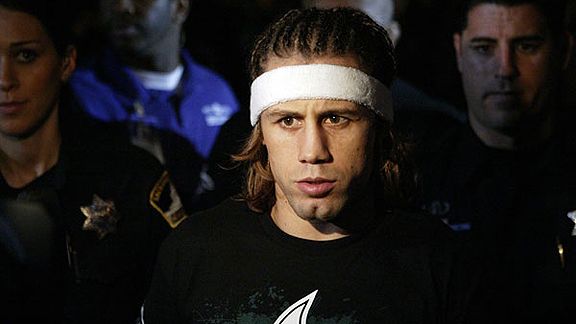 Jeff Sherwood/Sherdog.comUrijah Faber has lost his cloak of invincibility in recent fights.
It wasn't that long ago that the biggest featherweight fight possible was Faber taking on Japanese star "Kid" Yamamoto. Both were exceptional wrestlers and strikers: Yamamoto had even put on a respectable effort in a kickboxing match against K-1's Masato. Faber was undefeated at that weight. And both were, to put it bluntly, mean bastards. If you wanted to charge a premium for the smaller guys, this was it.

Today, the fight would get a lukewarm reception at best. Faber has looked mortal against Brown while Yamamoto has lost two of his last three.
That may wind up being a blessing for the WEC, which might have had some trouble packaging Yamamoto for a U.S. audience but has a highlight reel running at full speed for Aldo, the 16-1 Brazilian who has stopped all six of his opponents in the promotion. He's just as dangerous an opponent for Faber, who looked casual for much of his career until running into a bigger, stronger wrestler in Brown. Faber won't have to worry about getting muscled, but he will have to concern himself with striking that combines agility with unpredictability.
Aldo's greatest asset might be psychological: Faber has been trumped twice in recent memory while Aldo hasn't suffered a loss in nearly five years. Invincibility is an illusion, but believing it is almost as good as the real thing.
Wild card: Aldo's ignorance of the championship rounds.

Who wins: Faber isn't going to have a lot of fun standing, in the clinch, or tied up in Aldo's guard. If he can land some elbows and get the blood flowing, great. If not, Aldo is going to fracture something in his face. Aldo by TKO.