Mixed Martial Arts:

Manny Pacquiao
November, 16, 2011
11/16/11
7:57
AM ET

By Chuck Mindenhall
ESPN.com
Archive
Like fixated rants?
You might want to check out the one that literary boxing writer Gary Andrew Poole came up with that loosely held the UFC's debut on Fox up to the Juan Manuel Marquez/Manny Pacquiao fight he attended on the same night. The article appeared on
Esquire.com
, a sort of companion piece to his more focused coverage of the boxing match for The Atlantic. Poole wrote a book about Pacquiao -- PacMan: Behind the Scenes with Manny Pacquiao -- so you can guess going in to which side his biases tend.
Next to Pacquiao/Marquez and all the historical context that he's accrued over years of observing, he hikes a leg to the 64-second spectacle of
Junior dos Santos
and
Cain Velasquez
and the $100 million a year Fox deal. For measure, Poole condenses the entirety of what he knows of MMA into a generality -- "badass jujitsu" -- for his readers. It's just a hoax next to the fine-tuned, forever in the making aesthetics of boxing. (Never mind that the fight he drew these conclusions from hadn't an ounce of jiu-jitsu in it). He talks about Marquez's jab being of a fine vintage, next to Jon Jones' "badass jujitsu" which he did for four months. That was, of course, before Jones joined Dana White's "badass jujitsu" parade and became its youngest champion.
Basically, the crux is that boxing is better, based on thousands of hours of study (presumably) versus a single hour of MMA viewed only after he insisted at the Tropicana.
[+] Enlarge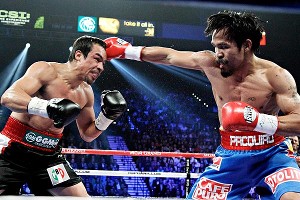 AP Photo/Julie JacobsonManny Pacquiao's epic, 12-round battle with Juan Manuel Marquez was beautiful in its own right.
The boxing versus MMA battle is a long-winded, never exhausted one. Boxing has the context of more than a hundred years of history, going back to Pierce Egan's day. MMA has Dan Severn dating back to the 1990s. Boxing has always had fantastic chroniclers, coloring in its champions through every era and lionizing its characters, while MMA is only beginning to find a voice. MMA greats are current, or in the making. Very few belong to the past. Before MMA, it was posters of Bruce Lee, old footage of Gray Simons, the Helio Gracie submission techniques from Brazil, the footwork of Sugar Ray Robinson. MMA is a lot of disparate parts that didn't interconnect until very recently.
Every time somebody writes a flimsy piece like this, the debate boils down to old versus new (with a subtext of threat). Poole isn't an old boxing guy, but this is codger territory.
Boxing is beautiful, he's right -- but it takes a practiced eye to make that beauty profound. Pacquiao is a beautiful fighter, and spending time with him as Poole did to pen his book is a nice way to see it. Yet to dismiss MMA based on a single fight, to talk about the "loopy and laughably slow right" that dos Santos landed on Velasquez as a direct comparison will never work. Pacquiao, for all of his beauty, is not living in fear of a takedown. Marquez is not an All-American wrestler. He is not protecting himself from a double-leg as he puts together a combination. There are no leg kicks, front kicks, spinning backfists. His punches might be a lot loopier if those hazards existed.
The two are impossible to compare in any satisfactory way. Boxing in MMA is not boxing in boxing. You can't dismiss one at a glance for its lack of polish based on a single area of expertise that took years to build an appreciation for. It's foolish. And, as these skewed comparisons often do, it came across that way.
October, 11, 2011
10/11/11
4:22
PM ET

By Franklin McNeil
ESPN.com
Archive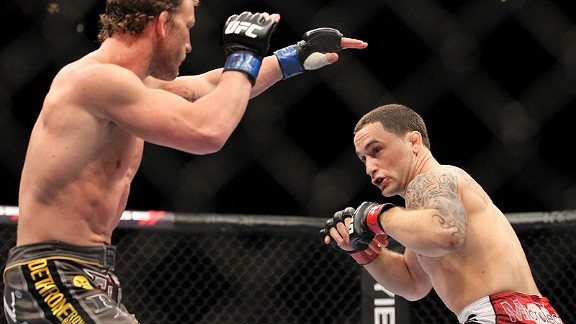 Ed Mulholland for ESPN.comWith a fourth-round TKO of Gray Maynard, Frankie Edgar sits among the best mixed martial artists.
Just about every mixed martial arts pound-for-pound discussion begins with UFC middleweight champion Anderson Silva.
No one has dominated his division like Silva, who has successfully defended the 185-pound crown a UFC-record nine consecutive times. Add to that his promotional-best 14 wins in a row, and it's difficult to argue that Silva doesn't deserve the title of best MMA fighter.
A handful of observers support UFC welterweight titleholder Georges St. Pierre for the No. 1 spot. They point to the ease in which St. Pierre has beaten the opposition since reclaiming the 170-pound belt from Matt Serra in April 2008.
UFC light heavyweight champ Jon Jones is starting to make a push to have his name included in the conversation. He's looked virtually unbeatable inside the Octagon.
But for the past two-plus years, the pound-for-pound debate has been limited to Silva and St. Pierre. It's time the conversation be expanded – and not to include Jones.
After successfully defending his title at UFC 136 with a fourth-round TKO of top contender Gray Maynard, lightweight champion Frankie Edgar erased all doubt that he sits among the best mixed martial artists.
Edgar personifies the essence of pound-for-pound best fighter.
[+] Enlarge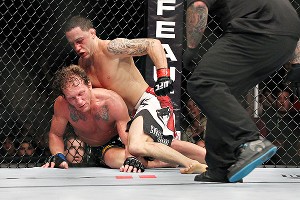 Ed Mulholland for ESPN.comFrankie Edgar proved his mettle and P4P worth in a grueling third bout with Gray Maynard.
Though he possesses the 155-pound belt, Edgar is a natural featherweight – a smallish one at that. No other UFC champion can claim to be competing above his natural fighting weight.
It's what separates him from the championship pack.
"He's the best pound-for-pound fighter because he's doing it the opposite way: he's giving up weight," Edgar's boxing trainer Mark Henry told ESPN.com. "Nobody's doing it that way.
"Here's what's so special about him, if there had been a 135-pound class in UFC when he started that's where he would have fought.
"People don't give him credit. If he'd have started at 135 and later won the 155-pound title, people would be calling him 'incredible.'"
Dana White has been singing Edgar's praises for some time now, but after his unforgettable performance Saturday night in Houston against Maynard, the UFC president has increased the volume.
As far as White is concerned, a convincing argument can only be made for placing Silva ahead of Edgar at this time.
"[Edgar] is the Arturo Gatti of MMA," White said. "That's really who this kid is. I have so much respect for him, and I am going to say this here tonight and I don't care who disagrees.
"You're wrong and I'm right. He's the No. 2 pound-for-pound fighter in the world, period.
"The only thing that keeps him from being No. 1 is that Anderson Silva has not been beaten in the UFC since 2006 and most of the time he has been the champion."
In White's attempt at praising Edgar, he actually does him a disservice. Edgar is no Gatti. His achievements inside the Octagon surpass those of the late boxing champion.
There are a couple of things Edgar and Gatti do have in common. Both put everything they have into a fight, and each calls New Jersey home.
[+] Enlarge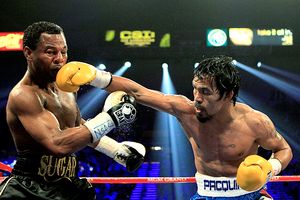 Chris Trotman/Getty ImagesFrankie Edgar has a lot more in common Manny Pacquiao than he does with Arturo Gatti.
That's where the similarities end. Gatti was never among boxing's pound-for-pound elite and often came up short against bigger fighters, especially those considered the best in their respective weight classes.
The boxing equivalent of Edgar is Manny Pacquiao, a former WBC flyweight champion who always enters his welterweight title bouts 2 or 3 pounds below the 147-pound limit. And while Pacquiao can claim to be the better finisher, Edgar showed on Saturday that he too is capable of doing damage with a well-placed right hand.
"I don't see these 155-ers beating Frankie, but if they did, they're not accomplishing what Frankie is doing," Henry said. "If they want to accomplish what Frankie has they'd have to win at 185 or at least 170.
"And all the 145-ers are bigger than him. [UFC bantamweight champion] Dominick Cruz, who entered his last fight at 160, would be bigger than Frankie if they fought.
"Frankie could absolutely make 135, if we got with the right people. If everybody else can do it, why can't we? We're just 23 pounds over [the bantamweight limit]."