March, 22, 2013
3/22/13
2:59
PM ET

By Chuck Mindenhall
ESPN.com
Archive
The UFC wants to pare down its roster, and right now fighters are helping in the quest. Over the past couple of weeks, three more drug tests have come back hot.
Alex Caceres
for marijuana metabolites.
Riki Fukuda
for a cocktail of stimulants.
Lavar Johnson
for elevated testosterone.
It's always something. Sometimes that something feels like nothing. Sometimes it feels like something.
In these cases, Caceres, a first-time offender, was suspended for six months. Fukuda was cut, not because of the failed drug test, the UFC says, but because he's on a losing streak. And Johnson was cut due to an unfortunate mixture of both. Before them in recent months were Matt Riddle (marijuana again, cut),
Thiago Silva
(marijuana, suspended),
Stephan Bonnar
(steroids again, now retired),
Rousimar Palhares
(elevated testosterone, suspended),
Joey Beltran
(steroids, cut),
Jake Shields
(mystery, suspended) and
Thiago Tavares
(anabolic steroid, suspended).
Before
them
were
Alistair Overeem
,
Cristiane Santos
,
Muhammed Lawal
,
Rafael Cavalcante
and a long ellipses more.
As for
Nick Diaz
? Let's just say the colors on the roulette wheel go round and round. He's a perpetual state of pending.
With all the hype leading up to a fight, drug tests have become the kind of drama that lives on far afterward. And what a word "drugs" has become. If we're being real, marijuana gets stashed in a fun folder called "recreational," while steroids and spiked testosterone levels are filed away under "dirty rotten cheats." One is a form of silly, the other manipulates.
Everybody knows that, right?
Hmm. Problem is that the suspensions (from the commissions) and the general fallout (from the UFC) don't necessarily discriminate. Illegal is illegal with both parties, though most commissions are consistent (and non-differentiating) with punishment for failed drug tests and the UFC is inconsistent (differentiating but moodily) for them.
The bridge? Maybe UFC vice president of regulatory affairs Marc Ratner, who has begun to point out the folly in sentencing marijuana and PED violators as equals. He spoke up about it at a Nevada State Athletic Commission hearing this week, saying that he "cannot believe a PED and marijuana are treated the same. It does not make sense to the world."
Ratner is dialed in.
The world has common sense. The world has a loose and general understanding that pot isn't taken to achieve competitive advantage (and
taken
seems like such a strange word to use -- who
takes
pot?), while the other is harmful, dangerous and taken precisely to gain an advantage. Steroid cycles go about outsmarting surveillance systems.
[+] Enlarge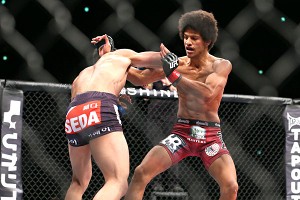 Susumu Nagao for ESPNAlex Caceres, right, was suspended for testing positive for marijuana metabolites.
Pot? No way, dude. I'm not a doctor, but pot is an afternoon of video games. It hardly carries the stigma it once did, and it's being legalized in certain states. Not to be facetious, but where testosterone helps 34-year old men perform like 24-year old men, your appetite is the only thing that performs like it's 19 years old on pot. Is it a painkiller? Maybe. Then again, a six-pack of Molson could be, too. More importantly, is it anything like a painkiller come fight night? Most pot cases are all about those long-lingering metabolites, which have little (or nothing) to do with the event itself.
Should they be treated the same? These things aren't equal. It's time that the NSAC and other commissions recognize the difference. Same goes for the UFC, which has recently vowed to crack down on PEDs. Granted, so long as marijuana is tested for, fighters should know better than to jeopardize their careers by smoking it. It's still a dumb move. Should it even be tested for? That's a different can of worms, and it's easy to argue no. Right now, though, it is.
And since it is, it'd be nice if the punishment fit the crime for violators. It's not hard math. PEDs show up for the express purpose of making an impact on fight night. Pot, on the other hand, is incidental. They share the taboo of being banned, but they have extremely different motives.
Those motives are the heart of the matter.
November, 8, 2012
11/08/12
1:13
PM ET

By Chuck Mindenhall
ESPN.com
Archive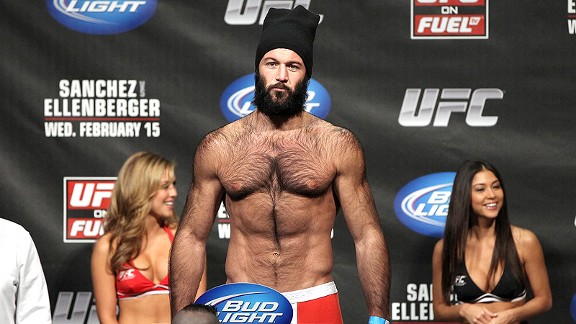 Josh Hedges/Zuffa LLC/Getty ImagesHairy Potter: Dave Herman is paying the price for a failed drug test.
Marijuana isn't a performance-enhancing drug, you say? Try running that nonsense by any guitarist in a jam band. All that noodling is backlit by
something,
brother.
In MMA, though, marijuana doesn't enhance fight night performance. In fact, it probably does nothin' to nobody -- unless you're
Nick Diaz
, in which case it just helps usher in clearer, mellower vibes. In his case, it's "medicinal."
Nevertheless, it's still illegal to the commissioning bodies in MMA, even if it's just residue in your system from weeks ago.
We saw Diaz get suspended for testing positive for marijuana metabolites after his loss to
Carlos Condit
at UFC 137. His sentence was to sit out of the fight game between Super Bowls. This struck most people as harsh even though he was a second-time offender, given that Diaz holds a medical marijuana card in his home state of California. And because, you know … pot smokers aren't realistically trying to gain an advantage.
We saw Matt Riddle get popped recently, too, in Calgary, Alberta. Even more recently, it was
Dave Herman
(yet again). Herman looked dazed and confused in his loss to
Antonio Rodrigo Nogueira
at UFC 153 in Rio, although there was something about the colors in Big Nog's aura that night that seemed to bewitch him.
From that same fight card,
Stephan Bonnar
tested positive for an anabolic steroid. You know this by now because Bonnar has been roasting on a spit in the media ever since. Just as with Herman and Diaz, this was his second offense. Drostanolone
is
a performance-enhancing drug. And this time, maybe because Bonnar and Herman failed drug tests on the same card and their cases are evaluated at the same time, we seem to be doing the smart thing.
That is, we're actively distinguishing the difference between the substances.
In a nutshell: One is taken deliberately to cheat; the other to deliberately enhance an afternoon. In a sport in which both have been punished equally, the latter behavior automatically becomes the dumber. If all things are equal, you should cheat to win, not giggle.
Because Brazil doesn't have an athletic commission to dole out the punishment, the UFC was left to do the dirty work. The UFC means Marc Ratner, the promotion's VP of regulatory affairs, who once headed the Nevada State Athletic Commission. He suspended newly retired Bonnar for a year, which means -- aside from some twilight embarrassment -- there are no real consequences.
The suspension was perfunctory.
Herman's suspension, though, was tellingly less. According to Ratner, who spoke to MMA Fighting's Ariel Helwani, Herman's suspension will be "months" rather than the year Bonnar (and Diaz) received.
"We feel very strongly that there's a big difference between PEDs and marijuana," Ratner said. "We think the commissions do a good job with PEDs, but we think with marijuana there should be some form of rehab involved, going through that kind of process and learning about it. Other sports have a difference between PEDs and recreational drugs."
All of this is refreshing. Why? Because it's common sense prevailing in the face of the homogenized idea of "what's illegal is illegal." Illegal isn't a great equalizer. One substance isn't the same as the other. PEDs are dangerous to the sport. They're dangerous to the opponent. They're rampant, too, because right now there are so many loopholes and opportunities to use and never get caught. In a sport in which the intent is to do harm without the use of euphemisms, such enhancements can turn tragic.
With marijuana, other than potential long-term effects to the lungs and brain, the short-term danger belongs to whatever cereal can be found.
Not to trivialize things -- obviously marijuana can impair motor skills, vision and problem-solving ability if smoked on fight night (which Herman probably didn't do) -- but they are different. And Ratner made the distinction in how he punished Bonnar and Herman. Bonnar was cheating, and it wasn't his first time. It's easy to say good riddance in his case. As for Herman, he got stoned too close to fight night and got pinched because of it.
In his case, it's more like,
Dude, seriously
? And if Ratner set a precedent, it was a timely one -- there's a difference between cheats and boneheads.
January, 21, 2012
1/21/12
7:31
PM ET

By Chad Dundas
ESPN.com
Archive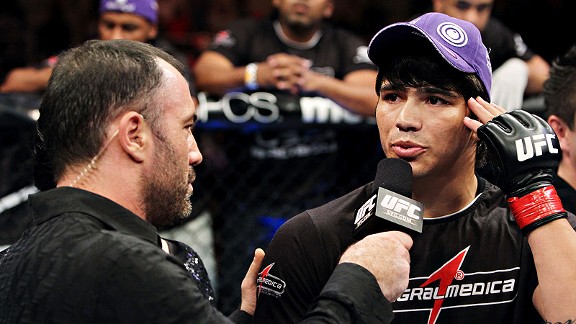 Josh Hedges/Getty ImagesLoser Erick Silva might not agree, but upholding the DQ result is the right thing to do.
Of all the oddities that emerged from this month's UFC 142, none caused a bigger firestorm than Erick Silva's controversial disqualification loss to Carlo Prater.
More than
Jose Aldo
hanging on to the Octagon fence like Sly Stallone in "Cliffhanger" to ward off Chad Mendes' takedowns, or
Vitor Belfort
coasting to victory over
Anthony Johnson
on some stand-ups that would have made a Pride official blush, Silva's DQ for strikes to the back of Prater's head understandably struck a chord with fight fans. Here was a fast-rising welterweight star handed his first loss in the UFC -- and his first defeat anywhere since 2006 -- on what seemed like, at best, a technicality.
In a sport as typically cut-and-dried as MMA, that type of outcome is admittedly hard to stomach and there will no doubt be even more kvetching after the organization announced on Thursday that it won't overturn the decision. Prater will be allowed to keep his win over Silva, as explained in a statement released by UFC executive Marc Ratner.
"Based on the referee's verbal warnings and his determination that the blows were intentional and a disqualifying foul, this is not the type of decision that can be reviewed," said Ratner, the company's vice president of regulatory affairs and a former executive director of the Nevada State Athletic Commission. "Therefore the decision stands."
Fair warning, some of you aren't going to like this next part: The UFC made the right call here.
There's no question that public perception will always be that Silva got jobbed. The rule outlawing punches to the back of the head, while a necessary one, has always been a little like holding in football -- refs could probably call it on every play if they wanted. Sometimes the offender gets away with it, sometimes it costs him dearly. Did referee Mario Yamasaki mishandle his enforcement of that rule in this particular instance? Maybe. Even after his verbal warnings, you could make the argument Yamasaki should have called time, deducted a point from Silva and checked to see if Prater could continue.
That he instead chose to disqualify Silva appears to have tied the UFC's hands on this issue. You can hang Yamasaki out to dry if you want to -- fact is, he's a human being charged with an almost superhuman job -- but if you don't like the end result of this decision, your beef isn't really with him or with the UFC, it's with the rules.
[+] Enlarge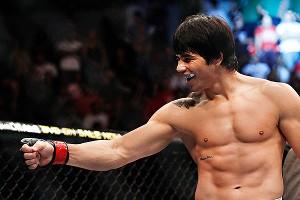 AP Photo/Felipe DanaStop right there: Erick Silva's celebration was short-lived.
If the rules say you can't punch your opponent in the back of the head and you can get disqualified for doing it, then that's that. Furthermore, if the rules dictate that regulators can't overturn this kind of referee's call after-the-fact, then the UFC had no choice but to let Prater's victory stand.
See, that's the tricky thing about rules: In professional sports, you're duty bound to follow them, even when they force you into decisions that occasionally feel unfair. Rules, after all, are the one thing that keeps our sport -- any sport, really -- from devolving into an uncontrolled spectacle. They're the difference between a bar fight and prizefight and once you start to bend them, well, you know the rest.
If we decide at some point we don't like the rules -– and let's face it, there are a lot rules in MMA that are poorly written, poorly defined and poorly enforced -- then by all means, let's change them. For now however, the rules have to be enforced as written.
Credit the UFC for having the good sense to adhere to the letter of the law. Credit the company also for being proactive enough to take steps to try to ward off these kinds of unfortunate circumstances in the future, announcing in the same statement that it will implement the use of instant replay at all self-regulated international events and will encourage regulators stateside to do the same.
"While instant replay would not have reversed the call in the Silva-Prater bout," Ratner's statement said, "we believe that it could be valuable to referees and the sport in the future."
Letting Yamasaki's decision stand was doubly important at an event where the UFC itself was in control of the regulation. Zuffa deserves a pat on the back for taking on the job of self-policing at events where no governmental oversight exists, but in doing so it also enters somewhat slippery territory. The very idea of self regulation is problematic, and the fight company is wise to do it only when absolutely necessary. When it does, it's also smart to adhere strictly to the same rules the NSAC would employ.
With no athletic commission overseeing UFC 142, the promotion had the power to overturn Silva-Prater, but doing so could have set a dangerous precedent. The UFC, after all, isn't really a regulatory body, it's a fight promoter. How much do we want fight promoters manipulating the outcome of bouts? The answer, of course, is not at all.
Kudos to Ratner and the UFC for recognizing that.