January, 21, 2012
1/21/12
7:31
PM ET

By Chad Dundas
ESPN.com
Archive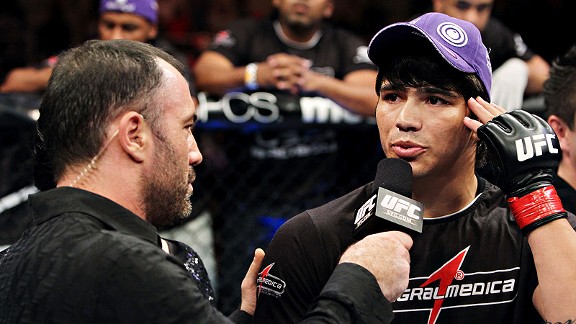 Josh Hedges/Getty ImagesLoser Erick Silva might not agree, but upholding the DQ result is the right thing to do.
Of all the oddities that emerged from this month's UFC 142, none caused a bigger firestorm than Erick Silva's controversial disqualification loss to Carlo Prater.
More than
Jose Aldo
hanging on to the Octagon fence like Sly Stallone in "Cliffhanger" to ward off Chad Mendes' takedowns, or
Vitor Belfort
coasting to victory over
Anthony Johnson
on some stand-ups that would have made a Pride official blush, Silva's DQ for strikes to the back of Prater's head understandably struck a chord with fight fans. Here was a fast-rising welterweight star handed his first loss in the UFC -- and his first defeat anywhere since 2006 -- on what seemed like, at best, a technicality.
In a sport as typically cut-and-dried as MMA, that type of outcome is admittedly hard to stomach and there will no doubt be even more kvetching after the organization announced on Thursday that it won't overturn the decision. Prater will be allowed to keep his win over Silva, as explained in a statement released by UFC executive Marc Ratner.
"Based on the referee's verbal warnings and his determination that the blows were intentional and a disqualifying foul, this is not the type of decision that can be reviewed," said Ratner, the company's vice president of regulatory affairs and a former executive director of the Nevada State Athletic Commission. "Therefore the decision stands."
Fair warning, some of you aren't going to like this next part: The UFC made the right call here.
There's no question that public perception will always be that Silva got jobbed. The rule outlawing punches to the back of the head, while a necessary one, has always been a little like holding in football -- refs could probably call it on every play if they wanted. Sometimes the offender gets away with it, sometimes it costs him dearly. Did referee Mario Yamasaki mishandle his enforcement of that rule in this particular instance? Maybe. Even after his verbal warnings, you could make the argument Yamasaki should have called time, deducted a point from Silva and checked to see if Prater could continue.
That he instead chose to disqualify Silva appears to have tied the UFC's hands on this issue. You can hang Yamasaki out to dry if you want to -- fact is, he's a human being charged with an almost superhuman job -- but if you don't like the end result of this decision, your beef isn't really with him or with the UFC, it's with the rules.
[+] Enlarge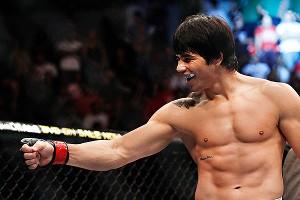 AP Photo/Felipe DanaStop right there: Erick Silva's celebration was short-lived.
If the rules say you can't punch your opponent in the back of the head and you can get disqualified for doing it, then that's that. Furthermore, if the rules dictate that regulators can't overturn this kind of referee's call after-the-fact, then the UFC had no choice but to let Prater's victory stand.
See, that's the tricky thing about rules: In professional sports, you're duty bound to follow them, even when they force you into decisions that occasionally feel unfair. Rules, after all, are the one thing that keeps our sport -- any sport, really -- from devolving into an uncontrolled spectacle. They're the difference between a bar fight and prizefight and once you start to bend them, well, you know the rest.
If we decide at some point we don't like the rules -– and let's face it, there are a lot rules in MMA that are poorly written, poorly defined and poorly enforced -- then by all means, let's change them. For now however, the rules have to be enforced as written.
Credit the UFC for having the good sense to adhere to the letter of the law. Credit the company also for being proactive enough to take steps to try to ward off these kinds of unfortunate circumstances in the future, announcing in the same statement that it will implement the use of instant replay at all self-regulated international events and will encourage regulators stateside to do the same.
"While instant replay would not have reversed the call in the Silva-Prater bout," Ratner's statement said, "we believe that it could be valuable to referees and the sport in the future."
Letting Yamasaki's decision stand was doubly important at an event where the UFC itself was in control of the regulation. Zuffa deserves a pat on the back for taking on the job of self-policing at events where no governmental oversight exists, but in doing so it also enters somewhat slippery territory. The very idea of self regulation is problematic, and the fight company is wise to do it only when absolutely necessary. When it does, it's also smart to adhere strictly to the same rules the NSAC would employ.
With no athletic commission overseeing UFC 142, the promotion had the power to overturn Silva-Prater, but doing so could have set a dangerous precedent. The UFC, after all, isn't really a regulatory body, it's a fight promoter. How much do we want fight promoters manipulating the outcome of bouts? The answer, of course, is not at all.
Kudos to Ratner and the UFC for recognizing that.
October, 2, 2011
10/02/11
7:13
AM ET

By Chad Dundas
ESPN.com
Archive
Charlie Brenneman
learned firsthand at UFC Live 6 about the fleeting nature of momentum in MMA.
It took Brenneman just a bit more than 24 hours to vault himself into the welterweight conversation in June, when he stepped in on short notice for the ousted
Nate Marquardt
and upset
Rick Story
via unanimous decision at UFC Live 5. Suddenly, Story was out of the immediate title picture and out of favor, while Brenneman was in. Just another victory or two against increasingly difficult opponents and the Holidaysburg, Penn., native would be knocking on the door of the top 10 and within striking distance of a shot at 170-pound gold against
Georges St. Pierre
.
Saturday night in Washington, D.C., it took just two minutes, 49 seconds for all that momentum to clatter off the rails. Brenneman looked out of his depth against the mammoth
Anthony Johnson
, as Johnson returned from six months of inactivity to cruise to a first round high-kick KO victory.
There has been some grumbling about the stoppage, as Brenneman was still clearly conscious when referee Mario Yamasaki called a halt to the action after witnessing him crumple to the canvas at the end of Johnson's foot. The stoppage may well have only saved Brenneman more punishment, however, as he already appeared stunned by a hard shot from Johnson during a scramble and accepted the final blow with his hands down near his waist as he attempted to find his balance.
Regardless of the nature of the stoppage, there can be little debate about the rest of the fight. Brenneman just wasn't able to muster much offense, as Johnson easily fended off his increasingly desperate-looking takedown attempts and bullied the smaller man on the ground, pushing his head into the mat and punishing him with alternating shots to the body and the head.
In the wake of the loss, Brenneman's status as a welterweight contender will no doubt be a topic of some debate. Surely, there will be those who think he was over-hyped after he trumped Story in a bout where neither guy had much time at all to prepare for the specifics. There will be others who will contend that Brenneman simply fell victim to a nightmarish matchup against the bigger, more powerful opponent, who seemed to have the fight won as soon as he foiled Brenneman's wrestling. The truth is likely somewhere in between.
Certainly, Brenneman's career is far from derailed. Even with the defeat, he has still won nine of his last 11, is just 30 years old and trains with one of the sport's most highly regarded camps, New Jersey's AMA Fight Club. One loss to Johnson on what will likely prove to be one of the UFC's least-watched shows of 2011 won't make or break him.
Brenneman now simply finds himself in the same, unenviable position he forced on Story four months ago. He's no longer one of the welterweight division's hottest tickets. For a time he'll be out of sight and out of mind for many fans. Like Story, it'll take a few more wins to get the momentum back on his side.