May, 6, 2014
May 6
1:01
PM ET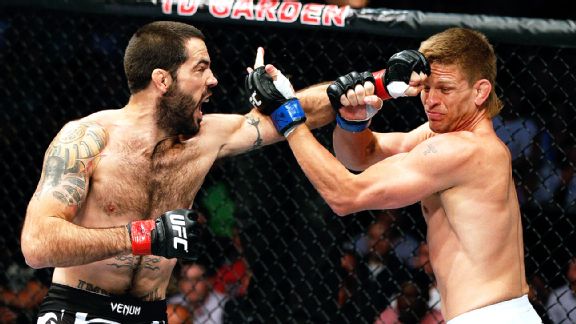 Josh Hedges/Zuffa LLC/Getty ImagesMatt Brown, left, is still coming to terms with why he was pegged to fight Erik Silva.
Matt Brown
has no idea why he's fighting
Erick Silva
in Cincinnati on Saturday.
He accepted the UFC welterweight fight without hesitation and he's excited for it because he loves to compete -- but how he went from fighting a highly ranked
Carlos Condit
to an opponent ranked outside the top 10 does baffle him a bit.
"I don't really know how this s--- works," Brown told ESPN.com. "I don't know how they decide one person gets this and another gets that. I don't know.
"I accepted (Silva) right away but bottom line, I was like, 'Hey, what's going on here? Do I get to fight a top-10 guy? What do I have to do?'"
"

I accepted (Erik Silva) right away but bottom line, I was like, 'Hey, what's going on here? Do I get to fight a top-10 guy? What do I have to do?

"

-- Welterweight contender Matt Brown, on fighting Erik Silva at UFC Fight Night 40
Brown (18-11), who fights out of Columbus, is set to headline the UFC Fight Night event at U.S. Bank Arena on Saturday. It's his first appearance since he was forced to pull out of a big fight against Condit in December due to two herniated discs.
His opponent, the 29-year-old Silva (16-4), comes into the fight with a lot of hype behind him, but is only ranked No. 14 in the promotion's rankings.
Mike Pyle
, who Brown knocked out in 29 seconds in his last fight, is ranked No. 12.
Even Silva sees something askew in the scenario.
"I understand the position Matt is in," Silva said. "He expected a better ranked guy and I understand if he feels a little frustrated. I'm happy he accepted the fight."
If that weren't enough, Brown is actually a 2-to-1 betting underdog on Saturday -- in his home state. Most professional fighters, whether they're being truthful or not, will tell you the betting line on a fight is the furthest thing from their minds.
But in this case, Brown admits it has added a little motivation ahead of the fight.
"Some of my coaches told me, 'Dude, I should put money on you,'" Brown said.
"It does not make any sense to me at all. I looked at his record and his fights and he's never beat anybody really good. I don't know how good he really is. That's what I'm going to find out. He hasn't proven to be as good as me at all, so I have no idea where they came up with these odds."
Not that Brown is losing sleep over it. That's just not his personality. He's stated in the past he understands the benefits of talking trash and stirring up headlines -- and that his refusal to do so is probably a major reason he's overlooked.
That's not about to change, says Brown, as he intends to ignore what he calls the "white noise" aspect of professional fighting.
One thing that's been impossible for Brown to ignore, however, is what happened with Condit after he was forced to pull out of that fight. Condit went on to face
Tyron Woodley
at UFC 171 in March and lost when he suffered a torn ACL.
Woodley (13-2) has since agreed to fight
Rory MacDonald
in June, in a fight that will likely produce the next No. 1 welterweight contender.
Of course, that feels like a lost opportunity for Brown, who says he probably could have hid his injury well enough to still fight Condit in December. Ultimately though, it's all white noise. Brown is confident his day will come.
"The way Woodley beat him, he didn't even have to fight him," Brown said. "I can't let things like that factor into how I live my life. It's essentially irrelevant.
"I honestly don't understand it and I don't try to understand it. I leave the politics to other people. As for me, I'm content to keep fighting. That's all I even want to focus on."
August, 14, 2013
8/14/13
1:33
PM ET
UFC Fight Night 26
suffers from the same ailment nearly every UFC card will suffer from the rest of the year: It's not
UFC 168
… or
167
… or
166
.
Chris Weidman
versus
Anderson Silva
is a fighting fan's Christmas.
Georges St-Pierre
versus
Johny Hendricks
is Thanksgiving. And
Cain Velasquez
versus
Junior dos Santos
III will feel like a second birthday to us all this year.
Chael Sonnen
versus
Mauricio Rua
this weekend at TD Garden in Boston sort of feels like Flag Day in comparison.
But that said, there's a lot to like about Flag Day. Top to bottom, this is one of the stronger UFC cards fans will witness this year. Some events are structured around one fight and one fight only. Boston, on the other hand, features plenty to watch for.
FIVE STORYLINES
The legend of Conor McGregor
We are all getting way too carried away about McGregor -- but it's impossible not to. Simplest way to put it: When McGregor fights, you want to watch, and when he talks, you want to listen. It's not just that he's entertaining; he has this contagious passion about what he does. During a recent visit to Las Vegas, McGregor said he was so excited he stayed up shadowboxing in his hotel room until 5 a.m. He's in a hurry to be at the top, and
Max Holloway
wants to slow him down.
The curious case of Uriah Hall
You hear all the time how important the mental aspect is in martial arts. Hall has shown he has the physical tools, and on the surface, nothing seems out of sorts for him mentally. But that loss to
Kelvin Gastelum
in
The Ultimate Fighter Finale
was awkward. His team said he liked Gastelum too much to hurt him. Many of those watching called it cockiness. Neither is really an acceptable excuse for a fighter as talented as Hall. Expectations are high for him against
John Howard
.
The resurgence of Mike Brown
Brown hasn't really been under the spotlight for years, but for longtime martial arts observers he'll always be a name that jumps off the page. Two wins over
Urijah Faber
in the WEC put him on the map, but truth is Brown was just one of those guys who was always fun to watch. Something went wrong along the way, and the now 37-year-old endured a 2-4 stretch amid rumors of distractions in his personal life. He's back on a two-fight win streak coming into this fight against
Steve Siler
.
[+] Enlarge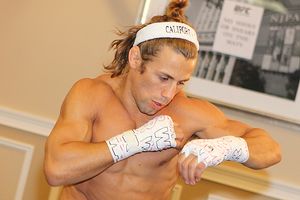 Ed Mulholland for ESPN.comAny loss at this point for MMA veteran Urijah Faber would be considered a major setback.
The quiet contenders
Since 2011,
Matt Brown
and
Mike Pyle
are a combined 11-2 in the Octagon, yet you won't find them on any top 10 welterweight rankings. Neither is willing to make a big point of that publicly, but there's no question both are getting a little anxious. After his last win, Brown said, "Just because a bunch of media people don't believe I'm good enough for a title shot doesn't mean it's true." Pyle, winner of four in a row, is itching to sign a fight against a top-10 opponent.
That Faber guy is back again
You can almost see the bile form in Faber's throat when forced to answer the same questions over and over leading up to these nontitle fights. "How much you got left in the tank, champ?" "Getting close to another title shot, Urijah, what's that feel like?" "Is the belt still the goal, buddy?" We should all come to this understanding that Faber feels great, he's excited to fight, and he wants a title shot, but the UFC won't give him one yet so he needs to keep winning. This fight against
Yuri Alcantara
might not feel big, but it's big for Faber. Any loss is a major setback.
FIVE QUESTIONS
What does Alistair Overeem look like?
He was Superman against
Brock Lesnar
and Clark Kent against
Antonio Silva
. No stranger to performance-enhancing drug accusations, Overeem is in a critical spot. He didn't look the same in February, his first appearance since producing a high testosterone-to-epitestosterone ratio in Nevada last year. He told ESPN.com he would never apply for testosterone-replacement therapy, despite tests that showed low levels after his last fight. There are a lot of variables floating around. Can Overeem be Superman again in the midst of them?
[+] Enlarge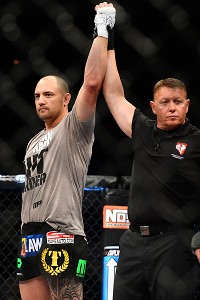 Al Powers for ESPNIf Travis Browne can pass a difficult test against Alistair Overeem, he could be the biggest winner of the night.
Is Travis Browne for real?
Browne passes the eye test. He moves. He has heavyweight knockout power. His grappling is underrated. He seems like he's in shape, and his only loss came after his hamstring busted in the opening minute of a fight. Overeem -- whether he's at his best or not -- is going to test him, though. If Browne is spectacular, he could be the biggest winner of the entire night.
Is 'Shogun' still elite?
Rua is slowing down. It never really felt as though he was going to lose to
Brandon Vera
last August, but we were sort of expecting a windmill dunk and got a weak layup instead. Then in December, it seemed like he was operating on fumes against a physical
Alexander Gustafsson
. Three of the last five men Shogun has defeated are now retired. How worried should we be about this?
Is the self-proclaimed 'Gangster' going to lose three in a row?
Whether you like Sonnen or not, this is a man who does not avoid tough fights. He has gone from Silva to
Jon Jones
to a light heavyweight contest against a former champion in Rua. Sonnen is undersized for this division -- a fact made obvious by his decision to return to middleweight regardless of what happens in Boston. Sonnen can survive a loss if it comes to it, but a proposed fight against
Vitor Belfort
can't.
Is Michael McDonald the third-best bantamweight in the world?
Both ESPN.com and UFC rankings still have McDonald trailing Faber. Both fight on this Boston card. No doubt, a certain contingent of MMA fans would rank McDonald ahead of Faber heading into this weekend, but it's close. If the 22-year-old runs through
Brad Pickett
, it will be difficult not to bump him up.
WHO'S ON THE HOT SEAT?
Michael Johnson
[+] Enlarge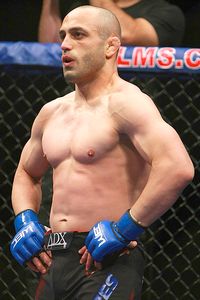 Dave Mandel of Sherdog.comManny Gamburyan is in need of a victory just as bad as Saturday's opponent and former TUF teammate Cole Miller.
The once promising career of a TUF runner-up has hit a major crossroads. Johnson looked like a tough matchup after disposing of
Shane Roller
and
Tony Ferguson
, but he was nearly knocked out by
Danny Castillo
before suffering back-to-back losses. He's still not out of his league against
Joe Lauzon
-- at least we think.
Manny Gamburyan
Seems like a lifetime ago that Gamburyan fought his way to a WEC title shot against
Jose Aldo
. Fighting Gamburyan is like fighting an angry fire hydrant; he's compact and seemingly made of metal. He also has a long history with the UFC, although a 1-3 record in his last four fights is tough to look past.
Cole Miller
Might as well discuss Gamburyan's opponent as well. These two know each other well from their days on the TUF 5 reality set on Team
Jens Pulver
. Now, Miller needs a win just as badly as his former teammate, having gone 1-2 since his drop to featherweight last year.
WHY YOU SHOULD CARE
Because there's still more to 2013 than a middleweight rematch, even though it doesn't feel like it sometimes … because over the course of his career, Shogun is 6-for-6 when it comes to knocking out opponents following a loss … because two of the most explosive heavyweights are incredibly hungry going into the same fight … because Brown and Pyle are fighting each other with the exact same chip on their respective shoulders … because McGregor might be the most fun athlete the UFC has on its roster.
December, 3, 2012
12/03/12
11:48
AM ET

By Chuck Mindenhall
ESPN.com
Archive
Matt Brown
is the protagonist in an adventure tale that's still being told. His is a story with so many highs and lows, so many ebbs and flows that he can describe for you the gutter (in sincere detail) while sketching a general idea of the penthouse (his very own silo, maybe).
The plot is a continuously rolling thing that boils down to the essence of all human drama -- just stay alive. Only his story intersects with the fight game.
Toward the end of 2011, Brown lost a fight to
Seth Baczynski
, his fourth loss in five UFC bouts. All of the losses were of the submission variety. For a guy who'd already overcome so much in life -- addiction, overdosing on heroin, losing his father, a stint on "The Ultimate Fighter 7" -- it looked as if Brown was perhaps mortal after all.
But you don't get a nickname like "The Immortal" unless you are ruthlessly resilient. To the UFC's credit, it did not cut the Ohio native Brown, a blue-collar scrapper in the welterweight division. Instead, it threw him in the Octagon with another TUF alum in
Chris Cope
, and that was the beginning of Brown's latest resurrection. He's won all three of his bouts this year heading into his Dec. 8 fight with a similarly resilient
Mike Swick
.
From life on the bubble to an inspirational tale is heartwarming stuff, right? Not if you've never been into tidy Hallmark sentiments.
"I don't really think about it," Brown told ESPN.com. "I've learned just [to] take it one fight at a time, to not worry about the past or the future, and just worry about what you've got to do today to be the best you can."
A boring, staid statement like that in the hands of other men might test your immune system toward clichés.
But Brown is sincere. If you've listened to him talk at any point in his four years in the UFC, you know that he doesn't get too high on the highs, nor too low on the lows. It truly is a "one foot in front of the other" proposition. He's not eyeing the 170-pound belt, because he doesn't do horizons. He doesn't do animosity, trash talk or social media eavesdropping, either. In fact, between training with
Robert Drysdale
and Mark Meacher out in Las Vegas and his camp back in Ohio, he barely kept up with what was going on with the outside world.
For example, asked how it felt to hear the recently victorious
John Hathaway
calling out the winner of the match between him and Swick -- to be in a position where guys are trying to get to
him
, rather than the other way around -- Brown suppressed a yawn.
"I don't care. I don't pay attention to that stuff," he says. Then it dawned on him, and he added: "I thought [Hathaway] and
Matt Riddle
had a little beef or something? I thought he was going to end up fighting Riddle."
In other words,
Dan Hardy
(who had the beef with Riddle) and Hathaway are interchangeable to a guy who doesn't put much thought into anything other than what's in front of him. And right now that's a nationally televised bout with Swick, who came back from a stomach ailment that sidelined him for 2½ years to knock out
DaMarques Johnson
in August.
[+] Enlarge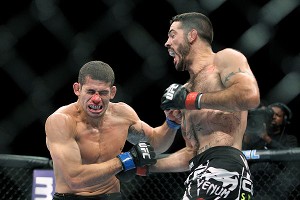 Ed Mulholland for ESPN.comThough technically sound, Matt Brown has no qualms about mixing it up in all-out brawls.
"[Swick] presents a lot of challenges. He's got fast hands, he's an explosive guy," Browns said. "He's got a pretty solid punch that will hurt you pretty good. And he seems to have a good ground game. So yeah, all around, he's pretty solid. He'll give you a lot of problems on all aspects."
Anybody who's paid attention to Brown's career knows that he's technical, but he's willing to brawl as well. He
does
brawl, because to him it's never anything other than a fight. A Brown scrap is always a combination of technique, savagery, instinct and attrition. His in-cage gravitas makes it that much more intense.
Swick is much the same way.
What's the hunch? That as they kick off the big UFC on FOX 5 card, you can't help but think this one could be a showstopper. That, even though it is fourth billing to
Nate Diaz
versus
Benson Henderson
,
Alexander Gustafsson
versus
Mauricio Rua
and
BJ Penn
versus
Rory MacDonald
, that it could sneak off with some end-of-the-night bonus money.
You'd think that, but history suggests otherwise. For all of the careening in Brown's career, there's one thing he hasn't accomplished in 13 fights -- he's never been awarded an end-of-the-night bonus in anything. That's almost hard to believe when you think about it, but it's true.
"I always think I've got fight of the night," he says. "Then I don't get it."
Maybe Saturday night, Brown uses this theme to begin a new chapter to his incomplete adventure tale.
November, 28, 2012
11/28/12
12:26
PM ET
John Hathaway
has told ESPN that the winner of
Matt Brown
versus
Mike Swick
at UFC on Fox 5 might prove a more interesting fight for him than Matt Riddle, and he would be happy to go abroad to get the matchup.
More »
April, 22, 2012
4/22/12
12:57
AM ET
Jon Jones
retained his light heavyweight title Saturday with a unanimous decision over
Rashad Evans
at UFC 145 in Atlanta.
Evans could never mount a consistent attack and lost by judges' scores of 49-46, 49-46 and 50-45. ESPN.com scored the fight 50-45 for Jones.
The victory ends, or at least tempers, a long-running feud between the former sparring partners.
While Jones (16-1) successfully defended his belt for the third time, he displayed more caution against Evans than in previous title bouts. His cautious approach might be contributed to having faced Evans often in camp.
"I did a lot of things tonight that weren't planned," Jones said. "My striking was looking a little elementary. I didn't want to make mistakes.
"But who I beat was very important to me.
[+] Enlarge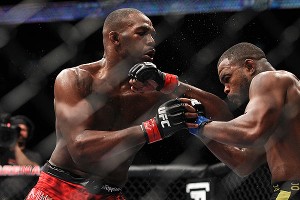 Ed Mulholland for ESPN.comJon Jones' sharp elbow stikes helped slow down Rashad Evans.
"It felt completely different fighting [Evans]. Tonight I threw a lot of elbows. Those are the things you would never do to a training partner."
The elbows, especially in the second round, slowed Evans' attack. They also left swelling above the former light heavyweight champion's right eye.
After suffering the injury, Evans spent much of the fight protecting that right side of his face. Evans also failed to take Jones to the canvas.
The lone time Jones was on his back came in the fifth round when he pulled guard. But that occurred with seconds remaining in the bout.
"He was pretty crafty and pretty tricky," Evans said. "He threw some things he didn't throw in practice, but there were some things he did better in practice than he did tonight."
Evans suffered just the second loss of his career. He is 17-2-1 overall.
MacDonald finished Mills in impressive fashion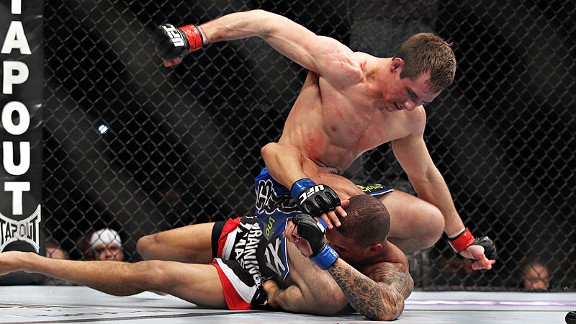 Ed Mulholland for ESPN.comRory MacDonald's ground and pound left its mark on Che Mills.
If
Rory MacDonald
was to be taken seriously as a welterweight contender, he needed to pass a presumed stiff test in Che Mills.
MacDonald passed the test with flying colors.
He dominated Mills in the first round, taking him to the ground quickly and landing hard punches. When the horn sounded to end the round, Mills' face was bruised, cut and bloody.
By the start of the second, there was little doubt MacDonald would come out victorious.
He quickly took Mills back to the ground and again landed punches. Mills was on his back and had no strategy to reverse his misfortune.
And MacDonald (14-1) wasn't about to help him find an answer. Once he got Mills' back, MacDonald aggressively landed punches that forced referee Mario Yamasaki to step in at the 2:20 mark.
"Che was a great opponent," MacDonald said. "I took this fight very serious. I'm very happy with the way the fight went."
Mills fell to 14-5 with one no-contest.
Rothwell stops Schaub by TKO in Round 1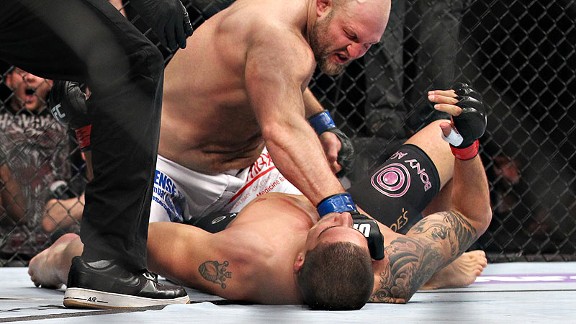 Ed Mulholland for ESPN.comBen Rothwell's power proved the deciding factor against Brendan Schaub.
Brendan Schaub
isn't afraid to exchange punches with the biggest, strongest heavyweights in mixed martial arts. That lack of fear, however, cost him against hard-hitting
Ben Rothwell
.
During a vicious exchange, Rothwell landed a left hook to the head that rendered Schaub unconscious at 1:10 of the first round.
"I worked very, very hard," Rothwell said. "I changed my workout. I'm not backing down. I know my chin can take some shots."
Rothwell improved to 32-8. He is 2-2 inside the Octagon competition.
Schaub, who not long ago was one of the fastest rising heavyweights in the UFC, has dropped two in a row. He is now 8-3 overall.
McDonald knocks out ex-champ Torres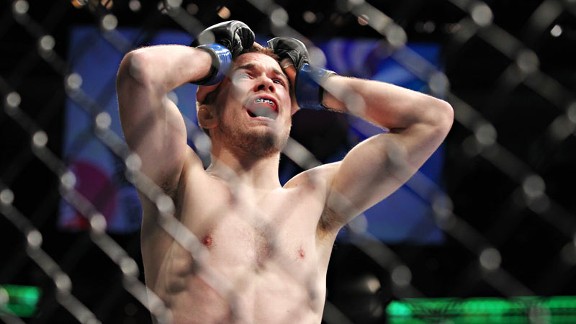 Ed Mulholland for ESPN.comBy knocking out Miguel Torres, Michael McDonald proved he's arrived.
The road back to the top of the bantamweight division became a lot more bumpy for former WEC champion
Miguel Torres
.
Michael McDonald
landed a hard right uppercut in Round 1 that sent Torres to the canvas. Torres was asleep before hitting the ground.
The fight would end at the 3:18 mark, dropping Torres to 40-5.
While Torres' professional record still looks impressive on paper, it's deceiving: Four of his five losses came in Torres' seven most recent fights.
"I was paying attention to his range," McDonald said. "I wanted to make sure he didn't get his jab off."
McDonald improves to 15-1. He has won eight fights in a row.
Hominick drops third fight in a row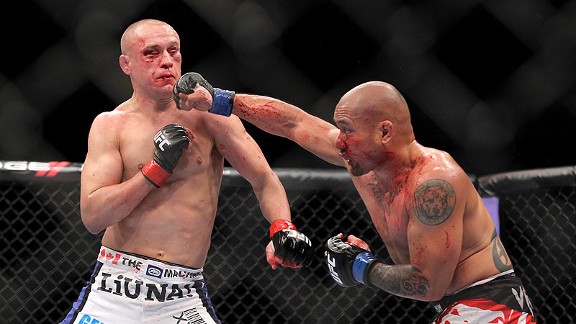 Ed Mulholland for ESPN.comEddie Yagin's aggression made life difficult for Mark Hominick.
Former top featherweight contender
Mark Hominick
continues to struggle to find his groove.
For the second straight fight, Hominick failed to rebound from his UFC 129 unanimous decision loss to champion
Jose Aldo
.
Eddie Yagin registered knockdowns in the first and second rounds to edge Hominick by split decision.
Two judges scored it 29-28 for Yagin, who improved to 16-5-1. The third judge and ESPN.com had Hominick winning 29-28.
Hominick (20-11) ate right hands from Yagin during most of the bout. And in the first two rounds he was dropped by Yagin right hands.
Despite tasting hard right hands, Hominick found his rhythm in the third and punished Yagin with still left jabs and hard right hands.
But that knockdown in the closely contested second round proved too much for Hominick to overcome.
Bocek takes down Alessio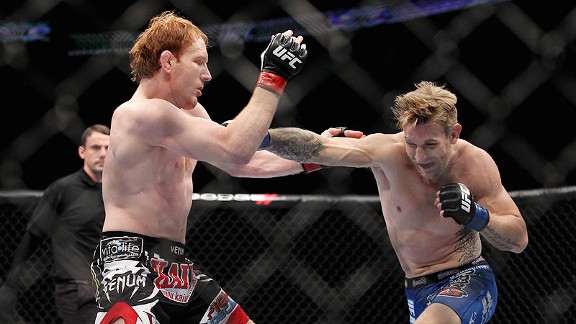 Ed Mulholland for ESPN.comMark Bocek, left, dominated on the feet and on the ground against John Alessio.
Mark Bocek
is one of the most underrated lightweights in UFC. But he might have turned that around with a unanimous decision over veteran John Alessio.
The fight was scored 30-27, 29-28 and 30-27. ESPN.com had Bocek winning 29-28.
Bocek came into the bout as the superior ground fighter and wasted little time proving it. He took Alessio to the ground early in the first round and punished him with hard left elbows.
But while Bocek had the advantage on the ground, Alessio was better standing. And in the second he caught Bocek repeatedly with left-right combinations.
Bocek (11-4) would get Alessio on the ground briefly, but they stood for most of the round.
Alessio, a former welterweight, slips to 34-15.
Browne submits Griggs in first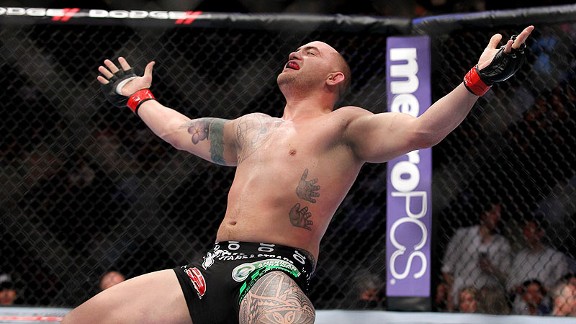 Ed Mulholland for ESPN.com
Taking on hard-hitting
Travis Browne
is proving to be a difficult task.
Chad Griggs
became the latest heavyweight to learn this lesson.
Browne improved to 13-0-1 with a first-round submission of Griggs. The loss was just the second for Griggs as a pro.
Browne entered the fight determined to make a statement. He was disappointed after his most recent outing -- a unanimous decision over
Rob Broughton
.
During that fight at UFC 135 in Denver's high altitude, Browne was sluggish as he gasped for air. But cardio never became a factor for Browne in Atlanta.
He landed a hard left knee that stunned Griggs. Browne than took his opponent to the ground, where he applied an arm triangle that forced Griggs to tap at 2:29.
"I belong here," Browne said. "UFC heavyweights, watch out baby."
Griggs fell to 11-2.
Brown hands Thompson his first pro loss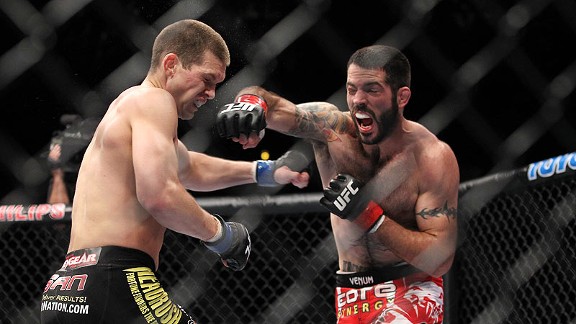 Ed Mulholland for ESPN.comMatt Brown, right, dug down deep to grind down Stephen Thompson.
For the first time in his professional mixed martial arts career, Stephen Thompson suffered a loss.
Veteran
Matt Brown
used his experience and superior ground skills to punish Thompson for three rounds during their welterweight bout.
The judges scored the fight 30-27, 29-27 and 30-27 for Thompson. ESPN.com scored it 30-27 for Brown.
Brown's experience would prove especially beneficial in the second round.
With Thompson finally able to get his striking game untracked, a wobbly Brown (14-11) landed a hard right hand. The punch put Thompson on his back.
On the ground, Brown landed an elbow that opened a cut on Thompson's forehead.
Both fighters were exhausted entering the third, but Brown was able to take Thompson to the ground and punish him.
Brown would get Thompson (6-1) in a mounted triangle, where he began landing several left hands.
Longer Njokuani shuts out Makdessi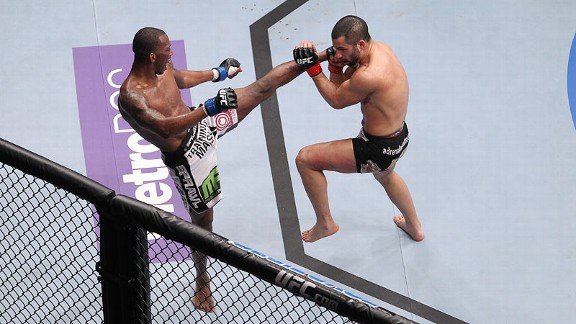 Ed Mulholland for ESPN.comAnthony Njokuani's range proved the difference against John Makdessi.
In a 158-pound catchweight bout,
Anthony Njokuani
landed kicks to the head and body of
John Makdessi
en route to a unanimous decision.
All three judges, as well as ESPN.com, scored the fight 30-27.
Njokuani (15-6, one no contest) stunned Makdessi with a hard left hook on the chin. He would utilize a 7½-inch reach advantage to land most of his strikes and stay out of harm's way.
Makdessi, despite not finding a solution to Njokuani's reach, continued to press the action throughout the fight. But entering the third round his left leg was showing the damage done from absorbing numerous kicks.
Makdessi's left leg was badly bruised.
The fight, originally slated for 155 pounds, became a catchweight bout when Makdessi (9-2) came in two pounds over the lightweight limit during Friday's weigh-ins.
Danzig ignores injured ankle to beat Escudero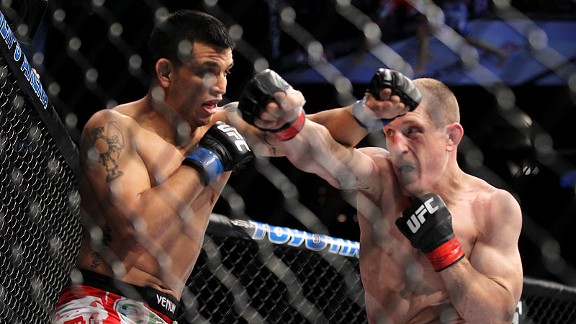 Ed Mulholland for ESPN.comMac Danzig, right, fought through the pain to overcome Efrain Escudero.
In the battle of former TUF winners, lightweight
Mac Danzig
overcame a badly swollen right ankle to earn a unanimous decision over
Efrain Escudero
.
The judges scored the fight 30-27, 30-27 and 29-28. ESPN.com scored the fight 30-27 for Danzig.
Danzig controlled the standup with his jab and an occasional left hook. But Escudero nearly finished him in the first round with a right ankle hook.
Danzig, however, escaped the submission attempt and despite swelling to his ankle fought hard in the second and third rounds.
The damaged ankle did not prevent Danzig from applying pressure on Escudero, who could not find a rhythm in any of the three rounds.
Danzig, the Season 6 "Ultimate Fighter" winner at welterweight, improved to 21-9-1. Escudero, a TUF Season 8 lightweight champion, slipped to 18-5.
Clements punishes Wisniewski with strikes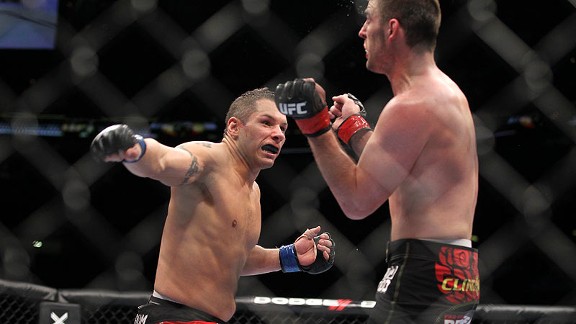 Ed Mulholland for ESPN.comKeith Wisniewski, right, absorbed punishment from all angles against Chris Clements.
Chris Clements landed hard strikes in the second and third rounds to earn a split decision in his UFC debut over fellow welterweight Keith Wisniewski.
Clements persuaded two judges who gave him scores of 29-28 and 30-27. The third judge favored Wisniewski 29-28. ESPN.com scored the fight for Clements 29-28.
After a close first round, in which Clements (11-4) was taken to the ground, he picked up his striking attack in the second and third. He hit Wisniewski with hard punches, elbows and spinning back kicks.
Wisniewski (28-14-1) absorbed the punishment and fought hard, but the accumulation of strikes began to wear him down late in the third round.
Brimage holds off Blanco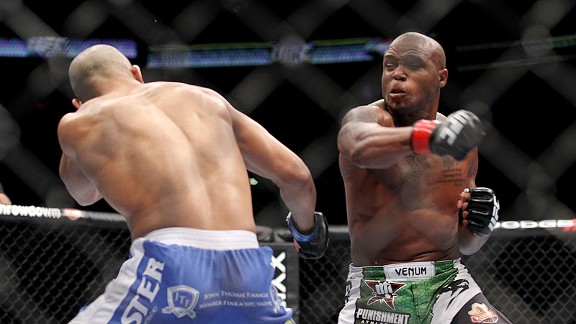 Ed Mulholland for ESPN.comMarcus Brimage's aggression helped power him past Maximo Blanco.
Despite tasting several front kicks in the second round, Marcus Brimage refused to back down in the third and secured a split decision over Maximo Blanco in a featherweight bout.
Two judges scored the fight for Brimage 30-27 and 29-28, while the third had it 29-28 for Blanco. ESPN.com scored it for Brimage 29-28.
Brimage (5-1) was the more aggressive fighter in Round 1, landing hard punches. But after tasting several front kicks on the chin, he fought more cautiously in the second.
Seemingly aware that the third round would likely decide the outcome, Brimage picked up the pace. He remained somewhat cautious of Blanco's kicks, but took the risks and came forward.
Blanco, who made his featherweight debut after competing previously at lightweight, falls to 8-4-1 with one no-contest. He has lost two fights in a row.
December, 24, 2011
12/24/11
9:45
AM ET
Two more welterweight fights have been slated for UFC 143 on Feb. 4 in Las Vegas, the promotion announced on Thursday.
Veteran
Matt Brown
has verbally agreed to face Chris Cope, while Justin Edwards will tangle with Mike Stumpf. Each fight is expected to appear on the preliminary portion of UFC 143's card.
All four fighters will look to rebound from recent losses, and each man's performance could determine whether he remains on UFC's roster.
Brown (12-11) has struggled to find any consistency in the past year. He has dropped four of his five most recent fights, including a second-round submission loss to Seth Baczynski on Nov. 19 at UFC 139.
Cope (5-2) was the victim of a first-round TKO to Che Mills on Nov. 5. He is 1-1 inside the Octagon.
Edwards (7-2) has come up short in two of his three UFC appearances. John Maguire bested him by unanimous decision on Nov. 5 in Birmingham, England, at UFC 138.
In his UFC debut on Sept. 17, Stumpf was submitted in the first round by TJ Waldburger. But Stumpf (11-3) took that fight just six days before the scheduled event.
Former Strikeforce welterweight champion
Nick Diaz
faces ex-WEC titleholder
Carlos Condit
in the UFC 143 main event. They will compete for the UFC interim 170-pound belt.
Former No. 1 welterweight contender
Josh Koscheck
will face hard-hitting
Mike Pierce
on the co-feature. UFC 143 will be held at Mandalay Bay Events Center.
October, 26, 2011
10/26/11
10:06
AM ET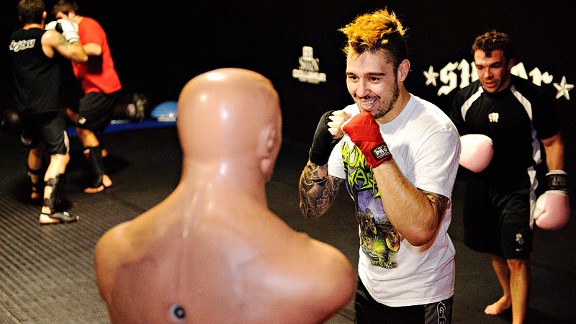 Al Powers for ESPN.comBack to basics: Dan Hardy's time away from the cage will be time spent wisely.
Las Vegas -- By now, pretty much everybody knows the
Dan Hardy
story.
The guy basically comes out of nowhere, breaks into the UFC in late 2008 and racks up four wins in 13 months. He takes a title shot against
Georges St. Pierre
, gets dominated, as many believed he would. That loss turns into a four-fight losing streak, during which he looks downright awful. At this point, he's still got a job with the UFC, but just barely. Where might one find Dan Hardy? Check the gutter.
That's the story in a nutshell and Hardy himself will tell you that's the gist of it. But to hear the 29-year-old tell it, it's a little more in depth than what's on the surface. This wasn't a simple case of a short-on-talent, one-hit wonder.
When asked to sum up his journey in mixed martial arts, Hardy has a lot to say.
"The thing is, when I got to the UFC it was like, 'Wow. I made it,'" Hardy told ESPN.com. "Those first four fights, I just went in and fought. Whatever happens, happens. I didn't feel like there was a great deal of pressure on me.
"Then the [Mike] Swick fight threw me into a title picture a lot sooner than I had anticipated. There were lots of pressures that came with that and they took the enjoyment out of fighting. I was the first Brit to get a title shot. I only had four fights in the UFC and no one thought I deserved a title shot. That was a lot of pressure.
Though things seemed to be coming together on the outside, internally things weren't so smooth.
"I had a new Thai boxing coach," Hardy said. "I had no jiu-jitsu coach because I had gotten in a disagreement with him. I lost my grandfather during that camp, which I've never really got back together from. The last four weeks before the fight, I had cameras following me 24 hours a day.
[+] Enlarge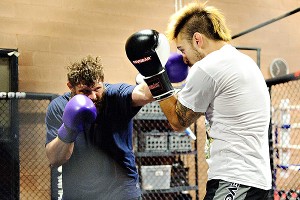 Al Powers for ESPN.comRoy Nelson, left, is helping Dan Hardy round out his game.
"I went in there, basically hoping to show I didn't have any quit in me. After the fight I was like, 'That really couldn't have gone any better.' If I had knocked him out, they would have said it was a lucky punch. But the fact I got my a-- kicked for 25 minutes and survived, people said, 'Well, he's not on the same level technically, but he's game.'
While the outcome couldn't have been better for Hardy, what proceeded afterward weren't exactly ideal.
"After that, my ego swelled. Because I performed better in that fight than people thought, I got respect from the fans. All of a sudden everyone wants to know what you're doing because you've got a colorful Mohawk and a British accent. It was exhausting. I couldn't focus on being a better mixed martial artist. I had to focus on being the guy everyone wanted me to be."
The reality is, Hardy wasn't ready to fight St. Pierre for the title. His game had holes. He was bouncing between coaches, almost regularly, because of a lack of resources. While St. Pierre could invest hundreds of thousands of dollars into training, Hardy's cornermen consisted of a Thai coach with no MMA background, a brown belt jiu-jitsu student under Eddie Bravo who Hardy flew out because he was a friend, and a strength and conditioning coach.
"I was working with what was available to me," Hardy said. "I was chatting with GSP's coaches [during a recent trip to Montreal], and they said, 'We watched that fight back and were listening to your coaches. You were on your own in there.' That was how it was the whole training camp. They did their best, but they weren't able to give me what I needed."
Eight fights into his UFC career, Hardy is finally starting to train like a professional.
[+] Enlarge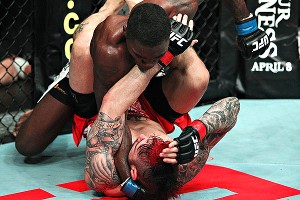 Josh Hedges/Getty ImagesAnthony Johnson, top, exploited a huge hole in Dan Hardy's ground game when they two met in March.
He's put his faith in Las Vegas-based boxing coach Jimmy Gifford and puts in work at Robert Drysdale's jiu-jitsu academy three days a week. He's also employed UFC heavyweight
Roy Nelson
as his "ground coach," primarily to improve his wrestling.
And, for the first time in his career, he's turning down fights. Hardy has declined multiple opportunities to fight already, including a very tempting offer to fight
Matt Brown
at UFC 138 in Birmingham, England.
Hardy says passing on fights has been difficult, but he needs time if he's serious about turning his career around. He became so unraveled in the past two years, he barely recognizes himself when he watches film of the
Chris Lytle
loss.
"As much fun as that fight was, it was an awful performance," he said. "Chris is not the most technical striker. If I had fought him three years ago in a kickboxing match, I don't think he could have hit me.
"But I was learning from two different striking coaches at the time, with two very different styles. As a result, I went in there just throwing punches with no real regard for any kind of technique. I am a smart fighter, but when I get in there I just want to bang. I don't know why. But I'm feeling like I've come out the other side now."
Hardy admits he very nearly called it a career after suffering a humiliating loss to
Anthony Johnson
at UFC Fight Night 24 in March.
After retreating to his locker room following that co-main event fight, he told his team members, which included Nelson, he was finished. He wasn't enjoying himself anymore and wasn't sure how to get back to that.
Of course, he eventually snapped out of that night's disappointment, but his mindset still wasn't where it's at today. As cliché as it sounds, Hardy is starting to believe in himself once again in Las Vegas. And the guy who made it to a title shot on basically raw talent alone, is finally starting to evolve.
"I think Dan Hardy needed somebody to give him a hug," Gifford said. "He can fight. He belongs here. Let's slow some stuff down and train. I asked him, 'When have you ever trained?' He's sparred and hit mitts, but has he ever really learned? Nobody has really spent time with him.
"The good news is he works. The rumor was he didn't put the time in. No. Nobody put the time in on Dan Hardy. This is a new Dan Hardy now. He gets a couple wins, he's right back in the picture. And he's capable of it."
October, 18, 2011
10/18/11
5:27
AM ET
Injuries have forced welterweight
John Hathaway
and heavyweight Oli Thompson off UFC 138, which is scheduled for Nov. 5 in Birmingham, England.
The announcement was made Monday on UFC's website. The nature of the injuries suffered by Hathaway and Thompson was not disclosed.
Hathaway is a native of Brighton Sussex, England. He was set to face
Matt Brown
.
With Hathaway unable to compete, Brown will instead face Seth Baczynski on Nov. 19 at UFC 139 in San Jose, Calif.
The man Thompson was scheduled to fight, Philip De Fries, has verbally agreed to face
Rob Broughton
on the UFC 138 preliminary card. De Fries and Broughton are both natives of England.
June, 25, 2011
6/25/11
7:50
AM ET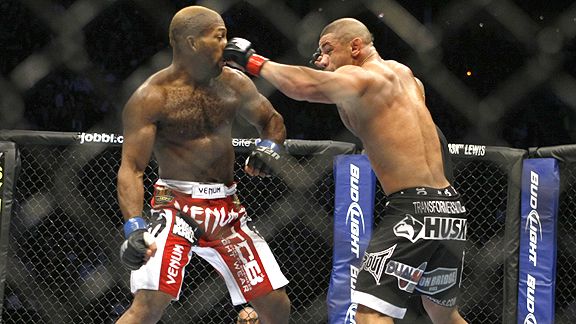 Ric Fogel for ESPN.comJohn Howard, left, expects to take home a little extra scratch Sunday night.
John Howard
has told every fighter at UFC Live to give up any hopes of getting the Fight of the night bonus, because he and
Matt Brown
have got it sewn up.
More »
Rumor Central:
'Doomsday' a mile high »
Howard's bio »