September, 23, 2012
9/23/12
2:32
AM ET
All of the questions regarding
Jon Jones'
chin heading into his 10th, 11th and even tonight's 12th UFC fight were more of a hype-game curiosity.
Surely every man has a vulnerability, and it's easiest to prescribe vulnerabilities toward whatever is left that's unknown.
Against
Vitor Belfort
at UFC 152 in Toronto, in a fight in which Jones stood as an 8-to-1 favorite and was greeted with a chorus of boos, his chin was never in question. But, for the first time in his still-young career, the light heavyweight champion's mettle was.
Belfort snared Jones' arm in the first round and torqued it back for an armbar. For a long few moments, the Air Canada Centre crowd held its collective breath as Belfort strained to finish the job.
Jones, hearing his right arm pop as it hyperextended, pried with his left hand to release it. It was on tight enough that Jones was faced with that decision that makes most men squeamish -- tap and get it over with or struggle on until it breaks.
He was resolved to keep going and let it break. But before it did, he was fortunate enough to free himself of the threat.
Aside from the
Matt Hamill
disqualification back in 2009, it was the closest we've seen Jones come to an actual defeat. It was a rare moment of vulnerability, in which
he
was the one on the ropes. But instead of exposing a weakness with Jones, Belfort might have shed light on yet another strength -- Jones' resolve.
From that point on, it was all the champ. Even with an injured right arm that he nursed noticeably after the fourth-round Americana that put Belfort away (which he fears might be nerve damage to the bicep), Jones controlled the range with leg kicks and jabs.
"It just felt numb, it was just a real numb feeling," Jones said afterward of his right arm. "My brain is trained to throw it, and I just threw it and it definitely didn't feel powerful at all. It was just a real numb feeling, so I'll have to see what's wrong with it."
Jones hurt Belfort in the third round with a wicked kick to the body that dropped him. When the fight went to the ground -- and there were times when Belfort pulled guard throughout -- Jones dropped vicious elbows.
In the end, it was another dominant performance for Jones, who defended his belt for the fourth time and picked up his eighth victory since the Hamill disqualification. Yet, that he faced adversity for the first time in the cage was telling.
Here was Jones, the villain of the past month to many MMA fans who blamed him for the cancelation of UFC 151, displaying the kind of mind-over-matter toughness that only adds to his mystique. Not only did he overcome the trouble, but he outlanded Belfort 65-16 in significant strikes. And he finished the fight anyway.
"[Vitor] got that armbar in every way, shape and form," Jones said. "I've never had my arm pop like that before and, I don't know, I felt it, but I worked too hard to give up. I honestly was waiting for it to break. I was not going to tap out. But man, I tell you what, I've never felt that before."
Now he has. And for all the unknowns that go into Jones the 25-year old champion, it's the things we learn about him each time out that look scariest.
At UFC 152? It was that he doesn't have quit in him, right when quitting was at its most tempting.
June, 21, 2012
6/21/12
6:32
AM ET

By Franklin McNeil
ESPN.com
Archive
As has been the case with all of his fights, lightweight contender
Clay Guida
approaches Friday night's showdown against
Gray Maynard
determined, focused and confident. Guida knows Maynard is a very tough out. And like Guida, the 10-1-1 Maynard enters their UFC on FX 4 encounter having lost his most recent bout. Neither contender can afford a second straight setback in the crowded 155-pound division. They meet in a five-round main event at Revel Casino in Atlantic City.
Despite the high stakes, Guida is as calm as ever. Under similar circumstances, most fighters would struggle to get their nerves under control.
That just isn't the case with Guida. He could not be in a more peaceful state of mind days before what is possibly the most important mixed martial arts contest of his professional career. For one, Guida has no doubt that his hand -- not Maynard's -- will be raised when the five-rounder concludes -- if it lasts that long.
Then there is the matter of what's happening in Guida's non-UFC world. Things are so good in Guida's personal life that training camp has been a virtual breeze. That's what happens when a fighter isn't experiencing personal distractions -- especially those of a financial nature.
"I have a couple of good business things going on outside of mixed martial arts," Guida told ESPN.com. "I have a very successful gym [Clay Guida's MMAStop Fitness in Crest Hill, Ill.].
"There are good people looking over my gym back home. I've made some good investments with people I grew up with, and good financial advisors. This makes it easy for me, knowing that I can train every day to become a better fighter and get closer to my dream, which is to become the lightweight champion."
Guida is extremely happy with the growth of his gym. It doesn't hurt that several high-profile fighters and trainers have taken time to visit and offer instructions to wide-eyed youngsters. UFC interim welterweight champion
Carlos Condit
is slated to conduct a seminar there on June 30, and he's just the latest in a line of mixed martial arts' celebrities to grace the gym with their presence.
Former UFC heavyweight champion
Cain Velasquez
, trainer Greg Jackson, lightweight contender
Donald Cerrone
, retired light heavyweight
Matt Hamill
and UFC bantamweight titleholder
Dominick Cruz
are some of the fighters who've conducted seminars at the gym.
The fighters, however, aren't simply offering specific mixed martial arts instructions. Guida is quick to point out that he isn't running your standard MMA facility.
"It's a family fitness center," Guida said. "It's not necessarily a mixed martial arts or fight gym. It's targeted toward families and kids, who want to try kickboxing, wrestling, jujitsu and personal training, things like that.
"It helps them build a healthy lifestyle."
And maintaining a healthy lifestyle isn't limited to nonprofessionals. Guida (29-12) is the biggest beneficiary of practicing what he preaches. While many big-name fighters have been hit by the injury bug recently, Guida has taken extra precaution to reduce the odds that he will join the list.
Being in the best physical condition possible for his bout with Maynard is a very high priority for Guida, and it's a delicate balancing act.
[+] Enlarge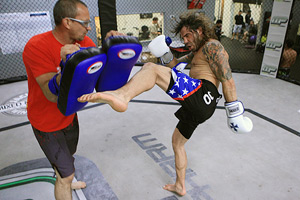 Dave Mandel/Sherdog.com Balancing act: Clay Guida has managed to go all out during training while also avoiding injuries.
"It's about pulling back the reins," said Guida, who still trains at Team Jackson-Winkeljohn in Albuquerque, N.M. "We train hard, but we're also very smart about our training. We're not trying to knock each other out in the gym. But at the same time we are going at it 100 percent and trying to give each other the best workout we can.
"It's just about being careful. But when you lighten up in practice, sometimes that's when you get hurt. And when you lighten up, you're not getting the most out of your training session. So it's 50-50; anything can happen."
Everything has been clicking for Guida during this training camp. His weight is on point, his timing couldn't be better and his confidence level is off the charts.
It's not enough to win against Maynard; Guida wants to deliver a strong message as well: that he is as deserving of a lightweight title shot as anyone in the division.
"Finishing Gray Maynard puts me right back to being the No. 1 contender," Guida said. "It puts me right there."
"I know they said Nate [Diaz] is getting the title shot. Nate has beaten three guys in a row -- one of my teammates [Donald Cerrone],
Takanori Gomi
and
Jim Miller
, [but] who did he beat before that? Before I lost to [Benson] Henderson, which was a very close fight, people say it could have gone either way, I won four in a row -- three submissions, and I beat two former world champions on the way.
"Gray Maynard hadn't lost in two or three years. But a finish over Gray is what I'm looking for."
August, 9, 2011
8/09/11
5:22
PM ET

By Chad Dundas
ESPN.com
Archive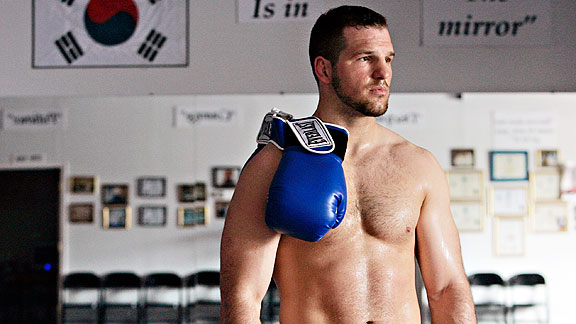 AP Photo/Mike GrollMatt Hamill, the only deaf fighter to ply his trade in the UFC, served the sport well over the years.
Matt Hamill didn't look like a man beset by injury against Alexander Gustafsson at UFC 133 on Saturday night, nor did he look like a man who knew the end was at hand.
Maybe that's the point.
After taking the fight on a bit less than a month's notice and admitting afterward he didn't have much of a game plan, Hamill largely held his own against the 24-year-old Swedish up-and-comer before a final exchange that saw him succumb to a TKO three minutes, 41 seconds into the second round.
You could argue he didn't do any worse than the average late-replacement fighter who climbs in the cage just planning to wing it, so it was a mild surprise on Monday when Hamill announced his retirement in a prepared statement on his official website, citing a years-long accumulation of injuries and what sounded like psychological exhaustion.
"I just don't have it in me to fight anymore and my last two performances have shown that …," Hamill said in the statement. "I can't continue to fight without having the hunger and desire to do so."
You know what? Good for him.
[+] Enlarge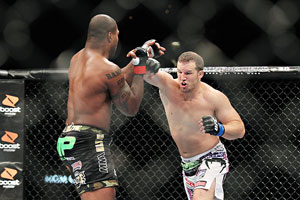 Ed Mulholland for ESPN.comMatt Hamill, right, has seen his fair share of grueling battles over the years.
Hamill clearly knows he still has things to accomplish in life. Autumn will see the official release of his self-titled biopic, a film that's already netted a handful of awards at regional film festivals and garnered decent advanced reviews from people in fight circles. As the first deaf fighter to compete in the UFC and a decorated amateur wrestler, he'll no doubt have more than his fair share of business opportunities coming his way, so it's admirable that he's decided to try to take advantage of them now, before the fight game exacts any further toll.
His MMA career likely isn't one for the history books, anyway, and even if Hamill looked fairly capable on Saturday night -- moving around the cage well and marking Gustafsson's face with a lunging jab -- his best days in the UFC were surely behind him. After back-to-back losses to Quinton Jackson and Gustafsson and that embarrassing "win" against Jon Jones back in December 2009, it felt as though a gulf was widening between Hamill and the top of the light heavyweight division. That gap wouldn't get any narrower moving forward.
Instead, Hamill opts for the smart way out, taking with him a 9-4 record in the UFC, three of the company's incentive-based postfight bonuses and a list of opponents that includes four past and present world champions.
No, Hamill may never have won a title in the Octagon, but in retiring at age 34 with most of his physical and mental faculties intact, he pulled off a much more important feat. He got into the fight game, he left his mark with 14 career fights (all but one in the UFC), he made a little bit of money and he got out. You can't play it much better than that.
August, 9, 2011
8/09/11
6:36
AM ET

By Josh Gross
ESPN.com
Archive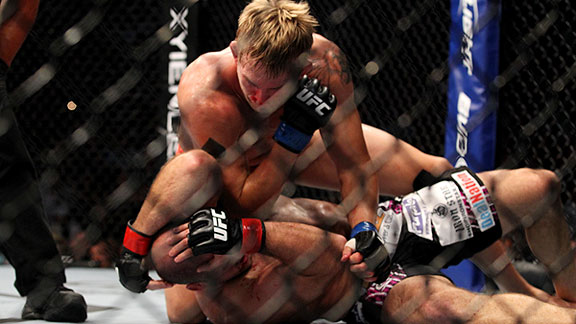 Ed Mulholland for ESPN.comMatt Hamill, bottom, admitted he "doesn't have it anymore" after UFC 133.
Matt Hamill
, the only deaf fighter to compete in the Ultimate Fighting Championship, announced his retirement from mixed martial arts on Monday.
The end of his six year career comes after Hamill, who turns 35 in October, was stopped by
Alexander Gustafsson
at UFC 133.
"I have not been kind to my body and it has nothing left after 28 years of nonstop competition," Hamill said in a statement published on his Web site. "It's time to finally give it a rest."
After nine knee surgeries, a chronically bad left shoulder, which was decimated in a fight against
Jon Jones
in 2009, and other injuries, the light heavyweight's will to compete, ably captured in "Hamill," a biopic feature film about his life that's set for a November theatrical release, simply dried up.
"I can't continue to fight without having the hunger and desire to do so," Hamill said. "I can't let my performances reflect on my coaches who are the best in the world and the reason I've made it this far."
Hamill admitted to being ready to retire following a listless decision loss to
Quinton Jackson
in May, "but my friends, family coaches and most importantly my daughter encouraged me to give it one last chance."
"I think she motivated him enough to go through with it," Holmes said of Hamill's daughter. "We thought, well maybe this is the way to do it. Take a fight on short notice, no game plan, go in there on instinct and maybe the killer in him will come out. It's not coming out because he's beaten down physically."
Sitting in his the locker room after succumbing to Gustafsson, Hamill, (10-4, 9-4 in UFC competition) looked at Holmes and conceded it was time to walk away.
"That's it," Hamill said. "That's all I got."
He leaves behind an amazing tale of perseverance. Born deaf in Loveland, Ohio, Hamill eventually found wrestling and earned a spot at Purdue University. It turned out not to be the right fit, and Hamill transferred to Rochester Institute of Technology, which features the National Technical Institute for the Deaf. At RIT, Hamill continued to wrestle and earned his nickname, "The Hammer," while capturing three Division-III NCAA championships.
Hamill entered MMA in 2005, and rose to prominence during Season 3 of "The Ultimate Fighter." He earned victories over
Mark Munoz
,
Keith Jardine
and
Tito Ortiz
. Hamill also owns a costly disqualification victory against Jones, the current UFC light heavyweight champion. Jones slammed Hamill to the canvas causing a 12-millimeter tear in his AC joint, shoulder dislocation, and pulled trapezius and deltoid muscles.
"He's a guy who they said shouldn't have fought," Holmes said. "You don't see boxers or deaf mixed martial artists."
Among other ventures, Hamill and Holmes are partners in a fight gym in Utica, N.Y., where they will continue to work with mixed martial artists seeking a shot at the UFC.
"The UFC has been extremely good to me and given me an opportunity to make a great living," Hamill said. "That exposure has allowed me options outside the Octagon as well. I just don't have it in me to fight anymore and my last two performances have shown that."
July, 18, 2011
7/18/11
5:55
AM ET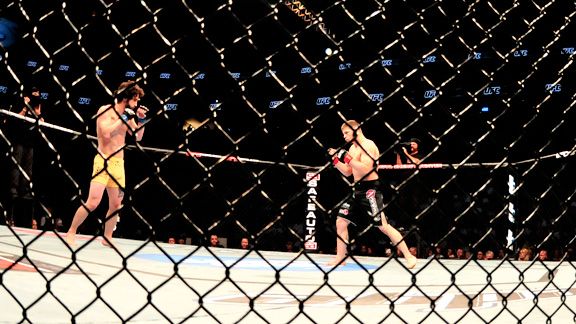 David Dermer/Getty ImagesAn even longer shot: Would Charlie Brenneman have pulled the upset in a five-round fight?
At UFC 131 in Vancouver, Dana White broke the news that going forward all main events -- title fights and non-title fights alike -- would be five-round affairs.
At the time, when I asked him if this would be universal for altered main events that are put together on short notice, he stated simply, "no exceptions." That seemed like a pretty straightforward way to think -- save for the fact that there's been nothing but pretty exceptional things happening for the last few months to card headliners, making for a complicated case-by-case basis of five-round main events.
In short, it's hard to imagine five-round headlining spots being universal, given the recent trend of altered main events.
Imagine if the UFC had enacted this frill-based privilege before UFC 130. That was the card where
Frankie Edgar
and
Gray Maynard
became
Matt Hamill
versus
Quinton Jackson
on a few weeks' notice. Forget that the world would have been subjected to two more rounds of a blasÚ match-up, the bigger problem is that Hamill and Jackson would have had to alter their camps to train for five rounds rather than three. Similarly, when
Shane Carwin
stepped in late for
Brock Lesnar
at UFC 131, he would have had more to think about than just
Junior dos Santos
. Would it have played a hand in his decision to take the fight? Probably not. But he had been training for a three-round fight with John Olav-Einemo up until then, and it's a pretty sizable shift in thinking for a guy whose main concern for the last year was gassing out.
[+] Enlarge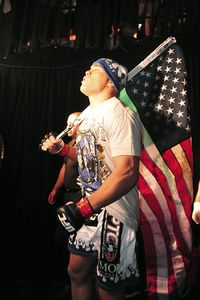 Kari Hubert/Getty ImagesWould it have been fair to expect Tito Ortiz to accept a five-round fight with Rashad Evans on quick turnaround and short notice?
But over the last couple of weeks the proposition of five-round main events has gotten stickier still. If there were truly no exceptions, the UFC Live on Versus card in Pittsburgh would have been that much more complex.
Anthony Johnson
versus
Nate Marquardt
on plenty of notice became Nate Marquardt versus
Rick Story
on relatively short notice which became Rick Story versus
Charlie Brenneman
on virtually no notice. How easy is it to prepare for an extra couple of rounds if you're Brenneman, who was only hoping for the off chance of a hypothetical three? Even for a fighter who is physically ready, the mental adjustment is significant.
And then this stuff with UFC 133 began happening. Would
Tito Ortiz
have still have taken the fight against
Rashad Evans
if it were a five-rounder? Ortiz is stepping in for
Phil Davis
on a little three week's after spending a day in contemplation about whether to accept it or not. Would he have been as willing if the fight with Evans -- whom he fought to a full 15-minute draw at UFC 73 -- was a set-in-stone five-round fight? Maybe, but it's that much more to ask.
The bottom line is, if we are to take this recent string of events at face value, for the UFC to make all main event bouts five-rounders without exception it will have to convince its roster to be ready for 25 minutes of fighting at all times. Either that or it will have to make some exceptions, and have five-round main events operate on a case-by-case basis.
Maybe then
Lyoto Machida
could argue for
Anderson Silva
money on the premise that he'd be working time and a half.
May, 28, 2011
5/28/11
4:43
PM ET
LAS VEGAS – The last time I asked actor Mickey Rourke for his picks was at UFC 118 in Boston, and he presciently called the fights exactly right, taking Frankie Edgar over B.J. Penn in the rematch, Gray Maynard over Kenny Florian, and Randy Couture by first-round TKO over James Toney.

As a former boxer, Rourke had sparred with Toney on occasion, and Toney -- who accused Rourke of trying to sucker punch him during one particularly heated session -- didn't go too light on him. This made for a contentious yet brotherly relationship between the two.

As a big fight fan with a practiced eye in the way of combat sports, I asked Rourke for his picks on the co-main and main events for UFC 130. This time Rourke wasn't all that forthcoming. He says he definitely likes Frank Mir over Roy Nelson, but in the main event, he yielded to the stinker in sports psychology, that set of things known as "the intangibles."

"With [Matt] Hamill and [Quinton] Jackson, that's a toss up. It comes down to who wants it more ... and how good Hamill's chin is." That's as committal as he would get on it. So, for the record, Rourke's official picks for tonight are Mir in the co-main event, and Desire in the main event.
May, 27, 2011
5/27/11
2:21
PM ET
By Sherdog.com
ESPN.com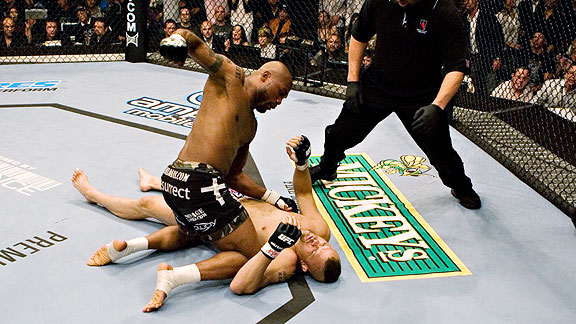 Josh Hedges/Getty ImagesQuinton Jackson was at his best when he upset Chuck Liddell in 2007.
With a resume few others can match,
Quinton Jackson
meets
Matt Hamill
in the UFC 130 main event on Saturday in Las Vegas, where a decisive victory could thrust him back into title contention at 205 pounds.
More ╗
May, 27, 2011
5/27/11
6:32
AM ET
By ESPN.co.uk
ESPN.com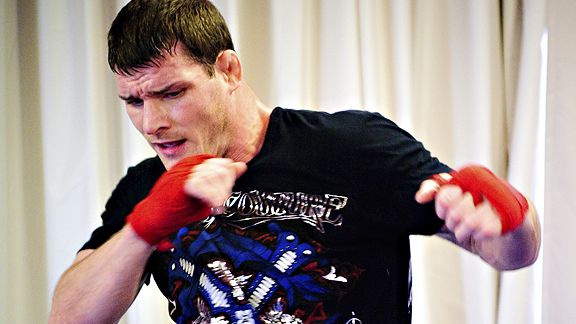 Martin McNeil for ESPN.com Count Michael Bisping among those banking on a Quinton Jackson win on Saturday.
Michael Bisping
claims
Quinton Jackson
is "training like a crazy man" ahead of his UFC 130 showdown with
Matt Hamill
, and the Brit insists his training partner wants his UFC title back.
More »
May, 25, 2011
5/25/11
5:39
AM ET
By Jason Probst/Sherdog.com
ESPN.com
Archive
The loss of the
Frankie Edgar
-
Gray Maynard
lightweight championship rematch does not necessarily mean UFC 130 lacks meaning. Multiple bouts on the main card could have eventual title ramifications on Saturday in Las Vegas.
More ╗
May, 24, 2011
5/24/11
6:09
AM ET

By Brett Okamoto
ESPN.com
Archive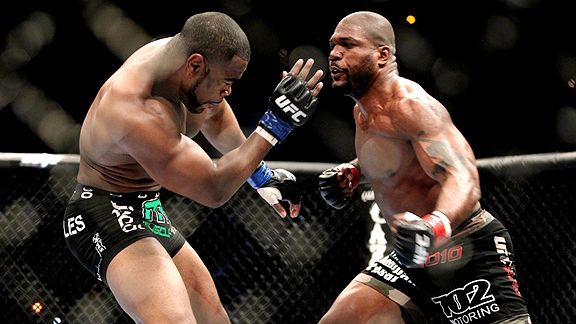 Ed Mulholland for ESPN.comRashad Evans feels Quinton Jackson's state of mind will determine the outcome against Matt Hamill.
Despite his heated rivalry with
Quinton Jackson
just one year ago, former light heavyweight champion
Rashad Evans
is picking Jackson to come away with a win over
Matt Hamill
in the main event of UFC 130 this weekend in Las Vegas.
An admitted fan of Hamill, Evans said he'd love to see him break into the top 10 with a high-profile win Saturday -- but if Jackson is on top of his game, it will be tough.
"I love Hamill. I like the way he fights and I like his story," Evans told ESPN.com. "But I think Rampage should get it done.
"It all depends though. I haven't heard anything out of his camp, as far as how he's mentally doing. Rampage is all mind. Sometimes if he goes in there and his mind isn't right, it's almost like he throws a tantrum just by not fighting the way he can. If he goes in there with his mind right, I think Rampage will win the fight."
Both Hamill and Jackson figure to have plenty to gain from a win. Although he's been with the UFC since 2006, Hamill has never been considered an absolute elite member of the 205-pound division. Defeating Jackson in a headlining pay-per-view fight would be a big step toward title contention.
[+] Enlarge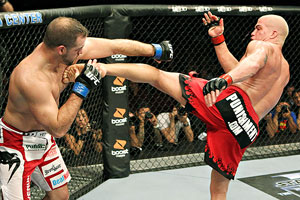 Josh Hedges/Getty ImagesMatt Hamill might not stay standing if he tries to punch his way through something like this from Quinton Jackson.
For Jackson, a dominant performance could place him right in line for a shot at current champion
Jon Jones
. Evans was supposed to get that shot in August, but Jones pulled out due to injury. Hot prospect
Phil Davis
has stepped in to take his place, leaving a future fight between Evans and Jones with many variables.
Evans, who defeated Jackson by unanimous decision when they fought in May 2010, says Hamill has the tools to do the same thing this year. Stylistically, though, Hamill better have implemented a few changes.
"For Hamill to win, he's going to have to bring his punches back," Evans said. "One thing Hamill does is he leans on his punches. When he throws the jab, he leans on it. Rampage is very good at the counter punch because he catches whatever you throw and, if you don't bring it right back, he's going to hit where you just left that punch.
"So, if Hamill is leaning on his jab, Rampage is going to catch it, he's going to roll, and he's going to land the right. Can Hamill take Rampage down? Probably. But Rampage is hard to take down. He's probably got the strongest hips I've felt at 205."
Evans' entire prediction is, once again, based on Jackson's mindset coming into the fight. Always a tough read, Jackson has been fairly no-nonsense as of late, which makes Evans think he's ready to go.
"Last time he was real quiet before a fight was when he fought
Wanderlei Silva
, and it didn't turn out well for Wanderlei," Evans said. "Looks like he might be focused for this one."
October, 19, 2010
10/19/10
5:54
PM ET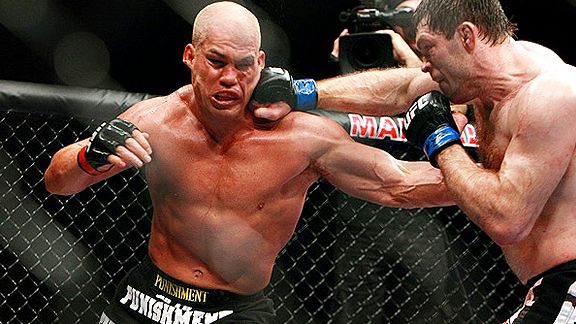 Dave Mandel/Sherdog.comTito Ortiz has been knocked around a bit of late, but he has been mostly competitive.
As we near the climax of Brocktober -- an obvious feeler program to get Brock Lesnar's birthday eventually recognized as a national holiday -- most media sources are primarily concerned with how the UFC's heavyweight champion will fare against Cain Velasquez at UFC 121.
(I think Lesnar loses.)
Sidebar story? Jake Shields trying to get through an academic fight with Martin Kampmann before fighting Georges St. Pierre.
(Shields probably wins.)
Only a fraction of that press is being devoted to Tito Ortiz, third on the bill for the first time in his career, as he prepares to face Matt Hamill the same night. How dramatic a drop is that? Of Ortiz's 23 UFC bouts -- virtually the entirety of his career -- 16 were main events; another three were the co-main and were bumped only due to a headlining title fight.
(Fans surely cared more for Ortiz's bout with Ken Shamrock -- God forgive them -- than the Tim Sylvia-Andrei Arlovski fight that proceeded it at UFC 61 in '06.)
This is the first time since his 1997 debut in a tournament (when "media" consisted of Usenet groups) that no one is talking about Tito Ortiz.
Unlike many of his contemporaries, the 35-year-old has not unraveled to the point that he has embarrassed himself in the ring. A record of 0-3-1 over the past four years? OK. But he was still competitive in fights with Lyoto Machida and Forrest Griffin. (Chuck Liddell was a bad day.) He is nowhere near the Ortiz of 2001, who possessed a particularly violent form of wrestling, but there has been enough in the reserve to keep him from being pitied.
What's keeping Ortiz off the front page now is that he was too good at his own game -- creating a persona that took the best of pro wrestling and transplanted it to a sport that was home to a bunch of generic tough guys. Ortiz was obnoxious and inflammatory; fans either enjoyed it or wanted to see him beaten into mush. Either way, they wanted to see him. It made him rich, and it gave the UFC attention at a time it desperately needed some.
It's an obvious gimmick, and it's no longer the exception. You can see Ortiz's influence today in guys like Dan Hardy, Chael Sonnen, Sean McCorkle and a laundry list of fighters who consider watching wrestling promos on YouTube part of training camp. It's no longer a novelty to see Ortiz insult an opponent. Compared to the guys just mentioned, he's not even particularly good at it.
If you can't stir the pot, you need results. Ortiz doesn't deliver those, either. Losing to guys like Machida and Griffin is far from shameful, but having to rationalize losses is a long way from enjoying wins. If you ignore the nothing rematches with Shamrock in 2006, Ortiz hasn't had a solid victory since beating a green Griffin in April of that year. He hasn't held the world title in seven years (or, using another unit of measurement, not since the original "Saw" film was released -- and we're now up to "Saw 7"). He says his famous mouth is shut because he respects Hamill, but isn't it really because there's nothing left to boast about?
I am not now and never have been any particular fan of Ortiz's, mostly because his act was too transparent and forced, and because his actual fights were rarely that epic. But there's something compelling about seeing a man previously perceived as a steamroller finding some humility and honesty in the later stages of his career.
If Ortiz can continue getting away from the overconfidence that now turns off more people than it attracts, he might find a more appropriate role: reinventing himself as the underdog.
June, 20, 2010
6/20/10
7:00
PM ET
In the eyes of many paying customers, Jamie Varner did enough to tarnish the undefeated record of Kamal Shalorus on Sunday.
In the eyes of two ringside judges, he fell short. So did someone's prescription eyewear.
It wasn't domination, but Varner did enough -- including a straight right in the second that nearly made Shalorus take a knee -- to earn a decision even without the benefit of a point deducted that same round for low blows. But only one ringside official agreed, with the other scoring for Shalorus and with Cecil Peoples rendering the fight a 28-28 draw.
The call for judging reform has grown repetitive and there's not much to add to the conversation, except to reiterate the obvious need for an auditing system for state contractors that currently don't have to offer any explanation or rationale for their behavior. Nice work if you can get it.
As if that wasn't enough for fighters to worry about: Between Rich Franklin ambling around the Pearl in Las Vegas with a pink arm cast and Matt Hamill gamely trudging through two more rounds with a broken hand (and staph, and blurred vision) Saturday, it's hard not to be reminded of the idea that human bodies really weren't meant to crash into one another at velocity.
Hamill, 33, broke his left hand on Keith Jardine's skull early in the first round, but went on to batter and bloody Jardine to earn a majority decision; last weekend, a kick from a re-energized Chuck Liddell broke something called the ulna in Rich Franklin's left forearm. (You don't learn about the names of body parts like "ulna" until they stop working.) Both join a laundry list of athletes who shatter or misplace bones or cartilage but continue fighting. This is not the kind of thing you see in organized sports, primarily because damage to valuable players can hurt the franchise.
In MMA, you're more or less an island: The pain or suffering you endure doesn't compare to the pain and suffering of a possible loss. Internal damage can be hidden, and often is.
The only time athletes lose their poker face is when judges come into play: Varner grimaced more than Franklin, and with good reason.
Next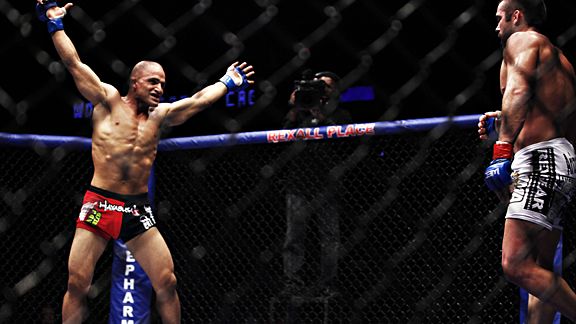 AP Photo/Phillip ChinBrace yourself: Don't be surprised if Kamal Shalorus and Jamie Varner meet again in the near future.
Next for Hamill: Cyrille Diabate or Thiago Silva would sort out Hamill's ability to keep a fight on the ground when he's threatened on the feet -- for a wrestler, he doesn't do all that much wrestling.
Next for Jardine: Bellator.
Next for Varner: A rematch with Shalorus.
Next for Shalorus: See above.
Next for "Ultimate Fighter 11" winner Court McGee: Probably another "Ultimate Fighter" alum: C.B. Dollaway or Kyle Noke.
Awards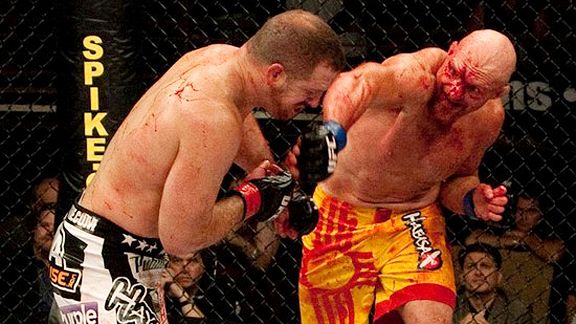 Josh Hedges/Zuffa/UFCKeith Jardine's blood found its way on to a few lucky cagesiders on Saturday.
The double-check-that-demographic award: Paramount, for plugging its "Last Airbender" fantasy film -- based on a Nickelodeon cartoon and ostensibly aimed at children -- during the "Ultimate Fighter" finale. It might be the first movie to have both a Happy Meal and a blood-splattered Octagon logo devoted to it. Congratulations.
The speaking of blood splatters award: Anonymous cameraman and anonymous ringside woman, for getting doused with a splash of Jardine's blood after a takedown by Hamill. The cameraman, desensitized to the gills, calmly wiped his lens; the woman appeared to be going into shock.
The tired rap award: Dana White, for committing to the line about a "six-figure contract" for the winner of the "Ultimate Fighter" series. That sounded good when established athletes were barely making more than that in 2005; today, it's a little awkward.
The giant problem award: WEC ring interviewer Craig Hummer, who dwarfs most of the 155-pound-and-under athletes. He does a fine job, but making fighters look like they couldn't get in line for a theme park ride is underwhelming.
Etc.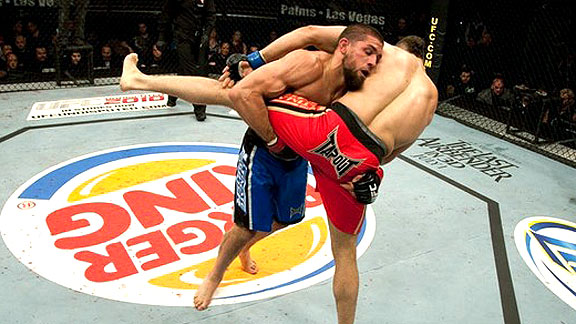 Josh Hedges/Zuffa/UFC Court Magee walked away with TUF 11 honors and an extra $25,000 submission of the night bonus.
• The UFC had its own recession Saturday, dropping bonuses to $25,000: Magee earned submission of the night, while Hamill and Jardine got fight of the night; MMAJunkie.com reported a crowd of 1,708 for the finale.
• Much was made of Matt Hamill's staph lesion on his lower back, with some questioning whether he should have even been allowed to compete. (Staph can spread quite easily from person to person, especially when they're leaking fluid all over one another.) My suspicion is that Jardine was alerted Hamill had an infection, but it's hard to refuse a fight 30 hours prior to the bell. Couldn't they have at least bandaged it, or allow infected fighters to sport a rash guard?
• Mark Hominick and Yves Jabouin split a $20,000 Fight of the Night bonus on the WEC broadcast Sunday, and it's worth going out of your way to see. Versus and the promotion would be wise to let it go viral on their sites.
June, 16, 2010
6/16/10
10:37
PM ET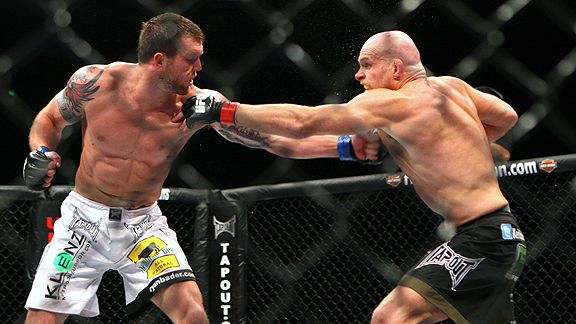 Daniel Herbertson for ESPN.comDo or die: Keith Jardine, right, is fighting for his place in the UFC on Saturday.
If there's one story that stands out among the weekend's six hours of fight programming, it's the idea of Keith Jardine having one foot on the mat and the other dangling off the cliff.
Jardine, an "Ultimate Fighter 2" runner-up from 2005, has had his share of quality wins. He knocked out Forrest Griffin, decisioned Chuck Liddell and shut down a prospect in Brandon Vera.
But the Vera bout was nearly two years ago, and it represents Jardine's last win. He's 0-3 since, including two stoppage losses. If the UFC has a violence quota, he's falling pretty far down the leaderboard.
Loss No. 4 against Matt Hamill on Saturday would be in pretty flagrant violation of Octagon expectations. Jardine doesn't need a pretty win -- he rarely delivers one, anyway -- but he does need to defend his job. If he fights like he's aware of that, he could be involved in one of the weekend's better bouts.
What: "The Ultimate Fighter 11" finale, a nine-bout card from the Pearl at the Palms in Las Vegas, live on Spike at 9 p.m. ET Saturday; World Extreme Cagefighting 49, an 11-bout card from Rexall Place in Edmonton, Alberta, live on Versus at 9 p.m. ET Sunday
Why you should watch: Because the "TUF" card has at least two go-for-broke fighters in Chris Leben and Spencer Fisher; because you're either looking for Jamie Yager to deliver a beating or sustain one; because on the WEC's end, Jamie Varner and Kamal Shalorus can only disappoint if the arena power goes out; and because doing anything but watching television is highly overrated.
Fight of the weekend: Varner-Shalorus. Varner is looking to rebound from a tough loss to Ben Henderson and Shalorus looking to top off his unblemished record with a win over a valued name in the WEC's 155-pound division.
Hype quote of the shows: "It's like looking in the mirror. We're the same size. He likes the weights, I like the donuts; but everything else, we're pretty much even on." -- Fisher, on opponent Dennis Siver, to UFC.com.
Five questions: "Ultimate Fighter 11" finale and WEC 49
Q: Is winning "The Ultimate Fighter" still a big deal?
A: Despite the learn-as-they-go production nature of "The Ultimate Fighter" in its early seasons, the series still managed to produce a sizable number of relevant athletes in different divisions. Season 1 winner Forrest Griffin held the light heavyweight title and Josh Koscheck contends for a belt soon. Season 2's Rashad Evans has only lost once and Michael Bisping is a valuable U.K. headliner.
Get past the first three seasons, though, and that roster support begins to thin out. Nate Diaz and Mac Danzig have been on the bubble; Ryan Bader looks like a monster but hasn't proven it against top competition yet. The stigma of being a "reality TV fighter" may be over, but with as many disappointing winners as contenders, it hasn't been replaced with anything else.
Q: What is Mark DellaGrotte going to do for Spencer Fisher?
A: There are two outcomes to uprooting your life and submitting your body to a new training camp. You'll either benefit from the new environment, or you'll be contorted into a style that doesn't suit you.
In packing his bags for DellaGrotte's gym in Massachusetts, Fisher is going to be exposed to a lot of kickboxing. A heavy-handed slugger by trade, he'll either add to his ammunition or confuse and dilute the talent that brought him three straight wins before a loss to Joe Stevenson in October.
Q: Is Jamie Yager a product of reality television's influence?
A: Who can know the real Yager? Due to either strategic editing or strategic posturing, Yager came off as the star antagonist of "The Ultimate Fighter," a role that's led to recurring employment for past instigators like Junie Browning and Josh Koscheck.
It's gotten to the point where the past rewards for bad behavior have to have some influence on cast members that follow. If Yager is secretly working soup kitchens in his off-hours, it's another bit of evidence that reality television is only as real as producers allow.
Q: Is the WEC's 155-pound class creating consumer confusion?
A: Unless casual fans sit down to think about it, there's a real redundancy in having two Zuffa-endorsed 155-pound champions on television. In a WEC pay-per-view (without a trace of the WEC brand) last month, Benson Henderson retained his title, while a month prior, Frankie Edgar obtained the UFC's 155-pound title. Are we supposed to value one more than the other?
The UFC's spinoff promotion works when it's clearly distinguishable from its bigger brother, namely highlighting the 145-pound-and-under weight divisions. Having Henderson and Edgar carry two belts only winds up tarnishing both.
Q: Is weight cutting out of control?
A: Josh Grispi, who fights L.C. Davis on Sunday, is a 145-pound featherweight who can ride any theme park attraction he wants. He walks at 172 pounds, larger than some lightweights. While cutting 25 pounds isn't unusual for bigger men, slicing that much off your weight when you're in the WEC's lighter divisions is some kind of feat.

Grispi is only playing the system to his advantage, but his body's ability to endure that kind of radical recomposition gives his opponents another problem. Dehydration might be winning as many fights as skill.
Red Ink: Hamill versus Jardine
More than anyone in the UFC's 205-pound division, Jardine represents the idea of a blue-collar laborer. He alternates wins and losses with regularity, he's a muted presence in media and his style is completely without grace. Compared with the hyper and video game-influenced performances of some of his peers, Jardine is the fighter equivalent of an art film.
Hamill isn't much of a contradiction. A wrestler from Utica, he's engendered some ready-made affection for the perception of a deaf athlete overcoming adversity in a highly dangerous career. That wrestling pedigree usually goes out the window when he chooses to stand up, which would likely be Jardine's preference.
It's not a high-profile fight, but fans may find more to recognize in both than in the athletes finding fame and fortune further on up the ladder.
What it means:For Hamill, a chance to wash out the taste of a disqualification "win" against Jon Jones; for Jardine, a chance to escape the heat of four straight losses and the real threat of being given his walking papers.
Wild card:The vague idea of a cracked chin being an unreliable chin. Jardine has been put down in two of his last three.
Who wins: Hamill's grindhouse striking style is a perfect fit for Jardine, but he can take the fight into his waters on the ground anytime he wants. Hamill by TKO.
Red Ink: Varner versus Shalorus
Excuses are as necessary in fighting sports as cups and hand wraps, but some resonate more than others. When Varner fought Henderson in January, most expected his takedown defense and striking to be to his advantage. Instead, Henderson skyrocketed his career by sinking a choke in the third.
Either Henderson is that much better or Varner's personal issues -- his mother was diagnosed with cervical cancer prior to the fight -- affected his thinking. Whatever the case, Varner has a chance to reassert himself as a contender for Henderson with a win over Shalorus, an undefeated boulder of a wrestler who plans to match his tenacity with Varner's A-minus striking game.
What it means:A likely crack at Henderson's title.
Wild card:Shalorus, 7-0, is getting an expedited trip to the upper level of the WEC's lightweight division, but he might not have cured all of the mistakes that come from a handful of trips to the ring.
Who wins:Varner has too many tools for Shalorus. If his head is on straight, Varner takes it via decision.