February, 27, 2013
2/27/13
4:23
PM ET

By Josh Gross
ESPN.com
Archive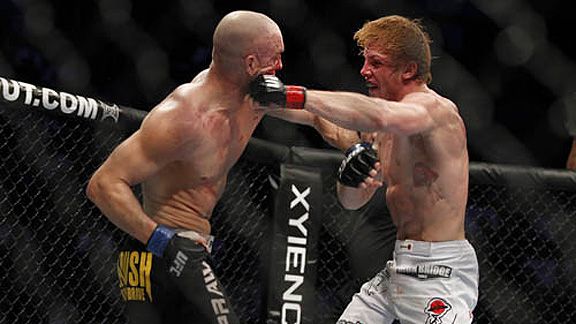 Ric Fogel for ESPN.comWelterweight Matt Riddle, right, saw his second failed drug test lead to his release from the UFC.
I'm not going to defend
Matt Riddle
, who seems intent on messing up a good thing after being popped a second time for pot in three fights.
The massive welterweight will likely lose another hard-earned win to marijuana, meaning rather than riding a four-fight win streak and a record of 9-3 into the upper echelon of the division, the 27-year-old is 7-3 (2 NC) and a free agent after having his contract terminated by the UFC.
We can argue all day whether or not testing for weed and classifying it a performance enhancer (or a Schedule 1 drug alongside the likes of heroin) makes sense. But forget that for now. Bottom line is Riddle, a self-described medical marijuana user who hasn't fought outside the Octagon as a pro, couldn't stay clean based on UFC's testing in London.
As a result, he fell prey to bad timing (with all of these cuts) and UFC's inconsistency in matters such as these. The timing issue, well, that's life. Arbitrary lines in the sand from UFC? Well, I guess that's life, too. But at least that's something that can be improved upon, and based on a statement the promotion put out Wednesday, it may have already.
"The UFC organization is exercising its right to terminate Riddle for breach of his obligations under his Promotional Agreement as well as the UFC Fighter Conduct Policy," according to a statement published on the UFC web site. "The UFC organization has a strict, consistent policy against the use of any illegal and/or performance-enhancing drugs, stimulants or masking agents."
I have long advocated for something similar when it comes to steroid users in the Octagon. Hey, even if a cut is sure to happen after two steroid-related episodes, it would send an urgently needed message: Use this stuff anywhere but here. Instead, UFC has selected who to stick by and who to dump, which basically makes it impossible for fighters to draw any conclusions.
Maybe that day is done. Maybe the takeaway from Zuffa's response to Riddle is that screw-ups, even screw-ups that might win -- dare I say screw-ups who are also great fighters -- don't have much room to operate in the UFC right now.
We'll see how the next one is handled. But heads up to
Dave Herman
(twice popped for pot offenses in the UFC),
Nick Diaz
(pot and press conferences),
Jon Jones
(the DWI),
Chris Leben
(steroids and drugs and DUIs),
Jeremy Stephens
(alleged to have participated in the beating of a man in a parking lot) and the rest.
Maybe your time has come.
Injury bug attacks flyweights, too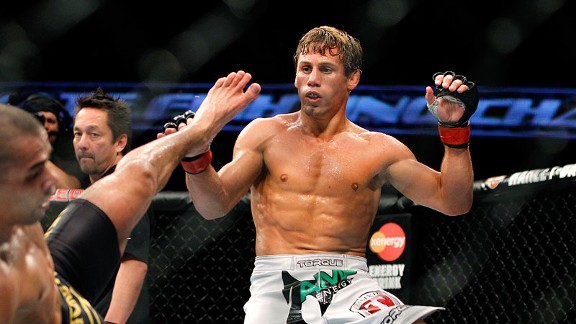 Ric Fogel for ESPNAn injury to Demetrious Johnson allowed Urijah Faber a chance to take over an April 13 main event.
If you were under the impression that flyweights were immune to the injury bug, it's best to just forget that.
Demetrious Johnson
won't fight
John Moraga
at The Ultimate Fighter 17 Finale after it was learned the UFC 125-pound champ, Johnson, had been injured. With no reason to keep Moraga on the card, UFC churned out an interesting bantamweight contest that should pique some interest.
Urijah Faber
, fresh off an impressive win over
Ivan Menjivar
, takes on his old pal
Scott Jorgensen
in the new main event on April 13 in Las Vegas.
"[Two] buds punching each other!" chimed in Faber on Twitter.
"Crazy, I wouldn't be fighting if he [hadn't] talked me into [it] in college!" tweeted Jorgensen.
With the recent roster trimming, the ability for friends and training partners to avoid fighting one another is likely to dwindle. It will be interesting to see how things play out if guys like Faber and Jorgensen aren't willing to step in the cage. More will be, but not all. Those that refuse could pay a heavy price.
As for the fight, give me Faber, but it won't be easy. Also, beating Jorgensen wouldn't be enough, I don't think, for fans to demand "The California Kid" receives yet another title shot. Though it would move him down that path.
Shamhalaev deserving of Bellator title shot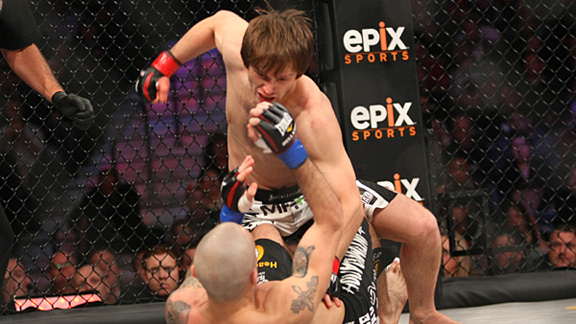 Keith Mills/Sherdog.comShahbulat Shamhalev benefitted from an injury to Daniel Straus to gain a shot at Pat Curran's title.
Injuries, obviously, aren't restricted to the UFC. On Tuesday, Bellator lost its next featherweight title fight when it was revealed
Daniel Straus
injured a hand while training to fight 145-pound champion
Pat Curran
.
The tournament format that delivered Straus also produced
Shahbulat Shamhalaev
after the 29-year-old Russian knocked out
Rad Martinez
in the second round last Thursday. Shamhalaev appears to be a legit contender to Curran's title and I'm glad Bellator slotted him into the fight, which they did Wednesday.
Shamhalaev wrapped an especially grueling tournament thanks to two postponements. There was some concern he wouldn't have time to put in a proper camp, which he obviously deserves after bowling through last season's 145 field. But the heavy-handed featherweight agreed to take the bout. That's good news because another option for Bellator was a rematch between Curran and
Patricio "Pitbull" Freire
. While their five-round fight on Jan. 17 was good, it wasn't memorable enough for fans to clamor for an immediate rematch. Not from what I've seen, anyhow.
Curran-Shamhalaev should make for a high-paced, well-contested title contest, which despite Curran's ability, could result in another Russian staking his turf in Bellator. I wouldn't put it past Shamhalaev as featherweight ranks among Bellator's best weight classes.
If there's a debate to be had about that, the light heavyweight division would not find many supporters. Thursday at the Santa Ana Star Center in Rio Rancho, New Mexico,
Christian M'Pumbu
defends his light heavyweight belt against
Atilla Vegh
.
More interesting, perhaps, is the next leg of the 155-pound tournament, which includes top prospect
Will Brooks
.
Saad Awad
will try to rip his head off. Also,
David Rickels
appears to have gained an advantage on the field by fighting alternate
Jason Fischer
, whom "The Caveman" out-pointed in November.
Brooks is the guy to beat, especially after
Alexander Sarnavskiy
was injured.
November, 28, 2012
11/28/12
12:26
PM ET
John Hathaway
has told ESPN that the winner of
Matt Brown
versus
Mike Swick
at UFC on Fox 5 might prove a more interesting fight for him than Matt Riddle, and he would be happy to go abroad to get the matchup.
More »
November, 22, 2012
11/22/12
6:52
AM ET
November, 4, 2012
11/04/12
1:35
PM ET
John Maguire
has shed interesting insight into his hastily arranged welterweight bout with Matt Riddle at UFC 154, revealing he called the UFC to ask for the fight.
More »
July, 23, 2012
7/23/12
7:05
AM ET

By Chuck Mindenhall
ESPN.com
Archive
Where did UFC 149 go wrong? What was the single, biggest offender?
Oh, where to start. What went on in Calgary was one of those perfect storms.
There was the eccentric that didn't go eccentric (
Brian Ebersole
). There was hype that fizzled before our eyes (
Hector Lombard
). There was a passive observer masquerading as the third man in the cage (Yves Lavigne). There were heavy hands that were never deployed (Shawn Jordan/
Cheick Kongo
). There were gavels that ruled all wrong (
Nick Ring
over
Court McGee
). There was a clear body kick that was mistaken for a groin shot (Josh Rosenthal imagining things with Matt Riddle/Chris Clements).
And there was a perfectly decent main event that suffered the residual wrath.
Urijah Faber
and
Renan Barao
needed to turn the main event into
Dan Henderson
versus
Mauricio Rua
to balance this ledger. As it were, it played out like Urijah Faber versus Renan Barao. The bout was doomed by its predecessors.
But the real problem, of course, was this: UFC 149 was a stretch to believe in to begin with, and it required some faith. Or that should say -- UFC 149 became a stretch to believe in by its fifth and sixth iteration.
The injury bug sapped this thing good and plenty before it got off the ground.
Jose Aldo
,
Antonio Rodrigo Nogueira
,
Michael Bisping
, on down the line.
Bibiano Fernandes
wasn't so much hurt as he was never signed.
Aside from the prelims, the people that the UFC were able to book simply didn't (or couldn't) deliver the goods. Shawn Jordan, the former LSU fullback who had a nice glow to his name coming in, was in a battle of leaning pillars with Cheick Kongo. He's still green and didn't know what to do in the big spot. Lombard was tentative. Ebersole was intending to move to lightweight when he got the call on a few weeks' notice to step in. He did. And he looked like a man who wished he didn't.
Of all the patchwork matches, only Riddle from the main card came correct. His arm-triangle on Chris Clements was cleanly executed viciousness that set a false premise for things to come. The thing that followed was disappointment. Disappointment that Lombard didn't live up to billing. Disappointment that Kongo played clinch. Disappointment that the UFC played fast and loose with people's disposable income.
[+] Enlarge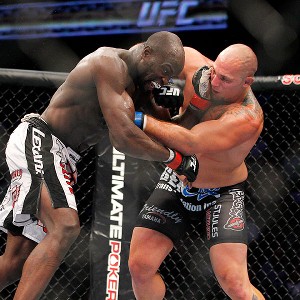 Ric Fogel for ESPN.comHug of war: Cheick Kongo, left, and Shawn Jordan spent more time holding and posing than they did actually fighting.
Even the postfight news conference, where Dana White promised to update us on the bearings of the 185-pound weight class didn't deliver. As for Lombard, who hadn't lost since that
Gegard Mousasi
upkick back in 2006? Nowhere to be found. He wouldn't be made available to scowl at trouble-making media types.
This happens sometimes. Not all cards deliver on the pay portion of the programming. White said it reminded him of UFC 33. Cynics might point to UFC 147. Only difference is, that card was
so
suspect that most people stayed away from shelling out the $50 to watch it. This time, there was an undercurrent of hope that UFC 149 -- for as cobbled and rearranged as it appeared on paper -- could turn into one of those rare gems. You know, one of those cards where White laughs at the people who criticized it beforehand while holding court with the media afterward.
White himself was certain that this card was going to deliver, appearing in Alberta on Thursday as a man who could barely contain his glee. But it couldn't, wouldn't and didn't, which takes turns being nobody's fault with being everybody's fault. When a stinker happens, the people who bought the pay-per-view take it personally, and the crowd on-hand chants "RE-FUND" throughout the main event. The faith of a good product in spite of all the rejiggering came out to $50 and change (more if you ordered in HD). It wasn't what the UFC wanted, nor what the fans wanted.
Everybody is complaining about the same thing from different perspectives.
But we order these fights knowing there's a chance things won't pan out. Look at the response to
Clay Guida
versus
Gray Maynard
on a
free
card. Had that fight been the main event on the UFC 149 PPV, Calgary might have turned into Vancouver after the 2010 Stanley Cup Finals.
It's tricky stuff, this PPV business. The public demands its money's worth. The UFC demands more of its fighters. The commissions demand competence of its referees and judges (or at least should). Everybody demands entertainment. It's a demanding public, and it's a demanding sport, and the UFC is a demanding business.
Yet as we learned on Saturday, demands can be what they want, but there are no guarantees.