March, 26, 2013
3/26/13
12:46
PM ET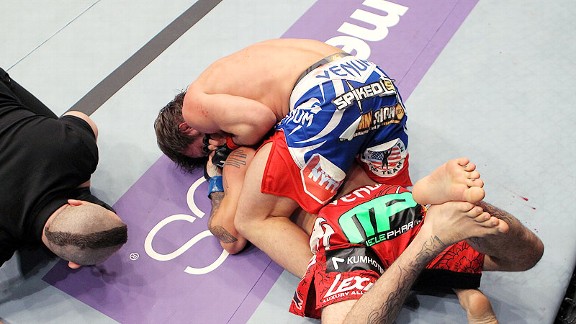 Josh Hedges/Getty ImagesBrad Pickett believes he has the tools to dominate Mike Easton in their bout at UFC on Fuel TV 9.
Dana White has often said that
Brad "One Punch" Pickett
is one of his favorite fighters to watch inside the Octagon due to his ferocious, face-forward style.
The British bantamweight is explosive, athletic and highly skilled with a legion of trilby adorn fans all eager to see the London-born battler engage in the kind of barnburners that have helped make his name. Yet Pickett, 34, knows that in the fight game a truly successful career balances on being able to parlay that excitement and wild reputation into bigger and bigger wins, forcing himself to the top of the 135-pound division and a shot at the title.
It's also about escaping the ever-present pink slip that is currently casting its shadow over the UFC in 2013. In the current climate, the UFC has been making some tough cuts to its roster of athletes -- those with back-to-back losses are often released but, conversely, those who put on a show are regularly given another chance.
"Is there pressure to perform?" Pickett asked, from his American Top Team camp in Florida. "Yes and no. I was shocked that
Paul Sass
and
Terry Etim
got cut but, for me, it is a winning business. You can't lose every fight and be exciting because in the end you will get cut. But on the other hand you can't just win fights by being a blanket because as soon as you do lose, you'll get cut. Knowing that Dana is a fan gives me a little sense of job security but, for myself, I'm a proud person. I'm not in the sport to make up the numbers. I'm here to be relevant. I want to stay in the top 10 and that means winning and winning big.
The reality of job security in the UFC is something that Pickett and his manager, Matt Walton, seem to easily comprehend.
"My view is that when you run a business, the only thing that supports the business is the bottom line," Walton said. "Without revenue even the most brilliant, exciting ideas fail. So for the UFC to continue to grow, it has to make money to be able to not only underpin its business, but to continue to push the boundaries and create further opportunities for itself and the people involved. Undoubtedly, you cannot water down the talent pool, however each and every sportsman or athlete involved needs to recognize that the greater entertainer they are, the more money can be made for the business."
Unsurprisingly, Pickett has always embodied that mix between being a competitor and an entertainer as his manager explains.
"Brad is a natural entertainer, so what you see with Brad is exactly how he is," Walton said. "He supports charities because he wants to, he trains and fights hard because he wants to, he stays faithful to his fiancee because he wants to, he signs autographs and spends time with fans because he wants to. Brad is a genuine guy in everything he does."
Recognizing that it's about paying back the fans and winning big imbues Pickett with an intriguing and exceptional mindset.
"My style tends to be exciting," Pickett said. "You can see that if I get a takedown, I'll look to land big shots and get super aggressive. Sometimes I'll end up getting the finish but if they end up getting back to their feet then OK. So be it. I'm comfortable on my feet and rather than just grinding a round out I do throw caution to the wind, but then you reap the rewards like a fight of the night bonus. The rewards are there in the UFC."
[+] Enlarge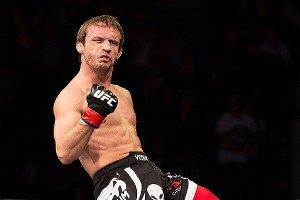 Josh Hedges/Getty ImagesWith the recent job cuts in the UFC, Brad Pickett recognizes his need to win in exciting fashion.
Pickett will take that attitude into the Octagon with him on April 6 in Stockholm against
Mike Easton
at
UFC on Fuel TV 9
in a clash that could have serious consequences for both men.
"[Easton] likes to come forward in his fights and so do I," Pickett said. "So it's going to be about who can impose their will enough to put the other person on the back foot. It's a tricky one, even on the ground. He's a black belt in Jiu-Jitsu but it doesn't really bother me. I'm a black belt in MMA. The thing about Easton is he doesn't pull the trigger. He's got a lot of aggression but he doesn't do much with it. With me, I'll come forward and try to knock your head off."
The fight should prove to be an interesting battle between two aggressive and very different competitors. For Pickett, it's a fight that he clearly wants to dominate.
"I know where I am in the division and I know an impressive win will put me back up there," Pickett said. "You know my style and you know I'll be looking for the finish. I'm not going to predict anything but I think I have more tools than he does to finish the fight."
February, 16, 2013
2/16/13
10:30
PM ET
LONDON -- After a night of few finishes, but a number of exciting and entertaining bouts, UFC on Fuel TV 7 ended with a solid submission win from the interim bantamweight champ
Renan Barao
against
Michael McDonald
.
Though the Brazilian didn't at first appear as sharp or explosive as he had in his previous UFC fights, perhaps in part to McDonald's speed and skills, Barao turned up the heat when he saw the chance, defending his belt like a true champion and sinking in a bonus-winning arm-triangle choke in the fourth round.
"I'm a BJJ black belt. I know I have a good ground game and I knew he was feeling the pain," Barao said, explaining why he refused to give up on the choke even though his opponent seemed to be fine.
"I learned the difference between where I am now and where I want to be," McDonald said. "Today, Barao was the better martial artist," said McDonald.
While McDonald clearly proved he belongs at the top of the division, troubling the interim champ a few times with his power, it was Barao who really made a statement at Wembley Arena.
Showing a versatile skill set and an ability to evolve his strategy as the fight progressed, Barao's win streak extended to an impressive 20 victories. His submission over McDonald acted as both a proclamation to the rest of the division as well as a sharp reminder for the still injured
Dominick Cruz
.
"Dominick is terrified right now," UFC president Dana White said. "All you guys have been reporting that I said he's going to have to retire and that is not what I said so I've been having to explain to him what's going on. We're hoping that Dominick will be ready for the summer so he can face Barao. That's the plan."
Barao is a tough fight for anyone, especially as he continues to add to his already impressive set of skills, but it's an even tougher fight for Cruz returning from such a long layoff. There's no doubt it'll be a fantastic clash of styles, but against a fighter as determined as Barao has been to maintain his championship gold, Cruz's return to the Octagon will be a big ask.
Swanson happy just to entertain the fans
Cub Swanson
once again showed an aggression and passion for his work against
Dustin Poirier
as he fought his way to a well-earned unanimous decision. Sporting a pair of shades to the post-fight press conference, Swanson revealed that it's all about the fights at this point in his career.
[+] Enlarge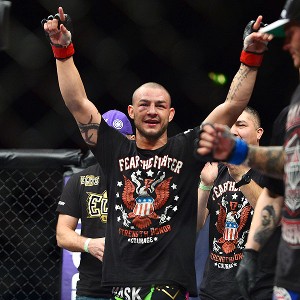 Martin McNeil for ESPNForget about rankings or title shots, Cub Swanson, who defeated Dustin Poirier by decision, believes it's all about providing entertainment.
"After my injury I realized all this could go away and be over just like that," Swanson said. "I'm not messing around anymore. Every fight I fight like it's my last."
While many are thinking Swanson's gritty victory over Poirier likely places him near the top of the title shot pile, the Team Jackson fighter wasn't fazed by the prospect.
"I am just happy to entertain the crowd," Swanson said. "I don't care where I am in terms of the title right now. I just want to go in and give the best performances I can and be the best fighter I can be."
It's an admirable principle for Swanson, but in terms of Joe Silva's matchmaking and the fans' desire to see
Jose Aldo
constantly tested, Swanson's hard work and aggressive instincts definitely have him on the radar as a potential challenger.
A tough night for the Brits
It was not the best night for the British fans and their native fighters. Well, all except one.
While the hugely popular
Paul Sass
and
Terry Etim
struggled to mount much offense in their respective bouts -- both losing by unanimous decision for their second straight defeat --
Tom Watson
stood up and stamped his mark on the middleweight division.
Displaying a fantastic strategy against
Stanislav Nedkov
, Watson took control early on in the fight. Though he was nearly stopped at the end of the first round, his reply brought the crowd to their feet. He shrugged off Nedkov's ground and pound and came out in the second with a renewed vigour, employing a brutal clinch game to take the victory deep in the second round.
"People who fight him are scared of him," Watson said. "I wanted to push the pace and show him that I'm not scared."
After a display that earned him two bonuses, Watson then set about calling out TRT users in his post-fight interview, explaining that he felt too many fighters were using it unfairly.
"You can't put TRT on your chin or in your heart," Watson said. "I've got a big heart and I'm happy to fight any one these guys."
While Watson's opinions chimed with White's thoughts on TRT, it was the British middleweight's rugged and tough performance that earned him the plaudits from the fans and the UFC itself. Watson laid out a marker for the rest of the up-and-coming 185ers.
Bonuses, Bits and Bobs
The UFC once again broke records in the UK, taking an impressive $1.3 million on the gate and seeing 10,349 die-hard fans pack Wembley Arena.
Watson took home honors for both fight and knockout of the night, earning him $100,000 in bonuses. Barao took home $50,000 for submission of the night.
Though there were only two finishes on the entire card, White said that "if the fans are happy, I'm happy. And the fans seemed happy tonight."
As usual, White fielded plenty of questions about more events, including both Brazil and the British Isles.
"Brazil is the hottest market right now, Lorenzo [Fertitta] will be spending a lot of time down there working on setting up the infrastructure," White said, before answering similar enquiries about the UK. "I keep telling you, Garry Cook is the man. He is buttoning up the TV deal here and we're looking at setting up a three-year plan for venues all over the country."
Clearly the UFC expansion is not slowing down anytime soon.
January, 18, 2013
1/18/13
10:38
AM ET
By Matthew Freeman
Special to ESPN.com
Archive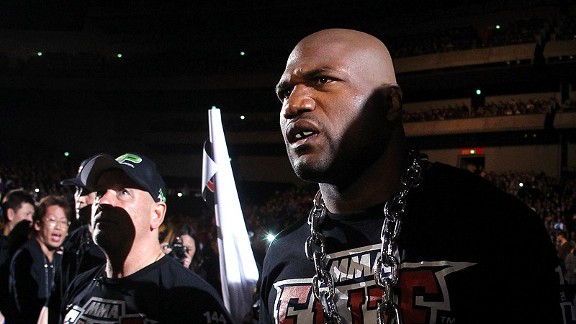 Al Bello/Zuffa LLC/Getty ImagesQuinton Jackson didn't renew his contract with UFC, but that doesn't mean he's retiring from MMA.
Quinton "Rampage" Jackson
will step into the Octagon on Jan. 26 to face off against
Glover Teixeira
. It is a clash that pits two of the division's heaviest punchers in what promises to be a barn burner of a fight and, for Jackson, an opportunity to end his contract with the UFC by beating one of the most highly touted light heavyweights since
Jon Jones
.
Some may see this as an opportunity for Teixeira to make his name and "retire" Jackson from MMA. But Jackson, the former Pride and UFC champion, has other ideas. He is far from retiring as a fighter and has plans that could see him becoming an even bigger draw both in the sport and the mainstream media. After Jackson made changes to his camp, specifically a new nutritionist, and spent time at the new Wolfslair facility in Wigan, England, his trainers are excited by his current form. Manager Anthony McGann was also vocal about any ideas that Quinton is merely seeing out his contract.
"Quinton is looking like the old Rampage in the gym. Believe me, he is already ahead of the curve in training and is going to be 100 percent for the fight," said McGann.
Jackson is as focused as ever on the upcoming bout with Teixeira, leaving all the distractions of home behind to train with head Muay Thai coach Dave Jackson, Bobby Rimmer (Ricky Hatton's former boxing trainer) and grappling coach
Tom Blackledge
.
"I'm with Soulmatefood now and they are planning all my nutrition really well. I was with
Mike Dolce
for a while but I just got tired of him experimenting on me," Jackson says. "I used to have to cut a lot of weight with that guy. He would give me a lot of bread and Nutella sandwiches. At the time I was loving it, but then I had to pay for it when I had to cut all the weight."
That, along with a bad knee injury, meant that Jackson's last outing was not the performance he wanted to give his Japanese fans as he dropped a defeat to
Ryan Bader
. "I got no respect for Bader. I don't understand guys that just want to hold you down. It's MMA; I got no problem with takedowns and wrestling, but just holding a guy down ain't my style."
That loss to Bader, and the way Jackson felt he was treated afterward, is a major reason why the fighter decided to not renew his contract with the UFC.
"There're a lot of reasons I'm leaving the UFC, but the straw that broke the camel's back was that they knew I was injured before the Bader fight. The card wasn't strong enough for the fans. I didn't feel I could pull out of the fight because it was in Japan and that's where I came from. The UFC had all the old Pride fighters busy," explains Rampage. "They knew they [were] going to Japan but they had
Dan Henderson
, Shogun [
Mauricio Rua
], all the guys fighting before. Then they tried not to put me on the card and go to Chicago on a Fox card, and I just couldn't understand why they wouldn't use the Pride guys."
Though Rampage took the responsibility to fight with his injury, he said it was Dana White's reaction to his loss that pushed Jackson to make his decision to leave.
"Dana said [publicly] my head wasn't into the fight and he talked some s--- about me even though he knew I had the injury. They'd helped me with the injury. That was the last straw for me."
[+] Enlarge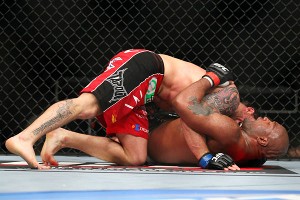 Susumu Nagao for ESPN.comQuinton Jackson said he was injured when he fought Ryan Bader in Japan last year.
While "Rampage" Jackson has clearly fallen out of love with the UFC, his MMA career is far from over.
"I'm training better than ever now my knee is fixed. I was fighting with a bum knee for 12 years and it finally gave out on me before the Bader fight. Now I'm getting better, I'm getting faster. I've got a good team around me and I'm more positive now so I know this is the next chapter for me. I'm training harder than I have in a long time and I know I'm gonna destroy this guy," Jackson states calmly. "These next fights are about my legacy. I wanna go out there and destroy some people in MMA and move on and start making movies and TV shows and video games."
Rampage, then, clearly has a focused plan beyond the UFC and is showing no signs of slowing down. "I got at least 10 more fights in me and I want those fights to be my legacy, but I want to do that in a positive organization."
However, before any of that, he must first take on Glover Teixeira and show the fans and his detractors that Rampage remains a dangerous threat in the cage. Many are questioning Quinton, citing the fact that he has lost his last two bouts. But, one was a Fight of the Night loss to the champion Jones, while the other saw Jackson injured yet determined to give the Japanese fans a show.
"I'll fight anybody to get this last fight out of the way. I can't wait to leave the UFC and have nothing to do with them anymore," reveals Jackson. "I don't see Glover as a huge threat or that his skills are so good. He's pretty tough. I mean, anything can happen in the cage. MMA is unpredictable. My job is to fight and I take chances all the time."
But Rampage and his team are obviously doing their homework, looking at Glover's skills and examining key areas. "I am sure he is going to try to take me down. He's talked all this smack about how he is gonna stand with me, but he's gonna do what everyone else tries to do and take me down."
In truth, Jackson doesn't care what Teixeira is going to try to do.
"I'm going out there to destroy him, and then I'm done with the UFC and I can move on." In what should be an explosive last Octagon outing for Quinton Jackson -- win, lose or draw -- Rampage is eager to get the job done and look to the future.