December, 5, 2011
12/05/11
2:41
PM ET
It took all of about seven minutes for the "Mayhem" to drain out of
Jason Miller
at "The Ultimate Fighter" season 14 finale.
In a bout scheduled for 25 minutes, that wasn't even close to long enough. Now, two days removed from his hard-to-watch, third-round TKO loss to
Michael Bisping
on Saturday, we're still waiting for an official verdict on whether Miller's long-awaited UFC comeback will end after just one fight.
As impossible as it is to imagine that it would, UFC President Dana White doesn't sound overly optimistic about his chances.
"I don't know; we'll see," White told
Heavy.com
, when asked if he'd give Miller another fight. "He didn't have a good performance against
Georges St. Pierre
[at UFC 52] and he definitely didn't have a good performance against Michael Bisping."
Point taken. Yet it would be pretty harsh if, after a six-year absence, the UFC chose to judge Miller solely on the basis of a 2005 fight against St. Pierre and his Octagon return versus Bisping. After all, the roster is littered with guys who've been undone by GSP and UFC debuts (of which Miller now essentially has two) are notoriously difficult.
Not to let him off the hook for this woeful performance, but the "Mayhem" we saw in the cage on Saturday seemed a different guy than the one we'd come to expect after a 10-year, 31-fight career. A contender of his caliber deserves one more chance to prove he belongs. If he doesn't get it, that'll be a shame.
[+] Enlarge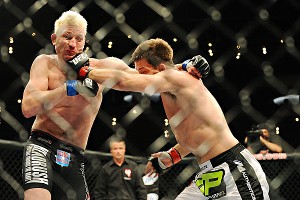 Al Powers for ESPN.comJason Miller, left, was holding his own with Michael Bisping -- until the second round rolled along.
If Miller gets cut now, we might never know why he wasn't ready to go two full rounds (let alone five) at Bisping's pace on Saturday. Was it an aberration, brought on by ring rust, an adrenaline dump or the dreaded "Octagon jitters"? Is it indicative of some larger problem in his training or, worse yet, his overall ability? Or is Bisping really just
that
good?
It seems worth it to get another look at Miller in order to find out.
Before the bottom dropped out on him midway through the second, things weren't going so bad for Miller. His spastic offense caught Bisping off guard in the early going and Miller scored with kicks and looping punches. He sprinted into the teeth of Bisping's attack, basically daring the Brit to knock him out, and even took him down a minute, 45 seconds into the fight. While he never had Bisping in any serious trouble, he controlled the bulk of the opening round from something approaching the mount and should've gotten the nod on most scorecards.
That momentum may have been fleeting, and the endgame stages some of the ugliest in recent memory, but the first round -- while wild and a little sloppy -- showed that Miller can still compete. After spending the last few years making a cottage industry out of just being himself, this loss doesn't totally undo him as a popular and marketable fighter, either. He remains a singular figure in the sport and could still be quality asset for the UFC, so long as he can right the ship in the near future.
His first fight back in the Octagon left us with unexpected questions. Hopefully, the company lets Miller stick around long enough for us to get some answers.
December, 2, 2011
12/02/11
2:58
PM ET
Both
Michael Bisping
and
Jason Miller
say they're perfectly content with the circumstances of Saturday night's "Ultimate Fighter" season 14 finale.
Never mind that they seem to be caught in the middle of the UFC's divorce from SpikeTV and (perhaps due to the uncertainty surrounding that split) their otherwise pay-per-view quality bout has been relegated to free television and the intimate settings of The Pearl at the Palms. Never mind the fact the fight company canceled the prefight news conference and open workouts this week, appearing satisfied to ride out the end of this marriage in shared silence.
Miller and Bisping are fighters, so they don't concern themselves much with that stuff. Or at least if they do, they don't let on.
Likewise, neither guy will cop to being overly concerned with the stakes of their grudge match or where they stand in the middleweight rat race, which has only gotten murkier over the past few days.
Here's what we think we know at this exact moment: Anderson Silva's 36-year-old shoulder will likely keep him out until June, at which point the UFC may or may not be planning to showcase its 185-pound champion in a 100,000-seat mega stadium in Sao Paolo, Brazil, against an opponent still to be announced. We'd all previously assumed that TBA would be
Chael Sonnen
, but with each passing day it appears more and more likely the promotion will stick to its guns about The
Rashad Evans
Rule and not let Sonnen sit out to wait for his title shot.
[+] Enlarge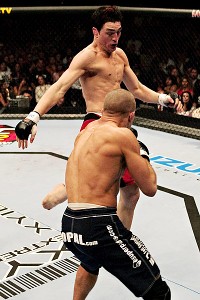 Josh Hedges/Getty ImagesJason Miller is hoping for a better outing in the Octagon than last time around.
Rumors ran hot and heavy last week that the former Oregon wrestler might face off with
Mark Munoz
at the UFC's second live show on FOX, but a few days ago Sonnen went on record saying he believes he'll get the winner of Bisping versus Miller instead. Naturally, there's also a decent chance Sonnen is just saying stuff for his own amusement, so his words really leave us no closer to answers than we were before.
Bisping, who has been hovering on the outskirts of contender status for some time, doesn't believe a win over Miller would do much to move him up the ladder. He intimated this week that he sees this fight simply as a chance to get some added cage time, earn a little more money and shut the mouth of a guy it turned out he didn't particularly like while they filmed a season of reality television together. By that same token, though, a loss to an Octagon newcomer, no matter how accomplished, could be disastrous for his title aspirations.
For Miller -- who returns action for the first time in more than a year -- a second run in the UFC gives him a chance to prove he's more than just a television personality, that when he's not dropping one-liners on out-of-shape bullies on MTV2, he has what it takes to compete at MMA's highest level. A win over Bisping would show he's been underrated these last few years of globetrotting and sporadic competition, while a loss (especially a bad one) would raise significant questions about his long-term future in the Octagon.
Being so preoccupied by the damage they plan to do to each other, it doesn't seem like the fighters will care a lick about the long-term until after the fight Saturday night. Until then, they're happy to leave such big-picture questions to fans and media types.
It's just that, with no prefight news conference, there isn't a great place to ask.
September, 15, 2011
9/15/11
3:12
PM ET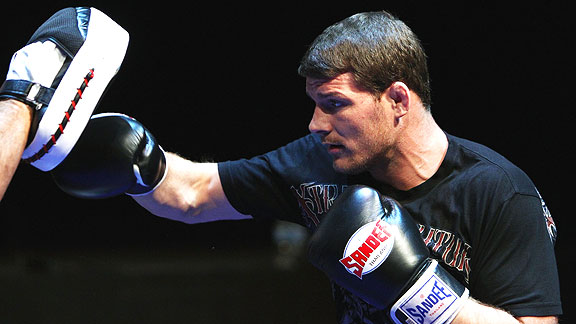 Mark Nolan/Getty ImagesCan Michael Bisping really be that passionate about disliking someone he hardly even knows?
There are plenty of reasons to feel optimistic about season 14 of "The Ultimate Fighter," which debuts on SpikeTV next Wednesday amid an unusually fierce media buildup.
As the first installment of the UFC's popular reality show set to feature featherweights and bantamweights, it's basically a given that this season will boast one of the most talented and experienced TUF casts in recent memory. The fights will undoubtedly also be great, as nearly any random assortment of 135 and 145-pound fighters can usually be counted on to bring it. Perhaps most importantly, season 14 marks "The Ultimate Fighter's" swan song on Spike and UFC officials are promising sweeping changes for future seasons which -- if they work out -- could breathe new life into a product that desperately needs retooling.
Of all the reasons for hope however, I'm not sure this budding feud between coaches
Michael Bisping
and Jason "Mayhem" Miller is one of them.
Make no mistake, both Bisping and Miller are great fighters, are among the sport's most intriguing personalities and a bout between the two has the potential to be outstanding, if for no other reason than as a compelling pairing of styles. They're also sure to make adequate coaches, with their combined 56 fights and 17 years experience.
It's just that, it rang a little hollow this week when Miller and Bisping showed on Wednesday's media conference call for the express purpose of bickering with each other. Granted, it was entertaining, but the bad blood they're going so far out of their way to establish simply lacks substance because (just like the rest of TUF) it's so obviously a product of television.
Unlike previous rival coaches like season 2's
Tito Ortiz
and
Ken Shamrock
, season 10's
Rashad Evans
and
Quinton Jackson
or season 12's
Georges St. Pierre
and
Josh Koscheck
, Miller and Bisping have no preexisting beef. They admit they barely knew each other before reporting for duty on the "Ultimate Fighter" set and since they've never even been signed to the same promotion at the same time before, whatever friction sprang up between them while making this TV show is just that: Made for TV.
[+] Enlarge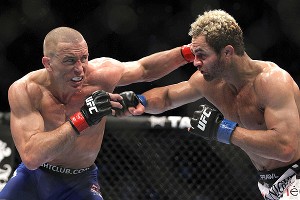 Al Bello/Zuffa LLC/Getty ImagesGeorges St. Pierre, left, and Josh Koscheck had a score to settle going into and coming out of the TUF house.
It's not that their dislike feels staged or scripted. I'm sure after spending several weeks together during production, the animosity is real and there's frankly no need to script anything when you're dealing with two guys who talk as well as Miller and Bisping do. At this point though, they don't really come off as enemies so much as two guys who know exactly what we all expect from them as opposing coaches on a reality show that's already been on the air for 13 seasons and six years.
Remember, Bisping and Miller netted these jobs simply because we
knew
they wouldn't like each other; because we knew Bisping can come off as cocky and abrasive and because we knew that the prankster in Miller wouldn't be able to resist antagonizing him. We knew that with TV cameras filming and TUF's contrived team format pitting them against each other and more than a dozen seasons setting precedent, there was no other possible outcome.
Miller essentially admitted as much this week.
"I noticed after the first week [of filming] that I was a bit bored, so I immediately started cranking it up so that there would be some interaction between me and Mike," he said during Wednesday's call. "At the end of the day, we're doing television and we need to make something happen so that the audience is engaged."
Therein lies the rub of reality television. Is it the reality that makes the TV, or the TV that makes the reality? For that matter, is there anything wrong with sending two guys into a situation where all parties involved implicitly understand they're supposed to come out as adversaries? Maybe not, but it's certainly a lot less interesting that way.
At this point, I can't help but wonder if it might have been more fascinating and unexpected if Miller and Bisping had spent all that time filming TUF and come out with nothing but nice things to say about each other.