April, 24, 2014
Apr 24
10:51
AM ET
Yes,
Glover Teixeira
is 34 years old.
At a time when UFC fighters generally begin their decent into physical and skill-set mediocrity, Teixeira has only now risen to his peak.
Teixeira (22-2) hasn't lost since 2005 and is 5-0 since coming to the UFC in 2012. In his last fight, against
Ryan Bader
in September, Teixeira dismantled Bader via first-round TKO. However, against UFC light heavyweight champion
Jon Jones
at UFC 172 on Saturday, Teixeira gives away 8 inches of reach and about eight years in age to the 26-year-old Jones.
But consider age a state of mind. Just don't call Teixeira old. Sure, it took him a while just to get to the UFC, but with the quick work he made of his opponents, a title shot in the UFC never seemed far off.
"Well, I had trouble with my visa and I was stuck in Brazil, so I couldn't get into the UFC," Teixeira said. "But some things happen for a reason. So during that time I was able to get more experience. It worked out good for me in the end."
Indeed, that experience will have to take him far against Jones, who says he was renewed and invigorated in this fight camp after what he viewed as his lackluster performance against
Alexander Gustafsson
at UFC 165 in September. Gustafsson went the distance with Jones, who broke a toe in the process. Jones said he had the "worst camp of his career" in preparing for Gustafsson, but the champ said he's completely prepared this time.
Teixeira doesn't seem to care. And why should he? Teixeira hasn't lost in nine years. He only knows how to win.
[+] Enlarge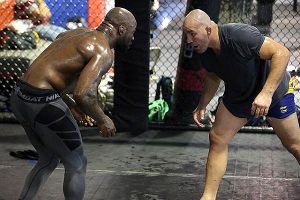 Dave Mandel/Sherdog.comTraining with the likes of King Mo Lawal has helped prepare Glover Teixeira for what's to come against Jon Jones.
He admits he had some butterflies before his first UFC fight against
Kyle Kingsbury
at UFC 146; it was a happy nervous that he was finally fighting in the UFC. Now, against Jones, there might be some of that in fighting for a title. But it's not because of Jones.
Teixeira attributes this to the support he's received at American Top Team in Coconut Creek, Fla. He's sparring with champions and All-Americans every day. So to him, Jones is just another guy.
"At ATT, I have great coaches and training partners. Muay Thai, jiu-jitsu champions, K-1 champions. They also brought John Hackleman down to train with, and
Steve Mocco
is one of the best wrestlers in U.S. history. I trained with him for my last three fights. King Mo [
Muhammed Lawal
] was there for half the camp. There's so much talent and experience to learn from. Jones is the champ and he is great, but right now he's just another guy in front of me."
Teixeira's wins in the UFC have dispelled the notion that his competition outside the league was substandard. There was some lack of name recognition, both from his previous opponents and for himself.
Mauricio Rua
reportedly declined to fight Teixeira for UFC 149, citing Teixeira's then-lack of ranking within the light heavyweight division. UFC boss Dana White was not happy. But Teixeira couldn't be mad at his fellow countryman.
"I don't think what he did was cool, but I don't like, how do you say it -- holding a grudge," Teixeira said. "That was only a year and a half ago, maybe. And now I'm fighting for the title. So what do I have to be mad about?"
And you can bet Rua would take a fight with Teixeira now.
It is this easygoing, nice-guy demeanor that makes it seem as if Teixeira is still flying under the radar. Certainly, after he got to the UFC, it didn't take long for him to run through anyone the UFC put in front of him. And calling Jones "just another guy" doesn't come off as bravado. Rather, it seems simply more like a serendipitous perspective. Whatever comes his way, he'll take it on. He doesn't overly self-promote despite a healthy 57,000 Twitter followers. There just isn't a lot of show.
"I'll fight anyone who the UFC asks me to fight," Teixeira said. "It doesn't matter; I'm just glad to be fighting in the UFC and I want that belt."
He'll have to figure out a way to close the distance between him and Jones (that is, Jones' massive reach advantage). To be sure, Teixeira's chin has yet to be tested.
But he's confident in both phases of his game: "Since I came to the UFC, I've improved everything in my game. My wrestling, my striking and having more overall experience. My coaches have made a good strategy for me so now it's time for me to do it in the Octagon and take that belt."
Sounds like Teixeira is just getting started. Not bad for an "old" guy.
January, 30, 2014
Jan 30
8:00
AM ET
Urijah Faber
has spent his life building. He's been building his body, his wrestling and MMA skills and career, his Alpha Male fight team and residential houses in his hometown of Sacramento.
However, what Faber and Team Alpha Male really have built over the past year is momentum.
Consider what Team Alpha Male's core of Faber, featherweight
Chad Mendes
and flyweight
Joseph Benavidez
accomplished in 2013:
Mendes went 3-0 in 2013, with convincing knockout/TKO wins over
Darren Elkins
and
Clay Guida
, as well as a unanimous decision over a game
Nik Lentz
at UFC on Fox 9 in December while battling a sinus and upper respiratory infection.
Benavidez headed into his flyweight title bout with UFC champ
Demetrious Johnson
at UFC on Fox 9 also 3-0 in 2013. Though he was knocked out by Johnson, he had already defeated
Ian McCall
in a unanimous decision and knocked out
Darren Uyenoyama
and
Jussier Formiga
earlier in the year.
Faber went 4-0 in 2013, with impressive wins against
Ivan Menjivar
,
Scott Jorgensen
, Iuri Alcantara and culminating in his submission of highly rated
Michael McDonald
at UFC on Fox 9.
Add in the fact that 26-year-old bantamweight
Chris Holdsworth
emerged the winner of Season 18 of "The Ultimate Fighter," and it's easy to see why the Team Alpha Male gym often has many unfamiliar faces training there these days -- the team's popularity and success is drawing fans and wanna-be training partners from all over the world.
[+] Enlarge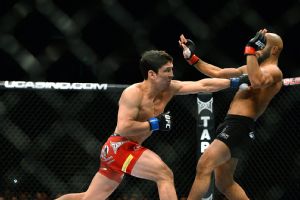 Al Powers for ESPNJoseph Benavidez, right, is one of the three Team Alpha Male fighters who could win a title in 2014.
And yet, with all of the team's success over the past year, a UFC title still eludes them. Indeed, between Benavidez, Faber and Mendes, the trio is 0-5 in UFC title bouts. However, that could change Feb. 1 at UFC 169 when Faber will battle interim bantamweight champion
Renan Barao
, to whom Faber lost at UFC 149 in 2012. Faber replaces former champ
Dominick Cruz
, who could not fight due to injury and vacated the title.
In fact, five of Faber's six losses have been in championship bouts dating back to the WEC. One could look at that in a glass half-empty or half-full perspective. What Faber won't stand is talk that he gets title shots because he's marketable.
"It really irks me when I hear that," Faber said. "What does that mean? Plenty of guys are marketable. But people forget I've been fighting a long time, when this sport was just getting started ... You last that long because you win."
Now heading into 2014, Team Alpha Male's best chances for that first UFC title rest on its leader and founder's shoulders. But Faber and his teammates keep their feet firmly on the ground, and not just because they're wrestlers.
"We obviously go into every fight thinking that it's very winnable," Benavidez said. "Sure, right now it's our 'best chance' simply because we haven't won one yet. We look at it as a brand-new opportunity every time one of us gets a shot. It says a lot about the team -- not many teams have that many guys going for titles.
"I don't really believe in fate or anything like that," Benavidez added. "But when you're dealing with fighting the best in the world, it comes down to fractions of seconds and inches. And the fact of the matter is it can just be a difficult task. It's just something we haven't done yet. Any other given night we believe we're the best fighters in the world, but those particular nights it just hasn't happened for us."
However, considering the roll Team Alpha Male is on, that time could come soon. And it all starts with a Bang.
Help wanted
[+] Enlarge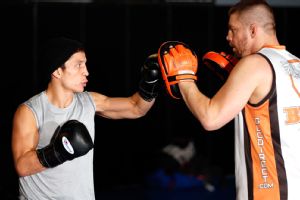 Josh Hedges/Zuffa LLC/Getty ImagesCoach Duane Ludwig, right, has been a great addition to Team Alpha Male.
No doubt Team Alpha Male's success rests with its core group of pro fighters, but they've largely done it on their own, without a head coach-type figure. Enter longtime UFC welterweight Duane "Bang" Ludwig.
"When I first started the team, guys weren't making much money and I wanted to keep as much of it in the fighters' pockets [as possible], so we didn't hire a coach," Faber said. "But since we brought Duane in, I think all the guys can see a big difference in the way practices are run and the progress they're making because of Duane's influence."
In 2012, Faber said he knew it had come time to install some sort of head coach. His short list included Ludwig and former UFC featherweight
Mark Hominick
. In the end, Faber chose Ludwig because he felt the 170-pound Ludwig could also help Team Alpha Male develop fighters beyond 155 pounds. By December 2012 he was named head coach and in 2013 the results have been obvious.
"It was basically what we needed," Mendes said. "Before it was just all of us working together and helping each other out, and sharing techniques, searching for what was right. And we didn't have it. But having Duane come in, who's been in the UFC for a long time has been great. He came in and grabbed the team and said this is the Bang system and we're going to implement it. But what was cool was he knew a lot of what we were doing was working well, but just some things needed to be added or switched up. Fine-tuned. And that's what he did.
"That head coach figure is important for me as someone I can believe in and trust to tell me what I'm doing right or wrong, what's working or not," Mendes added.
[+] Enlarge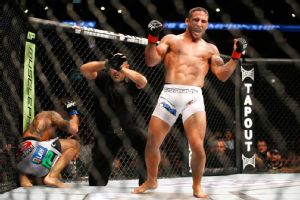 Ross Dettman for ESPNChad Mendes went 3-0 last year and would love to avenge in 2014 the only loss of his career against Jose Aldo.
However, Faber's leadership is the focal point of Team Alpha Male. He's shaped the team and its philosophy often at his own expense -- even allowing fighters to live at one of the several houses he owns in Sacramento. But he's also aware enough to recognize that when his team grumbled for more structure and a head coach, he had to go get one. And he has tried to help equip members of his team with the same tools that made him successful.
Faber provides sports psychology and life coaching sessions for Alpha Male teammates, as well as marketing and career advice. It is a tight-knit team enjoying a pinnacle of success right now.
"I had the greatest support system a person could have in my family. But some guys never had that," Faber said. "So I'm trying to give them those same tools and that same support that I got."
With his latest title shot approaching this week, he will rely on that support. And like everything else he does with Team Alpha Male, if he wins the title, he'll share it with them.
January, 23, 2014
Jan 23
9:08
AM ET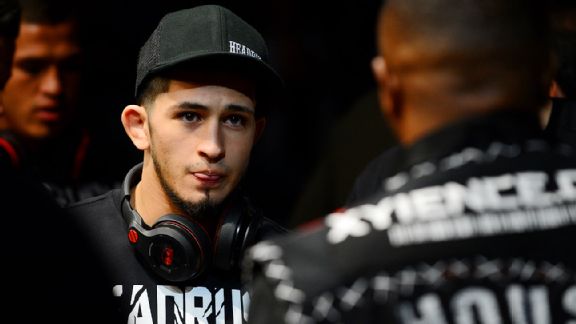 Al Powers for ESPNWith brother and UFC champ Anthony over his shoulder, bantamweight Sergio Pettis is on the rise.
Just call it brotherly love.
Fans of UFC featherweight
Clay Guida
might recall a head-shaking prefight ritual between him and brother
Jason Guida
. Before every one of Clay's fights, in the prefight prep point, Jason would slap his younger -- and significantly smaller -- brother in the face, seemingly to prepare Clay for his fight.
Whap! Whap! Whap!
Whether this was the key to Clay's success is debatable, but he certainly has had a solid and fruitful career in the UFC, which is really what any older brother would want for his younger sibling. Clay first got into MMA because Jason was fighting on a local card in Illinois. They needed a volunteer to fill in for an injured fighter, so Clay jumped in and the rest is history.
There's always a little sibling rivalry between brothers. Younger brothers often look up to their older brothers, using them as yardsticks for their own success or motivation to succeed.
This Saturday,
Sergio Pettis
, the younger brother of UFC lightweight champ
Anthony Pettis
, faces
Alex Caceres
in a bantamweight bout on the undercard of
UFC on Fox 10
. Expect a smorgasbord of athleticism. Both young fighters are technically skilled strikers with a lot of bounce and speed. For Sergio, it can't get better having his UFC champion and world-class athlete brother to help in training.
"I've got a lot of good people around me, my coaches, training partners, and I have Anthony," Sergio Pettis said. "I can learn from his mistakes. Eventually I want us to be the first pair of brothers to have UFC belts at the same time."
And who better to give him championship advice than his champion older brother.
"Anthony's always said just have fun with it," Sergio Pettis said. "Before my first fight I was starting to get some bad thoughts and hearing too many of the comments people were making. He just said to forget all that and just have fun. So I'm much more relaxed for this fight."
[+] Enlarge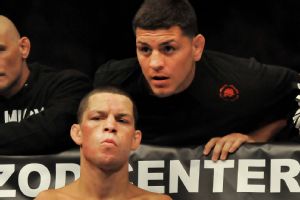 David Dermer/Diamond Images/Getty ImagesNate and Nick Diaz have become one of the UFC's more notable brother combinations with each becoming a top contender in recent years.
Mixed martial arts boasts a formidable list of brothers-in-arms. Some of the more notable sets of siblings include the Nogueiras --
Antonio Rodrigo
and
Antonio Rogerio
-- as well as the Ruas --
Mauricio
,
Murilo
and Marcos -- have long histories of success dating back to early PRIDE days. Likewise, the Overeems --
Alistair
and
Valentijn
-- have enjoyed success across fight leagues, and the Millers --
Jim
and
Dan
-- and Diazes --
Nick
and
Nate
-- have been top contenders in the UFC for the last half decade.
Perhaps it's the fraternity of the gym or the brotherhood of combat sports that strengthens the bonds between these sets of siblings, but -- like the Guidas -- it's the older brother who usually introduces the younger brother to MMA. Likewise, Valentijn Overeem brought Alistair to a gym to learn how to defend himself.
But often it's the younger brother who outperforms the older brother. Heck, even Eli Manning has two Super Bowl rings, but Peyton only has one.
While Dan Miller is a UFC veteran respected as one of the best BJJ practitioners, Jim has probably experienced more career success than Dan. He doesn't see that as a feather in his cap, however. The brothers take the wins and losses together.
"It's not something I'm really happy about," Jim Miller said. "I want all the success in the world for Dan. He's capable of so much. But because he's the 185-pounder, I'm the one who benefits from our size difference. Fighting one of the best 185-pounders makes fighting 155-pounders easy. If it was reversed, and I was the bigger one, I'm sure he'd be doing better than me."
At 10-0, Sergio Pettis is one of the new breed of young fighters who have trained in multiple disciplines from an early age. After watching Anthony's first three fights, Sergio was bit by the MMA bug. Both have deep backgrounds in taekwondo, with Sergio starting at age three. They even owned their own dojo in Milwaukee at one point with their eldest brother.
Does he think he can eventually eclipse Anthony's success? That's a tall order considering the flash with which Anthony shot up the ranks and captured the UFC lightweight title. "Showtime" might be his brother, but Sergio isn't interested in the spotlight. Is doing better than his brother just a side effect of any success or an objective?
[+] Enlarge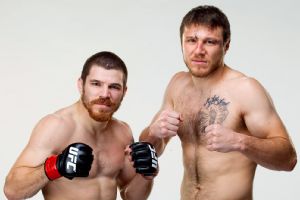 Mike Roach/Zuffa LLC/Getty ImagesHaving brother Dan, right, two divisions above him to spar against has only helped the growth of lightweight Jim Miller.
"I'm still really new to the UFC, just starting out my career," said Sergio Pettis, who had posted a 9-0 record in MMA feeder league Resurrection Fighting Alliance. "I have a lot of expectations for myself. But there's that possibility that I could be better than Anthony. I'm shooting for that!
"But right now it's about me just finding my way through the UFC and continuing to win. I want to stay active and fight four times this year. I'm still in Anthony's shadow and eventually I'm sure I'll step out from under it, but right now I'm just focused on winning as many fights as I can."
Duke Roufus, coach of the Pettis brothers, has said Sergio has the potential to be even better than Anthony. With Anthony sidelined with a knee injury, Sergio is the reigning Pettis right now. And against Caceres, fans should expect lots of leather flying.
"I know he likes to move around a lot and likes to use some flashy moves," Sergio said. "But I train with Anthony so there's plenty of flashy moves to practice against."
Perhaps for any younger brother, it might be most important to simply live up to the bar standard any older brother might set. That's a tough enough fight.
"Anyone who wants to learn how a man really holds himself with class and composure should watch my brother Dan," Jim Miller said. "I always try to live up to that."
December, 15, 2013
12/15/13
7:33
AM ET
If any questions still lingered about whether
Demetrious Johnson
is the best flyweight fighter in the world, his right fist answered every one of them unequivocally Saturday night in his first-round demolition of
Joseph Benavidez
at UFC on Fox 9 in Sacramento, Calif.
Johnson planted a solid right on Benavidez's jaw, dropping Benavidez cold to the canvas. The knockout marked the second consecutive finish for Johnson, who submitted
John Moraga
at UFC on Fox 8 with an arm bar.
Johnson's two finishes stonewall the run of seven straight decisions he posted en route to winning the UFC's flyweight belt and in defense of it. Not only has Johnson perhaps proved himself a champion to his critics, but also champions a weight class that has perhaps thirsted for respect.
"Those people who said they hate the flyweight division don't know [expletive] about fighting," said UFC President Dana White shortly after Johnson's first title defense, at UFC on Fox 6 in Chicago. "It's not a deep division, they're fighting the same guys. ... These guys know how to fight."
Johnson has cleaned out the division, with wins over all the top challengers, including Benavidez twice, Moraga,
John Dodson
and
Ian McCall
. And with the impressive knockout win over Benavidez, it should leave little doubt about who's the clear-cut best flyweight in the world.
However, Johnson's rise through the pound-for-pound rankings has been slow, perhaps for the very reasons White detailed, as well as Johnson's inability to finish fights until recently. Dare we say overlooked? And why shouldn't Johnson be in the discussion for the top pound-for-pound fighter in MMA?
Against Benevidez, Johnson's technique was exquisite, as it was against Moraga and Dodson. If Johnson seemed hesitant early against Dodson, he was dominant against Moraga and precise against Benavidez. His boxing was crisp and flawless, earning him "Knockout of the night" honors. Against Moraga, Johnson relied on his grappling, earning "Submission of the night" honors. Under trainer
Matt Hume
at AMC Pankration in Kirkland, Wash., Johnson has become a dangerously efficient fighter.
The scary thing that is Johnson, 27, continues to get better. He also seems to be settling into his position as a UFC champion. In a year in which the UFC has seem a seismic shift in titleholders --
Anderson Silva
and
Benson Henderson
both losing titles,
Georges St-Pierre
vacating after a controversial win, and
Jon Jones
looking absolutely human against
Alexander Gustafsson
-- Johnson and perhaps heavyweight champ
Cain Velasquez
offer the most stability atop their respective divisions.
The flyweight might be the lightest class in the UFC, but it doesn't mean its members should be taken lightly. After Johnson's latest win, his inclusion in the pound-for-pound discussion was all but assured, and the legitimacy of the flyweight division cemented. Johnson is already ranked eighth in
ESPN's pound-for-pound rankings
.
"You know, if people want to see me as the best pound-for-pound fighter in the world, that's totally fine," Johnson said during the postfight new conference. "My job is to go back to the gym and keep on improving, keep on showcasing my skill set with finishes and knockouts."
Johnson's climb into those rankings might have been slow, but considering his dominance over the flyweight division, his ousting from it might take equally as long. The only question that remains is whether Johnson, with a 3-0 record including two title defenses and two finishes in 2013, will win "Fighter of the year" honors?
"There's no doubt he should be in the running for that," White said.
And with all those wins coming in front of non-pay-per-view national audiences, rest assured Johnson will no longer be overlooked.