April, 10, 2013
4/10/13
5:24
AM ET

By Franklin McNeil
ESPN.com
Archive
With a record of 1-2 inside UFC, middleweight
Hector Lombard
is considering a move to welterweight.
According to a report Tuesday night on Fuel TV, the former Bellator 185-pound titleholder might attempt a trial cut sometime after undergoing surgery on his broken nose.
Lombard, who is expected to have surgery within the next two weeks, injured his nose during a split decision loss to
Yushin Okami
in March.
It has been suggested that the UFC wants Lombard to move down to welterweight. Lombard, however, is unsure he can cut enough muscle to make the weight but seems willing to give it a shot.
Although Lombard has not officially said he will drop to 170 pounds, he has offered hints during the past few weeks.
"Trying to lean my muscles," the 35-year-old said on Twitter last month. "Any tips besides running?"
On Monday he offered a stronger hint that a weight cut was in order: "Looking forward to working with [well-known nutritionist] Mike Dolce."
The muscular striker generated a lot of excitement in April 2012 when he signed a multifight deal with UFC. And for good reason -- Lombard brought a 25-bout win streak into his new fighting home.
He has a professional record of 32-4-1 with one no-contest.
July, 12, 2012
7/12/12
7:14
AM ET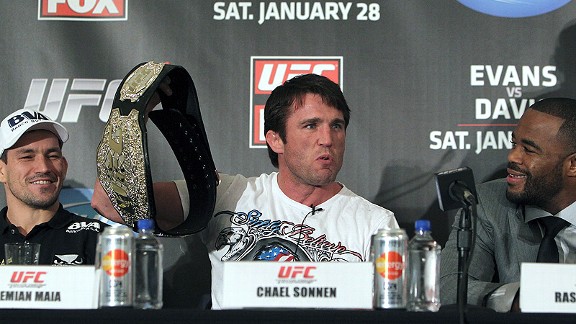 Josh Hedges/Zuffa LLC/Getty ImagesIt's possible Chael Sonnen wouldn't have to parade around with a fake belt if Anderson Silva retired.
Anderson Silva
hung up his gloves after stopping
Chael Sonnen
on Saturday. The best middleweight in MMA history, arguably the top fighter over the first two decades of the sport's modern era, had nothing left to accomplish. So he did the sensible thing. He walked away healthy. Left with his legacy intact.
OK ... on the unlikely chance you're freaked out right now, relax. My lede is as real as Sonnen's UFC championship belt. Someday, though, Silva, 37, having established and maintained unparalleled records of longevity in the UFC, will leave the sport.
What happens then? A free-for-all at 185 pounds? Will a fighter emerge and establish his own dominant track?
Based on Wednesday's clash in San Jose, Calif., between
Mark Munoz
and
Chris Weidman
, the division won't lack for talent. The unbeaten Weidman was to-a-T perfect, landing a beautiful standing counter elbow that sliced open the Filipino Wrecking Machine en route to a bloody second round stoppage. Perhaps the 28-year-old wrestler from Long Island is the next big thing and the man to end Silva's reign. He sure looked like a force against Munoz, and whether or not Silva is around to test him, Weidman will surely have a say about the future of the middleweight division.
[+] Enlarge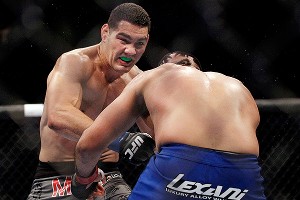 AP Photo/Jeff ChiuChris Weidman would be one to watch in an Anderson Silva-free middleweight division.
While the perceived gulf between Silva and his 185-compatriots befits the Grand Canyon, perhaps emerging contenders like Weidman suggests it's not as wide as we think.
At the very least, a cadre of contenders ensures a merry-go-round at the top of the class, a hint that winning the belt does not come with an implicit guarantee of retaining it.
Who are the best candidates to replace Silva when he finally walks (or maybe before he does)?
Chris Weidman
With less than 10 pro fights you'd think he doesn't have the experience to challenge Silva. But history suggests this isn't any kind of deterrent to championship aspirations in the UFC. Thus far, Weidman did everything that promotion has asked of him, and looked great in the process.
Over the long haul, among the contenders that exist today, Weidman has established himself (in my mind at least) as the front-running prospective champion. That could be the afterglow of Wednesday's one-sided beatdown talking, but this is a guy with all the makings of a serious fighter.
He's more than a wrestler. He's a long wrestler. And if there was any doubt about his striking acumen I'll refer you to the elbow that sealed the deal against Munoz.
Billed by his coach Ray Longo as a natural, Weidman plays the part well.
Chael Sonnen
Yes, Sonnen. He didn't beat Silva, but who has? It's a whole different (i.e. less difficult) scenario taking on the smorgasbord that would exist in the Brazilian's absence. Sonnen's most trying opponent is often himself. Negotiating mental hurdles to claim a belt, even if it's not from Silva, remains his biggest challenge.
Collective groans from the peanut gallery on this one. But the man deserves more respect than he gets. No matter how vigorously some fans hate on Bisping, it's clear he's a threat and continues to improve, especially in the area of takedown defense. When he fights with composure there are few better at overwhelming opponents with angst and volume punching than the veteran Brit.
Here's the thing with Lombard: no one knows how good he is.
You can surmise and infer all you want. The fact is Lombard, formerly the Bellator middleweight champion, hasn't fought anyone at or near their prime in years. If he gets past
Tim Boetsch
(big if) then he'll earn credibility. Without needing to fight Silva, whose length and accuracy are massive factors against the short yet powerful Cuban, Lombard could have a shot at making this happen.
Another big middleweight who can do more than a little bit of everything. Belcher's win against
Rousimar Palhares
in May indicated the 28-year-old, fighting out of Biloxi, Miss., is nearing the top of his game. With his confidence soaring, Belcher is a test for anyone at 185 pounds.
First things first, he has to matriculate to the UFC. For now let's pretend that instead of fighting for Zuffa's unfortunately low-rent Strikeforce, Rockhold has already made his way to the Octagon. The athletic, lanky, aggressive Californian should not be underestimated. He's learning on the job, which is a strike against him, but so far so good. If he handles
Tim Kennedy
with ease this Saturday, there's no reason Rockhold shouldn't be mentioned in the same class as the cream of UFC's 185-pound crop.
July, 6, 2012
7/06/12
11:12
AM ET
Months removed from his third loss in 17 fights,
Anderson Silva
stepped into a cage with
Jorge Rivera
in London. This was spring 2005, more than a year prior to the lanky Brazilian middleweight entering the UFC and embarking on the longest title reign in the organization's 19-year history.
Rivera, a recently retired slugger from Framingham, Mass., knew, like most everyone else at the time, that Silva was a raptor. But Silva was also far from perfect. After lifting his record to 11-1 and winning a respected championship at 170 pounds, Silva was submitted twice in 18 months under improbable circumstances.
First it was a triangle choke against undersized underdog Daiju Takase. Then came arguably the greatest submission the sport has produced: Ryo Chonan's flying scissor heel hook (as stunning to watch as it sounds).
Coming off the Chonan shocker, Silva certainly wasn't thought of as the best mixed martial artist in the game, not as he is today. Still, middleweights including Rivera took heed of Silva's impressive sparring exploits in Brazil. They also saw enough of Silva in action to realize the depth and threat of his potential.
"I knew he was great," said Rivera, whose confirmation was punctuated in the middle of the second round by laser-guided concussive knees and punches. "I just wanted to see where I stood against a guy at his level. It was a very humbling experience."
Indeed, since stopping Rivera, now an MMA analyst for ESPN, Silva has been nothing short of brilliant. There's that bogus disqualification against
Yushin Okami
in Hawaii, but remove it from the ledger and Silva, 37, has won 17 straight (including revenge over Okami last August -- one of 15 memorable stoppages during that stretch, eight in less than a round).
Numbers frame Silva's dominance, but they don't explain what makes him special. To get a glimpse, just watch him at work. Silva doesn't merely employ quality footwork, he dances. "A ballet of violence," coined UFC color commentator Joe Rogan during an interview with ESPN in 2008. He isn't just accurate. He's a Ranger sniper who moving backward can snap out the fabled jab that ended Forrest Griffin's night. Or, without tipping it off for one millisecond, slam a front kick off Vitor Belfort's chin.
He dances and, never to be overlooked, prances on the faces of his UFC challengers.
The middleweight division became so simple for Silva that it was ridiculed for a lack of depth and quality. That's not fair, sighed
Rich Franklin
(twice),
Nate Marquardt
,
Dan Henderson
,
Chael Sonnen
and Belfort. And it's also not true. But such was the state of things until Sonnen pushed Silva to the limit in 2010.
Saturday in Las Vegas, Silva (31-4) meets the man for whom he holds no love. He has come to detest Sonnen, the acerbic American who
nearly
beat him, then acted as if he had, among other equally annoying transgressions. That makes sense because there are only two opinions to be had when it comes to Sonnen. Love him; hate him. Silva loudly sides with the latter, but he can't deny Sonnen is the best thing that could have happened to his outstanding career.
Silva finally found an antagonist destined to draw out his best.
[+] Enlarge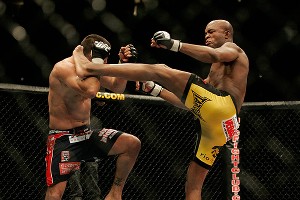 Ric Fogel for EsPN.comWins over the likes of Dan Henderson, left, have already secured Anderson Silva's legacy.
"I don't think we've seen all this man's skills yet," Rivera suggested.
Helping to smooth out consecutive sloppy, odd and disinterested title defenses, Sonnen's challenge prompted Silva to dramatically seal a miracle finish with a technique he told his camp before the fight he would use. That's legendary stuff. Sonnen dominated Silva to the point where there won't be any questions to ask about the Brazilian's championship spirit. Sonnen brought more than enough promotion for the both of them, something Silva never excelled at. And, germane to Saturday's rematch, the challenger's haranguing pushed Silva in a way that surprised even the people closest around him.
A ninja is as angry as he's ever been and, because confident killers rarely show their hand, it's all so very interesting. Will the elegant southpaw counter-fighter reboot long-forgotten Chute Boxe programming and make like a predator drone? "I would love to see a guy who's really agitated looking to take someone's head off," Rivera said of the champion. "I want to see what he looks like."
For as much as Silva's already done, handling Sonnen within ballistic range of the DEFCON 1 he promised could top an amazing list of finishes.
But say it's all a trap? Sonnen sucks Silva into overaggressiveness, a mistake and bad position. Chael Sonnen, UFC champion? If that happens, Silva's legacy atop the sport as one of its truly special combatants won't change. His run, now official, is saved in the record book. One way or another, it's going to end. That's inevitable. So is the utterance of Anderson Silva among MMA's all-time best.
March, 15, 2012
3/15/12
1:13
PM ET

By Chad Dundas
ESPN.com
Archive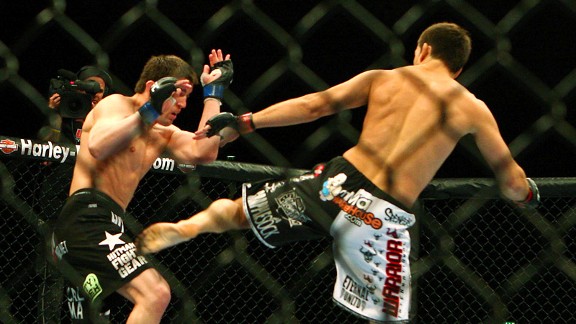 AP Photo/Tom HeveziDemian Maia's last big win came against Chael Sonnen, left, in 2009.
The path from middleweight to welterweight has been a treacherous one as of late.
In recent months, a number of highly regarded fighters --
Jake Shields
,
Yoshihiro Akiyama
and
Nate Marquardt
all spring immediately to mind -- have attempted the cut from 185 to 170 pounds and for very disparate reasons, none have hit the jackpot like we assumed they might.
At this point, any one of those guys could probably tell
Demian Maia
a few cautionary tales.
While the individual experiences of Shields, Akiyama and Marquardt don't pertain specifically to Maia, the Brazilian jiu-jitsu specialist should be warned after announcing on Twitter this week he'll move from middle to welter: No matter who you are -- a champion in his prime, a high-dollar international free agent or a former top five stalwart -- this particular jump is far from a sure thing.
[+] Enlarge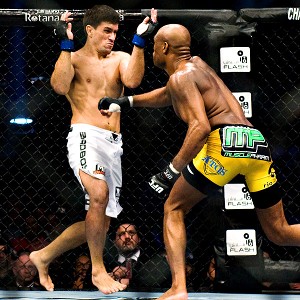 Martin McNeil for ESPN.comDemian Maia's standup has improved over the years, but he's still not seeing the results on his ledger.
Not that Maia really has any other choice. He's essentially found himself chased out of the 185-pound division after going 1-2 in his last three fights. His recent loss to
Chris Weidman
knocked him out of the ESPN.com middleweight power rankings and, though he once challenged
Anderson Silva
for the title, he hasn't beaten a top-tier opponent since his submission victory over
Chael Sonnen
at UFC 95 back in 2009.
Oddly, Maia's mediocre 4-4 mark during the last three years has coincided with a noticeable professional evolution. He's received near unilateral praise for the obvious improvements he's made in his standup game. He's certainly more dangerous now than when he dropped fights to Silva at UFC 112 and to Marquardt at UFC 102, but so far, the proof hasn't shown up where it counts the most: his win-loss record.
Now, eight months shy of turning 35, Maia seeks the instant coat of paint and spit shine that dropping a weight division can provide. It's true, when a former top contender steps down a class we have a tendency to look at him with fresh eyes.
The trouble is, he'll enter a welterweight division that has never been more competitive and which boasts a current crop of contenders to rival even the shark tank of the lightweight ranks. Does the prospect of running up against guys like
Jake Ellenberger
,
Nick Diaz
or
Johny Hendricks
make 170 pounds seem preferable to 185?
[+] Enlarge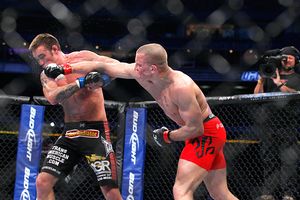 Ric Fogel for ESPN.comMoving down to welterweight doesn't guarantee results. Just ask Jake Shields.
Probably not. In fact, it might even be worse for him. The whole division is effectively on hold until
Georges St. Pierre
returns from knee surgery and with
Carlos Condit
, Diaz and Ellenberger already in the pole position, it'll be a long wait in very dangerous territory before Maia even has a chance to earn himself a shot at welterweight gold.
If anything, this is probably a lateral move, and one he pretty much had to make. Moving down is just what you do when you feel like you've warn out your welcome in the place where you started. For most guys, like Akiyama, it's just way of buying yourself a couple more fights.
Win one or two, then lose one, mumble something about how the weight cut takes too much out of you and move back up. Such is the cycle of life in MMA.
Word to the wise, though: Be careful. Lately, the move from welterweight to middleweight hasn't been a safe bet, either. Just ask
Anthony Johnson
.
March, 13, 2012
3/13/12
6:12
AM ET

By Chad Dundas
ESPN.com
Archive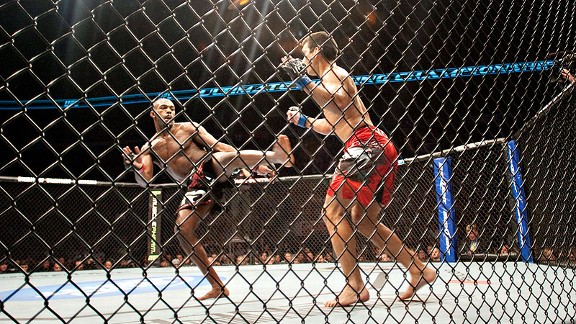 AP Photo/Chris YoungKicking around Anderson Silva's buddy Lyoto Machida is about as close as Jon Jones will get to "The Spider."
Hands down, the most frustrating thing about discussing a potential superfight between
Jon Jones
and
Anderson Silva
is that -- for whatever reason -- the two people least interested in making it happen are Jones and Silva themselves.
The mere idea of watching the UFC's legendary middleweight champion square off with its legend-in-the-making light heavyweight titlist is enough to make the most jaded MMA fan salivate like a giant cartoon dog. UFC brass too ought to sprout glittering, emerald dollar signs in their eyes when they think about a dream matchup between two of the top pound-for-pound fighters in the world.
Simply put, this is the kind of fight that could come around but once in a generation. For fans, it would have potential to be the most-anticipated MMA event of all time. For the UFC, it could provide a significant pay-per-view boost in the wake of losing
Brock Lesnar
to retirement and
Georges St. Pierre
to a serious knee injury.
But as for Jones and Silva? Frankly, they just don't seem that into it.
"I'd rather not deal with Anderson ...," Jones reminded us over the weekend, during an interview with
a Portuguese language news outlet
. "I respect and look up to him so much. For me, the ideal scenario would be having him as my mentor and learn with him after he retires. It would be great for me."
These sentiments only echo those already voiced by Silva, who has made it known he'd like to finish out his career at 185 pounds rather than chase bigger prizes at light heavy. Even UFC President Dana White conceded recently that Silva-Jones likely isn't happening any time soon. With Silva already 37 years old and Jones content to do his own thing, it feels less and less likely with each passing day that this superfight will ever come to pass.
So, what gives? Why don't Jones and Silva appear to want anything to do with what would undoubtedly be the most lucrative and most important fight of their careers? Why does Jones make it sound like a household chore when he says he doesn't want to "deal" with Silva?
[+] Enlarge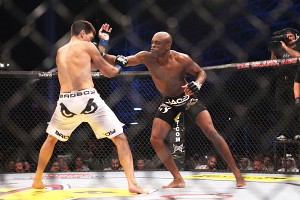 AP PhotoCan we really blame Anderson Silva if he chooses not to move up at this stage of his career?
To hear the principals tell it, there's just too much mutual admiration floating around. Jones has made no secret of the fact that he idolized Silva during his brief formative period in MMA. That he obsessively watched videos of Silva's fights and did his level best to emulate his style. Silva too is on record saying he and Jones are now "friends" and that he has little interest in fighting the sport's next big thing.
It's hard not to wonder if both fighters also see this bout as a tremendous risk. For Silva, maybe it feels a little late in the game to put his celebrated six-year, 14-fight win streak in jeopardy against a next generation version of himself. To be honest, I can't blame him. If the options are to either tempt fate against the bigger, younger Jones or to coast off into retirement undefeated in the Octagon and as the consensus pick for greatest MMA fighter of all time, well, the choice seems pretty clear.
Obviously, Silva doesn't lose all of that political capital if he's defeated by Jones, but for a guy who has nothing left to prove in the sport, what's really to gain?
While the stakes would be less grave for Jones, he too owes much of his current drawing power to the aura of invincibility that surrounds him. It's hard to imagine him passing through the rest of his UFC career without suffering a legitimate loss, but why take this particular risk? Sure, if he wins he becomes the man who took out Anderson Silva -- an aging, out-of-his-weight-class Anderson Silva -- but Jones probably believes he'll pass Silva on the GOAT list anyway if he simply stays the course. Especially if after this year he finds success in the heavyweight division, as he says is his plan.
On the other hand, take a loss (and possibly a knockout) at the hands of a guy from a lighter weight class? Even if that guy is the best ever, that smarts for the ol' legacy.
In the end, maybe we're left with the reality that as fans (which is short for fanatic, remember) MMA is our passion. For fighters, maybe it's just a job. One where it's not worth risking friendship and future gains for a one-off superfight that everybody
else
wants to see.
November, 5, 2011
11/05/11
7:57
PM ET
Mark Munoz
is as polite as he is vicious.
These aren't necessarily competing ideas, though the implied contradiction doesn't need to be pointed out. However he manages to do it, Munoz pulls off both character traits exceedingly well.
As proof: Saturday evening in Birmingham, England. Munoz was nothing less than vicious while executing a plan of attack that allowed him to simultaneously damage and control
Chris Leben
. In other words, Munoz put Leben on the canvas and ground-and-pounded one of the UFC's most established veterans into a vision-impaired bloody mess.
We know through nearly two decades of popularized mixed martial arts that there isn't a style more connected to winning than pinning an opponent to the canvas and unleashing every fistic tool available. Ground-and-pound is the most basic, effective and common route to exerting your will onto another person. The mere coinage of the term is testament to that.
Munoz only stood in front of Leben as was required. He wasn't scared to trade punches, but it was clear from the outset that it wasn't his intention. And when you're as dominant on the floor as Munoz tends to be, why would you approach a fight any other way?
Between the second and third rounds, after Leben dealt with being repeatedly smashed in the face, he expressed the fact that he could no longer see. The fight was over. Such endeth the viciousness. It was time for Munoz -- the polite.
Speaking in a cage red with the blood of a man he just mauled, Munoz wondered aloud to UFC color commentator Joe Rogan if middleweight champion
Anderson Silva
might be so inclined to grant him an opportunity to fight for the title.
[+] Enlarge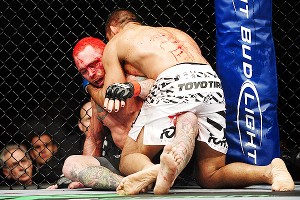 Martin McNeil for ESPN.comChris Leben, bottom, had no answers for Mark Munoz's attack at UFC 138.
That's paraphrased, but you get the sentiment. He was very sweet about it, and not in any contrived sense of the word. Nope, this was Munoz being Munoz.
Chael Sonnen
might have bellowed into a microphone in an attempt to defame and embarrass the best fighter of his generation. Munoz, alternately, acted as if he might not be worthy of the opportunity, but he sought it nonetheless. No matter what happens with the rest of his career, that humility will serve him well as he continues on in this world.
On the merits, you can argue whether or not Munoz "deserves" the title shot. But let's say Silva agrees, the UFC signs off, and sometime in 2012 the "Filipino Wrecking Machine" is set to fight a man he deeply respects -- a former training partner, or, more accurately, a training mentor.
So what kind of shot does Munoz have?
Well, we saw what Sonnen did to Silva. Munoz, too, is an excellent wrestler. As previously mentioned, he knows what to do when opponents are grounded. It makes sense that Munoz could put Silva on his back and unleash enough venom to hurt the champion. Munoz, like Sonnen, is a high-output fighter. He won't tire easily. His aggressive, physical method on the floor also helps him avoid submissions. Munoz maintains posture very well.
All those things could come into play and help him upend the UFC middleweight champion. Of course, no one matches "The Spider" when it comes to stand-up striking. The champion exists in a world of his own, but Munoz can take comfort in knowing he's excelled at range and control. And if he can close distance and turn it into a brawl, hey, why not?
Munoz is plain likable and that's an important factor, too.
Silva is better when he's angry. It motivates him. Considering what we know about Munoz, he wouldn't play the part of a flamethrower like Sonnen has. He doesn't need to, nor does he want to. Yet when it's time to work, Munoz is no less prepared to smash and maim.
Vicious and polite. Now that's a tough combination to beat.