September, 25, 2014
9/25/14
4:35
AM ET

By Brett Okamoto
ESPN.com
Archive
UFC female bantamweight contender
Cat Zingano
says she doesn't dwell on what was once hers.
Seventeen months ago, Zingano (8-0) made her UFC debut against
Miesha Tate
at "The Ultimate Fighter 17" finale in Las Vegas.
Zingano won the bout via TKO midway through the third round, solidifying herself as the division's No. 1 contender and next in line to face defending champion
Ronda Rousey
. Prior to the title fight, the two were scheduled to coach the 18th season of TUF against each other.
The following month, Zingano, 32, blew out her right knee while training and was replaced on TUF by Tate. She had her sights set on Rousey again in January when her husband, Mauricio, took his own life in Denver. Zingano returns to the Octagon for the first time since the tragedy this weekend in a bout against
Amanda Nunes
at UFC 178 in Las Vegas.
She remains one of the most attractive options to fight Rousey (10-0), who dominated three opponents in her absence. If it happens, it will be more of a new opportunity than a reclaimed old one. After all that has happened since she last fought, Zingano feels little connection to what her status was in April 2013.
"Everything is different," Zingano told ESPN.com. "I'm not even thinking about any of that. I just want to keep going. All of that was what was next back then and now it's not anymore. I'm focused on what's really next."
[+] Enlarge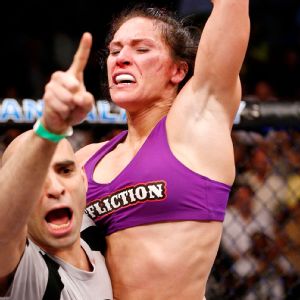 Josh Hedges/Zuffa LLC/Getty ImagesInjuries and personal setbacks -- including the suicide of her husband, Mauricio, temporarily stalled Cat Zingano's career.
What's really next this weekend is a familiar opponent in Nunes (9-3), whom Zingano was scheduled to fight at a Strikeforce event in September 2012. The bout never happened when the entire card was canceled after an injury to the main event.
For Zingano, the familiarity stops basically at Nunes' name. Fighting out of Elevation Fight Team in Colorado, Zingano says she has never game planned specifically for opponents -- and that included Nunes.
"Even when we were scheduled to fight, I didn't study her," Zingano said. "I never study my opponents. I don't watch film. I don't game plan. I just constantly try to learn and improve with each fight.
"I'm looking at every opponent like I'm fighting myself. I train for me. I train to be the best in the world. That's how I fight."
Despite the severity of the damage to her right knee, which actually contributed to a left knee injury as she overcompensated, Zingano said she was always confident she'd return full strength. She elected to undergo regenerative stem cell therapy in October, which consists of injecting platelet-rich plasma into the area in lieu of a standard meniscus scope.
As most athletes who have endured a knee injury will testify to, it took time for Zingano to regain confidence in the joint. While she obviously feels comfortable enough to step back into the Octagon, she admits it's a daily process that is still ongoing.
"It was a really simple thing I did to injure myself, so to get back to big things was a struggle," Zingano said. "But breaking through those barriers was huge and it made me feel even stronger. It's day-by-day, moment-by-moment. Some days are better than others but I'm always moving forward; never going backwards."
Moving forward will inevitably land Zingano in a title fight against Rousey, sooner rather than later. While it's certainly still a goal of Zingano's to hold a UFC belt, it's not the end all, be all to her this weekend. This weekend is about keeping her eyes straight ahead and not looking behind her.
"Every fight is always different," she said. "There is a different element in everything. That adaptation, that feeling of dealing with fear, anxiety, nerves, excitement, power -- it's different each time. I'm learning from it constantly and making it a part of my life."