November, 15, 2013
11/15/13
10:14
PM ET

By Brett Okamoto
ESPN.com
Archive
More than likely,
Johny Hendricks
is going to need a lot more than just his left hand to beat
Georges St-Pierre
on Saturday at
UFC 167
in Las Vegas.
Hendricks will need confidence, patience, discipline, intelligence, offensive and defensive grappling, stamina, feints, level changes, head movement, footwork and, maybe, some luck for good measure. A little luck never hurt anybody in a UFC title fight.
That left hand, though -- the reason you hear so much about it is because even though Hendricks (15-1) must take every tool he has into the Octagon against St-Pierre, at any moment that one left hand might be all it takes.
What is it about that left hand that makes it so dangerous and gives us reason to believe Hendricks could become just the third man to ever defeat St-Pierre (24-2), and first since 2007?
ESPN.com asked that question of Hendricks, as well as St-Pierre and five previous Hendricks opponents with firsthand knowledge of that stinging left.
Hendricks:
"Realistically, [the power] comes from my legs and my butt. I walk around at 225. I have big legs and a big butt. That's where all the power comes from. And, you know, wrestling -- always being in that stance and ready to explode."
Handling Hendricks' power
T.J. Grant
(lost to Hendricks via majority decision at UFC 113 in May 2010): "The thing is, he doesn't have to try to throw for power -- he just has it. He has always got his legs involved in every punch, too. That's when you murder guys, when you have your feet and hips involved in every punch. That's why Johny has so much power is all his life in wrestling. When he throws that big Popeye forearm at your head, you're going to go down."
St-Pierre:
"His left is his signature move but he works on many things. He's a very complete fighter. He's probably one of the best in the division in knockout power and the reason why is he's so good you don't see it coming. The way he throws it, I believe you don't see it coming."
Martin Kampmann
(lost to Hendricks via knockout at UFC 154 in November 2012): "I think the problem was I was preparing too much for the left hook and then he came straight with one. The one he got
[Jon] Fitch
with, he was throwing it wide, wide. With me, he came straight down the middle."
Rick Story
(defeated Hendricks via unanimous decision at TUF 12 Finale in December 2010): "During the fight, when he was punching me, I thought, 'Eh, this is nothing I haven't felt before.' He's placing them. His punching power isn't seriously superior. To be able to place them you have to throw them and some people hesitate. He has got confidence in it now so he's throwing a lot more."
Josh Koscheck
(lost to Hendricks via split decision at UFC on Fox in May 2012): "For me, it was no big deal. I like fighting southpaws. I prefer it. They are better for my style. When he throws the left, I throw the right. I think he has definitely got power in his hands because he has knocked out a lot of guys and the ones he hasn't have felt it because they've been knocked down, but for me it was no big deal."
Mike Pierce
(lost to Hendricks via split decision at UFC 133 in August 2011): "It wasn't his straight left hand that caught me off guard. His left uppercut is kind of funky and then his coach [Marc Laimon] yelling, 'Cheeseburger, cheeseburger!' code names for combinations. He hits pretty hard but not the hardest. I got thumped pretty hard by
Aaron Simpson
, that was probably the hardest I've ever been hit."
Making adjustments
[+] Enlarge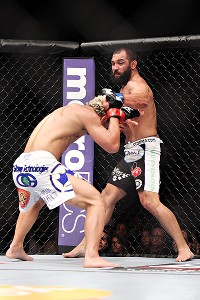 AP Photo/Gregory PayanJosh Koscheck withstood Johny Hendricks' power, but was unable to win a decision in their 2012 bout.
Story:
"The main concern going into the fight was he knew he was heavy-handed, but the thing is, with all his previous fights, he was always pushing forward. My coach, Pat White, told me, 'If you get him going backward, he's not going to have any power on his punches.' That was my biggest focus."
Koscheck:
"The game plan for Johny was to mix it up on the feet. You can hear [trainer] Bob Cook in the corner, it's crazy, he's always saying, 'Get off first! Be first!' That was pretty much our game plan -- get off first, get on him. With Hendricks, it's much easier to get off first and then get away from the big left hand."
Grant:
"He has got timing. He puts his whole body behind his punches. He is accurate but a lot of times he also level changes with his head and hips and that kind of brings the guys' hands down. He 100 percent commits. He's a confident fighter. When you're confident, you don't hesitate and those milliseconds of hesitation are the difference between knocking a guy out or taking him down."
Story:
"What's important for Georges is to stay out of Johny's range. What's important for Johny is to get into Georges' range. He's going to have to mix it up and get pretty creative. Georges has been doing this a long time."
Hendricks:
"Whenever you're wrestling in college, you've got to do all these setups and your reaction from [outside of an opponent to inside] has to penetrate through all these distractions and get to the legs very quickly and explosively. That's what has really helped me out [in fighting]. They try to keep me at bay because I'm so short, but I use that explosiveness to close the distance."
Predictions
Kampmann:
"If Johny catches him on the button he'll hurt him, but St-Pierre is going to fight him smart. He's going to try to jab him from the outside the whole fight. Johny is good at closing the distance but he's going to get jabbed the whole fight. If Johny commits hard, that's how I think St-Pierre will take him down. Even though Johny is the better wrestler, I think St-Pierre can still take him down. That's how I think St-Pierre is going to fight him, but sometimes s--- don't go to plan."
Koscheck:
"Johny Hendricks is a tough young fighter and I wish him the best but I think St-Pierre will outpoint him. Georges is smart. He's a game planner. He'll jab, use his wrestling at times, keep Johny at a distance and get off first. Georges is a lot faster than Johny. He'll end up winning a decision."
Pierce:
"I'm definitely going for Johny Hendricks. I want to see him knock Georges St-Pierre out. In his past several fights Johny has really excelled at catching guys. St-Pierre has shown in the past he doesn't have the best chin in the world. We all saw him fall to
Matt Serra
and I think Hendricks has all the capabilities to do the same sort of thing and even more so."
Grant:
"You can never count Georges out of any fight, but I think this is probably the most dangerous fighter he has fought just because Johny has that great wrestling pedigree. Unlike Koscheck, I feel like he's really good at making the knockout happen, whereas Koscheck wings a lot of right hands and if it doesn't land, he doesn't always have the second and third option -- I think Johny does. I give the advantage to Johny, personally."
Hendricks:
"Whenever you get a guy that walks in at 190 to 195 pounds -- that's usually what I walk into the Octagon at -- and you get that moving pretty quick, he can throw a 50 percent punch and lay somebody out. It's about accuracy. You touch that jawline and anybody is going night-night."
October, 1, 2013
10/01/13
12:22
PM ET

By Brett Okamoto
ESPN.com
Archive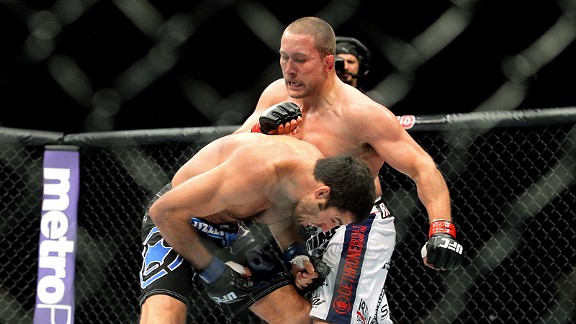 Ed Mulholland for ESPNNot satisfied with "underrated" status, Mike Pierce wants a bout against a top-tier UFC welterweight.
Mike Pierce
has reached that defining moment in his relationship with Joe Silva, matchmaker for the UFC.
Apparently, wins (Pierce has nine in the UFC) haven't caught Silva's attention. Neither have finishes (two in his last three fights). It's time to try beer.
"Maybe I need to get a big pitcher of beer for Joe and sit down and hash this out," Pierce told ESPN.com. "No, it's just one of those things where I have to keep doing what I'm doing until they can't ignore me anymore."
Pierce (17-5), who faces
Rousimar Palhares
at UFC Fight Night 29 next week in Sao Paulo, Brail, wants a fight that matters. The kind of fight that breaks you into the Top 10.
He holds a lifetime UFC record of 9-3. All three losses were by close decision to highly ranked opponents. The split decision loss to
Josh Koscheck
in February 2012? Pierce says he "clearly" won that.
Following his last victory, a TKO finish over
David Mitchell
in the second round at UFC 162 in Las Vegas, a photo was taken of Pierce smiling toward Silva, with his hands at his sides turned upward, like -- Hey Joe, can I get a big fight now?
What he got was Palhares (14-5), who is on a 2-fight losing streak and dropping to welterweight for the first time. Pierce, meanwhile, has won four in a row.
How does Pierce, 33, feel about this matchup leading into the fight? ESPN.com asked him, among other things.
ESPN:
What was your first reaction to hearing you were fighting Palhares?
Pierce:
I thought it was kind of funny because if you look back on my career, there have been a lot of guys the UFC has thrown at me where it was their last chance at doing something. If they didn't do something, they either got released or would drop a weight class or something. It's kind of like another one of those situations. He's lost twice in a row and is dropping to 170. I've dealt with guys before who have dropped from 185 and it didn't go their way.
ESPN:
Why do you think the UFC likes to book you against that type of opponent?
Pierce:
Man, your guess is as good as mine. I've done some things in the sport. I've beat some tough guys and I've had real close calls with some guys that are fighting for the title real soon. It does blow my mind as to why. I can't quite answer or fully understand it.
ESPN:
That kind of matchmaking starting to bother you?
Pierce:
Of course, I'm p---ed off. I want to start getting those main card fights against notable guys. Palhares has fought some tough guys. He's got a little bit of credence to his name but I want to start working my up. This guy is coming off two losses and I'm on a 4-fight win streak. Typically, they don't match up guys like that.
ESPN:
Have you complained to the UFC about it?
Pierce:
I haven't had too much interaction with Joe Silva. I've had brief words with him. He's not a huge fan of most people who smash guys up against the fence and grind on them, hit them on the side, that sort of stuff -- which, I get. That's not exciting. He's like, "I don't care if it's a submission, a TKO or a knockout. Look for finishes." I get that, but it's hard to do that sometimes when a guy is fresh or you have two skilled fighters. It's hard to catch them sleeping. And I have had two good finishes in my last three fights.
ESPN:
What are your thoughts on Palhares' style? He has a history of going real deep on submission attempts in the Octagon.
Pierce:
Well yeah, there was that one clear, obvious one where he held it when the referee told him to let go and he got fined by a commission (UFC 111). Then recently, he tested positive for elevated testosterone levels (UFC on FX 6), so this guy is definitely a cheat. There's no surprise. He'll do anything to win because he's either desperate or an (a------). I'm not too concerned about that. I come in expecting he's going to be mean, try to be a bully, try to cheat -- I have to deal with it.
ESPN:
The tag "underrated" has started to follow you. You agree with it?
Pierce:
Whenever the media does mention me it's always as, "the most underrated welterweight." I thoroughly agree with that. I think for whatever reason, people overlook me, but I don't think the fighters do. I think the fighters in the welterweight division think, 'That's not really a guy I want to fight.'
ESPN:
You've had close losses to
Johny Hendricks
and Koscheck. You ever think about those? Like, if one judge had seen it different, your entire career changes?
Pierce:
I only think about them when guys interview me and bring it up. No, I think about it from time to time. Had things gone my way, of course things would be a little different but that's how it goes when you have judges who don't see what everybody else sees. Especially with the Koscheck fight -- I clearly won that fight. I won it on paper. I won it visually to everybody watching except for the judges it seems like. At the end of the day, those three judges get to make that decision and they didn't do a good job that night I believe -- but you've got to look forward.
February, 21, 2013
2/21/13
4:13
PM ET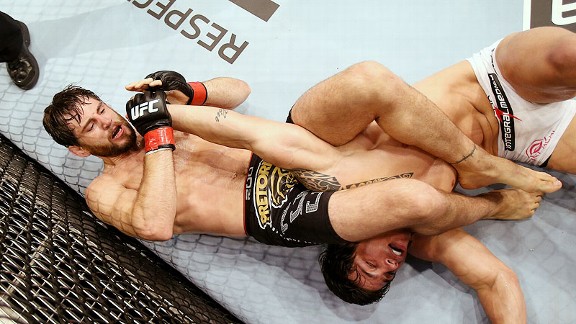 Josh Hedges/Getty ImagesNow with WSOF, Jon Fitch promises to be a more aggressive and exciting fighter.
What does it say when
Jon Fitch
-- one of the winningest welterweights ever to roll off the assembly line -- gets cut by the UFC? Primarily that the UFC doesn't necessarily view winning "by any means" as an avenue for sustained success.
Not in 2013, anyway. Not with television deals and an influx of Strikeforce talent and so many cards bursting at the seams with so many bouts.
Success is multifaceted and involved and actually very simple. The idea is this: Entertain us. Success is powerful fists and hospital visits and charisma and whatever it is
Cub Swanson
does -- all
supported
with a few wins.
Fitch doesn't do pageantry, and he doesn't do brawls. He shows up disheveled and ready to roll. In fact, he became his own verb in his seven years with the UFC. To be "fitched" was a real and particularly unenviable thing for those who signed on to fight him. It was a form of nihilistic wrestling into ground-and-pound. Fitch "fitched" such commodities as
Thiago Alves
,
Ben Saunders
and
Mike Pierce
. He rained ice picks on
Paulo Thiago
's steel chin, before getting classically "out-fitched" by
Demian Maia
.
He has always been about endurance, and that's the problem. Fitch is the dictator with the snarl, the original "grinder."
Chris Wilson
, who knew the score heading into his UFC 82 bout with Fitch, once said to me with a certain kind of sly reverence: "What's he going to do? Summon the wind?" No. Fitch summons something more physical. At his vintage best, he dishes up 15 minutes of utterly hopeless futility.
And that futility, unfortunately, extends to the spectator -- which is why today he's holding a pink slip with a UFC record of 14-3-1. It's not that he's breaking the bank to get $65,000 in show money, or that he had that whole flare-up back in the day with the UFC over video game rights (though these could be factors). It's that he dominates people in forgettable fashion. He shuts down judo players, slick jiu-jitsu artists, dynamic strikers and kickboxers with industrial cold. Now he's gone (as you and I know) because of it, and we're left theorizing if he and
Ben Askren
are destined to nullify each other for five rounds in Bellator.
[+] Enlarge
Gary A. Vasquez/USA TODAY SportsJon Fitch's ho-hum performance against Demian Maia was the last straw for the UFC.
Fitch, along with such veterans as
Vladimir Matyushenko
,
Mike Russow
,
Josh Grispi
,
Che Mills
,
Paul Sass
and others were cut from the UFC in a roster dump.
Jacob Volkmann
was on that list, too, despite winning six of his last eight bouts as a lightweight. His problem? He bears a Fitch-like resemblance to you know who.
Other than Fitch, these cuts aren't so much unexpected as they are declaratory. The message is get busy thrilling, or get busy Bellatoring. Be something that everybody wants to watch, or be someplace else. If you're not captivating, then you're a problem elite. You are Jon Fitch, the perennial contender who of late has ironically A) begun to lose while B) fighting more excitingly.
That's why, all things considered, the timing is a bit strange. Fitch goes 1-2 in his past three fights, and it becomes a good opportunity for the UFC to part ways. But look at those three fights. There was the knockout he received at the hands of
Johny Hendricks
(which was memorable, particularly as Fitch tried to single-leg referee Steve Mazaggatti as he came to). Then there was the
Erick Silva
barnburner in Brazil, where he appeared rejuvenated and determined to put on a show. That won "fight of the night" honors. And finally the Maia bout, which was a letdown. He was outclassed by a Velcro version of his former self. But before that he was 13-1-1, which screams out for the Hall of Fame.
Did he deserve to be cut? No. The spirit of mixed martial arts is (presumably) to present a gamut of styles in the cage, to see whose is best. Fitch has been solid for a long time. In fact, he's been dominant. His style trumps most others. But he's so good at one-sided full-length fights that we have him dialed in as aggravatingly predictable.
Obviously, the UFC is frustrated with him as well, to the point his name has now taken on a new meaning. "Fitch" in adjective form has become just another word for expendable.
February, 13, 2012
2/13/12
12:27
PM ET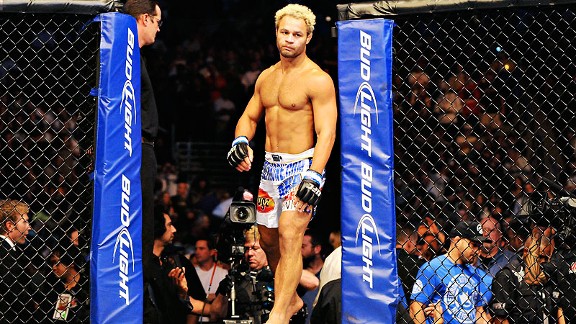 Dustin Bradford/Icon SMIHere he comes again: All that matters to Josh Koscheck is that you keep talking about him.
Josh Koscheck
invites you to hate him. Why? Because he was one of the earliest subscribers to the "as long as you care" camp. If you can't stand him, that's like saying you won't miss the chance to see him get his head smashed in. That's like saying you love him.
But something about Koscheck's heel mode has never seemed right. When he was calling
Chris Leben
a "fatherless bastard" on the first season of the "Ultimate Fighter," he just came off like your ordinary punk. By the time he was coaching opposite
Georges St. Pierre
on the show 11 seasons later, his demeanor had only been tweaked by success -- it was cockiness with actual backing. This version, the entrepreneurial one, had a Ferrari in his garage in Fresno; the first version had just a few trophies from his collegiate wrestling days at Edinboro University.
Does any of this make for a heel? Definitely annoying, maybe shallow. If we're talking
heels
heels, Koscheck is certainly well heeled and open about it. Koscheck has always been hard to know aside from his materialistic desires. Even his close friends, the ones who know the "real" Koscheck, are generally business people where real is often interdistinguishable from the alternative.
But think about that, anyway -- if only specific VIPs know the other side of Koscheck, and it's a circle that's so tight and protected from commoners as to become elitist, doesn't that amount to the same thing?
It's a strange place to have to go in search of a genuine center. But that's Koscheck -- or as much of him as we can glean.
Yet heel or not, he's once again making his way back up the welterweight rungs as a sort of man without a country. He lost his title bid to Georges St. Pierre in December 2010, effectively turning him into the
Rich Franklin
of the welterweight division. As he recovered from broken orbital bones suffered in the St. Pierre bout, his options were limited to this: migrate or guard the gate. By the time Koscheck resurfaced to fight
Matt Hughes
nine months later, he was talking about exclusive "big fights" or a possible run in the middleweight division. This was Franklin all over again (only, you know, he was threatening to sue
Stephan Bonnar
).
Then things changed.
With St. Pierre's knee injury, the introduction of an interim belt, and a victory over
Mike Pierce
at UFC 143, Koscheck appears to be neither gatekeeper nor division-hopper. Instead he appears again as a contender. And just like that he will fight
Johny Hendricks
in May in a bout with significant ties to another title shot.
[+] Enlarge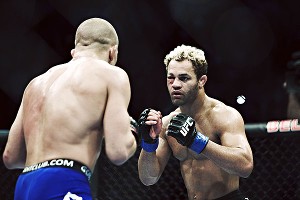 Marc Lecureuil/Getty ImagesLike it or not, Josh Koscheck might be closing in on another shot at Georges St. Pierre.
In this way,
Dan Hardy
might have touched on more than he knew when he said that Koscheck was an "unflushable." Think the idea of Koscheck/St. Pierre III isn't exciting? Kos couldn't care less of what you think. He even went so far as to say he hoped St. Pierre would never fully recover from knee surgery. If you can't beat them, hope for divine intervention.
But here's where things get different -- this time, as Koscheck makes his way back, he'll do it as a lone wolf. He revealed after the Pierce fight that he was no longer training at his long-time hub in San Jose, Calif., the American Kickboxing Academy -- that he was now a full-time member of himself in Fresno. Though this feels like the way it should be, AKA has always been the sweet side of Koscheck's loyalties. This was what kept him from looking like a bounty hunter with peroxide curls -- training partners
Jon Fitch
and
Mike Swick
were his brothers. They were part of his "inner-circle," part of the Zinkin bond.
Now they are separate. And even though they're no longer gymmates, Koscheck still contends that he'd sooner retire than fight Fitch. A little mystery toward the deeper chords of brotherhood? Maybe. But if you listen to what Koscheck has been saying for the last couple of years -- all this braggadocio stuff about being a "gold-digger, baby" -- you'd have to wonder if loyalties would tend toward Fitch or Benjamin Franklin if presented.
Perhaps then we'll know if he's a true heel or a man of very strict guns and principles. Because right now he's a prolific fighter who we love to hate, yet who's smart enough to know exactly how reversible that phrase is.
And the strange thing is, at 34 years old and entering his 20th UFC fight since 2005, Koscheck might finally be coming into Koscheck. Here's a guy who left AKA to go the course alone, who is inviting New Jersey to make like Montreal and give him full-throttle hate, and who, despite it all, is a win away from perhaps forcing a fight on the public that virtually nobody other than he himself wants. Well, you know who he caters to, and it isn't the public.
Only it sort of is. By daring you to hate him, he's ensuring that you at least care. And that's a pretty calculated heel if there's ever been one.
February, 6, 2012
2/06/12
2:36
PM ET
Though
Nick Diaz
didn't leave Mandalay Bay Events Center in Las Vegas with Saturday night's most-coveted honor -- the UFC welterweight interim title -- he did go home with a nice consolation prize.
The Nevada State Athletic Commission revealed on Monday that Diaz earned $200,000 for his five-round unanimous decision loss to
Carlos Condit
, making UFC 143's highest-paid participant.
Condit made $55,000 for the fight. Besides the bout purse, Condit pocketed an additional $55,000 for his victory, which gave him the welterweight interim belt and a shot at current 170-pound titleholder
Georges St. Pierre
.
Welterweight contender
Josh Koscheck
received a check for $146,000. He was paid $73,000 for participating on the card and another $73,000 for his split decision win over
Mike Pierce
-- who was paid $20,000 for the fight.
Heavyweight
Fabricio Werdum
, who looked impressive en route to a unanimous decision over rugged
Roy Nelson
, took home $100,000. A win bonus was not part of Werdum's fight agreement. Nelson was paid $20,000.
Highly ranked bantamweight contender
Renan Barao
earned $22,000 -- he picked up $11,000 for the fight and an additional $11,000 after defeating
Scott Jorgensen
by unanimous decision. Jorgensen made $20,500 for his effort.
Rounding out the payment compensation for UFC 143 main card participants were middleweights
Ed Herman
($62,000, which included a $31,000 win bonus) and
Clifford Starks
($8,000). Herman won the fight by rear-naked choke in the second round.
Additionally, the UFC has officially asked the Nevada State Athletic Commission for the dates of May 26 and July 7. The promotion intends to hold events on those dates at MGM Grand Garden Arena. UFC has not yet revealed any details as to which fighters are slated to participate at those events.
February, 2, 2012
2/02/12
12:41
PM ET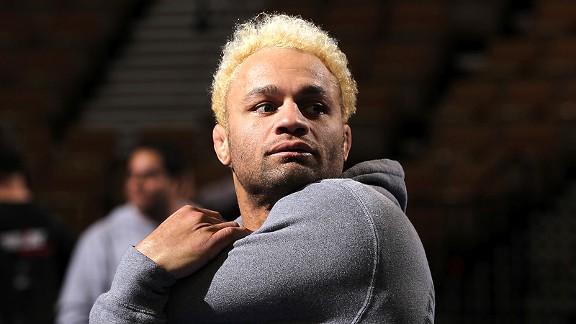 Josh Hedges/Zuffa LLC/Getty ImagesA stretch? Perhaps: Josh Koscheck maintains he doesn't know all that much about Mike Pierce.
UFC president Dana White said last week in Chicago that welterweight
Josh Koscheck
was the promotion's most hated fighter.
"Let's be honest here, [Michael] Bisping is probably, other than Koscheck, the most hated guy in the UFC," White said on Jan. 26. "You've got to give the award to Koscheck.
"I've never seen one guy clapping, in an entire arena, when Josh Koscheck walks out."
That's a bold statement, especially when taking into account that former light heavyweight champion
Rashad Evans
as middleweight contenders
Chael Sonnen
and
Michael Bisping
were set to compete two days later at United Center in the UFC on Fox 2 co-feature bout. No one would describe Evans, Sonnen or Bisping as fan favorites.
But regardless where Koscheck ranks on the UFC's most-hated list, he is unfazed by fan opinion of him. Koscheck is not in the MMA business to make friends or win popularity contests. His priority is to get paid. And when offered a chance to compete Saturday night at UFC 143 in Las Vegas, Koscheck didn't respond by asking who does the promotion want him to fight.
As long as the check clears, Koscheck is eager to put on the gloves and face anyone.
For the record, Koscheck will fight
Mike Pierce
on Saturday, and he is confident of adding another win to his professional ledger.
"I didn't really know who this guy was when I agreed to fight him," said Koscheck, who will carry a record of 16-5 into the Octagon. "I remember he fought [my teammate]
Jon Fitch
, but not too well. I think I remember [in] that fight, he didn't get anything going until the very last minute.
[+] Enlarge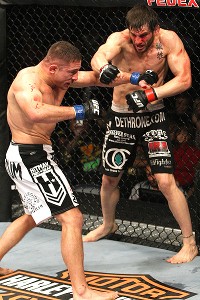 Josh Hedges/Zuffa LLC/Getty ImagesMike Pierce, front, launched a late assault on Jon Fitch -- but it was too little, too late.
"I know he called me out, so he must think he can win ... but they all think that until I punch them in the face.
"But I get paid the same whether I am fighting Mike Pierce or
Carlos Condit
, so I don't care who I fight. I am a gold digger, I fight for money. ... I have a big mouth and I don't want to lose and I want to look good out there."
Pierce (13-4) will likely rely on his wrestling skills to prevent Koscheck from looking good Saturday night, but he also intends to surprise the MMA world by upsetting the highly ranked welterweight contender.
Beating Koscheck, who is also a highly skilled wrestler, would be the biggest accomplishment to date in Pierce's professional career. It would also be his most emotionally satisfying win.
"Josh Koscheck knows who I am," Pierce said. "He's pretending he doesn't because he is Josh Koscheck and that's what he does: he acts like this all the time. He's a bit of a jerk and that's his personality and that's just who he is, and what gets him noticed.
"I hope he is overlooking me because Jon Fitch beat me. That was two years ago and I am a much better fighter now and, for that fight, I had a family issue to take care of which distracted me.
Pierce feels Koscheck's pretending not to know him or to be taking him lightly is purely schtick.
"I hope Josh Koscheck is underestimating me," Pierce said. "But I doubt it."
January, 30, 2012
1/30/12
11:25
AM ET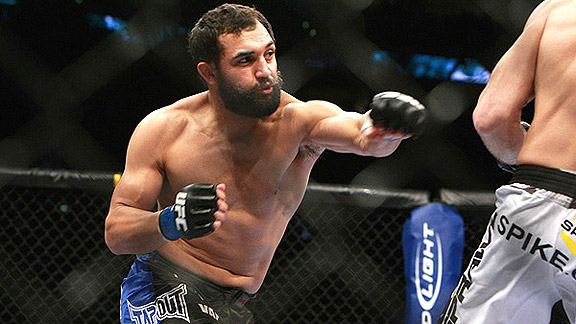 Dave Mandel/Sherdog.com"Speak softly and carry a big left hand"
used
to be Johny Hendricks' mantra.
Jon Fitch
was forever the No. 2 welterweight in the field, even if he was treated like an incredibly successful banality the entire time.
So what happens when Fitch, who never loses, gets knocked out by a guy with fresh marketability and a mean left hand? Does knocking out a perennial No. 2 deliver
Johny Hendricks
to front of the line for the next crack at the interim belt?
That's either very simple or very complicated in the "up in the air" welterweight division.
Start with the premise of just where the UFC's 170-pound division is right now. Next week, a placeholder champion will be named while
Georges St. Pierre
(who's been on top for almost four years) recovers from knee surgery. The fight will be between
Carlos Condit
and
Nick Diaz
, both of whom were booked for dates with St. Pierre before circumstances turned them on each other. After that it's
Jake Ellenberger
, who is fighting
Diego Sanchez
in Omaha on Feb. 15, and
Josh Koscheck
, who just had a title shot a little over a year ago. Koscheck is set to fight
Mike Pierce
at UFC 143.
Given the rapidly changing scene, doesn't Hendricks -- who already beat Pierce and then Fitch in a dozen seconds -- look like the next challenger to the newly accessible interim belt?
He thinks so. And he knows exactly how precious the situation he's in right this second is.
[+] Enlarge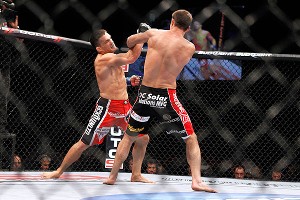 Ross Dettman for ESPN.comJake Ellenberger could leap past Johny Hendricks with a solid performance against Diego Sanchez.
"I've been telling everybody I really want the winner of [Diaz/Condit]," Hendricks told ESPN.com while in Chicago. "You don't get this opportunity too often. Now that I've done it in the ring, I've got to do it outside the ring. If I don't promote myself outside the ring -- I mean, there are great fights going on and now they're happening almost every week. You can be forgotten. So if I don't say in the news that I want that interim title shot -- there's a fight this weekend in the 170 class, and [if Koscheck or Pierce] does good, I might get bumped. So I always got to be out there making my case. I want my goal. My goal is to be UFC champ some day, and I know I'm right there. I just need that shot."
Hendricks has never been one to toot his own horn across media platforms or bad mouth the guy with the strap just to generate hype (they don't call him Happy Bearded Guy for nothing). Yet since debuting at UFC 101, he has won seven of eight fights and four of them by TKO or KO. His left hand is his volume. He said after knocking out Fitch that "the good lord blessed me with a left hand," and it's no longer in dispute.
What might be up for dispute is whether Ellenberger -- who is looking to make it six in a row in the UFC with Sanchez -- might catapult over him.
As far as Hendricks is concerned, it shouldn't. The Fitch knockout, as quick and anticlimactic and unforeseen as it was to witnessing parties, made him an obvious choice to fight the winner of Diaz/Condit. The timing would mesh schedule-wise for matching up with the next week's interim title winner. And if he has to confess everything, the truth is Hendricks doesn't want to roll the dice on fighting an Ellenberger or a Sanchez or a Koscheck in a title eliminator unless he's made to.
"Here's the thing. Unless the UFC says, 'Johny, you have to fight -- we want you to get a shot at the title, but we have some questions, and you need another one first,' then of course I'm not going to bite the hand that feeds me. I'm going to do what they say.
"But if it's up to me, I'd much rather go for the UFC interim belt. I've seen so many people who are right there, right there to get that shot and something happens ... it never fails, something happens, and they don't win. And then it takes them three or four fights to get back, which is a year to a year-and-a-half back, and that's if everything lines up perfectly."
Not that he lacks confidence against any of those guys, but Hendricks feels he's done enough to avoid unnecessary trappings. And after letting his fists do the talking, he says he's going to go full throttle into making his case. The man they now call "Bigg Rigg" is about to launch the happiest campaign to get the title shot. And he started marketing himself by explaining to me that he was going to start marketing himself.
"You've got to," he says. "The best example is Chael [Sonnen]. He'll do it outside the [Octagon], and also sometimes in the [Octagon]. But if you can sell yourself in the ring, the less you have to do it outside the ring. I don't want to be that kind of guy, like Chael. He does it awesome, but that's not me."
This is as good a time as any for a guy like Hendricks to quietly set up that next big left. And whether it's Diaz or Condit, it doesn't matter -- so long as they're carrying the belt, he'll continue to be the Happy Bearded Guy.
December, 24, 2011
12/24/11
9:45
AM ET
Two more welterweight fights have been slated for UFC 143 on Feb. 4 in Las Vegas, the promotion announced on Thursday.
Veteran
Matt Brown
has verbally agreed to face Chris Cope, while Justin Edwards will tangle with Mike Stumpf. Each fight is expected to appear on the preliminary portion of UFC 143's card.
All four fighters will look to rebound from recent losses, and each man's performance could determine whether he remains on UFC's roster.
Brown (12-11) has struggled to find any consistency in the past year. He has dropped four of his five most recent fights, including a second-round submission loss to Seth Baczynski on Nov. 19 at UFC 139.
Cope (5-2) was the victim of a first-round TKO to Che Mills on Nov. 5. He is 1-1 inside the Octagon.
Edwards (7-2) has come up short in two of his three UFC appearances. John Maguire bested him by unanimous decision on Nov. 5 in Birmingham, England, at UFC 138.
In his UFC debut on Sept. 17, Stumpf was submitted in the first round by TJ Waldburger. But Stumpf (11-3) took that fight just six days before the scheduled event.
Former Strikeforce welterweight champion
Nick Diaz
faces ex-WEC titleholder
Carlos Condit
in the UFC 143 main event. They will compete for the UFC interim 170-pound belt.
Former No. 1 welterweight contender
Josh Koscheck
will face hard-hitting
Mike Pierce
on the co-feature. UFC 143 will be held at Mandalay Bay Events Center.