August, 18, 2013
8/18/13
11:14
AM ET

By Josh Gross
ESPN.com
Archive
Hope, faint as it was in the moment
Travis Browne
found it, emerged in the form of a front kick.
Things had gone all wrong until he snapped off that gut-deflating kick to
Alistair Overeem
's midsection. Browne, 31, allowed Overeem the boost of confidence, which is just about the worst thing a person can do if they're fighting the Dutch banger. No matter what people think about Overeem in the wake of his drug issues and now, back-to-back knockout losses in the Octagon, he can still punch and hit and knee with devastating results.
And for the first half of the first round, Overeem did just that against Browne, who absorbed so much punishment it easily could be used as the counterclaim to the idea that heavyweights can't take more than one punch and survive. We know that's not true because
Randy Couture
showed it against
Pedro Rizzo
the same way
Brock Lesnar
did against
Shane Carwin
. Those were tremendous comebacks, each unique in their way. So was Browne's rally against Overeem.
The front kick appeared out of thin air. But that's what Browne wanted to do all along, it just took him suffering through a tentative start and subsequent beating to get there.
After finally managing to stand and shake off the assault from a 265-pound threat, Browne told himself he wasn't going down again. Nope, instead, he expected to kick Overeem in the stomach. And if that went well, maybe the face.
"I just felt him hitting me so I knew I needed to get up and get back to work," the 6-foot-7 Hawaiian said.
The front kick became part of the game plan because the brains at Greg Jackson's camp found Overeem's "common denominator for what he did and some of his openings," Browne said.
It was the way in which Overeem held his elbows too far out, Browne said. That led the group to think Overeem could be susceptible.
Brown flinched at the start of the fight. He backed away from Overeem's aggression, which only spurred on more attacks. For that he paid a hefty price, but it hadn't been enough. And when that first kick landed, Browne felt new life. Hope. So he kicked again. It landed. Overeem paused. Browne moved forward. Kicks were aimed at the head, and they landed, too. Finally, one connected with power, and Overeem hit the canvas.
"I kept going back to it and as he kept dropping his elbows further and further," he said, "that's when I saw the opening to the head and I took it."
Browne boasted that Overeem learned what his training partners are too familiar with.
"You can ask just about any of my training partners at Jackson's, because I've hit everybody with that shot," he said. "And they've all pretty much went down."
The win pushed Browne to 15-1-1. His lone loss: a technical knockout against
Antonio Silva
after popping a hamstring early in the fight. Knockout wins against
Gabriel Gonzaga
in April and now Overeem make Browne look like a force in the division. ESPN.com currently ranks Browne at No. 9, and he's in line to move up.
Browne said he'd like a fight with
Fabricio Werdum
(ranked No. 3), who has won three in a row over
Roy Nelson
,
Mike Russow
and
Antonio Rodrigo Nogueira
. Many feel Werdum has done enough to merit a title shot, and the Brazilian's trainer, Rafael Cordeiro, told ESPN.com that their intention is to wait for a five-round fight.
Said Browne: "I've never said 'no' to a fight and I've always been ready for anything they've thrown my way.
"It's definitely not out of the question."
Based on his effort so far, neither is a championship.
June, 21, 2012
6/21/12
2:25
PM ET

By Chuck Mindenhall
ESPN.com
Archive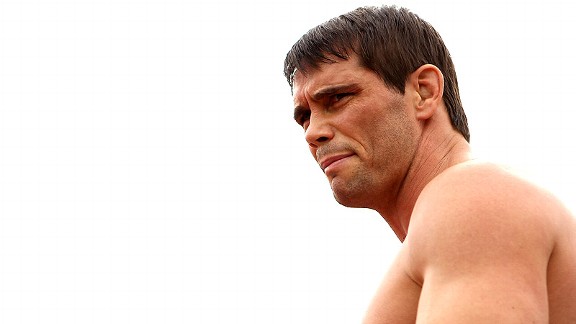 Josh Hedges/Zuffa LLC/Getty ImagesRich Franklin has the not-so-enviable task of fighting Wanderlei Silva in Brazil.
If we're talking volume alone, this is the biggest fight weekend that ever labored so hard to raise an eyebrow.
And out of all the MMA going on this weekend --
Fedor Emelianenko
versus Pedro Rizzo in St. Petersburg (good luck finding a feed) going on today, UFC on FX 4/the kick-off of Bellator season 7 on Friday -- only one card specifically requires your money. That would be UFC 147 in Belo Horizonte, Brazil. This is a pay-per-view card for North Americans, one of the "big numericals" we tend to revere on faith.
Only, this is one that, if the UFC were still using titles, should be called UFC 147: Twilight of the Idols.
Let's face it -- only diehards and incorrigibles are going to purchase UFC 147, and those who are both (like the media). The main event is two guys who are as long out of contention as they are in the tooth.
Rich Franklin
against
Wanderlei Silva
: former champions with the wrong kind of intrigue in 2012. For the 37-year-old Franklin it's "what's left?" For the 34-year-old Silva, it's something more dire. It's "is he a knockout away from MMA extinction?"
If Silva's chinny, the MMA world will be talking about it on Monday like a hunch finally realized. How's that for fun -- we could be 48 hours away from cries of Wandy's overdue retirement, both from fans and Dana White.
That's not exactly the high point of drama and anticipation that you want from a PPV headliner.
Bottom line is, UFC 147 is a salvaged wreck that was once so gloriously thought to be
Chael Sonnen
against
Anderson Silva
II. It went from the most ambitious in design to the most forgettable on paper. UFC 147 was supposed to be held in an attendance-shattering, security-nightmare of a soccer stadium in Sao Paulo. Or, if not there, then in Rio at Joao Havelange Stadium with 60,000 partisans. All of that was a lot of fun to contemplate.
Now it's being held inland at the Mineirinho Gymnasium, which sounds like a place you might go to attend a pep rally.
It morphed from Sonnen/Silva to
Vitor Belfort
against Silva, which would have still been a treat for Brazil until Belfort went down. Now it's a TUF Brazil finale, with
Mike Russow
against
Fabricio Werdum
the second strongest beam in the scaffolding. And of course there's Franklin, who hasn't fought in 16 months and hasn't fought well in two years, back when he used his only available hand -- his non-broken right -- to down
Chuck Liddell
.
And if there's a glint at all to this, we've finally gotten around to it. Franklin felt gutted sending Liddell off into the twilight the way he did at UFC 115. He didn't want to be the one to put the punctuation on Liddell's career, but he did it anyway. Now he might be on the verge of doing that to a second early legend. Maybe Franklin is more than a company man. Maybe he's the UFC's
hatchet
man, where storied careers go to get finalized. Maybe he's a one-man intervention, designed to punch sense into people.
Hey, for this one, we have to extrapolate our storylines.
Or just hope for an epic out-and-out brawl that warrants $50, one of those cards that pans out to be an out-of-the-blue fantastic. You know the ones -- the cards where Dana White reminds everyone afterward that only fools criticize what always looked like ore just under the surface.
Either way, none of this takes away from the free fights on FX on Friday for those who have the channel.
Gray Maynard
versus
Clay Guida
-- two guys near the top of their division and both in their prime -- is a great fight to get for free. If that's not enough, there's Bellator and Fedor, even if it's just highlights and recaps from Russia or video streams from the nosebleeds.
There's plenty of action this weekend. Some of it is free, some of it is hard to find, and some of it requires your disposable income.
And UFC 147 can't help itself from asking -- just how disposable
is
your income?