December, 3, 2012
12/03/12
11:48
AM ET

By Chuck Mindenhall
ESPN.com
Archive
Matt Brown
is the protagonist in an adventure tale that's still being told. His is a story with so many highs and lows, so many ebbs and flows that he can describe for you the gutter (in sincere detail) while sketching a general idea of the penthouse (his very own silo, maybe).
The plot is a continuously rolling thing that boils down to the essence of all human drama -- just stay alive. Only his story intersects with the fight game.
Toward the end of 2011, Brown lost a fight to
Seth Baczynski
, his fourth loss in five UFC bouts. All of the losses were of the submission variety. For a guy who'd already overcome so much in life -- addiction, overdosing on heroin, losing his father, a stint on "The Ultimate Fighter 7" -- it looked as if Brown was perhaps mortal after all.
But you don't get a nickname like "The Immortal" unless you are ruthlessly resilient. To the UFC's credit, it did not cut the Ohio native Brown, a blue-collar scrapper in the welterweight division. Instead, it threw him in the Octagon with another TUF alum in
Chris Cope
, and that was the beginning of Brown's latest resurrection. He's won all three of his bouts this year heading into his Dec. 8 fight with a similarly resilient
Mike Swick
.
From life on the bubble to an inspirational tale is heartwarming stuff, right? Not if you've never been into tidy Hallmark sentiments.
"I don't really think about it," Brown told ESPN.com. "I've learned just [to] take it one fight at a time, to not worry about the past or the future, and just worry about what you've got to do today to be the best you can."
A boring, staid statement like that in the hands of other men might test your immune system toward clichés.
But Brown is sincere. If you've listened to him talk at any point in his four years in the UFC, you know that he doesn't get too high on the highs, nor too low on the lows. It truly is a "one foot in front of the other" proposition. He's not eyeing the 170-pound belt, because he doesn't do horizons. He doesn't do animosity, trash talk or social media eavesdropping, either. In fact, between training with
Robert Drysdale
and Mark Meacher out in Las Vegas and his camp back in Ohio, he barely kept up with what was going on with the outside world.
For example, asked how it felt to hear the recently victorious
John Hathaway
calling out the winner of the match between him and Swick -- to be in a position where guys are trying to get to
him
, rather than the other way around -- Brown suppressed a yawn.
"I don't care. I don't pay attention to that stuff," he says. Then it dawned on him, and he added: "I thought [Hathaway] and
Matt Riddle
had a little beef or something? I thought he was going to end up fighting Riddle."
In other words,
Dan Hardy
(who had the beef with Riddle) and Hathaway are interchangeable to a guy who doesn't put much thought into anything other than what's in front of him. And right now that's a nationally televised bout with Swick, who came back from a stomach ailment that sidelined him for 2½ years to knock out
DaMarques Johnson
in August.
[+] Enlarge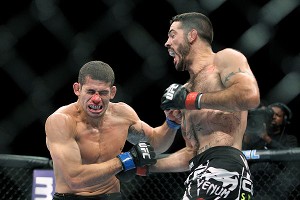 Ed Mulholland for ESPN.comThough technically sound, Matt Brown has no qualms about mixing it up in all-out brawls.
"[Swick] presents a lot of challenges. He's got fast hands, he's an explosive guy," Browns said. "He's got a pretty solid punch that will hurt you pretty good. And he seems to have a good ground game. So yeah, all around, he's pretty solid. He'll give you a lot of problems on all aspects."
Anybody who's paid attention to Brown's career knows that he's technical, but he's willing to brawl as well. He
does
brawl, because to him it's never anything other than a fight. A Brown scrap is always a combination of technique, savagery, instinct and attrition. His in-cage gravitas makes it that much more intense.
Swick is much the same way.
What's the hunch? That as they kick off the big UFC on FOX 5 card, you can't help but think this one could be a showstopper. That, even though it is fourth billing to
Nate Diaz
versus
Benson Henderson
,
Alexander Gustafsson
versus
Mauricio Rua
and
BJ Penn
versus
Rory MacDonald
, that it could sneak off with some end-of-the-night bonus money.
You'd think that, but history suggests otherwise. For all of the careening in Brown's career, there's one thing he hasn't accomplished in 13 fights -- he's never been awarded an end-of-the-night bonus in anything. That's almost hard to believe when you think about it, but it's true.
"I always think I've got fight of the night," he says. "Then I don't get it."
Maybe Saturday night, Brown uses this theme to begin a new chapter to his incomplete adventure tale.
November, 28, 2012
11/28/12
12:26
PM ET
John Hathaway
has told ESPN that the winner of
Matt Brown
versus
Mike Swick
at UFC on Fox 5 might prove a more interesting fight for him than Matt Riddle, and he would be happy to go abroad to get the matchup.
More »
August, 6, 2012
8/06/12
6:24
AM ET

By Chuck Mindenhall
ESPN.com
Archive
UFC on Fox 4 in Los Angeles proved that interest can be drummed up in retreads, but it was our collective imagination that became the real hero of the night. Let's face it, we were all squinting to see the title picture the way it was being drawn up by Dana White. This whole "he who does best gets the title shot" thing felt something like dramatic abandon.
When a figure finally emerged from the four-man 205-pound showcase it was
Lyoto Machida
, in a reduced 201-pound frame, dishing enigma on
Ryan Bader
. That was a good knockout.
Better yet, the whole main card scored the same. Every fight delivered. A good night of fights like that makes things, if not totally justifiable, at least somewhat rose-tinted. And that beats disaster, if you know what I mean, which is where things left off after the UFC 149 pay-per-view bust.
What a difference a couple of weeks makes. In Calgary, stakes were being tinkered with, too.
Hector Lombard
was vying for a possible title shot with
Anderson Silva
. The interim bantamweight title was up for grabs in the main event between
Urijah Faber
and
Renan Barao
. Things "mattered."
But for all the dangling carrots, something went missing -- and that was enjoyability. Guys didn't "bring it" -- and everyone should know the center of the fight world is all about the "it" -- which had people asking for refunds and complaining about the watered-down product.
Not on Saturday night. As DeMarques Johnson's premonition of a 100 percent chance of a knockout came through via the sudden hands of
Mike Swick
, this thing was off to a roaring start.
Joe Lauzon
, who is incapable of a boring fight, withstood heavy shots by
Jamie Varner
and, when the opportunity presented itself, came on like an incubus to finish him in the third. It's what Lauzon, who has made nearly a half a million dollars in bonus money in his career, does better than anybody. The UFC on Fox Twitter feed called it possibly the "best fight we've ever had."
These were undercard table-setters like we haven't seen on the Fox shows.
And the co-main event raised the bar for the finale. Machida forced Bader's aggression then punished it, downing him with a counter right. It was vintage "Dragon." Machida was once again the abstractionist, doing things with body geometry.
Yet the main event was a crescendo. Here was Vera resurfacing, making it a war, looking like old Vera, the one we thought we lost. Here was Rua proving that his
Dan Henderson
and
Mark Coleman
fights were no flukes, that he can make any fight -- good or bad -- a battle of epic attrition. Rua just about did away with Vera twice in the second round with sallies, but Vera both times responded with big elbows and defiance.
Suddenly it was a storyline of Vera's heart in the poetic sense, not the cardiovascular one. And fights are always more fun when they get like that. When fights transfer "will," the meaning of the transaction comes back into play.
Better still, when fights go down like they did on Saturday night, the question of what's on the line can be answered like this: "Who cares?" The moment transcends the stakes. The "it" factor is all that matters. Guys on Saturday night brought "it."
This was the first Fox card that really delivered far more than it promised. From top to bottom on the main card, every fight delivered the goods. For whatever hung in the balance of the outcomes, it didn't matter to real time. And you know what? That's the kind of drama that you want on live television, especially in a sport still trying to communicate with the casual viewer.
July, 27, 2012
7/27/12
6:51
AM ET

By Brett Okamoto
ESPN.com
Archive
Remember
Mike Swick
?
It's understandable if you don't. When the UFC welterweight makes his long-awaited return to the Octagon next weekend against DeMarques Johnson in Los Angeles, it will have been nearly 2.5 years since his last appearance.
The reason for the long layoff -- that's kind of a long story. It started in 2007, when Swick (14-4) started suffering from several symptoms, notably the fact that after meals, he frequently felt like a heart attack victim. Doctors provided an original diagnosis of dyspepsia, an untreatable stomach condition.
Obviously wanting to avoid the symptoms, Swick ate less. He dropped from a middleweight to a welterweight. He got one fight away from earning a title shot in 2009, but lost a unanimous decision to
Dan Hardy
.
It wasn't until later that year Swick found out his physicians had been wrong. He didn't suffer from dyspepsia. What he was dealing with were esophageal spasms -- a treatable disorder.
He started eating again and even decided to move back to middleweight. He signed on to fight
David Mitchell
in January 2011, but the fight was scrapped when Mitchell got injured. Swick withdrew from the card as well, citing his esophageal condition.
Finally, in August 2011, Swick felt he had the issue under control and looked forward to meeting rising prospect
Erick Silva
at UFC 134. Less than a month before the fight, he tore his ACL while training.
Nearly a year later, the 33-year-old American Kickboxing Academy product is as anxious as you might expect to finally get back in the cage. He spoke to ESPN.com about his return.
ESPN:
What do you remember about the scenario leading up to the knee injury?
Swick:
I remember feeling great. I was so happy. I had dealt with thinking my career was over and then getting my career back. I was extremely healthy. A couple weeks before the fight, we were doing marathon rolls. I was with Kos [
Josh Koscheck
], working on getting back to my feet. My foot got stuck to the mat and I turned, leaving my leg extended. All his weight buckled on my leg and bent it inward. It made a loud pop, and I knew instantly the fight was off.
ESPN:
Did you feel cursed at that point?
Swick:
It was rough. I was questioning what was going on. What was I doing wrong to deserve that kind of bad luck. The one thing that stayed true was I was excited it was a knee injury. At least I overcame the big hurdle, which was my health. Yeah, I'll be out for a year, but at least the health is there.
ESPN:
After everything that's happened, do you ever find yourself asking if you're the same physically?
"

It was rough. I was questioning what was going on. What was I doing wrong to deserve that kind of bad luck.

"

-- Mike Swick, on a string of injuries and health issues that kept him sidelined for over two years
Swick:
I haven't really thought about it. I feel like I'm the same guy. I feel even better as far as techniques I've picked up and speed and strength. I feel like a better fighter, and on August 4, I'll get to prove that.
ESPN:
Have you managed to still evolve in the past 2.5 years, even without a fight?
Swick:
I've gone through three fight camps. This is my third fight camp without a fight. Going through one camp you pick up a lot and you evolve. This is my third full 12-week camp, so there's been a lot of training in there.
ESPN:
When you look back on it all, how do you feel about it? Frustrated those years are gone from your career? Proud that you can say you've come back from it?
Swick:
There were times it was frustrating, but I did a lot of stuff in the last two years. I helped build a business, traveled, visited the military overseas, had a baby girl -- a lot of great things happened in the last two years that would have had to happen during fight camps. So, I definitely tried to make the most of my time off.
[+] Enlarge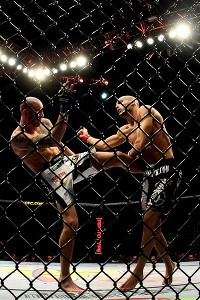 Lars Baron/Bongarts/Getty ImagesInjuries and health issues have sidelined Mike Swick, right, for what feels like an eternity.
ESPN:
Any concern of an adrenaline dump on fight night, considering how long you've looked forward to this?
Swick:
I think I'll be good. A lot of times in my career I had to step up big under a lot of pressure. I don't think this is any different.
ESPN:
What'd you think about returning against DeMarques Johnson?
Swick:
I was happy because stylistically it's a great fight for fans. We're both aggressive fighters who like to go out and finish fights and push the pace. If we align in the center [of the Octagon], there's going to be fireworks.
ESPN:
How do you think the UFC is viewing you now? You were a title contender, lost two fights, then left for 2.5 years.
Swick:
I don't know. I'm in a unique situation. I don't know anyone else who had 12 UFC fights then didn't fight for 2.5 years. I don't know what the deal's going to be after this fight. I know the most important thing is to do my job. I feel like this is a new beginning. To actually be healthy and have the right mindset, not having to deal with all this other stuff. I'm hoping to go out and have the best fights of my life yet. I 100 percent believe that. I'm not just saying that.
ESPN:
Is the goal still the belt? Always will be?
Swick:
Of course. In high school we used to watch the UFC, and I would tell my friends I wanted to be a UFC fighter. They said I was a dreamer and it wouldn't happen. I went out and did it, but the one thing I never did was win that belt. That's the one goal I've had that I've never achieved, so it's always going to be there. That's the ultimate goal.
November, 16, 2009
11/16/09
10:06
AM ET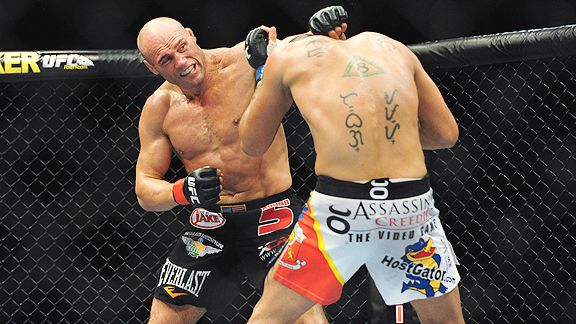 Martin McNeil for ESPN.comRandy Couture might have lost a step over the years, but his efforts were still too much for Brandon Vera.
In trying to come up with a metaphor for Randy Couture's current physical abilities, you can't do much better than a boat anchor. If he gets a lock on your body, he will either drag you down or exhaust you with your own resistance, swimming against the current he creates. It's an ugly way to go.
Against Brandon Vera on Saturday in Manchester, England, Couture clung to Vera while landing few effective strikes. The biggest moments in the bout came only when Vera had the distance to land body shots, which Couture's creaky reflexes allowed through. Despite Vera's delivering the damage of the fight, including a knockdown, judges figured Couture's lone takedown and pressing Vera into the fence trumped it.
If the fight were scored as a whole, Vera would probably win. As it is, they appeared to split two rounds and stalemate a third. A draw would have made the most sense. Increasingly, we should not expect judges to do the sensible thing.
Couture looked a few frames behind Vera, which is a problem that will continue to plague him in the weight class that probably strikes the best balance between speed and power. But at 46, you take your victories however you can get them.
Next for Couture: A title shot against Lyoto Machida would insult viewers' intelligence: This was the least impressive win of Couture's career. A rematch with Tito Ortiz or a fight with the winner of next week's Antonio Rogerio Nogueira-Luis Cane bout would be a plausible progression toward that goal.
Next for Vera: Motivational speaking (attending, not lecturing).
Next for Dan Hardy: Facilitating the easiest payday of Georges St. Pierre's career: In beating Mike Swick, Hardy has been granted a shot at the welterweight title. The UFC will try like hell to sell this fight, but don't you believe it. Hardy isn't ready.
Next for Michael Bisping: A fight with Wanderlei Silva could spring one of them into immediate title contention -- especially if Dan Henderson has pulled up stakes for Strikeforce.
New questions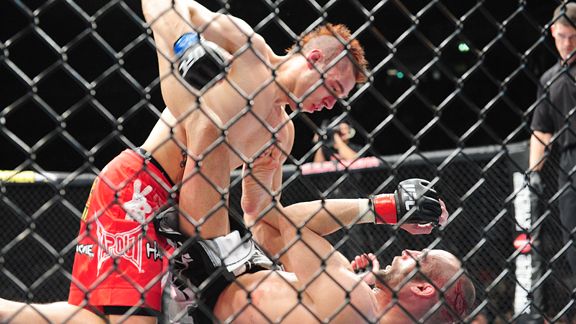 Martin McNeil for ESPN.com Dan Hardy's heavy hands probably wouldn't help him seize the day against the likes of GSP.
Q: Will fans buy Dan Hardy as a worthy title challenger?
A: Hardy hits like a piston and gets better every time he appears in the ring, but he's still miles away from the kind of suffocating, upper-tier attack of a Jon Fitch or Thiago Alves. That's the kind of competition he should have to face and beat in order to earn a shot at Georges St. Pierre's chin. It's hardly sandbagging -- St. Pierre has defeated virtually every big name in the class -- but if this is the beginning of St. Pierre's 2010, he should consider a future at middleweight.
Q: Does Randy Couture have one more in him?
A: He went about it in the most perfunctory way imaginable, but Randy Couture still defeated Brandon Vera. And while he ate some crippling body shots, he proved he wouldn't turn to dust against a highly credible kickboxer. Other elite strikers in the division -- Thiago Silva, Lyoto Machida, Mauricio Rua -- don't have Vera's Greco-Roman skills to work as a Couture anti-venom. He's not done.
Q: Have we underestimated Michael Bisping?
A: For most of his career, Bisping has had a habit of squinting into the camera and daring fans to like him. The knockout delivered by Dan Henderson brought some humility with it: Bisping was cordial in victory against Denis Kang, surviving a first-round daze to show off some impressive guard work. Everyone loses. If Bisping continues to acknowledge that, he can continue improving.
Awards
The young-old man of the night award: Aaron Riley, who became a fixture in the 1990s MMA scene and is still somehow only 28 years old.
Admiral apathy of the night award: Andre Winner, for strolling over to the splayed carcass of Roli Delgado to grab a nearby sponsor T-shirt, then scratching his nose as his name was announced. He might've gotten some water, too, if those stupid EMTs weren't in the way.
Glaucoma awareness of the night award: Tito Ortiz, for sporting sunglasses indoors -- that would make him look out of place if he were orbiting the sun.
Street fighter of the night award: Brandon Vera, for pulling off the sport's first and only simultaneous groin shot and eye poke against Couture. If you see this man in a bar, leave him alone.
The Goldberg award: Mike Goldberg, for never letting a fight get in the way of a plug.
Joe Rogan: "Riley needs to do something here …"
Goldberg: "The 'Ultimate Fighter' finale … tickets are still available …"
Rogan: "… even his kicks are tentative …"
Goldberg: "Log on to UFC.tv for more info."
Etc.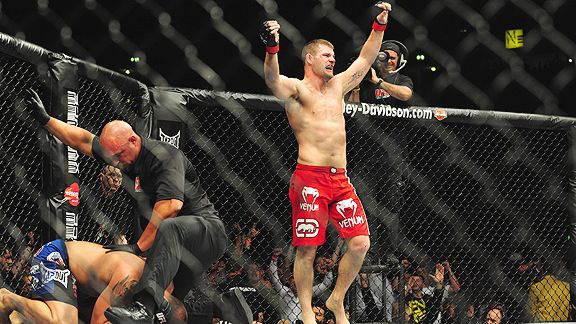 Martin McNeil for ESPN.comGuess who's back: Maybe fans and media alike were too quick to write off Michael Bisping …
• Manchester's M.E.N. Arena hosted 16,693 attendees Saturday, setting a European attendance record for the UFC: For financial reasons, it seems likely Dan Hardy's title shot against Georges St. Pierre would take place in the UK …
• UK's Telegraph believes St. Pierre and Hardy might coach the 11th season of "The Ultimate Fighter." Thirteen weeks of attempted brainwashing …
• Michael Bisping and Denis Kang split a deserved $80,000 for putting on fight of the night honors …
• White told MMAJunkie.com that the promotion is only "months away" from organizing international versions of "The Ultimate Fighter," with cast members pulled from hosting countries …
• With the win over Vera, Randy Couture, 46, became the oldest winner in the Octagon in the promotion's history …
November, 13, 2009
11/13/09
11:29
AM ET
The truth is, we don't know what to make of Brandon Vera. He looked good against opponents who largely have faded into obscurity. Then he took a year off while management tried to siphon more money from the UFC. When he came back, he was dialed down, hesitant and easy to underestimate (3-3 since 2007, with no knockout in years). Not a guy a gambler would try to even up his MLB season losses on.
Tweet, tweet
Don't miss a moment of the latest MMA coverage from around the world. Follow us on Twitter and stay informed.
Join »
But when Vera chooses to commit, imposing a formidable kickboxing game, he looks like a guy who might one day make good on the boasts early in his career. Whether he keeps it holstered or not against Randy Couture will probably be decided by how Couture fares in the opening moments. If he's in Vera's face, making Vera nervous about a clinch, it won't be a good night. If Couture lets on that he's not seeing what's coming and his nervous system shuts down as easily as it did in the first round against Antonio Rodrigo Nogueira in August, then Vera can join Manny Pacquiao in giving the Philippines something to cheer about.
Might look like: The closest Vera has come to thwarting world-class wrestling in his career was against Mike Whitehead, and that's not too close. Couture hasn't had to deal with fast, skilled hands since Chuck Liddell in 2006 -- but Liddell's takedown defense forced him. Vera doesn't have the same core.
X factor: Trainer Shawn Tompkins, in Couture's corner for the Nogueira fight, has since set up shop down the street and away from Xtreme Couture. Will his brain be missed?
Who wins: Vera is talented, but he has shown an overwhelming propensity to sit back and wait for the fight to come to him. If he does that against Couture, it'll be a long, grinding night and another 15 minutes of unfulfilled promises by Vera. Couture via decision.
November, 13, 2009
11/13/09
11:29
AM ET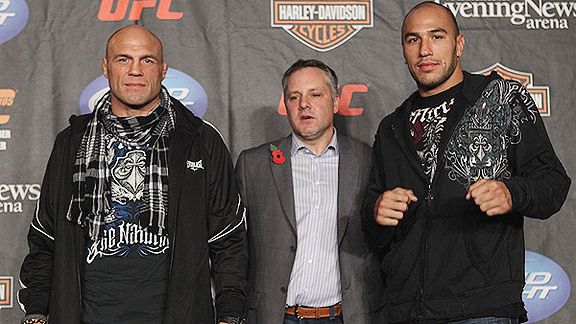 Dave Mandel/Sherdog.comWill Randy Couture's mystique give him a leg up before he enters the cage with Brandon Vera?
1. Is weight loss healthy for Randy Couture?
Tweet, tweet
Don't miss a moment of the latest MMA coverage from around the world. Follow us on Twitter and stay informed.
Join »
During a recent four-fight heavyweight run, Couture was outweighed by as much as 50 pounds on fight night. Although it might seem wise to eliminate that excess and return to the light-heavyweight arena, there's always a price to be paid: In this case, he'll be facing a considerably faster opponent who might be able to put punches together in the same time Tim Sylvia got off one.
2. Will Brandon Vera be intimidated by the Couture name?
Vera has made repeated mention of athletes such as Chuck Liddell and Couture being role models for what can be accomplished in the sport; that kind of hero worship cost Georges St. Pierre in his first fight against Matt Hughes. Although Couture isn't running as rampant as Hughes was at the time, he may still exist in Vera's head as something other than a man. An idol is a hard thing to damage.
3. Will Mike Swick and Dan Hardy have to do more than win?
Georges St. Pierre looks good in a maid's uniform: He has cleaned out the entire welterweight division, leaving talents such as Swick and Hardy -- capable, but not awesome -- as legitimate title contenders. For fans to back that idea, one of them will have to do more than grind out a finish: He'll have to do it with arterial spray.
4. Is Dan Henderson still in Michael Bisping's head?
Boxing trainer Freddie Roach has a telling explanation of the nature of knockouts "changing" fighters in Sam Sheridan's new book, "The Fighter's Mind." In it, Roach describes the idea that a fighter who hasn't been knocked out will take fight-finishing risks and plow ahead, not fretting over the consequences. If you haven't been KO'd, you don't know you can be KO'd. But a power outage like the one Henderson delivered can bring you back to reality. Bisping now knows he's human. That will affect his behavior.
5. Will peak audiences help the UFC's anti-Fedor sentiment?
The fight business exists to claim bragging rights: If Couture's fight with Vera draws more viewers on basic cable than Fedor Emelianenko's bout with Brett Rogers did on CBS, we'll hear about it -- repeatedly -- all week long.
November, 13, 2009
11/13/09
11:25
AM ET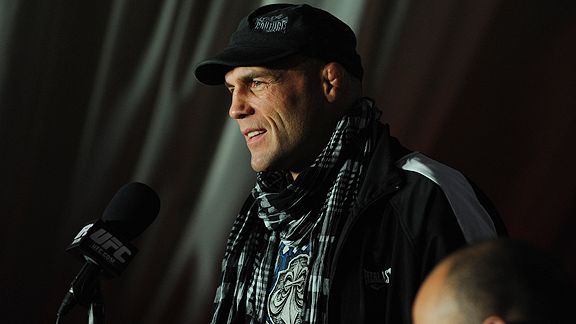 Courtesy of Martin McNeilIt's never so much fun to be proven wrong as when Randy Couture makes us eat crow.
We know the story, and we know how it often ends: Randy Couture -- who has somehow avoided the debilitating effects of 12 years spent inside the Octagon -- takes on a younger, faster, hungrier opponent. People with microphones and laptops gather around and shake their heads at the waiting disaster. And then Couture makes us all -- observers, fighters, bookies -- eat a big, fat one.
Tweet, tweet
Don't miss a moment of the latest MMA coverage from around the world. Follow us on Twitter and stay informed.
Join »
This pattern has been repeated against Chuck Liddell, Vitor Belfort (twice), Tim Sylvia, Pedro Rizzo (twice), Gabriel Gonzaga, Kevin Randleman and Tito Ortiz -- and to a lesser extent, in respectable efforts against Antonio Rodrigo Nogueira and Brock Lesnar. It is not Couture's viability at his age that impresses, but his ability to resist the cumulative wear of spending more than a decade in a sport that treats participants like a wood chipper treats trees. It's an inexplicable career we should probably be grateful for witnessing firsthand.
Facing and defeating Brandon Vera, a dangerous 32-year-old, might afford Couture one last stint as a title contender in the 205-pound division, where he certainly could make life difficult for Lyoto Machida. But if he can't, and if his last act in the sport is to headline a show in which the outcome of a fight featuring a 46-year-old is in doubt, then he'll have done it to us again anyway. Couture has a lot of unique abilities, but the most impressive may be making us happy to be wrong about him.
What: UFC 105: Couture versus Vera, an 11-bout card from the M.E.N. Arena in Manchester, England.
When: A tape-delayed broadcast airing on Spike, Saturday, Nov. 14, at 9 p.m. ET.
Why you should care: Because a Couture fight on free television is generous by anyone's standards, let alone a fight promoter's; because Dan Hardy and Mike Swick are both 100 percent certain they're going to win; because Michael Bisping can prove that the Dan Henderson loss didn't rattle him permanently; and because the Manny Pacquiao-Miguel Cotto fight will be on HBO for free a week later. You miss nothing.
Fight of the night: Ross Pearson versus Aaron Riley; considering his inability to put it in reverse, Riley should be in traction by now. He's not. We're glad.
Hype quote of the show: "Yeah, I throw up every fight. Who knows (what causes it) -- nerves, excitement … the anticipation? It could be a whole bunch of different things; I don't know. I just know that if I stop throwing up, it's bad." -- Vera, on his prefight preparation as told to Canoe's SLAM! Sports.
September, 28, 2009
9/28/09
12:50
PM ET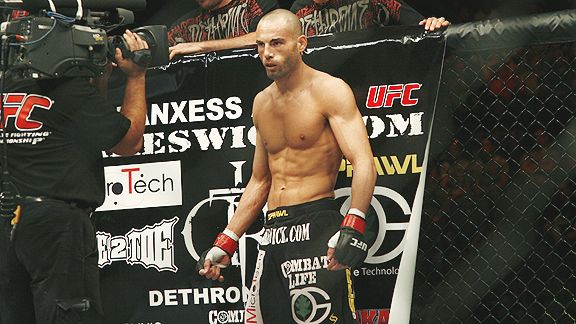 AP Photo/Hermann J. KnippertzA fight between Mike Swick, above, and Georges St. Pierre doesn't exactly whet the appetite.
To what extent has Georges St. Pierre dismantled the welterweight division? Enough so that Mike Swick and Dan Hardy are about to vie for a No. 1 contender's slot. Try to control your adrenaline.
UFC president Dana White told Fanhouse that a Swick-Hardy match was being assembled for a winter card, date and location TBD. And although the pulse doesn't quicken at that thought, there is virtually no one left for St. Pierre to fight in the division. He has met -- and defeated -- every notable welterweight available in the UFC; only Strikeforce's Jake Shields looms as a potential problem.
Both Swick and Hardy have improved by leaps and bounds over the years, but it will be the hard sell of the season to convince anyone that either has a shot against St. Pierre. There's nothing wrong with a welterweight buffet for the champ, but someone with his talent and drive should be occupied with more formidable tests. Taking a year off to add size and returning as a middleweight would be unprecedented. And exciting as hell.