May, 28, 2013
5/28/13
6:52
AM ET

By Chuck Mindenhall
ESPN.com
Archive
The thing about Mike Tyson was that everybody saw him coming. From the opening bell it felt as if his opponents were fighting from check, trying to avoid the savage exchange that would end, inevitably, in a violent checkmate. He was cageside for UFC 160, and to this day his celebrity transcends the fight game. When the MGM Grand flashed him on the screen, the place filled with that same old familiar apprehension and awe.
The thing about
TJ Grant
is, nobody saw him coming, apart from a few Nova Scotia residents and prelim connoisseurs. Grant came into his fight with
Gray Maynard
as a slight underdog. He had won four fights in a row at his new weight of 155 pounds, but in a standing-room only division of elites, he was a sort of fringe. When he crashed Matt Wiman's momentum in January, the UFC saddled him with Gray Maynard, who had to drop out of a more profiled fight with
Jim Miller
because of a knee injury. In the interstices, things changed.
Anthony Pettis
volunteered for a fight with
Jose Aldo
at 145 pounds,
Gilbert Melendez
lost to
Benson Henderson
and Miller fought (and lost to)
Pat Healy
.
Somehow, Grant's fight with Maynard became a conditional sort of No. 1 contender bout.
And did he ever make the most of it. Grant stood toe-to-toe with the hard-hitting Maynard, and ate a heater that made his ears ring. But then he got his in. He rocked Maynard with a shot that sent him reeling. As he reeled on the fence, Grant smelled blood on the water and slammed a knee into Maynard's head. He then pursued him with a flurry of big shots that dropped Maynard for good. The win was emphatic enough for Dana White -- on the fence about whether Grant should get the shot or not, given his perpetual prelim residence of yore -- to put Grant's odds of fighting for the lightweight belt next at "100 percent."
You know who else liked it? Mike Tyson. There was something in Grant's kill-switch that rang home for him. Though Junior dos Santos' late spinning wheel-kick knockout of
Mark Hunt
went in for frills, Grant's KO of Maynard was a blood-dimmed tide. So, when White got ready to award dos Santos with a bonus check for knockout of the night, Tyson inserted that it should go to Grant. And so it did.
And so the next title shot does.
FIVE QUESTIONS ANSWERED
Can things be different for Bigfoot this time?
Of course! He lasted a full 17 seconds longer with Velasquez the second time through, but once again the referee was prying Velasquez off of him while screaming "that's enough already!" Silva didn't agree with the stoppage, but at that point in the fight his resistances were down to nothing.
Can Hunt KO dos Santos?
He came awfully close to proving that he could, but could never square the follow-up shot to dos Santos' chin. To his credit, he ate a couple of harrowing shots himself, and still managed to last into the final minute of a three-round fight with a crusher like "Cigano."
Is there still wonder to Wonderboy?
Let's put it this way, what
Stephen Thompson
did to
Nah-Shon Burrell
was passable, but it wasn't spectacular. Yes, he whizzed a couple of kicks by Burrell's head (and landed a couple, too), but it was more of a grind than anything. In our basic Wikipedia sense, though, a win's a win.
Is Cain Velasquez the greatest heavyweight champ ever?
This question was posed before the fights somewhat purposefully prematurely. Though it can be asked with a little more timeliness now, the win over Silva realistically only proves that he can guard against complacency. If he works JdS over again, like he did last time? Gentleman, start you coronations!
Does KJ Noons belong in a fight with Donald Cerrone?
That was a licking that Noons took at the hands of Cerrone, yet he hung around long enough to hear the judge's scorecards tell him what we already knew -- no, he didn't belong in that fight with "Cowboy."
FIVE NEW QUESTIONS
Ready for the big trilogy?
Junior dos Santos
took Cain Velasquez's belt back in 2011 with such an effective, tree-felling punch that it was almost unspectacular. Velasquez responded with a five-round battery to reclaim that belt. Now, with a couple of obstacles out of their way, it's time for dos Santos/Velasquez III. Can you dig it?
Where does Hunt go from here?
There's no shame in the way Mark Hunt lost. There was a moment in that first round where he had dos Santos staggered and was very close to cueing the knell with a couple of bombs that just missed. What now? Could roll out Hunt versus
Josh Barnett
or Hunt versus
Antonio Silva
or, eventually, Hunt versus
Roy Nelson
, and there'd be no complaints.
Teixeira as contender?
With his submission of James Te Huna,
Glover Teixeira
is now 4-0 in the UFC, and 19-0 going back to 2005. If that doesn't scream "Geronimo!" in the UFC's light heavyweight division, nothing will. But with the logjam right now, Teixeira -- no fool -- requested a fight with the winner of
Rashad Evans
/
Dan Henderson
next. Sounds good to us.
Can you see the Forrest, through the trees?
In the aftermath of UFC 160,
Forrest Griffin
announced his retirement, and Dana White announced that he and
Stephan Bonnar
-- the seminal figures who socked each other into our collective consciousness back in 2005 at the original TUF finale -- would be inducted into the UFC Hall of Fame. (Slow clap).
Is Nurmagomedov the next big thing?
The idea of
Khabib Nurmagomedov
missing weight might have had Dana White hissing like Nosferatu in a beam of sunlight, but what a nihilistic thing he did to
Abel Trujillo
. Twenty-one takedowns is a company record. By this time next year, we might be talking about Nurmy as a threat to whoever's holding that lightweight belt (hopefully challenging him at something other than a catchweight).
STOCK UP/STOCK DOWN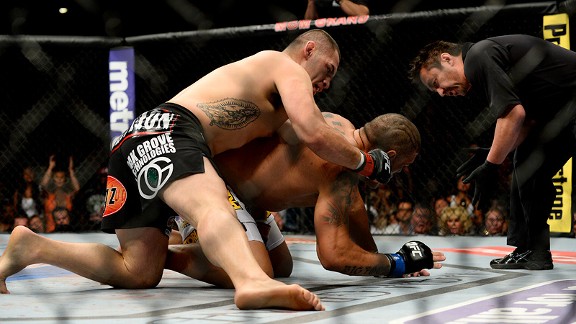 Al Powers for ESPNAntonio Silva's stance as a top-tier heavyweight is under fire following a one-sided loss to Cain Velasquez.
UP
TJ Grant
-- He may have looked like a woodwork contender before Maynard, but afterward he looks like a viable challenge to Benson Henderson. Nova Scotia did not shrink from the spotlight.
Donald Cerrone
-- You know how you make people forget the time you got your liver kicked up through your diaphragm? By doing what Cerrone did to KJ Noons. Looks like Cowboy has another run in him.
Mike Pyle
-- Before we start talking about 37-year-old Mike Pyle ossifying before our eyes, we might want to wait for the judge's decision. Was it a generous scorecard in his split decision victory over
Rick Story
? Definitely. But that's four in a row since losing to
Rory MacDonald
at UFC 133.
George Roop
-- Got to hand it to Roop. He took his lumps early against
Brian Bowles
, but he's resilient -- all 6-foot-1, buck-thirty-five of him is resilient.
DOWN
Antonio Silva
-- When a loss is this one-sided (again), you begin to question the sincerity of the wins to get there. For instance, what happens if
Travis Browne
hadn't been hurt, or if
Alistair Overeem
hadn't been cocky?
Gray Maynard
-- What a tough stretch for the "Bully." He was 11-0-1 heading into 2011, but has since gone 1-2-1. The lone victory in that was the bizarre game of pursuit he played with Guida. For now, Maynard's title aspirations took a bigger hit than anything specific Grant hit him with.
Brian Bowles
-- It had been 18 months since we last saw Bowles, and the WEC champion looked good for that first round. Then the hatch opened up, and Roop was dropping wiry dispatches on him from Tucson.
MATCHES TO MAKE
For Silva
-- A battle with Mark Hunt, or a cruel encounter with Josh Barnett.
For Teixeira
-- Truthfully, if Dan Henderson gets by Rashad Evans at UFC 161, a Teixeira/Hendo fight might require fire marshals and riot units.
For Velasquez
-- That third and most coveted bout with Junior dos Santos, and a chance to become the UFC's greatest heavy.
For Donald Cerrone
-- How fun would a scrap be between Cowboy and Gilbert Melendez?
For Khabib Nurmagomedov
-- Think he could do what he did to Abel Trujillo against Gray Maynard? Only one way to find out.
May, 14, 2013
5/14/13
10:15
AM ET

By Josh Gross
ESPN.com
Archive
Taken at face value, Tyson Fury's challenge of
Cain Velasquez
is pointless because we already know the result.
Still, even if the callout
is
self-serving, even if it's designed to drum up interest and a payday, you have to admit there's something admirable about a talented boxer, early in his career like Fury, loudly challenging the best heavyweight mixed martial artist to a cage fight. Maybe someday Fury will suffer through getting what he wished for, and we'll suffer for having watched it happen, but you better believe his moxie won't go unnoticed.
Think about the 24-year-old Brit's task. Almost everything related to boxing in an MMA contest is altered from its sweet science roots.
Spacing. Stance. Footwork. Balance. Hand position. Timing. And, most notably, what's OK when fighters tie up. Boxing, of course, features its share of clinching. If Fury somehow talks his way into a fight against Velasquez, he'll need to remember that MMA referees don't usually call for breaks so quickly.
Can we agree that the only thing less likely than
Chael Sonnen
beating
Jon Jones
would be Fury stalemating Velasquez in the clinch? The cold, hard truth is Fury couldn't do anything other than get tossed on his head or eat a knee or take an elbow or get rag-dolled to the ground.
We know this because MMA's practice-makes-perfect evolution proved it true. Examples of grapplers fighting strikers inspired a new paradigm, one that dictates the world's baddest man is a mixed martial artist, not a boxer, kickboxer or anything else. Floyd Mayweather Jr. is brilliant inside a ring. However, competing in a locked cage under MMA rules would carry the effect of kryptonite.
Let's not forget the ways in which
Randy Couture
was kind to
James Toney
almost three years ago. The immediate risk-nothing takedown. Guard passing without strikes. Multiple choke attempts. It might not read this way, but you better believe "The Natural" was being nice.
For his trouble, Toney made off with a big check and not much damage to his head or ego.
[+] Enlarge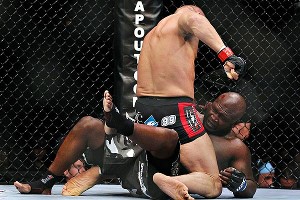 Al Bello/Getty ImagesA big flop: James Toney's MMA tenure was short and didn't go over too well.
So we're clear: If they fight, no one should expect Velasquez to be so gentlemanly with Fury. He probably won't more than attempt like hell to end the fight, which is easy to envision. Like when "Judo"
Gene LeBell
submitted boxer Milo Savage. The legendary LeBell held nothing back during three plus-rounds until he choked out Savage in the first televised MMA prize fight in 1963.
Reports suggested Savage was unconscious for up to 20 minutes, which must have shocked the 39-year-old ex-contender's handlers since they thought he was a shoo-in to score a knockout.
Thirteen years later in Tokyo, LeBell played part in perhaps the most infamous boxing-MMA spectacle, serving as referee for Muhammad Ali's match with Japanese pro wrestling icon Antonio Inoki. Held under modified rules that limited Inoki, the contest was carried back to the States via closed circuit.
Whether or not it was a legitimate bout (there's a debate) doesn't mean much when it comes to lasting value. The spirit of it all inspired Sylvester Stallone to include a scene in "Rocky III" featuring Balboa against a giant pro wrestler (Hulk Hogan's "Thunderlips") in what was portrayed as a sincere brawl.
Spectacle was reason enough for Rorion Gracie to challenge Mike Tyson to a match to the death for $100,000. This was prior to UFC 1, which succeeded well enough on its own as a vehicle in spectacle creation.
The Tyson escapade never happened, but if it had, you bet the world would have watched. As an understudy,
Art Jimmerson
looked silly wearing one glove while tapping to
Royce Gracie
. To no one's surprise, the moment didn't carry much weight culturally, yet the message was clear again. Boxing, your father's combat sport, is mostly worthless against someone who doesn't want to box.
From time to time, boxers stood up for themselves.
Ray Mercer
had his moment, knocking out former UFC champion
Tim Sylvia
. The experience, however, is primarily a lesson in futility.
Take for example the "King of the Four-Rounders," Eric "Butterbean" Esch. After 25 professional MMA bouts, he owns a plus-.500 record -- respectable despite some embarrassing efforts. But to get an accurate picture for this sideshow boxer's adventures, all you need to do is revisit his first MMA attempt. Hovering near 400 pounds, "Butterbean" tapped when 155-pound
Genki Sudo
scurried around him like a squirrel before slapping on a leglock.
These are different sports.
There is more than enough evidence to support that.
But this fact hasn't stopped a young boxer from rattling his sabers to prove a point (and draw attention and a solid payday).
What might make this boxing/MMA adventure different from the rest? The commendable fact that Fury is angling to face the current MMA heavyweight champion. The boxer should be lauded for aiming so high.
And sufficiently warned.
May, 2, 2013
5/02/13
11:06
AM ET

By Jake Rossen
ESPN.com
Archive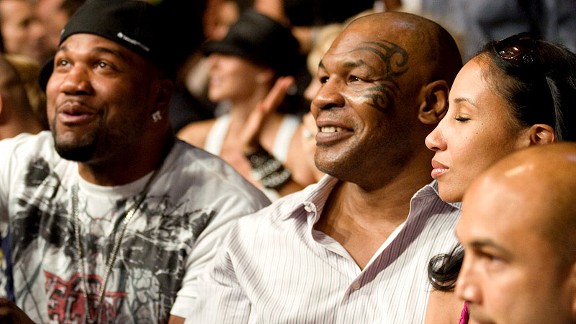 Josh Hedges/Zuffa LLC/Getty ImagesMike Tyson is a fan of mixed martial arts since the early days of Royce Gracie and Ken Shamrock.
Seven years ago, Mike Tyson did what prizefighters are rarely willing or able to do: recognize when their time is up.
A mercurial figure of the '80s and '90s who often courted as much trouble outside the ring as he did inside of it, Tyson walked away from boxing after consecutive losses, telling spectators he refused to disgrace the sport with subpar performances.
"

That'd be an awesome fight from the fans' standpoint. All the fans want to see two invincible fighters from two different weight divisions. It would be very interesting.

"

-- Mike Tyson on a possible Jon Jones-Anderson Silva matchup.
Based on his past indiscretions, many expected him to implode. Retirement, however, had a strange effect on Tyson: Instead of feeling cast adrift, he appeared ecstatic at the prospect of leaving the fight business behind. Cameos in "The Hangover" films and viral videos turned public perception around; removed from the mindset of having to try to tear a man down with his fists, there was little trace of the savage behavior that made him famous.
The story of that transformation is part of "Mike Tyson: Undisputed Truth," a one-man stage show Tyson is currently touring. As he prepares for his final dates in Atlanta, Newark, New York and Wilkes-Barre, Pa., Tyson -- an unabashed fight fan who recently appeared on "The Ultimate Fighter" -- spoke with ESPN.com about the past, present and future of mixed martial arts.
Jake Rossen: You've been touring the show for a few months now. When you started, was the idea of public speaking more nerve-wracking than fighting?
Tyson:
Absolutely. I'm not the most didactic guy when it comes to my linguistics skills. Spike [Lee, the show's director] hired a voice coach, a speech teacher, so I could pronounce the words in a proper fashion. I still sometimes garble my G's and R's, though.
They're ready to film this for television, it's gotten so good. Spike has hinted at it. Though I might talk too much and then he'll say, "Hell, no, we're not going to do it now."
Rossen: You were one of the first boxers to acknowledge mixed martial arts as a legitimate combat sport. Do you remember when you first watched the UFC?
Tyson:
My friends were all at my house one day, and we see these guys promoting these cage fights, right? When everybody was over, people were normally inebriated, so we said, "We're putting this on. We're gonna watch this!" Next thing you know, we're watching
Ken Shamrock
and someone fight. Bang! I'm saying, "This is real, man. This is on!"
We started watching it every time we got the chance. We've been following the guys since [Royce] Gracie, Shamrock, [Dan] Severn. It just kept evolving and evolving.
Rossen: At those early shows, sometimes people in the crowd would hold up signs saying, "Tyson vs. Gracie." What would you think when you saw that?
Tyson:
Yeah! That was so awesome. I love all kinds of fighting. To say I only love two guys putting on gloves and only punching, I would be a moron to say that.
Rossen: Did you ever seriously consider an offer to fight MMA when you were active as an athlete?
Tyson:
Not really, because by the time it took off, I was already doing boxing. This is something you have to start when you're 12 or 13. It has to be a passion. That's the problem with boxing: There's no passion. People want to be record producers, rappers. In MMA, you see that passion.
Georges St-Pierre
, this is all he wants to do. That's why he's so successful.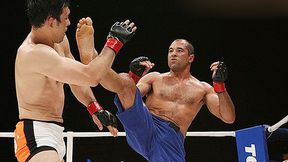 Dave Mandel/Sherdog.comRoyce Gracie changed the face of MMA in the eyes of Mike Tyson.
Rossen: But back in those days, it wasn't so refined. I know it's a hypothetical, but what do you think would've happened if someone had put up enough money for you to fight Royce Gracie? He was a much smaller man.
Tyson:
It doesn't matter. If I hit him with a good punch, OK, but if he gets hold of me and in a position I'm not familiar with, I'm not going to win the fight. I would have to be equipped with grappling skills as well. Gracie changed the whole game around. To be involved in this kind of fight, you have to know that style right off the bat.
Everyone learned his style of fighting. Everything we have now is because of the Gracies taking it to the next level. Their name isn't on it, but that's what it is. It's Gracie Fighting.
Rossen: Have you ever grappled?
Tyson:
Never in my life, no. Unless I had a street fight where I had to grab someone and slam them. [Laughs]
Rossen: There's always talk MMA is set to "replace" boxing. Do you think the two will continue to coexist?
Tyson:
I think there's room for both [MMA] and boxing, but boxing just has too many black eyes. It doesn't have a good image. In MMA, even though people are fighting, they have a good image. Very few of them get into tragic troubles where they're beating people up and stuff.
Rossen: Do you see Jon Jones versus Anderson Silva as MMA's version of Manny Pacquiao versus Floyd Mayweather Jr.?
Tyson:
That'd be an awesome fight from the fans' standpoint. All the fans want to see two invincible fighters from two different weight divisions. It would be very interesting.
Rossen: As a fighter, though, when you have a lucrative win streak going, do you think it makes either of those guys reluctant to do it?
Tyson:
The essence of fighting is this: to push yourself to the limit. Say you get defeated. Do you push yourself to another limit to overcome that defeat? This is what fighting is about. That's why it's such a metaphor for life. Even though you're going to lose and you know you're going to lose, you still have to fight and fight to win.
Rossen: Are you more of a boxing or MMA fan now?
Tyson:
I love MMA and love boxing, but I'm always watching the MMA stuff. With boxing, you don't know if the guy's going to get a [good] decision, you know? In UFC, there's the Ultimate Fighter house -- you cultivate the fighters spiritually, work with them, it's a team effort. In boxing, it's like, "The hell with you." The fighters dislike everybody. The MMA fighters are killing each other and they're friends!
Rossen: You seem to have a good relationship with the UFC. Would you ever consider doing commentary for them if asked?
Tyson:
Absolutely. I would also work in boxing if I could get a chance to clean it up, get it organized and government-operated. It has to be. Look at all the atrocities that have happened in the history of boxing.
Rossen: You've spoken before about being a huge fan of Fedor Emelianenko. Is there one fighter in the UFC you love to watch compete?
Tyson:
It has to be Jon Jones. But I like Anderson Silva, too. And
Cain Velasquez
! He showed what a champion is. He took a humiliating defeat, came back focused and beat
Junior dos Santos
[in the rematch].
I look at MMA totally differently from how the fans look at it. I look at people overcoming adversities. Most guys being knocked out the way Cain was would've lost all of their spirit. He could've come back for a payday and gotten knocked out in one round. Instead, he examined his loss and changed the outcome.
Rossen: There are some parallels there to your own life. You have a charity now, Mike Tyson Cares. What gave you that initiative?
Tyson:
My wife and I were piggybacking on other established charities. We were so happy we were able to put smiles on so many faces, get medication into hospitals, get people educated. We've gotten 7,000 homeless kids medical supplies, school supplies, by piggybacking with these other organizations. It gave us great satisfaction.
I just want to continue to be of service, continue to help people, and do good things in life. I want to have moral achievements more than tangible, physical ones.
April, 25, 2013
4/25/13
6:13
AM ET
That
Chael Sonnen
guy: He isn't one of the best light heavyweights in UFC. But Sonnen has the gift of gab. He's second to none in that category. His uncanny ability to come up with catchy phrases, primarily derogatory comments targeted at champions, captures the attention of the most casual fight fan.
Like it or not, when Sonnen speaks, everyone listens. And it has earned him some very lucrative paydays the past few years. It was during the months leading to his showdowns with middleweight titleholder
Anderson Silva
that Sonnen added a new wrinkle to his chatter. He took prefight trash talk to new heights, or depths, depending on your perspective. Sonnen questioned Silva's intelligence, hinted at touching his wife in an inappropriate manner and said unflattering things about the champ's native country of Brazil.
His statements could be classified as deplorable, but they served two purposes -- increasing interest in the fights and getting into Silva's head. Sonnen is very skilled at getting in an opponent's head before fight night.
He has employed this tactic again for his light heavyweight title bout Saturday night (pay-per-view) in Newark, N.J., against champion
Jon Jones
. But Sonnen has slightly altered his strategy.
There's still a hint of nastiness -- he raised an issue about Jones' mental capacity. That approach, however, has grown old and Jones is clearly too intelligent to be fazed by it.
So during a recent media call to promote the fight, Sonnen unveiled Plan B: soften Jones up with kindness. Rather than attempt to get under Jones' skin with derogatory statements, Sonnen turned to praise as a way to distract the champion.
"I always find it, you know, as great as Jon is, I don't think that he understands how good he is," Sonnen said. "You know for him to pay tribute to Mike Tyson and Muhammad Ali earlier was a very nice thing for him to do. The reality is Jon Jones could beat up Mike Tyson and Muhammad Ali in the same day.
"And when he says he wants to be the best ever, Jon, news flash, buddy, you are the best."
Talk about taking prefight mind games to extremes.
Is Jones the best mixed martial artist today? Yes, though Silva supporters would surely chime in on this discussion.
The comparison to Tyson is fine. But Sonnen went too far by mentioning Jones and Ali in the same sentence. That's total madness.
Ali was far more than a great boxer, he transcended his sport. Like Sonnen, he talked a lot of trash before fights -- often belittling his opponent -- which served to increase interest in the bout. More often than not, Ali backed up his prefight boasting. But what separated, and continues to separate, Ali from most other great athletes was his unwavering willingness to confront the social injustices of his day.
Ali's positions weren't always met with full approval from the masses, but the man was admired, especially in the African-American community, for staying true to his convictions in the face of overwhelming verbal attacks.
Jones has a long way to go and many more hurdles to overcome in his professional fighting career before comparisons to Ali can be taken seriously. Until then it is unfair, even insulting, to Jones to make such a comparison.
Fortunately, Jones refused to be sucked in to Sonnen's trap. He remains focused on the issue at hand -- retaining his title Saturday night at UFC 159.
"I can't afford to worry or feel any type of feelings of him being kind or anything," Jones said. "The thought of someone taking my name away from me and that nickname is Champ, I take that very personal. I take that with a grain of salt.
"And that's the way I need to keep my attitude. I need to keep my focus. Someone's trying to take away my dream, you know, the thought of going home without my belt, it keeps me angry. So I don't care if someone says something nice about me."
Jones will defeat Sonnen at UFC 159, within three rounds, continuing his journey toward MMA immortality. And maybe one day a young champion will be compared to him, prematurely. That too, of course, will be unfair.
April, 20, 2013
4/20/13
6:53
PM ET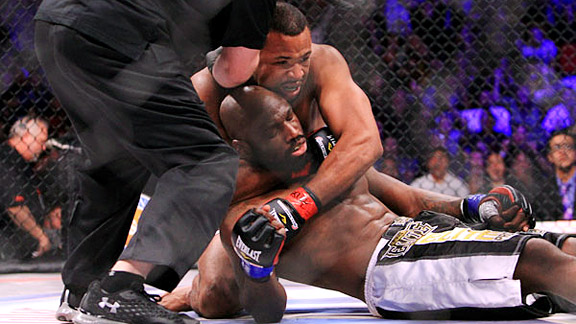 Sherdog.comLosing to Emanuel Newton proved to be a wake-up call for Muhammed Lawal.
Never has
Muhammed Lawal
doubted his ability to compete at the highest levels and become MMA's best 205-pound fighter -- and he is not about to do so now.
That unexpected first-round knockout loss to
Emanuel Newton
in February hasn't diminished his resolve. If anything, the loss strengthened it.
Nothing else about Lawal has changed since that February setback: His camp remains fully intact. Jeff Mayweather -- yes, that Mayweather, the uncle of boxing champion Floyd Jr. -– still calls the shots in Lawal's corner. And UFC heavyweight
Roy "Big Country" Nelson
continues to be one of his primary sparring partners.
When he returns to action, which is likely to be June 19 at a Bellator event in Oklahoma against an opponent to be named, Lawal will enter the arena with his familiar swagger. He will have a cape drenched over his shoulders, sunglasses covering his eyes and a crown on his head.
"King Mo" still lives! And he will be as bad and brash as ever. He has no intention of suddenly playing nice. If you didn't like his act before, wait until you see him in June.
"I'm not going to change up things," Lawal told ESPN.com. "Some people, after a loss, change their entire camp up. Jeff is on point. Roy Nelson is a great training partner. I've got good sparring in Las Vegas.
"I'm not going to be like Mike Tyson. He was a great fighter, but I feel that after he lost to Buster Douglas, he kind of fell apart. He was never the same again. He lost his aura.
"With me, I'm going to keep the same aura going. I'm just going to take it out on my next opponent."
When he steps in the cage, Lawal, as usual, will be the superior athlete -- regardless who the opponent happens to be. He will remain comfortable dropping his hands, because his high-level footwork allows him to control distance. That footwork is pure Mayweather, and a major component of Lawal's stand-up success.
Lawal will move his head and change levels repeatedly while delivering those stinging jabs and occasional kicks. They serve to set up either vicious takedowns or knockout-caliber punches. And through it all, Lawal will taunt his opponent with a mean-spirited smile on his face.
It will be the same fighting display Lawal put on against Newton before getting hit with what he calls that "fluke" punch. Actually, it was a spinning back fist that found Lawal's chin at the 2:35 mark.
The punch surprised Lawal, dropping him face-first to the canvas and likely costing him a shot this year at the Bellator light heavyweight title.
Newton went on to claim the Bellator Season 8 light heavyweight tournament and will face promotion titleholder
Attila Vegh
. A date for that fight has yet to be determined.
Back to Lawal. It's unlikely he will get caught with the same punch two fights in a row.
He intends to win his next fight and every one after that in the foreseeable future, and he is rooting for Newton to do the same. Lawal believes their paths will cross much sooner if each man keeps winning.
Lawal is itching to get his hands on Newton as soon as possible. He wants to destroy Newton in the cage before humiliating him. It's part of Lawal's payback plan.
"Hopefully Emanuel will win the whole [Bellator] tournament so I can beat his ass and get that belt from him," Lawal said. "And after I beat him, I'm going to do a dance all in his face. I'm going to be so unsportsmanlike; it's going to be unbelievable.
"This dude is trying to act like he knew what he threw [the spinning back fist], saying 'I wanted to throw over my shoulder.' Man, you didn't want to throw from your shoulder. We've seen the replay.
"The thing is I'm going to throw it in his face. I'm going to be the heel. I'm going to be the bad guy. I like being the bad guy."
Lawal is so confident of landing a rematch with Newton and destroying him that he continues to prepare for his professional wrestling debut. He still doesn't know when that will happen but emphasizes that MMA remains his top priority.
"I do the pro wrestling stuff for like an hour, two or three times a week," Lawal said. "That's it, then I go back to boxing, jujitsu, wrestling and MMA sparring."
Pro wrestling is intriguing, but Lawal won't allow it to get in the way of his immediate goal: landing a rematch with Newton and humiliating him.
October, 15, 2012
10/15/12
10:54
AM ET
Dana White likened Anderson Silva to Mike Tyson and Michael Jordan following his latest win at UFC 153, and predicted that the Brazilian's own desire to astonish people will lead him into a super-fight with Jon Jones.
More »
September, 19, 2012
9/19/12
5:48
AM ET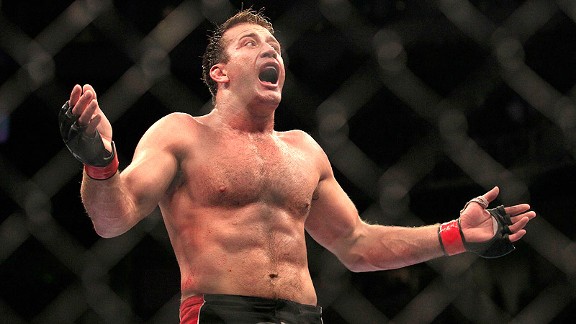 AP Photo/Jeff ChiuSurprise! Stephan Bonnar was officially retired when he got the call from UFC to fight Anderson Silva.
Conventional wisdom suggests that
Stephan Bonnar
, who last fought in November 2011 and spent the past few months contemplating retirement, has nothing to lose against middleweight champion Anderson Silva at UFC 153.
There's no title on the line, the bout will be contested at light heavyweight and Silva's physical skills so far exceed what Bonnar has to offer that oddsmakers have the Brazilian opening as a 13-1 favorite.
Bonnar will enter the Oct. 13 bout in Rio de Janeiro on a three-fight win streak. Those victories, however, have come against middle-of-the-pack competitors Kryzstof Soszynski,
Igor Pokrajac
and
Kyle Kingsbury
.
Silva on the other hand has won 16 straight and doesn't know the taste of losing inside the Octagon. Fighters on his destruction list include
Chael Sonnen
,
Forrest Griffin
,
Rich Franklin
,
Dan Henderson
,
Nate Marquardt
and
Vitor Belfort
.
By all measures this main-event fight is being viewed as nothing more than an exhibition. For Bonnar, however, it's anything but.
This is as real a fight as any Bonnar has ever participated in, and regardless of conventional wisdom he is going in to it determined to give everything his 35-year-old body can muster.
Bonnar is a prideful man. He has given much of his body to the professional fight game for nearly 11 years.
He definitely has something to lose. If this is his final fight, Bonnar doesn't want to be embarrassed. But more important, he has a lot gain with an impressive performance or better yet -- the unthinkable -- a victory.
"I'm going to do my best," Bonnar told ESPN.com. "It's so hard to top the Forrest fight after all those years. It's a great storybook in and of itself, but what's my storybook ending?
"I beat
Anderson Silva
and it's like the perfect ending. What's going to top that? Nothing! But after I beat Anderson Silva, if I want to fight again I'll be given a fight that I can make a lot of money off of. Do I end my career on a storybook ending or keep fighting and get rich? That's a great problem to have."
Bonnar and Griffin fought in the Season 1 finale of "The Ultimate Fighter." That bout, which was held in April 2005, has been credited with catapulting UFC into the mainstream.
Griffin won that fight, and their August 2009 rematch, by unanimous decision. Despite suffering the two losses, Bonnar campaigned hard the past year trying to land a third fight with Griffin. His repeated attempts to convince UFC president Dana White to name him and Griffin as "TUF" coaches were unsuccessful.
But an upset of Silva, which would rank among the biggest upsets -- along with boxing's Mike Tyson-James "Buster" Douglas and Sonny Liston-Cassius Clay -- in combat sports history, would open numerous opportunities to Bonnar.
"I'm going in there [against Silva] to win or die trying," Bonnar said. "That's the plan.
"

If I beat Anderson [Silva] I won't have too much of a problem getting that coaching gig with a fighter like Forrest [Griffin]. I just heard that in the history of UFC I'm the biggest underdog they've ever had. And I'm fighting in his backyard. Talk about no pressure, it doesn't get any better.

"

-- Stephan Bonnar, on what little he has to lose at UFC 153
"If I beat Anderson I won't have too much of a problem getting that coaching gig with a fighter like Forrest. I just heard that in the history of UFC I'm the biggest underdog they've ever had. And I'm fighting in his backyard. Talk about no pressure, it doesn't get any better."
There is some pressure, however. Not the kind that comes from fan expectations, there is little of that. The only issue as far as an overwhelming majority of fans are concerned is how many rounds will Bonnar last against Silva?
This fight represents Bonnar's final chance to cash in on a mixed martial arts career that began in November 2001. It's now or never. That's pressure. Bonnar won't get another chance to hit the jackpot if he doesn't, at the very least, deliver a respectable performance.
He has years of hard work, blood, sweat and tears riding on this fight against arguably the best mixed martial artist ever -- and it is proving to be a bit nerve-racking.
"Fear is a great motivator and so is money," Bonnar said. "I've got this T-shirt business and all that. It's doing all right, but I'd really love to blow that up and make it successful.
"And winning this fight would be the easiest way to do that."
January, 26, 2012
1/26/12
7:13
AM ET
Chael Sonnen
has continued his baiting of UFC middleweight champion
Anderson Silva
, insisting he is only staying unbeaten because he picks his opposition.
More »