April, 19, 2012
4/19/12
12:48
PM ET

By Brett Okamoto
ESPN.com
Archive
ATLANTA -- If there is one piece in this entire
Rashad Evans
/
Jon Jones
/Greg Jackson puzzle that often gets overlooked, it's
Mike Van Arsdale
.
Van Arsdale, 46, spent years coaching at Jackson's camp in Albuquerque, N.M. in a role, he says, he was rarely paid for. He viewed the experience as "an internship."
Even though he was highly involved in the camps of major fighters, Van Arsdale paid his bills with money made from personal training sessions with non-fighting clients. Instead of sitting cageside during his fighters' bouts, he watched on TV.
That role changed forever for Van Arsdale in May 2009, after Evans lost his UFC title to
Lyoto Machida
at the MGM Grand Garden Arena in Las Vegas. Today, he says his stable of fighters in Boca Raton, Fla., is 30 strong and he'll be in one corner one of the most anticipated fights of 2012 when Evans meets Jones at UFC 145 this weekend.
In an interview with ESPN.com, Van Arsdale discussed his perspective on the grudge match between the former teammates, his team and that moment in 2009 that he believes led him to becoming a head coach.
ESPN.com
: What would you say your role was at Jackson's and did you ever receive credit for it?
Van Arsdale
: My role was to coach the team. When you've got a head coach that the gym is named after, obviously he gets all the credit. I understood that. I basically did it as an internship. Did I get credit for it? No. I don't think people even knew I was there. I don't remember doing any interviews or anyone saying, "Mike Van Arsdale is training anyone." It was tough not making a living for what I did, especially with five children. But as far as feeling good about fights? I remember training fighters 10-12 weeks, getting up in the morning with them, then jumping in the air when they won from my spot on the couch because I wasn't in their corner. I still felt good about it, though. I learned a lot from that experience and now it's my time to coach.
ESPN.com
: Did you always plan to be a head trainer in the future?
Van Arsdale
: I was content not coaching fighters until I went to visit Rashad after he lost to Machida. I went to the room prior to the fight to see him, but there were so many people in there. Security was patting me down saying I couldn't get in. Then after the fight, I went in there and it was just him and his wife. I said, "You mean to tell me there was a full room before and now there's just you and your wife? What a bunch of fake people. And I'm not trying to talk about the coaches in there. There were people in there calling themselves his friends, too. After the fight -- nobody. The very next day he asked me to coach him.
[+] Enlarge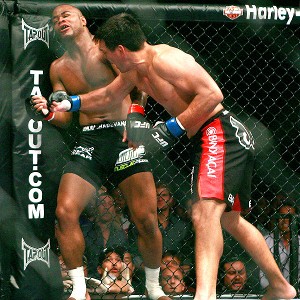 AP Photo/Eric JamisonRashad Evans enlisted Mike Van Arsdale full-time after losing his title to Lyoto Machida in 2009.
ESPN.com
: What is your relationship like with Greg Jackson?
Van Arsdale
: Greg and I have a good relationship. I used to live at his house and was one of his fighters. After that, I helped him run his gym. I don't think he was happy when I left because I was doing a lot of work but he's fine now. He's fine, I'm fine. I like and respect Mike Winkeljohn. He was like my ally at the gym. I'm pretty sure they plan on winning this fight and I plan on winning, too.
ESPN.com
: How has it been preparing for a fight against a Greg Jackson fighter, a trainer you know so well?
Van Arsdale
: There's nothing different. I don't think about the coaches. I think about the guy we're fighting. He has a lot of talented fighters but as far as being able to predict things -- none of us are able to predict anything. You can only prepare for battle. You don't win your fight on fight night. You don't sit in your corner and tell them how to win the fight. Nobody is the coach of the year. Nobody is smarter than everyone else. The only smart coaches are the ones that don't over-train guys.
ESPN.com
: You know Rashad. How has he been during this camp?
Van Arsdale
: The only thing that's different is the media won't leave him alone. Other than that, we're training how we always do. Does he want to win this fight? Of course, but he doesn't want to win this one more than he wanted to win the last one.
ESPN.com
: At one point, Rashad said if Jon held the belt he'd move to middleweight or heavyweight. Was that ever realistic?
[+] Enlarge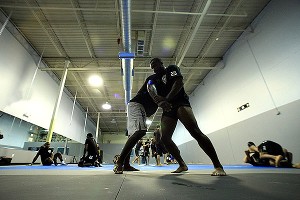 Dave Mandel for Sherdog.com Mike Van Arsdale feels Rashad Evans has put the right amount of time and energy in the gym to defeat Jon Jones.
Van Arsdale
: Moving to 185? Absolutely not. Heavyweight -- probably not a good idea. That just shows you, though, the level of loyalty Rashad Evans actually does have. He would have never fought this kid just because he made a commitment not to. This is a different generation. The new school generation is a little more ruthless than the old school generation. The old school generation would actually honor something like that. The new school is thinking, "I'm going to make it no matter what." I'm not saying [Jones] is a bad guy for doing that.
ESPN.com
: How confident are you in this fight?
Van Arsdale
: I never say that nothing can happen or there's no way we can lose but I'm in the 90 to 95 percentile we're winning this fight. The only reason there's any percentage there that we won't is because this is MMA. As far as knowing Rashad and what he's capable of and how he's prepared -- I think it will be a good fight but I don't see how Jon can win. There are a couple ways he could, but I don't see those scenarios going down. I know everyone is thinking Rashad is going to lose but that is just another lesson for all the people to learn.
ESPN.com
: Talk about training Rashad in Florida this past year.
Van Arsdale
: The funny thing is I never try to make him the best Rashad he can be. I just make sure he beats the guy he's fighting. You don't want to give everything away if you want to have a long career. Athletes can't peak over and over again, especially drug-free athletes. I asked him how many fights he wants to win and we're not halfway there yet. So, unless he tells me we've only got one more fight, I'm not trying to get everything out of this guy. Example, for
Phil Davis
, he didn't have to be in the best shape to beat that guy.
ESPN.com
: Have you peaked him, though, for this fight specifically?
Van Arsdale
: No. I don't have to, to win this fight. It's not the last one. We did enough to beat this guy.
April, 17, 2012
4/17/12
1:50
PM ET
This is a fight week that has stretched on for a year -- which is nothing for a conflict that has always been the case.
Even when
Jon Jones
and
Rashad Evans
were training partners in Albuquerque, N.M., one fighter was never going to be "off limits" to the other forever. As UFC president Dana White peevishly reminds everyone, brotherhood has nothing on matchmaking logistics, especially when there's room at the top for only one. For all the things that Jones and Evans shared in common in those carefree early days at Greg Jackson's gym in the desert, that they shared a weight class was always the bit of taboo.
Ultimately, they never stood by each other so much as in each other's way.
That's why this weekend's clash carries an air of inevitability to it, as well as a strange feeling of "let's get this over with." It's an uncomfortable fight. And yet the best way out, as has been said, is always through.
That's how things will be in UFC 145's main event. All delusions have been shattered in the most public way possible. All the acts of betrayal stored into banks of motivation. The house Evans helped build in Albuquerque is coming after him with the new, young prizefighter, the pupil who looks to surpass the master. His replacement. The guy holding the belt he once owned.
These things cut deep.
In other words, this fight has the kind of cinematic undertones that make busybodies of us all. The Jones/Evans conflict broke down barriers -- within each other and externally. It divided a gym that had, up until then, functioned on Zen-like bonds.
Imagine how awkward it's been on somebody such as former UFC contender
Keith Jardine
, who was Evans' BFF before Jones arrived? Jardine still lives in Albuquerque, that forsaken place where Evans was scorned, and still shares the mats with Jones.
Imagine, too, what it's been like for Jackson, who is the stuck-between that had his guts twisted at for the last year over this ordeal. This is a fight that opened up the teammate versus teammate debate to the point Mike Winkeljohn and Jackson had a sit-down with their den of fighters to emphasize what must be done in pursuit of the ultimate goal (as in, getting a UFC belt and all the perks that come with one).
From that point on, the word "never" was taken out of the collective vocabulary at Jackson's.
Jackson fighters became realists in the Jones/Evans fallout. In fact, a lot of people did. But none more so than Evans, who set out in search of himself like a modern-day Yojimbo, ending up in Florida with the most intense cast of strays ever assembled in MMA as a "Blackzilian" -- an assemblage of fighters who have gathered at Imperial Athletics in Boca Raton, Fla.
But what MMA fans remember Evans for most is that he was once the type of champion to champion a young cat such as Jones, to help him get his bearings and swagger, and finally to put Jones in a place to make him miserable.
Everyone succeeded on the fool's errand. That place is the here and now.
And it's Evans task to reel Jones back in, to kick out the scaffolding he helped build. And it's Jones' job to be the cruel bearer of news: that Evans' day is done and that this is his time. The top isn't big enough for the both of them.
Which, of course, it never really was.
October, 4, 2011
10/04/11
9:01
AM ET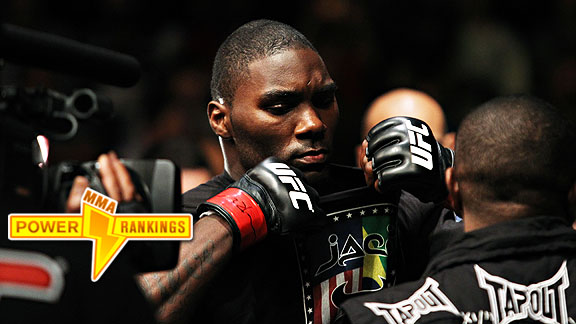 Ed Mulholland for ESPN.comIncredible bulk: No fighter packs as much muscle into a welterweight frame as Anthony Johnson.
There's a fairly large group of MMA fans who have no interest in seeing a super-fight between
Anderson Silva
against
Georges St. Pierre
. They view it as a (potentially) one-sided route for Silva, who is just too big for the welterweight to handle. When contemplating a style clash, too many people can't get past the size difference.
St. Pierre himself has trouble with the notion. He says he'd need time to add 10-15 pounds of muscle if he were to attempt a fight at 185 pounds. GSP avoiding a size mismatch has become a sticking point.
Theoretically,
Anthony Johnson
should carry a little extra intrigue as he makes his way toward St. Pierre's belt for this very reason. He's still far from that shot, but Johnson cuts the weight equivalent of a Keeshond each time he enters the cage. Johnson weighs in the 215-220 pound range at his farthest orbit from fight night; that's in the ballpark of Silva's walk-around weight, and Silva is a considered big for a middleweight.
What does that make "Rumble"? A gargantuan welterweight with a yogi's gift of self-compaction. Or, more directly, a large middleweight interloping as an improbable 170-pounder.
If you watched the fight this weekend, you know that Johnson had to have been around 190 pounds by the time Bruce Buffer introduced him. Poor
Charlie Brenneman
never stood a chance. Just as
Dan Hardy
never did. After experimenting with cutting weight -- and failing on a couple of occasions to make it -- Johnson seems have figured out a way to touch base at 171 pounds, race to the fridge, and then reappear as the Incredible Hulk 24 hours later.
[+] Enlarge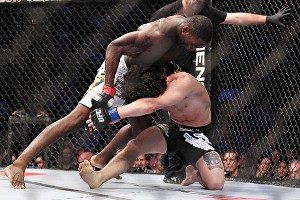 Ed Mulholland for ESPN.comCharlie Brenneman never could get anything going against Anthony Johnson.
Whatever his secrets are, this could be disconcerting to St. Pierre at some point in the not-so-distant future. If Johnson gets a couple more wins without repeating a
Rich Clementi
or Yoshiyuki Yoshida incident (where he couldn't even get within six pounds of his mark), St. Pierre would be faced with a size problem without leaving the division he's ruled so long to find it. In this way, Johnson would be bring the middleweight division to GSP, which would be a strange twist to things.
But a potential fight with St. Pierre is intriguing for other reasons besides just the size difference. Since Rumble has began fighting smarter -- using his wrestling, patiently picking his moments, using his length and athleticism to dictate the fight -- he's looking like a far more complete fighter.
When Dan Hardy tried to lure him into a brawl, Johnson coolly brought things to the ground and fought intelligently (another adjective to describe it could be "boring"). When the wrestler Brenneman tried to shoot, whatever he found attached to Johnson's ankles was immoveable.
St. Pierre has made a career of stifling his opponents' strengths since losing to
Matt Serra
in 2007. With Johnson, he'd be facing an athlete who can wrestle, who's long, who's heavy, and who's fighting with an overall purpose more centered on winning than simply obliterating people.
St. Pierre-Johnson is a long way from actually happening, of course. Johnson will likely need to beat a couple of top-10 welterweights to get there, prove he has a gas tank, prove that the
Josh Koscheck
fight was, if not an aberration, at least a lesson learned. And who knows if GSP will have already fled by then, anyway?
But Johnson does bring a different challenge up the rungs, and it's sort of fun to think about.
July, 16, 2011
7/16/11
8:22
AM ET
Rashad Evans
went from being a popular team leader at Greg Jackson's gym in Albuquerque to a lone wolf with Mike Van Arsdale and loose change in Florida.
Betrayal, as it turns out, is a pretty strong motivator -- Evans has changed his whole approach to fight preparation. As such, when he steps in the cage against
Tito Ortiz
at UFC 133 in Philadelphia, we'll be seeing a product of one-on-one, tailor-made training. It's a departure from what Evans was doing at Jackson's, where he trained happily as part of a collective.
And it's the former collegiate wrestler-cum-fighter Van Arsdale -- who used to coach at Jackson's, as well -- that's doing the tailoring.
"It's almost like a little mom and pop restaurant that's got the best food," Van Arsdale told ESPN.com of his Imperial Athletics gym in Boca Raton. "That's what we got going on down here, it's a mom and pop. We're small. We're not big. We're not some big name with all these UFC fighters."
Van Arsdale was a teammate of Evans' going back to 2005, and he's been coaching him since 2006. He and Evans have maintained a solid rapport over the years, and Van Arsdale was with Evans the first time he fought Ortiz in 2007 at UFC 73. That was a fight that Ortiz would have won had he not been docked a point for holding the fence in the third round. After
Phil Davis
was forced to back out of the big headlining spot against Evans, the opportunity fell to Ortiz, who declined, thought it over, then signed on.
This was good news for the Evans' camp, according to Van Arsdale, and he says you can expect a different outcome from the first fight because his charge has a different mentality, a better ideology and the benefit of experience. Oh, and he's healthy.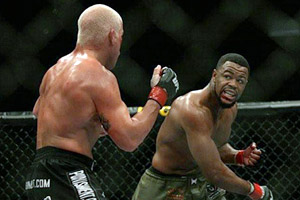 Sherdog.comCoach Mike Van Arsdale feels Rashad Evans wasn't properly prepared for Tito Ortiz the first time.
"Every person has different needs," Van Arsdale says. "I think Rashad at the time was doing the same workout that the team was doing, which I think wasn't the right prescription for his body type and what he needed to get ready for that particular fight. Instead of running, he probably should have been wrestling; instead of pounding with the legs, he probably should have been practicing some maneuvers with the standup.
"What happened was he got severe shin splints and an injury to his thigh. But, he kept quiet and fought [Ortiz] anyway, without a camp. He might have had two good weeks and the rest of the time he sat around barely making it through practice."
Though it took a minute to get used to, Van Arsdale says that he likes the idea of Ortiz/Evans II, particularly with the improbable "feel good" vibe that Ortiz has fashioned after beating
Ryan Bader
a couple of weeks ago. He also appreciates that the "Huntington Beach Bad Boy" has a history of fights that are compelling just for having his name on the marquee.
"We're happy it's Ortiz," he says. "Of course, we would like Phil Davis to still be there, but he's not, so we had to take what we could get and Ortiz had the nerve and the confidence to put his name on the paper to fight Rashad, so I'm really happy that somebody stepped up to the plate and took the fight on short notice."