April, 19, 2012
4/19/12
6:27
AM ET

By Josh Gross
ESPN.com
Archive
You'd guess by now
Jon Jones
knows everything he could wish to know about
Rashad Evans
.
Not so.
There's never enough intel -- not for Jones, especially when he's days away from a fight the UFC light heavyweight champion has pondered over for far too long.
So while participants on a conference call designed to hype the main event for UFC 145 heard Evans lambaste Jones as a cocky liar and his old trainers as patently selfish, Jones gleaned something else. Something he thought was telling.
"They say if you want to get into a man's head, listen to the words that are coming out of his mouth," Jones explained an hour later.
Apparently, among Jones's many other gifts, the 24-year-old budding superstar is capable of filtering meaningful data, what he called "the true intent," through the incessant noise of a melodrama.
[+] Enlarge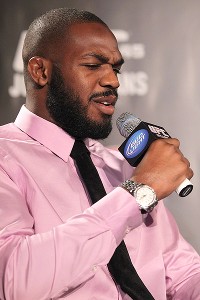 Ed Mulholland/ESPN.comJon Jones turned down a chance to save UFC 151 from extinction. Does that mean he deserves all of the blame?
On Friday, after listening to Evans speak, Jones came to the conclusion that his challenger, rival and former friend is distracted. This is significant, Jones went on to say, because it signals that Evans, in some measure, isn't fully focusing on what it will take to win Saturday's upcoming five-round title bout in Atlanta.
This is the champion's take: While Evans has revenge on the brain, Jones is thinking tactics.
As insights go, it may not be Jones' most impressive. Evans basically confirmed as much. Of course he wants win and regain the UFC belt, but the 32-year-old mixed martial artist is no less eager to teach hard lessons to the current titleholder and the team for which he once fought.
The champion sees Evans as being "more caught up than the fans are" in the drawn-out tale of how their rivalry and fight came to pass, and of the potential payback aimed at trainers they once shared.
"Rashad's biggest thing is to win this whole prefight drama," Jones said. "He's stuck on winning over fans. He wants people to hate me and hate Greg Jackson. That's the only thing he cares about, and in the process he has stretched the truth on numerous occasions."
"

He's stuck on winning over fans. He wants people to hate me and hate Greg Jackson. That's the only thing he cares about, and in the process he has stretched the truth on numerous occasions.

"

-- Jon Jones, on Rashad Evans being caught up in emotions
Evans is certainly emotional about his situation, which any reasonable person should understand.
Not only does the challenger feel wronged by people he considered close friends; he lived the sporting truth that no matter how good you are -- and he's excellent at this fighting stuff -- inevitably someone younger, faster, bigger or stronger is waiting in the wings. In this case, that happened while he was still in his prime.
Jones can claim to knows Evans' thoughts or feelings, but for all his alleged intuition, he's never actually experienced betrayal by a camp he helped build. He has no clue, at least not yet, what it's like to have someone more talented than him come into his domain, divert attention away from resources that were dedicated to him and usurp what was once his.
Jones is the golden boy of the moment, and golden boys, for periods of their lives, know no such things.
The UFC light heavyweight champ has only begun his ascent. Youth, talent and physically unique dimensions, including a dominant shot-blocker's wing span, all made up for the fact that he remains new to this game. Despite holding the belt, a distinction earned just three years after he stepped into the mixed martial arts world, Jones isn't nearly as good as he projects out to be.
"If you tell him to go out and try something he'll just make it happen," trainer Mike Winkeljohn said. "It's kind of incredible."
Compared to Evans, whom Winkeljohn worked closely with for four years when the light heavyweight trained out of Jackson's camp in Albuquerque, N.M., the trainer said Jones doesn't do what's "real normal for most people." He doesn't second-guess himself, in part because he's come to rely on his faith and an ability to improvise in the Octagon.
[+] Enlarge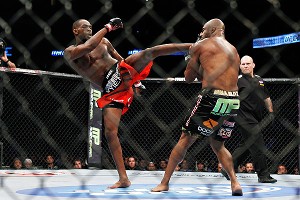 Ross Dettman for ESPN.comAccording to his trainers, Jon Jones' athleticism and self-belief are what separate him from the pack.
Half the time, Jones said,
he
doesn't even know what he's going to do in a fight until it happens.
"Rashad has tendencies," said the son of a pastor from upstate New York. "He's fought so long he's figured out his favorite moves. I don't have favorite moves. He has no clue what to expect."
That's not quite right. Evans has
some
idea; after all, they have plenty of history in the gym. Depending on who's doing the recollecting, Evans either put the kid in his place or, as Winkeljohn suggested, had "the fear of God" injected into him.
What the former Michigan State University wrestler may not be familiar with, especially over the last year or so, is how calculated Jones has become. Just as he listens and deciphers to find true intent, Jones also has developed a habit of saying only "what I want to be heard."
This could be why some people, including and especially Evans, suggest Jones as fake, a fraud. Though the two can be confused, there is a wide difference between someone who isn't the genuine article and someone who is coldly premeditated. Jones leans towards the latter.
During last week's conference call, for instance, Jones made an impassioned defense of Jackson after Evans unloaded on the trainer. Offering a verbal one-two, Jones hammered home the notion that the bond he shares with the man Evans felt betrayed by is stronger than ever. He was clean and precise with this words. In real time it sounded like an articulate, honest-to-goodness endorsement of the crew set to work his corner this weekend.
Was this, as it appeared to be, a full-throated endorsement? Or was it more; a message designed specifically for Evans' burning ears?
"Everything is said for a reason," Jones answered. And he left it at that.
In this way, the young champion has come to emulate a man he respects more than any other to grace the sports world. Muhammad Ali is the greatest for many reasons, not least of which was his poetic license to verbally accost the opposition.
Jones is different than Ali here -- he said he's different than Ali in several areas, but wouldn't elaborate -- in that he generally kills with kindness.
Jon Jones, the smiling assassin.
That is, until his old buddy Evans comes up.
"I don't look at Rashad as a former friend," Jones said. "I look at him as someone who's trying to take things away from me. He doesn't care about me. He doesn't care about my kids. Why should I care about him? This is a game, and my job is to destroy him."
April, 17, 2012
4/17/12
1:50
PM ET

By Chuck Mindenhall
ESPN.com
Archive
This is a fight week that has stretched on for a year -- which is nothing for a conflict that has always been the case.
Even when
Jon Jones
and
Rashad Evans
were training partners in Albuquerque, N.M., one fighter was never going to be "off limits" to the other forever. As UFC president Dana White peevishly reminds everyone, brotherhood has nothing on matchmaking logistics, especially when there's room at the top for only one. For all the things that Jones and Evans shared in common in those carefree early days at Greg Jackson's gym in the desert, that they shared a weight class was always the bit of taboo.
Ultimately, they never stood by each other so much as in each other's way.
That's why this weekend's clash carries an air of inevitability to it, as well as a strange feeling of "let's get this over with." It's an uncomfortable fight. And yet the best way out, as has been said, is always through.
That's how things will be in UFC 145's main event. All delusions have been shattered in the most public way possible. All the acts of betrayal stored into banks of motivation. The house Evans helped build in Albuquerque is coming after him with the new, young prizefighter, the pupil who looks to surpass the master. His replacement. The guy holding the belt he once owned.
These things cut deep.
In other words, this fight has the kind of cinematic undertones that make busybodies of us all. The Jones/Evans conflict broke down barriers -- within each other and externally. It divided a gym that had, up until then, functioned on Zen-like bonds.
Imagine how awkward it's been on somebody such as former UFC contender
Keith Jardine
, who was Evans' BFF before Jones arrived? Jardine still lives in Albuquerque, that forsaken place where Evans was scorned, and still shares the mats with Jones.
Imagine, too, what it's been like for Jackson, who is the stuck-between that had his guts twisted at for the last year over this ordeal. This is a fight that opened up the teammate versus teammate debate to the point Mike Winkeljohn and Jackson had a sit-down with their den of fighters to emphasize what must be done in pursuit of the ultimate goal (as in, getting a UFC belt and all the perks that come with one).
From that point on, the word "never" was taken out of the collective vocabulary at Jackson's.
Jackson fighters became realists in the Jones/Evans fallout. In fact, a lot of people did. But none more so than Evans, who set out in search of himself like a modern-day Yojimbo, ending up in Florida with the most intense cast of strays ever assembled in MMA as a "Blackzilian" -- an assemblage of fighters who have gathered at Imperial Athletics in Boca Raton, Fla.
But what MMA fans remember Evans for most is that he was once the type of champion to champion a young cat such as Jones, to help him get his bearings and swagger, and finally to put Jones in a place to make him miserable.
Everyone succeeded on the fool's errand. That place is the here and now.
And it's Evans task to reel Jones back in, to kick out the scaffolding he helped build. And it's Jones' job to be the cruel bearer of news: that Evans' day is done and that this is his time. The top isn't big enough for the both of them.
Which, of course, it never really was.
January, 21, 2012
1/21/12
3:04
PM ET

By Chuck Mindenhall
ESPN.com
Archive
Feel-good stories in MMA are hard to sustain, and even harder to get off the ground. As quick and cobbled as the story of the Blackzilians is being put together as a sort of wrecking crew/adoption agency, old tendencies are returning to its fighters.
This isn't a happy trend.
One week ago,
Anthony Johnson
failed to make weight (by a country mile) in Rio de Janeiro at UFC 142, marking the third time in two different weight classes he's showed up to the scale way over. He was cut for the third strike after losing to
Vitor Belfort
. Now
Melvin Guillard
, who recently relocated to Florida full-time to train with the Blackzilians, gets submitted in a round by
Jim Miller
.
If any of this looks familiar it's because he was tapped by
Joe Lauzon
in his previous fight at UFC 136, which was thought to be something of a winking aberration. Turns out it wasn't, and it never really was. The fact is that nine of Guillard's 10 losses have come via submission. The other fight he lost (against Jake Short in 2004) was a decision. Guillard has never been knocked out, but he dangles neck and limb out there to be snatched while pursuing knockouts.
[+] Enlarge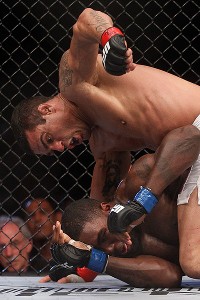 AP Photo/Felipe DanaMelvin Guillard's loss -- coupled with Anthony Johnson's defeat to Vitor Belfort -- made it one bad week for the Blackzilians.
His fixation is leaving him vulnerable. For as much as it's fun to watch Guillard's aggression, it plays out like roulette.
Yet the case of Guillard is interesting, because so many people -- coaches, fans, honchos at Zuffa -- see him as a fighter that's a few tweaks from being a champion. He has the quicks and athleticism to rival any lightweight, and arguably the strongest hands in the division. There's no doubting his explosiveness. In fact, he had Miller in trouble early by landing some big shots. Then again, lapses in judgment have always hindered him, both in and out of the cage. And those lapses in judgment in the cage put him in all kinds of hot water against smart grapplers, the kind who feast on mistakes.
Lauzon told me that he was leery of four offensive moves that Guillard presented, and he had them easily memorized before their fight. He saw all of them in the 47 seconds they stood across from each other. As for the defensive side of the equation? No worries at all -- Guillard trends offensively. He trusts his offense enough to override any specific holes in his submission defense.
And at this point that sort of thinking is the problem unless he's fighting somebody who accommodates him by not playing jiu-jitsu.
Against wrestlers (
Shane Roller
,
Evan Dunham
,
Waylon Lowe
), Guillard does fine. Against guys who like to stand and bang (
Jeremy Stephens
,
Dennis Siver
), he's right at home. But against submission specialists (
Nate Diaz
, Joe Lauzon, Jim Miller), guys who can force mistakes or at the very least pounce on them, he gets caught.
After the Miller choke, ESPN.com's Brett Okamoto suggested Guillard needed to be locked in a room with some black belts for a year, then he'd return a champion. Whether that's true or not, it couldn't hurt.
But the mistakes are the thing. Against Miller it was an ill-timed flying knee that allowed the grappler to get things to the ground. From there it was clinical -- just as Miller went to mount, Guillard scrambled and gave up his back. Seconds later, he was tapping.
[+] Enlarge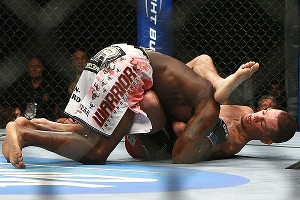 Dave Mandel/Sherdog.comFriday was hardly the first time Melvin Guillard's poor submission defense was exposed.
This has become a recurring theme for Guillard, who for just a little while at Greg Jackson's Academy in Albuquerque seemed to have found a balance in his game that might be described best as "smart aggressiveness." The thing that Jackson and striking coach Mike Winkeljohn were working on with Guillard was ultimately judgment, with a broader focus on his maturity. He was riding a five-fight winning streak when he left Jackson's for Boca Raton midway through training for Lauzon. Up until then, he was beating wrestlers and boxers.
Since then he's 0-2 against jiu-jitsu aces. Losing the way he did long before he got to Jackson's.
Would it have mattered if he'd stayed in New Mexico? Who knows. But Guillard is a work in progress, and it's been a pretty lousy week for the Blackzilians.