June, 27, 2013
Jun 27
11:42
AM ET

By Franklin McNeil
ESPN.com
Archive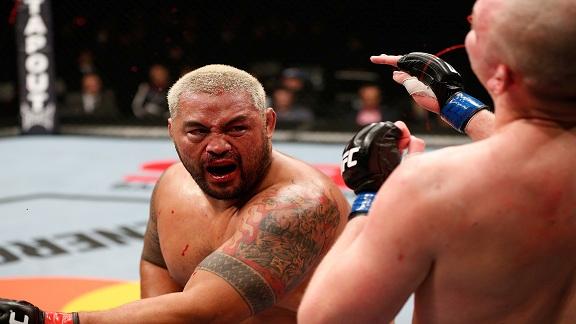 Six months remain until the 2013 mixed martial arts year officially concludes, but already several knockouts have left lasting impressions.
While some have been more devastating than others, timing and circumstance also are significant factors in determining which knockouts stand out from the pack. And none stands out more than middleweight contender Vitor Belfort's spinning heel kick on May 18 that finished Strikeforce titleholder
Luke Rockhold
at UFC on FX 8.
[+] Enlarge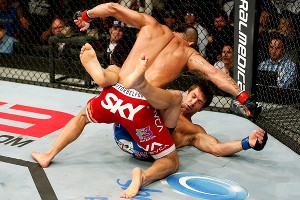 Josh Hedges/Zuffa LLC/Getty ImagesVitor Belfort's concussive power was on full display against Luke Rockhold.
The strike was quick, precise and unexpected. After it connected, Rockhold was on his way to sleep before absorbing a few more of Belfort's punches, which forced referee
Leon Roberts
to stop the assault at 2:32 of the first round.
The knockout was so impressive that ESPN.com voted it the best of 2013 thus far.
Rockhold had no chance of defending himself; he didn't see the head-rattling strike coming. It caught Rockhold just under his left ear. The kick, which likely will be talked about throughout this year and many more to come, was a thing of beauty.
In fact, everything about Belfort that evening was beautiful. His body was chiseled, there was that nostalgic sparkle in his eyes and he exuded an extremely high level of confidence that hadn't been seen in a long time. Belfort was going to leave to Octagon victorious, and there wasn't a doubt in his mind about it. The 36-year-old Belfort appeared to have found the fountain of youth: His hand speed and reflexes conjured up images of the 19-year-old "Phenom" who knocked out Tank Abbott in 59 seconds at UFC 13 in May 1997.
These images, however, are the reason this knockout will struggle to retain its top spot at the end of 2013. Heading into the bout, Rockhold repeatedly raised concerns about Belfort's reliance on testosterone replacement therapy. The topic hovered over this bout like a toxic cloud and fueled hostility between the fighters.
"I don't necessarily trust him. And I don't necessarily trust the system," Rockhold said before the fight. "Do I think he's cheating? Yes, I do.
"He definitely looks bigger than I've normally seen him. If you see the comparisons versus back when he fought
Anderson Silva
to now, [and] the
Jon Jones
fight, he put on some serious muscle mass."
With Belfort's previous positive test for elevated testosterone levels and the fight taking place in his native Brazil, where questions abound regarding the lack of stringent drug-testing, Rockhold's concerns seemed reasonable. The outcome only increased suspicion.
But until proven otherwise, Belfort is presumed innocent. And his knockout of Rockhold is the best midway through 2013.
The knockout secured Belfort's place among the top two 185-pound contenders. He is likely first in line to face the Silva-
Chris Weidman
winner -- which takes place July 6 in Las Vegas.
But cries have already begun for Belfort's next fight to be held in the United States. Each fight he has participated in this year has been in Brazil. Belfort won both fights by knockout -- perennial contender
Michael Bisping
went down in the second round Jan. 19. And yes, Belfort looked physically ripped in that fight.
Belfort didn't simply beat Bisping and Rockhold; he stopped them with punishing knockouts. It's hard to imagine any middleweight surviving the strikes Belfort delivered in those two fights.
To begin erasing doubts about the validity of his recent performances, Belfort must prove his resurgence isn't the result of having a home-field advantage. He must show off his renewed speed, cardio and physical physique under the Association of Boxing Commission's closely monitored therapeutic-use-exemption guidelines. Otherwise, the doubts will escalate.
---
Other notable knockouts:
No. 2: Emanuel Newton KO1 Muhammed Lawal: Bellator 90 (Feb. 21).
Newton's spinning back fist that knocked out former Strikeforce light heavyweight titleholder and huge pre-fight favorite "King Mo" Lawal was a thing of beauty.
No. 3: Antonio Silva KO3 Alistair Overeem: UFC 156 (Feb. 2).
"Bigfoot" Silva earned a rematch and title shot against Cain Velasquez with an impressive third-round stoppage of top contender Alistair Overeem.
No. 4: Muhammed Lawal KO1 Seth Petruzelli: Bellator 96 (June 19).
Lawal makes his second appearance on the KO list, but as the winner this time. His first-round knockout of Seth Petruzelli was about as brutal as they come.
No. 5: Mark Hunt KO3 Stefan Struve: UFC on Fuel 8 (March 2).
Stefan Struve suffered a broken jaw and a hit to his title contendership at the heavy hands of Mark Hunt.
June, 26, 2013
Jun 26
8:07
AM ET

By Josh Gross
ESPN.com
Archive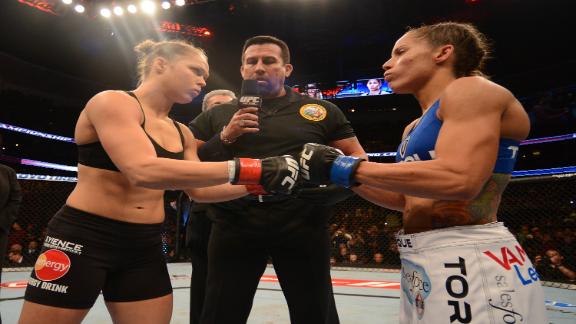 Josh Burkman
thought that guillotining
Jon Fitch
would be too risky to try.
So when he faced Fitch on June 14 at World Series of Fighting 3, Burkman made it part of his game plan to avoid using one of the first chokes learned by Brazilian jiu-jitsu white belts. He thought of it like this: Attempting to catch a guy with a reputation for being impossible to choke out
and
giving a guy who loves top position ... well, top position wouldn't be the best way to win their rematch.
A snapshot at the end of the fight says differently, of course. Considering the contest lasted only 41 seconds, with Burkman on the bottom and Fitch caught in a guillotine, you could say the plan went astray. Understandable, really, after seeing Fitch laid forcibly unconscious on the mat.
"A technical submission over Jon Fitch was definitely not what I was thinking how I would win this fight," Burkman said after being told his finish ranked atop ESPN.com's best submission list from the first half of 2013.
[+] Enlarge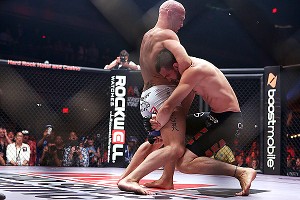 Dave Mandel/Sherdog.comChoking victim: It isn't often you see Jon Fitch unable to fend off a submission.
When he looked back on it a couple of weeks later, after the controversy surrounding referee Steve Mazzagatti's (in)actions subsided, the consequences of the victory hit home for Burkman.
"A win over Jon Fitch, in the way that I did it, helps me believe in myself and this comeback," he said. "I think my best years are ahead of me. I've been saying that for about a year and a half."
The 32-year-old Burkman won his fifth straight match and eight of nine since 2009, when he parted ways with the UFC after three years fighting in the Octagon.
One contest before signing on for the second season of "The Ultimate Fighter," Burkman was strangled cold by
Jeremy Horn
. "It happens in our sport," Burkman said. However, the finish was controversial at the time because Horn spit on Burkman immediately afterward -- a reminder that when you're out, there's no such thing as defense.
Getting choked cold isn't easily forgotten, never mind the indignity that comes with being spit upon. Burkman responded by making the ins and outs of guillotines a strength. Eight years after the Horn loss, just a week before meeting Fitch in the main event of WSOF3, Burkman was in the gym training a couple of guys seeking insight into finishing guillotines. They particularly wanted to work on tightening up the hold at the finish.
This proved fortuitous. "So the lesson there is help others because it helps yourself," Burkman said with a laugh while driving home to Utah after a family vacation.
He may not have wanted to submit Fitch the way he was about to, but Burkman recognized the end of the fight when he saw it. The instant the determination was made to go to his back, Burkman knew he could finish the fight.
"I felt him make one last-ditch effort to get out of it, and when he did that, right after he got done, I tightened it and I felt him go limp," Burkman said. "I knew he was out. I double-checked. For me, I just wanted to let everyone know the fight was over because I knew that nobody knew yet -- especially if the referee is still standing up over you."
The point of a submission choke is to prevent sufficient blood from reaching the brain, which induces it to shut down critical functions. Referees are supposed be aware of this and watch closely, because the longer a brain goes without blood, the likelier it is to be traumatized. Mazzagatti didn't move to separate the welterweights, so Burkman released, rolled Fitch off him and stood with a loud exhale.
"I don't think there's anything quite like a knockout," Burkman said. "But there's something about this choke that's the highlight of my career. I was glad the referee didn't step in and I was able to get up and celebrate the way I wanted to. As a fighter and mixed martial artist, you're trying to prove you can stop a guy, that your style of fighting is better than theirs. And any time you can put another person out cold, then you have definitively proved you were the better man on that day."
---
The next best:
No. 2: Kenny Robertson SUB1 via kneebar Brock Jardine: UFC 157 (Feb. 23).
Officially it's listed as a kneebar, but this needs updating. Robertson nearly snapped off Jardine's hamstring with this unique finish.
No. 3: Ronda Rousey SUB1 via armbar Liz Carmouche: UFC 157 (Feb. 23).
Ho-hum, another armbar for Rousey? No, not if you consider how deftly she negotiated her way to the arm. This was a pure finish for the UFC champion.
No. 4: Pat Healy SUB2 via rear-naked choke Jim Miller: UFC 159 (April 27).
Although a postfight drug test for marijuana overturned the result, Healy beat the hell out of Miller before finishing him with an angry hand-to-hand rear-naked choke.
No. 5: Fabricio Werdum SUB2 via armbar Antonio Rodrigo Nogueira: UFC on Fuel 10 (June 8).
Circumstances matter more than skill sometimes, and Werdum's verbal armbar submission over Nogueira in Brazil certainly qualifies.