June, 20, 2013
6/20/13
2:10
PM ET
News stories following Bellator MMA's first event of the summer will focus rightly on
Muhammed Lawal
's vicious knockout of
Seth Petruzelli
and
Renato "Babalu" Sobral
's retirement.
And for that, Bellator and Spike TV should be grateful.
Because without Lawal driving a rivet through Petruzelli's face, or the memories and plaudits inspired by Sobral -- whose decision to lay down his gloves in the center of the cage while kneeling reverentially was lovely -- Wednesday night's fight card came across as all sorts of ugly.
Bellator can represent itself as challenger to the UFC, as a place where competition between fighters is the only thing that matters -- toughest tournament in sports and all -- but that's undercut when guys such as 35-year-old, 5-foot-8, 260-pound
Jeremiah O'Neal
(12-22) are given bouts, and the
Ron Sparks
of the world receive live television slots.
In O'Neal's case, he fought boxing convert Raphael Butler, who went to 6-0 with an early knockout. I failed to see the point. O'Neal won't go anywhere -- he lost to a bunch of names, but mostly at welterweight and middleweight. He entered Bellator off a loss. Worse: O'Neal's last win came in 2011, against 1-3 Kelly Rundle, who turns 51 this August. Prior to that, O'Neal hadn't won since 2007. Want to kill some time? Check out the records of the guys O'Neal actually defeated.
Look, I don't want to tear down O'Neal. It's Bellator that deserves to be embarrassed. I've given them plenty of credit for finding young, fresh talent. For the most part, the promotion's scouting team of Sam Caplan and
Zach Light
do a very good job, but their work can easily get dinged when this kind of matchmaking happens, even on an undercard contest. Butler can't improve as a prospect against a guy like O'Neal, so what's the point? He hits hard -- fine. But we could have seen that just the same if he faced a heavy bag.
As for television, the decision to match
Vitaly Minakov
against Sparks was pretty sad. Minakov (11-0) looks like a legit heavyweight prospect, but no one could know one way or the other after he put away the 38-year-old Sparks in 32 seconds. Thankfully, Minakov faces
Ryan Martinez
on July 31, who at least appears a threat.
Let me leave on an up note. Bellator's card at the end of July near Albuquerque sets up as a terrific night of fights. Lawal meets
Jacob Noe
in the abbreviated 205-pound tournament finals. Minakov is matched with Martinez. Bellator lightweight champ Michael Chandler returns against gritty
David Rickels
. I'm most interested in watching 22-year-old
Andrey Koreshkov
(who is the embodiment of the anti-Jeremiah O'Neal) fight unbeaten American
Ben Askren
.
GSP-Hendricks is a go
The UFC welterweight championship contest between
Georges St-Pierre
and
Johny Hendricks
was made official this week. It will headline what most people will come to call the UFC's 20th anniversary event on Nov. 16, most likely in Las Vegas.
I'll just say this: I don't care that the UFC couldn't pull off an interdivisional mega-fight at Madison Square Garden to mark the occasion. GSP-Hendricks is absolutely fine by me -- no matter the night, regardless of the commemoration.
Why? Easy. Hendricks appears to be the biggest threat to St-Pierre in the welterweight division. And I think the once-beaten southpaw power-puncher pulls off the upset.
Good news, bad news
Bad news first.
[+] Enlarge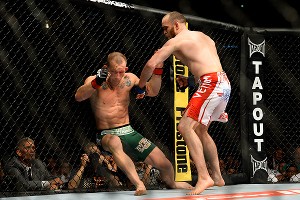 Al Powers for ESPNTJ Grant, right, will get what he deserves: a title bout against Benson Henderson.
Anthony Pettis
needs at least six weeks to recover from an injured meniscus. So he'll miss a featherweight title shot with
Jose Aldo
in early August, and an Aug. 31 lightweight shot in his hometown of Milwaukee against
Benson Henderson
. No young fighter has exhibited more patience than Pettis. (
Ricardo Lamas
might think he's getting stiffed here as well.) But, not to worry, his chance will come. It's inevitable.
Now the good news.
TJ Grant won't get pushed out of a championship spot against Henderson. The 29-year-old Canadian smoked
Gray Maynard
in May to earn the opportunity, and should be the man to face Henderson -- even if some may say it's not nearly as marketable a pay-per-view attraction as a rematch between Henderson and Pettis, Showtime Kick, et al.
Anyhow, like GSP-Hendricks, I'm calling an upset. Grant beats Henderson.
Lombard to 170
There had been calls for
Hector Lombard
to drop 15 pounds and fight at welterweight for as long as the strong Cuban competed in MMA. Yet for seven years, Lombard saw no reason to leave middleweight. He was strong and fast, and won more than enough contests by stoppage to form a convincing argument that 185 was the place to be.
Then he entered the UFC. And a year later, Lombard officially revealed it was time to shed the weight. Losses to
Tim Boetsch
and
Yushin Okami
indicated Lombard wasn't as good as he thought, and larger middleweights who were also viable competitors could stifle his explosion.
What could a 170-pound Lombard do?
Get fans excited, for starters, especially if he carries his power down with him. Lombard posted on Twitter that he wants to fight
Nate Marquardt
, who was also a middleweight convert. That's a nice first fight for him.
The real question is whether Lombard will be able to handle the speed of the welterweight division. For all of the talk of his power, it was Lombard's haste that made him at 185. Absent that advantage and coupled with the realization that he's probably shorter than most welterweights, Lombard will have to make full use of his skills, including a judo game that always seems underutilized when he fights.
Lady Liberty says 'no' to MMA again
Ready for the least shocking news of 2013?
Sheldon Silver, speaker of the New York State Assembly, declined to bring for a vote a bill intended to legalize MMA in the state. That makes Silver 4-0 against MMA legislation, having scuttled the process the past four years.
Because Silver obviously can't watch pro MMA in New York -- the only state in the Union where MMA remains banned -- he might try the Glory event at the Hammerstein Ballroom in New York City on Saturday.
See, kickboxing is legal in New York. Yes, even kickboxing three times on one night -- which is what the winner of Glory's $200,000 prize will be expected to do.
It's insane that New York licenses fighters to kickbox three times in a single evening and prohibits them from competing in MMA at all.
April, 11, 2013
4/11/13
4:16
PM ET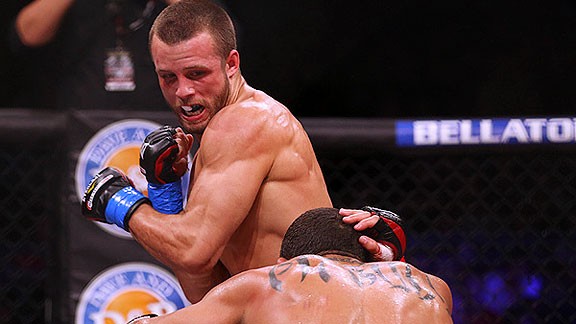 Dave Mandel/Sherdog.comWith marketable, established champions like Pat Curran, Bellator's ratings have been on the rise.
On hiatus until Bellator MMA's Summer Series in June offers three four- man tournaments, the promotion and its vested television partner, Spike TV, have just begun to unpack their first season together since the move from MTV2's hinterlands.
A solid start, suggested Bellator CEO Bjorn Rebney, though not tremendous.
From Rebney's perspective the fights delivered what he hoped they would. Production took a "substantial step forward." More than half of their events were sold-out, a "huge change of direction from what we did in the past." He conceded "it's going well."
Spike TV president Kevin Kay agreed. Bellator delivered 36 percent more male viewers aged 25-34 from 10-12 on Thursday nights than the previous year. And for Bellator, viewership increased as a whole over the previous two seasons on MTV2 by roughly 400 percent.
"That first week we did over 900,000 viewers. The last week we came back and finished strong over 900,000. So I feel like it's a pretty good place for a first season to be," Kay said. "It's not like we're sitting around patting each other on the back, cause we have a lot of work to do, but I just feel like that's a nice number and certainly room for growth."
An expanded audience could come from a couple places, Kay suggested, including the upcoming summer reality show featuring
Randy Couture
,
Frank Shamrock
, Greg Jackson and
Joe Warren
. Spike TV's president is hopeful "Fight Master: Bellator MMA" will be a key ratings driver. Fan familiarity with Bellator's current crop of titleholders could pay off in a ratings bumps, too, he said, as evident by strong numbers for
Pat Curran's
second appearance of the just concluded season.
Based on Spike's experience working with UFC, the network stepped into its Bellator relationship carrying a strong sense of where they could excel. Fans needed to be made aware that MMA had returned to Spike TV, and that it was unique because of the tournament format. On both accounts Kay felt the job got done.
A Bellator app via Apple was downloaded over 105,000 times, Kay said. It'll debut for Android platforms this summer, giving more fans a voice during the televised broadcast.
"Ratings just tell you numbers, they don't tell you anything about how fans are emotionally connecting to your brand or your stars," Kay said. "We're looking at it all the time. On Bellator it's even more important because we're running shows every week for 11 weeks. We want to know how fans are feeling and connecting because it could help ultimately influence what you're putting on TV the next week."
There were moments the promoter and network couldn't control, such as
Emanuel Newton
knocking out promotional poster boy
Mo Lawal
, but even that turned out not so bad. The following week ratings increased by200,000 viewers. Kay owed that to interest created after Lawal's stunning loss.
Dependent upon several factors, Bellator could make good on a promise to promote pay-per-view this year, perhaps as soon as this summer. The most important element, Rebney said, is the type of fights it can sell. Atop that list would be a rematch between the promotion's lightweight champion
Michael Chandler
and former titleholder
Eddie Alvarez
.
[+] Enlarge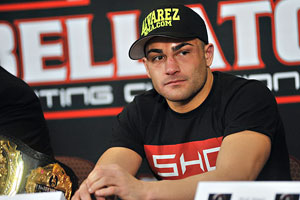 Henry S. Dziekan III/Getty ImagesBellator's potential on the pay-per-view level could depend on whether the promotion can come to terms with former champion Eddie Alvarez.
Rebney and Alvarez, currently operating on different ends of a lawsuit over the fighter's services, sat down last week in Atlantic City in one of the show's production trucks. Rebney said he was hopeful that talking put them "that much closer to getting this thing resolved."
"The reality is Eddie and I had an hourlong meeting," Rebney said. "We didn't get too terribly deep into things, but it was a good meeting and it was just he and I sitting and talking. If we can get something settled it could change the whole dynamic, but I don't know if that will happen. And if it doesn't happen of course we have
Dave Jansen
lined up and
David Rickels
lined up, both of whom are anxious to get their shot at the title."
Alvarez's manager, Glenn Robinson, declined to comment on the conversation, citing requests from the fighter's lawyers not to speak with media.
Pay-per-view would be a gigantic leap in the progression of Bellator MMA as a legitimate No. 2 to the UFC -- presuming its success. Rebney confirmed that Bellator has looked at venues in the midwest, but nothing is far enough along to make news. When the promotion goes ahead and offers a pay-per-view card -- and that seems bound to happen -- Kay said Spike TV will act as the promotion's partner, feature barker programming, and do anything it could to deliver a strong buy rate.
June, 5, 2012
6/05/12
12:40
PM ET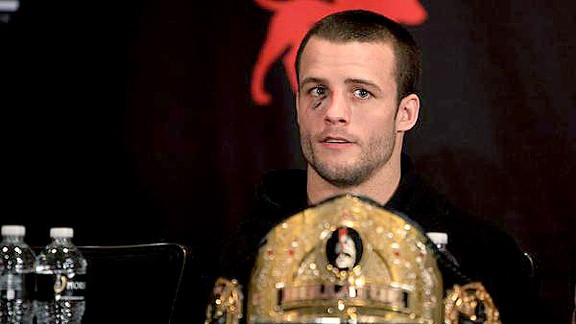 Dave Mandel/www.sherdog.comGolden boy: Champion Pat Curran has proven to be a valuable commodity for Bellator.
LOS ANGELES -- Two years ago, Michael Chandler was in the early stages of a transition that took him from collegiate wrestler at the University of Missouri to professional mixed martial artist. After three fights, the aggressive lightweight had done enough to receive meaningful contract offers from Strikeforce (which by all estimates at the time was on its way to becoming a major American promotion), and Bellator (which, like Chandler, was a baby in the MMA game).
Chandler took a gamble, departed Strikeforce for Bellator, and two years later the 26-year-old, top-10 ranked champion said it's paying off.
Take last weekend, for example. Chandler, Bellator featherweight champion
Pat Curran
and light heavyweight Mo Lawal, the promotion's recent high profile signee, were sent to Hollywood to walk the red carpet at Spike's Guys Choice 2012 awards and MTV's Movie Awards, spots once reserved for UFC-stamped fighters.
Spike, of course, was closely connected with the Ultimate Fighting Championship for seven years until the sport's most successful organization signed a long-term deal with FOX which began in January. That left a gaping hole in the network's programming and, more importantly, created an opportunity for entertainment conglomerate Viacom to own a piece of the sport rather than simply play the part of rights holder.
"There were people talking like Bellator was going to go under," the unbeaten Chandler recalled Monday. "It's cool to smack those people in the face. Bellator is on the map. Bellator is doing big things. Bellator is sending people out to big things like this. And they're coming through on their promises. Hey, we're on MTV2. We're on Spike. We're going to do things outside the cage getting me to where I'd like to be.
"I wasn't in the very first stage but I still consider myself one of the pioneers. When people talk about Bellator I want them to say, 'Remember when Chandler was just a wrestler from Missouri and he ended up being a superstar through Bellator?'".
Nothing is guaranteed in MMA. But with backing from a corporation like Viacom, Chandler, Curran and Lawal, who signed a unique deal last month that will see him simultaneously fight for Bellator and work in Spike's TNA Impact wrestling, all sung the same tune: things are looking up.
[+] Enlarge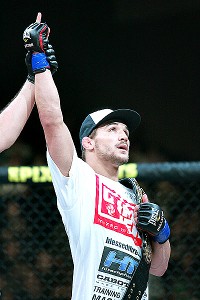 Keith Mills/Sherdog.comIn the right direction: Things are looking up for Michael Chandler since he signed with Bellator.
Curran, an unassuming 24-year-old from the Chicago suburbs, indicated that people are beginning to recognize him and acknowledge Bellator, which remains "like a family" behind the scenes.
"I never thought I'd be on the red carpet," he said. "To actually be out there and get a chance to walk down the same carpet as all the celebrities, all your favorite actors, it was unreal. All the cameras, interviews, sitting through the award shows, it was an amazing experience."
A couple hours before returning home, where Curran, the highest ranked fighter in Bellator, could again do what he likes most and focus on a tough August title defense against
Patricio Freire
, he fulfilled media responsibilities following a press luncheon. With the growth of a promotion comes more eyeballs and interviews and the sort of stuff he isn't crazy about.
But he's learning.
"Earlier in my career I didn't want to be in the spotlight," he said. "I just wanted to fight and train, see how far I can take it. Now I realize you have to do this media and be in front of the camera. You just have to do that as champion."
Lawal isn't so shy, and as Curran went to his room to hurriedly pack for a ride to Los Angeles International Airport, the former Strikeforce light heavyweight champion dominated the small gathering of reporters. Currently serving a nine-month suspension by the Nevada State Athletic Commission that was issued in March following a positive test for anabolic steroids, Lawal took swipes at Zuffa, which owns the UFC and famously purchased Strikeforce last year. Being loud is one of the major reasons Lawal scored the dual contract. He said his priority is MMA, and pro wrestling won't require more than two weekends on the road in any given month.
"I'm going to look to improve in MMA," said the 31-year-old amateur wrestler turned fighter, "but use pro wrestling to supplement my fun time. It's going to be hard work, but at the same time it's something I always wanted to do."
Lawal delivers something Bellator hasn't had: a character and headline maker. To this point, the promotion has gained attention on the strength of its action, which Curran suggested is a result of the tournament format Rebney established from the beginning. Lawal will enter a light heavyweight bracket at the start of next year when the promotion transitions from MTV2 to Spike, and he believes that success on the pro wrestling side will be directly tied to how well he does in the cage.
Curran and Chandler rose through tournaments to claim Bellator belts. As a result, both are ranked and regarded as among the best young fighters in their respective divisions. That's why a quiet kid from Illinois and God-fearing fighter from Missouri were picked to join a loud Texan for a weekend in the world's entertainment capital.
Curran suggested his fellow titleholder named most of the celebrities the group encountered over the last few days.
Chandler scoffed.
"Except for Jean Claude Van Damme," whom the crew ran into outside their boutique hotel in Westwood, "I didn't really know too many of them."
Maybe not, but more often these days they're moving in the same circles.
September, 8, 2011
9/08/11
5:15
AM ET
Muhammed "King Mo" Lawal, recognized as one of MMA's premier showmen, cares little for the perception fans have of him. The outspoken 30-year-old former light heavyweight champion will return to the cage for the first time in more than a year, when he meets Brazilian jiu-jitsu ace Roger Gracie under the Strikeforce banner on Saturday in Cincinnati.
More »