March, 18, 2013
3/18/13
12:31
PM ET

By Chuck Mindenhall
ESPN.com
Archive
By the time the smoke cleared, and
Georges St-Pierre
was eating pizza off the floor in celebration of his eighth title defense,
Nick Diaz
became MMA's equivalent of the
"boy who cried wolf (tickets)."
He told Joe Rogan after the fight that he was through. Done. Kaplooey. Giving up the racket. Just like he did after his loss to
Carlos Condit
at UFC 143.
Nobody believed him. Just like we didn't after his loss to Condit. The difference this time was his change of heart happened quicker. Much quicker. Half an hour after retiring, Diaz was requesting a rematch with St-Pierre (using expletives for emphasis) in the bowels of Montreal's Bell Centre. One minute he's done, the next he's not. You never know with Diaz (although you always
know
).
There are hurdles to this fantasy rematch that will never happen. His tests need to come back clean, something Diaz himself isn't so sure about. Those metabolites can be hostile tenants. And he needs to pay his taxes. Even unpamapered fighters who have the burden of tweeting their own tweets have to pay their taxes. Uncle Sam doesn't care about your geography.
Beyond the usual Diaz histrionics, the three focus-point fights of UFC 158 played out more or less predictably. St-Pierre continued to dominate,
Johny Hendricks
defended his No. 1 contender status a third time, and
Jake Ellenberger
continued lighting people up like a showroom gala. "People," in this case, being
Nate Marquardt
.
FIVE QUESTIONS ANSWERED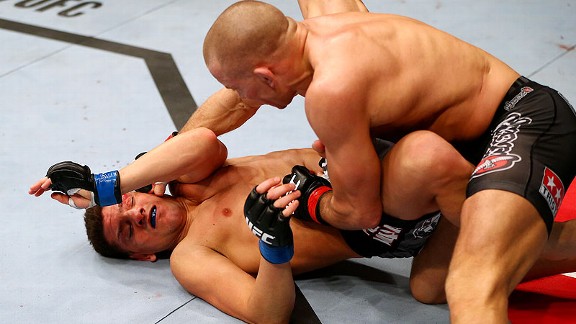 Jonathan Ferrey/Zuffa LLC/Getty ImagesGrounded: Nick Diaz had few answers when he found himself on his back.
Q:
When Diaz gets taken down, can he get back up?
A:
Turns out, no. Not really. Sometimes, but not often. And though Diaz was actively searching, he wasn't particularly dangerous off his back, either. He was just on his back. And while there he was fending off incoming elbows, hammerfists and knees. Just the same as the noble optimistic fighters who went before him (Condit, Hardy, Alves, Penn, Shields). The thing is, once you get taken down by GSP, there is no takeup.
Q:
Can St-Pierre get a finish?
A:
All week the talk was "is Diaz in St-Pierre's head?" If he was, surely he'd have needed a headlamp to find his way through the dark places. And as it turns out, St-Pierre treats people who get in his head the exact same way he treats people who have no in with his psyche. He dominates them thoroughly. (The answer to the question is: This isn't 2006! Stop living in the past).
Q:
Does Hendricks get the next title shot with a win?
A:
At this point, if St-Pierre came out on record saying he'd like to fight
Anderson Silva
next -- even though Silva has a fight with
Chris Weidman
in July, meaning St-Pierre's fight would be somewhere in the vicinity of November -- this would be the ultimate compliment to Hendricks. Problem is, it would feel like another slap across the bearded fellow's face. Hendricks should be next. Under any meritocracy he should be.
Should
is a funny word, though. So is "merit," which sometimes in the UFC means "LOL."
Q:
Can Diaz win a decision in Montreal?
A:
Turns out Montreal had less to do with it than the tyranny he was facing with the wrestling skills. Remember when we were wondering if St-Pierre might be tempted into a dogfight with Diaz out of anger? Let me tell you something: Anger gets locked away in St-Pierre's dark place come fight night. From cageside you could hear it banging and screaming to get out, but he is a strict disciplinarian. He just ignored it.
Q:
What happens if Ellenberger/Marquardt goes to the second round?
A:
We'll never know because Ellenberger will be throwing them bombs, baby! Marquardt was hit with a mean combo in the first round and down he went. He surfaced a few moments later to protest the stoppage, but as Bellator's Jimmy Smith pointed out on Twitter, "if somebody tells you 'you were knocked out,' you should generally take their word for it in my experience." We were all witnesses, Nate.
FIVE NEW STORYLINES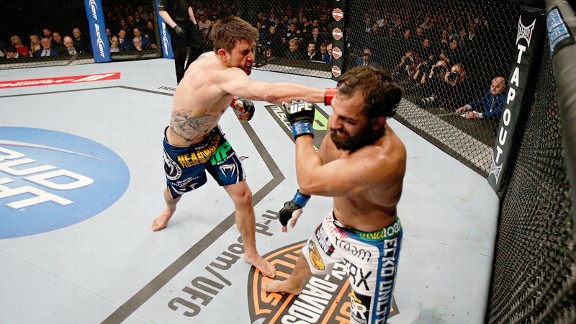 Josh Hedges/Getty ImagesDespite the loss, Carlos Condit's valiant effort should help his stock hold steady.
Turns out Condit wins even in losses
Hendricks did everything he said he wanted to do. He threw his left hand early and often, and he connected plenty. He took Condit down and worked his ground and pound. He tied up, dirty boxed, and used his horsepower. And yet no matter what he did, Condit kept moving forward. Condit kept coming. Condit wouldn't be put away. Condit is the spirit of the fight game.
Diaz and his taxes
Out of all the bizarre things that happened this week in Montreal centered on Nick Diaz (from his "wolf tickets" rant to the St-Pierre steroid allegations), his admission that he has never paid taxes in his life was startling. Does he wind up in jail? The future always looks like a minefield when talking about Diaz.
Ellenberger as a contender
In the past three years, Ellenberger has lost once. And even in that one (a TKO loss to
Martin Kampmann
) he was dominating early but didn't get the job done. If Hendricks' injured left hand ends up sidelining him for a long period of time, it's possible Ellenberger gets the call to see St-Pierre next. Nobody can question his credentials: 8-1 in his past nine fights, with five finishes.
MacDonald can still get his wish
Condit won't be fighting for the title next, which means
Rory MacDonald
can still get his shot to avenge his only professional loss when he comes back from injury. That is, if the UFC still wants that. MacDonald is on a northbound surge up the welterweight rankings, and Condit has lost two in a row.
It's Hendricks' time
It's either give Hendricks a title shot, or let him continue wrecking every contender coming up the ranks. In fact, if the UFC gives St-Pierre anybody other than Hendricks at this point, Hendricks should demand a fight with MacDonald to (A) take out a teammate of St-Pierre's and (B) punish the UFC by batting back a hot prospect.
UFC 158 STOCK REPORT
Trending Up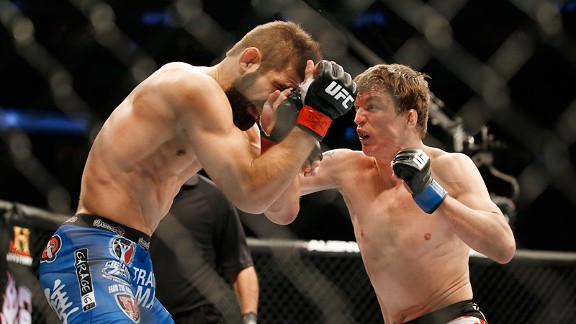 Ross Dettman for ESPNFlying under the radar: Darren Elkins, right, is the best featherweight you haven't heard of.
Hendricks:
The "Bigg Rigg" has been headed north for a long time now, and he'd love to finally arrive at his destination (St-Pierre). And you've got to love his style, too. He could have taken Condit down and kept him there for three rounds. Instead, he pursued Condit with sequences of big left hands, and absorbed more than a few head kicks in the process. When he did take Condit down, it felt like it was more for points. He wasn't intent on keeping him there.
Ellenberger:
He loves Canada. Last time he fought in Canada, it was against
Sean Pierson
at UFC 129. He blasted right through Ontario's native son. This time it was veteran Marquardt who was on the wrong end of Ellenberger's furious first-round volley. How would a fight between him and Hendricks play out? Dude.
Chris Camozzi:
It was tougher than he wanted it to be, and he didn't finish
Nick Ring
, but the Colorado fighter eked out his fourth consecutive victory. It might be time to test himself against a top-10 middleweight.
Darren Elkins:
Somebody dubbed him the "anonymous contender." That pretty much sums it up. He's won five in a row at featherweight.
Trending Down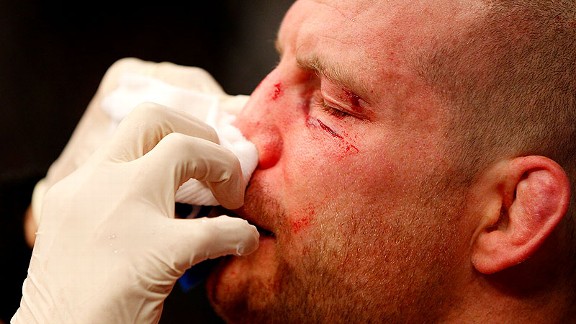 Josh Hedges/Zuffa LLC/Getty ImagesA bust: Nate Marquardt's return to the UFC didn't go over very well.
Diaz:
The two losses in a row are somewhat justifiable, given that they were against Condit and St-Pierre. But the skipped open workouts, the question marks on his drug tests, his unpaid taxes, his inability to at least "play the game a little bit" ... this all adds up to something other than a feel-good story.
Marquardt:
The loss to
Tarec Saffiedine
in his first title defense/last Strikeforce fight hurt more than this one. But the fact is that Marquardt is almost 34 years old and is riding a two-fight losing streak. Another loss in the division, and he might be out of the UFC.
Dan Miller:
For as much as he's a warrior (both in and outside of the cage), Miller has lost three of four. The loss to
Jordan Mein
hurts, too. He looked good from the gate, but things went south in a hurry when the armbar attempt came up empty.
MATCHMAKER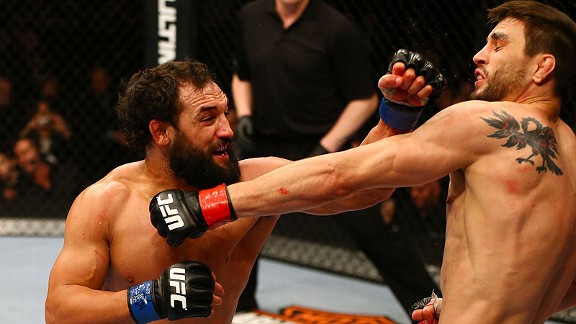 Jonathan Ferrey/Zuffa LLC/Getty ImagesBy defeating Carlos Condit, Johny Hendricks most likely punched his ticket toward a UFC title fight.
Next for St-Pierre?
A showdown with the now marketable Hendricks.
Next for Ellenberger?
Demian Maia
. Two guys on the verge of something who would put on a great show.
Next for Condit?
At last, that rematch with MacDonald.
Next for Camozzi?
To paraphrase Goethe, "Be bold, and
Wanderlei Silva
will come to your aid."
November, 18, 2012
11/18/12
2:08
PM ET

By Josh Gross
ESPN.com
Archive
Five questions answered
The knee?
First Adrian Peterson. Now
Georges St-Pierre
. Maybe it's time to stop making such a big deal about major knee injuries.
Ring rust?
The welterweight champion said he felt effects of the absence, although it hardly hurt his performance. Ring rust is real, but when fighters prepare to the level St-Pierre did, it turns out not to be a significant factor.
And the real champ is?
I didn't think there was much of a question here, but the UFC billed Saturday's fight between St-Pierre and Condit as a clash of champions. GSP retains "the man" status.
Your next welterweight contender?
Fear the beard;
Johny Hendricks
didn't trifle with formalities. He simply plowed through
Martin Kampmann
for the early knockout.
What about the guru?
Trainer Greg Jackson went off into the New Mexico desert Saturday night, which is too bad, because he would have enjoyed GSP-Condit. Both welterweights showed up to win and fight, and neither seemed off kilter without Jackson around.
Five new questions
Will the superfight get made?
A major hurdle was cleared with St-Pierre's win. Now the onus is on the welterweight champion to say yes to
Anderson Silva
. St-Pierre will take a few weeks to announce what he wants to do, but the UFC and Anderson Silva are on record as being fine with the fight in May.
Silva, Jones or St-Pierre?
Who's the best mixed martial artist on the planet? I consider it a 1, 1-A, 1-AA scenario, but it's clear the top three have separated themselves from the pack. If these superfights take place, the answer will become clear. Otherwise, let the debate rage on.
Can GSP take down Johny Hendricks?
This is one you'll hear a lot over the next few months. It's a good question, but just remember that MMA isn't wrestling.
Hey referees, what's the deal?
OK, this is hardly a new question or concern. Call it a reminder that referees and judges hold immense power over fighters, and
Dan Miragliotta
's back-of-the-head block party in the
Patrick Cote
-
Alessio Sakara
contest was shoddy work. Officials must be held accountable.
Is Canada the UFC's top market?
Montreal came out to see St-Pierre to the tune of a $3.1 million gate. Not quite a sellout, but 17,149 fans in attendance at the Bell Centre isn't bad. If Canada remains in the top spot, that gap has closed in a big way with the rise of Brazil.
Five matches to make
St-Pierre vs. Silva:
Well, yeah. Still needs to be said. The potential for this fight has reached critical mass. And I want to see it because I'm not in the camp that thinks GSP will be outgunned against Silva if they meet at a catchweight around 180 pounds.
St-Pierre vs. Hendricks:
Part of me wants the champion to take on Hendricks next. There are more than a few entertaining possibilities for GSP at 170, and Hendricks' power, wrestling prowess and get-'em attitude all smack of the right stuff.
Condit vs. Kampmann:
Sure, it's a rematch, and others to fight are out there, but their first contest in 2009 was tremendous. Before the St-Pierre loss, it stood out as Condit's lone blemish in 14 fights.
Rafael dos Anjos vs. Khabib Nurmagomedov:
Nurmagomedov needs to beat
Thiago Tavares
first, and if he does, a fight with dos Anjos is one I want to see. Dos Anjos is extremely physical, and his athleticism is beginning to shine through when he fights. Nurmagomedov seems to possess the correct ingredients to challenge the Brazilian lightweight.
Darren Elkins vs. Chan Sung Jung:
Time for a step up for Elkins, who's unbeaten in four fights at 145 pounds and looked really good Saturday against
Steven Siler
. Jung could be too big of a leap, as the Korean Zombie is one of UFC's biggest names in the division, and he seems set up for a title shot. But Elkins' grappling pressure is something I'd like to see against Jung.
Stock report
Georges St-Pierre: Up.
Returning for the first time in more than a year and a half, the UFC champion was impressive in all facets. He took on a legit threat in his return, no tuneup here, and now the 31-year-old Canadian is lined up for the biggest payday of his career or another tough test at 170. The sky is still the limit for St-Pierre.
Carlos Condit: Steady.
True, he fell short. But Condit proved he deserved to be in the cage with St-Pierre, going so far as to dare to hurt the champion in Round 3. There will be plenty of fights for Condit, and people will want to watch.
Johny Hendricks: Up.
Way up. A title shot is likely next. People want to see him fight GSP, and some will think he's the guy to dethrone the champion. Either way, Hendricks' attitude continues to be great. The guy is having a great time, and he's just figuring this fighting stuff out.
Francis Carmont: Down.
This was a reality check. The judges split and sided with Carmont, but he didn't look particularly dangerous against
Tom Lawlor
. A win is a win, but momentum behind Carmont was slowed for the time being.
Mark Hominick: Down.
Four straight losses for Hominick starting with
Jose Aldo
last year says it all. He'll stick around the UFC despite the bad streak, but Hominick comes off as exposed and utterly beatable.
August, 30, 2012
8/30/12
11:27
AM ET

By Chad Dundas
ESPN.com
Archive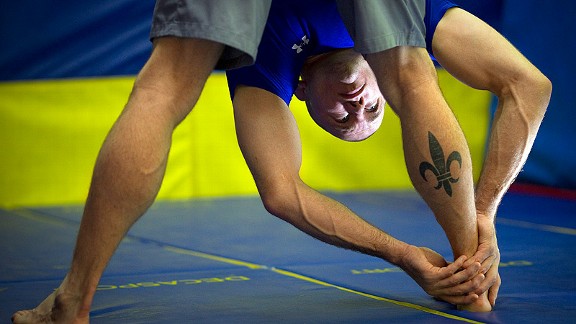 Joel Saget/AFP/Getty ImagesHead's up, Carlos Condit: Georges St. Pierre is ready to resume training for his next fight.
Amid a week of particularly gloomy headlines the mixed martial arts world enjoyed a precious -- if not altogether unexpected -- breath of crisp, clean air on Tuesday, as
Georges St. Pierre
announced via social media that he's been medically cleared to return to the cage at UFC 154 in November.
On Wednesday, St. Pierre did us one better. "I'm taking a few days off," he posted on his Twitter account. "Training camp starts next week."
If that news doesn't warm your callused, cauliflower-eared heart just a bit, you might as well admit once and for all that you don't have one. It's been nearly nine months since the UFC's iconic welterweight champion tore the ACL in his right knee while training for a fight with
Nick Diaz
and the mere idea of having him back provides the sport with a much-needed a glimmer of optimism.
We haven't seen St. Pierre in the cage since April 2011, which in MMA years is about a decade. The last time he fought -- a dominant decision victory over (cough)
Jake Shields
-- the UFC's broadcast deal with Fox was just a glimmer in the eyes of its corporate fathers, few people had heard of an obscure, 1-0 fighter named
Ronda Rousey
and ESPN the Magazine was still a month away from proclaiming
Brock Lesnar
the sport's highest paid athlete.
So yeah, you could say a lot has changed since GSP's been away and very recently it seems as if much of it has been for the worse.
The UFC is still beset on all sides by an ongoing "injury bug" and just last week for the first time in its history the organization was forced to cancel an upcoming pay-per-view event. As a result, the company's light heavyweight champion is still reeling and doctors remain unsure when his public image might recover. How long does it take to get over being tossed under a bus, anyway?
In other unrelated-but-related developments, the top heavyweight contender is still on the shelf after a positive drug test; the middleweight champion isn't interested in fighting the division's No. 1 challenger; the lightweight title picture is only now about to emerge from a blue period typified by disputed outcomes and rematch after rematch; the bantamweight champion is also recuperating from a blown-out knee and a titlist at flyweight has yet to be crowned (not for lack of trying).
[+] Enlarge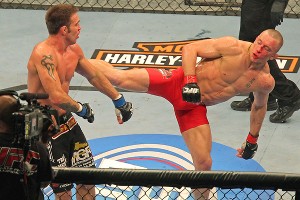 Tom Szczerbowski/Zuffa LLC/Getty ImagesWe'll soon find out of Georges St. Pierre is operating at 100 percent after ACL surgery and a long layoff.
Not to go all Bonnie Tyler on you, but right now it sort of feels like MMA needs a hero. At the very least, it needs something halfway good to happen and St. Pierre appears perfectly fit to be a catalyst for positive change, even if the sport at large wants to wait to see him walk to the Octagon without a cane before fitting him for tights and a cape.
The ACL remains among the body's trickiest soft tissues and GSP's pedal-to-the-metal return is bound to raise questions about his overall readiness. Many athletes who've been through the same devastating injury have said their confidence was the last thing to come back, and there's simply no telling how that or any number of other factors might affect St. Pierre as he prepares to jump directly back into the deep end of the pool. He'll get no warm-up fight, no chance to test that surgically repaired wheel in a live fire situation before he puts his legacy on the line against interim champ
Carlos Condit
. In some ways that seems unfair. In other ways, it's perfectly fitting.
Win, lose or draw, the fact that one of the UFC's best known champions and biggest PPV draws is -- knock on wood -- returning to action gives the company and the sport at large a chance to approach the end of the year on a high note. Any way you slice it, that's good news.
UFC 154 is booked for Nov. 17 in Montreal, which is just 79 days from today.
Not that we're counting or anything.