May, 24, 2011
5/24/11
9:43
AM ET
By Marcelo Alonso/Sherdog.com
ESPN.com
Archive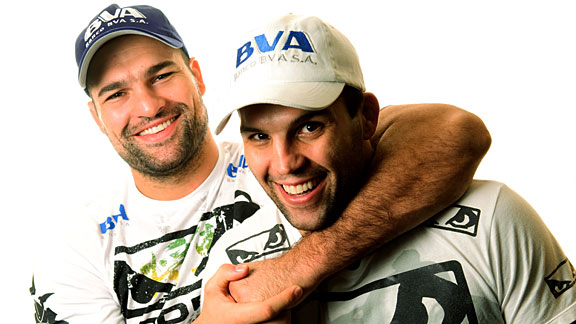 Martin McNeil for ESPN.comLife after glove: Murilo Rua came to his retirement decision with help from friends and family.
With three simple but profound words, former EliteXC middleweight champion Murilo "Ninja" Rua embraced retirement from mixed martial arts.
"Life goes on," he told Sherdog.com.
The decision no fighter wants to make came in wake of Rua's third-round knockout loss to British Association of Mixed Martial Arts titleholder Tom Watson in the BAMMA 6 main event on Saturday at Wembley Arena in London. Beaten up for the better part of two and a half rounds, he was ultimately cut down by a head kick and follow-up punches from the surging British middleweight.
"I was already giving a lot of thought for a good while, along with my family and my manager, about the right time to quit, and my love for MMA always spoke louder, so I always wanted to try one more time," Rua said. "The opportunity to try to win a belt like BAMMA's lightened up the will to close my career well, but time goes on for everybody. I have been on this road for a long time, and I already went into this fight with my mind set that I would stop either after this fight or after the next.
"I tried to do the best possible training," he added. "I went to the United States, went to Sao Paulo, and with the outcome of the fight, we have to be objective and accept things."
The older brother of 2005 Pride Fighting Championships middleweight grand prix winner and former UFC light heavyweight champion Mauricio "Shogun" Rua, Ninja made his professional debut under the Meca World Vale Tudo banner in May 2000 and remained unbeaten until his Pride 17 encounter with two-time Olympian Dan Henderson ended in a split decision defeat. He competed in three weight classes -- middleweight, light heavyweight and heavyweight -- during his 11-year career, earning notable wins over Mario Sperry, Akira Shoji and Joey Villasenor.
Rua's career also included high-profile defeats to onetime UFC light heavyweight king Quinton "Rampage" Jackson, two-time Abu Dhabi Combat Club Submission Wrestling World Championships gold medalist Ricardo Arona, former UFC heavyweight titleholder Kevin Randleman, Russian heavyweight Sergei Kharitonov and American Top Team's Denis Kang.
"I always fought against the best, never picked opponents," he said. "I'm proud of having always fought at a high level at big shows, so I'd rather leave this way than let things go downhill."
At 31, Rua plans to keep his finger on the pulse of the sport.
"I realized talking to those around me -- my family and my manager, who is, in reality, my friend before anything else -- that I don't need to drop MMA just because I stop fighting," he said. "I can still work with what I love. Now it's time to take care of my kids, enjoy life with my wife and keep bringing MMA to the world with my seminars, classes and fighters."
May, 23, 2011
5/23/11
5:05
PM ET

By Darius Ortiz
ESPN.com
Archive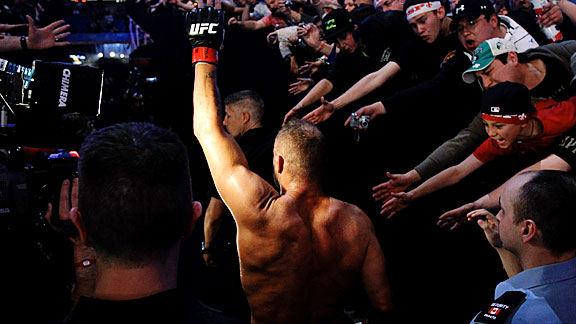 Al Bello/Getty ImagesBack for more: Can Zuffa brass coax Randy Couture out of retirement?
The "on your back out cold and missing teeth" look is never a good one unless you're in the dentist's chair and even then you don't want anyone with a smartphone and a Twitter account anywhere near you. That's why
Chuck Mindenhall has his doubts
about Couture staying retired after a low-note loss to
Lyoto Machida
at UFC 129. If the UFC came knocking for a curtain call against, say,
Fedor Emelianenko
, could Couture really turn that down? Factor in Couture's penchant for going back on his retirement word and the history a
similarly aged combat comrade made
in Montreal over the weekend and you can see why Mindenhall has his doubts.
---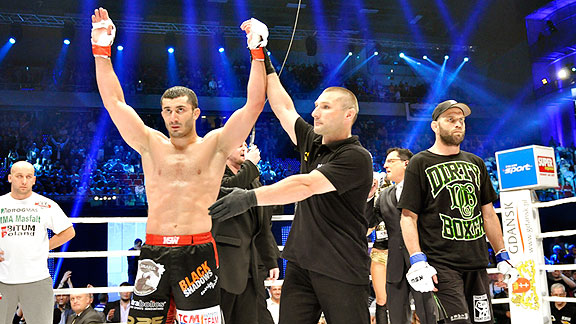 Jumana Totongi for Sherdog.com Is this the last we'll see of Matt Lindland?
While the cage door might still be open for a Couture return, it seems some can't push
Matt Lindland
out that same door fast enough. Lindland racked up loss No. 4 in five outings Saturday when he was submitted by
Mamed Khalidov
at KSW 16 in Gdansk, Poland.
Mindenhall wonders what could possibly be next
for the well-traveled, 2000 Olympics silver medalist who has clearly seen better days and deserves to be more than a stepping stone for anyone.
---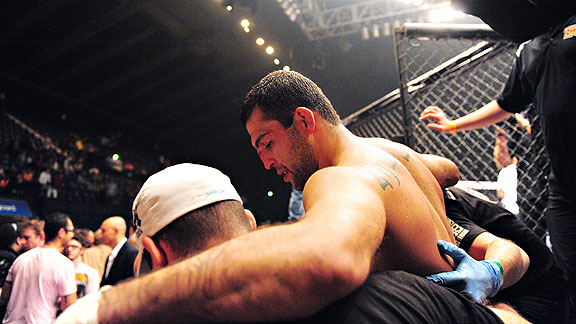 Martin McNeil for ESPN.comThanks for the memories: Murilo Rua decided to call it quits after losing at BAMMA 6 on Saturday.
Finally, if Saturday's TKO loss to
Tom Watson
at BAMMA 6 was really the last time we saw
Murilo Rua
in the cage, it's hard to say anything other than thanks for the memories to a proud warrior who left the game the only way he knew how -- out on his shield. Josh Gross
points out Rua was walking with a limp
as early as Round 1 -- usually a harbringer of bad things when your bout is scheduled to go five. Rua still managed to hold off the inevitable until Round 3 while showing flashes of his old self here and there in the process. But Watson's swarming approach and fresher legs proved too much in the end. Josh Gross contacted Rua's manager, Eduardo Alonso, to confirm "Ninja" meant what he Tweeted and this wasn't the case of emotions and adrenaline typing --
which Alonso promptly confirmed
.
For more on what's happening around the MMA world, check out these links:
• Diaz-St. Pierre talk still premature
• Fitch and moan: Welterweight No. 2 wants first dibs on St. Pierre
• Lots of weight on Nelson's shoulders
• Faber predicts repeat performance against Cruz
May, 21, 2011
5/21/11
7:29
PM ET
By Mick Bower/Sherdog.com
ESPN.com
Archive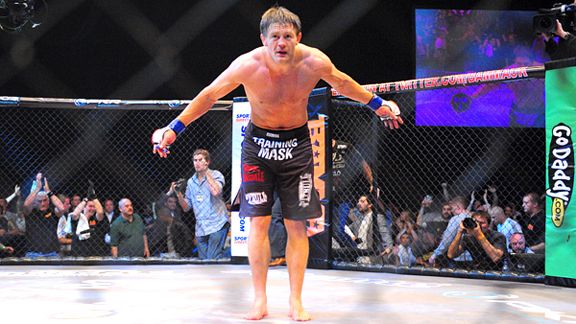 Martin McNeil for ESPN.comGrit Britain: Tom Watson survived a few rough spots in a Wembley thriller Saturday.
LONDON -- British Association of Mixed Martial Arts middleweight champion Tom Watson put on a career-best performance as he stopped Murilo Rua in the third round of the BAMMA 6 main event on Saturday at Wembley Arena.
Watson and Rua went to war in Round 1. Rua ate a brutal right hand that rocked him, but he stormed back into the fray. In the second, Watson stepped up his pace, as his chopping kicks to Ninja's lead leg caused the Pride Fighting Championships veteran to hobble uncomfortably. It looked like it was only a matter of time before the Englishman's attack caught up with him.
Round 3 followed the same script. A forlorn Ninja, urged on by younger brother and cornerman Mauricio Rua, went for one last takedown attempt. It failed, and his time was up. A crushing kick knocked the Brazilian's head back and left him staggering. Referee Marc Goddard intervened but not before a couple more punches hit their intended target.
"My coaches told me not to get into a brawl with him," Watson said. "Ninja's always dangerous. The first time I caught him, I wasn't sure if he was gone. It was tempting, but I bided my time. I knew I'd catch up with him in a five-round fight, so I waited for the opportunity. Then, when he was completely gone, I jumped on him."
In the co-main event, UFC veteran Frank Trigg took down John Phillips in their first engagement -- a wise move when fighting someone nicknamed the "White Mike Tyson." He went on to land some hellish elbows, one of which opened a cut above the eye and convinced the doctor to call a stop.
Trigg, who has won back-to-back bouts since being released by the UFC in 2010, insisted he was aiming to take out the Welshman on the feet.
"The plan was to take him into the later rounds," Trigg said. "He's got great power, but I have very straight, clean punches. We'd noticed a few holes appear the longer he goes, so I would have been able to take advantage of that."
Phillips was disappointed but understood the doctor's decision.
"I thought I could have gone on," he said. "When the ref came over, I thought he was just standing us up. I'm not going to complain, though. The doctor did his job. I'm not going to complain."
Boos and slow hand claps accompanied the middleweight contest between Ivan Salaverry and Matt Ewin, as the Brit took center cage and Salaverry circled for much of the match.
Ring rust may have been to blame for the lack of action, as the pair of 40-somethings failed to land much of anything of note. A first-round overhand right, a takedown against the fence, Salaverry's bloodied nose and a slightly more aggressive approach were likely the factors that swayed the judges to render a unanimous decision in Ewin's favor.
Salaverry, who came out of retirement for the bout, had not fought since submitting to a Rousimar Palhares armbar at UFC 84 three years ago.
May, 20, 2011
5/20/11
3:59
PM ET
By Brian Knapp/Sherdog.com
ESPN.com
Archive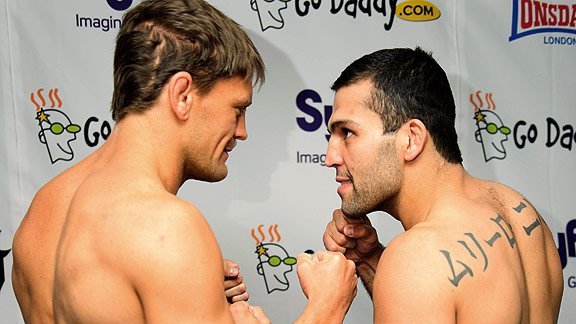 Martin McNeil for ESPN.comWeight's over: After hitting the scale successfully, Tom Watson and Murilo Rua are set to fight.
British Association of Mixed Martial Arts middleweight champion
Tom Watson
checked in at 184.5 pounds for his scheduled title defense against Pride Fighting Championships veteran
Murilo Rua
(185) in the BAMMA 6 main event on Saturday at Wembley Arena in London.
The two headliners hit the scales and met their mandated weight requirements without incident at Friday's official weigh-in.
Watson (13-4, 3-0 BAMMA) last appeared at BAMMA 4 in September, when he defended the promotion's 185-pound crown in a unanimous decision over Alex Reid at the National Indoor Arena in Birmingham, England. The 28-year-old has posted nine wins in his past 10 outings. Watson, who has spent time training at the Tristar Gym in Montreal and Jackson's Mixed Martial Arts in Albuquerque, N.M., owns notable victories against former International Fight League champion Matt Horwich and EliteXC alum Travis Galbraith.
Spawned by the Chute Boxe Academy, Rua (20-11-1) has not fought since October, when he lost a unanimous decision to Roy Boughton under the Warrior-1 MMA banner; the defeat snapped a four-fight winning streak for the well-traveled 30-year-old Brazilian. A Brazilian jiu-jitsu black belt and potent finisher, Rua has secured 18 of his 20 career victories by knockout, technical knockout or submission. He held the EliteXC middleweight championship for three months in 2007.
BAMMA 6 will also feature a pair of middleweight tilts, as UFC veteran
Frank Trigg
(184.5) meets John Phillips (186) and
Ivan Salaverry
(186) comes out of retirement to face Matt Ewin (184.5). The 40-year-old Salaverry last appeared at UFC 84 in May 2008, when he submitted to a first-round armbar from
Rousimar Palhares
at the MGM Grand Garden Arena in Las Vegas.
For Sherdog's full list of weigh-in results,
click here
.