April, 16, 2013
4/16/13
3:17
PM ET
By Andrew R. Davis
ESPN Stats & Information
Archive
UFC on Fox 7 will air on free network television from the HP Pavilion in San Jose, Calif., Saturday night. In the main event, UFC Lightweight Champion
Benson Henderson
will defend his title against the debuting #1 contender
Gilbert Melendez
, who was the final Strikeforce lightweight champion. In the co-main events, Strikeforce Heavyweight Grand Prix winner
Daniel Cormier
will face former UFC heavyweight champion
Frank Mir
and
Nate Diaz
faces another UFC debutant in former Strikeforce lightweight champion
Josh Thomson
. Here are the numbers you need to know for Saturday's fights:
6:
UFC decisions to start his career for Henderson, second among active UFC fighters behind flyweight champion
Demetrious Johnson
. Henderson is the only fighter to start his UFC career with at least five consecutive decisions won.
Most UFC Decisions to Start Career, Active Fighters
Demetrious Johnson 7
Benson Henderson 6*
Diego Nunes
6
Nam Phan
6
*Won all decisions
10:
Consecutive title fights for Melendez, who held the Strikeforce title from April 2009 to January 2013 when the organization was dissolved into the UFC. Melendez won four fights by decision and three by KO/TKO. His notable wins include rival Josh Thomson (twice) and DREAM lightweight champion
Shinya Aoki
.
11:
Wins by KO or TKO for Melendez, four under the Strikeforce banner. Henderson has been knocked down three times in his UFC/WEC career, most notably the jumping kick off the cage from
Anthony Pettis
at WEC 53.
9:
This will be the ninth time Melendez will fight inside the HP Pavilion, the proverbial stomping grounds of Strikeforce. He is 7-1 in previous fights at the "Shark Tank," losing the Strikeforce lightweight championship to Thomson in 2008.
21:
Takedowns for Henderson in six UFC fights (3.5 per fight). Melendez has a 71 percent takedown defense but allowed a combined 13 takedowns in his two career losses (seven to
Mitsuhiro Ishida
, six to Thomson).
3.6:
Strikes landed per minute by Melendez. During his seven-fight win streak, Melendez has outstruck his opponents 482-272 (plus-210) in significant strikes. Henderson absorbs 1.5 significant strikes per minute and only 30 in his last win over Melendez teammate Nate Diaz.
8:
Mir has an eight-inch reach advantage over Cormier (79 inches to 71). That's nothing new to Cormier, as he's beaten
Antonio Silva
(82),
Devin Cole
(79.5) and
Josh Barnett
(78).
6:
All six of Mir's career losses have come by way of KO or TKO. The former UFC heavyweight champion has never lost back-to-back fights in his career. Seven of Cormier's 11 career wins have come via strikes (five KO/TKO, two submissions due to strikes).
8:
Submission wins by Mir inside the UFC Octagon, tied for second most all time. Cormier has faced only one submission attempt in his Strikeforce career (Barnett).
Most UFC Wins by Submission
Royce Gracie
11
Frank Mir 8
Nate Diaz 8
Kenny Florian
8
3:
This is Mir's first camp with Jackson's MMA in Albuquerque, N.M. If he wins, Mir would be the third UFC heavyweight from Jackson's to win in this calendar year, joining
Shawn Jordan
(UFC on Fox 6) and
Travis Browne
(TUF 17 finale).
5:
Of his eight submission wins inside the UFC Octagon, five have earned Nate Diaz a UFC submission of the night bonus (second all time). Thomson has never been submitted in 25 professional fights and also has nine submission victories of his own (four in Strikeforce).
Most Submission of the Night Bonuses
Joe Lauzon
6
Nate Diaz 5
Terry Etim
4
208:
Diaz landed 30 significant strikes in his title fight against Benson Henderson, 208 fewer than his victory over
Donald Cerrone
in two fewer rounds. Thomson will be tough to hit as well; he absorbs 1.8 strikes per minute, but did absorb 3.0 per minute in his last loss to Melendez.
October, 27, 2011
10/27/11
4:47
PM ET

By Chuck Mindenhall
ESPN.com
Archive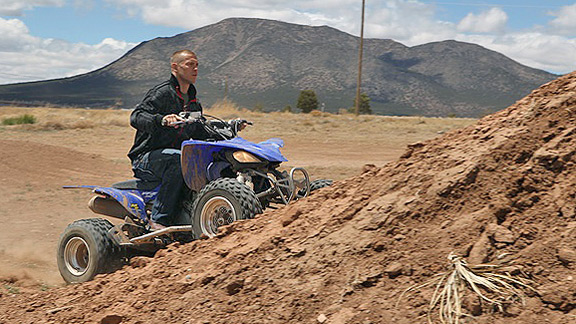 Dave Mandel/Sherdog.comNext stop: featherweight? Donald Cerrone says he has a bit of business to attend to there.
Donald Cerrone
knows what he's doing, and this is just one of those situations where a five-fight winning streak and this weekend's catapult bout to the lightweight title picture adds up to
Nam Phan
. It's almost a cliché at this point -- all roads lead to Nam Phan, one of the game's notorious heels.
This last part is obviously a lie (Phan isn't a notorious anything) -- but the first part? The first part appears to be a confounding truth.
Cerrone is a unique fighter, and if there's an added wrinkle in his game heading into this weekend's fight against
Dennis Siver
it appears to be vendettas. Phan recently decisioned Cerrone's teammate/ranch hand
Leonard Garcia
in a rematch at UFC 136. This didn't stick in Cowboy's craw so much as Phan's comments that Greg Jackson and the coaching staff out in Albuquerque were not working things correctly.
Now Cerrone is telling the media ahead of his UFC 137 fight with Siver -- who is built like a Russian accordion and has won four in a row of his own -- that he will drop to featherweight to fight Phan when this thing's over. Not maybe, but
will
drop down, according to an interview with MMA Weekly. While there, he'll test the waters for what might be a quick climb toward
Jose Aldo
. The Aldo carrot acts as media filler for now, something to hitch a story to.
[+] Enlarge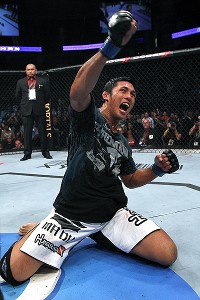 Nick Laham/Zuffa LLC/Getty ImagesNam Phan's actions and comments aren't sitting well with Donald Cerrone.
That's because Cowboy, who deals best in short-term situations, says what he really wants is to bring that Phan to justice, that kid that walks out to Foster the People and goes about opining on stuff he just don't know about.
Cole Miller
, who has been angling for a fight with Cerrone himself, might want to take notes. Phan hit a nerve, and this has a "meet me at the flagpole after school" vibe where Cerrone wants to offer physical proof of what's being taught at Jackson's.
Right. But Phan? What would be the point? When did changing his mind become such a priority?
If Cerrone goes down to featherweight and smashes Phan, this will teach somebody a lesson (that he's better and more disciplined than Garcia maybe) and do nothing otherwise. He'd be a vast favorite. It's easier to believe that Cerrone is ultimately contemplating going down to 145 pounds for a run at Aldo's belt, because making a cameo appearance for these expressed purposes just seems cruel and unusual.
And then again, to believe that, we'd be ignoring logic. In going to featherweight in pursuit of Aldo's belt he'd be leaving a division where he's already installed as a contender to Edgar's. Maybe Siver renders the whole thing moot, but at this point, Cowboy clearly isn't interested in traditional motivations (like titles) so much as changing fool notions. He's gone 0-3 in title shots in the past, and his standing in all these theoretical rankings is a mess he doesn't need.
It's a maverick attitude that is both fun and confusing to linear tastes. Think Edgar should feel the threat coming up the rungs? No, not with a loud mouth in Orange County out there making the wrong kind of noise.
That's what you've got to love about Cerrone; his is Old West reckoning. Fights are personal.
October, 11, 2011
10/11/11
1:15
PM ET

By Chuck Mindenhall
ESPN.com
Archive
People are literally watching two different fights when
Leonard Garcia
steps in the cage. There are those who see him walking into punches and winging rights off the hip and think "what a brawl," while others who see him walking into punches and looping rights off the hip that think "this is unwatchable." One thinks "here we go;" the other, "here we go again."
Both vantages are technically correct -- and his coaches probably spend time on each side. Garcia will always be Garcia, and as such will always be fun/hard to watch (depending on how nuanced your eyes might be).
Yet he isn't much to watch from a technical aspect. In fact, Garcia's style transcends wins and losses and, over the years, he's grown pretty familiar with each.
[+] Enlarge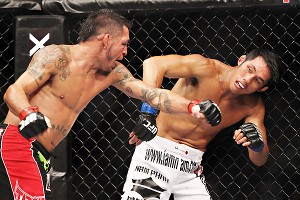 Ed Mulholland for ESPN.comLeonard Garcia, left, had his moments, but ultimately came up short.
This was the case again on Saturday night. Garcia took a shot behind the right ear early and said afterward that one of his legs felt six inches longer than the other. If his body was telling him he was hurt, his brain took it as something more like "time to eliminate
Nam Phan
from existence."
The switch was hit. Caution went to the wind, and Garcia started moving forward, all great guns and bomb's away.
Garcia and Phan stood toe-to-toe, with Phan winning the greater bulk of the exchanges. In the loosest, most overused context possible, this became war. How it made you feel became a question of why you watch fighting.
Afterward, upon losing his fifth fight in nine bouts, people grumbled that Garcia will never learn to fight smart. That's true, but it depends on how you define smart because, maybe, all he does is fight smart.
[+] Enlarge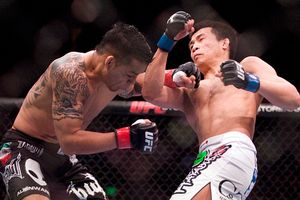 Rod Mar for ESPN.comLeonard Garcia gave fans their money's worth in a shootout with Chan Sung Jung.
He cashed in another $75,000 for putting on the fight on the night on a stacked card, the fourth time he's done that in six fights. His fight against the
Chan Sung Jung
was fight of the year. This loose, let-them-fly style seems like an incredibly smart way to go about business, not to mention lucrative and memorable. It's a chapter from
Chris Lytle
without the niggling details that come with technical skill sets as fallbacks. In fact, Garcia's style transcends wins and, over the years, he's grown pretty familiar with each.
After the fight, when somebody asked Dana White if Garcia was on the bubble with these losses stacking up around him, White asked for a show of hands on who would want to see such a drastic measure. Nobody raised their hands. Poor
Eric Schafer
, who found himself on the wrong end of a unanimous decision to
Aaron Simpson
, wasn't afforded this kind of democracy. Garcia isn't going to be cut. And he promises he'll be more technical next time through.
We'd be fools to believe it. And it's to the point that he'd be a fool to enact it.
May, 12, 2011
5/12/11
6:14
AM ET
By Sherdog.com
ESPN.com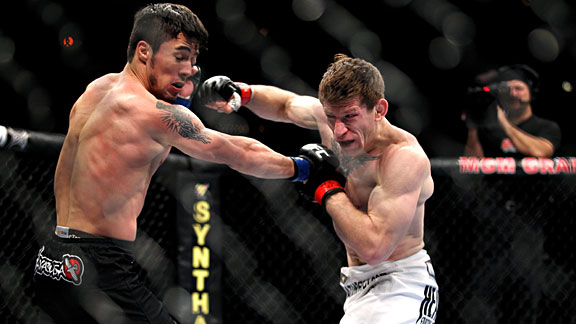 Ed Mulholland for ESPN.comIt's make or break time for Mike Thomas Brown, right.
Former World Extreme Cagefighting featherweight titleholder
Mike Thomas Brown
will square off with "The Ultimate Fighter" Season 12 semifinalist
Nam Phan
in a 145-pound affair at UFC 133.
More »