MMA:

Nevada State Athletic Commission
December, 19, 2014
Dec 19
4:34
PM ET

By Brett Okamoto
ESPN.com
Archive
LAS VEGAS -- The Nevada State Athletic Commission continues to implement its enhanced drug-testing policy ahead of major UFC events.
NSAC executive director Bob Bennett confirmed to ESPN.com that the commission has ordered multiple random blood tests on UFC light heavyweight champion
Jon Jones
and title challenger
Daniel Cormier
. The two are scheduled to headline a UFC 182 pay-per-view event on Jan. 3 at the MGM Grand Garden Arena.
Thus far, blood samples submitted by Jones (20-1) and Cormier (15-0) have produced negative results. The NSAC is awaiting the results of a second test.
Bennett also confirmed that newly crowned UFC welterweight champion
Robbie Lawler
and
Johny Hendricks
were tested ahead of their title fight at UFC 181 on Dec. 6. All test results were negative.
Lawler (25-10) defeated Hendricks (16-3) via split decision to claim the 170-pound crown. The NSAC also randomly blood-tested Lawler, 32, ahead of a bout against
Jake Ellenberger
at UFC 173 in May.
September, 13, 2012
9/13/12
10:27
AM ET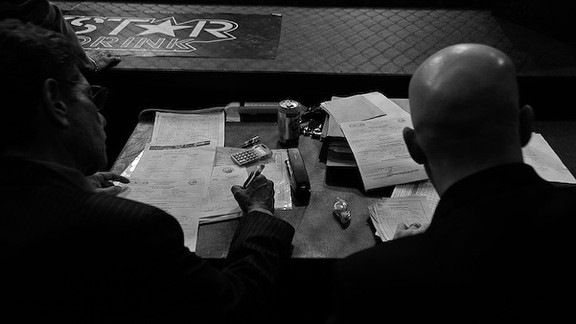 Stephen Albanese/Sherdog.comMonitor less: The old-fashioned way might be the best way when it comes to MMA officiating.
In the 27 years since it was first used as an officiating tool by the doomed United States Football League during its 1985 season, instant replay has become so commonplace in professional sports as to barely be noticeable anymore.
Replay has long since outlived its originators in the USFL, and today the notion of watching a pro football game without it seems as old-fashioned as leather helmets or (gasp!) real grass. Even baseball, that curmudgeonly old warden of tradition and sentimentality, now allows umpires to check the video evidence in certain situations.
When you consider how routine and relatively iconic replay has become in athletics, the fact it's still almost unheard of in mixed martial arts -- a sport that certainly likes to fancy itself the wave of the future -- seems pretty bizarre.
To hear Dana White tell it, he'd like to see that change.
"Every other sport has instant replay [and] fighting needs it too," White said during
an appearance on Inside MMA
this week, "especially with how bad the officiating has been. ... These athletic commissions have this thing where it's like once a guy makes a decision, it can't be overturned. It's insane. It's insane."
White's off-the-cuff remarks have given some modest momentum to the idea that the time has come for instant replay in MMA. Indeed, judging solely from the UFC president's sales pitch, you have to admit, it sounds good. On paper, the use of replay is something most fans can get behind without much reservation.
Except for one thing: In fighting, we've all learned the hard way never to trust how things look on paper.
The sport's short history is already littered with the wreckage of ideas that sounded great in theory, only to flounder in real life. TUF: Live, the Yamma pit, even
San Do
; they all probably seemed like winners the first time a promoter or television executive drew them up on the back of an In-N-Out Burger napkin.
In practice? Yeah, not so much, and the possibility exists that the same would be true for instant replay.
Indeed, the reason replay isn't more prevalent in combat sports such as MMA and boxing isn't because the people in charge haven't thought of it before. On the contrary, it's because they have thought of it and they're not sure it's such a hot idea.
For example, the Nevada State Athletic Commission adopted instant replay back in 2009, but has been careful to make sure it only applies in very limited situations. As it stands, referees can refer to the video only in instances when they believe a stoppage may have been the result of a foul. By design, that allowance is extremely narrow and NSAC executive director Keith Kizer told ESPN.com this week expanding the rule any further could infringe on the fast-paced and relatively free-form nature of a sport such as MMA. Nobody wants that.
"You never want the cure to be worse than the disease, as the old saying goes," Kizer said.
While the idea of giving referees and ringside judges access to instant replay is easy to endorse from our living rooms, actually implementing it is another matter entirely. Fact is, MMA just may not lend itself to replay the way other more mainstream, stop-and-start games such as football and baseball do.
Even if a referee had wider use of replay at his disposal during a fight, when and how could he use it? Could he call a halt to the bout in the middle of a round, thereby unduly pausing the action in order to check the video screen? Not sure fighters or fans would like that very much. Could he take a peek between rounds and then report back to the fighters that, "Hey guys, remember that eye poke (or low blow or fence grab) from the first round? We're reversing the decision on that"?
You don't have to think about either of the above scenarios too long before you realize how either could negatively affect the sport. That goes double once you consider the hard-core fan base's well-established penchant for kvetching about referee decisions.
Give credit to White for taking a genuine interest in the various ways we might make MMA better. The fact that he's passionate enough about the sport to suggest solutions for its many problems has always been one of his biggest strengths as the industry's most powerful executive. However, before fight fans climb aboard the instant replay bandwagon, we're going to need to see a clear and polished proposal of how it would work -- in practice, not on paper -- as well as how it would affect the action inside the cage.
If anyone has an idea, we should be all ears. But just remember: Once upon a time, someone, somewhere thought San Do seemed like a good idea, too.
April, 5, 2012
4/05/12
4:46
AM ET
On March 27, following a news conference in Las Vegas hyping UFC 146, half a dozen fighters were subjected to unannounced tests for drugs of abuse and, more to the point, the performance-enhancing variety.
Five of the six -- UFC champion
Junior dos Santos
, former titleholders
Cain Velasquez
and
Frank Mir
, as well as
Antonio Silva
and
Roy Nelson
-- came back as they should: clean.
Alistair Overeem
, long the subject of speculation in regards to performance-enhancing drug use, did not.
According to the Nevada State Athletic Commission, Overeem rendered a smoking gun of a testosterone-to-epitestosterone ratio.
(The NSAC allows for a 6:1 ratio, 50 percent higher than the World Anti-Doping Agency standard. Overeem's elevated T/E ratio was 14:1, according to the commission.)
Ironically, the last person who should have been caught off guard by the randomness of the commission's request is Overeem. The Dutch heavyweight was well aware that prior to June he owed the NSAC two urine tests at times and places of their choosing.
[+] Enlarge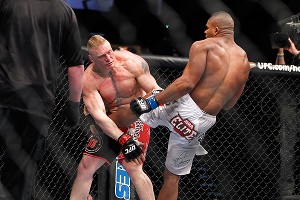 Ric Fogel for ESPN.comAlistair Overeem, right, gave the NSAC every reason to be wary even before his bout with Brock Lesnar.
You remember why?
Overeem, 31, took a month to provide a suitable urine sample following a request by the NSAC leading up to his fight versus
Brock Lesnar
on Dec. 30. The muscular heavyweight had 48 hours from the date of the request, Nov. 17, to get himself to an accredited facility. He did not do so until Dec. 14.
A murky story led the NSAC to issue Overeem a conditional one-year license. Commissioners, right to be wary, decreed that Overeem submit himself to further testing. He was clean the rest of the way leading up to his destruction of Lesnar, earning a title shot against dos Santos that brought him back to Las Vegas just over a week ago.
Overeem, who hasn't addressed the NSAC's allegations of an elevated T/E ratio, had to consider the possibility that he would get tested.
Right?
Overeem claimed on multiple occasions that he never used performance-enhancing drugs. His massive build, the "Ubereem" effect, was a product of eating well and lifting weights.
Yet, after all that posturing, he's seemingly dirty.
So what happened? Why the positive result? One of the worst bets in Vegas history? Was Overeem too arrogant to consider the possibility of a positive test? A false positive? What?
Overeem deserves an opportunity to respond. But will a commission that already felt toyed with remain open to whatever he has to tell them? I tend to think not. Presuming Overeem doesn't have an unbelievably convincing argument, he'll lose that conditional license, and perhaps even his place in the UFC. Oh yes, he'll have to answer to his promoter too, which just unveiled its marketing campaign for UFC 146 as tickets went on sale Friday.
UFC president Dana White learned of the news while speaking on a conference call with Canadian media and was understandably apoplectic.
How could this happen? Fighters have to be so stupid to use, he said.
After being around Overeem over the years, I'm comfortable saying he doesn't come across as a stupid man. Flying into Nevada, owing the commission two tests the way he did, odds were good they'd come calling.
Overeem's test had to be the least surprising pop quiz in history.
Yet he failed.
The thing is, one could argue that UFC's mixed-messaging on PEDs is partly to blame. At a minimum it's become a source of growing and legitimate criticism leveled at the organization.
Take Brazilian
Thiago Silva
, for example. Not only did he use steroids, he attempted to deliver fake urine to Nevada officials to cover it up. And yet next week, in his first bout back, he's headlining UFC's debut event in Sweden.
If Overeem is indeed guilty of what's been accused, the UFC should do to him what they needed to do to Silva and others of this ilk. Use is rampant and the only thing that will shake fighters out of feeling like a.) it's OK to do or b.) they have to in order to compete, is alter the perception that taking this stuff is how business is done.
You do that by shaking the earth, rattling the status quo.
And isn't that exactly how White and Lorenzo Fertitta have operated the UFC for the last decade? Yet White said recently it's "impossible" to keep tabs on the drug-enhancing proclivities of some 375 fighters he has under contract. The man who wants to make MMA the biggest sport in the world claimed something was "impossible," which I didn't think was possible.
Let's give White the benefit of the doubt. Maybe it is logistically impossible and fiscally impractical to monitor everyone all the time. Maybe White is also correct when he says the matter of testing fighters belongs in the hands of the regulatory bodies, not promoters. But isn't there something Zuffa, in its role as the sport's dominant institution, could do?
Common sense -- i.e. use, get caught, bye bye -- would be a much better option and deterrent than anything currently in place -- i.e. use, get caught, come back following suspension and receive a rich fight. Repeating the latter accomplishes nothing except fulfilling some people's definition of insanity. It could be argued all this actually serves as a deterrent to preventing this sort of stuff.
Absent that, expect this garbage to persist until, eventually, something not so trivial as losing a chance to crown the UFC heavyweight titleholder as MMA's linear heavyweight king for the first time in years (a pending reality when Overeem was set to meet dos Santos) is lost. Nothing is guaranteed, of course, but it sure seems headed that way.
February, 10, 2012
2/10/12
9:01
AM ET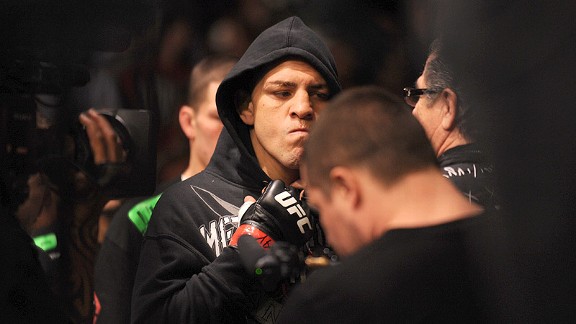 Rod Mar for ESPN.comDoes this look like someone who wants to change his ways?
If you've followed
Nick Diaz
's career at all, maybe even just caught a glimpse of the recent UFC Primetime, you know this if you know anything about the man: He does what he wants.
That is, until he can't anymore.
That's where to begin and end with Diaz. And while the results of what he does (or doesn't do) can be sometimes frustrating and infuriating for fans and friends around him, how can anyone really hate on the guy?
Hear me out.
Diaz is a walking "who cares" to the world. Don't we need people like that to keep us sane?
In 2007, after Diaz tested positive for "off the charts" levels of THC following his bout against
Takanori Gomi
, I slammed him. Last year, when he failed to live up to his duties as a professional fighter and appeared to cost himself, the fans, his teammates and his promoter a giant fight against
Georges St. Pierre
, I let him have it.
But for what? To pretend like Diaz would read my columns and the lightbulb would turn on? No, I wrote those pieces because I saw a talented guy throwing everything away. I hate that. It's horrible in its unvarnished reality to take in.
Remembering Diaz for what he did in the ring against Gomi would be so much better than remembering him for what happened next. But that's not how it went down.
Well, he didn't beat
Carlos Condit
on Saturday, so the scenario is different. But the price is much higher. And, not that this is anyone's concern but mine, I can't wade into this again. Not this time. Or the time after that.
Nope.
[+] Enlarge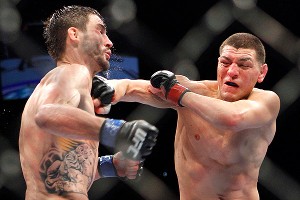 AP Photo/Eric JamisonIt's a pity we'll most likely remember Diaz for what he did outside the cage and not for his achievements in it.
Truth be told, in some strange way I have more respect for Diaz in the wake of his second positive test for marijuana in Nevada -- not because I condone his actions (the merits of marijuana as a performance enhancer can be debated another day), or because suddenly I'm fine with his lack of professionalism. Of course, I'm not. But the point remains, I have more respect for Diaz today because he's his own guy, consequences be damned.
And they be damned.
Probably to the tune of a year's suspension and a 40 percent fine of his purse. That's a lot of money for a guy who long complained about how little money he was making. If the inability to fight, if the steep toll of what could be an $80,000 penalty, if the lessons of the past ... if none of these things matter to Diaz, then so what? Let it be.
He'll eventually fade into the sunset, soon to be remembered as one of the crazy ones; not, unfortunately, one of the great ones. It could have been different, maybe. But if Diaz is comfortable throwing away his best years, forgoing his money-making potential in a trade he was born to ply, what's it worth spending our time getting all righteous about it?
So you and I may miss out on entertaining fights. There will be others to fill the void. Fighters here today and emerging tomorrow have talent and the ability to suppress the urge to toss out insults and expletives to the world. And in the end, those are the ones worth our valuable time.
Please don't feel bad for Nick Diaz. I'm guessing he doesn't want anyone's pity. He's living his life. And that's all that matters. To him.
February, 9, 2012
2/09/12
6:20
PM ET
The marching orders for
Nick Diaz
's second tour of duty in the Octagon were clear from the start. Before the start, actually.
"The problem with Nick Diaz is, Nick won't play the game," explained Dana White last January, five full months prior to Diaz returning from self-imposed exile in Strikeforce and inking a new deal with the UFC. "When Nick Diaz wants to play the game just a little bit, we'd love to have him back."
There it was, simply put. Play the game. Toe the line. Make even the slightest effort to show us you want to be here, that you're ready for this, and we'll hand you the keys to the castle.
After running off an 11-1-1 record during the near-half decade he spent away, few people questioned Diaz's credentials when he vacated his Strikeforce welterweight title in June and leapfrogged straight to the front of the line of the UFC's 170-pound contenders. His abilities were not at issue; at least, not to those who'd paid attention to his evolution from mediocre mid-card performer to bonafide main event talent. If anyone had proven he belonged among the best fighters in the world, it was Diaz.
The million dollar question was: Could he deal? At 28 years old, was he finally equipped to handle the rigors of life as an MMA superstar?
Sadly, we got our answer on Thursday, as news trickled out that the Cesar Gracie Jiu-Jitsu fighter tested positive for marijuana in the wake of his unanimous decision loss to
Carlos Condit
on Saturday at UFC 143. As a result, Diaz will face disciplinary action from the Nevada State Athletic Commission, effectively scuttling the UFC's frenzied plans to get him an immediate rematch with Condit for its interim welterweight title and give him yet another opportunity to find his way into a lucrative fight with
Georges St. Pierre
later this year.
The answer, emphatically, was no.
Now, perhaps we have final, definitive, comprehensive proof. To absolutely no one's surprise, Diaz is not willing to play the game. Not even a little bit. Not even with the world's largest MMA promoter bending over backward trying to make him one of this sport's biggest attractions.
For those of us on the outside, the most tragic part is that we were all rooting for him.
I would wager that deep down, even Diaz's strongest critics wanted to see him get it right this time. We wanted him to succeed not only because of his immense gifts and because it's a joy to watch him fight, but because we empathize with his obvious personal pain. In a weird way, we relate to this guy who desperately wants to be understood, but can seemingly never find the words to say so.
Much has been written these past few months about why we can't seem to take our eyes off Diaz. The truth is, it's not because he's "crazy" or a "bad boy" or whatever unfortunate words we typically use to describe him. It's because many of us -- even if we don't want to admit it -- see parts of ourselves in him, and that makes it easy to want Diaz to rise above all the pressures and pain, and become the best in the world at what he does.
[+] Enlarge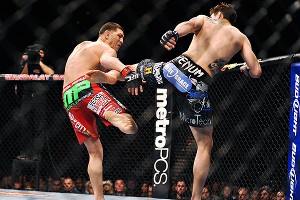 Rod Mar for ESPN.comNick Diaz's time back in the Octagon has been rocky -- and not just in the Octagon.
At least for now, however, that's not going to happen. For now it's easy to imagine that the "demons" (if that's what you want to call them) are getting the better of him. For now, it seems that awkward "retirement" he announced in the cage following his loss to Condit might actually stick; at least a little bit longer than we had hoped.
Diaz has been back in the UFC for all of eight months now and already he's committed two offenses that probably would've gotten a less talented, less popular fighter released outright. He'd already dodged a bullet when the organization granted him a second chance after he no-showed a pair of prefight news conferences for a scheduled bout with St. Pierre at UFC 137. Now, he's tested positive for this particular "drug of abuse" for the second time in his career, for the second time in the state of Nevada.
The first came in 2007 and turned his amazing second-round gogoplata victory over
Takanori Gomi
at Pride 33 -- at the time the biggest win of Diaz's career – into a no contest. That was a little more than a year after he brawled Joe Riggs at the hospital in the wake of dropping a unanimous decision to the journeyman fighter at UFC 57. It was seven months before he began a four-year romp through the competition in smaller organizations, only to re-sign with the UFC in 2011 and notch a record of two major screw-ups in two actual appearances in the Octagon.
At this point you have to wonder how many strikes the UFC will give him. How many missed flights? How many hospital brawls? How many unsuccessful drug tests?
Though we all desperately want the opposite to be true, at this point we must admit that Nick Diaz is not in the lesson-learning business.
And if he isn't ready to play the game by now, will he ever be?
December, 27, 2011
12/27/11
3:47
PM ET
After arriving in Las Vegas on Monday, UFC 141 headliner
Alistair Overeem
submitted a urine sample at a Quest Diagnostics facility, per the terms of his conditional license issued by the Nevada State Athletic Commission on Dec. 12.
Results of the urinalysis aren't expected to be known by the time Overeem is scheduled to fight
Brock Lesnar
at the MGM Grand Garden Arena on Friday, NSAC executive director Keith Kizer told ESPN.com.
The conditional license was issued after
Overeem failed to provide a urine sample 48 hours following a request from Kizer on Nov. 17.
Overeem, who claimed it was coincidence that he flew home to Holland hours after Kizer called the heavyweight's management with the test request, did not provide a suitable sample until Dec. 14.
That test, conducted at a UK laboratory, was clean of performance-enhancing drugs.
Overeem and Lesnar will be subject to two additional urine drops in accordance with NSAC policy. Each must deliver a specimen prior to Friday's fight that will be subsequently tested for PEDs. And, immediately following the UFC heavyweight title eliminator, urine samples will be taken and analyzed for drugs of abuse.
Also in accordance with the terms of his conditional licensure by Nevada, Overeem is subject to two random tests by the state regulatory body within the first six months of 2012.
December, 13, 2011
12/13/11
2:57
PM ET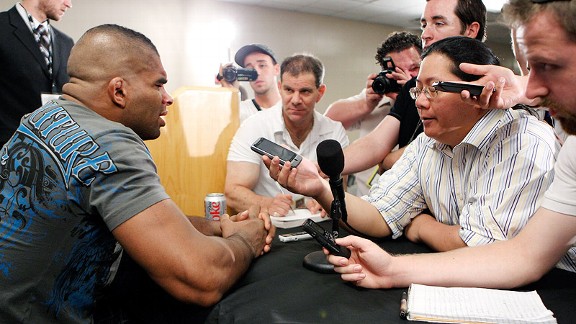 Esther Lin/Forza LLC/Getty ImagesA whirlwind of questions seem to surround Alistair Overeem wherever he goes.
Alistair Overeem
has probably never heard of Lee Atwater, but at this point "The Reem" might be wise to heed that ruthless 1980s political strategist's most famous rule of thumb: That perception is reality.
It can hardly be considered news that Overeem has an image problem in MMA circles, though in recent weeks the former Strikeforce heavyweight champion and his handlers have acted as if they have no idea. For a guy who is already under public scrutiny as a suspected steroid abuser, Overeem's decision to skip the country last month on the same day the Nevada State Athletic Commission notified him of a "random" drug test prior to his UFC 141 bout against
Brock Lesnar
is the kind of public relations gaffe he absolutely can't afford.
The NSAC spent some considerable time on the phone with Overeem on Monday, ostensibly trying to sniff out his intentions for fleeing back to Europe, even though in this instance, reality is all but irrelevant in the court of public opinion.
The truth is, it doesn't matter what the truth is. When it comes to Overeem and drug tests, it only matters what it
looks like
the truth is, and a lot of people are going to assume the worst.
Your perception of what happened during Overeem's teleconference with the NSAC probably depends on what your opinion was about the fighter a week or a month ago. It probably also depends on your feelings about the quality of drug testing in our sport and the job you think state athletic commissions do policing it.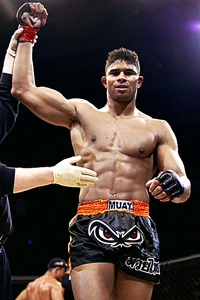 Sherdog.comHard to believe, but Alistair Overeem once looked like this.
If you're an Overeem fan, you may well believe his story that his assistants purchased tickets for him to fly home to Holland to visit his gravely ill mother days before the NSAC told them about the test. You probably believe him when he says he's never been subjected to this kind of testing before as he prepares for just his third American appearance since 2007 and his first ever fight in Nevada. You might even believe that he couldn't find an adequate independent lab to do the testing in his home country and that in the end he thought it would be cool if his "personal sports doctor" conducted the exam.
If you're any other kind of person, you're probably not buying it.
You may have had considerable trouble in recent years accepting Overeem's transition from beanpole 205-pounder to Herculean heavyweight. You might think commission drug testing is a joke and one of the only ways a guy could actually get caught is if he didn't know a certain state had recently reinstituted out-of-competition testing. If that's the case, you likely think Overeem found out about his pending drug test and jetted and, in response, the NSAC gave his enormous wrist the softest possible slap, granting him a conditional license and crucial time to rinse and repeat before returning to the states to take the test the commission ordered nearly a month ago.
Depending on your side of the argument, you probably believe the "assistant" who allowed Overeem to leave the country without taking his test should be fired or -- maybe -- that he should get a considerable raise.
Which is true? Which is reality? Doesn't matter.
The only thing that does matter is that Overeem had an opportunity here to put some distance between himself and his doubters by promptly taking and passing the commission's random test -- and he bungled it. Instead, he just gave his detractors more ammunition, whether real or just perceived.
That chance slipped away because, while fighters have assistants and handlers and coaches, most still don't employ public relations strategists.
Perhaps Overeem ought to think about it.