March, 26, 2014
Mar 26
8:16
AM ET

By Brett Okamoto
ESPN.com
Archive
UFC co-owner Lorenzo Fertitta is in favor of random drug testing in mixed martial arts, but says the initiative to do more of it must come from athletic commissions.
There is an obvious need for more random drug tests in MMA. Tests administered by athletic commissions on fight night are routinely criticized, as potential cheaters know they're coming.
Currently, state athletic commissions can perform random drug tests, although it's very rare due to financial constraints. Last year, the state of Nevada randomly tested five of its licensed MMA fighters. California, another MMA hotbed, tested two.
Fertitta, who served as a commissioner on the Nevada State Athletic Commission from 1996 to 2000, said the UFC encourages commissions to test athletes more and is even willing to pay for it, but is hesitant to create a program that does it for them.
"I think we have to understand at the end of the day we are unlike other sports," Fertitta told ESPN.com. "We are regulated and cannot be presumptuous in thinking we can just take away whatever authority [commissions] have and put it in our hands. It's not that simple.
"You have to understand how state regulatory systems work. You have to work in conjunction with them. They issue us a license in order to promote events. It's not like we're putting on events on our own. We're under their jurisdiction."
Former UFC welterweight champion
Georges St-Pierre
has criticized drug-testing methods publicly since he vacated the title for personal reasons last year.
During an appearance on "The MMA Hour" earlier this month, St-Pierre advocated more random testing and called current fight night commission tests "ridiculous." He also suggested the UFC partner with an independent drug testing organization.
Fertitta says he spoke with St-Pierre in February at Super Bowl XLVIII in Newark, N.J., where the two had what he called, a "really good conversation."
One issue they still apparently disagree on, however, is the inclusion of a third-party organization like the Voluntary Anti-Doping Association (VADA). St-Pierre is a major advocate of the VADA for several reasons, one being it blood tests for HGH.
Fertitta says the UFC remains uninterested in contracting a third party, which has occurred in professional boxing with the VADA and United States Anti-Doping Agency. He believes commissions are capable of administering tests to an equal standard.
[+] Enlarge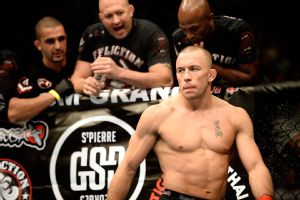 Al Powers for ESPNGeorges St-Pierre has argued for more stringent drug testing of MMA fighters.
"VADA has no jurisdiction over a fight," Fertitta said. "Whether a fight takes place, suspensions, a fighter license -- it's all relative to the commission. I don't want to put words in their mouth, but they don't want to be in a situation where a third party has done testing, they have no idea what happened and are then put in a position where they have to render a decision on something they had nothing to do with.
"The commission is more than willing to test for whatever [banned substances]. Georges just wants to make sure they are adhering to the level of a VADA, which I think clearly can be put into place. That's not a problem."
The NSAC has been relatively busy already in 2014 with its random testing program. UFC middleweight
Vitor Belfort
was tested in February, although those results have not been made public as Belfort withdrew his request for a fighter's license. World Series of Fighting welterweight
Rousimar Palhares
and Invicta FC featherweight champion
Cris Justino
were tested by the NSAC in March.
In December, the NSAC required UFC heavyweight
Josh Barnett
to submit to random testing ahead of a bout against
Travis Browne
at UFC 168 in Las Vegas as a condition of his license. He is also subject to random testing throughout 2014.
The UFC picked up the expense of that program, which illustrates the scenario Fertitta refers to. That was a special circumstance, however, as Barnett has a history of previous steroid use. It was also specific to the state of Nevada.
Legislature varies from state to state. California State Athletic Commission executive officer
Andy Foster
, for example, told ESPN.com he's unsure whether a request for additional funding to test a specific fighter currently falls under his statutory authority.
Foster, who previously worked as executive director of the Georgia Athletic and Entertainment Commission and is a finalist for the vacant NSAC executive director position, said he would seek appropriate legislation in the state of California if the matter got to that point.
"We support what the UFC and Nevada are doing with out-of-competition testing and if this is something the industry is interested in, we could work together to seek legislation to allow something like that -- where promoters pay the CSAC additional funding and we run the testing.
[+] Enlarge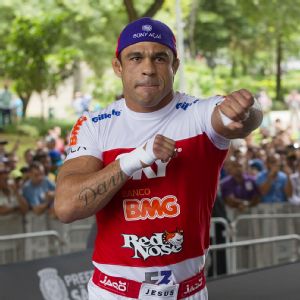 AP Photo/Andre PennerVitor Belfort was tested at random by the Nevada State Athletic Commission in February.
"Any commission is going to try and protect the integrity of a bout. Random testing is needed to protect the integrity of the sport and the commissions can't be held responsible to do that on their own. It has to be an industry-wide concept."
It remains a compelling dynamic in the sport, and has received more attention due to St-Pierre's comments and the recent ban on testosterone replacement therapy in several jurisdictions.
One initiative the UFC could take is randomly testing fighters ahead of any international events in which it self-regulates, due to the absence of an athletic commission. The promotion currently tests all athletes on those cards on fight night.
"We're looking at all of those different options," Ferttita said. "We're embracing whatever we can do to rid the sport of any performance-enhancing drug. It's not like we haven't caught people cheating in the past during fights we've unfortunately had to fill that role of regulator. When we go to these international territories, we've caught a number of people and they've been punished severely.
"[Random testing] is happening now. [The NSAC] just tested Vitor and I read they tested Palhares. It's happening. I don't know what else people want to do. You can't have somebody standing outside every MMA fighter's door, asking them to take a test. There's only so much you can do, and I think they've done a pretty good job of grasping this."
March, 22, 2013
3/22/13
2:59
PM ET

By Chuck Mindenhall
ESPN.com
Archive
The UFC wants to pare down its roster, and right now fighters are helping in the quest. Over the past couple of weeks, three more drug tests have come back hot.
Alex Caceres
for marijuana metabolites.
Riki Fukuda
for a cocktail of stimulants.
Lavar Johnson
for elevated testosterone.
It's always something. Sometimes that something feels like nothing. Sometimes it feels like something.
In these cases, Caceres, a first-time offender, was suspended for six months. Fukuda was cut, not because of the failed drug test, the UFC says, but because he's on a losing streak. And Johnson was cut due to an unfortunate mixture of both. Before them in recent months were Matt Riddle (marijuana again, cut),
Thiago Silva
(marijuana, suspended),
Stephan Bonnar
(steroids again, now retired),
Rousimar Palhares
(elevated testosterone, suspended),
Joey Beltran
(steroids, cut),
Jake Shields
(mystery, suspended) and
Thiago Tavares
(anabolic steroid, suspended).
Before
them
were
Alistair Overeem
,
Cristiane Santos
,
Muhammed Lawal
,
Rafael Cavalcante
and a long ellipses more.
As for
Nick Diaz
? Let's just say the colors on the roulette wheel go round and round. He's a perpetual state of pending.
With all the hype leading up to a fight, drug tests have become the kind of drama that lives on far afterward. And what a word "drugs" has become. If we're being real, marijuana gets stashed in a fun folder called "recreational," while steroids and spiked testosterone levels are filed away under "dirty rotten cheats." One is a form of silly, the other manipulates.
Everybody knows that, right?
Hmm. Problem is that the suspensions (from the commissions) and the general fallout (from the UFC) don't necessarily discriminate. Illegal is illegal with both parties, though most commissions are consistent (and non-differentiating) with punishment for failed drug tests and the UFC is inconsistent (differentiating but moodily) for them.
The bridge? Maybe UFC vice president of regulatory affairs Marc Ratner, who has begun to point out the folly in sentencing marijuana and PED violators as equals. He spoke up about it at a Nevada State Athletic Commission hearing this week, saying that he "cannot believe a PED and marijuana are treated the same. It does not make sense to the world."
Ratner is dialed in.
The world has common sense. The world has a loose and general understanding that pot isn't taken to achieve competitive advantage (and
taken
seems like such a strange word to use -- who
takes
pot?), while the other is harmful, dangerous and taken precisely to gain an advantage. Steroid cycles go about outsmarting surveillance systems.
[+] Enlarge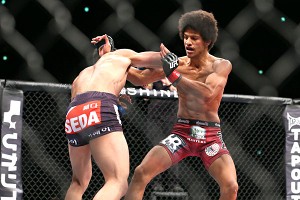 Susumu Nagao for ESPNAlex Caceres, right, was suspended for testing positive for marijuana metabolites.
Pot? No way, dude. I'm not a doctor, but pot is an afternoon of video games. It hardly carries the stigma it once did, and it's being legalized in certain states. Not to be facetious, but where testosterone helps 34-year old men perform like 24-year old men, your appetite is the only thing that performs like it's 19 years old on pot. Is it a painkiller? Maybe. Then again, a six-pack of Molson could be, too. More importantly, is it anything like a painkiller come fight night? Most pot cases are all about those long-lingering metabolites, which have little (or nothing) to do with the event itself.
Should they be treated the same? These things aren't equal. It's time that the NSAC and other commissions recognize the difference. Same goes for the UFC, which has recently vowed to crack down on PEDs. Granted, so long as marijuana is tested for, fighters should know better than to jeopardize their careers by smoking it. It's still a dumb move. Should it even be tested for? That's a different can of worms, and it's easy to argue no. Right now, though, it is.
And since it is, it'd be nice if the punishment fit the crime for violators. It's not hard math. PEDs show up for the express purpose of making an impact on fight night. Pot, on the other hand, is incidental. They share the taboo of being banned, but they have extremely different motives.
Those motives are the heart of the matter.
February, 16, 2012
2/16/12
6:08
AM ET

By Brett Okamoto
ESPN.com
Archive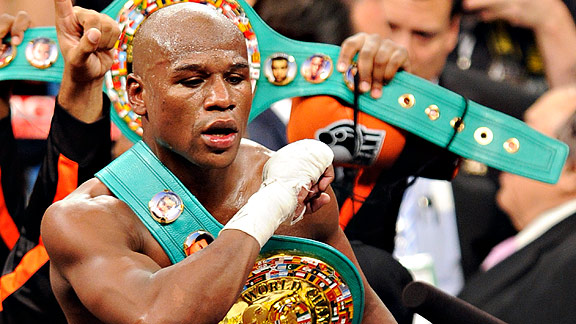 Ethan Miller/Getty ImagesBoxer Floyd Mayweather has been granted a license to fight -- much to the chagrin of Dana White.
OMAHA, Neb. -- UFC president Dana White has addressed what he sees as "totally biased" and "completely unfair" behavior by the Nevada State Athletic Commission.
White's comments stem from a hearing on Feb. 1, during which the NSAC ruled unanimously in favor of granting professional boxer Floyd Mayweather Jr. a one-fight license to compete on May 5, despite the fact he faces 90 days of jail time.
In December, Mayweather pleaded guilty to a reduced battery domestic violence charge and no contest to two harassment charges. The following month, a Las Vegas judge agreed to postpone Mayweather's sentence to allow him to fight at the MGM Grand Garden Arena on May 5.
The fight could generate more than $100 million for the city of Las Vegas, according to Mayweather's lawyer, Richard Wright.
To White, the decisions made by the state's governing bodies not only defy logic, they fail to coincide with similar scenarios UFC fighters have faced.
"I don't know what to say," White said. "I'll just be honest about it. Holy s---. That's crazy."
In 2011, UFC middleweight
Chael Sonnen
applied to the NSAC for a second's license, which would not allow him to fight in Nevada, but would grant him the right to corner fighters and serve as a coach on the reality show, "The Ultimate Fighter."
Sonnen, who received a one-year suspension from the California State Athletic Commission for high testosterone levels during a fight against
Anderson Silva
in August 2010, failed to receive a license from the NSAC.
White is also awaiting a ruling from the NSAC regarding welterweight
Nick Diaz
, who tested positive for marijuana metabolites after a loss to
Carlos Condit
earlier this month. It was the second time Diaz has failed a drug test in Nevada.
Precedent suggests Diaz faces a potential one-year suspension and monetary fine for the positive test. On Jan. 31, the NSAC handed down that exact sentence on professional boxer Matt Vanda, who tested positive for marijuana in 2010 and 2011.
To White, comparing the two cases and considering the NSAC's decisions in each are mind blowing.
"The boxer guy, who smokes marijuana a second time, is not going to jail," White said. "He gets a year suspension and they take 40 percent of his purse.
"

Floyd Mayweather is going to jail. It's been put off so he can fight and then he gets licensed to fight? Am I the only guy on this planet who thinks that's crazy?

"

-- Dana White
"Floyd Mayweather is going to jail. It's been put off so he can fight and then he gets licensed to fight? Am I the only guy on this planet who thinks that's crazy?"
The promotion had planned to book Diaz to an immediate rematch against Condit before being notified of the failed test. When the positive test was announced, White issued a statement that he was "beyond disappointed."
The NSAC is expected to sentence Diaz at a hearing in April, according to reports. While White eagerly awaits the result of that hearing, he's baffled that Mayweather will be simultaneously training for a fight against Miguel Cotto.
"How about this?" White said. "The Nevada [State] Athletic Commission royally kissed Mayweather's a--. This guy is going to jail, but the judge is allowing him to not go to jail until he has his fight.
"We'll see what happens [at the Diaz hearing]. We'll see if inconsistency prevails again."