August, 22, 2013
8/22/13
11:37
AM ET

By Josh Gross
ESPN.com
Archive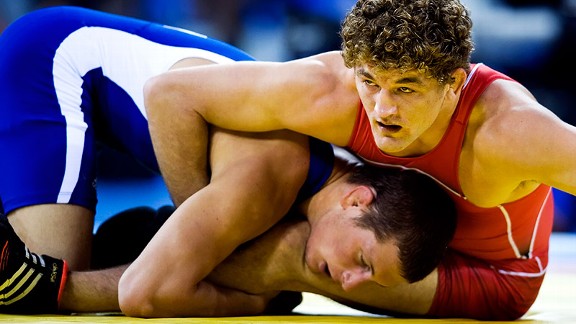 David Eulitt/Kansas City Star/MCTBen Askren transitioned from the 2008 U.S. Olympic team to an unbeaten run as Bellator champion.
CARSON, Calif. -- Drip. Drip.
Red droplets won't stop falling from
Steve Mocco's
nose.
"It's been bleeding for a while," he said, not needing to be asked before saying something. "You just tap it and it starts bleeding."
Drip. Drip.
The pattern held steady during half-minute intervals, and Mocco made proper use of the paper towel that was balled up in his meaty right hand. Moments after his third professional MMA victory, a decision against
Lew Polley
, Mocco smothered a folding chair inside his StubHub Center locker room, nodded, dabbed the drips away, and smiled.
Accomplished wrestlers like the two-time NCAA super-heavyweight champion -- one of seven men that comprised the 2008 Olympic freestyle team -- seem to go about their business as if these type of scenarios are normal. Drip. Drip. It's comfortable. Almost reassuring.
Standing a shade under 6-feet, the 260-pound "Bear" is among four members from the '08 freestyle crew doing well in MMA. Mocco,
Daniel Cormier
,
Ben Askren
and
Henry Cejudo
have a smooth 31-0 combined record.
"We all did what normally you do after wrestling," Cormier said. "Just we fight, too."
Positive results have prompted chatter about their success to "pick up steam," said Cormier, who served as team captain at the Beijing Games. When kidney failure tied to weight-cutting prevented him from competing in consecutive Olympics, Cormier shifted his focus to MMA.
Today he's 12-0, widely considered a top-three heavyweight, and is closing in on a UFC title opportunity.
Prior to this new life, Cormier's old one in Oklahoma was uninspired.
Work and video games occupied much of his time, which wasn't going to cut it after a lifetime pursuing pure competition. Cormier struggled, understandably, and a couple of times had to rely on his close friend and fellow national team wrestler,
Muhammed Lawal
, to help pay the mortgage.
"It was hard," Cormier said. "After retiring from wrestling, I didn't have much."
The sport of mixed martial arts became a legitimate option after Cormier saw how well "King Mo" did while fighting in Japan. "You should do it," Lawal liked to tell him. In fact, Lawal is credited with planting the MMA seed in the minds of the '08 wrestlers. Being repetitive and consistent, like Mocco's drip, drip, apparently worked.
MMA was familiar to the group, of course. They enjoyed discussing the sport, but it certainly didn't consume them during the run to Beijing.
"I don't think it was ever a 'plan,' " Askren said. "Just each of us found our own way to MMA."
Being in the right place at the right time had a lot to do with that.
During the 2004 Olympic cycle, UFC had yet to launch "The Ultimate Fighter" reality show. Four years later, UFC was pulling huge pay-per-view numbers and attracting many of the sport's best fighters because that's where the money was flowing after the demise of Japanese MMA.
It was no coincidence, Askren said, that "you've got the seven best [wrestlers in America], and four of them decide to do MMA."
Currently a free agent after defending the Bellator MMA welterweight belt last month for the fourth time, Askren (12-0) said he'd like to wind up in the Octagon, which would bring him closer to being the No. 1 welterweight in the world.
[+] Enlarge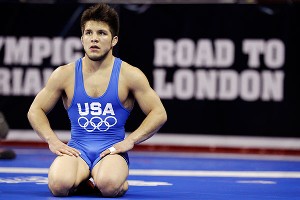 AP Photo/Charlie NeibergallUnbeaten in his first four MMA bouts, 2008 Olympic gold medalist Henry Cejudo is regarded as a top prospect in the flyweight division.
After falling short of qualifying for the 2012 Games, Cejudo and Mocco made their moves and have been busy. Cejudo, a gold medalist in '08, made his MMA debut this spring. He won his first four fights with little problem, and his next contest is expected to be announced on Monday.
Cejudo is regarded as a top prospect in the flyweight division. Mocco, meanwhile, stepped into the cage for the first time last year. Of the four Olympians, he most resembles a work in progress.
"I don't want to compare myself to them yet," Mocco said. "I feel like I have a lot more to prove. They're established, good fighters."
Facing a late replacement during Friday's
Resurrection Fighting Alliance 9
card, Mocco engineered a decision win that didn't please many fans seated in the outdoor venue. Still, he showed up punching, and grappled as he pleased. Mocco and his camp, headed by American Top Team's Ricardo Liborio, sounded satisfied. As satisfied as they can be, at least.
"A lot of people expect too much from Steve," Liborio said. "He's a great name in wrestling. There's a lot of expectations of Steve as a contender, and there's no doubt that he's going to be. We just need more time. That's why he's in RFA now. I think there's enough contenders here, people with quality, that we can achieve our goal to get to the UFC and stay."
Competitors on Mocco's level understand the formula well. Work hard, make the most of what you have, and anything can happen. The heavyweight looked noticeably slower against Polley than he should have. He said he needs to work on resetting after exchanging on the feet. There are many nuances yet to be discovered.
"He'll get the most out of what he got," Liborio said. "He'll find out if he can be UFC champion or not."
"I'd like to think so," Mocco said between drips, "but we'll find out one way or the other."
April, 12, 2013
4/12/13
7:36
PM ET

By Josh Gross
ESPN.com
Archive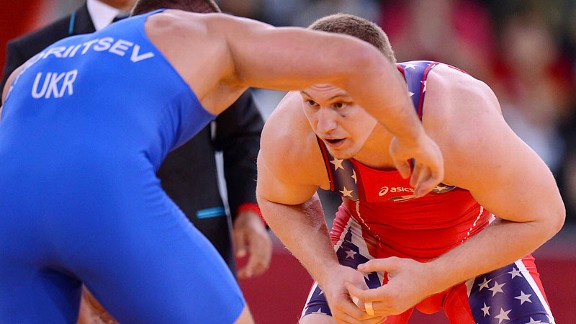 Matt Kryger/USA TODAY SportsIn an effort to save Olympic wrestling, supporters have enlisted the help of the MMA community.
With the clock ticking towards zero regarding wrestling's place as part of the Olympic program, all hands are on deck.
"No one should be deceived into thinking it's going to be easy," Bill Scherr, chairman of the Committee to Preserve Olympic Wrestling, told ESPN.com this week.
The International Olympic Committee's executive board will meet at the end of May in St. Petersburg, Russia, to determine which sports to include in the 2020 games. A final vote is set for the IOC general assembly in Buenos Aires, Argentina, in September.
"We need to get put on that short list," Scherr said. "We're competing against seven other sports. If we don't get on the short list of three or four, we're done. So we need that. Once we're done with that we start the clock towards September."
As part of the effort, the wrestling community in the U.S. has publicly aligned itself with the most powerful entities in mixed martial arts -- a full reversal for groups, such as USA Wrestling, which receives a significant portion of its budget from the U.S. Olympic committee, that were once leery of attaching wrestling to MMA.
"Wrestling would be in the Stone Age if we didn't recognize that the UFC is mainstream sport," Scherr said. "We embraced and privately loved it for years. Publicly it's time for us to embrace mixed martial arts as a mainstream sport like the rest of the world has. I think people in wrestling are ready for that.
"I believe that wrestling people now understand the importance of doing everything they can to create publicity and awareness for their sport. Wrestling has contributed in many ways to mixed martial arts' success. And mixed mixed martial arts has already contributed, without formally trying, in so many ways to wrestling. I think if we formalize that communication, partnership and coordination both organizations can be benefited."
CPOW, a composite group that includes, among others, representatives from the International Federation of Associated Wrestling Styles (FILA) and USA Wrestling, reached out to the UFC, which was extremely receptive to the cause. Discussions between the groups, Scherr said, led UFC president Dana White to suggest Bellator MMA and its ownership group, Viacom, should join the fight as well. USA Wrestling reached out to Bellator, and the promotion's CEO, Bjorn Rebney, told ESPN.com that his group would do what it could in support of the effort.
There are murmurs Bellator MMA could host a pay-per-view this summer linked to CPOW's cause, but Rebney told ESPN.com nothing has been determined. In terms of events prior to the May hearing in Russia, expect a public relations push, perhaps mentions of the fight to preserve wrestling in the Olympic program during UFC broadcasts, as well as a set of public service announcements featuring athletes and celebrities. Over the long haul, folks in the wrestling community will educate themselves on the ways in which MMA has positioned itself as a popular television property.
"The sentiment has been positive and amazing from Dana White and the UFC, and Bellator in their desires to help us."
Scherr, a bronze medalist in freestyle at 100 kilos in 1988, said the IOC's targeting of wrestling says "more about the presentation of the sport, the organization of the sport by the International Wrestling Federation, the current modern rules as they are in Olympic wrestling, and the lack of participation in the Olympic sports movement that wrestling showed in recent times. That's what they're commenting on. They're not commenting on those millions and millions of people that love wrestling globally, and the vibrant growth the sport has seen around the earth and in the United States.
"I think this is a time period in which the International Olympic Committee has given wrestling a great gift."
So wrestling must adapt, and the community has turned its attention to mixed martial arts, which itself underwent a famous resurrection from an outlaw venture into a mainstream sports property.
"You want the Olympic program to reflect sport within the global community, and I think it should change," Scherr said. "And it will change. Wrestling wants to be part of that. So if we're not successful here in Buenos Aries, we're going to push and continue to work to improve the sport so we are eventually successful in being a part of the Olympic games."