December, 28, 2011
12/28/11
6:40
AM ET
By Chuck Mindenhall and Chad Dundas
ESPN.com

Editor's note: Next week, the ESPN MMA page will roll out its official end-of-the year awards. With winners in each of the most popular categories seemingly pretty clear cut, however, ESPN staffers Chuck Mindenhall and Chad Dundas will take the final week of 2011 to offer up a few "alternative" choices.
It used to be, you could win "Knockout of the year" with a punch. Or maybe, if you were feeling fancy, a high kick.
In 2011 however, the game changed considerably. This year, you likely weren't even going to be a legitimate contender for a KOTY award without doing something to bend the rules of space and time.
Anderson Silva
and
Lyoto Machida
saw to that with their respective front kick knockouts of
Vitor Belfort
and
Randy Couture
and the two Brazilians will probably fetch most votes on mainstream KO of the year ballots for those highlight reel finishes.
Truth is though, this is perhaps the most competitive of all end-of-the-year MMA awards. With apologies to Silva and Machida, there was Carlos Condit's flying knee KO of
Dong Hyun Kim
to consider. There was John Makdessi's spinning backfist on
Kyle Watson
. There was the time in Bellator that
Hector Lombard
hit Falaniko Vitale so hard that Lombard knew it was over before Vitale's brain gave his body the memo.
In addition to those gems, there were any number of
spinning
,
flipping
kicks on the independent circuit.
It was, in short, a good year for head trauma. With such a wide array to choose from, here are our selections for best alternative knockouts of the year ...
Chad Dundas' pick:
Adam Khaliev versus Alexei Belyaev, League S-70 Fight Nights, Russian Championship First Round, Dec. 22, 2011 in Volgograd, Russia.
Look, I'm not going to sit here and try to tell you that prior to a few days ago I had ever heard of Adam Khaliev or Alexei Belyaev, of something called League S-70 Fight Nights or -- for that matter -- the Profsoyuzov Sports Hall in Volgograd, Russia. The truth is, I had not heard of any of them and even as I sit here today I'm not sure what many of those words mean.
What I do know is this: Khaliev's "tornado kick" KO of Belyaev is simply too unbelievable to be left out of any knockout of the year discussion. It is so amazing that not much context is needed – which is good, because we don't have much – except to say that Khaliev caught Belyaev against the ropes two minutes, 26 seconds into their middleweight bout and made him pay with a kick that
must absolutely be watched in slow motion
to be fully appreciated.
After viewing the video numerous times, I'm still not sure if my favorite part is the pinpoint accuracy of the kick itself or the way Khaliev (whose personal style can best be described as "high school janitor") nonchalantly walks away after it happens as if to say, "No big deal." In any case, Khaliev is reportedly now 2-0 in MMA so, yeah, watch out for that dude.
(Credit to the guys at
MiddleEasy.com
for reportedly being the first to dig this up.)
Chuck Mindenhall's pick
:
Cheick Kongo
versus
Pat Barry
at UFC on Versus 4, June 26, 2011 in Pittsburgh, Penn.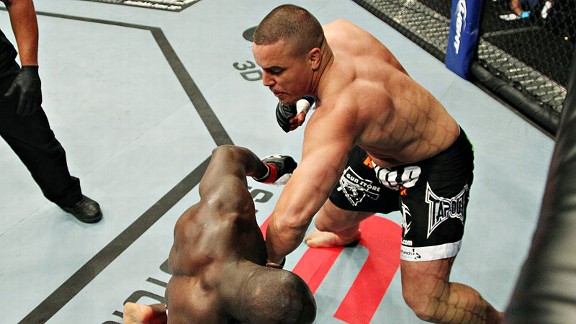 Josh Hedges/Getty ImagesPat Barry was having his way against Cheick Kongo before getting tagged and nodding off.
The fight between Kongo and Barry was a co-main event that was forced into the main event spot when the whole
Nate Marquardt
fiasco went down in Pittsburgh. How did the heavyweights handle the spotlight? Let's just say you know it was a banner year in MMA when this fight isn't mentioned as Fight of the year. And if there were such a thing as Round of the year (and in some corners there might be), this one would be it.
Everybody knew that it wouldn't be pat-a-cake with these guys, and Barry moved forward from the opening bell to drop some bombs. Though he was giving up over eight inches of reach, Barry cocked back and threw a big looping right midway through the round like a pitcher delivering a hanging curveball. It hit Kongo square behind his left ear -- traditionally the "black spot" for knockouts -- and Kongo collapsed backwards on himself.
Kongo was out. It was over.
But it wasn't. Kongo groped for a single leg and avoided the followup damage enough to get back to his feet. For a split second, anyway. Just as soon as he got there, Barry landed another big right to the temple that dropped the Frenchman again, who by now was flailing through the air, windmilling in trouble. If referee Dan Mirigliotta's stomach was weaker, this fight would have been over.
But again, it wasn't.
Kongo scrambled to a knee, and latched onto a single leg again, before improbably staggering back to his feet. Then he retreated toward the fence, and Barry came forward again for the finish, remembering the job he left undone against
Mirko Filipovic
a year earlier. That's when Kongo, out of nowhere, wits restored from his own deep reserves, planted and countered with a right hook that grazed Barry. Then another right while standing in the pocket landed on Barry's jaw, dropping him unconscious. Barry's knee bent under his weight like he was sliding into second. Barry, like the crowd that night in Pittsburgh, never knew what hit him.
Not many fights have three knockouts in a single round, but this one did. And Kongo's counted most.
Previously: Our picks for alternative Fight of the year and alternative Submission of the year.
Up next: Alternative fight card of the year.
October, 31, 2011
10/31/11
1:03
PM ET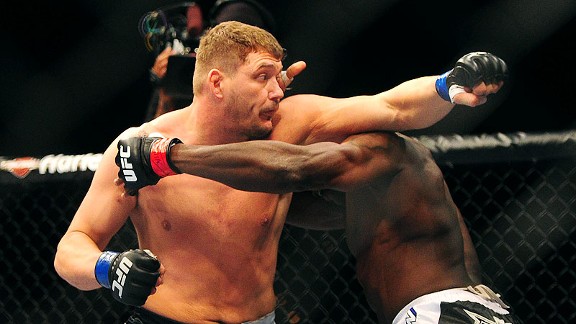 Mark J. Rebilas for ESPN.comOff the mark: Matt Mitrione failed to hit his target of breaking into the heavyweight upper-echelon.
Before
Matt Mitrione
fought
Cheick Kongo
, there were directional advisories. Mitrione said he was going to come forward and put Kongo on his heels, even though Kongo is traditionally the one doing the advancing. Kongo warned that he would not be made to back peddle.
Storm clouds.
What we had was a potentially explosive impasse, where the two would collide in the middle of the cage and one would drop trailing a line of zzz's. If only things had worked out that way.
It ended up being an anticlimactic co-main event -- instead of a coming-out party for Mitrione -- where both guys struggled to open up. It was the previously unbeaten Mitrione who ultimately went backwards with the loss, while Kongo came forward with the usual smoke and mirror suspicions. The thing that refused to budge in all of this was the UFC's heavyweight division. It remains exactly as it was -- that is, bottom heavy.
This has been the way things go of late. Prospects like Mitrione can't get over the last hurdles to heavyweight contention, and the gulf widens between the rarified top --
Cain Velasquez
,
Junior dos Santos
,
Brock Lesnar
and
Alistair Overeem
-- and the rock-paper-scissors middle, which is everybody else. The everybody else boils down to the round robin being played between
Roy Nelson
,
Frank Mir
and the now-retired
Mirko Filipovic
.
Shane Carwin
was there, but he's now shelved until 2012 after another surgery (and he'll be 37 when he does come back, riding a two-fight losing streak).
Antonio Rodrigo Nogueira
needs a time machine.
Stefan Struve
and
Pat Barry
, the technology to morph.
[+] Enlarge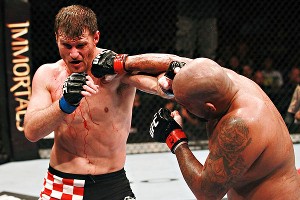 Nick Laham/Getty ImagesIs Stipe Miocic a promising heavyweight, or just other pretender waiting to flop?
That's why we're raising our eyebrows at what
Travis Browne
might do and building
Stipe Miocic
into a Cleveland State chimera. There aren't a lot of threats waiting in the wings behind those big four on Zuffa's varsity roster. Strikeforce's
Josh Barnett
and
Daniel Cormier
are out there, but they are off-limits currently (mostly), with Dana White now on fraternity terms with Showtime to negotiate a deal. Had Mitrione walked right through Kongo, we'd have at least
that
guy bleeping on the radar beneath the others, a sort of
Donald Cerrone
for the heavyweight class. An undeniable.
But Mitrione was the latest to lose his bearings, and there isn't really another someone right now behind him.
As the heavyweight division showcases on network TV in a couple of weeks, with a huge bout between Dos Santos and Velasquez, we'll be watching the undisputed best in the class. Then there's Overeem and Lesnar, each of whom have their question marks. They are the definitive next best. After that, it's a little murky. If Mir loses to Big Nog at UFC 140, it gets a little more murky. Whatever's compelling beyond that is hard to find.
And it might stay that way until the Strikeforce guys are brought in, or
Jon Jones
cleans out the light heavyweight division, both of which could happen -- or be made to happen -- sooner than we think.
October, 28, 2011
10/28/11
2:26
PM ET

By Chad Dundas
ESPN.com
Archive
LAS VEGAS -- You'll have to forgive some of those in attendance at the UFC 137 prefight media conference on Thursday if they couldn't quite get over the fact that
Nick Diaz
was there, too.
Diaz's recent media engagements have been so erratic and unpredictable leading up to this event that just showing up for this one -- and showing up on time -- seemed remarkable.
Enough so that even Diaz, at times, appeared to be in on the joke.
"They did bring me down an hour early," he said, when asked if the UFC or his team had to take any special precautions to keep him from missing the media conference. "I don't know if that was a change of plans or if that was on account of me."
It's been less than two months since Diaz got bounced from a scheduled welterweight title fight against
Georges St. Pierre
after no-showing a pair of advance PR events. He presumably got a stern talking-to from UFC President Dana White on the matter and now, after being booked back in the main event against
B.J. Penn
on this Saturday's card, his handlers said he's learned his lesson.
"We had a talk about fighting in the UFC now and doing press and everything like that," said Diaz, who also showed up some 45 minutes late for last week's conference call. "I said my only problem with doing press is that it takes time away from my training. I train harder than most athletes out here ... and [doing press] really throws me off my week, which throws my whole month off; and that's a big deal to me."
In truth, most of the answers Diaz gave at Thursday's media conference were an improvement on his past performances, but questions about his distaste for media kept coming. Finally, White had heard enough.
"He's here, guys," the exasperated UFC president said. "If you want to ask him about the fight, he's here. He's here today, it's over and I can tell you from what I've heard from my crew here, he's done everything that he's supposed to do."
White sees surprising likeness in Penn and Diaz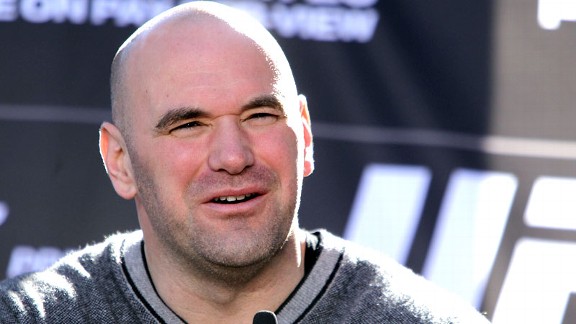 Josh Hedges/Getty ImagesDana White can't help but compare Saturday's main-event fighters B.J. Penn and Nick Diaz.
Both Diaz and Penn are talented jiu-jitsu fighters who love to box. While Diaz typically opts for a high volume, high-octane striking attack, Penn will likely have the edge in power if their main event fight stays on the feet.
If it goes to the ground? That could be anybody's best guess, as they might be that comparable in skill.
However, when asked on Thursday if he saw any similarities between the two welterweights, White singled out a far more, uh, intangible quality shared by both Diaz and Penn.
"The similarity between these guys is they're both crazy," White said. "I love this fight."
New life for Strikeforce?
The largely condemned fight company may have gotten its metaphorical 11th-hour reprieve recently when Ken Hershman, Showtime's former head of sports programming, left for HBO. With Hershman and his notoriously rocky relationship with White now out of the way, the UFC president said on Thursday that he's abandoned his hands-off approach and is knee deep in negotiations to get Strikeforce a new deal with the premium channel for next year.
White said he was in New York on Wednesday meeting with Showtime officials and -- maybe for the first time ever -- sounded relatively upbeat about the possibility that Strikeforce might stick around beyond the new year. White said an announcement could come as early as the end of this week.
"I had a great meeting with them," White said. "We'll see how it goes. I met with all of them, the whole crew. It went very well, and we'll see how it progresses."
Mitrione wants to race
Matt Mitrione
moved his claim of being perhaps the UFC's quickest, most athletic heavyweight to the next level recently, as he took to his official Twitter account offering to take on any of the company's current champions in a footrace. On Thursday he did not back down from that challenge, even widening it a bit to include at least one very athletic former champion.
"I feel that I can beat anybody that has a belt [in the UFC] in a 40-yard dash, maybe even 100," Mitrione said. "I'm going to challenge
Urijah Faber
to a timed mile sooner or later. I don't know if I can beat him, but I'm sure as hell going to give it a shot."
Cro-Cop looking for payback from Barry
The
viral video sensation
showing
Mirko Filipovic
and fellow UFC heavyweight
Pat Barry
singing along with "California Dreaming" while on a recent road trip apparently didn't get cleared by Cro-Cop before its release to the public.
Asked if the emergence of the video was a sign that Cro-Cop was letting his hair down a bit as he approaches the end of his MMA career, the fighter made it sound as if he didn't expect that video to find its way to the Internet and joked (we hope) that he'll have a score to settle when next he meets up with Barry.
"If you ask me if I am planning a singing career, no, that's not true," Cro-Cop said. "Pat Barry sold me [out] because he released it on YouTube, and I will kick his a-- the first time I see him."
October, 1, 2011
10/01/11
11:51
PM ET

By Brett Okamoto
ESPN.com
Archive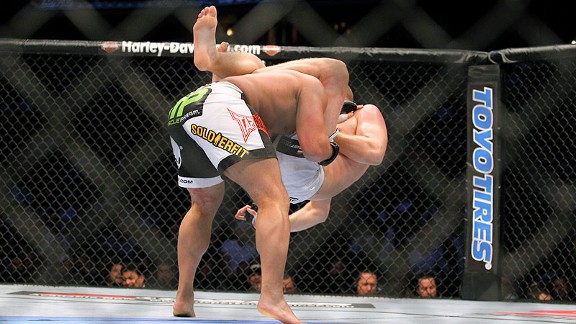 Ed Mulholland for ESPN.comYou're grounded: Stefan Struve punished Pat Barry for deploying a poor game plan.
Pat Barry
has won just two more fights than he's lost as a mixed martial artist.
Following Saturday's submission loss to
Stefan Struve
at UFC Live 6, Barry is 3-4 in the UFC and an unimpressive 1-3 since the start of 2010. He's been finished in all four of his losses.
On paper, he looks like a man about to lose his job. But my guess is the UFC doesn't cut him, and it's a decision I'd agree with.
Living in Las Vegas, I know what it feels like to often feel you have zero luck. Barry must be feeling that way to an extent through seven fights in the UFC. He broke Tim Hague's nose in the opening moments of UFC 98, but his subsequent aggression led him into a guillotine choke.
He was thoroughly dominating
Mirko Filipovic
at UFC 115 before he basically lost his two biggest weapons by fracturing his right hand and breaking his right foot.
He received criticism for hugging Filipovic mid-fight, during a spot many felt was an opportunity for him to finish the fight. In reality, it was a special moment between he and a longtime idol of his, which really didn't affect the outcome.
[+] Enlarge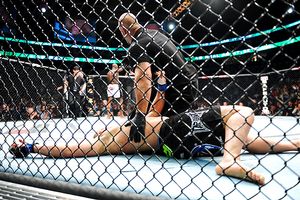 Martin McNeil for ESPN.comDown and out: Pat Barry has experienced a string of back luck since joining the UFC.
What happened next? Oh yeah, he basically knocked out
Cheick Kongo
twice in one fight, only to have him Frankenstein his way back to his feet and land an uppercut, knocking Barry out cold.
During a recent media conference call, Barry joked about the valuable lesson he learned in that fight. "You can't count anyone out," he said. "Even when they've been knocked unconscious twice in the first round."
And then there was Saturday. Barry, the UFC's shortest heavyweight, faced off against the tallest in Struve. In the eyes of many, the only chance Barry had was to suck Struve into a brawl -- something Struve has been known to oblige.
But Struve refused to trade punches with Barry, electing to stay at range instead. He weathered a fair share of leg kicks before eventually setting in a triangle choke after pulling Barry to the ground on a guillotine attempt.
All of this might sound like excuses for Barry, but they aren't. He made simple, critical mistakes in the losses to Hague (leaving his neck out) and Kongo (putting his back to the fence during the final exchange). He failed to come up with an effective game plan against Struve.
But the truth is, Barry could easily be 5-2 in the UFC instead of 3-4. He is, by my count, one of the top five kickboxers in the division and his work with
Brock Lesnar
at Deatch Clutch suggests he's committed to the other areas of his game.
There is still a place in the UFC for Barry. He's likeable, he's exciting and, let's be honest, the heavyweight division is still light on talent. So far, he's been extremely unlucky and his inexperience has cost him. But I don't think that's enough reason to cut him and I expect him to still be employed come Sunday.
September, 29, 2011
9/29/11
1:33
PM ET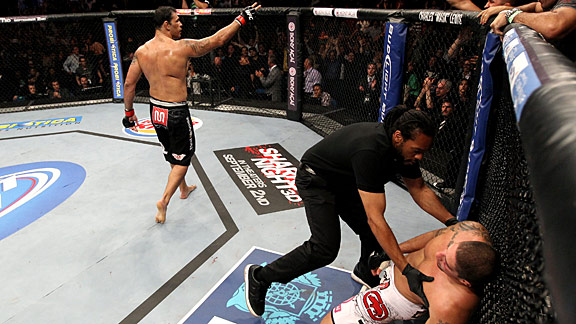 Al Bello/Getty ImagesBrendan Schaub was supposed to be the future of the heavyweight division -- then this happened.
The UFC's signing of former Strikeforce heavyweight champion
Alistair Overeem
swelled the total number of ready-made heavyweight contenders to right around three. After
Cain Velasquez
, there's
Junior dos Santos
,
Brock Lesnar
and The Reem. It doesn't help that the last two have question marks; one for health reasons, the other for being a smoke and mirrors fighter (allegedly).
After those names? It's a dark, dark hall. In fact, only Frank Mir's candle flickers at the end of it, and even that seems dangerously close to blowing out.
That's why it hurts when guys being groomed like
Brendan Schaub
fail to get by
Antonio Rodrigo Nogueira
, or when
Travis Browne
registers a yeomen's decision over
Rob Broughton
when a statement is needed, or when
Dave Herman
gets stricken from a card for coming up positive for illegal substances. Contenders are hard to come by in the heavyweight division right now.
Think about who's out there --
Pat Barry
,
Cheick Kongo
,
Stefan Struve
,
Mike Russow
,
Shane Carwin
,
Roy Nelson
, Big Nog. None of those guys are realistically close. Heath Herring is the most inactive fighter to ever exist on an active roster.
Mark Hunt
gets discussed for being salvaged from the garbage heap, but he's not a threat to contend. Carwin was right there, but he'll be 37 in January and has suffered two losses in a row. Who knows how much he has left. Ditto Nogueira, who has maybe two fights left in him. And that's a generous maybe.
[+] Enlarge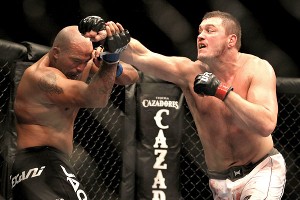 Al Bello/Getty ImagesMatt Mitrione, right, is one of the few heavyweight hopefuls showing promise in the UFC.
Which brings things around to
Matt Mitrione
. It points to the state of things that he looks like the lone buzz fighter coming up in the heavyweight division -- but the man has five total fights, with a casualty list that includes names like Kimbo Slice, Tim Hague and
Joey Beltran
. Besides, he's the first to downplay himself as an actual contender.
Should he get by Kongo, Mitrione at least enters the picture frame. Should he lose? There's going to be a major round robin between the top four guys in the division until reinforcements arrive.
Once the UFC begins bringing over more of the Strikeforce lot -- guys like
Josh Barnett
,
Daniel Cormier
,
Antonio Silva
-- it'll deepen. But at the moment there aren't a lot of heavyweights in the current pool making a big enough splash. In fact,
Stipe Miocic
looks a little like company gold right about now, which says it all for the prospects.
September, 8, 2011
9/08/11
6:53
AM ET
Duke Roufus has turned a small contingency of Midwestern fighters into his own personal "Ong Bak." Though he's got
Erik Koch
,
Pat Barry
and Danny Downes around on a regular basis, Roufus's flagship student is Milwaukee native
Anthony Pettis
, whose Hong Kong action cinema style makes up just about everybody's perception of what's being taught there. Roufusport MMA is right now synonymous with an exciting brand of fighting and Pettis ensures it.
That's why it's with a small amount of intrigue that we turn to Anthony's brother, Sergio Pettis, who turned 18 on Aug. 18. He has his first professional MMA fight Saturday at the Winnipeg Convention Centre as part of a CFC event. So how does he get ready for a pro MMA fight? By fighting in his first pro muay Thai fight just a few weeks beforehand.
"Yeah, I actually had my first pro muay Thai fight [in August]," he told ESPN.com. "I was more conservative in that fight, though. I won by decision, but the guy was one of them brawler-types so it was harder than I thought it would be. In my next fight coming up, I'm going to let it go and just have fun with it."
Pettis debuts against Kyle Vivian (0-3), and he'll enter the cage with an expectation -- some might say burden -- of delivering excitement. Not just to live up to billing as a Pettis, but as a Roufus fighter. It may fly under most people's radar, but it's a big deal for those in that sector of the 414 to see their youngest prospect get off to a solid start in what he hopes is a long MMA career.
"I am used to it now," the younger Pettis says of his brother, who'll be working his corner on Saturday. "It's not a bad thing, but obviously my competition's going to be a lot harder now; they see the last name and they're obviously going to expect a challenge. There's a lot of pressure, but it's alright, I think I can pull through and make the best of it.
"Anthony's the only one at the gym that knows me personally. He's my brother, so he knows when I'm having a bad day and when I'm having a good day. He helps me not get frustrated during training camp when I'm having an up and down week. But he makes me have fun with it."
The Pettis brothers both got involved in taekwondo when they were five years old, and each segued into kickboxing in their teens. Sergio has followed in his brother's footsteps the whole way, and is now looking to build up a name of his own. He might want to start with a more original alias, especially given the Roufus fighter's penchant for originality in nicknames. Anthony "Showtime" Pettis. Pat "Hype of Die" Barry. Danny "Boy" Downes. Erik "New Breed" Koch. These transcend your usual "Pitbull" handles.
So what's Sergio's?
"They call me the "Phenom" but that's Vitor Belfort's nickname, so I'm like, I don't know," he says. "He's pretty old, so I don't know if he can still be considered a phenom."
When you're 18, everybody is old, so he's got time to figure it out. For now, it's good enough that he's part of a burgeoning team that is making a name for itself similarly to how Greg Jackson built his team down in Albuquerque. In fact, Sergio says he sees the potential of Roufusport doing something Jackson-esque in the near future.
"That's the plan," he says. "[Greg] Jackson is known for winning fights and that's how it's going to be with Duke. Only, we're going to try to finish fights though."
It's the right kind of caveat, and it speaks to the mindset of Roufus fighters.
June, 27, 2011
6/27/11
11:15
AM ET

By Franklin McNeil
ESPN.com
Archive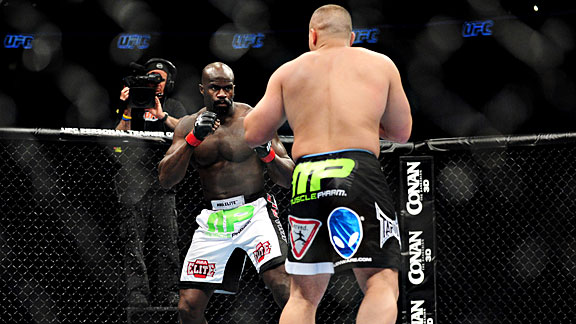 Martin McNeil for ESPN.comCheick Kongo's battle back from the brink helped him earn a "KO of the night" bonus.
PITTSBURGH -- Once again UFC picks itself off the mat and scores a knockout.
Rarely does the promotion put as much stock in one fight as it did for UFC on Versus 4 on Sunday night at Consol Energy Center.
Arguably the most important fighter on the card was former middleweight contender
Nate Marquardt
, who was scheduled to make his UFC welterweight debut against
Rick Story
. But Marquardt failed his prefight medical examination and was not cleared to participate on the card by the Pennsylvania State Athletic Commission.
That forced UFC president Dana White to look elsewhere for a main event. In stepped heavyweights
Cheick Kongo
and
Pat Barry
. The heavy hitters entered the cage promising to inflict bodily harm on one another and they delivered on their promises to throw power shots. Kongo would stop Barry at 2:39 of the opening round to earn "Knockout of the night" honors.
An aggressive
Joe Lauzon
needed less than a round to grab "Submission of the Night," applying a kimura on fellow lightweight
Curt Warburton
at the 1:58 mark.
"Fight of the Night" went to lightweights
Charles Oliveira
and
Nik Lentz
. The win went to Oliveira, who finished the contest with a rear-naked choke at 1:48 of Round 2. Oliveira's win might not stand, however, as the Pennsylvania State Athletic Commission plans to review the fight after it appeared that Oliveira landed an illegal knee moments before putting the finishing touch on Lenz.
Kongo, Lauzon, Oliveira and Lenz each walked away with an additional $50,000 for their performances.
Overall, it was a decent night for UFC. The announced attendance was 7,792, while the gate generated $562,310.
As for Marquardt, his future as a mixed martial artist is in limbo.
"He's on indefinite suspension," PSAC executive director Greg Sirb told ESPN.com. "And that will apply throughout the country.
"He cannot fight until he gives us medical clearance for his medical records. When the clearance comes in we will take him off suspension. And it is a medical issue."
Sirb would not reveal the nature of Marquardt's medical condition.
June, 27, 2011
6/27/11
8:19
AM ET
PITTSBURGH -- There are good performances that end up ugly, and then ugly performances that come up epic.
That's what happened with Frenchman Cheick Kongo, who teetered on the verge of becoming a TKO victim early only to pocket $50,000 for landing a perfectly timed right cross that folded Pat Barry like a lawn chair.
He was
this
close to falling considerably in the UFC's heavyweight division. Instead, he pulled a Scott Smith by sounding the timely KO knell, and today people are discussing him for "Knockout of the year honors" after a genuinely crazy turn of events.
"I had no idea about the image I make for people," Kongo told ESPN.com after the improbable comeback knockout. "If I was really out or not. But the thing was I came back, I just survived, and that's a good thing."
It
is
a good thing. Before he cracked Barry with that shot, Kongo was getting thrashed for much of the round. On two separate occasions referee Dan Miragliotta came close to waving off the swarming Barry, who was out to show he learned his lesson about killer instincts after falling to Mirko Filipovic at UFC 115.
So Barry pounced and tried to finish. Incautious? Maybe, but for Barry it's become a damned if you do, damned if you don't proposition.
"As far as I can remember, the second time [I dropped him], when he folded back over his legs I can almost recall Dan Miragliotta's leg touching my arm he was so close," Barry said in the postfight presser. "So for a split second I thought that this was it.
"I've seen fights get stopped before, and this looked like a fight that would get stopped. The second one, in my head I thought it was going to get stopped but that didn't cause me to stop hitting him. From all the preparation, all the training and all the fights I've been in before you keep hitting until the referee steps in."
What was already a gem in the rough type of card with all the turmoil surrounding the last minute main event change and the Marquardt Mystery, the heavyweight fight that many people were dismissing as anything worthwhile ended up punctuating a wild, unpredictable night. First Charlie Brenneman derailed Rick Story's title hopes (at least in the short term) as a 5-1 underdog, and then Kongo throws up a Hail Mary that gets answered.
[+] Enlarge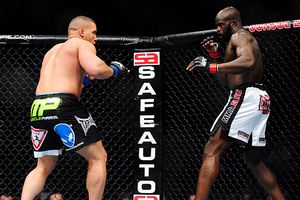 Martin McNeil for ESPN.comThe feeling-out process didn't last very long between Cheick Kongo, right, and Pat Barry.
As it turns out, the main event boiled down to a split second decision by Miragliotta, who rushed in to stop the fight and hesitated just as his arms were about to signal the helicopter. And Kongo was appreciative of the fact, because he says he was never in deep trouble.
"No no, when he hit me, it was like out for one second, but I recovered fast," he said. "Barry's good. Not to be disrespectful, he hit really well. But I was very confident. I took some shots, I said 'OK, that's what he's got. I will attempt to kick him and punch him,' and he had the good reflex to block it. I said 'OK, alright, so he just showed me the pressure, so right now it's going to be exciting.' I was surprised he tried to do the same thing that Frank Mir did to me when I fought him in Memphis. I said, okay, good."
So in the end, there were a lot of old memories crowding over the "exciting" crescendo moment of the fight. Barry wanted to finish to avoid what happened against Cro-Cop (where he was submitted after early domination), and Kongo was astonished at the parallels between this fight and the Mir fight. It all came together for a split second when Barry moved in and Kongo planted and delivered a shot right on the button.
Epic? For those few seconds it was. And it'll stand as one of the crazier knockouts of 2011.
June, 23, 2011
6/23/11
12:23
PM ET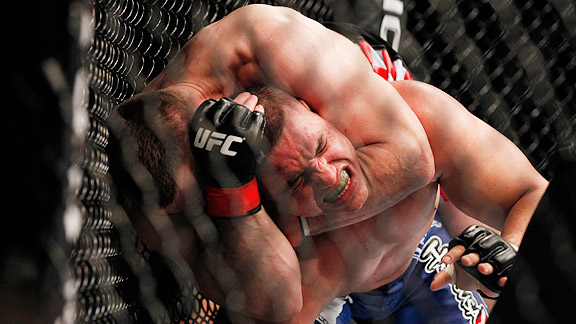 Ric Fogel for ESPN.com Let that be a lesson: Pat Barry learned the hard way that his grappling needed work.
Heavyweight kickboxer
Pat Barry
will face
Cheick Kongo
in the UFC Live 4 "Marquardt vs. Story" co-main event on Sunday at the Consol Energy Center in Pittsburgh. Barry has spent the weeks leading up to the fight working on his wrestling and grappling skills with Death Clutch Gym coach Marty Morgan, hoping to close the remaining holes in his game.
More »
May, 13, 2011
5/13/11
9:05
AM ET
By ESPN.co.uk
ESPN.com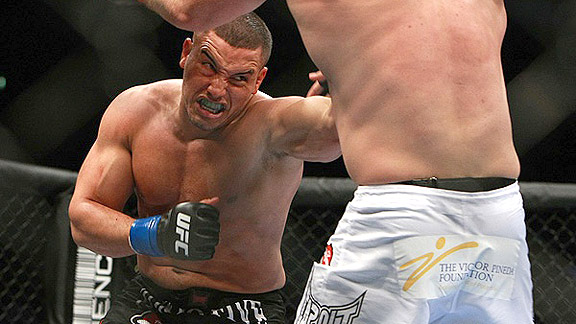 Dave Mandel/Sherdog.comPat Barry has come out swinging at Brock Lesnar's detractors.
Believe it or not,
Brock Lesnar
's revelation that he is once again struck down by diverticulitis has generated conspiracy theories among sections of MMA fans.
Has he used the illness as an excuse to back out of a fight with
Junior dos Santos
? If you believe the answer is yes, it might be a good idea to steer clear of
Pat Barry
.
More »
June, 15, 2010
6/15/10
12:21
PM ET
By Jake Rossen Sherdog.com
ESPN.com
Archive
It's a bit of a stretch to say Mirko "Cro Cop" Filipovic looked good against Patrick Barry on Saturday at UFC 115. Filipovic was dropped twice in the first round, which would normally be cause for an opponent to take advantage, but Barry just blinked at him. Filipovic turned it on later in the third round, though choking out someone with limited ground ability doesn't provide a USA/Russia-hockey level of excitement.
None of this is intended to discount his victory, which is impressive by any measure considering his recent performances, but it was not the display that would cement his status as a contender among his fans.
In a move that is spectacularly out of character for a fighter, Filipovic seems to recognize this.
Back in Croatia, he told a local newspaper (translated by Fighters Only) that "I am now too old for this … I have no motivation for the fight, no mental strength for all the Spartan training. I am no longer so hungry for victory."
Fighting is such a grind that it takes either an obsession or a fear of poverty to push yourself through the months leading up to bouts. Filipovic seems to have neither.
If he commits to an exit, it would mark one of the few times a high-profile MMA athlete has chosen a decent performance as his last. The current trait isn't walking away but getting wheeled away.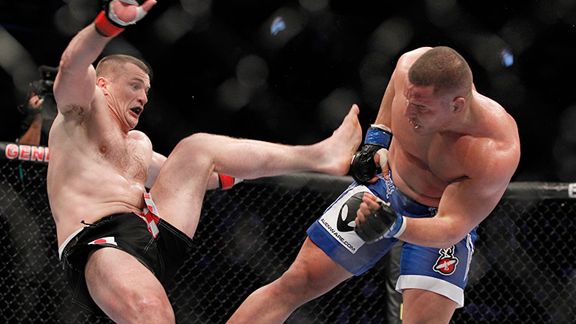 Ric Fogel for ESPN.comWas Mirko Filipovic, left, serious when he talked about retirement post-fight?
What makes Cro Cop so self-aware? He seems to be heavily invested in Croatian politics, which means he's able to define himself in ways other than fighting. He's financially secure after years as a star when Japan could afford to be generous. He doesn't appear to have the same insistence over wringing every last bit of effectiveness from his body that other fighters do. And he seems to realize that if you're not angling toward a belt in the UFC, you're spinning wheels.
Filipovic's attitude is in stark contrast to that of Chuck Liddell, who has suffered a steady succession of TKO losses in the past three years but insists on ignoring what his body is trying to tell him. Odd, too, that Cro Cop would have the maturity to reflect on retirement after a win while some expect Liddell could angle for a third fight with Tito Ortiz.
Filipovic may not have to consider it, but there's something to be said for remaining a little enigmatic at the late stages of your career. If you're still perceived as a dominant participant, endorsements and seminar revenue are going to swell more than if you get tied into knots. It's also a pretty revealing piece of character -- you've got other things going on besides fighting. It's what you do and not who you are.
Once an athlete displays a decline in skills, becoming a trophy head for younger fighters is inevitable. Why exhaust every last ounce of skill and effort allowing it to play out? What fighter has ever plodded into a ring, reflexes eroding, and managed to squeeze out another five or six victories? When the body is kind enough to warn you of pending trouble, you should take it as a clue not to sign a contract extension.
Naturally, much of what a fighter has to say about his career in the hours and days following a fight should be ignored. It's usually contradicted once he has time to settle his head. Filipovic might change his mind again.
But he's made this noise before, and this time seems pragmatic about his fatigue. If he's looking for an exit, it means he's an anomaly among his peers. He knows when the show is over.
June, 13, 2010
6/13/10
8:38
PM ET
By Jake Rossen/Sherdog.com
ESPN.com
Archive
If you ever needed any proof that a fight isn't over until it's over -- and in Paul Daley's case, not even then -- UFC 115 should be plenty proof enough.
Rory MacDonald was controlling Carlos Condit on the ground, looking every bit the prospect he was made to be, until Condit turned it around late in the third round and wound up getting a stoppage seconds before MacDonald would've gotten the decision; Patrick Barry beat Mirko "Cro Cop" Filipovic to the punch, even knocking him down twice in the first, until Mirko found a stationary target in a fatigued Barry and sunk in a choke; Chuck Liddell defied industry wisdom that he was cooked and looked the best he had in years -- until Rich Franklin threw a short, awkward right that flipped his fuse, his fight and his career.
The most common explanation for these rallies is that there are simply too many ways to lose in mixed martial arts. But it's not just that: There are too many decisions to be made in the heat of the moment, and any one of them could wind up scalding you. Fighters are heckled when they have an opponent hurt and don't go in for the kill (Barry simply stared at Filipovic after dumping him on his butt), but racing in and committing to an attack has problems of its own (Liddell ate that KO right after trying to swarm a stumbling Franklin).
Anyone can strategize over a period of days or weeks, but making the right commitments in the moment is what separates the contenders from the stepping stones. If MMA is "kinetic chess," as some say, it's really more a game of speed chess, with no luxury of time involved. Having skill is only as important as being able to deliver it at velocity.
That's one of many reasons Liddell will never see the inside of the Octagon again. (His retirement is really the first among the Zuffa-era box office attractions.) It's easier for some fighters to walk away when the money is blue-collar and the audience is lukewarm; it's going to be harder for men like Liddell, who will miss the adrenaline dump of having 20,000 fans happy to see him. It's not the competition they love so much as it is the arena.
Some styles age well and some don't. Liddell's does not. Hopefully the peers that will keep him out of the ring tomorrow will have the same conviction a year or two from now.
Next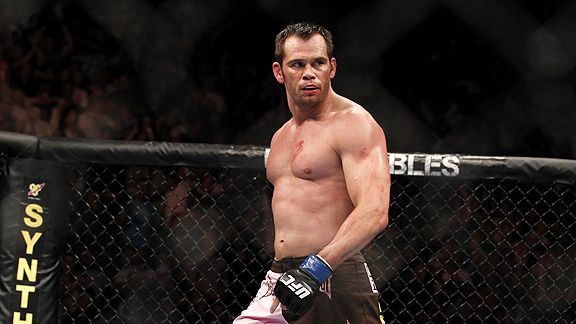 Ric Fogel for ESPN.com Rich Franklin will look to make a run for a title at 205 pounds.
Next for Liddell: Retirement, unless the UFC wants to be perceived as sadistically as Pride and Dream have been for allowing Kazushi Sakuraba a wheelchair-accessible ramp to the ring.
Next for Franklin: If he wants a proper run at the 205-pound title, fights with Ryan Bader or Jon Jones would be a start.
Next for Barry: Less of the gee-whiz reverence toward opponents and more of the killer instinct he delivers sermons on ("I don't hit hard -- I hit scary"). Fighting Todd Duffee would guarantee one of them gets back on track.
Next for Filipovic: He looked good but not great against Barry; a rematch with Antonio Rodrigo Nogueira is more their speed at this point.

Awards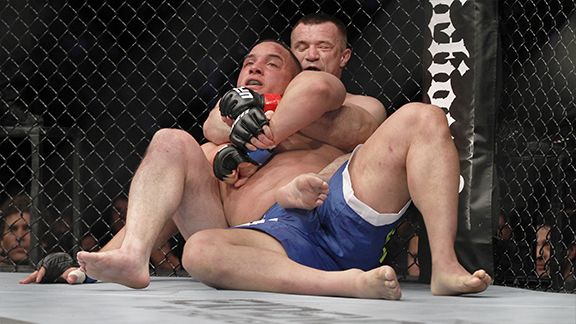 Ric Fogel for ESPN.comWho figured Mirko Filipovic and Pat Barry would take their act to the ground?
The UFC-as-religious-experience award: Mike Goldberg, for declaring fans "blessed" by the idea of seeing Liddell compete again. (Admittedly, Midnight Mass with alcohol allowed could be a hard thing to argue.)
The unnecessary prep award: Matt Wiman, for needing notes stuffed into his fight shorts to remember to thank God and family for his victory.
The devaluing your own product award: Dana White, for repeatedly insisting that Cro Cop-Pat Barry wouldn't hit the ground. Why not have someone stand by to administer an electrical shock every time they hit the floor?
The misplaced gratitude award: Goldberg, for thanking Vancouver for the fastest sellout in company history. Scalpers get no respect.
The wait, one more Goldbergism award: Goldberg, for referring to Ben Rothwell as a "longtime MMA veteran."
New questions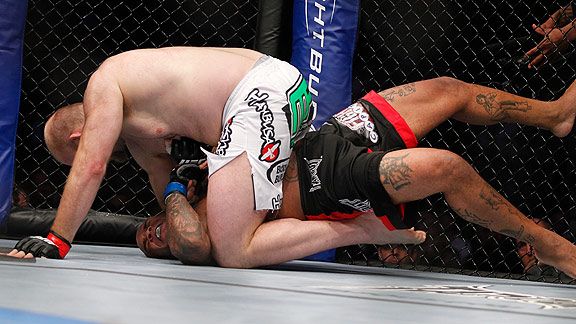 Ric Fogel for ESPN.comGilbert Yvel, bottom, isn't a one-trick pony anymore -- but is that a good thing?
Q: Does Liddell know he's done?
A: With a new build that backed claims he was in serious training for a comeback, Chuck Liddell showed encouraging signs of a late-model revamp Saturday: He threw kicks, shot possibly his first first-round takedown in his UFC career, and generally looked like a man on a new mission. All of it nearly won him the round against Rich Franklin -- save for a last-second flush right that collapsed him.
Liddell's ability to absorb a shot is gone, but what he may debate is how good he looked before getting caught. Mixing it up and coming on strong could be the worst thing to happen to him if it encourages him that he's on the right track. He isn't.
Q: Is officiating actually getting worse?
A: In the wake of some highly questionable judges' calls in recent memory, in-ring officiating at Saturday's card was an assembly line of "Three Stooges"-level slapstick. Yves Lavigne pried Matt Wiman off of Mac Danzig despite Danzig being completely alert and even having the physical presence to post off of Wiman's thigh to relieve the pressure on his neck; Ricardo Funch received a warning for trying to "kick" Claude Patrick in the head (he wasn't). If state commissions aren't mandating a certification course -- and regular license renewal tests -- then it's time they start.
Q: When you improve one aspect of your game, does the other one suffer?
A: For years, Gilbert Yvel had the reputation for being hell on the feet and a pushover on the ground. Against Ben Rothwell, he displayed vastly improved defense, but couldn't seem to punish Rothwell standing with the same ferociousness his older, one-dimensional version displayed. Budgeting time and knowing when you're neglecting on the skill that brought you to the ring is another consideration -- among hundreds of little decisions -- that fighters need to sweat.
Q: Is Bud Light dipping into MMA one toe at a time?
A: Since signing on to be a company sponsor in 2008, Bud Light has maintained a curiously distant attitude about saturating its marketing with a UFC presence. Instead of commercials featuring fighters, promotional displays of Anderson Silva and Liddell were under limited distribution; a 90-second commercial during a Spike prelim special Saturday had a bunch of generic dudes making only vague reference to "the fight" on television. MMA as a corporate darling is still a concept under construction.
Etc.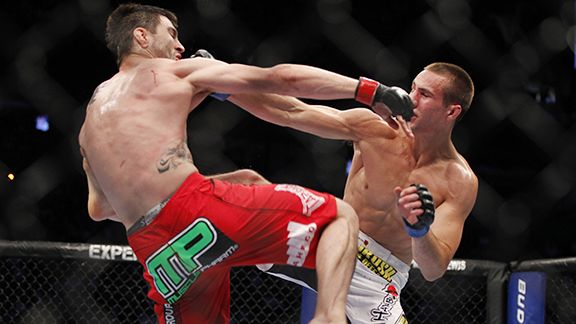 Ric Fogel for ESPN.comCarlos Condit, left, and Rory MacDonald shared fight of the night honors.
• Owing either to a good mood or an impressive $4.2 million gate, the UFC bumped its bonus incentives up to $85,000 Saturday: Filipovic received submission of the night honors over Barry, while Condit and MacDonald took fight of the night. Franklin's KO of the night against Liddell might be White's least enthusiastic payout ever.
• It might have seemed closer on tape, but CompuStrike's numbers for Barry-Filipovic had the Croatian outstriking Barry 89-29 in total.

• White assured media at the postfight news conference that Liddell was indeed done, but no comments have come from the fighter directly yet. While he has other options beyond the UFC, company loyalty might prevent him from considering them -- and hopefully advisers would do the same.

• White swore the promotion would return to Vancouver, but that might wait until the bureaucratic red tape eliminates the outrageous insurance demands imposed on Saturday's show.
• Quinton Jackson's "A-Team" had a good-but-not-great $26 million opening weekend, falling below expectations and getting trounced by Sony's remake of "The Karate Kid," starring a 48-pound Jaden Smith in Ralph Macchio's role. This all but guarantees a "Hard Times" remake starring Topher Grace.
June, 9, 2010
6/09/10
10:11
PM ET
By Jake Rossen/Sherdog.com
ESPN.com
Archive
When you're a fighter who has gone 1-4 since a second win over Tito Ortiz in 2006, a natural course of action might be to fight Ortiz for a third time, just to get your bearings back.
That's what the UFC had planned for Chuck Liddell on Saturday. Ortiz had to have neck surgery instead, which helped maintain "The Ultimate Fighter" statistic of having at least a third of coaches' fights fall between the cracks for one reason or another.

For Liddell, who has been knocked down or out in three of those four losses, fighting Ortiz represented a safer re-entry into a sport he's not yet ready to abandon.
Rich Franklin, the replacement, is not as daunting a task as if Liddell insisted on a top-five light heavyweight contender, but he is still a step or three above Ortiz's own elementary stand-up ability. He's also been the busier fighter.
Liddell has clearly been taking the opportunity -- one the UFC was originally adamant about never giving him -- seriously: he looks lean. But appearances aren't everything, and in tape from the reality series, Liddell has displayed evidence that three TKO losses and two decades of sparring and fighting may be catching up with him. If Franklin beats Liddell, he can thank himself, his camp, and Liddell's 28 other opponents.
What: UFC 115: Liddell versus Franklin, an 11-bout card from the General Motors Place in Vancouver, British Columbia
When: Saturday, June 12 at 10 p.m. ET on pay-per-view, with a live prelim show at 9 p.m. ET on Spike
Why you should watch: Because Liddell's year off may have actually done him some good; because Mirko "Cro Cop" Filipovic has sworn up, down and sideways that surgery and training revisions have made him a new man; because Gilbert Yvel is never in a boring fight unless it's against a wrestler and Ben Rothwell is not a wrestler; and because the 20-year-old Rory MacDonald will be taking another step toward recognition against Carlos Condit.
Fight of the night: Filipovic-Pat Barry, a K-1 match with four-ounce gloves that will either signal Filipovic's official end as a UFC-level contender or Barry's end as a functioning, un-bibbed member of society.
Hype quote of the show: "Anybody says that 'Cro Cop' is out of his prime can feel free to fight him for me … I'll defend that to the end. In my eyes, he is the man he's always been. It's just that everybody else has gotten better. It makes it a little more difficult nowadays." -- Barry, to the Las Vegas Review-Journal, on Filipovic's perceived career slide.
Four Questions: UFC 115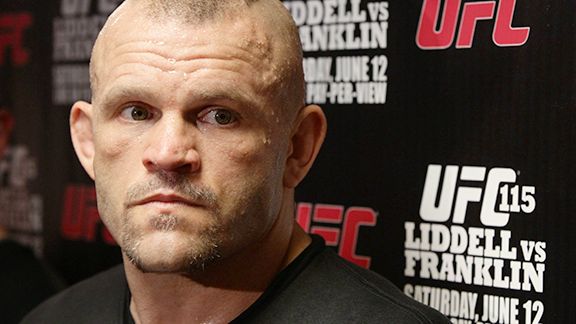 AP Photo/The Canadian Press/Darryl DyckChuck Liddell's chance to silence his doubters comes against Rich Franklin on Saturday.
Q: Can a year's layoff fix what's broken for Liddell?
A: For most fighters, taking a year or more off only results in problems: Your ring timing is erratic, your hunger has ebbed and the guy you're fighting may have squeezed in two or three fights in the time you were poolside. (Even today's schedules, where the upper echelon gets six to eight months between bouts, border on shiftlessness.)
Liddell, recipient of three TKO losses in recent memory, took 14 months to readjust his alignment -- but if the damage is upstairs, there's really no amount of vacation time that's going to compensate for it.
Q: Does Franklin have the power for 205?
A: It's been nearly two years since Franklin notched a stoppage victory against Matt Hamill. Since then, he's had to be content with decision victories, usually in catchweight bouts. Making a permanent move to 205 pounds doesn't appear to be encouraging when it comes to stopping significantly larger fighters -- and probably wouldn't have been Franklin's first choice, if not for the Anderson Silva effect.
Q: Are we sleeping on Paulo Thiago?
A: There's been relatively little discussion on Thiago, the Brazilian who made an instant name for himself by knocking out Josh Koscheck in February 2009. Thiago followed up with wins over Mike Swick and Jacob Volkmann, but a mixed-in loss to Jon Fitch cooled his momentum.
It shouldn't have: Virtually everyone, with the exception of champion Georges St. Pierre, loses to Fitch. It's a nonissue. Thiago fights Martin Kampmann on Saturday: a win could set him up for a significant fight against one of the doormen (Thiago Alves) to GSP's title.
Q: Does Rothwell have anything for the UFC's heavyweight division?
A: Despite a well-hyped stint in the IFL, Rothwell's postfight league career has been uneven at best. His first test against top-shelf competition ended with a KO loss via Andrei Arlovski, while his UFC debut was a proper mauling at the hands of Cain Velasquez. He might have a comparatively easier time against Yvel on Saturday, save for the fact Yvel is a precision striker who won't stay in one place long enough for Rothwell to bully him. If he can't land one on Yvel, he could be in for a demotion.
Red Ink: Liddell versus Franklin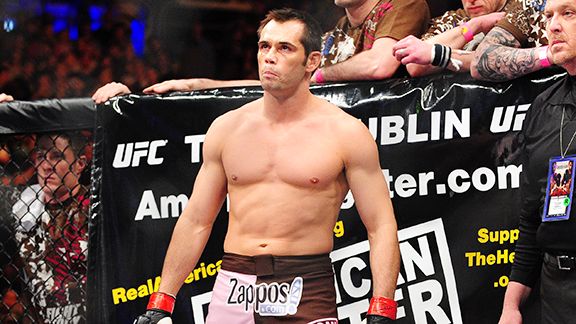 Martin McNeil for ESPN.comRich Franklin will have his work cut out for him against the heavy-handed Chuck Liddell.
Considering that Liddell has never tapped in his career -- Jeremy Horn had to choke him unconscious to deliver his only submission loss -- it probably shouldn't come as any surprise that he doesn't want to bow out of fighting before he's ready. Despite a paltry 20 percent win percentage in recent bouts, he insists a year off and more diligent training will pay off against Franklin.
Not that he necessarily needed it: Franklin has turned into a more conservative volume striker since his losses to Anderson Silva, and Liddell's brawling, right-hand-cocked style may not be tested by Franklin's power. It won't be a zero-risk game, but at least Liddell won't be gauging his chances at 40 against someone known for head-hunting.
What it means: For Liddell, a chance to quiet doubters; for Franklin, an opportunity to make a formal entry into the light heavyweight division with a win over a name.
Wild card: Liddell's wrestling. He took Wanderlei Silva down on a whim, but if he finds himself in trouble standing, he should start to remember his impressive wrestling credentials.
Who wins: Liddell is further outside his prime than Franklin, but being the bigger man and the better MMA brawler should keep him out of retirement at least through the end of the year. Liddell by decision.