September, 4, 2014
Sep 4
9:06
AM ET

By Brett Okamoto
ESPN.com
Archive
Dave Mandel/Sherdog.comBellator featherweight champ Pat Curran, left, defends his title in Friday's rematch with Patricio Freire.
When
Pat Curran
signed with Bellator MMA in 2010, the promotion's tournament format suited him perfectly.
He advanced through the promotion's Season 2 lightweight tournament, earning a title shot against
Eddie Alvarez
in April 2011. The 23-year-old Curran wasn't quite ready for that stage and it showed, as he lost a one-sided unanimous decision.
Two months later, Curran enlisted in Bellator's featherweight tournament. Once again, he rattled off three consecutive wins to earn a title shot, this time against
Joe Warren
. In March 2012, Curran captured the belt with a highlight-reel knockout in the third round.
At that time, Curran symbolized a win for the Bellator tournament format. A developing fighter, he was granted an opportunity to stay busy and gain cage experience. He proved his talent, winning six fights in a 16-month span, and became a recognizable champion.
Eighteen months later, however, Curran came to symbolize all that was wrong with the tournament structure.
At Bellator 106 last November, Curran lost the featherweight title to
Daniel Straus
via unanimous decision. At the time of the loss, he was universally considered one of the best featherweights in the world, in the same ballpark as UFC champion
Jose Aldo
.
Despite that, according to Bellator precedent, Curran was presumably supposed to cycle back into a tournament. In other words: A top-ranked, former champion with two prior title defenses was headed to the very back of the line.
Curran would be asked to win three consecutive fights for a chance to reclaim the belt. He'd be competing for the (relatively, when you consider his accolades) paltry sum of the tournament's $100,000 prize.
It made sense to no one, especially Curran's management. So, in late 2013, manager Brian Butler requested a meeting at the Bellator renegotiation table, even though Curran still had plenty of fights on his current contract.
"Pat had been through a couple of tournaments and he had won the title," Butler told ESPN.com. "I didn't think it was fair or reasonable that if he lost one fight, he'd then be characterized as a guy who had to go back to the beginning.
"I said to them, 'You've got to start treating your champions like true champions. Get behind them.' Bellator was more than willing to get behind Pat."
Then-Bellator CEO Bjorn Rebney agreed to renegotiate Curran's deal, sign him to an extension, and give him an instant rematch against Strauss, whom Curran submitted in March to win back the featherweight title.
[+] Enlarge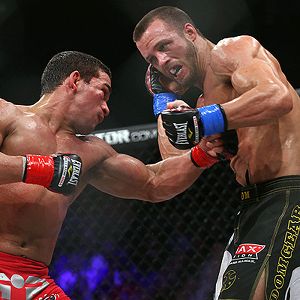 Dave Mandel/Sherdog.comPat Curran, right, and Patricio Freire have traded barbs leading into Friday's Bellator rematch.
The other piece in all of this, of course, was
Patricio Freire
.
Freire (21-2) is another example of a win for tournaments. The talented Brazilian has distinguished himself by winning two featherweight tournaments and reaching the finals of a third 145-pound event.
When Curran lost to Straus, Freire was waiting in the wings for a title shot. Bellator elected to pass him up in favor of the rematch, which didn't sit well with Freire.
This situation is one example, of many, that illustrate why Bellator tournaments (on a regular basis) have been laid to rest. As good as the tournaments were in occasionally building new stars, they were horrible handcuffs on the existing ones.
Curran (20-5), who defends his title against Freire at Bellator 123 on Friday in Uncasville, Connecticut, was surprised when Bellator replaced Rebney with former Strikeforce CEO Scott Coker in June, but doesn't mind seeing Rebney's tournaments gone.
"When I heard they got rid of the tournaments, I was little excited," Curran said. "I never want to go through another one. It's a better direction to put on superfights. Tournaments put too much on your body and anything can happen in three fights."
Curran, who defeated Freire in his first 145-pound title defense in January 2013, is honored to headline Coker's first Bellator event. Curran's initial contract in 2010 included several company-option extensions, meaning he's never come close to free agency.
When the promotion got behind him last year as a "star," rather than a "tournament fighter," however, Curran says he didn't mind signing a long-term deal. His current contract will keep him under the Bellator banner for several years.
With Coker announcing a move away from weekly cards in 2015, and a focus on big blockbuster events, Curran is even more comfortable with the path of his career.
"Scott has done a lot in this sport and he brings a ton of knowledge," Curran said. "I think he's taking us in a great direction. No complaints on my end."
On Freire, Curran said there is a bit of an emotional rivalry between the two, but it's mostly based on their competitive relationship. He edged Freire via split decision in their first meeting, in which he won the final two rounds to defend the belt.
"He really wants to get that [loss] back," Curran said. "There has been a little of social media [trash talking], but I have to put that aside and fight with no emotion."
April, 2, 2013
4/02/13
11:37
AM ET

By Chuck Mindenhall
ESPN.com
Archive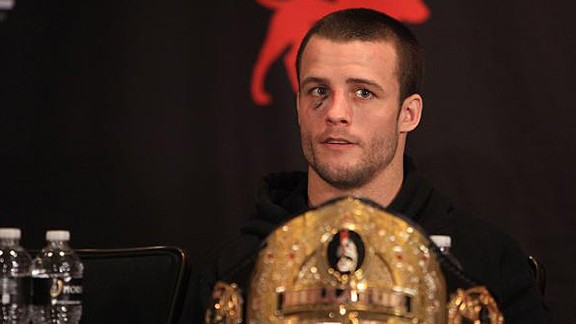 Dave Mandel/Sherdog.comPat Curran recently renegotiated his contract to stay with Bellator for a few more years.
The tournament format that Bellator uses isn't for everyone. But it is for current featherweight champion
Pat Curran
, who navigated fields in two separate weight classes en route to becoming Bellator's 145-pound division champion.
Curran is the prototype for what Bellator is after with its bracketology -- a standout fighter who survived the "toughest tournament in sports" in making a name for himself. He is, by default of the model, the king of attrition. And as he gets set to defend his 145-pound belt for the second time Thursday night against
Shahbulat Shamhalaev
in Atlantic City, Curran has become the face of the promotion.
"I don't mind being the face of Bellator at all," Curran told ESPN.com. "I'm the product of their format. I went through two tournaments, and I'm a big believer in that Bellator tournament format. It's a great way for a fighter to jump levels in his game, become better and make it to a big stage and make a name for himself. That's what I did, and that's what [Michael] Chandler did, and we both capitalized on it."
"

I consider myself to be a counter-striker, too. So it's a very interesting match-up in a way, but we're eventually going to have to engage and I feel like my technical inside game is going to outstrike his.

"

-- Pat Curran on his upcoming fight with Shahbulat Shamhalaev at Bellator 95.
Chandler and Curran -- along with welterweight champion
Ben Askren
and former lightweight champion/free agent
Eddie Alvarez
-- begin to carry something more than titles for the promotion. They carry
value
. People begin to speculate as to how each would fare against the UFC elite. One way to compete with the UFC is to have fighters at the top who look like threats to the UFC champions. Could Askren beat
Georges St-Pierre
? Who knows, but it's a talking point. Parallels are drawn.
That's the rarefied space that the 25-year-old Curran finds himself in today. People begin to wonder how he'd stack up against not just Shamhalaev (of which we'll soon find out), but
Jose Aldo
(inevitably on the other side of the ledger). Being linked to fantasy matchups against one of the game's pound-for-pound bests can't hurt. It means things are on the upswing.
Curran says he respects that, but he's not hearing it.
"I'm really not thinking too much about that," he says. "I made a dedication to Bellator, I re-signed my contract and I know I'm going to be there a while and be part of everything they're doing. Being with Spike is a huge part of that as well. I know Bellator is doing great things where it's still very early in the Bellator stage, and it's going to get better from here on out."
Curran recently renegotiated his contract to earn more money per fight, and he's signed on to be with Bellator for the next "two or three years." He won't be facing Aldo or anybody under the UFC banner for a long time.
Instead the Crystal Lake, Ill., native will help grow and perpetuate the Bellator model. Only, he'll come at it from the pinnacle of that model. After climbing toward Alvarez's belt in the Season 2 lightweight tournament (and losing in the title fight), and then climbing anew in the 2011 Summer Series featherweight tournament (and capturing the title over
Joe Warren
via brutal TKO), he's adjusting to life as the
destination
. From now on, he'll be asked to beat back the survivors of tournaments specifically constructed to take his belt.
In essence, it's Curran's job to present himself as a dead-end street for featherweight traffic. To make whatever momentum comes charging at him from the tournament completely moot.
And that continues with Shamhalaev, the hard-hitting Dagestan fighter who knocked out
Rad Martinez
in February to earn his chance. It'll be Curran's second defense of the year after eking out a split-decision victory over
Patricio Freire
in January.
"You have to respect [Shamhalaev's] power," he says. "His last three fights have all been by knockout. You've got to respect his power in his right hand and his left hand. It's a very interesting style -- he's a counterstriker, but he waits, and he puts 100 percent of his energy into those punches, and he's able to find those openings."
"I consider myself to be a counterstriker, too. So it's a very interesting matchup in a way, but we're eventually going to have to engage and I feel like my technical inside game is going to outstrike his."
We'll find out Thursday, in a fight that is basically a cymbal crash for everything Bellator is about.
January, 18, 2013
1/18/13
4:39
PM ET

By Josh Gross
ESPN.com
Archive
IRVINE, Calif. -- Because sport always trends this way, it won't be long before a discussion brews around which mixed martial artist is Bellator's best.
If Bellator CEO Bjorn Rebney is to be believed, and thus far there's no reason to doubt him, the promotion featured its top two talents Thursday night at Bellator 85.
Michael Chandler
dominated
Rick Hawn
by second-round submission, and
Pat Curran
slugged his way to a split decision over
Patricio Freire
.
Following the post-event news conference, the champions sat alongside one another, posing for photos behind their respective belts. Given the chance, I wondered aloud who was Bellator's top dog.
Chandler, 26, uncharacteristically demurred, smiled, pointed to Curran, 25, and turned his attention elsewhere.
"It's hard to say. You can't ask that question," Curran said.
But when Rebney says stuff like "I think we'd be hard-pressed to get anybody who would rank higher than Pat Curran and Michael Chandler right now in this organization" and "I think you're looking at two of the best mixed martial artists in their respective weights here tonight," it's reasonable to wonder, no?
Part of this, of course, is Rebney doing what a promoter is supposed to do, but more to the point there will be questions about the quality of the fights and fighters as Bellator MMA moves week to week across North America.
How good are these guys, really? How much of our time are they worth?
Should they be included among denizens of Zuffa fighters who have for so long populated MMA rankings?
ESPN.com ranks Chandler No. 8 at 155 pounds. Curran, rather remarkably, is third at 145. The promotion's welterweight titleholder,
Ben Askren
, resides in ESPN's "others receiving votes" trough.
Curran's opponent, "Pitbull" Freire, came in tied for ninth in ESPN.com's last featherweight poll.
Eduardo Dantas
, the promotion's champion at 135, remains ranked at No. 9 at bantamweight despite a shocking upset in August against
Tyson Nam
.
Eric Del Fierro helped groom UFC champion
Dominick Cruz
and contenders like
Phil Davis
and
Alexander Gustafsson
, along with a crew of respected Octagon-bound fighters across multiple weight divisions. He worked Chandler's corner in Irvine. Asked point-blank if the former University of Missouri wrestler could compete with UFC lightweight champion
Benson Henderson
, Del Fierro, usually honest even in the face of an obvious bias, quickly answered "yes."
"[Chandler's] intense," Del Fierro said. "All the similarities are there between him, Dominick Cruz,
Ronda Rousey
,
Jon Jones
. They're intense people. He's intense in training. He's a great kid. I love his enthusiasm for fighting and training.
[+] Enlarge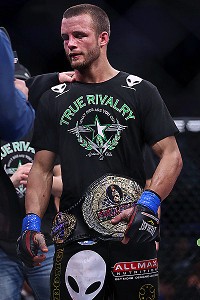 Keith Mills for Sherdog.comBellator featherweight champion Pat Curran, 25, believes he's years away from peaking as a mixed martial artist.
"He's a monster."
Superlatives make for easy copy. Credit Chandler, though, for expressing a deep desire to prove his supporters right. This is not someone who wants to be handed his spot in life.
"I don't know where my style is going to continue to go and grow," Chandler said. "All I know is I want to be the best lightweight in the world, and however I get there that's how it's going to be."
Chandler is always talking about improving, and it was the first thing that came out of his mouth after beating Hawn. He must be "more conscious and cognizant" of what's going on in the cage, Chandler said, and that should happen as he spends more time in there.
"I want to keep that pressure, style, hard-nosed mentality and literally break people," he said.
Such was Hawn's fate. An Olympic judoka for the U.S. and a quality source when it comes to talking about guys who just beat him up, Hawn complimented Chandler's strength and ground-and-pound ability.
"We all knew he was a great collegiate wrestler," Hawn said. "When I was at the Olympic training center we had a lot of wrestlers in there, and they're tough bastards. I know what I was going to face and I got outwrestled."
Curran is less a wrestler than a well-rounded fighter, with a penchant for clean defense and counter-striking.
"I'm only 25 now and don't plan on peaking until my late 20s, into my 30s, so I got a few more years to really jump levels," Curran said.
Is that possible -- perceptually and in reality -- via Bellator's tournament format? Only time will tell.
January, 17, 2013
1/17/13
5:34
AM ET

By Josh Gross
ESPN.com
Archive
Hard-core fans would recognize
Pat Curran
's name. He's ranked in the top 10 of virtually all media rankings at 145 pounds. Yet considering he's 25 years old, and has done most of his work on MTV2 as part of a budding organization still seeking attention, the casual watcher probably hasn't seen him yet.
That should change Thursday, when Curran defends his featherweight title against aggressive
Patricio Freire
in the first bout of his promoter's foray onto Spike TV (10 p.m. ET) at Bellator 85. It's a statement-making opportunity for Curran, who's a month younger than his challenger, and Bellator, which entrusted both fighters with the chance to make a first impression.
"History has an amazing way of repeating itself," said Bellator CEO Bjorn Rebney. "If you look at Curran's history. Pitbull's history. ... These guys bring the fights. My anticipation factor is really high."
Curran likes the matchup because he considers himself a good defensive fighter and counterpuncher, which he clearly is. He intends to keep his hands high, block the Brazilian's power shots, and find openings just like every other fight.
"I think that's going to be a huge factor in this fight," Curran said. "Block his power. Grind him out to the end. And just outclass him."
A quick look at the pair would lead one to believe that Curran is the bigger, more dangerous physical threat. But "Pitbull" is thick in his legs and said by fight night he should hover near 170 pounds. Plus, his older, larger brother, Patricky, has made for a good sparring partner over the years.
"Since I was a kid I got used to training with my bigger brother," said the Brazilian. "I know [Curran] is better than me in the counter, but the best defense is to attack."
Freire, standing 5-foot-5, didn't leave the impression that he was concerned over Curran being at least half a head taller, and significantly longer. The champ, who will step into the cage around 160 pounds, sounded surprised to hear how much weight "Pitbull" would put back on. He and a training partner looked almost happy to hear it, because they've focused on remaining light, nimble and fast.
Though neither man gave much credence to the idea, ring rust is at least a variable Thursday. The challenger, boasting an impressive 17-1 record, hasn't fought since May 2011 and after taking several questions about the idea that he might be sluggish, spoke in English for the first time.
"

I'm back. I'm back.

"

-- Patricio "Pitbull" Freire, on dismissing ring rust after a long layoff
"I'm back," he said with a gravelly tone. "I'm back."
Curran hasn't fought in 10 months and recently recovered from a broken orbital bone, which he suffered a week away from meeting Freire in August.
"I went blind," he said. "I knew instantly there was something wrong and I needed to go to the hospital to get it checked out. He didn't even hit me in the nose but the left side of my eye started bleeding right away and it took about 30 minutes for my vision to come back. You know when you have a serious injury."
The Bellator titleholder took time off from getting hit and focused on grappling, said the champion's cousin and trainer,
Jeff Curran
, who has endured several similar injuries.
"He never had downtime, so it's good in that sense," Jeff said. "I was concerned it was going to be longer before we got him back into the cage. I wasn't concerned about long-term issues. My concern was a long time away from being in the cage and coming back with ring rust."
After another training camp, and knowing Pat the way he does, rust no longer weighs on Jeff's mind. The younger cousin moved from Florida to Illinois five years ago to pursue his dream of fighting. In Pat, Jeff saw a chance to mold a natural athlete who also happened to be a game fighter.
"Pat's a very humble fighter and champion," Jeff said. "It's just a fight to him. He knows he's the champion in that he has to rise to the occasion and live up to it and make an example of his position."
[+] Enlarge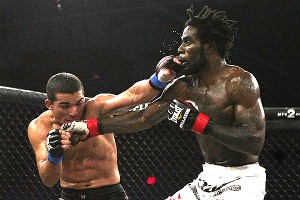 Keith Mills/Sherdog.comPatricio Freire, left, earned his title shot nearly 18 months ago with a win over Daniel Straus.
Said the Bellator champion: "I want to put on an exciting fight and make it known I'm one of the best featherweights out there."
Not surprising, so does Freire, who claimed he weighed a rather astounding 185 pounds at the start of this training camp.
"I was strong," he said. "I've been watching many fights of his. I'm prepared for anything he does."
He's had plenty of time to think about Curran (17-4) after defeating Daniel Straus to earn the shot in 2011. Beyond Freire's dangerous striking prowess, it was the Brazilian's ability to take down a strong-hipped wrestler that caught Curran's attention.
"I trained with Straus before," Curran said. "Seeing him do that to Straus shows his level of wrestling and his takedowns."
Knowing he's the taller man, Curran claimed he'll throw knees if Freire takes a shot. But if he misses and Curran is forced to the canvas, Freire, a jiu-jitsu black belt, promised to "kill him."
This attitude is the reason Rebney was compelled to call his matchmaker Sam Caplan in the middle of the night to tell him that "Pitbull" was a guy they had to sign. Curran came with less fanfare, yet the native Floridian, a surfer in his heart, has handled the role of champion well and is growing accustomed to doing more promotional stuff, including three red carpets last year and a shoutout at a Brooklyn Nets game. Those perks plus the move from MTV2 to Spike TV, which helped give rise to the UFC, helped motivate Curran.
Now all he needs to do is live up to his promoter's lofty expectations.
October, 25, 2012
10/25/12
7:48
AM ET

By Franklin McNeil
ESPN.com
Archive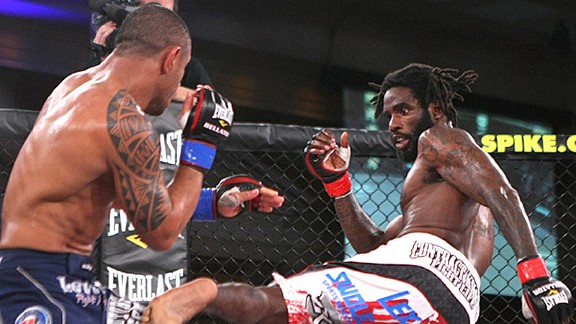 Keith Mills for Sherdog.comNow that he's rounded out his game, Daniel Straus has his sights set on a world title.
About a year and a half ago, Bellator featherweight contender
Daniel Straus
didn't give any consideration to becoming a world champion.
He fought because he liked doing it. Put a guy in front of him and Straus' fighting juices would start flowing, almost uncontrollably.
Straus enjoyed beating up people and did so to anyone willing to face him. And for nearly two years, it seemed as if a month didn't pass without Straus appearing on some mixed martial arts card -- and walking away victorious. Between June 2009 and April 2010, he amassed 12 wins in a row.
More impressive was that Straus, a standout wrestler in high school who did not attend college, didn't train vigorously or work to master other fighting disciplines. He just loved to fight because it kept him out of trouble. Avoiding trouble was all the motivation Straus needed.
Straus experienced his share of trouble before making his mixed martial arts debut in February 2009. Growing up in Fields Ertel, Ohio, a suburb of Cincinnati, was difficult for Straus. He attended Sycamore High School, where he became a national champion in 2003.
But Straus spent more time outside the school building than inside, and soon trouble followed. He left a troubled family home by his junior year, did whatever he deemed necessary to acquire money -- which included getting involved in criminal activities.
His penchant for getting into trouble eventually caught up with him and he spent a few years at Noble Correctional Institution in Caldwell, Ohio.
[+] Enlarge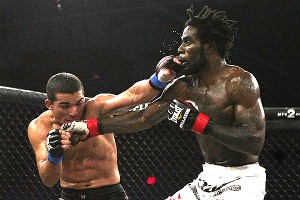 Keith Mills/Sherdog.comIt took a loss to Patricio Freire, left, for Daniel Straus to realize he needed to round out his game.
"By the time I was a junior in high school I was living on my own, living with other people," Straus told ESPN.com. "I was in and out of school, doing whatever I wanted to do.
"I got arrested on robbery charges and ended up going to prison for three years -- from 2004 to 2007. You learn a lot when you're locked up. Trust me.
"So when I came home it was like: 'What are you going to do with your life?' It wasn't like I had a college education. It wasn't like I had a GED. I didn't have plenty of opportunities waiting for me."
A friend who Straus knew from his teenage years asked him to visit a gym in Cincinnati and start fighting. After months of saying no, Straus eventually agreed.
He hasn't stopped fighting since. It served as a way to avoid returning to prison. Despite his success in the cage, becoming an MMA world champion wasn't part of the plan. Even that 12-fight win streak failed to raise thoughts of winning a title.
He felt invincible, until a Bellator Season 4 Featherweight Tournament semifinal bout with Patricio Freire in May 2011.
Freire defeated Straus by unanimous decision, and it altered the way Straus viewed being a professional fighter.
"

So when I came home it was like: 'What are you going to do with your life?' It wasn't like I had a college education. It wasn't like I had a GED. I didn't have plenty of opportunities waiting for me.

"

-- Daniel Straus, on life after returning home from prison
"I couldn't be beat," Straus said. "I was getting over in fights because of talent. And you know the saying, 'if it ain't broke, don't fix it'? But going into that fight [with Freire], I knew I wasn't ready. That guy didn't train to win each fight; he trained to be a world champion.
"I wasn't in that position at that time."
Straus didn't leave the cage that evening disappointed with losing. He knew he wasn't the better fighter that night. What upset him was not preparing to be the best he could be. The days of not mastering other fighting disciplines ended. And no one trains harder than Straus now.
His dedication level is off the charts, and it's paying off.
He won the Bellator Season 6 Featherweight Tournament in May and will carry a four-fight win streak into Bellator 78 on Friday night against veteran
Alvin Robinson
in Dayton, Ohio.
Straus (20-4) is eager to display some new fighting techniques. But he realizes that Robinson isn't someone to take lightly.
"[Robinson] brings a lot to the table, especially with him being a jiu-jitsu black belt," Straus said. "He's very strong on the ground. I definitely don't want to get caught in any submissions.
"He's a southpaw fighter, like I am. It's unusual for us to fight southpaws. That poses another threat in the fight. He also has good cardio; it's not like he's walking into this with one tool. He has experience; he's fought in the UFC, he's fought great guys."
Respect for Robinson isn't the only factor keeping Straus motivated and on his toes, nor is staying away from trouble. He wants to become Bellator's 145-pound champion.
Featherweight titleholder
Pat Curran
is putting his title on the line against Freire -- a date has yet to be determined for the bout --and Straus is slated to face the winner.
Becoming champion isn't an end-all for Straus, but a means to a greater good. Straus became a father a few months ago and it has brought purpose and meaning to his life.
"I just had my first child four months ago," the 28-year-old Straus said. "I had a little girl; her name is Makayla.
"It definitely changed a lot of things for me. Outside of fighting it's not like I'm going to get a business job. It's not like I've been in college for four years and decided to do this. I don't have any leeway. I don't have another job. I don't have another income source. And I'm not doing anything illegal to get money.
"As I've grown and as time's gone on, my focus has changed and my goals have changed. I want to be a world champion."
May, 21, 2011
5/21/11
11:28
PM ET
By Brian Knapp/Sherdog.com
ESPN.com
Archive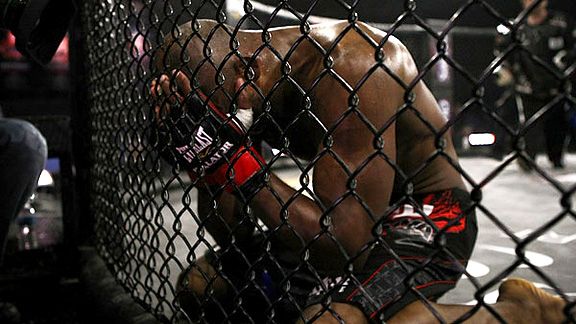 Keith Mills for Sherdog.comPrayers answered: Christian M'Pumbu's dreams came true when he lifted the Bellator title.
African-born Frenchman Christian M'Pumbu stands alone atop the Bellator Fighting Championships light heavyweight mountain.
M'Pumbu stopped former two-division Rage in the Cage titleholder Rich Hale on third-round strikes in the Season 4 light heavyweight tournament final at Bellator 45 on Saturday at the L'Auberge du Lac Casino and Resort in Lake Charles, La. Finished for the first time in more than four years, Hale met his demise 4:17 into Round 3.
M'Pumbu nearly finished it inside the first five minutes, when he planted Hale on his back with a stinging left hook. He followed up with a standing-to-ground right hand and threatened with a brabo choke, but Hale survived to see a second round. There, the Arizonan backed up a more passive M'Pumbu with jabs, leg kicks and occasional kicks to the body.
Hale had the momentum, as the fight spilled into the third round. However, with roughly two minutes to go in the period, M'Pumbu raised his aggression level. He landed a blistering right hand that sent Hale crashing to the canvas once again, the finish in sight. After hesitating briefly, M'Pumbu pounced and showered his foe with right hands and hammerfists. Referee Jason Herzog gave Hale every opportunity to answer; he did not.
As with his semifinal victory over Tim Carpenter in April, M'Pumbu was reduced to tears.
"I can't help but cry," he said, moments after becoming Bellator's first 205-pound champion. "I do everything I do for my kids. It's good to know all those years of hard work are going to pay off."
'Pitbull' outpoints Straus, clinches title shot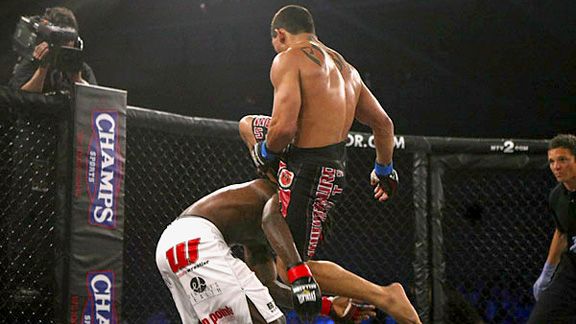 Keith Mills for Sherdog.com A leg up: Patricio Freire's acrobatics helped him earn another shot at Joe Warren's title.
A cleaner, more-aggressive offensive approach carried the once-beaten Patricio Freire to a unanimous decision over Daniel Straus in the Bellator Season 4 featherweight tournament final. Scores were 29-28, 30-27 and 30-27 for "Pitbull", who will challenge reigning 145-pound champion Joe Warren later this year.
The 23-year-old Freire landed the strikes of consequence throughout the 15-minute encounter and all but shut down Straus' high-octane, wrestling-centric attack. The match was marked by spits of action and extended periods of relative inactivity. Freire utilized a strong clinch game, knees to the body in close quarters and punishing low kicks when the two separated.
Straus was ineffective from the outside, often ceding to the superior striker. Freire attempted to bait him into moving forward late in the third round, as he attempted to put an exclamation point on his 17th victory in 18 professional appearances. The two tournament finalists finished their engagement in the clinch, from which Straus executed a suplex that was more primal than technical. By then, he had already lost the fight on the scorecards.
"There were lots of things going on in my mind," said Freire, "but the primary thing was the victory and [getting] a shot at a belt for the first time in my career."
The win sets up Freire for his long-desired rematch with Warren, the man who handed him his only career defeat in a split decision 11 months ago.
"I'm going to be a champion," the Brazilian said. "I'm going to take his belt."
Blood-soaked Alvey edges Amoussou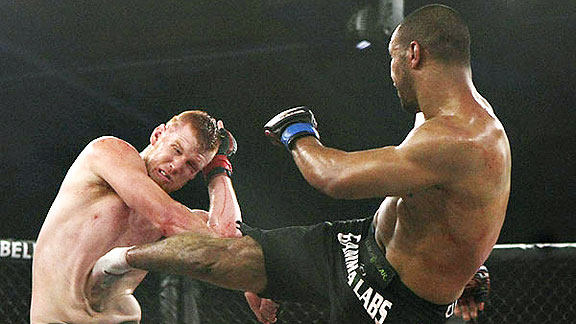 Keith Mills for Sherdog.com Gut check: Sam Alvey, left, had to dig deep and suck it up before getting past Karl Amoussou.
In one of Bellator's bloodiest battles to date, promotional newcomer Sam Alvey stunned Strikeforce veteran Karl Amoussou and notched a narrow split decision victory in their Season 5 middleweight tournament qualifier. All three cageside judges scored it 29-28, two of them in Alvey's favor.
Early on, it did not look good for Alvey. Amoussou attacked with kicks to the head body and legs, scored with a textbook judo throw and transitioned immediately to mount. From there, he unleashed a series of sharp elbows and opened a pair of cuts on Alvey's head -- one near the brow, the other on the scalp. Blood flowed freely, but Alvey did not fold. Amoussou tried for an ill-advised armbar from high mount, allowing Alvey to escape and turn into top position. By the time the frame was finished, Amoussou's entire torso was covered in his opponent's blood.
"I've never bled in a fight before," said Alvey, who will carry a four-fight winning streak into his next appearance. "It's a little disturbing."
Amoussou's pace slowed noticeably in round two, as he let Alvey climb back into the fight. The 25-year-old Waterford, Wis., native capitalized. He often countered the incoming Frenchman with sweeping hooks, and though few of them landed flush, they were enough of a deterrent to keep Amoussou at bay. Alvey closed the stronger of the two in the third round, as he answered an attempted trip with a takedown and unleashed some wild, flailing ground-and-pound in the final seconds.
May, 21, 2011
5/21/11
8:09
AM ET
By Brian Knapp/Sherdog.com
ESPN.com
Archive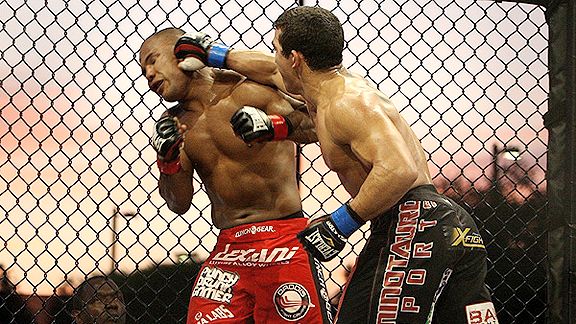 Dave Mandel/Sherdog.comOff the leash: In his most recent outing, "Pitbull" became the first fighter to stop Wilson Reis.
For nearly a year,
Patricio Freire
has chased his rematch with Bellator Fighting Championships featherweight titleholder
Joe Warren
. Now, only a Bellator 45 showdown with
Daniel Straus
stands in his way.
More »
April, 16, 2011
4/16/11
11:57
AM ET
Bellator Fighting Championships featherweight titleholder
Joe Warren
talks the talk about as well as anyone in mixed martial arts. Now, he gets to walk the walk again, albeit with his belt safe and secure.
Warren tipped the scales at 136.8 pounds for his three-round, non-title 137-pound catchweight fight with WEC veteran Marcos Galvao (136.6) at Bellator 41 on Saturday at the Cocopah Resort and Casino in Yuma, Ariz.
An accomplished Greco-Roman wrestler who won gold at the 2006 Pan-Am Games, the 2006 FILA Wrestling World Championships and the 2007 Wrestling World Cup, Warren was a collegiate All-American at the University of Michigan. In the midst of a four-fight winning streak, the 34-year-old last appeared at Bellator 27 in September, when he knocked out Joe Soto to capture the promotion's featherweight crown at the Majestic Theater in San Antonio. Warren burst on the MMA scene in 2009, as he reached the semifinals of the Dream featherweight grand prix in Japan, debuting with a first-round technical knockout over former WEC bantamweight champion Chase Beebe before outpointing Japanese star
Norifumi Yamamoto
.
Galvao, 29, has rattled off three consecutive victories since his violent knockout loss to
Damacio Page
at WEC 39 in March 2009. The two-time Brazilian jiu-jitsu world champion last fought under the Ring of Combat banner in December, when he took a unanimous decision over Ryan Vaccaro and won the promotion's featherweight championship at the Tropicana Resort and Casino in Atlantic City, N.J. Galvao, a Nova União-trained Brazilian jiu-jitsu black belt, has secured eight of his nine career wins by decision.
Bellator 41, which will air on MTV2 at 9 p.m. ET/PT, also features a pair of Season 4 featherweight tournament semifinals: Patricio Freire (146.2) versus Wilson Reis (145.6) and Daniel Straus (145.4) versus Kenny Foster (146).