November, 7, 2012
11/07/12
7:03
AM ET

By Franklin McNeil
ESPN.com
Archive
From a fighting perspective, a sense of normalcy has returned to
Cung Le
's life. He's regained his rhythm, his body feels excellent and, emotionally, Le is his old self again.
While acting remains on his resume, Le has put that part of his life on hold for nearly a year. These days, it's all about mixed martial arts.
"Every time I fight, I fight to win and this win will mean a lot," Le told ESPN.com. "My last victory when I beat Patrick Cote -- my win in UFC 148 -- was very emotional. I get very emotional after every fight, especially after a big loss to Wanderlei [Silva].
"After this one, I expect I will get even more emotional."
For Le, 40, beating Rich Franklin will mean more than a second straight win in UFC. It will mark the culmination of arguably his most difficult training camp.
During preparation for this bout, Le (8-2) had to battle through physical pain. An injured right foot, which he sustained during his July 7 unanimous decision over Cote, caused Le discomfort at the beginning of training camp.
But the former Strikeforce 185-pound titleholder refused to take any shortcuts during his workout. Despite the pain, Le fought diligently through every physical regimen his trainers demanded of him.
"

People don't understand the therapy, the treatments I had to go through [after the Cote fight] to get back. I thought I had a broken foot, but I had a deep bone bruise in my [right] foot. ... I went through a lot of pain. It's been rough.

"

-- Cung Le, on the long road to recovery from a foot injury
"People don't understand the therapy, the treatments I had to go through [after the Cote fight] to get back," Le told ESPN.com. "I thought I had a broken foot, but I had a deep bone bruise in my [right] foot.
"The doctor gave me 6-8 weeks to get cleared to start training. I went through a lot of pain. It's been rough. I couldn't train like I usually do, but I continued to push hard. And I'm going to do my best to make it pay off [Saturday night]."
Le says he feels 100 percent physically and mentally for Franklin. His movement and timing have returned to normal levels. There is no more pain in his right foot and a few wrinkles have been added to his offensive repertoire.
In an effort to maintain that timing for Saturday's bout, he arrived in Cotai Strip, Macau, two weeks in advance.
The UFC-promoted main card is scheduled to begin at 9 a.m. ET on Fuel TV. Franklin (29-6, 1 no contest) and Le square off in the main event.
But Le says the unusually early start time won't hinder him; his timing and rhythm are on point. He feels good heading into this fight, which has consumed all his attention.
[+] Enlarge
AP Photo/Jeff ChiuA win for Cung Le on Saturday would help ease some of the pain he suffered after a 2011 loss to Wanderlei Silva.
A victory could lead to higher-profile bouts, but Le isn't looking ahead. Even previous talk of a rematch with Silva has been tabled.
For now, it's all about beating Franklin, nothing else. Besides, a win will make it easier to remove the images of that second-round TKO loss to Silva in November 2011 from his mind.
Le had been out of action for more than a year heading into his fight with Silva. But the inactivity factor did not ease the pain of that loss, which occurred in Le's UFC debut. For many months, he couldn't put that loss to bed. That began to change after the fight with Franklin became official.
"I did mention wanting a rematch with Wanderlei, but it's not a priority anymore," Le said. "Whether I get it or not, I don't care at this point. A win over Rich would be satisfying.
"Styles make fights and I just got caught against Wanderlei. In my head [a win Saturday] it will make me feel good knowing that Rich did beat him twice.
"I'm taking it one day at a time. Tomorrow isn't promised, so my ultimate goal is to get that win against Rich Franklin."
Like Le, the 38-year-old Franklin is seeking his second win in a row. He defeated Silva by unanimous decision on June 23 in Brazil in a rematch that was contested at 190 pounds.
July, 13, 2012
7/13/12
2:27
PM ET

By Chuck Mindenhall
ESPN.com
Archive
Anderson Silva
has lorded over the UFC's middleweight division long enough to create dilemmas for challengers.
Dilemmas that look like specific little purgatories.
Dilemmas that look like harsh reality checks (to guys like
Patrick Cote
and
Thales Leites
).
Dilemmas that look like
Rich Franklin
trying to add body mass.
"Ace" was first to effectively get punted out the division by Silva, having fought "The Spider" twice and having lost spectacularly both times. A third fight in a lopsided affair was not and will never be in the cards. But then again gatekeeper wasn't either. Reluctantly, and with the fresh dangling carrot of a
different
belt in play, he moved up to 205 pounds to see what havoc he could create there.
Turns out, not much.
Franklin's (nearly all the way) back down 185 pounds with a set of new hopes. The problem is these are the kinds of hopes that have little to do with him. They are A.) that Anderson Silva retires, B.) that somebody (anybody!) dethrones Silva, or C.) that Silva bolts the division himself for 205 pounds.
Four years later and Franklin's still at the mercy of Silva. And in a game flooding over with control freaks, playing wait-and-see can be harder to stomach than any kind of loss.
[+] Enlarge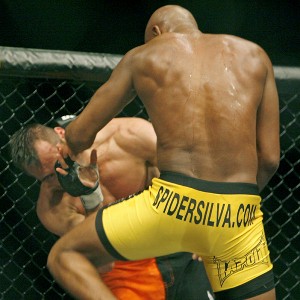 AP Photo/David KohlA pair of losses to Anderson Silva forced Rich Franklin to rethink his place as a middleweight.
That's precisely what
Chael Sonnen
wants nothing to do with, now that Silva has shot his star from the sky. Rather than settling for hopes like these -- hopes that are out of his control, and therefore intolerable -- he's leaning towards a reinvention as a light heavyweight.
To paraphrase Sonnen, you don't retire as a non-champion, you simply quit.
Sonnen's not ready to quit. Instead, he's gathering some things for his knapsack and headed north. The good news is that he isn't reimagining himself into the WWE (yet) or anything drastic. Sonnen still has a driving desire to win a UFC belt, and he's thinking of honing in on
Jon Jones
, is all. If not Jones immediately, then the people who might get him to Jones. Sonnen told UFC Tonight that "traditionally [changing weight classes] is a good way to get a fresh start and start over."
That's a fact.
We've seen it plenty in the fight game with everyone from
B.J. Penn
to
Randy Couture
-- and even with
Tim Boetsch
, who is closing in on a chance at Silva after a mediocre run as a light-heavy. Sonnen is as popular a star right now as anybody in MMA. He isn't getting a third Silva fight with an 0-2 record head-to-head, but so long as he's viable, he should capitalize on it. And so long as he can win fights, he can be accelerated in the new weight class because the UFC loves his ability to sell them.
There are plenty of consolations here.
But the question is: Can he succeed at 205 pounds? Though he presented a unique challenge to Silva by being 99 percent about dogged wrestling -- which made up 99 percent of Silva's vulnerabilities -- the road to Jones is dotted with guys who won't be bullied.
Rashad Evans
,
Dan Henderson
,
Ryan Bader
,
Alexander Gustafsson
,
Glover Teixeira
and so on. Not to mention Jones, who doesn't get taken down and lose the way Sonnen wins.
The top at light heavyweight isn't tailor-made for an upset like it was at 185 pounds. Sonnen's strengths are a lot of guy's strengths where he's headed. It's not a red carpet he's looking at to Jones.
[+] Enlarge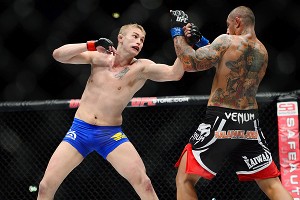 Martin McNeil for ESPN.comContenders like Alexander Gustafsson will present a whole new set of challenges for Chael Sonnen.
But like Sonnen has made clear, competing in the sport is only meaningful if becoming the champion is the goal. At least at 205 pounds that can still be the goal. Just like it was with Franklin back in 2008. There are a lot of parallels. Sonnen debuted in the UFC as a light heavyweight against
Renato Sobral
in 2005. Franklin did too, against Frank Shamrock that same year.
Both were in their mid-30s when they attempted to perpetuate glory in bigger frames. That is, if Sonnen does what it sounds like he'll do by moving up.
The difference between Franklin's move and Sonnen's is that Franklin was at one time a champion in the UFC. Sonnen can't say the same thing. He has the WEC belt that
Paulo Filho
sent him after not making weight for their title fight, which was a gesture toward something real. That one is legit -- if unofficial. He has the fake UFC belt that he paraded around with ahead of the rematch with Silva. That one had good shtick value.
But he doesn't have the real thing.
And in a pursuit to get it, he's facing up to the inevitable -- switching to a weight class that doesn't have Anderson Silva at the top. No sense is waiting around for Silva to lose, bolt or quit.
Besides, Silva won't
have
to quit. By Sonnen's standards, Silva can simply retire. Being a champion makes the distinction.
And the good news for Sonnen fans isn't necessarily that he's fighting on so much as he refuses to quit.