June, 3, 2014
Jun 3
5:57
AM ET
By brettokamoto
ESPN.com

History has a way of rewriting (or just not including) the fine print sometimes.
For example, you remember the story of
Patrick Cummins
. You know, that barista from California. The guy
Daniel Cormier
knocked silly in just 79 seconds at UFC 170 in February, teaching him a lesson about wrestling room etiquette in the process.
Chances are, you remember that fight being a blowout. A pure drubbing. Two hits: Cormier hits Cummins and Cummins hits the floor.
And that recollection isn't necessarily inaccurate, but it omits the fine print. It ignores the outside leg kick Cummins started the fight with. Then a jab. Then a slip of a Cormier right hand into a counter jab. Body kick.
Small victories for sure. Barely enough to get Cormier's attention. But for maybe 30 seconds, the barista was doing pretty well, actually -- better than anyone expected.
Cummins (4-1) remembers thinking as much in the cage. While he was still fighting. That was the beginning of the end.
"I look back at that fight and for the first 45 seconds, my game plan was on point," Cummins told ESPN.com. "I remember thinking, 'Oh my gosh. I'm winning this fight.' I think the fact I was saying that to myself was not a good thing.
"I think the only person in the world that could have said this to me was one of my best buddies -- right after the fight he was like, 'Dude, what the hell? You were doing fine. You were kicking, boxing and then you started to wrestle the Olympic wrestler. I was like, 'Man, I don't know. I lost my head.'"
To be clear, Cummins was a long, long road away from claiming a victory at UFC 170 in Las Vegas -- but sometimes there is useful information in the fine print.
Cummins realizes at this point in his career, he's the trash-talking barista who didn't last a round with a real light heavyweight. He's confident though, that's not how he'll eventually be remembered.
[+] Enlarge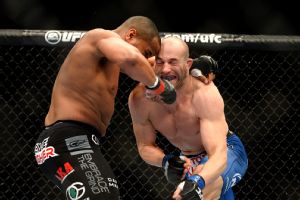 Al Powers for ESPNIt wasn't long before UFC newcomer Patrick Cummins found himself on the wrong end of Daniel Cormier's punches.
The 205-pound Cummins spoke to ESPN.com about that and his upcoming fight on Saturday against
Roger Narvaez
at a UFC Fight Night event in Albuquerque, N.M.
ESPN:
Were you able to take away anything positive from your UFC debut?
Cummins:
Initially, I would have told you I didn't learn a thing from that experience. It sucked. But that comes from the fact I never really thought I could lose a fight. The thought never entered my head. When it happened, it was tough to deal with. I took probably a month -- just kind of chilled. It took about that long to get head in order.
ESPN:
Why do you think you started to wrestle Cormier so early in that fight, when it wasn't in the game plan?
Cummins:
I never had to deal with haters before. It's always been people being behind you 100 percent and believing in you. Even for the people that didn't believe in you, I never had to hear that guy before. I never heard his voice. That's definitely part of it. It's not that I didn't expect to win, I just felt like everything I wanted to do was happening and it felt awkward.
ESPN:
You had a limited amount of time to hype a fight. You said some things. Are you bothered by the perception fans might have of you because of that?
Cummins:
At the end of the day, the most important thing is I'm in the club. I can work from here and reach my goals. Outside of the UFC, I can't do that. I thought that all the negative attention wouldn't bother me, but it did end up bothering me a little. I think if anyone looks back on that and says, 'I can't believe you said that' -- it's just an uneducated point of view. You've got eight days to promote a fight. You do what you have to do. Under different circumstances, I might not have said those things. I didn't want to come off that way, but that's the business and if you understand that, then your opinion doesn't really matter anyway.
ESPN:
You signed the entry-level UFC contract, which meant that when the Nevada State Athletic Commission released your fight purse, it was $8,000. Did you feel like you were well compensated for taking that kind of fight?
Cummins:
I went from making minimum wage to an $8,000 payday. That's quite a bit. [With] The UFC, as far as I'm concerned, my bonus is the opportunity to fight again. I didn't expect anything else from them. I didn't expect any kind of bonus, especially for that kind of performance. I want to earn that. They took care of me.
ESPN:
Bottom line, when you look back on it someday, will you feel positive about your UFC debut?
Cummins:
This is really the beginning of my story. The fact it happened in such a unique way, even though it had some negative tied to it, I'll always look back on it and say, 'I love my story.' It's more about what happens in the end that I'm concerned with. I'm sure I'll have another crack at Daniel at some point. I'm planning on that.
ESPN:
You mentioned on Twitter you're excited about your first training camp. You mean, this is your first real training camp ever?
Cummins:
First real training camp. I've never had one before. I've just had so many fights fall through. We would say, 'Oh hey, we're going to fight in six weeks.' We'd have camp and the fight would fall through and we'd have to keep training and try to find one. Now, we have a date and can ramp training up or pull it back at the right the right time. Find that peak and feel bulletproof heading into the fight.
ESPN:
What are your thoughts towards Cormier today?
Cummins:
As soon as I lost that fight I thought, 'Man, I need to have another crack at that guy.' That's not what I'm capable of. I need to go out and prove myself. I want to put myself on a collision course to meet him at some point. There's no bad blood. It's just from a competitive side, I have to get some redemption.
February, 21, 2014
Feb 21
6:24
AM ET

By Brett Okamoto
ESPN.com
Archive
LAS VEGAS -- Almost exactly one year ago, the question regarding Ronda Rousey's star power was whether it was enough to carry a UFC pay-per-view event.
Today, that question has turned into this: Is her star power actually so strong that it could end her fighting career?
Rousey (8-0) will attempt to make her third defense of the 135-pound title against
Sara McMann
(7-0) on Saturday at UFC 170 inside the Mandalay Bay Events Center.
In addition to fighting three times in the previous 12 months, Rousey, 27, has drawn plenty of interest from Hollywood. She's already completed filming roles for "Fast and Furious 7" and "The Expendables 3." She is due back on the movie circuit next month to film an appearance on a movie version of the popular HBO series "Entourage."
During a news conference on Thursday, UFC president Dana White said he does not consider Rousey's acting obligations to be distractions, pointing out that Rousey has remained an active champion.
"What is she juggling?" White said. "[She will] obviously have time off [after UFC 170], but what do you do when you have time off? Some people gain a bunch of weight and they have to go lose it in their next fight."
White did acknowledge that although Rousey is far from the first UFC fighter to appear in films, her earning power is far higher than any he's seen previously.
If that ability to make money in Hollywood
does
eventually pull Rousey away from the cage, White says he'll be happy for her and move on.
"Everybody keeps talking about, 'What if she leaves for Hollywood?'" White said. "What if she leaves for Hollywood? How is that bad for [the UFC]? Is 'The Rock' [Dwayne Johnson] being a huge superstar bad for the WWE?"
White added that the UFC plans to have Rousey fight three times in 2014.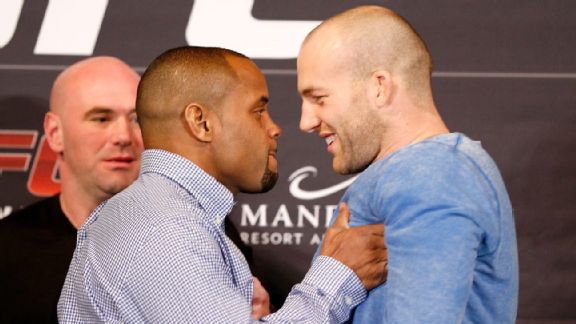 Josh Hedges/Getty ImagesThe UFC 170 co-main event got off to an early start after Daniel Cormier shoved Patrick Cummins.
Prefight scuffles between UFC opponents are rare, but they can happen.
Daniel Cormier
(13-0) shoved Patrick Cummins (4-0) during a stare-down on Thursday, presumably because of Cummins' comments on their history.
The two former amateur wrestlers trained together years ago at the U.S. Olympic Training Center in Colorado Springs, Colo. Cummins, who accepted the fight on short notice after an injury sidelined
Rashad Evans
, claims to have made Cormier cry once at practice.
The UFC has never lost a fight because of an incident at a weigh-in or news conference, but it was easy to read the uneasiness on White's face as the shove happened.
"I don't like it. I don't like when they touch each other before fights," White said.
"The one that scared me the most was
Diego Sanchez
/
Josh Koscheck
[at UFC 69]. Sanchez hit him so hard he almost fell over the scale. The sneakiest one ever was
Anderson Silva
when he hit
Chael Sonnen
[with a shoulder at UFC 148]."
Zingano still No. 1 contender whenever she returns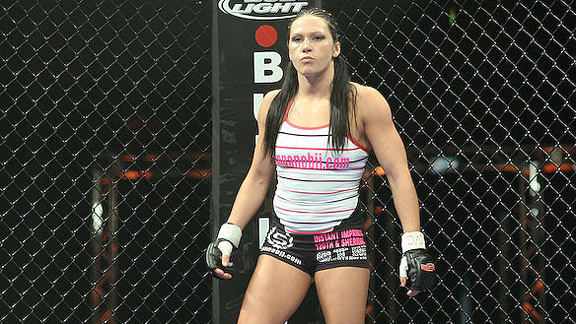 Isaac Hinds According to Dana White, women's contender Cat Zingano is still in line for a crack at the title.
Cat Zingano
remains at the front of the line for the next shot at the UFC women's bantamweight title.
Zingano (8-0) was supposed to coach against Rousey on "The Ultimate Fighter" reality series last year but was forced to withdraw because of a torn ACL. Last month, her husband and coach, Mauricio Zingano, committed suicide in Denver.
White did not know a timetable for her return but said she has not lost her place in the division. Zingano was originally expected to return to training in March.
"Cat Zingano and I have played phone tag, and I owe her a phone call," White said.
"The kitchen sink has been thrown at that poor girl. Losing the opportunity to coach TUF, losing the opportunity to fight for the title, being injured and going through all the emotional crap and then her husband -- you can't even imagine."