February, 21, 2013
Feb 21
4:13
PM ET

By Chuck Mindenhall
ESPN.com
Archive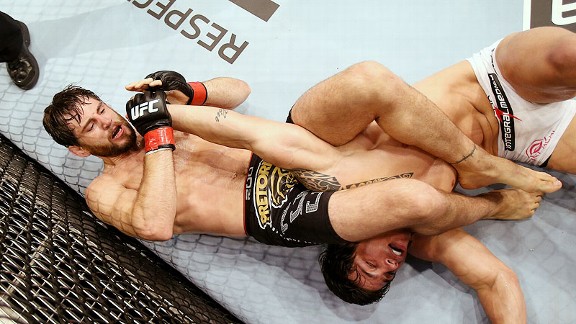 Josh Hedges/Getty ImagesNow with WSOF, Jon Fitch promises to be a more aggressive and exciting fighter.
What does it say when
Jon Fitch
-- one of the winningest welterweights ever to roll off the assembly line -- gets cut by the UFC? Primarily that the UFC doesn't necessarily view winning "by any means" as an avenue for sustained success.
Not in 2013, anyway. Not with television deals and an influx of Strikeforce talent and so many cards bursting at the seams with so many bouts.
Success is multifaceted and involved and actually very simple. The idea is this: Entertain us. Success is powerful fists and hospital visits and charisma and whatever it is
Cub Swanson
does -- all
supported
with a few wins.
Fitch doesn't do pageantry, and he doesn't do brawls. He shows up disheveled and ready to roll. In fact, he became his own verb in his seven years with the UFC. To be "fitched" was a real and particularly unenviable thing for those who signed on to fight him. It was a form of nihilistic wrestling into ground-and-pound. Fitch "fitched" such commodities as
Thiago Alves
,
Ben Saunders
and
Mike Pierce
. He rained ice picks on
Paulo Thiago
's steel chin, before getting classically "out-fitched" by
Demian Maia
.
He has always been about endurance, and that's the problem. Fitch is the dictator with the snarl, the original "grinder."
Chris Wilson
, who knew the score heading into his UFC 82 bout with Fitch, once said to me with a certain kind of sly reverence: "What's he going to do? Summon the wind?" No. Fitch summons something more physical. At his vintage best, he dishes up 15 minutes of utterly hopeless futility.
And that futility, unfortunately, extends to the spectator -- which is why today he's holding a pink slip with a UFC record of 14-3-1. It's not that he's breaking the bank to get $65,000 in show money, or that he had that whole flare-up back in the day with the UFC over video game rights (though these could be factors). It's that he dominates people in forgettable fashion. He shuts down judo players, slick jiu-jitsu artists, dynamic strikers and kickboxers with industrial cold. Now he's gone (as you and I know) because of it, and we're left theorizing if he and
Ben Askren
are destined to nullify each other for five rounds in Bellator.
[+] Enlarge
Gary A. Vasquez/USA TODAY SportsJon Fitch's ho-hum performance against Demian Maia was the last straw for the UFC.
Fitch, along with such veterans as
Vladimir Matyushenko
,
Mike Russow
,
Josh Grispi
,
Che Mills
,
Paul Sass
and others were cut from the UFC in a roster dump.
Jacob Volkmann
was on that list, too, despite winning six of his last eight bouts as a lightweight. His problem? He bears a Fitch-like resemblance to you know who.
Other than Fitch, these cuts aren't so much unexpected as they are declaratory. The message is get busy thrilling, or get busy Bellatoring. Be something that everybody wants to watch, or be someplace else. If you're not captivating, then you're a problem elite. You are Jon Fitch, the perennial contender who of late has ironically A) begun to lose while B) fighting more excitingly.
That's why, all things considered, the timing is a bit strange. Fitch goes 1-2 in his past three fights, and it becomes a good opportunity for the UFC to part ways. But look at those three fights. There was the knockout he received at the hands of
Johny Hendricks
(which was memorable, particularly as Fitch tried to single-leg referee Steve Mazaggatti as he came to). Then there was the
Erick Silva
barnburner in Brazil, where he appeared rejuvenated and determined to put on a show. That won "fight of the night" honors. And finally the Maia bout, which was a letdown. He was outclassed by a Velcro version of his former self. But before that he was 13-1-1, which screams out for the Hall of Fame.
Did he deserve to be cut? No. The spirit of mixed martial arts is (presumably) to present a gamut of styles in the cage, to see whose is best. Fitch has been solid for a long time. In fact, he's been dominant. His style trumps most others. But he's so good at one-sided full-length fights that we have him dialed in as aggravatingly predictable.
Obviously, the UFC is frustrated with him as well, to the point his name has now taken on a new meaning. "Fitch" in adjective form has become just another word for expendable.
November, 15, 2011
11/15/11
12:49
PM ET

By Chad Dundas
ESPN.com
Archive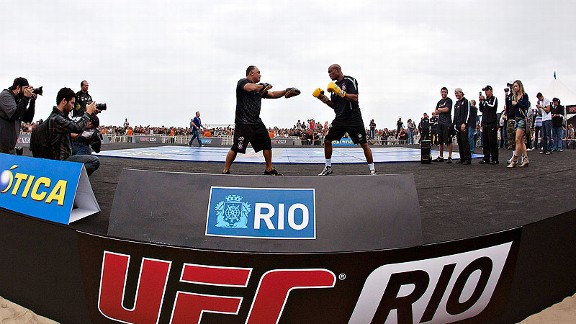 Buda Mendes/Getty ImagesBased on the success of UFC 134, the UFC can't wait to take its act back to Brazil.
The UFC was initially skeptical about taking its brand back to Brazil.
As recently as mid-2010, Dana White wasn't thrilled with the idea, saying the fight promotion would focus its international expansion efforts on potential boom markets like India, China and the Middle East instead. There was even some pie-in-the-sky talk of doing a double-secret show in Afghanistan before the UFC mentioned any serious plans of returning to Brazil for the first time since 1998.
A bit more than a year later, the world looks a whole lot different.
Junior dos Santos' first-round victory over
Cain Velasquez
on Saturday night means three of the UFC's seven champions are now Brazilian and, according to the company's early estimates, as many as 60 million of the new champ's countrymen tuned in to watch him fight.
If true, that number is simply staggering. You don't have to be one of the world's greatest fight promoters to know what to do next, but it doesn't hurt that the UFC has one of them on the payroll, either.
"Brazil is becoming our new Canada," White said at the postfight media conference for UFC on Fox. "We're going to be doing a lot of stuff in Brazil. Brazil is taking off. It's crazy down there how popular this is becoming."
White says the long-rumored Brazilian incarnation of "The Ultimate Fighter" will be forthcoming "immediately" and the company already had its follow up to August's UFC 134 booked, in the form of a quick jump back to Rio de Janeiro on Jan. 14 for UFC 142.
Now it appears those two events will be the first of many happy returns.
There has been talk of doing future shows in 100,000 seat stadiums in Manaus and Sao Paolo and the company recently inked a broadcast contract with Brazil's Rede Globo TV, the fourth-largest commercial public television network in the world. That was the deal that made it possible for those 60 million people to watch dos Santos wrap the UFC title around his waist in the first place.
Another, much smaller indicator of the sport's success in South America's largest country? Brazilian fighters scored big in the UFC's first ever round of Twitter bonuses recently, with
Anderson Silva
,
Paulo Thiago
,
Antonio Rodrigo Nogueira
,
Demian Maia
and
Cristiane Santos
making it a clean sweep in awards for most new followers, both in sheer numbers and by percentage.
[+] Enlarge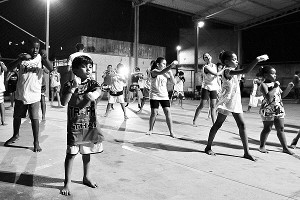 Ed Mulholland for ESPN.comDana White feels the future of the Brazilian fight scene is brighter than its ever been.
"Imagine where we'll be in two years ...," White said. "What we've seen here in the United States and everywhere else that we go is when we take [MMA] to all the different cities around Brazil, it'll just get bigger and bigger and bigger."
The UFC's Brazilian renaissance isn't just financial. The country that gave birth to modern MMA's first champion is asserting itself inside the cage too, not only through fighters like dos Santos and Silva, but with a next wave of young guns like
Jose Aldo
,
Erick Silva
,
Renan Barao
and
Charles Oliveira
.
"There's so much talent coming out of Brazil, it's insane," White said. "We've already done all the leg work for 'The Ultimate Fighter' and I'm telling you guys, wait until you see the talent that comes out of this country over the next two years, it's going to be crazy ... You're going to see more kids training down there for mixed martial arts than soccer down there pretty soon."
Mere hyperbole? Probably. Nonetheless, it appears the UFC may have unexpectedly found a new home away from home.
And it's sure been a long time since anyone with the organization has said a word about China.
August, 10, 2009
8/10/09
3:55
PM ET
If you're only as good as your last fight, Anderson Silva exited the Octagon on Saturday in far better shape than he entered.
After two Silva performances that had fans grumbling, the UFC decided to inflame his attitude by getting Forrest Griffin to chase him. Hopefully, Griffin got hazard pay for it; after looking aimless and ineffectual in the opening minutes, Griffin walked right into a stiff jab that crumpled his ungainly frame. Power and size leaks confidence at the first sign of accuracy -- and Silva is a sniper.
What did it prove? We already knew Silva is a far better Muay Thai craftsman than Griffin, so it's doubtful any eyeballs were singed Saturday. But it was evidence that Silva's recent appearances at middleweight were the results of his opponents' lax approaches.
So what now? There's talk of potential rematches with Nathan Marquardt and Dan Henderson, and that probably is a sign Silva has outgrown the division. Leave the remakes to Hollywood.
The weekend was considerably less bountiful for the WEC's Miguel Torres, another contender in the seemingly endless line of pound-for-pound something or others. After being stunned by an overhand right early by challenger Brian Bowles, Torres ate a chopping right that sent him to the canvas; Bowles followed up by trying to push his head to the particle board below.
Bowles is tough -- and Torres is still one of the best we've got. You shouldn't be as good as your last fight. You should be as good as your last 19.
Next for Silva: Only big fights, please, and a laundry list of rematches at 185 isn't where they're at.
Next for Griffin: A game plan that isn't the equivalent of challenging Usain Bolt to a sprint.
Next for B.J. Penn: Diego Sanchez, apparently. And that's just fine by us.
Next for Kenny Florian: A better strength training program or a drop to 145.
Next for Torres: A 37-2 record probably earns him an immediate rematch with Bowles if he wants it.
Next for Bowles: Torres or Dominic Cruz, who looked like a Tekken video game character in his win over Joe Benavidez on Sunday.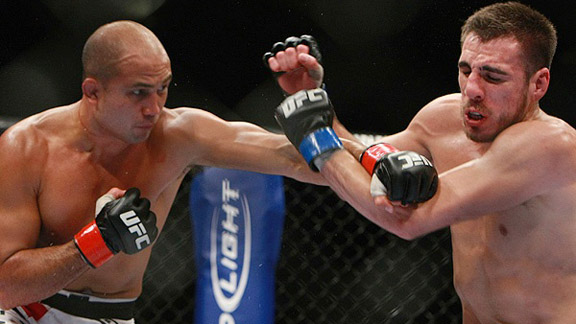 Dave Mandel/Sherdog.comKenny Florian, right, lost more than just his fight to B.J. Penn on Saturday.
The Dude-Needs-To-Fight-Again-In-October Award: Anderson Silva, for barely breaking a sweat against Forrest Griffin. No reason to keep him on the shelf for four to six months. The guy isn't made of porcelain.
Fight Of The Weekend Award: The WEC's Joseph Benavidez and Dominic Cruz, for making everyone else look like they were competing in slow motion. I might have actually witnessed a flying takedown attempt. Getting back to you on that.
The Don't-Make-Aaron-Riley-Angry Award: Aaron Riley, for losing a controversial match to Shane Nelson, rematching him and then proceeding to beat grade school out of his head for three rounds.
The Maybe-You-Should-Be-Really-Super-Sure-About-Winning-Before-Making-That-Comment Award: To Kenny Florian, for promising to actually cease the pulse of opponent B.J. Penn and then not even coming close to making him blink.
The Only-In-Philadelphia Award: Random Crowd Guy, for swiping Florian's hat off of his head as he made his way to the ring.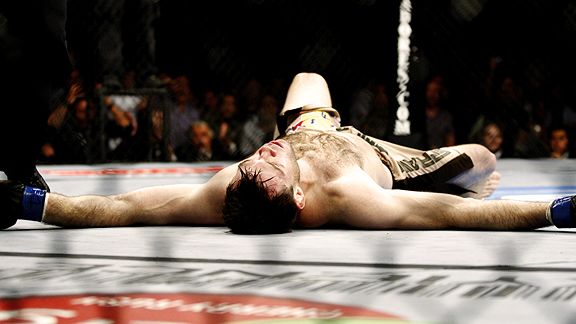 Ed Mulholland for ESPN.comYou might not know it from this photo, but Forrest Griffin will be just fine.
Q: Does Griffin's loss count more because a middleweight knocked him out?
A: I think losing to Silva grants anyone a free pass. Griffin will be fine.
Q: Shouldn't fights lead somewhere? If Silva won't challenge for Lyoto Machida's 205-pound title, why bother fighting there?
A: There's no guarantee Machida will hold the title indefinitely, and matching Silva against his conqueror is a ready-bake story.
Q: Was the Amir Sadollah stoppage premature?
A: Only referee Dan Miragliotta and his optometrist know for sure. Sadollah looked like he was going to have significant trouble righting the ship -- his head was unprotected and Johny Hendricks was dropping leather like a Macy's sale -- but hypotheticals shouldn't be part of the equation. Another two or three seconds would have told a more complete story.
Q: Will B.J. Penn ever have another go at welterweight?
A: Only if he gets bored. Which is always very possible.
Etc.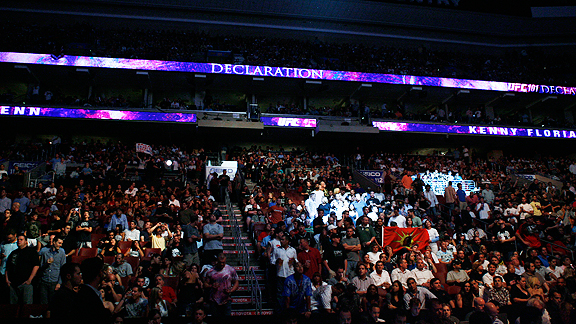 Ed Mulholland for ESPN.com Philly fight fans showed up in force for UFC 101.
• At the UFC 101 postfight conference, Dana White announced an attendance of 17,411 that paid $3.55 million.
• White said he didn't like the idea of Silva fighting boxer Roy Jones Jr., but Yahoo's Dan Wetzel reports that White was receptive to manager Ed Soares' offer of Silva vacating his 185-pound title and making a permanent move to 205 pounds.
• That ascension likely would come with the disclaimer that he wouldn't fight champion (and friend) Lyoto Machida, although White said he would make the fight.
• Griffin got $60,000 and Silva a total of $120,000 for putting on fight of the night and knockout of the Night honors, a lesser-of-11-evils concession that probably wouldn't have happened if the undercard had been more electric. Penn earned $60,000 for submission of the night.
• With co-poster boys Urijah Faber and Miguel Torres losing their sheens of invincibility recently, you have to wonder whether noise about the WEC merging with the UFC -- first mentioned by White during a Fight Club Q&A last week -- will get louder.
• Florian told the Boston Herald he was "not sure" of his future in the sport after dropping the Penn fight. Sunday is a lousy time to ask a guy that question.
• White also mentioned he was plotting a show in Boston's Fenway Park, which would pretty much guarantee Florian on a treadmill by Tuesday.
July, 12, 2009
7/12/09
6:53
PM ET
A prizefight ring offers up a lot of truths, not all of them pretty.

UFC 1, airing to a mostly nauseated pay-per-view audience of 80,000 homes in November 1993, used a lot of cringe-worthy brutality to prove that fighting wasn't what Bruce Lee had led us to believe.
UFC 100, which played to unprecedented media coverage and perhaps more than a million households on Saturday, used a lot of cringe-worthy brutality to prove that fighting wasn't even what Royce Gracie had led us to believe.
Brock Lesnar silenced nearly 18 months of derisive talk about his submission loss to Frank Mir by working Mir's face like he was kneading pizza dough, his monstrous arms battering like pistons.
Lesnar, who is a massive man in a sport that almost humors size, is keeping a promise made by Mark Coleman back in 1996 -- that if you're athletic and you can wrestle, you've got a career for the taking.
Lesnar's growing mystique is a little less subtle than Gracie's: most of us are built like Royce, not Brock, and it's easier to project ourselves in the place of a guy who weighs 170 pounds than someone who looks like a Neanderthal with cantaloupes for biceps. But there is very little doubt that he has positioned himself as the UFC's headlining attraction.
If his destruction of Mir indicates he's getting comfortable in the Octagon, expect the UFC to hire a staff reconstructive facial surgeon. Considering that tickets for Lesnar's appearances sell faster than they can be printed, they can certainly afford it.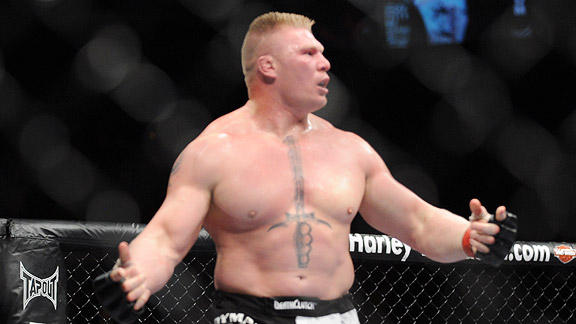 Martin McNeil for ESPN.comBring it: It's hard to imagine anyone giving Brock Lesnar a run for his money at this point.
Next for Lesnar: The appeal of seeing Lesnar against the winner of Randy Couture-Antonio Rodrigo Nogueira on Aug. 29 just deflated considerably -- both men are not as fresh as Mir and would probably be fitted for a toe tag during their prefight physical. Shane Carwin has the horsepower to make it interesting; fans will scream for a bout with Fedor Emelianenko -- and they should get it, just for history's sake -- but a demure and Russian-speaking opponent is not going to pull the attention the gleefully arrogant Mir did, cult following or not.
Next for Mir: One or two weeks of basement dwelling until the swelling goes down; the loser of the rumored Carwin-Cain Velasquez bout.
Next for Georges St. Pierre: A year off to build the requisite amount of muscle to challenge Anderson Silva -- and wait for a contender to emerge. (I like Mike Swick, but his chances against St. Pierre could not be any worse if he were blindfolded.)
Next for Dan Henderson: Yoshihiro Akiyama if he's lucky, Anderson Silva if he's not -- along with a UFC Hall of Fame slot.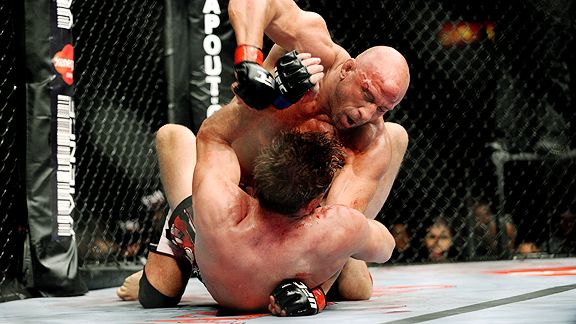 Martin McNeil for ESPN.comNinety UFC events removed from his Octagon debut and Mark Coleman still knows a thing or two about dropping the hammer.
Awkward Sponsorship Collapse of the Night Award: Brock Lesnar, for dunking UFC execs in boiling water over his jab at event sponsor Bud Light for not paying him directly. (Lesnar, looming over a giant Bud Light logo in the cage, said he'd enjoy a Coors Light instead.) Dana White enjoys his anti-corporate renegade image, but you'd better believe he'd wear a tie to that make-up meeting.
Questionable Sportsmanship of the Night Award: Lesnar, for yelling into what was left of Mir's face after caving it in.
Fan Relations of the Night Award: Lesnar, for measuring his response to the crowd's boos after facing off with Mir, realizing that syllables are more trouble than they're worth and flipping them off.
GIF of the Night Award: Lesnar, for addressing the camera with a mouthful of postfight froth and fury that makes Conan the Barbarian look like a Mouseketeer.
Contrition of the Night Award: Lesnar, for showing up to a postfight news conference apologizing for his manic episode -- all while a Bud Light was positioned near his microphone.
Old Soldier of the Night Award: Mark Coleman did the die-hard fans in attendance proud by gutting out a unanimous decision win over a tough Stephan Bonnar in a preliminary fight. The Hammer looked worlds removed from his last, lethargic performance against Mauricio Rua, scooping Bonnar's legs at will and staying out of some aggressive submission attempts. The punches weren't as hard and the intensity wasn't as pitched as they were in Coleman's heyday, but any veteran of UFC 10 that can keep a fight competitive at UFC 100 is worth anyone's respect.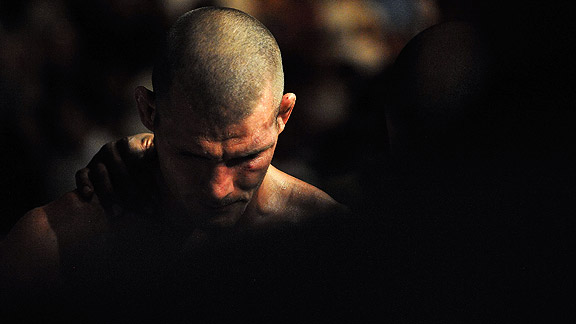 Jon Kopaloff/Getty ImagesOnly time will tell if Michael Bisping will ever fully recover -- both physically and psychologically -- from his KO loss to Dan Henderson.
Q: Is St. Pierre big enough to challenge Anderson Silva?
A: St. Pierre's fight shape is typically 185 pounds: Silva's is probably closer to 200. GSP needs a muscle masonry expert to help him add a solid 10 pounds of mass -- he would be well-advised to consult with Mackie Shilstone, who added enough quality beef to both Roy Jones and Michael Spinks that they won boxing titles in heavier weight classes.
If St. Pierre can take down Rashad Evans in training, I like his chances against Anderson. It's a big fight, but the UFC has to cannibalize one of its champions in the process.
Q: Will we see Brock Lesnar versus Fedor Emelianenko?
A: Only if White backpedals on earlier demands that Emelianenko abandon Sambo competition and erases the "championship clause" that would bind the Russian to the promotion until he loses his (theoretical) title. The former should be easily dismissed: Emelianenko lost in Sambo last year. No one really cared. The latter could be more of a problem. Both Jens Pulver and Murilo Bustamante bolted to better-paying gigs overseas in 2002 even though they hadn't dropped their respective belts inside the Octagon. It's a bit embarrassing.
Q: Do Lesnar's circus antics validate fans of professional wrestling?
A: Big mouths sell in sports. It's not endemic to wrestling, even though it started there. Muhammad Ali played the same game in the '70s, Tyson in the '90s. White plays it now. All of these men know exactly what they're doing. The polite Anderson Silva might be the most talented man in the UFC: his last headlining bout sold less than 325,000 buys. It takes all kinds.
Q: Will Bisping's brutal knockout via the right hand of Dan Henderson affect his chances of being knocked out in the future?
A: I'm not often mistaken for a neurologist, but here it is: there's only anecdotal evidence that suffering a knockout increases the odds of having it happen more easily in the future. But studies done on concussion victims have taken note of a drop off in their timing, balance and reaction. Can a fighter be changed by a severe blow? Yes, he can.
Etc.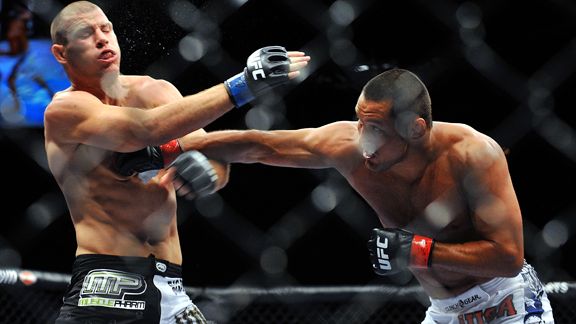 Jon Kopaloff/Getty ImagesDan Henderson, right, took heat for the manner in which he disposed of Michael Bisping.
UFC 100's estimated $5.1 million live gate is the second-biggest in company history, behind Chuck Liddell-Tito Ortiz 2 in 2006. But, as you know, Ortiz isn't worth discussing in White's history books.
Dan Henderson took a little heat for claiming his follow-up blow to an already unconscious Michael Bisping was personal, but he later recanted, telling journalists that he was "joking." As with Lesnar, nothing an athlete says immediately following a fight should be taken seriously. There is a mass release of all kinds of brain chemicals following a win that fuels some stupid and regrettable actions.
The UFC estimated that between 30,000 and 50,000 people showed up for the Fan Expo on July 10 and 11. Considering that ground zero for young-demo pop culture gatherings is the 20-year-old San Diego Comic Convention and its 100,000 attendees, that number is staggering.
Las Vegan Natasha Wicks won the right to be ogled by thousands during a Maxim/UFC Octagon Girl contest on Saturday.
Tom Lawlor, Yoshihiro Akiyama, Alan Belcher, and Dan Henderson each earned performance-incentive bonuses of $100,000.
First reported by the Wrestling Observer, a new rule went into effect Saturday that gives a fouled fighter the option of choosing to restart the fight in the same position on the ground or standing. Dong Hyun Kim took advantage of the revision when he suffered an illegal up-kick from T.J. Grant on Saturday: The fight was broken and then resumed on the feet.
July, 11, 2009
7/11/09
7:47
PM ET
The world's premiere combat blender celebrates its 100th (actually, 133rd) show tonight. If you came around a little too late and didn't feel like taking out a second mortgage for $40,000
seats -- or simply didn't want to chance stepping on David Spade -- then you're likely watching from home.
Look on the bright side: Living room attendance usually means less blood, cheaper snacks and a significantly reduced risk of impulse-buying TapouT socks or a Dana White commemorative plate from the souvenir stand.
Epic notes for an epic event to follow.
12:49 a.m. ET -- On the Octagon Girl Cam, Arianny Celeste displays a deep respect for the physical and emotional commitment of the athletes by texting on her cell; Thiago works an anaconda choke, but Fitch is too slick. He'll win a decision at the end of what could be the UFC's most financially successful event. If Lesnar was not pay-per-view's biggest attraction before tonight, he is now.
12:41 a.m. ET -- Fitch works his wrestling. Backstage on the Burger King Cams, Mark DellaGrotte lightly punts Quinton Jackson in the crotch.
12:35 a.m. ET -- Thiago spends the first two and a half minutes attempting a choke. That hissing sound you hear is the air slowly being let out of the event.
12:32 a.m. ET -- Battle of contenders, I suppose. Fitch was involved in that infamous row with UFC over video game likeness rights. Who's guessing no "Ultimate Fitch" specials are forthcoming? Anyone?
12:26 a.m. ET -- Paulo Thiago enters and tries not to look too upset over fighting for a half-empty arena.
12:22 a.m. ET -- "You don't like promoting fights very much," Rogan tells Lesnar. What guy has he been watching?
12:18 a.m. ET -- Mir smiles through the half of his face still recognizable. At 245 pounds, he tries a flying knee, which earns him a lot of crowd love in exchange for a big takedown. Lesnar finishes with some incredibly solid punches. Lesnar has an adrenaline/manic episode, gets in Mir's face, and prompts security to rush into the cage -- to do what, exactly? He caps an excellent evening by flipping off the crowd.
12:15 a.m. ET -- Lesnar refuses to touch gloves. That's for suckers.
Lesnar appears more tranquilized than in their first fight, taking Mir down after a feeling-out and staying tight. Mir eats several punches as Lesnar cradles his head. If this is a match of who can capitalize on a seamless knot of bodies, Lesnar appears to be getting the better of it.
12:04 a.m. ET -- Lesnar enters wearing Steve Mazzagatti's skin as a walk-in robe. The crowd reacts, possibly unaware they're expected to have some emotional reserve for the Jon Fitch-Paulo Thiago swing fight set to play the arena after the main event.
Midnight ET -- Interim champion Mir enters first looking calm and collected, not quite the typical mood for someone about to be run over by a piece of construction equipment.
11:58 p.m. ET -- Multiple choice. Lesnar looks like:
A). A bunch of rocks stuffed in a sock.

B). Lou Ferrigno after a cycle of horse meat and a Creatine IV

C). An emergency stand-in for the King Kong ride at Universal Studios

There's a lot of fuss made about Lesnar's strength and bulldozer style, but I really have my doubts that A). He's learned enough in three years to avoid a submission from Mir and B). Any one of his limbs are stronger than Mir's entire body. Fighting is a science: Mir holds an advanced degree, and Lesnar is still dissecting frogs.
I'll give him this: Lesnar has no business moving around as quickly as he does. There's no shortage of lumbering heavyweights: he accelerates. It's scary.
11:52 p.m. ET -- Lesnar and Mir are seen in their respective lockerrooms. Lesnar is huge, intimidating, strong … and nowhere near the martial artist Mir is.
I might be way, way off, but I see Lesnar's chances as slim and none in this fight. Consider: the same judgment that selected his chest tattoo is the same judgment he uses in a fight.
Mir by rational thinking.
11:50 p.m. ET -- St. Pierre winces as Rogan interviews him: GSP speculates he tore his abductor ligament, which might mean he fought without a working groin.
11:45 p.m. ET -- Alves enjoys roughly two minutes of offense when St. Pierre sacrifices position for an armbar attempt. He makes up for it by nailing three more takedowns. The decision is academic at this point. Is anyone dying to see St. Pierre-Mike Swick at this point?
Unless Jake Shields become a free agent tomorrow, St. Pierre should either head to 185 or wear an arm sling the next time he's in the cage -- just to make it interesting.
11:34 p.m. ET -- If there was any chance judges considered seeing the third round for Alves for being aggressive on the feet, St. Pierre snuffed it by --hey, there's Lyoto Machida-- snuffed it by knocking him down and pouncing as the bell sounded.
11:28 p.m. ET -- As previously mentioned: GSP is a complete fighter, but he's more or less a wrestler at this point, holding and controlling opponents until they break or until time expires. "Whaaat a great round you did, Georges!" Greg Jackson is praising GSP like a collie.
11:23 p.m. ET -- Jason Statham sighting. Lots of celebrities in attendance: Ultiman is seen screaming obscenities. Now he's being escorted out.
11:22 p.m. ET -- St. Pierre erases any doubts that he can take down Alves -- by taking down Alves. Alves pops back up, but a round or three of defending and standing up will suck the fight right out of him. GSP busts out a Kyokoshin spin kick just to remind people that he knows some karate, too.
11:14 p.m. ET -- Instant controversy: St. Pierre looks to have an errant glob of vaseline on his deltoid.
11:06 p.m. ET -- After plugs for UFC 101 and UFC the Magazine, Dana White pushes UFC on Demand, a video service on cable providers. "It's a great time to be a UFC fan," White says.
Follow the direction of the cash flow and it's actually way better to be the UFC.
11:04 p.m. ET -- Royce Gracie smiles for the camera. The UFC doesn't respect its pioneers? What nonsense: Teila Tuli was issued several tickets. And he's been nothing but gracious in escorting people to their seats.
11:00 p.m. ET -- More respect shown by both in the second round -- right up until Henderson lands the right hand that absolutely crushes Bisping. Henderson wound that one up from Oregon. That may have been the most definitive punch in the UFC since Rich Franklin flatlined Nate Quarry.
10:54 p.m. ET -- Bisping dives for a takedown, an attempt so preposterous the crowd actually boos.
10:49 p.m. ET -- Bisping looks to have the weight cut on lockdown: trim to the point of emaciated. He nearly mows down Mario Yamasaki in an attempt to get away from an advancing Henderson. The Big Right Hand" connects. It's predictable: so is a handgun. Doesn't mean it can't work.
10:45 pm. ET -- Henderson, owner of the most distinctive profile since Alfred Hitchcock, enters looking indifferent. Very few people are giving Bisping much of a chance in this one, but how do you ever pick against the guy? It's like trying to submit or knock out a brick.
10:42 p.m. ET -- Dan Henderson and Michael Bisping exchange pleasantries in a video package. Bisping promises that "Ahm gonna knock him out." A bold prediction, considering Henderson has never been KOed and Bisping hasn't done that to anyone in years.
10:38 p.m. ET -- Belcher stands stunned as a split decision victory is awarded to Akiyama: one observer had it 30-27, which is a huge stretch. Are judges tested for recreational drugs?
10:32 p.m. ET -- Akiyama is limping from earlier leg kicks; one eye is clearly bothering him. Belcher tries a high kick on the blind side.
Being nice doesn't pay the electric bill. Then Belcher propels himself off the cage with his foot to land a flush Superman punch. Amazing.
One judge is cheering.
10:28 p.m. ET -- Goldberg reminds us we're watching the biggest UFC event ever -- until UFC 101: Declaration! Aug. 29! Live from the Wachovia Center! Tickets on sale now!
10:27 p.m. ET -- Akiyama is looking good on the ground. There's always something to be said for first-time cage jitters, but Japanese MMA is about two steps away from the Christians and the lions. This has to feel tame in comparison. Belcher can't punt his face like a football if he makes one false step.
10:20 p.m. ET -- Akiyama tosses a burst testicle into the cheering crowd and resumes fighting, cementing the durability of these athletes. He looks considerably smaller than Belcher, but he's more than willing to exchange. Round 1 to Sexyama.
10:19 p.m. ET -- Notable necrophiliac Holly Madison puts her bio-chem textbooks down to take a ceremonial lap around the Octagon; Belcher wastes no time attacking "Sexyama," firing some noisy kicks to his legs and torso. One lands right in the yams.
10: 12 p.m. ET -- Akiyama enters and kneels near the backstage entrance, praying he'll be blessed with the ability to drop Belcher on his head. Forget what I said about Goldberg's tan: Akiyama looks irradiated.
10:08 p.m. ET -- Yoshihiro Akiyama, facing Alan Belcher, is described as having "Chuck Liddell levels" of celebrity overseas. Does he pass out on live television, too?
10:07 p.m. ET -- Joe Rogan, eyes the size of two hard-boiled eggs, says that welterweight challenger Thiago Alves could weigh up to 200 pounds tonight. This has become a game of who can survive three days in a sauna.
10:05 pm. ET -- Mike Goldberg has bronzed himself to new shades of orange for this event. He is now the color of a regulation NBA basketball. Considering he once called an Ultimate Fight Night from Tulsa, Okla., "the Super Bowl of mixed martial arts," you can probably expect his head to explode tonight, pressurized like a free diver by his own hyperbole.
10:03 p.m. ET -- There's a nice pan shot of the excitable crowd, most of them marveling that UFC has produced 100 events since Forrest Griffin-Stephan Bonnar in 2005. One fan is wearing a t-shirt with a Grim Reaper applying a Kimura to Che Guevara.
10 p.m. ET -- Live from Mandalay Bay, site of many a spectacular, sanctioned beating. I really don't wish ill on anyone, but could we get at least one flying tooth, just for old times' sake? I'd even settle for a veneer.
9:41 p.m. ET -- Florian pays his respects to guest Royce Gracie. Some whining I'll get out of the way now: it's a damn shame that Gracie isn't fighting Ken Shamrock in a 205-pound bout for this show. (Technically, he'd only have t
o weigh 186.) It's a minor miracle two of the original tournament entrants are fit to fight 16 years after the fact. Any irony that both are submerged in hot water for performance enhancers and couldn't fight even if the UFC wanted it?
No? OK. Moving on.
9:36 p.m. ET -- ESPN's "MMA Live" is broadcasting live from the Mandalay Bay in Las Vegas with Jon Anik, Franklin McNeil and Kenny Florian's eyebrows. Florian has a serious future in broadcasting, yet another indication MMA is kinder to athletes' brains than in boxing. Can you imagine Joe Frazier breaking down a fight? Can you imagine him ordering a pizza?
July, 10, 2009
7/10/09
12:02
PM ET
Roughly eight mixed martial arts events are scheduled for July 11, including bouts in Mexico City, London and Germany. All of them matter -- particularly if you're a fighter looking for international attention, or the mother of a participant -- but only one can be considered an Event with a capital "E."
I'm speaking, of course, of "Gods of War 4: The Reckoning" in Baumholder.
If you cannot be in attendance for Rouven Kurath versus Fred Tusil, you may want to opt in on UFC 100, hosted by the Mandalay Bay in steaming Las Vegas. If it's not be the biggest card the UFC has ever put on, it is certainly the loudest, with an unprecedented amount of media coverage surrounding two big title fights and one "Ultimate Fighter" grudge match.
There's a very tired bit going around about how no one expected a hundredth installment of the UFC. I never found the idea all that impossible, particularly since the event -- and the sport -- stuck around like a fungus even after an attempted live burial by politicians. What surprises me is the level of respect and attention afforded to it. Mike Goldberg's proclamation that the promotion is the Super Bowl of martial arts suddenly doesn't feel so exaggerated. Not this week, at least.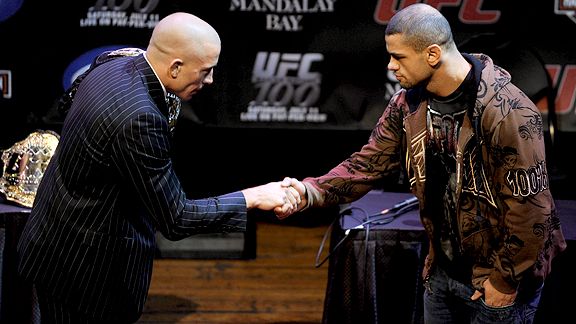 Martin McNeil for ESPN.comThings won't be as cordial when Georges St. Pierre, left, and Thiago Alves step into the cage.
What: UFC 100: Making History
When: Saturday, 10 p.m. ET
Why you should care: Because both Frank Mir and Brock Lesnar are significantly different fighters than they were in February 2008, and because Lesnar won't be able to relax on the ground with the same lax attitude he had against Heath Herring; because Thiago Alves is -- with the exception of Jon Fitch -- the most dangerous, durable and threatening opposition to Georges St. Pierre's welterweight title; because Michael Bisping's place in the middleweight division will be determined by how he looks against the leather-boot constitution of Dan Henderson; and because Stephan Bonnar grew up on a diet of UFC events terrorized by Mark Coleman -- and now he has to fight him. That's got to be weird.
Fight of the night: St. Pierre-Alves, which is probably going to resemble the appearance of pitting two circular saws against one another. Alves doesn't let up, and neither does St. Pierre. These are attrition fighters, and one will get ground down.
Sleeper fight of the night: Yoshihiro Akiyama versus Alan Belcher, judo versus a very hard head.
Pre-emptive complaint: Coleman looked extremely weathered against Mauricio Rua in January, but nothing justifies slotting a Jon Fitch/Paulo Thiago fight on the main draw and regulating Bonnar-Coleman to "may be not be broadcast" prelim status. You'd think the UFC would give their continued masticating of pioneering talent a break for a show as much about nostalgia as anything. No such luck.
Hype quotes of the show
"He won a make-believe belt from [Antonio Rodrigo] Nogueira."-- Lesnar on Mir
"Most of my partners who are 190 to 210 [pounds] actually hit harder … [Lesnar was] kind of like having your baby sister on your back and all over you, and you're just saying, 'Get off me.'" -- Mir on Lesnar
"I'm always nervous. But I think this nervousness is a good thing, because that's what keeps me sharp … I learn how to deal with it by control and I know it's normal and I can sleep better at night. I always have butterflies, but the key is -- make the butterflies fly in formation." -- St. Pierre
"I came here to be the best fighter in the world. I came to give a better life to my family in Brazil -- and I came here to make history. Not just for me, but for my teammates, for everybody." -- Alves
"… He's not great at any one thing … he's not real dangerous on his feet … with the decision gifts that [Michael] Bisping has had in the past, I'm not going to leave it to the judges." --Dan Henderson
Red Ink: Lesnar-Mir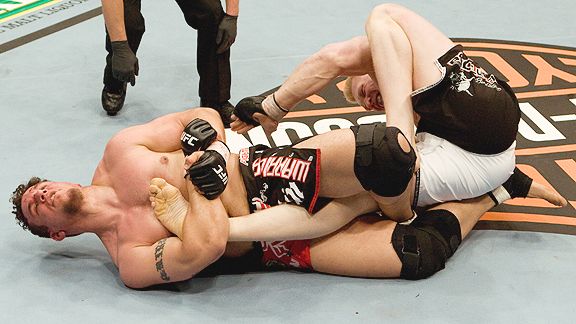 Josh Hedges/Zuffa/UFC Brock Lesnar's excitability nearly cost him a limb the first time around against Frank Mir.
Googling "Lesnar Mir" produces about 3.5 million results; entering "St. Pierre Alves" clocks about 10 percent of that.
As scientific study, it's a pretty shaky premise; as a snapshot of the mass interest in UFC 100's two title fights, it may be on to something. Brock Lesnar is everything the UFC has ever hoped for in a competitor: a man built like a side-by-side refrigerator; arrogant, temperamental, and with an existing, powerful brand dragged from another industry. He may be the single biggest box-office draw the company has right now. And he can actually fight.
Things did not look so promising during his UFC debut in February of 2008: against Frank Mir, he showed a rookie's mentality for being too aggressive and sloppy. Facing someone equally green would've been forgiving; facing the experience of the accelerating Mir -- finally back in form after a 2004 motorcycle accident -- meant he got his foot nearly ripped off. (There is debate that, had referee Steve Mazzagatti not interrupted the action to caution Lesnar about punches to the back of the head, he would've overwhelmed Mir. But the same excitability that prompted the illegal shots prompted the slow counter that ended the fight. Mazzagatti did not cost Lesnar the victory: Lesnar cost himself.)
If Lesnar is not the most skilled heavyweight, he is easily the most athletic. Whether that will be enough to overcome Mir's technical ability is why we'll bother watching.
Striking: Mir has evolved over the years from a reluctant and clumsy striker to someone who now appears indifferent to where the fight takes place: he battered Antonio Rodrigo Nogueira by barely going horizontal. Lesnar has nowhere near that ability -- and it'll take him years more to even have a chance -- but his surprising reach (and unsurprising power) complicates things significantly.
Canvas: Lesnar's instinct is to take the fight to the mat -- exactly where Mir has the best chance of ending the night early. Lesnar may be advised to keep things on the feet, enjoy his reach, pressure Mir in the clinch, and then go to work the mat only when both men are slippery enough to make a submission more wishful thinking.
What it means: Windex for the UFC heavyweight title picture -- both Lesnar and Mir own a piece of it.
Third-party investor: Randy Couture, who would do the biggest business out of anyone when it comes to a rematch with Lesnar. (Presuming he can get past Antonio Nogueira on Aug. 29.)
Who wins: Mir. Lesnar will continue to perform well against more plodding heavyweights, but Mir has surprising agility for a man of 250 pounds. Lesnar won't be able to resist the urge to tackle him early. It'll be the beginning of his end.
Red ink: St. Pierre-Alves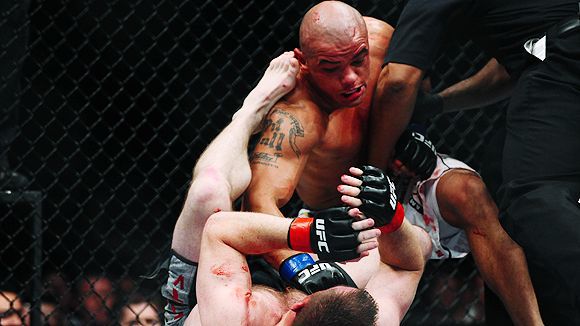 Martin McNeil for ESPN.comThiago Alves packs a mean punch, but how will he handle fighting off his back if he's taken to the ground?
Thiago Alves has won seven bouts in a row, the past three against legitimate top-10 competition. Were it not for the traumatic evening against Matt Serra, Georges St. Pierre might now be holding the record for most consecutive wins in the Octagon. The point? That the No.1 and No. 2 men in a division are fighting, both in their primes. And that's not as typical as you'd think.
Unlike most elite mixed martial artists who can do everything well but are legendary at nothing, St. Pierre performs at altitude levels in every facet of the game: he's very good at being very good. Despite that reputation, he is now essentially a wrestler, planting B.J. Penn, Jon Fitch and Josh Koscheck on their backs and then pushing in their noses. If St. Pierre wants to take you down, your counterargument had better involve a bat.
This is bad news for Alves, who has shown that he can be controlled on the mat. He's big for the 170-pound class, but so is St. Pierre. And he hasn't seen a fourth or fifth round. That could be a big problem.
Striking: Alves seems to pack either more power or better aim -- he's knocked more people for a loop standing than St. Pierre has.
Canvas: Alves has never had much use for his black belt in jiu-jitsu; his lone submission win was years ago. He has also never had anyone as strong or as agile as St. Pierre take a shot at him -- the effect may prove disillusioning.
What it means: A win for St. Pierre virtually cleans out the welterweight division -- until Jake Shields arrives. While guys like Mike Swick and Martin Kampmann vie for the public's backing, GSP might consider using the rest of 2009 to prepare for a long-rumored catch bout with Anderson Silva in 2010. If the UFC isn't interested in capsizing one champion, then the winner here should probably face Swick -- though in a fight no one is really screaming for.
Third-party investor: The UFC, which could see unbelievable business develop by pitting two of the anointed "pound-for-pound" greats against one another in Silva and St. Pierre.
Who wins: St. Pierre. Alves will tire resisting the takedowns and GSP will capitalize in later rounds.
Red ink: Bisping-Henderson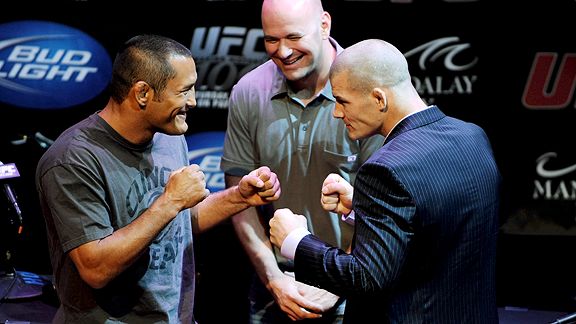 Martin McNeil for ESPN.comMichael Bisping doesn't bring much to the table that Dan Henderson, left, hasn't already seen.
I'll confess that I haven't re-watched all 31 of Dan Henderson's fights, but if memory serves, I don't think he's had a single one which he didn't make for a competitive bout. There has never been anyone -- not even a heavyweight -- that has controlled him for the entirety of the match. Unless you're from the Nogueira family -- or train closely with them -- you can't submit him. And except for his fight with Anderson Silva, he has never been defeated in what appears to be his "natural" weight class of 185 pounds.
What Michael Bisping may be counting on Saturday is to outhustle Henderson, wear him down, throw combinations while he loads up that predictable -- but effective -- right hand, and hope the judges appreciate the activity. It may look quite a bit like his fight with Matt Hamill, with Bisping powerless to stop the shots and thrown off by the aggression.
Striking: Henderson has exchanged hands with some of the best in the business. He makes it dirty, with lots of clinching and wild rights and a complete lack of apprehension. (Having a cinder block for a face tends to boost one's confidence.) Bisping is better technically, but it might not matter. Henderson can attack without fear of having his legs scooped up; Bisping always has a part of his brain occupied by the possibility.
Canvas: Bisping may be adopting Chuck Liddell levels of scramble ability when planted, but Henderson has been using wrestling in MMA for a lot longer than either Hamill or Rashad Evans.
What it means: For Bisping, a chance to become another "Ultimate Fighter" face with the chops to compete for a world title; for Henderson, the promise of perhaps meeting Anderson Silva for a second time.
Third-party investor: Wanderlei Silva, who would make for an excellent Bisping opponent in a title elimination bout -- but probably wants nothing more to do with Henderson.
Who wins: Henderson via decision. To beat Dan, you need submissions, something unseen from Bisping in years.
Back Against the Mat (BAM): UFC 100 Edition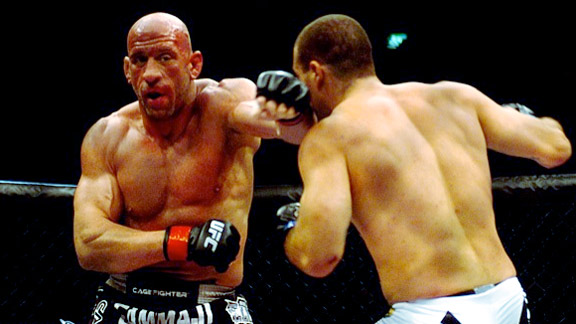 Photo by Sherdog.com Mark Coleman will be forced to look for another line of work if he loses to Stephan Bonnar.
A fight can be a pressure cooker all by itself, but it's often the reputations, ego, or career that can turn the heat up even further. Four who have more to lose than usual this Saturday:
Mark Coleman. The 44-year-old has posted up just two fights -- both losses -- in the past three years. His stature in the sport is cemented, but future paychecks in the UFC may depend on his performance against a younger, fresher Stephan Bonnar.
Brock Lesnar. Wins against Heath Herring and Randy Couture were impressive, but neither can be considered in the prime of their careers. Lesnar will either avenge a loss to Frank Mir or find that he's not quite ready for the top level of competition. His is an arrogance and swagger that can't really afford another loss to Mir.
Michael Bisping. Has talked a sanitation truck full of s--- leading into his fight with Dan Henderson. Anything less than a knockout -- which would be a first for Henderson -- will feel a little underwhelming.
Mac Danzig. The "Ultimate Fighter 6" lightweight winner is 0-2 in his formal UFC career, having been outhustled by Clay Guida and rendered short of breath against Josh Neer. With the UFC recently cut-happy, a loss to Jim Miller could have him seeking alternative employment.
Five questions for UFC 100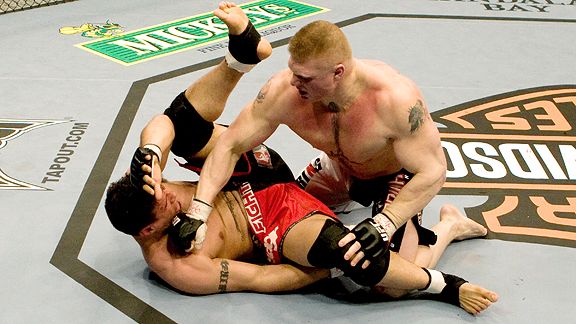 Josh Hedges/Zuffa/UFC Brock Lesnar's ground and pound nearly spelled doom for Frank Mir in their first fight.
We've got questions: the Octagon should hopefully have answers.
Q: Is three years of training enough to survive 25 minutes with Frank Mir?
A: We know 18 months isn't enough -- that's more or less how long Brock Lesnar had been marinating in the details of submission grappling prior to his UFC debut with Frank Mir. Now that he's got some extra time under his heavyweight belt, he'll find out if knowledge is power.
But even if he knows what's coming, can he stop it? Or could Mir perform the Rickson Gracie trick of counting down to a submission and then catching it at will? And in the barren, desolate landscape of Minnesota, who has been able to emulate the physicality and technique of his opponent?
Q: Is Frank Mir better at evading ground and pound?
A: Look at Mir's most problematic moments in the cage and they'll often center around his inability to maneuver off his back and avoid some crushing shots from up top. Marcio Cruz pummeled him from above; Brandon Vera finished him there; Brock Lesnar was giving him a thorough assault before a stand-up. The same 250 pounds that's so dangerous with submissions doesn't seem to have a lot of answers for being on the bottom. Whether that's attributable to his decreased mobility post-motorcycle accident or a flaw in his programming is TBD.
Q: Is Thiago Alves ready for Round 4 and 5?
A: Georges St. Pierre's list of attributes is at scroll's length, but none of it would matter if he didn't have the conditioning. He does. Whether Alves can match it -- particularly past the 15-minute mark -- or whether his muscular endurance will fall victim to his own significant physical abuse in cutting a radical amount of weight is open to deliberation.
Q: Will Shawn Tompkins and Xtreme Couture make a difference in Mark Coleman?
A: Mark Coleman does one thing -- smash people -- and he does it very well. But fighters often have a solution for that single-minded attack and Coleman is usually left holding the bag. Part of his issue has been an island-training mentality: aside from some time spent with Pat Miletich in 2000 -- the same year he won the epic Pride Grand Prix tournament -- Coleman has preferred to prepare on his own.
For Stephan Bonnar, he's opted to gear up at Xtreme Couture, which has quickly become the breeding ground for both new and ailing athletes. (Pretty soon, everyone will train at Xtreme Couture and no one will want to fight a training partner: end of sport.) With a proper camp behind him, it's possible he can enjoy the success of other 40-something grapplers.
Q: Can Jon Jones handle another wrestler?
A: Against Stephan Bonnar, Andre Gusmao and other fighters ill-prepared for his grappling abilities, Jon Jones has looked like the future of the sport. Whether that impressive display will repeat itself against Jake O'Brien is something Jones himself is probably considering: while not as decorated a grappler as other UFC entrants, O'Brien -- a former heavyweight -- will not be giving up tackles as frequently as Jones might be used to.