August, 18, 2013
8/18/13
11:14
AM ET
Hope, faint as it was in the moment
Travis Browne
found it, emerged in the form of a front kick.
Things had gone all wrong until he snapped off that gut-deflating kick to
Alistair Overeem
's midsection. Browne, 31, allowed Overeem the boost of confidence, which is just about the worst thing a person can do if they're fighting the Dutch banger. No matter what people think about Overeem in the wake of his drug issues and now, back-to-back knockout losses in the Octagon, he can still punch and hit and knee with devastating results.
And for the first half of the first round, Overeem did just that against Browne, who absorbed so much punishment it easily could be used as the counterclaim to the idea that heavyweights can't take more than one punch and survive. We know that's not true because
Randy Couture
showed it against
Pedro Rizzo
the same way
Brock Lesnar
did against
Shane Carwin
. Those were tremendous comebacks, each unique in their way. So was Browne's rally against Overeem.
The front kick appeared out of thin air. But that's what Browne wanted to do all along, it just took him suffering through a tentative start and subsequent beating to get there.
After finally managing to stand and shake off the assault from a 265-pound threat, Browne told himself he wasn't going down again. Nope, instead, he expected to kick Overeem in the stomach. And if that went well, maybe the face.
"I just felt him hitting me so I knew I needed to get up and get back to work," the 6-foot-7 Hawaiian said.
The front kick became part of the game plan because the brains at Greg Jackson's camp found Overeem's "common denominator for what he did and some of his openings," Browne said.
It was the way in which Overeem held his elbows too far out, Browne said. That led the group to think Overeem could be susceptible.
Brown flinched at the start of the fight. He backed away from Overeem's aggression, which only spurred on more attacks. For that he paid a hefty price, but it hadn't been enough. And when that first kick landed, Browne felt new life. Hope. So he kicked again. It landed. Overeem paused. Browne moved forward. Kicks were aimed at the head, and they landed, too. Finally, one connected with power, and Overeem hit the canvas.
"I kept going back to it and as he kept dropping his elbows further and further," he said, "that's when I saw the opening to the head and I took it."
Browne boasted that Overeem learned what his training partners are too familiar with.
"You can ask just about any of my training partners at Jackson's, because I've hit everybody with that shot," he said. "And they've all pretty much went down."
The win pushed Browne to 15-1-1. His lone loss: a technical knockout against
Antonio Silva
after popping a hamstring early in the fight. Knockout wins against
Gabriel Gonzaga
in April and now Overeem make Browne look like a force in the division. ESPN.com currently ranks Browne at No. 9, and he's in line to move up.
Browne said he'd like a fight with
Fabricio Werdum
(ranked No. 3), who has won three in a row over
Roy Nelson
,
Mike Russow
and
Antonio Rodrigo Nogueira
. Many feel Werdum has done enough to merit a title shot, and the Brazilian's trainer, Rafael Cordeiro, told ESPN.com that their intention is to wait for a five-round fight.
Said Browne: "I've never said 'no' to a fight and I've always been ready for anything they've thrown my way.
"It's definitely not out of the question."
Based on his effort so far, neither is a championship.
September, 7, 2012
9/07/12
11:26
AM ET
Technically speaking, I was a fan when UFC 24 rolled around.
Kevin Randleman's first UFC heavyweight title defense was set to take place a month before I wrote the story that scored my first paycheck as a mixed martial arts reporter. Passionate as I was, I called around San Diego, where I attended college, to find a place, any place, showing Randleman's fight against dangerous young heavyweight Pedro Rizzo.
Eventually a sports bar informed me that it dared to be one of the few establishments carrying the UFC in the spring of 2000. I have this vivid memory of feeling like the only person in the place who gave a damn about these cage fighters. So, as this was my only option, I enjoyed a platter of nachos while watching one muted television set tuned to a night of fights in Lake Charles, La.
The evening rolled along with little fanfare. "Crazy" Bob Cook, a familiar face these days alongside American Kickboxing Academy fighters, made his lone Octagon appearance, which turned out to be the last time he stepped in a cage, and choked Tiki Ghosn. Less than a year before he would be crowned UFC champion,
Jens Pulver
was featured on pay-per-view for the first time. He was spry and determined while pummeling David Velasquez with punches.
All that was filler, though. I'd sought out a TV to see Randleman take on Rizzo. It was time. Or it should have been time. There wasn't any sound, but it was crystal-clear based on an interview taking place backstage that something was off. I begged a waitress to turn up the volume. She did, just in time to catch on that Randleman, somehow, some way, slipped on pipes! Fell! Cracked his head! Was in an ambulance on his way to the hospital? The fight ... off!?
This was utterly shocking -- even for Semaphore Entertainment Group, UFC's original promoter that was on its last legs, doing things on the cheap, struggling to get by and keep its head above water.
[+] Enlarge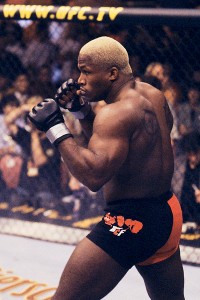 Zuffa LLC/Zuffa LLC/Getty ImagesKevin Randleman couldn't fight on UFC 24 after cracking his head open just minutes before he was set to fight.
I'd have felt ripped off if I actually had a chance to pay for it; nonetheless it was embarrassing to like this stuff.
Looking back on the episode 12 years, hundreds of events and many millions of dollars later, it's easy to laugh. Especially since the fallout was mild compared to similarly odd (though thankfully rare) events in this wild sport. Randleman fought Rizzo two cards later in what stands out as the least interesting championship bout in UFC history. That was as bad as it got.
It's not as if a fight night was cancelled, a la UFC 151 or Affliction's third card, which was supposed to feature
Fedor Emelianenko
versus
Josh Barnett
. The ramifications there were far larger, in part because the sport had moved beyond the nether regions it existed in during the early 2000s. Barnett's failed steroid test was still stunning, as was Affliction Entertainment's decision to close up shop and never promote again.
Ken Shamrock's day-of-the-fight cut prevented his main event versus Kevin "Kimbo Slice" Ferguson from airing on CBS. Say what you will about the fight -- it was a farce -- but people would have tuned in. Instead, Slice was knocked out in 14 seconds; the promoter, ProElite, went under, and CBS hasn't dared to wade waist-deep into MMA again.
Sometimes these things are serious and sometimes they're not. For all the high-profile instances of promoters or fighters failing at their jobs, there are sadly numerous less noteworthy situations. Fighters get screwed on the regular in MMA. They get flown to far-off locales and left fending for themselves. They put in 8, 10, 12 weeks' worth of training, pay nutritionists and trainers and get nothing in the end. Promoters invest capital to sell a card, only to see fighters or shady partners subvert their efforts.
The cancellation of UFC 151 was stunning because that sort of stuff just doesn't happen to Zuffa. These episodes were the domain of lower-tier brands, of lower-tier promoters and executives, of lower-tier operators.
Well, not anymore.
The lesson of UFC 151 and every other "what in the world just happened" moment in MMA is this: Sure things don't exist, most especially when you're talking fight sports.
June, 21, 2012
6/21/12
2:25
PM ET

By Chuck Mindenhall
ESPN.com
Archive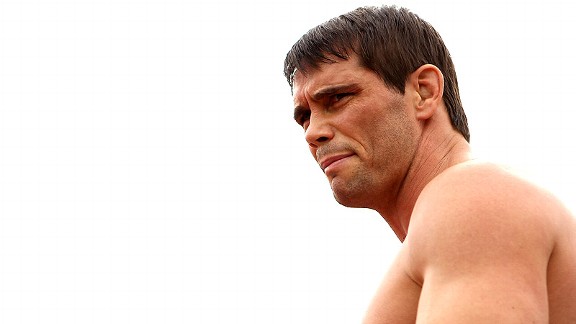 Josh Hedges/Zuffa LLC/Getty ImagesRich Franklin has the not-so-enviable task of fighting Wanderlei Silva in Brazil.
If we're talking volume alone, this is the biggest fight weekend that ever labored so hard to raise an eyebrow.
And out of all the MMA going on this weekend --
Fedor Emelianenko
versus Pedro Rizzo in St. Petersburg (good luck finding a feed) going on today, UFC on FX 4/the kick-off of Bellator season 7 on Friday -- only one card specifically requires your money. That would be UFC 147 in Belo Horizonte, Brazil. This is a pay-per-view card for North Americans, one of the "big numericals" we tend to revere on faith.
Only, this is one that, if the UFC were still using titles, should be called UFC 147: Twilight of the Idols.
Let's face it -- only diehards and incorrigibles are going to purchase UFC 147, and those who are both (like the media). The main event is two guys who are as long out of contention as they are in the tooth.
Rich Franklin
against
Wanderlei Silva
: former champions with the wrong kind of intrigue in 2012. For the 37-year-old Franklin it's "what's left?" For the 34-year-old Silva, it's something more dire. It's "is he a knockout away from MMA extinction?"
If Silva's chinny, the MMA world will be talking about it on Monday like a hunch finally realized. How's that for fun -- we could be 48 hours away from cries of Wandy's overdue retirement, both from fans and Dana White.
That's not exactly the high point of drama and anticipation that you want from a PPV headliner.
Bottom line is, UFC 147 is a salvaged wreck that was once so gloriously thought to be
Chael Sonnen
against
Anderson Silva
II. It went from the most ambitious in design to the most forgettable on paper. UFC 147 was supposed to be held in an attendance-shattering, security-nightmare of a soccer stadium in Sao Paulo. Or, if not there, then in Rio at Joao Havelange Stadium with 60,000 partisans. All of that was a lot of fun to contemplate.
Now it's being held inland at the Mineirinho Gymnasium, which sounds like a place you might go to attend a pep rally.
It morphed from Sonnen/Silva to
Vitor Belfort
against Silva, which would have still been a treat for Brazil until Belfort went down. Now it's a TUF Brazil finale, with
Mike Russow
against
Fabricio Werdum
the second strongest beam in the scaffolding. And of course there's Franklin, who hasn't fought in 16 months and hasn't fought well in two years, back when he used his only available hand -- his non-broken right -- to down
Chuck Liddell
.
And if there's a glint at all to this, we've finally gotten around to it. Franklin felt gutted sending Liddell off into the twilight the way he did at UFC 115. He didn't want to be the one to put the punctuation on Liddell's career, but he did it anyway. Now he might be on the verge of doing that to a second early legend. Maybe Franklin is more than a company man. Maybe he's the UFC's
hatchet
man, where storied careers go to get finalized. Maybe he's a one-man intervention, designed to punch sense into people.
Hey, for this one, we have to extrapolate our storylines.
Or just hope for an epic out-and-out brawl that warrants $50, one of those cards that pans out to be an out-of-the-blue fantastic. You know the ones -- the cards where Dana White reminds everyone afterward that only fools criticize what always looked like ore just under the surface.
Either way, none of this takes away from the free fights on FX on Friday for those who have the channel.
Gray Maynard
versus
Clay Guida
-- two guys near the top of their division and both in their prime -- is a great fight to get for free. If that's not enough, there's Bellator and Fedor, even if it's just highlights and recaps from Russia or video streams from the nosebleeds.
There's plenty of action this weekend. Some of it is free, some of it is hard to find, and some of it requires your disposable income.
And UFC 147 can't help itself from asking -- just how disposable
is
your income?
June, 21, 2012
6/21/12
5:37
AM ET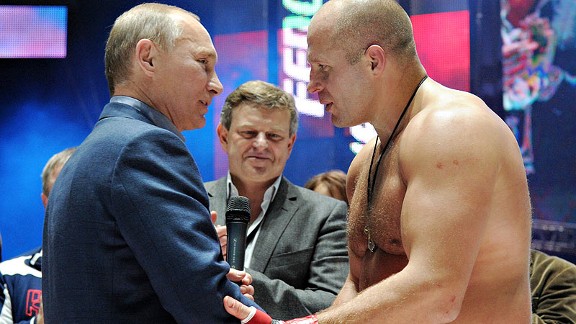 Alexey Druzhinin/Getty ImagesHe might still be considered fighting royalty in Russia, but U.S. fans aren't clamoring to see Fedor fight these days.
Mixed martial arts spans the globe this weekend. While most of the attention will be placed on UFC cards in Atlantic City and Belo Horizonte, Brazil, Bellator also returns with the start of its seventh season in Chester, W.V.
Oh, and in St. Petersburg, Russia,
Fedor Emelianenko
, a man whose appearance once trumped everything else in this sport, fights in relative obscurity outside his country for M-1 Global.
Emelianenko's flagging relevance in North America is as much a result of him losing three straight fights -- shredding an enormous reputation built over seven years of dominance -- as is M-1's failure to promote and maintain interest in the former heavyweight champion outside of Russia.
Emelianenko's contest against veteran Pedro Rizzo isn't being beamed back to the U.S. You need to be in Russia to catch the fight on sports network Russia 2 or via the promotion's geoblocked Web site.
Perhaps that's by design.
M-1 is currently focused on Russia-based projects, said Evgeni Kogan, an executive with the promotion. It's U.S.-promoted challengers events could return in the fourth quarter of 2012, but a Russian MMA Union, which coalesced 49 regions of the country into one body, along with amateur Russian championships held in Moscow this September are taking priority.
"MMA is very popular in Russia nowadays," Emelianenko said via translated email. "More and more kids start going to the gyms. ... We plan to acknowledge MMA as a sport discipline in the closest future."
Asked how important the U.S. market was to M-1 at the moment, Kogan didn't respond.
This drive to propagate MMA in Russia is aided by M-1's relationship with Russian president Vladimir Putin, a longtime admirer of Emelianenko who has watched bouts from ringside.
It would only help things move along if the 35-year-old heavyweight finds a spark and reminds his followers of his long-gone dominance. Leading up to this week's fight at the sold-out Ice Palace in St. Petersburg, Emelianenko said he'll see what happens against Rizzo and wait on God's will to know if he'll retire or not.
Rizzo, 38, used to rank among the top heavyweights in the sport, capitalizing with one of the first money-rich deals from Zuffa that delivered mixed results. However, he hasn't fought since defeating
Ken Shamrock
in 2010 via leg kicks. Such is the competitive territory Emelianenko is keeping these days.
If Emelianenko is troubled by this or anything else related to his MMA life, he's not sharing.
"I don't regret anything," he said. "Speaking about my loses, I thank God for them. Losses teach you more than victories. They make you think, look at your mistakes."
A loss to Rizzo would essentially serve as the final nail in his professional fighting coffin. Still, Emelianenko defended his choice of opponent, calling the former UFC contender a "champion."
"He defeated strong fighters," Emelianenko said. "He started fighting almost from the beginning of the UFC. He is very experienced. When I just came in MMA, Pedro had already become a successful fighter. I respect his achievements very much."
The respect Emelianenko maintains for Rizzo is likely the sort media and fans hold for the once great Russian heavyweight. Yet where people pined to watch him stateside, there's now barely an acknowledgment on the weekends he competes.
His most recent bout came against flop prospect
Satoshi Ishii
, resulting in Emelianenko's first stoppage since he stood over
Brett Rogers
as 5 million people watched on CBS in 2009. Sandwiched between those results, Emelianenko went 1-3, essentially losing his standing as a ranked heavyweight despite owning the top of the division from 2003-2010.
Those halcyon days are long gone. So far gone that his bouts aren't worth showing here anymore? On Thursday, at least, the answer appears to be: yes.
April, 20, 2012
4/20/12
4:07
PM ET

By Brett Okamoto
ESPN.com
Archive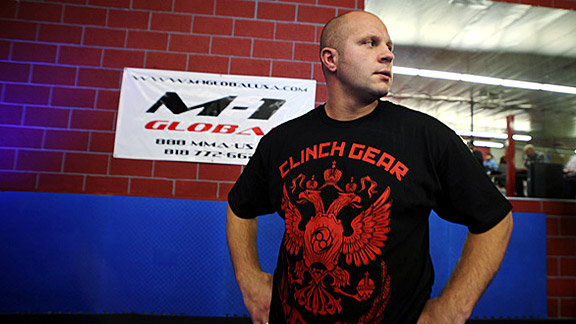 Sherdog.comGone for good; Fedor Emelianenko is retired, and he isn't planning a comeback.
ATLANTA -- News broke Friday that famed heavyweight
Fedor Emelianenko
has booked a fight against Pedro Rizzo on June 21 in St. Petersburg, Russia.
A large contingent of fans voiced its displeasure of the matchup immediately following the announcement.
Rizzo (19-9), though a longtime fixture in mixed martial arts, hasn't competed since posting a TKO win over
Ken Shamrock
in July 2010.
Strikeforce Grand Prix finalists
Josh Barnett
and
Daniel Cormier
, who are scheduled to meet on May 19, are not amongst those bashing the matchup. In fact, both heavyweights defended the fight when asked to comment.
"What are you going to do?" Barnett told ESPN.com. "Would you rather see [Emelianenko] not fight at all? At the end of the day, it's not always up to Fedor. Don't believe Pedro was the only guy asked.
"So, what's the other option? How about he just sits around for another six months?"
Cormier voiced a similar opinion, stating that regardless of what opponent Emelianenko's management group found, fans would likely find it disappointing.
"There's just not that many guys who would be OK," Cormier said. "If they said, 'He's fighting Rolles Gracie," people would say he [Gracie] got beat by Joey [Beltran] and flushed out of the UFC. If it were
Bobby Lashley
, they'd say he's just a pro wrestler who got beat by
Chad Griggs
.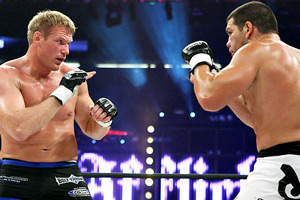 Sherdog.comJosh Barnett, left, split a pair of fights with Pedro Rizzo.
"It's always going to be something. The best guys are under the Zuffa umbrella. [Emelianenko] is not -- so he doesn't have much to choose from."
Emelianenko (33-4) was an original participant in the Strikeforce Grand Prix. He was knocked out in the first round after losing via TKO to
Antonio Silva
, who was eventually knocked out by Cormier.
The Russian star finished his tenure in Strikeforce on a three-fight losing streak. Since leaving the promotion last year, he's rebounded with back-to-back wins over
Jeff Monson
and
Satoshi Ishii
.
While some consider Emelianenko to be past his prime, others still hope the day will come when he makes a very long-awaited UFC debut. President Dana White has expressed in recent interviews he has no interest in signing Emelianenko.
That means fans will have to be content watching him take on an opponent like Rizzo, who, Barnett says, is capable of giving the 37-year-old Rizzo problems. Barnett has split two fights against Rizzo in his career.
"He's heavy handed," Barnett said. "He's got strong low kicks, great counter punches and a great overhand right. Against Fedor though, with his speed, it could be a very difficult matchup for Pedro. But his footwork is pretty good and his takedown defense isn't horrible. I know he can give [Emelianenko] trouble with that.
"Let the fights turn out. Let's see how it goes. It's one thing to talk about how this is going to be a mismatch. Once the punches start flying, who knows what will happen? It could be an amazing fight."
October, 17, 2011
10/17/11
2:48
PM ET

By Franklin McNeil
ESPN.com
Archive
Heavyweight Pedro Rizzo revealed on Monday he has suffered an arm injury that forced him to withdraw from a Nov. 5 fight with
Tim Sylvia
.
"Unfortunately, I got injured training here in Holland, had a partial tear in the triceps tendon of my left arm," Rizzo said via his Twitter account. "I am in the prime of my condition and I'm really very frustrated with what happened."
The 37-year-old Rizzo hasn't fought since July 2010 when he registered a first-round TKO of
Ken Shamrock
in Sydney, Australia. Rizzo (19-9) is currently on a three-fight win streak.
His fight with Sylvia was to headline ProElite 2 at i wireless Center in Moline, Ill. Sylvia will now face Andreas Kraniotakes.
During his most recent fight, Sylvia stopped Patrick Barrentine in the first round on Aug. 20. The former UFC heavyweight champion is 29-7.
The ProElite 2 co-feature pits heavyweight
Andrei Arlovski
against Travis Fulton. Arlovski (16-9) will enter the fight on a high note. He halted a four-fight skid with a third-round TKO of Ray Lopez on Aug. 27.
September, 30, 2011
9/30/11
10:57
AM ET

By Chad Dundas
ESPN.com
Archive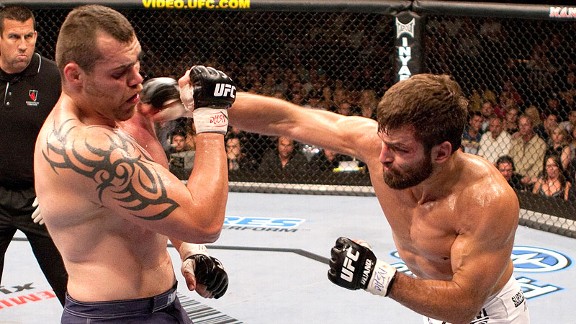 Josh Hedges/Zuffa LLC/Getty ImagesRetreads like Andrei Arlovski, right, and Tim Sylvia aren't the best fighters to build a promotion around.
After some initial confusion, a second scheduled event from the reincarnated ProElite organization began to take shape this week with a flurry of fight bookings reported by multiple sites.
Early rumors had
Tim Sylvia
and
Andrei Arlovski
headed for their fourth meeting on Nov. 5 in Moline, Ill., but now it's believed Pedro Rizzo will meet Sylvia. Meanwhile, Arlovski will fight the prolific Travis Fulton. Lightweight prospect Reagan Penn and well-known female fighter Tara LaRossa are both also scheduled to appear.
In other words, just as you might expect from a fledgling, second-tier organization, it's sort of a mixed bag. Unfortunately, these bouts don't seem to represent a step forward for the company after a fairly successful August debut.
For the second consecutive time since its purchase by the Stratus Media Group earlier this year, ProElite appears to be relying heavily on a bevy of UFC retreads to carry the top part of its card. That's fine for a small-time independent promotion, but it's probably not the right approach if ProElite wants to quickly ascend to the level the Bellators or even the UFCs of the world.
This seems doubly true when you consider that this latest foursome of old school vets is even less relevant than guys like Joe Riggs,
Kendall Grove
and Drew McFedries, who ProElite tabbed for its first show.
Rizzo, after all, is 37 and hasn't fought since he defeated
Ken Shamrock
in July 2010. He talked wistfully of a UFC return during UFC: Rio, but remains some 10 years removed from his fighting prime. For his part, Sylvia has been more active, but hasn't even made the 265-pound heavyweight limit since he got knocked out by
Fedor Emelianenko
in 2008. It's pretty hard to stay on the tips of fans' tongues when you're not fighting in a division they recognize.
[+] Enlarge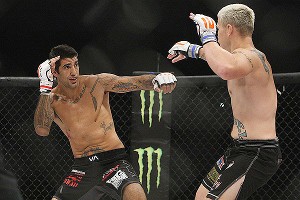 Dave Mandel/Sherdog.comKendall Grove-Joe Riggs proved an entertaining affair for ProElite's first event back in the mix.
After losses in four of his last five fights, we all know the story on Arlovski at this point. And Travis Fulton? He's, well, Travis Fulton. His official record is currently listed at 247-48-10. Enough said.
If ProElite wants to be seen as an up-and-comer on the MMA scene, it might be better off trying to nurture its own stars in the mold of Bellator and the money it spends on recognizable names should go to athletes in their primes -- guys like
Nate Marquardt
and
Paul Daley
-- instead of investing in people who feel like they're fast approaching the end of their careers.
At the very least, the matchups should be compelling. Not sure if Sylvia versus Rizzo and Arlovski versus Fulton quite fit that bill, either.
Not that all the news here is negative for ProElite. There has been talk that the promotion might organize an eight-man tournament of mostly unknown heavyweights, which could be interesting if it's promoted properly. The company also appears to have a couple of good young fighters in Penn and heavyweight Mark Ellis and reports say organizational brass are talking to cable channels about the possibility of putting this second event on TV. All the more reason to create an interesting card.
For a promotion that was dead in the water this time last year, ProElite has already accomplished a lot. You just have to wonder how bright the company's future will be so long as it continues to invest in stars of the past.
August, 25, 2011
8/25/11
7:06
PM ET

By Chuck Mindenhall
ESPN.com
Archive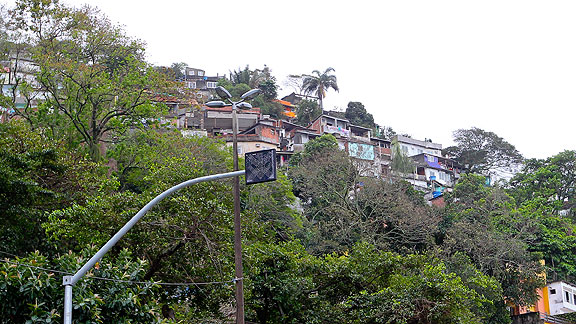 Ed Mulholland/ESPN.comPedro Rizzo is doing his part to help underpriviliged children from Rio's favelas.
Rio de Janeiro -- At 37, former World Vale Tudo champion Pedro Rizzo is an icon in his native country. Part of this is because he is a highly visible former UFC fighter who fought Randy Couture twice for the heavyweight strap back in 2001. In fact, he can currently be seen on "Super Heroes" billboards alongside Jose Aldo, Junior dos Santos and Antonio Rodrigo Nogueira all over Rio's down and out neighborhoods.
But it's primarily because of
who
he is rather than
what
-- those billboards are appended by the words "Sao de Verdade" -- which all told translates to "Super Heroes are for real." It's not an advertisement for homegrown MMA champions, but for a project that he began in April of this year called Usina de Cidadania ("power plant of the citizenship"), a school for local impoverished children from nearby favelas.
He started the school to give the children something positive to focus on outside of their current, often-dire situations. In short, it operates on encouragement, with a goal of bringing out potential.
Usina Cidadania sits on the vast Manguinhos gas refinery central to 30 notorious favelas in northeastern Rio. A security guard is at the gate 24 hours a day to allow traffic in and out. The Brazilian highway rages right in front of it, and you drive through the heart of the favelas to get there, with street vendors hocking candies and cold drinks. There is nothing glamorous about it outwardly. But it's a paradise for the kids that attend. And, though attendance has now swelled with students who study English, math and the arts, one of the big allures is that Rizzo and the aforementioned fighters also teach MMA.
"We have 700 kids now, between seven and 17 years old," Rizzo said while showing ESPN.com around the premises. "When they turn 17, if they are good, we try to arrange a job for them. If they have a talent in the sport of MMA we try to send them to university to be athletic students so they don't have to pay for that. We try to take care of them to the end. Some of them… we lose them, but most of them we can help."
The one caveat is that kids must remain enrolled in their public schools. In Brazil, school is split into morning and afternoon sessions. Kids go from their regular school to Rizzo's.
The MMA package that Rizzo -- along with Aldo, the Nogueira brothers, Junior dos Santos and Rafael Cavalcante -- teaches is split into five disciplines. They are kickboxing/Muay Thai, capoeira, judo, jiu-jitsu and MMA, broken into classes of 50 kids apiece. They have a gym with mats and gloves to train in. Some of the children take to the sport immediately. Others use it as a recreational sport. To Rizzo, it's all the same -- so long as they're taking discipline from it.
"I know I'm not going to make 700 champions, but if we can put in their minds a little bit of discipline of sports, that's good," he says. "Sometimes you win, sometimes you lose, sometimes it's good, sometimes it's bad, you have good days and bad days.
"But you also gain respect for your opponent, respect for your training partners, so if we can put just a little discipline in their head, in their mind, they're going to take that for their entire lives. That's what we want. I know we're not going to make 700 champions, but for sure we're going to make 700 better human beings."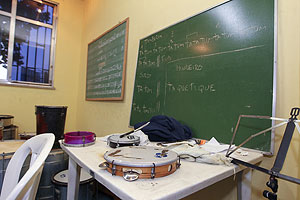 Ed Mulholland/ESPN.comThere's more to Pedro Rizzo's youth program than fat lips and bloody noses.
Everything that Usina de Cidadania has is donated, from the woodshop materials to the music room instruments to the suing equipment.
Manguinhos has been particularly generous in its donations, equipping the primary training facility with mats, gloves and bags. The oil company is now sponsoring MMA fighters (Rizzo, Aldo and dos Santos among them) and events, which have become rampant in Brazil over the last couple of years.
Outside there is a basketball court and a soccer field. But in an aluminum hangar with an open face just behind the school is the signature possession -- a full-sized octagon. Rizzo still fights professionally and has a bout tentatively scheduled for October, and this is where he does the bulk of his training. Others who want to escape the rigmarole do the same. Anderson Silva, whom Rizzo is helping to train in kickboxing ahead of UFC 134, is a regular. Many of the Manguinhos fighters train here for seclusion. There's even a dorm room of sorts set up for visiting fighters who want to stay on campus. It's an all-inclusive resort of Rizzo and his students.
And Rizzo has the respect of the favelas, too.
"The drug dealers usually have guns, but when I come in they will hide them [in their coats]," he says. "It's out of respect."
Usina de Cidadania advertizes all through the favelas, whether they've been pacified [where police now control things] or not [the scary, lawless type of favela]. If he can help troubled kids who come up without a lot of hope find a different path, then he'll have reached people on a different level than inspiring admiration from his work in the cage.
"The work here is very pleasant, because I feel like I am doing something. I have started paying back my success," he says. "You say, I got everything in my life, I fought everyone in the world, I fought the best fighters, I fought at the best events, I earned my money, I live exactly with what I did in the ring, now it is time to pay back to society what happened to me."
And to expand. Rizzo says that he expects more students over the next year and to renovate the soccer field and other facets of the campus that can use it. He says he expects to have over 1,000 kids participating in MMA in some shape or form, and that a small percentage of them might one day be champions.
"I am positive, we can arrange at least 10 champions through there," he says. "If we train 1,000 kids over the next year, then for sure we can get 10 world champions out of that. International athletes…I know we're going to have a bunch of them, but I think at least 10 champions. The teachers working there, all of them are good. They are good teachers, they are always there watching the kids. We (the fighters) are always watching the kids. We can spot the talent from the very beginning. We are there to help them. We can give them everything they need. They can't say, 'I don't have a gi for training,' because they have a gi. They can't say 'Oh, I don't have a place to train,' they have a place, they have a mat, they have a bag… they have everything.
"They just have to work."