March, 13, 2012
3/13/12
6:12
AM ET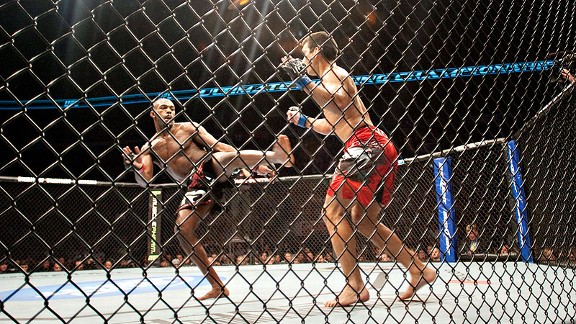 AP Photo/Chris YoungKicking around Anderson Silva's buddy Lyoto Machida is about as close as Jon Jones will get to "The Spider."
Hands down, the most frustrating thing about discussing a potential superfight between
Jon Jones
and
Anderson Silva
is that -- for whatever reason -- the two people least interested in making it happen are Jones and Silva themselves.
The mere idea of watching the UFC's legendary middleweight champion square off with its legend-in-the-making light heavyweight titlist is enough to make the most jaded MMA fan salivate like a giant cartoon dog. UFC brass too ought to sprout glittering, emerald dollar signs in their eyes when they think about a dream matchup between two of the top pound-for-pound fighters in the world.
Simply put, this is the kind of fight that could come around but once in a generation. For fans, it would have potential to be the most-anticipated MMA event of all time. For the UFC, it could provide a significant pay-per-view boost in the wake of losing
Brock Lesnar
to retirement and
Georges St. Pierre
to a serious knee injury.
But as for Jones and Silva? Frankly, they just don't seem that into it.
"I'd rather not deal with Anderson ...," Jones reminded us over the weekend, during an interview with
a Portuguese language news outlet
. "I respect and look up to him so much. For me, the ideal scenario would be having him as my mentor and learn with him after he retires. It would be great for me."
These sentiments only echo those already voiced by Silva, who has made it known he'd like to finish out his career at 185 pounds rather than chase bigger prizes at light heavy. Even UFC President Dana White conceded recently that Silva-Jones likely isn't happening any time soon. With Silva already 37 years old and Jones content to do his own thing, it feels less and less likely with each passing day that this superfight will ever come to pass.
So, what gives? Why don't Jones and Silva appear to want anything to do with what would undoubtedly be the most lucrative and most important fight of their careers? Why does Jones make it sound like a household chore when he says he doesn't want to "deal" with Silva?
[+] Enlarge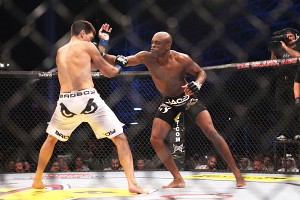 AP PhotoCan we really blame Anderson Silva if he chooses not to move up at this stage of his career?
To hear the principals tell it, there's just too much mutual admiration floating around. Jones has made no secret of the fact that he idolized Silva during his brief formative period in MMA. That he obsessively watched videos of Silva's fights and did his level best to emulate his style. Silva too is on record saying he and Jones are now "friends" and that he has little interest in fighting the sport's next big thing.
It's hard not to wonder if both fighters also see this bout as a tremendous risk. For Silva, maybe it feels a little late in the game to put his celebrated six-year, 14-fight win streak in jeopardy against a next generation version of himself. To be honest, I can't blame him. If the options are to either tempt fate against the bigger, younger Jones or to coast off into retirement undefeated in the Octagon and as the consensus pick for greatest MMA fighter of all time, well, the choice seems pretty clear.
Obviously, Silva doesn't lose all of that political capital if he's defeated by Jones, but for a guy who has nothing left to prove in the sport, what's really to gain?
While the stakes would be less grave for Jones, he too owes much of his current drawing power to the aura of invincibility that surrounds him. It's hard to imagine him passing through the rest of his UFC career without suffering a legitimate loss, but why take this particular risk? Sure, if he wins he becomes the man who took out Anderson Silva -- an aging, out-of-his-weight-class Anderson Silva -- but Jones probably believes he'll pass Silva on the GOAT list anyway if he simply stays the course. Especially if after this year he finds success in the heavyweight division, as he says is his plan.
On the other hand, take a loss (and possibly a knockout) at the hands of a guy from a lighter weight class? Even if that guy is the best ever, that smarts for the ol' legacy.
In the end, maybe we're left with the reality that as fans (which is short for fanatic, remember) MMA is our passion. For fighters, maybe it's just a job. One where it's not worth risking friendship and future gains for a one-off superfight that everybody
else
wants to see.
December, 12, 2011
12/12/11
8:05
PM ET
Ten months, four wins.
Three former champions beaten.
Hardly a dicey moment.
It's
been said before on this site
, but
Jon Jones
put the icing on what may be the single best year for any fighter in MMA history on Saturday when he dumped
Lyoto Machida
on the canvas like a guy dropping off his dirty clothes at the cleaners. During the last 310 days, Jones has sprinted through a sterling list of light heavyweight competition, upping his overall record to 15-1 and doing it all while just barely breaking a sweat.
At 24 years old, he's already scored and underscored his position as the best 205-pound fighter in the world. Now, the only thing with the potential to be more impressive than Jones' 2011 might just be his 2012, when he'll inherit even tougher challenges and a UFC landscape ripe for him to seize the mantle as the sport's best pound-for-pound fighter.
The No. 1 P4P spot has been the exclusive domain of
Anderson Silva
since
Fedor Emelianenko
fell off so precipitously in 2010-11 -- and don't worry, Silva fans, your guy has GOAT status still well in hand -- but the debate could get interesting again if the current trends hold up into next year.
In the wake of his win over Machida, Jones says he has his heart set on a lengthy vacation, but I wouldn't count on it. Not with Silva on the shelf until June,
Georges St. Pierre
out perhaps the entire year and
Junior dos Santos
fresh off his own knee surgery.
[+] Enlarge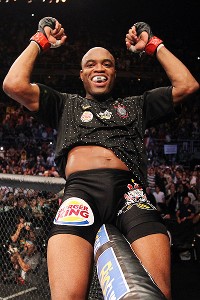 Al Bello/Zuffa LLC/Getty ImagesThis time next year, Anderson Silva might not be on top of the MMA world.
Especially not with
Dan Henderson
,
Rashad Evans
and
Phil Davis
already lurking around as potential next challengers for the light heavyweight title.
With more shows than ever planned for 2012, the UFC will need its healthy champions to stay active. Barring any unforeseen setbacks, it'd be a surprise if we don't see Jones fight either Henderson or the Evans/Davis winner by spring. If he were to win -- say, over Hendo -- then defeat Evans at the end of summer or early fall, well, you do the math. Even if Silva returns from his shoulder injury and defeats
Chael Sonnen
or
Mark Munoz
in the meantime, I'm not sure he'd be able to hold off that kind of charge from Jones.
UFC President Dana White says he thinks "Bones" is already No. 2 pound-for-pound and if by this time next year he's managed to put together a run that includes consecutive wins over
Ryan Bader
,
Mauricio Rua
,
Quinton Jackson
, Machida, Henderson and Evans, I don't see how you could deny him the top spot. That would be a six-fight stretch not even
Silva
could match. Being the No. 1 pound-for-pound fighter in the world isn't a lifetime achievement award, after all, but a snapshot of who is the best fighter in the sport at that moment, regardless of weight.
Unfortunately, since the UFC's official position is that we shouldn't hold our breath for Jones and Silva to ever actually get together in the cage, the pound-for-pound debate will continue to be wholly hypothetical into the near future.
If things play out according to chalk during 2012 however, Silva may still be the greatest MMA fighter of all time, but Jones will get my vote as the best on the planet right now.
October, 4, 2011
10/04/11
1:22
PM ET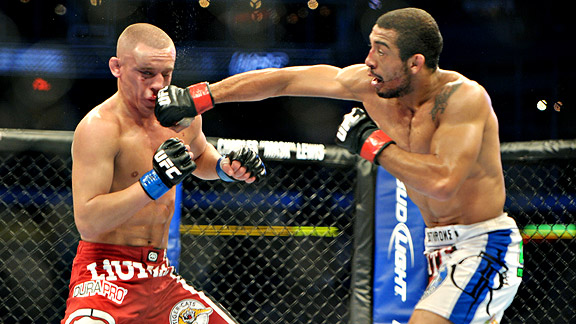 C.J Lafrance/Icon SMIJose Aldo, right, came away with a win in his Octagon debut, but he still failed to impress.
Leading up to Saturday's featherweight title bout at UFC 136, most of the prerequisite talk about legacy and consequences has rightly fallen on
Kenny Florian
.
Florian, after all, is the one dogged by the notion that he can't win the big one. He's the one who has already lost two previous title fights and one championship eliminator inside the Octagon. Rightly or wrongly, he's the one who appears to have been chased down to 145 pounds for what might be his last best chance at capturing UFC gold.
If Florian can't overcome the more than 2-1 odds against him in this fight, it's unclear where goes from here. That's pressure.
In terms of expectations and unfulfilled potential however, Florian is not alone. After all the talk of him as nothing short of a game-changing force in the featherweight division, his opponent,
Jose Aldo
, must be feeling a little added anxiety as well -- especially after he didn't exactly set the world on fire in his UFC debut five months ago.
[+] Enlarge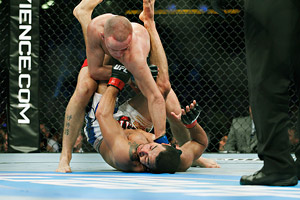 Ric Fogel for ESPN.comWhether he was just in cruise control or really in dire straits, Jose Aldo didn't look like the old Jose Aldo in Round 5.
Currently ranked No. 4 on
ESPN's pound-for-pound Top 10
, Aldo sure didn't look it against
Mark Hominick
at UFC 129 in Toronto. The champion crafted a unanimous decision win over the fan-favorite challenger, but seemed without most of his trademark explosiveness and killer instinct. He faded so badly down the stretch that, though he'd already raised a gigantic hematoma over Hominick's right eye, Aldo looked like he was simply hanging on for dear life during the final five minutes.
If the fight had gone another round or two, who knows how it would have turned out?
Spin that into a story of perseverance and "digging deep" if you want, but it was not the kind of performance we'd come to expect from Aldo, whose WEC fights were so lopsided that the UFC simply installed him as its featherweight champion when it absorbed the smaller promotion at the beginning of this year.
In previous outings, there were times when Aldo seemed to suspend the laws of gravity, as he did during his double flying-knee knockout of
Cub Swanson
at WEC 41. There were times when he made both current and former champions like Mike Brown and
Urijah Faber
look so hapless and out of sorts that his bouts against them were obviously over far before the final horn. Times when the most danger he faced inside the cage was pulling off a backflip from the top of it once victory was at hand.
Where was
that
Jose Aldo in Toronto?
[+] Enlarge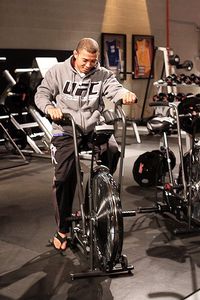 Sherdog.comWas a difficult weight cut to blame for Jose Aldo's subpar performance against Mark Hominick?
On the heels of his disappointing showing against Hominick, rumors circulated that Aldo had been sick. Later, a scheduled August fight against
Chad Mendes
was postponed due to what his camp called "pre-existing injuries," possibly related to the neck ailment that caused him to pull out of his originally intended Octagon debut at UFC 125.
This week, the UFC released a Portuguese language video shot the week leading up to the Hominick fight, showing Aldo struggling with a difficult weight cut. Oddly, members of his camp explained on the video that the problems were due to the added muscle mass Aldo put on during his last couple of fights, making it seem like cutting to 145 might be more of a chronic struggle than a one-time issue. There have even been whispers that the 25-year-old might one day make a full-time move to lightweight.
Any and all of these factors -- a sickness, lingering injuries and a difficult cut -- could have conspired to make Aldo look not quite himself at UFC 129. What he need to prove this weekend in Houston is that it won't happen again.
Aldo needs to show up on weight, unafflicted by injury or sickness and possessing of the quickness and power that built his reputation as the standard bearer in the featherweight division. He needs to show why he's a heavy favorite over Florian, why the UFC saw fit to appoint him its 145-pound titlist in the first place and why he deserves to be ranked ahead of guys like
Frankie Edgar
,
Dominick Cruz
and
Gilbert Melendez
on the pound-for-pound list.
If he can't do that -- if he can't turn in an impressive and complete performance reminiscent of the guy we watched tear through the WEC for two-plus years -- Florian won't be the only one with a lot of questions to answer come Monday morning.