May, 18, 2012
5/18/12
12:25
PM ET
It took 15 months and some monumental forks in the road to arrive at the end point of the Strikeforce heavyweight grand prix. No, it didn't go the way people thought it would, nor the way many hoped. There isn't going to be
Fedor Emelianenko
versus
Josh Barnett
. That fight, for its entire luster, never could come to terms with fate. Not in Pride, not in Affliction, not in Strikeforce.
However, of the eight-man field that was rolled out in January 2011 as the greatest stock of heavyweights ever assembled, Barnett was the steady. He was supposed to be in the final, and he is. He got there by competing in the quarterfinal (a submission of
Brett Rogers
) and the semis (a submission of
Sergei Kharitonov
). Isn't it strange that the man with the most asterisks coming into the tournament was in the end the only one who could stick to the script?
On the other hand, Daniel Cormier's course was improbable. He was an alternate to this tournament. A deep alternate. He was the 11th man in an eight-man field. Yet he worked over
Jeff Monson
on the same night Barnett clubbed Rogers in something called a "reserve bout." Then Cormier found his entry when
Alistair Overeem
was unceremoniously removed. What did Cormier do? He obliterated heavy favorite
Antonio Silva
on the feet with speed and power.
And that's how we arrive at the moment. The old "War Master" Barnett, against the opportunistic, understudy-turned-contender Cormier. The 1-seed versus the 11. Just how crazy has the 15-month journey been to San Jose? Crazy enough that sports books have these guys at even money heading into Saturday night.
Here are five things to watch for at Strikeforce this weekend.
Cormier's lack of experience
Daniel Cormier
is a nerves-of-steel guy. He is always relaxed. Right before his fight with Bigfoot Silva, he wore and expression that said, "I wouldn't mind a nap" more than "I'm about to lay waste to somebody." Needless to say, Cormier keeps himself cool under pressure.
This can be attributed to his wrestling days at Oklahoma State and later as a part of the 2004 U.S. Olympic wrestling team. Cormier has competed his whole life. You really believe that fighting -- for all its literal brutality -- is just another competition for him. He believes in his ability and knows he has deceptive explosiveness and speed. In short, his confidence shows in that calm expression.
Yet with only nine professional MMA bouts, and realistically only one of those against a top-10 opponent, how will he handle a submission specialist like Barnett? Even when training with the likes of
Mike Kyle
and
Cain Velasquez
, it's hard to duplicate the strength and slickness of Barnett, who has been at this a long, long time (since he was 19 years old, to be exact). Cormier will very likely find himself in fixes he hasn't been in before in the cage. How will he handle himself?
Barnett's comfort zone
Everybody knows what Barnett likes to do. He likes to muscle you to the ground, straighten you out, and work for submissions from that top position. He's not afraid to punch a hole in your head, either. Just ask Pedro Rizzo and
Gilbert Yvel
. But Barnett's most effective way of finishing a guy is to put him on his back and then fish for limbs to manipulate.
Dating back to 2006, Barnett has finished foes via toeholds, heel hooks, kimuras and arm triangle chokes. He does these things more with brute force than textbook jiu-jitsu. In Cormier, Barnett gets a guy who has never been made to fight off his back and has never had his shoulder joint pressured into a panic situation.
But the bigger questions are these: Can Barnett get Cormier to the ground? And if so, can he keep him there?
Melendez's motivation
Trilogies are usually pretty personal grudge matches. In the case of
Gilbert Melendez
and
Josh Thomson
, it feels more like a necessary evil. At least to Melendez, who will be asked to duplicate what he did in 2009 when he smoked Thomson in the rematch to unify the interim and meaningful belts. That fight was so definitive that most thought he was done with Thomson for good.
Well, circumstance has made that impossible. Thomson gets a chance to strip Melendez of his belt a second time because the "Punk" was the best option available on Strikeforce's depleted roster. It's a rubber match that benefits Thomson a thousand times more than Melendez, because third chances rarely come along.
Which begs the same question that has fallen to Melendez for the past year: How motivated will he be to again prove himself against Thomson? Knowing the work ethic of "El Nino," it's easy to expect to see him in vintage form. But complacency is a hard-to-detect virus that usually gets discovered after it's too late. Will Melendez suffer from this?
(Probably not, but you never know ...)
Thomson's attitude
The first time Thomson fought Melendez in 2008, it was as if Thomson was showing up for a day of capers and fun. He was smiling the whole time. He was loose. There were moments when it almost felt like he was messing with his younger brother, just fooling around. Every so often he would do something to remind Melendez that, when serious, he could dictate things how he wanted.
But the key to that fight was that Thomson was first. He was quick with the leg kicks. He was effective with his combinations. He would shoot now and again for a takedown and keep Melendez off balance. Thomson thwarted Melendez's wrestling. And by being the aggressor, he disrupted Melendez's timing and flow. Can he do that again?
Remember, Thomson had broken (and rebroken) his fibula before that rematch with Melendez in 2009, and he was carrying some ring rust after 15 months on the shelf. Chances are we'll see a combination of those two fights with one similarity: that it goes the full five rounds.
Feijao returns
Though it's getting very little fanfare, former 205-pound champion
Rafael "Feijao" Cavalcante
returns to the cage on Saturday night against Mike Kyle. Remember, Cavalcante is the guy who beat Muhammad Lawal to win the Strikeforce belt not all that long ago. And, in his title defense against
Dan Henderson
, there was a moment where it looked like Cavalcante had Hendo in trouble.
It's been eight months since Feijao beat Cuban freestyle wrestler Yoel Romero, a fight that Cavalcante finished even with a broken arm. He's still one of the best 205ers in the world, and a win over a tough Kyle might make Feijao a tempting property for the UFC to bring over and fortify its own light heavyweight division. After all, the list of contenders for
Jon Jones
has shrunk down to Henderson and change.
May, 10, 2012
5/10/12
4:10
PM ET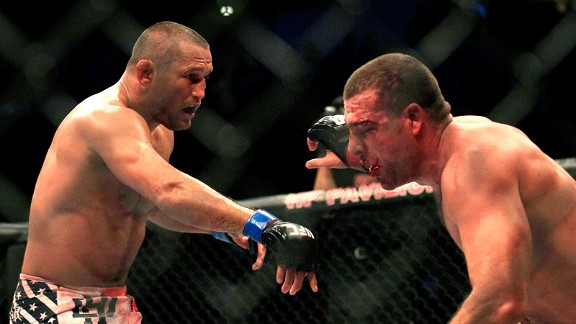 AP Photo/Jeff ChiuDan Henderson's potent right hand could be trouble for light heavyweight champ Jon Jones.
There are at least two kinds of greatness in MMA. Greatness that's current (like
Jon Jones
), and greatness that's always been (like
Dan Henderson
). In a world of immediacy, we warm our hands more quickly to the former.
Henderson now knows the date for his title challenge with Jones, and that'll be Sept. 1 in Las Vegas. He will celebrate his 42nd birthday just a week prior to the fight. In 1987, Jones was being introduced to onesies while Henderson was reciting lines from "Vision Quest" and winning state wrestling championships at Victor Valley High School in California. The vegetation on his ears is older than Jones.
If nothing else, Hendo definitely has the experience edge over the UFC's current light heavyweight champion. He's been at it a long, long time. Yet the books opened in Las Vegas with Jones installed as a 6-to-1 favorite for this UFC 151 clash. The 24-year old Jones would be a huge favorite over anybody in the 205-pound division, so nothing peculiar there. There's no such thing as even money bet with Jones in 2012, unless he borrowed from Anderson Silva's flight of fancy and fought his clone. (Ahem).
Yet what is interesting all these months ahead of the fight is that so many people consider it a foregone conclusion that the prodigy will smash the old ax grinder. In fact, the thing is being discussed as inevitable. Forget about odds,
Henderson has no shot
.
In a game that deals in shaping perception, this becomes the UFC's task to mend for no other reason than this: it's hard to generate buzz on a perfunctory matter. Between now and late summer the idea needs to be that Henderson
does
have a shot. This of course would be best sold as something believable.
And realistically -- why should that be such a tough sell?
Surely over the course of winning simultaneous titles in Pride FC and later taking the 205-pound belt in Strikeforce there should be some love for Henderson here. His list of casualties in the UFC, Pride and Strikeforce -- pan-divisional -- is next to impossible. He was wrecking guys like
Antonio Rodrigo Nogueira
,
Vitor Belfort
and
Wanderlei Silva
during their heydays.
As for his own prime? It's apparently a dozen-year venture. Henderson knocked out
Michael Bisping
with that anvil right at UFC 100. Since then he finished
Renato Sobral
,
Rafael Cavalcante
and
Fedor Emelianenko
, and he decisioned
Mauricio Rua
at UFC 139. He did these things in his late-30s and early-40s. These are feats that, if lost on the media, aren't necessarily lost on his peers.
Last week on MMA Live,
Jorge Rivera
had Henderson in his top five pound-for-pound fighters.
Daniel Cormier
told MMA:30 that he "should be mentioned as one of the greatest fighters of all-time, if not the greatest fighter of all-time, but he's missing that UFC title. He has to be a UFC champion. I think if he is, Dan Henderson will universally be considered the best fighter of all-time."
To be considered anywhere near the greatest of all time you'd have to believe Henderson has more than a puncher's chance to beat the greatest of right now. Yes, Jones' landslide run through the division trumps Henderson's legacy in forecasting how things will play out. If Shogun,
Quinton Jackson
,
Lyoto Machida
and
Rashad Evans
failed to make Jones appear even remotely vincible, what makes Henderson any different? Nothing, it seems.
Jones is not only destroying opponents, but also our sense of imagination.
Yet the other reason that Henderson is unsung goes back to what Cormier was touching on -- he has been decorated as this sort of fugitive champion in other organizations, but not the one that we store greatness by. He hasn't made it to the top of any weight class in the UFC.
And at 42 years old -- or any age, really -- Jones looks like a pretty imposing hurdle to get there. Imposing, that is, not unclearable. Henderson's a guy that fights in squalls and yet has remained a lesson in perseverance for more than a decade. He has a chin, and what he gives up size he makes up for it in leverage, a tangible from his Greco-Roman days. And he has that "H-Bomb" right hand. He's smart on how and when to deploy it.
Does all of that make for a competitive fight with Jones? Not necessarily. It still feels like a reach, as it will continue to feel until Jones is downsized into something human.
Yet given how long Henderson has sustained his own brand of greatness, it doesn't feel like a given he'll lose, either.
September, 12, 2011
9/12/11
1:10
PM ET

By Chad Dundas
ESPN.com
Archive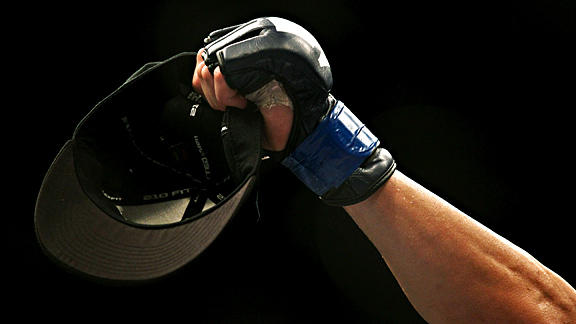 Ross Dettman for ESPN.comHats off to Strikeforce for a gem of a card Saturday (even if the organization is about to bite the dust).
By any measure, Saturday's "Strikeforce: Barnett vs. Kharitonov" show was one of the company's best, most complete efforts in recent memory.
Somehow -- beyond all reasonable expectation -- Strikeforce actually lucked into a halfway intriguing final for its beleaguered heavyweight grand prix tournament when
Daniel Cormier
and
Josh Barnett
breezed through their semifinal matchups. It welcomed a pair of former champions back to the fold as
Muhammed Lawal
and Rafael "Feijao" Cavalcante both nabbed much-needed wins, conceivably setting up a rematch between the two for its vacant light heavyweight belt. It also crowned a new and arguably more interesting middleweight titlist in the upstart
Luke Rockhold
.
Even the two-and-a-half-hour preliminary broadcast turned out to be worth watching, despite a reliance on annoying overhead camera angles and oxymoronic attempts to dub Mike Kyle's bout against Marcos de Lima the "undercard main event."
Not for nothing guys, but a fight can't really be a
main event
if it's on the … ah, never mind.
Point is, for the first time in a long time, it felt like Strikeforce was making progress on Saturday in Cincinnati. The irony, of course, is thick: Along with some obvious help from Zuffa, it seems Strikeforce is shifting into second gear just as the road ahead prepares to dead end in a cliff.
Really?
Now
Strikeforce is going to start establishing some momentum?
Now?
At this point, the questions we should be asking aren't whether or not the winner of the grand prix should be the new Strikeforce heavyweight champ (he should) or what Rockhold's first title defense should be (rematch, naturally), but if the company will even live long enough to see these storylines through to completion.
Perhaps the only thing keeping Zuffa brass from pulling the plug right now is Strikeforce's ongoing broadcast contract with Showtime. Reports indicate that deal expires sometime in early 2012, but the premium cable channel has the option to extend it as far into the future as 2014. If Showtime declines, Strikeforce may well die on the spot. If it opts to renew, Zuffa's hands could be tied.
[+] Enlarge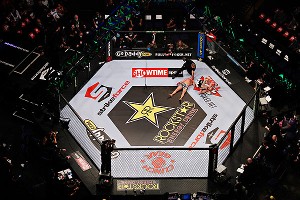 Ric Fogel for ESPN.comStrikeforce is finally coming of age as a promotion, but it might be a case of too little, too late.
Just to make things even more confusing, Strikeforce announced following Saturday night's event that it's planning the grand prix championship some time during the first quarter of 2012. That is, if Cormier's apparent hand injury doesn't turn out to be serious enough to put him on ice for an extended period. That could be disastrous. It would seem the fight organization can't afford any delays.
With all this in mind, the TV guys might have a very interesting decision to make here during the next several months. The Catch-22 is that Zuffa's influence is clearly already changing Strikeforce for the better and better broadcasts naturally sweeten the pot for Showtime. On the other hand, all previous reports indicate Showtime can't stand certain high-ranking Zuffa officials. So, what's the proper play here?
Will the promise of an increasingly relevant product be enough to keep Showtime and Zuffa in business together? Will Showtime just wash its hands of the whole arrangement? Could it extend the life of Strikeforce just because it knows that's exactly what Zuffa
doesn't
want it to do? You can see the dilemma.
For fight fans, the real question is this: If Showtime doesn't keep Strikeforce on life support, will the grand prix final also be the promotion's last show? Or might it not happen at all?
August, 25, 2011
8/25/11
7:06
PM ET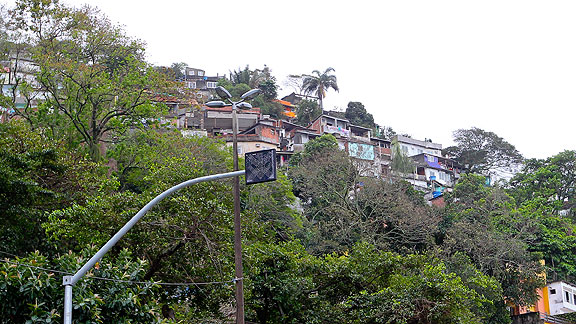 Ed Mulholland/ESPN.comPedro Rizzo is doing his part to help underpriviliged children from Rio's favelas.
Rio de Janeiro -- At 37, former World Vale Tudo champion Pedro Rizzo is an icon in his native country. Part of this is because he is a highly visible former UFC fighter who fought Randy Couture twice for the heavyweight strap back in 2001. In fact, he can currently be seen on "Super Heroes" billboards alongside Jose Aldo, Junior dos Santos and Antonio Rodrigo Nogueira all over Rio's down and out neighborhoods.
But it's primarily because of
who
he is rather than
what
-- those billboards are appended by the words "Sao de Verdade" -- which all told translates to "Super Heroes are for real." It's not an advertisement for homegrown MMA champions, but for a project that he began in April of this year called Usina de Cidadania ("power plant of the citizenship"), a school for local impoverished children from nearby favelas.
He started the school to give the children something positive to focus on outside of their current, often-dire situations. In short, it operates on encouragement, with a goal of bringing out potential.
Usina Cidadania sits on the vast Manguinhos gas refinery central to 30 notorious favelas in northeastern Rio. A security guard is at the gate 24 hours a day to allow traffic in and out. The Brazilian highway rages right in front of it, and you drive through the heart of the favelas to get there, with street vendors hocking candies and cold drinks. There is nothing glamorous about it outwardly. But it's a paradise for the kids that attend. And, though attendance has now swelled with students who study English, math and the arts, one of the big allures is that Rizzo and the aforementioned fighters also teach MMA.
"We have 700 kids now, between seven and 17 years old," Rizzo said while showing ESPN.com around the premises. "When they turn 17, if they are good, we try to arrange a job for them. If they have a talent in the sport of MMA we try to send them to university to be athletic students so they don't have to pay for that. We try to take care of them to the end. Some of them… we lose them, but most of them we can help."
The one caveat is that kids must remain enrolled in their public schools. In Brazil, school is split into morning and afternoon sessions. Kids go from their regular school to Rizzo's.
The MMA package that Rizzo -- along with Aldo, the Nogueira brothers, Junior dos Santos and Rafael Cavalcante -- teaches is split into five disciplines. They are kickboxing/Muay Thai, capoeira, judo, jiu-jitsu and MMA, broken into classes of 50 kids apiece. They have a gym with mats and gloves to train in. Some of the children take to the sport immediately. Others use it as a recreational sport. To Rizzo, it's all the same -- so long as they're taking discipline from it.
"I know I'm not going to make 700 champions, but if we can put in their minds a little bit of discipline of sports, that's good," he says. "Sometimes you win, sometimes you lose, sometimes it's good, sometimes it's bad, you have good days and bad days.
"But you also gain respect for your opponent, respect for your training partners, so if we can put just a little discipline in their head, in their mind, they're going to take that for their entire lives. That's what we want. I know we're not going to make 700 champions, but for sure we're going to make 700 better human beings."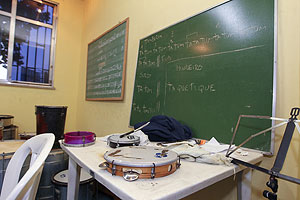 Ed Mulholland/ESPN.comThere's more to Pedro Rizzo's youth program than fat lips and bloody noses.
Everything that Usina de Cidadania has is donated, from the woodshop materials to the music room instruments to the suing equipment.
Manguinhos has been particularly generous in its donations, equipping the primary training facility with mats, gloves and bags. The oil company is now sponsoring MMA fighters (Rizzo, Aldo and dos Santos among them) and events, which have become rampant in Brazil over the last couple of years.
Outside there is a basketball court and a soccer field. But in an aluminum hangar with an open face just behind the school is the signature possession -- a full-sized octagon. Rizzo still fights professionally and has a bout tentatively scheduled for October, and this is where he does the bulk of his training. Others who want to escape the rigmarole do the same. Anderson Silva, whom Rizzo is helping to train in kickboxing ahead of UFC 134, is a regular. Many of the Manguinhos fighters train here for seclusion. There's even a dorm room of sorts set up for visiting fighters who want to stay on campus. It's an all-inclusive resort of Rizzo and his students.
And Rizzo has the respect of the favelas, too.
"The drug dealers usually have guns, but when I come in they will hide them [in their coats]," he says. "It's out of respect."
Usina de Cidadania advertizes all through the favelas, whether they've been pacified [where police now control things] or not [the scary, lawless type of favela]. If he can help troubled kids who come up without a lot of hope find a different path, then he'll have reached people on a different level than inspiring admiration from his work in the cage.
"The work here is very pleasant, because I feel like I am doing something. I have started paying back my success," he says. "You say, I got everything in my life, I fought everyone in the world, I fought the best fighters, I fought at the best events, I earned my money, I live exactly with what I did in the ring, now it is time to pay back to society what happened to me."
And to expand. Rizzo says that he expects more students over the next year and to renovate the soccer field and other facets of the campus that can use it. He says he expects to have over 1,000 kids participating in MMA in some shape or form, and that a small percentage of them might one day be champions.
"I am positive, we can arrange at least 10 champions through there," he says. "If we train 1,000 kids over the next year, then for sure we can get 10 world champions out of that. International athletes…I know we're going to have a bunch of them, but I think at least 10 champions. The teachers working there, all of them are good. They are good teachers, they are always there watching the kids. We (the fighters) are always watching the kids. We can spot the talent from the very beginning. We are there to help them. We can give them everything they need. They can't say, 'I don't have a gi for training,' because they have a gi. They can't say 'Oh, I don't have a place to train,' they have a place, they have a mat, they have a bag… they have everything.
"They just have to work."
July, 26, 2011
7/26/11
6:32
AM ET
Dan Henderson
doesn't go for easy storylines.
He downplayed dangerous submission specialist
Rousimar Palhares
ahead of UFC 88 to the point that you'd have thought the UFC plucked a random name out of the hat for him on a drunken dare. When it was brought up that he hadn't won a fight in the UFC in a decade at that point (mostly because he wasn't there), he laughed off the audacity of the media. And prior to fighting
Rafael Cavalcante
for the 205-pound belt in Ohio, the first thing he did was eschew parallels between fighting a Black House guy in Columbus for a belt, a circumstance he'd been through once before with
Anderson Silva
at UFC 82.
"Yeah, he is from the same team, and it's the same town," he said at the time. "But he's a different fighter and I'm a better fighter than I was then."
[+] Enlarge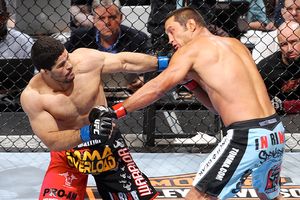 Scott Cunningham/Getty ImagesDan Henderson, right, isn't one to play a role just to hype a fight.
In other words, he wasn't about to play up a bunch of coincidences. Maybe it was because he didn't want there to be a parallel outcome.
Now he's about to fight
Fedor Emelianenko
whom he shares a long, storied legacy with in Pride. That's three Pride titles (and one Strikeforce belt) being piled into the cage, only with the stakes tangibly lowered by the passage of time. No accessories will change hands since its being fought at heavyweight, but surely there's a decade's worth of stored-up intrigue in play from when they were overlapping champions, right? The old East versus West rivalry? Sambo versus Greco? Champion versus champion?
Not so much.
"It wasn't me who really wanted the fight," Henderson told ESPN.com. "It's something that the media and the fans have been asking about since I signed with Strikeforce. It wasn't me that was asking for this fight.
"I think there was a little bit of a rumble about it back when I beat Wanderlei [Silva] and took his belt in Pride. I made a comment, 'I guess heavyweight is next,' but it was more of a joke. But then when I signed with Strikeforce, that would be the key to why this came about. All the fans and the media were wanting this fight."
That's Henderson for you -- forthright, even-keel, ever-ready to fight whoever, whenever, in whatever weight class, so long as it makes for an interesting viewing experience for fans.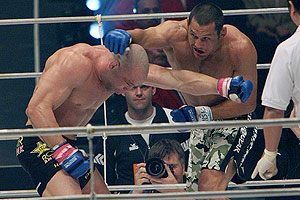 Dave Mandel/Sherdog.comFight fans were beating the drums for a Henderson-Fedor showdown after Hendo defeated Wanderlei Silva, left, at Pride 33.
And yet, even if he hasn't pined for the super-fight, he did have a vicarious experience with Fedor back in 2007 when his training partner at the time,
Matt Lindland
, fought Fedor in St. Petersburg, Russia. Though he didn't help Lindland train for Fedor, he was in his corner that night and watched his then-Team Quest teammate get tapped unceremoniously fast (via armbar). It didn't turn out like Rocky IV, but Henderson got to witness how the "Last Emperor" is received in his native land.
"I've seen it before in Russia with different athletes, especially with Aleksandr Karelin in wrestling," he says. "They treated him like a god. Fedor … not quite as much, but obviously he's highly regarded over there and well-loved by the fans. It was kind of a different thing than how they treated Karelin, though."
Did it cross his mind how he would have fared against Emelianenko that night?
"I guess a little bit," he says. "I would have done a much better job."
You can change the tenses to "I
will
do a much better job," because now he'll have the chance this weekend. If you want a parallel to the old Pride days when both men where king, Henderson does offer this: Expect each of them to appear in their vintage forms.
"Obviously Fedor is real dangerous whether he's in shape or out of shape -- I've seen him where he's really out of shape and he still knocks guys out or pulls through and win the fights," he says. "But as far as his two losses, it might diminish it a little bit, but it probably re-motivated him to where he's going to come in in shape and that's the Fedor I want to fight.
"He's going to be a little more mobile bouncing around and a little more offensive that first round. I just need to implement my game plan and wear him out at the same time, especially in that first round … that first round is going to be crucial."
That pretty much says it all.