December, 31, 2014
12/31/14
8:49
AM ET
LAS VEGAS -- If
Donald Cerrone
ever gets his hands on a UFC lightweight title, the whole game better be ready for a radical change.
While the majority of UFC champions typically want to fight (at most) three times per year, Cerrone sets his yearly target of appearances at about twice that. Having a belt around his waist wouldn't change that.
"Let me get the belt, because I'm changing the organization completely," Cerrone said. "All the 155-ers would be like, 'Holy s---, we got to go! We got to fight! This sumb---- is calling out all of us.'
"Let me get that belt and I'm [fighting] every couple months."
Cerrone (25-6) doesn't know what works for other fighters, nor does he care. He finally seems to know what works for him -- a convenience that has eluded through much of his career.
The 31-year-old "Cowboy," who fights
Myles Jury
at UFC 182 at MGM Grand Garden Arena, has long searched for the most effective approach to martial arts.
[+] Enlarge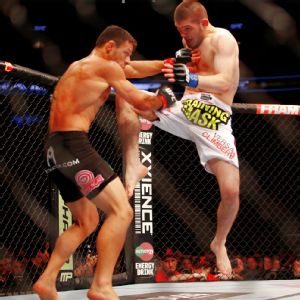 Ross Dettman for ESPN.comKhabib Nurmagomedov, right, could prove to be a foil to Donald Cerrone's title hopes.
In his early days, Cerrone says he'd take a fight in -- wherever, Japan say -- walk off the plane straight into a bar, drink for days, make weight and fight. Later in his mixed martial arts career, he went through a phase of serious self-doubt, wondering before fights if he even belonged in the same cage as his opponent.
In 2013, he was involved in a rock-climbing accident, which (briefly) had him swearing off an extreme-sport lifestyle outside the cage. It didn't last. Last week, with a major fight on the horizon, he was tearing through Colorado backcountry on a snowmobile.
He's allowed emotions to get the best of him, most notably a decision loss to
Nate Diaz
in 2011. During the fight, Cerrone kicked Diaz's legs out several times but refused to follow him to the ground, which might have won him a round and changed the complexion of the fight. In September, Cerrone was different -- at times taking
Eddie Alvarez
to the floor to seal the deal on his fifth consecutive win.
"In the Diaz fight, I called him [back to his feet] every time because that was the arrangement [he] and I had behind stage -- 'Let's stand and fight,'" Cerrone said. "It was like a pride thing. When Alvarez went down, yeah, I should have called him up but the smart fighter said, 'Just go down and let's get this W.' I didn't let emotions take over."
He remains a truly unique character in MMA. Immediately after a win, Cerrone demands to schedule his next fight before UFC president Dana White leaves the building. If given the choice between waiting for a guaranteed title shot or taking a potentially risky fight against a no-name opponent, Cerrone will always choose the latter. He says he's willing to fight "smarter" now, but in the same breath, admits he's an entertainer and would never take a boring path to victory.
He says he relishes the opportunity to speak to media now, which is a major change. During his days with the WEC, Cerrone recalls dreading media obligations in various cities around the country.
"We were in Youngstown [Ohio], and I'm like, 'It's four in the morning and I'm going on TV after a dog,'" Cerrone said. "Literally, they had a dog doing tricks and me and Reed [Harris, WEC co-founder] are up next. [UFC director of communications Dave Sholler] said, 'Look, Cowboy -- this is what we've got to do. We've got to get people to know you.'"
People know Cerrone now, and a lot of that has to do with him embracing his Cowboy persona in and out of the cage. With a win over Jury, Cerrone could potentially play it safe and wait for a title shot against
Anthony Pettis
, but he's already discussing a future matchup against
Khabib Nurmagomedov
-- a grappling-heavy Russian, who some might argue is a bad matchup for Cerrone.
That's the Cowboy way, though. And in 2014 and beyond, Cerrone's game plan is let Cowboy be Cowboy. Can that lead to a UFC title? He believes so -- even has a place picked out for the occasion.
"[Pettis], main event in Denver, Colorado -- come on m-----f-----," Cerrone said. "That could be the name of the show."
December, 11, 2014
12/11/14
3:54
PM ET
Nate Diaz
returns to the Octagon this weekend. That part is simple enough.
Describing the circumstances surrounding his return is a little more difficult.
Diaz, 29, is in Phoenix this week to do a job: promote his bout against
Rafael dos Anjos
at US Airways Center, make weight and fight. He's not there to enjoy himself and he won't.
Now in his 11th year of fighting professionally, Diaz makes that last part crystal clear.
"I don't really like doing this anymore," Diaz told ESPN.com. "I'm trying to get through a couple days of work, cut some weight, do media, fight this guy and go home.
"How would you feel if you were getting ready to fight somebody in a cage in front of everybody?"
"

How would you feel if you were getting ready to fight somebody in a cage in front of everybody?

"

-- UFC lightweight Nate Diaz
When Diaz, a Stockton, California, native, first started fighting professionally, he says the only emotion he really felt was nerves. When he made his pro debut in October 2004, he wasn't thinking about money and he didn't consider fighting a "job."
Years within the industry have changed that. Diaz says he's seen millions of dollars change hands directly related to his work, while he receives "quarters" for it. His displeasure came to a head this year, when Diaz essentially stopped accepting fights and told the UFC he wished to renegotiate an eight-fight contract he signed in late 2012.
According to Diaz and his manager, Mike Kogan, the eight-fight deal was signed with a verbal promise from the UFC that should Diaz ever be unhappy with the deal, the two sides would sit down and renegotiate.
After the signing, Diaz lost his next two fights, bounced back in November 2013 and went to the UFC to renegotiate. The company declined to do so.
UFC president Dana White has stated Diaz was happy with the deal when it was first signed and, with a 1-2 record in his past three fights, is not in a position to ask for a raise.
The holdout ends this weekend. Diaz (17-9) will fight for the first time in nearly 13 months. His return is not based, he says, on anything other than the fact he's "broke." He says he's doing what he has to, to "pay some bills and get some dinner."
Saturday will mark Diaz's 20th fight in the UFC. He has no idea how many more there will be. He potentially has plenty of years left to his career, but heading into this weekend, Diaz doesn't have much optimism anything will significantly change.
He made a disclosed $50,000 for a UFC lightweight title fight against Ben Henderson in 2012. In his last fight, his disclosed pay was $30,000.
Those figures do not represent the total figure Diaz made in those fights, but it's far less than the disclosed $200,000 his teammate,
Gilbert Melendez
, made last weekend in a failed title bid against
Anthony Pettis
at UFC 181 in Las Vegas.
That discrepancy likely had something to do with Diaz's holdout. After the holdout didn't work, it now has him wondering where exactly his career is taking him -- if anywhere.
"I have a job to get done this week but at the same time, I don't know what I'm doing here," Diaz said. "I just feel like a company and a fighter should treat each other mutually. Instead, I feel like I put in a hell of a lot more than I get back and when I ask for more, I get trashed.
"I don't think I'll ever get the work and damage I've done to myself back -- and if I keep going, it's just going to get worse. So, what the f--- am I doing it for?"
He says his relationship with the UFC has reached a point he actually believes the promotion is rooting against him this weekend.
"I think they want me to lose," Diaz said. "They put me in a co-main event so it would be a three-round fight instead of a five-round fight. I don't think anyone is on my side here. I think this is all set up to see me go down."
Of course, there are two sides to every story. Anyone can make the argument that Diaz, under his own free will, signed the eight-fight contract in 2012 and White told ESPN.com the promotion obviously doesn't have a say in the outcome of fights.
"I have liked Nate since the day I met him," White said. "We don't determine who wins and loses. The fighters do. I think Nate has to motivate himself by thinking the world is against him."
And Diaz says he does like the matchup with Dos Anjos (22-7), who has won seven of his past eight fights. Should he defeat Dos Anjos, the only fight that would interest him at 155 pounds would be against the champion, Pettis (18-2).
"F--- the title, I just want to beat that guy," Diaz said.
It's an awkward set of circumstances to be under, heading into a cage fight. Diaz is disgruntled, unsure of what his fighting future holds and looking forward to getting it over with so he can go home.
At the same time, he understands exactly what he's signed up to do this weekend -- and the dangers it presents. He says disgruntled or not, he's prepared for what's coming.
"I don't know what I'm doing here, but at the same time I know exactly what I'm doing here," Diaz said.
"I've been representing the UFC for years. I'm like a walking UFC sign. Everywhere I go, they're like, 'UFC's in the house.' But there's no love back. That's how I feel about the situation, but I came to fight. I train to win -- always. Whatever happens with this s--- has nothing to do with the fight. In [the Octagon], it's kill or be killed."
August, 29, 2013
8/29/13
12:41
PM ET

By Franklin McNeil
ESPN.com
Archive
That four-fight winning streak
Rafael dos Anjos
took into his lightweight fight Wednesday against
Donald Cerrone
was looked upon with some skepticism.
Just who had dos Anjos beaten en route to earning top-10 consideration, exactly?
Mark Bocek
,
Evan Dunham
,
Anthony Njokuani
: All are formidable mixed martial artists, but not contender-worthy at this time.
During that four-fight run, dos Anjos succeeded in raising a few eyebrows by demonstrating improved striking skills. His submission abilities have never come under scrutiny, and rightfully so. But he was facing a serious challenge in Cerrone, a top-10 lightweight with title aspirations still firmly in his mind.
To earn his way into contender status, dos Anjos had to beat Cerrone. That was something most observers did not expect him to do at UFC Fight Night 27's co-main event in Indianapolis.
Dos Anjos would prove the skeptics wrong, and in a major way. He handled Cerrone, who began the bout ranked seventh among lightweights by ESPN.com, during the first two rounds, and in surprisingly easy fashion.
His attack was relentless, and his strikes -- both kicks and punches, especially the right hand -- had Cerrone on the defensive just seconds into the fight. By the third round, it was understood by all that Cerrone needed a finish to keep his title hopes afloat. But that never happened, as dos Anjos played a bit safe in the final round to secure a unanimous decision.
[+] Enlarge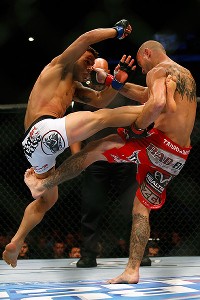 Ross Dettman for ESPNRafael dos Anjos, left, utilized an array of kicks, punches and everything else to outpoint Donald Cerrone.
With his work against Cerrone complete, dos Anjos' winning streak sits at five. The difference now: The validity of the streak is no longer questioned.
Defeating Cerrone in lopsided fashion puts dos Anjos on the lightweight contenders' list. No doubt about it. Another 155-pound opponent awaits dos Anjos. He likely will enter that bout as the underdog as well, but expectations will be higher. And dos Anjos is prepared to meet them.
"This win over Cerrone is my fifth straight, so I've taken a big step forward in my career," dos Anjos said after improving to 20-6. "Whenever the UFC thinks I'm ready for a title shot, I'd be honored to take it."
Confidence is one thing dos Anjos isn't lacking. A five-fight winning streak, including one over Cerrone, will do that for any lightweight.
Cerrone, on the other hand, has no excuse for his lackluster performance at Bankers Life Fieldhouse. He was adamant before the bout that a pending legal matter was not a distraction.
In every sense, Cerrone seemed prepared to leave the cage Wednesday night victorious. Dos Anjos was not supposed to be in his league -- on paper, at least.
But something just didn't seem right with Cerrone. Maybe thoughts of that third-degree assault charge eventually weighed on him after all. Maybe it was those hard kicks and right hands -- especially that right hook to the jaw from dos Anjos that dropped Cerrone in the opening round.
Whatever the reason, Cerrone (20-6, with one no contest) must pick himself up, dust himself off and get back in the cage as soon as possible. He loves fighting regularly -- Wednesday's bout was his third this year. And when he returns, Cerrone must get back to being that aggressive, hard striker fight fans have come to know and enjoy watching.
Cerrone is not completely out of the lightweight title hunt yet, but he is walking on thin ice. Two losses in three fights can't be brushed off easily.
August, 26, 2013
8/26/13
6:25
AM ET

By Franklin McNeil
ESPN.com
Archive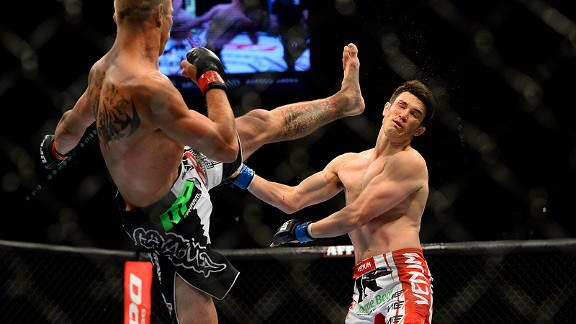 Al Powers for ESPNBest foot forward: Donald Cerrone, left, hopes to bring his most complete form into Wednesday's fight with Rafael dos Anjos.
Backing away from a fight is not in Donald Cerrone's DNA. Whether the fight is inside or outside of a cage, Cerrone is up to the task, giving everything he has and always expecting to walk away victorious.
Cerrone has a lightweight bout Wednesday night in Indianapolis against
Rafael dos Anjos
-- whose four-fight win streak has pushed his pro mark to 19-6 and earned him the No. 10-ranking among lightweights by UFC.com [he is unranked by ESPN.com]. With an improved striking game to sufficiently complement his submission skills, dos Anjos poses a stern test for any fighter at 155 pounds.
Everything these days seems to be working out just right for dos Anjos, even the timing of this fight with Cerrone, who will enter the bout with a legal matter hovering over his head. It would seem that if ever there was a time for Cerrone to be vulnerable, this would be it.
But things are not always quite what they seem. Cerrone is very aware of the third-degree assault charge -- stemming from an incident in June -- that he must face sometime after his UFC Fight Night 27 bout. He isn't shying away from that situation and has cooperated fully with authorities, according to UFC officials.
The courtroom battle, however, is for a later day. Cerrone isn't allowing his legal issue to interfere with the matter at hand: beating dos Anjos in order to strengthen his claim for a title shot. Nothing else matters to Cerrone at this time.
"I'm 100 percent devoted to this fight [with dos Anjos] and that's it," Cerrone told ESPN.com. "My mind is where it's supposed to be, and the legal matter has nothing to do with it. I'm 100 percent ready, my camp was good, and I feel great."
Cerrone is so determined not to allow anything or anyone to disrupt his focus that he refuses to discuss the legal case anymore. Besides, he doesn't have any answers to give regarding it; his mind is set solely on ridding himself of dos Anjos.
"

My mind is where it's supposed to be, and the legal matter has nothing to do with it. I'm 100 percent ready, my camp was good and I feel great.

"

-- Donald Cerrone, on his mindset ahead of Wednesday's contest against Rafael dos Anjos
Interestingly, Cerrone doesn't have much to say about dos Anjos either. Cerrone hasn't paid much attention to his opponent since the fight was officially announced in June. Cerrone has spent the past two-plus months polishing his skills, preparing to manhandle whoever UFC planned to put in front of him. Dos Anjos just happens to be the guy.
"I don't know much about the guy; I haven't watched much video on him," Cerrone said. "I know that he is aggressive and likes to come forward. I know that I'm 100 percent ready to throw down."
Wednesday night's fight will be the third this year for Cerrone. Staying active keeps Cerrone in rhythm and keeps dollar bills in his pocket -- "I like money, that's why I fight so often. That's the best answer I can give." He fought five times in 2011, twice in 2012.
After stumbling out of the gate this year with a first-round knockout loss to
Anthony Pettis
, there is no room for error. If Cerrone, ranked seventh among lightweights by ESPN.com and sixth by UFC.com, is to make another serious run at the title, he must defeat dos Anjos.
Cerrone is seeking to win his second fight in a row. In his most recent bout, on May 25 at UFC 160, he defeated
KJ Noons
by unanimous decision. The victory improved Cerrone's professional record to 20-5 with one no contest.
It was a win that served to further boost Cerrone's confidence. He is convinced that a victory Wednesday night puts him solidly in the title conversations. And he strongly believes there is no one capable of preventing him from becoming UFC champion.
"This is the year that I feel I'm getting the belt. I don't know who is in line, whether it's
TJ Grant
or
Josh Thomson
. I don't know who's sitting in the slot," Cerrone said. "But hopefully a win over dos Anjos will put me in line with them, and then a win over them will get me a title shot. That's the overall game plan."
When Cerrone is done taking care of dos Anjos, which he strongly expects to do, he will turn his attention to fighting that third-degree assault allegation. Cerrone is confident he also will leave that fight victorious.
May, 29, 2013
5/29/13
7:19
PM ET
The UFC lightweight division is the deep end of the pool. It's nondebatable.
According to the new ESPN.com rankings, a well-rounded talent like
Jim Miller
no longer cracks the Top 10. Same for
Nate Diaz
-- and he fought for the title six months ago. Athletic knockout artist
Melvin Guillard
is facing potential unemployment.
With as loaded as the division is, it's pretty unbelievable
Benson Henderson
has already tied
BJ Penn
's record for all-time wins in a UFC lightweight title fight. Breaking that record in his next fight against
TJ Grant
is far from a given.
In 2011, I wrote a similar column to this, laying out the qualities it would take to beat
Frankie Edgar
. I ultimately said Henderson was the guy. I feel about 75 percent correct today. Edgar won that rematch, but you know. Spilled milk.
Question now is, who beats Henderson -- if anyone? Here are the lightweight contenders and pretenders, revisited.
The best of the rest:
Mark Bocek
, Guillard,
Joe Lauzon
, Miller,
Ross Pearson
.
These guys deserve to be in the conversation, but stars would really have to align for them to go all the way. Miller is terrific, but the evidence is there: When he runs into big, athletic lightweights he can't push around, he struggles. I'd love to see him take his style to the featherweight division, which could use a mean, durable, bearded former lightweight willing to wear a farmer's tan around. But Miller has long resisted the idea. We know Guillard is good for a handful of knockouts and an equal number of face palms Pearson could still develop, but he's been beaten at his own game twice in his past five fights. Never a good sign.
That somebody that you used to know:
Nate Diaz
Someone should probably stage an intervention for Diaz. Going back to his title fight against Henderson in December (not that long ago!), Diaz has tanked in back-to-back fights, talked about a return to welterweight (makes sense, given his vulnerability to bigger, stronger opponents) and been suspended for using a gay slur in a tweet (which he then said he wasn't sorry about). How confident are you right now the Diazes aren't at least thinking about a future WAR MMA card headlined by Nate? Not very, right?
The fantasy keeper league:
Edson Barboza
, Rafael Dos Anjos,
Rustam Khabilov
,
Jorge Masvidal
,
Khabib Nurmagomedov
Every one of these guys is under 30 years old. Say you set up a fantasy keeper MMA league, where wins are worth one point and title wins are worth three. What order are you drafting these guys in? Tough call.
Barboza, Khabilov and Nurmagomedov are the Andrew Luck, Robert Griffin III and Russell Wilson of the UFC lightweights. Of the three, there's something I really like about Khabilov. Even without the first-round finishes, you can just tell this guy does everything well and he's on opponents from start to finish. Barboza has made that weird jump from slightly overrated to underrated, thanks to a TKO loss to
Jamie Varner
. It seemed like everybody wanted to talk about this guy, despite the fact he barely, barely squeaked by
Anthony Njokuani
and Ross Pearson. Now, I don't think we're talking about him enough. It's tough to pick a future champion in this very young group, but I like Khabilov's chances the best, then probably Barboza.
The head case:
Donald Cerrone
It's possible nobody beats Cerrone when it comes to looking awesome in a win and then fairly terrible in a loss. Cerrone referenced a sports psychologist after his latest win over
KJ Noons
-- if you're unaware, that's been going on for a while now. When he's on, he's similar to other Greg Jackson fighters
Jon Jones
and
Cub Swanson
. He mixes it up, he reacts, he doesn't think. Other times, it's like he's trying to solve for "x" out there and he seizes up.
At this point, I admit I'm skeptical of Cerrone ever holding the belt. He doesn't fight particularly well in the big moments and quite frankly, he's never been that guy who expresses a burning desire to be a champion anyway. Worth mentioning though, I thought he beat Henderson at WEC 43 in 2009. As far as controversial Henderson decisions go, that's right up there.
The threats:
Grant,
Pat Healy
,
Gray Maynard
,
Gilbert Melendez
,
Josh Thomson
These guys are somewhat close to a title shot (with the exemption of Maynard, but I'm not willing to count him out). Thomson is going to make a lot of noise. He's not afraid to ask for things right now because at 34, his window at a title is smaller than it used to be. Melendez will be around. He's well-rounded, consistent, mentally tough and we know he can go five rounds, let alone three. I like Grant a lot. He's got the power to hurt Henderson and change the fight. As good as Healy is, and I like the welterweight-to-lightweight move right now, he's not quite as good as Grant, so if Grant falls to Henderson, it'd be tough to pick Healy over him. Interesting that these are some of the bigger guys at 155. Did small ball pack up and leave with Edgar?
The future champ:
Anthony Pettis
What just happened? Pettis had been waiting around for a title shot forever. For various reasons, mostly Edgar rematches, it never happened.
So in a move to speed up his title hopes, he called Dana White and asked to drop to 145. He fights
Jose Aldo
on Aug. 3. It's possible (not official) Henderson will defend the lightweight title against Grant 14 days later in Boston on Aug. 17. So basically, Pettis agreed to drop to a weight class he's never fought in to earn a title shot just two weeks sooner, and the UFC signed off on it. Seems like we all could have handled that better.
Anyway, win or lose, I don't think Pettis is long for 145 pounds. He has always seen 155 as his division and he's confident he has Henderson's number. I've always believed Henderson's claim he got caught up in the moment of the last WEC fight ever and strayed from his game plan against Pettis. I think that's real. I just don't think it matters. Even if Henderson goes into a rematch with a strategy more reliant on his size and pressure, Pettis beats him. Bold prediction time: Pettis is your UFC lightweight champion at some point in the next 12-18 months.
July, 6, 2011
7/06/11
6:10
AM ET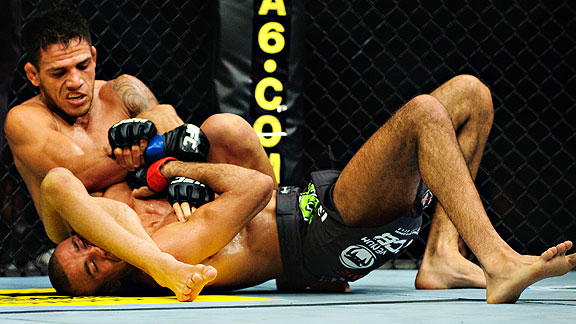 Martin McNeil for ESPN.comRafael dos Anjos admits there's work to be done before he reaches the lightweight pinnacle.
Rafael dos Anjos rejoined the ranks of the UFC's top lightweights at UFC 132 with a 59-second clubbing of George Sotiropoulos, and the Brazilian credited his first knockout win to skills honed far from home.
After undergoing surgery to repair a broken jaw sustained in an August 2010 loss to Clay Guida, dos Anjos traveled to Singapore, where he spent time developing his striking technique at Evolve MMA.
"I underwent surgery in August, then recovered in Brazil and moved to Singapore in October," dos Anjos explained to Sherdog.com after his July 2 win. "There, I worked hard to fix some holes in my standup game and focused only on my muay Thai and boxing. When I returned to Brazil, I kept working with my boxing coach, Cesario Figueiredo, and it showed in the power of my punches."
A Brazilian jiu-jitsu black belt under Aldo "Caveirinha" de Olivera, dos Anjos surprised fellow ground specialist Sotiropoulos with his striking, but confessed that it wasn't in his game plan to score such a fast finish.
"I didn't expect to win that quickly," dos Anjos admitted, "but, as I said, I work on every martial art. I entered the fight as I always do, feeling out my opponent, since my strategy was to trade on the feet if I had the advantage. If it was a case of him punching me, I would have tried to take him down and pull guard. However, thank God, I knocked him out."
Dos Anjos had a rough start to his UFC career with back-to-back losses, but had been on a three-fight win streak before running into Guida. Even after his shining performance at UFC 132, the Roberto "Gordo" Correa student doesn't think he is ready to enter the lightweight division's top five this year.
"It's the most difficult division in MMA. I'm just getting back from a tough time and I need to get my fight rhythm," said dos Anjos. "I'm doing my work, and I believe I'll fight again this year. For me, I need about two or three more years to enter the top five.
"I'm only 26 years old. You can see how different I was when I joined the UFC, and how I've developed my game. I believe, in a couple of years, I'll be in top condition, stronger and even more developed. Most of the champions are 29, 30 years old, or even older, like Anderson Silva. Only phenoms like Jose Aldo and Jon Jones are young champs."
And who does dos Anjos see as the top-5 UFC lightweights at current?
"Man, that's a question that I need to sit down, think hard and write down on paper so I don't forget anyone. For now, I can say Frankie Edgar and Gray Maynard are at the top, followed by a bunch of guys seeking the belt, like Clay Guida, Melvin Guillard and Dennis Siver. But I'm sure there are a lot of good guys to list."
July, 1, 2011
7/01/11
6:35
AM ET
The preliminary portion of the UFC 132 lineup figures to have a significant impact on the lightweight division on Saturday at the Mandalay Bay Events Center in Las Vegas. There, the surging Melvin Guillard will meet Shane Roller, Australian submission specialist George Sotiropoulos will lock horns with Rafael dos Anjos and "The Ultimate Fighter" Season 9 finalist Andre Winner will take on Anthony Njokuani -- all at 155 pounds.
More »