February, 26, 2014
2/26/14
1:24
PM ET

By Brett Okamoto
ESPN.com
Archive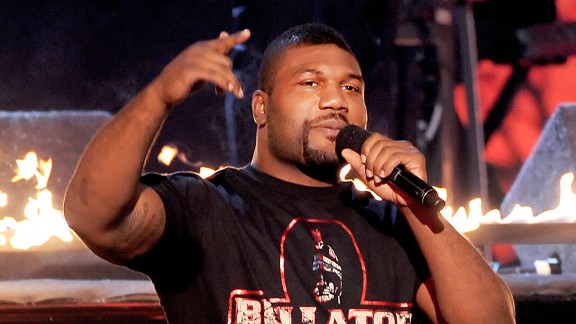 Kevin Winter/Getty Images for Spike TVSinging its praises: Quinton Jackson is happy at his new home with MMA promotion Bellator.
Quinton Jackson
isn't about to promise he'll fight three times this year -- something he hasn't done since 2007 -- but he doesn't frown upon the idea.
Jackson (33-11) will make his first appearance of 2014 against
Christian M'Pumbu
at Bellator 110 on Friday in Uncasville, Conn. The card will be televised on Spike TV.
The bout is part of a four-man light heavyweight tournament, which also includes former Strikeforce champion
Muhammed Lawal
and
Mikhail Zayats
. With a win on Friday, Jackson is expecting a somewhat quick turnaround to the tournament final.
Jackson, 35, hasn't fought three times in one year since a monster campaign in 2007, when he defeated
Marvin Eastman
,
Chuck Liddell
and
Dan Henderson
, unifying the Pride middleweight and UFC light heavyweight titles in the process.
"These days, I do whatever I want," Jackson told ESPN.com. "I don't do stuff because people bully me or make me do it contractually.
"If I want to fight three times, I will. I know for sure I'm fighting two times pretty soon. I could fight four times this year. When I was in Pride, I fought six times. If I'm healthy and I want to do it, then I'll do it."
The biggest problem, as it has been for Jackson, could be avoiding long breaks from the gym in between fights. He admits it's still a challenge to work out on a regular basis, especially when a fight isn't booked.
"In my old age, I should get smarter and train year-round," Jackson said. "This is not my hobby. A lot of people are fan-boys who do it year-round. No disrespect, but that's not me. It's hard for me to get out of my house and train twice a day."
With his tournament semifinal bout days away, "Rampage" Jackson talked about his upcoming opponent, a knockout win over
Joey Beltran
in November and some of the bigger headlines currently dominating mixed martial arts.
ESPN:
You were thrilled with the restoration of your knees heading into your previous fight. How have they held up since?
Jackson:
You know, one of my cars is a stick shift and when I change the gears, my knees bothered me. I stopped driving that car and my knees immediately felt a lot better. I thought something was wrong with them, but it was driving that car. It was one of my favorite cars, a Dodge Challenger, but I think I'm going to have to sell it.
ESPN:
You earned your first knockout since 2008 in that fight against Joey Beltran [at Bellator 108]. Was it a satisfying win for you?
Jackson:
I could just say this: It's no secret Beltran took the fight on short notice and he's never been in the cage with a person like me. He was swinging, even though he did push me up against the cage and kneed me in my bad knee. I can understand that, though. He wanted to win. Beltran is a very hard guy to knock out. I showed people I still have thunder in my hands. It's hard -- any time you are an athlete and you try to explain to a non-athlete why you can't do everything the way you used to because of injuries, they think you're making excuses. No, I'm trying to explain why I'm not the same as I used to be.
ESPN:
Before the fight, Beltran promised to stand in the pocket and give you a brawl, but you could tell he had more of a strategy once it started. Did you expect that?
Jackson:
A lot of people don't understand, I'm one of the few fighters left. I'm a dying breed. I go out there and try to fight. I wasn't surprised when he did that. People have a little cowardice in them. There's always a chance I could knock them out and people worry about that. They go out there and do what they've got to do to survive. And win. America is all about the win. It's not about the show anymore. I don't agree with that way of thinking.
[+] Enlarge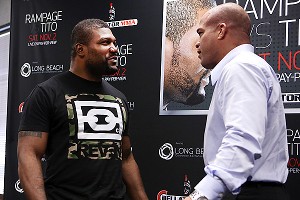 Dave Mandel/Sherdog.comQuinton Jackson, left, admits he's no longer interested in a fight with Tito Ortiz.
ESPN:
Originally, when you signed with Bellator, you were supposed to fight
Tito Ortiz
. After he was injured and the fight fell apart, you said you had no interest in putting that fight back together. How come?
Jackson:
He has a real serious injury. Me and Tito are cool. We're not besties or anything, but he has a neck injury. I don't want to be held accountable for hurting Tito because I know for a fact I got Tito's number. I really can hurt Tito if I want to, so it's probably best if that fight doesn't happen.
ESPN:
Is that your way of saying he probably needs to retire?
Jackson:
I'm not saying that. I would like to see Tito fight somebody else -- see how he do. See that he's OK and in good enough shape to fight. Then I'd be interested in fighting him again. I'm not going to say he needs to retire. Tito might have fight left in him. He's had bad luck with injuries. Every athlete goes through that.
ESPN:
Are you excited to be in this Bellator tournament, working towards a belt? Or does that part of the game not mean as much to you now?
Jackson:
I don't focus on what people say. People don't know me and they don't know what motivates me. I'm looking forward to getting in the cage and fighting. I'll do anything I have to do to win this fight. Honestly, the belt is not my motivation, but I'm in this tournament. My motivation is to be the best I can be. I'm not looking to lose.
ESPN:
What was your take on the
Gilbert Melendez
situation -- him agreeing to terms with Bellator, and the UFC deciding to match the contract?
Jackson:
Bellator is growing rapidly. If Bellator keeps making decisions and doing the stuff they are doing, I see a lot of fighters trying to get out of their contract and come to Bellator -- just based on sponsorships alone. Right now, the UFC was smart in matching Bellator's offer. I guarantee you Melendez would have been happier here in Bellator. He's a great fighter. I wish he could have been over here.
August, 6, 2013
8/06/13
11:27
AM ET

By Josh Gross
ESPN.com
Archive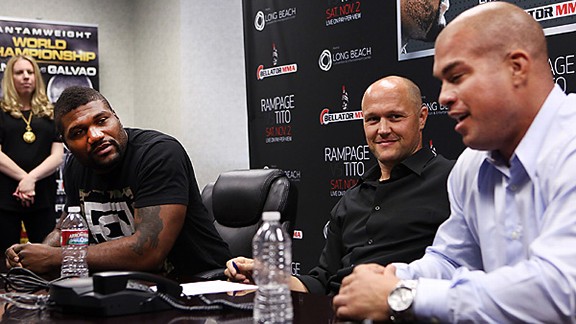 Dave Mandel/Sherdog.comBellator CEO Bjorn Rebney, center, will surely have his promotional chops tested like never before.
Bjorn Rebney saw an opportunity.
Tito Ortiz
found an offer he couldn't refuse. And
Quinton Jackson
had already settled into his resurrection.
Three men with separate yet intertwined aspirations have been tabbed to carry the water for Bellator MMA's first pay-per-view on Nov. 2 in Long Beach, Calif. The trio took questions Monday at Bellator's office in Newport Beach, Calif., shedding light on how it came to be that a pair of the best-known fighters to compete in the UFC, both clear about their distaste for UFC president Dana White and Zuffa, will anchor Rebney's initial attempt to court a paying TV audience.
The promoter conjured the idea on one of his many sleepless nights. Rebney's reputation as a supreme micromanager is well earned. It's no secret that he has driven his staff crazy trying to maneuver a proper direction for the company. Over the past four years, though, even Rebney's most vocal critics would concede he did well by advancing Bellator up the food chain to the point that Viacom, a major media conglomerate, took notice and purchased a controlling stake.
One year after Ortiz's last fight in the Octagon, a decision loss to
Forrest Griffin
, Rebney called the former UFC champion with an offer.
"I looked at it and said, 'Here's a fight we can make,'" the promoter said. "We can put on a pay-per-view, and if I had nothing to do with it, I'd buy it."
Both sides spoke several times before the veil was lifted last month. The moment Ortiz was free from Zuffa's contractual handcuffs, Rebney showed just how serious he was. Ortiz viewed the lucrative contract offer as solid footing for him and his family. This wasn't something he could simply walk away from, so retirement, as short as it was, came to an abrupt end. Beyond the money, Ortiz expressed a "hunger to be great again," although many people will understandably hear lip service. After all, Ortiz hasn't been near the top of his game for several years, and just 12 weeks ago he underwent an ACL replacement in his right knee.
Some fans will agree with the promoter's assessment, but many more are likely to opt against paying their local cable or satellite distributor $35-45 to witness 38-year-old Ortiz (1-7-1 from the end of 2006 through July 7 of last year) fight 35-year-old Jackson (who lost three straight before exiting the UFC last year).
No MMA promotion except the UFC has marshaled a successful pay-per-view campaign, and history says a weak response for Ortiz and Jackson, despite their strong brands and long-held UFC ties, is the most likely outcome.
Rebney surely will have his promotional chops tested like never before during the run-up to an event situated on one of the busiest, most compelling stretches in UFC history. He claimed to feel "really good" about its potential even though the card is sandwiched between
Cain Velasquez
's third fight with
Junior dos Santos
and the 20th anniversary of the UFC headlined by megastar
Georges St-Pierre
and respected challenger
Johny Hendricks
.
As opposed to Affliction Entertainment, which hemorrhaged money like a partying rock star while it tried to get established on pay-per-view at the end of last decade, Rebney said Bellator is primed for success any time it chooses to go there, which won't be more than a couple of times a year at the beginning.
[+] Enlarge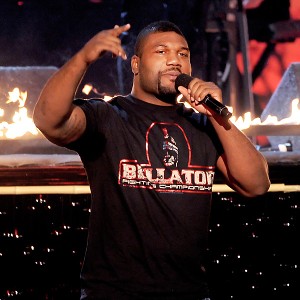 Kevin Winter/Getty Images for Spike TVCan 35-year-old Quinton "Rampage" Jackson, entering Bellator on a three-fight losing streak, bring enough name recognition to sell the promotion's first pay-per-view?
"We've got the best distribution platform in the history of combat sports, and that's Spike," he said. "That's the difference. Also, we're not going to do it month in and month out. We're not going to throw up PPV after PPV after PPV and say, 'Here, buy this.' We're not going to throw up PPVs that belong on free TV. If we've got an amazing card, an amazing event, we may do it on PPV. We're not going to do it every three or four weeks."
For all of Rebney's handwringing over the number of events Zuffa promotes that require fans to fork over money to view them, each card through the end of 2013 looks spectacular. Truth is, Bellator can't compete that way with Zuffa right now. But that hasn't deterred Rebney, who said fans should expect five bouts during the Nov. 2 pay-per-view, including an appearance from Bellator lightweight star
Michael Chandler
.
Rebney was unsure whom Chandler would fight, leaving open the possibility of
Eddie Alvarez
, the former Bellator champion currently embroiled in litigation with the company. Pay-per-view considerations outlined in the lawsuit with Alvarez carried no weight in the company's decision to step into the pay-per-view game, Rebney said. But as far as the promoter is concerned, "nothing is off the table."
It was just a couple of weeks ago that Rebney touted Chandler's new eight-fight contract as among the richest in MMA's lightweight division. That deal, Jackson's contract and the just-announced relationship with Ortiz are emblematic of a newfound willingness inside Bellator to spend money -- "but only when it makes sense and the company is able to monetize it," Rebney said. "Michael was one of those decisions. Tito was one of those decisions. Rampage was one of those decisions. There are guys that make sense and we think will put us in a better place at the end of the year."
January, 18, 2013
1/18/13
10:37
AM ET

By Franklin McNeil
ESPN.com
Archive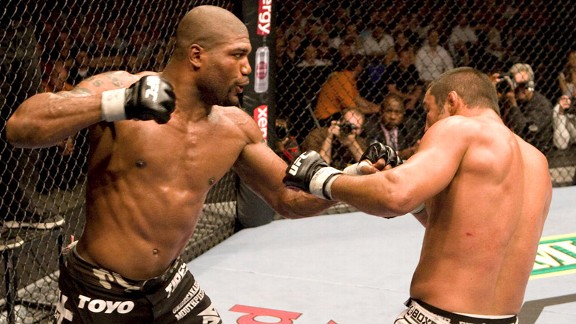 Josh Hedges/Getty Images
It's too late to turn back now.
When former UFC light heavyweight champion
Quinton "Rampage" Jackson
exits the Octagon on Jan. 26 in Chicago -- win or lose against hard-hitting
Glover Teixeira
-- he will not fight again with the promotion.
Jackson, one of the most popular and successful mixed martial artists ever, made it clear during a media call Tuesday to promote his upcoming bout that he has already severed ties with UFC.
The bout with Teixeira will be the final fight on his current UFC contract, and according to Jackson, each side is eager to move on.
"I'm over it," Jackson said. "I've given [UFC] time to keep me happy. Honestly, I think the UFC is happy with me leaving. It's a mutual thing."
While Jackson proved to be a big draw, and delivered many exciting fights, his absence from UFC's roster isn't expected to hinder the promotion's progress. UFC will continue putting on exciting MMA cards.
Jackson's future, however, isn't set in stone.
Competing in smaller MMA promotions is possible, but Jackson has a grander scheme -- taking his knockout skills to the boxing ring.
Jackson has complained for the past few years that part of his frustration with MMA stems from too many fighters' reluctance to stand with him. He longs for the days when most of his opponents stood toe-to-toe.
Today's mixed martial artist is more advanced technically, with wrestling becoming more prevalent in the cage, leading many to take the fight to the ground.
Despite his high school wrestling background, Jackson isn't among the more skilled ground fighters in MMA. If Jackson were to sign with a smaller MMA promotion, there is no guarantee that opponents would refrain from attempting to take him down.
No one knows this better than Jackson. It's why boxing looks more and more appealing to him.
He won't have to worry about anyone taking him to the ground in a boxing match, and Jackson gets to throw as many punches as he wants.
"I've put my time in. I did my thing," Jackson said. "I just want to entertain people. I want to be very exciting. Maybe I want to try some boxing or do some kickboxing. I've done jiu-jitsu tournaments, wrestling tournaments, kickboxing fights -- but never boxing. I think that would be my biggest challenge -- to see if I can be a pro boxer.
Jackson noted that former street fighter-turned-mixed martial artist
Kimbo Slice
has also made the switch to boxing.
Slice, whose real name is
Kevin Ferguson
, is 6-0 with five knockouts as a boxer. Although he has faced mediocre competition and has competed in four-round bouts only, Slice has shown improvement with each outing.
It's a path Jackson, who has no amateur or professional boxing experience, can expect to follow in boxing. Despite his lack of experience, Jackson can expect some high-profile boxing promoters to give him a close look.
One promoter has already expressed interest.
"Absolutely, I'd be interested in taking a look at him," Top Rank vice president of boxing operations Carl Moretti told ESPN.com. "I'm sure he's a well-conditioned athlete, but boxing's a different game. I'd like to see him in the gym sparring, just to see how he does against professionals before going ahead and just throwing him in a fight.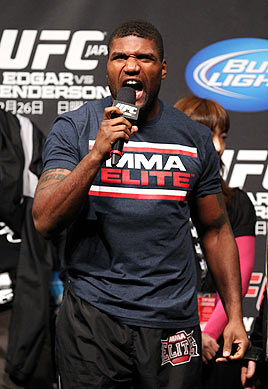 Susumu Nagao for ESPN.comQuinton "Rampage" Jackson's up-and-down relationship with the UFC will come to an end following his last fight on Jan. 26.
"If he's willing to do that, then everybody would be interested in him."
Moretti knows that Jackson is a heavy puncher -- 14 of his 32 wins have come by knockout -- but there's more to boxing than throwing haymakers. Jackson will need to show that he knows how to sit down on his punches and demonstrate decent footwork. Moretti would also like to see a decent jab and defensive skills.
Jackson would also have to show these skills against seasoned boxers during his sparring sessions. It won't be easy, but if any mixed martial artist can make the transition to boxing, Jackson is the man.
Getting over the initial hurdle won't make life easier for Jackson. He is 34 years old, which gives him little room for error, and his name recognition brings high expectations.
"He's one of the bigger names out of UFC. Everybody has heard of him, so that gives him an advantage," Moretti said. "He's not coming in as an unknown.
"But maybe it works against him because he's going to have more eyeballs on him. And it may place some additional pressure on him to perform in boxing."
While adjusting to a new sport will be difficult, Jackson is up for the challenge. Besides, he's no novice when it comes to fighting.
Fighting in UFC and Pride has prepared Jackson to compete in any professional combat-sports arena. He will not be intimidated inside the boxing ring.
"Sure, it helps him from a conditioning point of view, at least being inside the ring and knowing what can happen," Moretti said. "There's no question that [having MMA experience] helps him. But when you want to hold, punch while you're holding and grab a leg -- that's not boxing.
"We have to see how he handles the finer points of boxing as compared to MMA and make some kind of assessment from that."