March, 25, 2013
3/25/13
12:34
PM ET
Jon Fitch
wasn't good enough for the UFC, but he's (apparently) worthy of an automatic title bid in the World Series of Fighting.
In MMA, perception is everything. Not that
Josh Burkman
, who knocked out
Aaron Simpson
at WSOF 2 on Saturday to "earn" his own shot, is a fan of the idea.
Burkman thinks Fitch needs to beat somebody within the promotion before he can barge into the place and think about titles. Fitch, who was 14-3-1 in the UFC and will debut in June, has the greatest credentials never to be taken seriously. He has never known the red carpet treatment, either, so why should he now? Remember when he was about to fly off to join the cast of the original "Ultimate Fighter," only to be told -- while sitting on the tarmac -- that he didn't make the cut?
Life hasn't always been pretty for Fitch. This is why he's always gnashing his teeth.
Of course, Burkman may be forecasting here. He may be thinking about the task of trying to get up from under Fitch's onslaught of elbows. He may be thinking of the futile nature of simply "trying to stand back up" against Jon Fitch. Of the 14 wins Fitch scored in the UFC, 14 opponents were saddled with the project of staying off their backs against Fitch heading in. Fourteen found themselves on their backs come fight night anyway.
Burkman may sense something inevitable.
But Burkman won't ultimately decide who fights for the inaugural welterweight belt at WSOF. The decision will be up to WSOF president,
Ray Sefo
. If Sefo says Fitch, then it's Fitch. If he says it's Burkman versus Fitch, Burkman should just be happy his name isn't Abercrombie. Imagine the confusion that those posters would generate?
[+] Enlarge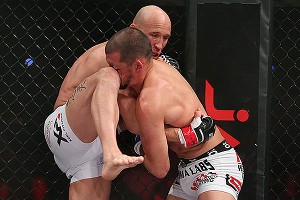 Dave Mandel/Sherdog.comJosh Burkman, left, should be more concerned about intriguing fights than a World Series of Fighting belt.
You know what would be novel, though? Have Burkman against Fitch
just for the heck of it
. Don't make it about glorified accessories like the other clubs. Don't create world titles. Just have the best guys go toe-to-toe. Tear down partitions, and put on "intrigue fights." Have Burkman and Fitch fight just because it's logical, at this point in time, to have them fight.
Imagine an MMA utopia that goes about business without the tyranny of gold-played belts. Where guys are free to roam weight classes in pursuit of the best, most ridiculous scenarios. Like former welterweight
Anthony Johnson
against former UFC champion
Andrei Arlovski
, perpetuated.
Bizarre = fun.
If
Quinton Jackson
joins the ranks, or
Josh Barnett
-- or whoever, as there will be plenty -- the idea should be that they join a pool of
possibilities
. Rather than former UFC fighters coming over to resurrect themselves as contenders and/or champions in a different setting, they enter the salt mines, baby.
Or something like that.
WSOF has a chance to build itself any way it wants. Why not do fan-friendly fights that are strictly about fan friendliness? Have people fight -- not desperately, but happily -- for simple relevance. The alphas will always stand out anyway. Who knows, it might be a lure, too. Those who hate structure can come to the Wild West, where fantasy matchmaking happens. The WSOF could make it about the best names that couldn't get at each other in the UFC (or elsewhere) coming together under their own banner. Anthony Johnson wants to fight "Rampage?" All too easily arranged.
Marlon Moraes
against, say,
Bibiano Fernandes
? Roll it out.
Tyrone Spong
against just about anybody from 205 pounds on up?
Here's a league of pure hospitality.
It's a thought. And, really, it's not a very original thought, as I've seen MMA Fighting's Ariel Helwani and others tweet similar ideas about a titleless landscape.
Ultimately there's nothing that says you have to have belts at the top of every weight class. Belts exist for a reason. They mean money. It's a game of thrones. We like belts and speculating on the hierarchy of contenders and to have belts hanging over all proceedings like surveillance cameras. But the UFC does that already. So did Strikeforce (mostly) and so does Bellator (periodically). To do that, you have to fill in weight classes and harvest talent. That's hard to do in the current landscape, not to mention tedious. That line of thinking "competes" with the UFC.
So make it about putting on the best available fights just for the sake of putting on the best available fights. If Josh Burkman doesn't think Jon Fitch deserve a title shot, fine -- remove the politics from the equation. Get rid of the notion of belts. That's so un-UFC. Would you have cared more if Arlovski/Johnson was for the heavyweight title? Probably not. They are, very consciously, UFC retreads (Arlovski even wore a UFC glove).
But that an unthinkable pairing should come together at WSOF gave it a fresh coat of intrigue. And you know what? That sort of matchmaking doesn't need titles.
March, 21, 2013
3/21/13
7:41
PM ET

By Franklin McNeil
ESPN.com
Archive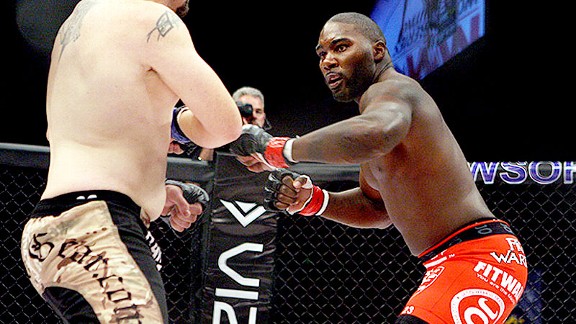 Dave Mandel/www.sherdog.comNo stranger to moving up in weight, Anthony Johnson will make his heavyweight debut at WSOF 2.
It sometimes seems like decades ago when
Anthony Johnson
was one or two wins shy of a UFC welterweight title shot. But it's been just a year and a half since he last tipped the scale at 170 pounds.
Johnson knocked out
Charlie Brenneman
in the first round of a UFC event on Oct. 1, 2011. It would be his final appearance at welterweight.
Departing the weight class in which he found much success, however, did not come as a surprise. Johnson struggled on several occasions to make the required weight limit.
As his body continued to mature, Johnson often walked around at 220 pounds -- sometimes heavier. Attempts to shed more than 50 pounds for a welterweight bout began taking a toll on his body and Johnson pulled out of at least two 170-pound fights with knee injuries.
His body was developing so rapidly that Johnson couldn't even make weight for a nontitle middleweight showdown in Januray against
Vitor Belfort
and tipped the scale at a whopping 197 pounds. The nontitle middleweight limit is 186 pounds.
A sluggish Johnson lost to Belfort by first-round submission and was released by UFC shortly thereafter. But what could have been a dismal period in his professional fighting life proved to be a blessing.
With the welterweight and middleweight divisions no longer an option, the Dublin, Ga., native, now 29, found comfort at light heavyweight.
There was never a reason to knock Johnson's ability inside the cage -- he's a highly skilled wrestler with above-average punching power and speed. And since moving up in weight, Johnson has proven to be a beast inside the cage by winning all four of his post-UFC bouts, including three knockout victories at light heavyweight -- a division he has proven he clearly belongs.
But one area in which a yellow flag could be raised is Johnson's unwavering desire to fight anyone, at any weight, at any time. Whenever Johnson is offered a fight, he eagerly accepts and concerns himself with making weight later.
On Saturday night at Revel Casino in Atlantic City, N.J., Johnson will again venture into difficult territory when he meets hard-hitting
Andrei Arlovski
in the main-event at
World Series of Fighting 2
.
It will be Johnson's first foray into the heavyweight ranks and despite being an underdog, he isn't worried. Arlovski is a difficult opponent, but with a solid training camp behind him, Johnson is confident an upset is in order.
"No matter what, I feel I always get the most out of my training," Johnson said Tuesday during a media call to promote the bout. "So, I can fight at light heavyweight or heavyweight and do what I have to do to win. It doesn't really matter to me."
Johnson expects to enter the cage on fight night weighing somewhere in the neighborhood of 235 pounds. It will represent, by far, the most weight he's ever carried on his 6-foot-2 frame for a fight.
[+] Enlarge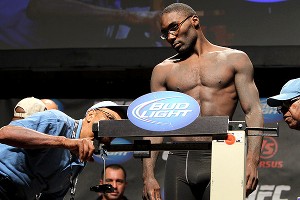 Josh Hedges/Zuffa LLC/Getty ImagesFor the first time in his MMA career, Anthony Johnson will not have to worry about issues making weight when he faces Andrei Arlovski on Saturday.
Conventional wisdom says the additional weight will result in Johnson relinquishing speed, power and elusiveness. But he begs to differ.
"Everything is still there -- the speed and the power," Johnson said. "I'm still an athlete. I don't feel I'm sacrificing anything, except height. I believe Andrei is bigger than me and a little heavier than me. But that's it."
After a two-year period that saw him suffer through four straight losses, the 6-4, 245-pound Arlovski has regained his form. The former UFC heavyweight champion has defeated four of his five most recent opponents, with the lone blemish being a no contest against
Tim Sylvia
at ONE FC 5 in Aug. 2012.
If ever there was a time not to fight Arlovski, it's right now. His confidence is at an all-time high due to the training he's received under Albuquerque, N.M.-based trainer Greg Jackson.
"Greg Jackson gave me hope after four losses," Arlovski said. "Some people told me I lost it, but he told me to come to Albuquerque and he gave me hope."
Lack of confidence is never an issue for Johnson. He steps into the cage Saturday with no doubts or reservations. Besides, Johnson knows he's in a no-lose situation.
He doesn't turn down fights, which is exactly why he's here. WSOF president
Ray Sefo
and senior executive vice president Ali Abdel-Aziz asked him to move up in weight for the good of the card and he agreed.
"Unless my man Ray Sefo and Ali ask me to take another fight at heavyweight, this is probably my one and only fight at heavyweight right now," Johnson said. "[Light heavyweight] is still where I want to be -- it's still my home. We'll see. Hopefully this is a good show. But for me and Andrei Arlovski, maybe win, lose or draw they might want to see a rematch and I might have to fight at heavyweight again."
One thing is for certain, Johnson's days of struggling to cut to 170 and 185 pounds are in the past. He will not drop that low again. And as a result, he is a better fighter who might just raise a few heavyweight eyebrows on Saturday.
November, 16, 2012
11/16/12
12:38
PM ET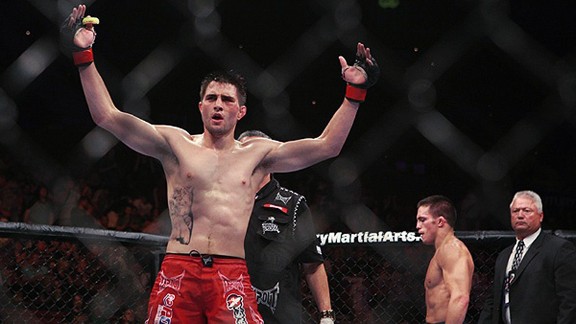 Courtesy of Sherdog.com
MONTREAL -- The fight game is always two steps ahead of itself. So it's only natural that most of the people assembled in Montreal to see
Georges St-Pierre
defend his title against
Carlos Condit
are focusing on more distant possibilities. Like, will St-Pierre fight
Anderson Silva
if he gets through Condit?
St-Pierre has coolly told anybody and everybody who's bothered to ask that he isn't thinking about Silva. When informed that Silva will be in Montreal to see him fight, surely not by any kind of coincidence, St-Pierre said he wouldn't be uncivil and ignore him. He would at least say hello. But right now he is focused on Condit. You know, Condit, the reason we're all here.
But the specter of Silva is everywhere.
Martin Kampmann
's wrestling coach Kyle Griffin said at least half the questions directed at Kampmann were about St-Pierre-Silva. Never mind that Kampmann is thrice removed.
Dan Hardy
has been asked to break down a fight between Silva-St-Pierre, too, by ESPN U.K. and others.
If the periphery is being quizzed on the fight, imagine what the monkey wrench in the scenario must be thinking.
People forget that Condit is standing right there in the room. How does he feel being the invisible obstacle?
"It's fine, man. I'm used to being overlooked," he told ESPN.com. "You know, when I fought
Nick Diaz
[at UFC 143], they were talking about the Georges St-Pierre-Nick Diaz fight next. No big deal for me. I'm focused on Georges St-Pierre."
Open workouts a strange bit of theater
The UFC 154 open workouts were a little misleading Thursday. For starters, what people were doing in the cage at the New City Gas nightclub in Montreal couldn't rightly be called a workout. Closer to performance art, really.
It began with
Tom Lawlor
, who was wearing his standard Ambrose Burnside whiskers and a Sheraton bathrobe. He and his cornermen --
Seth Petruzelli
and Kyle Holland -- did the media rounds in white robes before they were ushered to the cage. Underneath the robes? Adult diapers. Oddly clumpy but perfect for the faux sumo wrestling tournament they engaged in.
St-Pierre arrived to a nice ovation with his entourage (among them
Francis Carmont
, Phil Nurse and John Donaher), and they entered the cage and proceeded to, like, span time. St-Pierre signed shirts, gloves and action figures. He casually talked to Nurse. He tossed memorabilia to his fans. All this generosity was backdropped by the thumping sounds of 2 Chainz's "No Lie." At one point, St-Pierre stretched; this was the only move toward anything athletic.
Just brawl, baby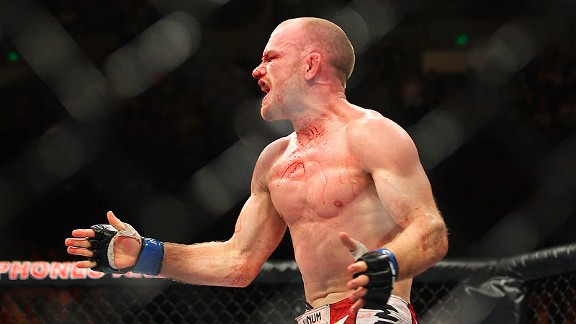 Mark Kolbe/Getty ImagesDespite his ability as a technical striker, Martin Kampmann can't seem to avoid getting into brawls.
One of the things about Kampmann that makes his fight with
Johny Hendricks
predictable is that he likes to stand in the pocket and swing. We've seen him trade with
Nate Marquardt
,
Paul Daley
,
Diego Sanchez
and
Jake Ellenberger
.
Sometimes he gets hacked down. Sometimes he gets hacked down but gets back up. Sometimes he flattens his opponent (don't remind
Alexandre Barros
). You ask the Dane's cornermen if Kampmann digresses from the game plan, and they laugh. That's just him, they say, a technical striker who can't help becoming a technical brawler.
"He just loves to fight," Xtreme Couture's Griffin said.
You have to wonder, though, how it plays out against a heavy-handed wrestler like Hendricks. Kampmann was able to weather Ellenberger's first-round onslaught to come back and win. Ditto
Thiago Alves
in March. It's true that Kampmann has been the picture of endurance and perseverance in his run back into welterweight contention, but the reality is he had to come back because he put himself in trouble to begin with.
Bottom line: If he puts himself into a bad spot against Hendricks, there may be no coming back. Then again, if he wins dramatically, as he did in his previous fights in 2012 against Alves and Ellenberger, Kampmann has to be considered for fighter of the year.
October, 23, 2012
10/23/12
11:45
AM ET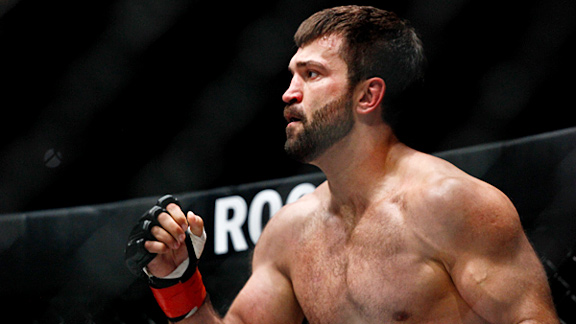 Sherdog.comAndrei Arlovski is just one of several well-known fighters participating in WSOF's debut event.
On Nov. 3, the date originally slated to be Daniel Cormier's big Oklahoma homecoming in Strikeforce against
Frank Mir
, the World Series of Fighting will host its inaugural show in Las Vegas. Strikeforce was canceled in the wake of injuries. That leaves WSOF, which will appear on NBC Sports Network, as MMA's Saturday night showcase.
A bit of serendipity, right?
It certainly can't hurt.
The WSOF is a fledging promotion that 41-year-old kickboxer/MMA fighter
Ray Sefo
is presiding over. You might be familiar with some of the names Sefo & Co. have been gathering to fill up its roster. UFC retreads, mostly -- but retreads with some miles left on them.
There's former WEC champion
Miguel Torres
, who was cut abruptly for mysterious disciplinary reasons. There's the no-longer-shrinkable
Anthony Johnson
fighting at 205 pounds. There's the fanged
Andrei Arlovski
, a requisite Gracie (Gregor) and upstarts like
Tyrone Spong
. On the undercard?
Gerald Harris
,
Josh Burkman
and JZ Cavalcante. Even
Waylon Lowe
will be in the building come Nov. 3.
Not a bad first roll, really.
"The goal for us is to provide another stage," Sefo, who was doing a media tour through New York, told ESPN.com. "There's so much talent, so many fighters out there who don't have a stage to go to. Obviously the mecca of MMA is the UFC. Our goal is to start slowly and then hopefully be as good or as big as the UFC. Obviously that takes a lot of time and you have to crawl before you walk."
If it looks like a lot of eggs in one basket, it is. WSOF is loading the first card to gauge things. Having spoken to people within the company, they're already blueprinting a January card, and there's a tentative goal of doing 10 cards. By card three? That's when they'll start talking title fights, Sefo says. But that's just projection, and in this racket, projection can barely raise an eyebrow.
The New Zealander Sefo knows that, and the idea is to take things slow, build up, and get better along the way. That's why, in a way, the WSOF will launch itself happily as a "fallback" option for guys trickling out of the UFC. They will begin as security.
But this isn't Affliction. They aren't trying to go head-to-head with the UFC. In fact, Sefo and the WSOF backers are fantastic admirers of what Zuffa has done over the years. It's to be an alternative. And it was created, in part, on fighter empathy.
"

... our goal is to make sure that the fighters are looked after. When the fighters are happy where they're at, they're going to come back every single time.

"

-- WSOF president Ray Sefo, on the treatment of his fighters
"This is a rough sport we're in, and it takes a lot of discipline, a lot of dedication, a lot of time away from families," Sefo said. "So being a fighter -- and I have experienced this myself with K-1 owing me so much money, as well as seeing it with other fighters -- our goal is to make sure that the fighters are looked after. When the fighters are happy where they're at, they're going to come back every single time."
Sefo could be a spokesman for fighters being taken advantage of. In fact, by spearheading WSOF, he sort of already is. Sefo recently told MMAFighting that he was owed $800,000 of back pay by K-1. How's that for a catalyst to action? In fact, some might say that WSOF is being overly generous with its pay. Gerald Harris, for instance, will make more in his first appearance with the promotion than he did in any of his UFC fights. And each fighter is signed to three- or four-fight deals.
As for the production of the event? Sefo says that here he takes his cues from the UFC, which operates as a well-oiled machine come fight night.
"I don't think there's much difference at all," he says. "Everything they do, they do it right and they do it big. They are an inspiration for us, to make sure we take the right steps, one step at a time and we do things right.
"But I don't think there's much difference at all [in terms of production]. Being a new company, for us, the next two to three shows is a learning process."
The first one will take place at Planet Hollywood Resort and Casino, and will be a cheap ticket for locals looking to catch the vibe live. "With the economy the way it is these days, we want to put a ticket out there that everyone can afford -- and everybody can afford a $20 ticket," Sefo says.
Beyond that, the feeling with WSOF is "let's see how the first one goes and not get too far ahead of ourselves." Not that there isn't optimism.
"Everybody that we've got on the card is excited," Sefo says. "I'm really excited to see everybody come out and perform. It's such a good card that there's no one particular fight that stands out as a favorite. We're very blessed with the card that we have.
"It's baby steps. Take one step at a time and see where it goes."
October, 28, 2011
10/28/11
6:26
AM ET

By Josh Gross
ESPN.com
Archive
Heavyweights
Cheick Kongo
and
Matt Mitrione
have not stepped in the Octagon since June 26, when each won in Pittsburgh.
Mitrione waltzed through a sloppy
Christian Morecraft
, an unremarkable tough guy, before punching out a finish in the second round. Kongo, you remember, orchestrated (with
Pat Barry
) one of the most memorable half-rounds ever. Seared in the collective consciousness of MMA fans are images of Kongo, surviving on instinct as Barry assaulted him, scoring a jarring end with a flush combination.
Although the arcs of their victories that night were as different as it gets, the results nonetheless led UFC matchmaker Joe Silva to put together this fight for Saturday's pay-per-view portion of UFC 137 in Las Vegas -- one Mitrione believes will be a "test" of where he stands.
Mitrione, 33, formerly of the NFL's New York Giants and Minnesota Vikings, is correct. Entering his sixth professional mixed martial arts contest since turning pro in 2009, the fast-talker is up against his most difficult opponent yet.
"I've fought middle to bottom end of the talent -- not to rip on the people I've fought -- and I've done well against them. Now it's time to fight somebody that's worth his salt," Mitrione said of Kongo. "He's proven he's worth his salt time and time again. He always comes to scrap. He's always in great shape, and he brings it."
[+] Enlarge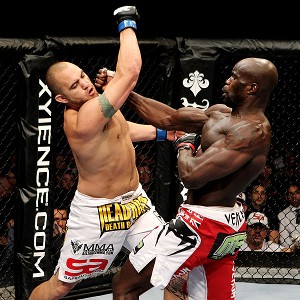 Josh Hedges/Getty ImagesCheick Kongo, right, should present Matt Mitrione with his stiffest test of his young career.
Kongo, 36, excelled against the kind of competition Mitrione has feasted on. When asked to step up, though, he's produced mixed results. In all, the chiseled Frenchman is 9-4-1 since joining the UFC in 2006. It's impossible to say where Mitrione slots on Kongo's list of opponents, which range from Cain Velasquez to Mostapha al-Turk, until they meet this weekend.
For his part, Mitrione said he's swimming upstream in this one. When the UFC offered him the bout, he asked for the latest open date to have more time to continue honing his skills as he makes the transition from pro football player to fighter.
"I need to really play catch-up on the fly," Mitrione said. "UFC has been good with me on that."
Kongo (16-6-2 overall) understands what that's like. Five years ago he wasn't much of a wrestler, and it didn't take long before he found himself exposed against a middle-of-the-road grappler like Carmelo Marrero. In time, the strong kickboxer improved his takedown defense and actually began formulating and implementing ground-based game plans.
This kind of progression will come for Mitrione, and he acknowledges that: "I try to take it into consideration and take it all in stride that things Cheick was good at four years ago, I haven't learned yet or I'm just starting to learn."
For now, Mitrione's athleticism has allowed for a quick development in the striking department, which through five contests has rendered four finishes. Working with the likes of Ray Sefo,
Randy Couture
and Neil Melanson at Xtreme Couture in Las Vegas and for this camp
Rashad Evans
and Tyrone Spong in Florida, Mitrione says he's prepared for the step up. Or at least he thinks he is.
A victory over Kongo would make three wins for Mitrione in 2011, sending a clear signal that his transition from defensive tackle to MMA fighter is further along than some might have thought.
It won't be easy, of course. Nothing against Kongo ever is. The Frenchman has business to conduct, and Thursday he said he wishes to have his "path in the right way." Presumably that leads to the top of the division, where perhaps now he's equipped to compete. That also could deliver Kongo a spot on the UFC's debut card in his home country, a scenario nearly realized because UFC chairman Lorenzo Fertitta is close to locking down a date and venue in France.
"If Cheick beats me, he beat the best possible product I can give him," Mitrione said. "Good for him. He was a better man that night."
Such was the case when
Brendan Schaub
, a similar football convert, stepped it up and went after a veteran heavyweight in
Antonio Rodrigo Nogueira
.
Is Mitrione ready for the next step? He'll find out like the rest of us.