June, 20, 2013
Jun 20
2:10
PM ET

By Josh Gross
ESPN.com
Archive
News stories following Bellator MMA's first event of the summer will focus rightly on
Muhammed Lawal
's vicious knockout of
Seth Petruzelli
and
Renato "Babalu" Sobral
's retirement.
And for that, Bellator and Spike TV should be grateful.
Because without Lawal driving a rivet through Petruzelli's face, or the memories and plaudits inspired by Sobral -- whose decision to lay down his gloves in the center of the cage while kneeling reverentially was lovely -- Wednesday night's fight card came across as all sorts of ugly.
Bellator can represent itself as challenger to the UFC, as a place where competition between fighters is the only thing that matters -- toughest tournament in sports and all -- but that's undercut when guys such as 35-year-old, 5-foot-8, 260-pound
Jeremiah O'Neal
(12-22) are given bouts, and the
Ron Sparks
of the world receive live television slots.
In O'Neal's case, he fought boxing convert Raphael Butler, who went to 6-0 with an early knockout. I failed to see the point. O'Neal won't go anywhere -- he lost to a bunch of names, but mostly at welterweight and middleweight. He entered Bellator off a loss. Worse: O'Neal's last win came in 2011, against 1-3 Kelly Rundle, who turns 51 this August. Prior to that, O'Neal hadn't won since 2007. Want to kill some time? Check out the records of the guys O'Neal actually defeated.
Look, I don't want to tear down O'Neal. It's Bellator that deserves to be embarrassed. I've given them plenty of credit for finding young, fresh talent. For the most part, the promotion's scouting team of Sam Caplan and
Zach Light
do a very good job, but their work can easily get dinged when this kind of matchmaking happens, even on an undercard contest. Butler can't improve as a prospect against a guy like O'Neal, so what's the point? He hits hard -- fine. But we could have seen that just the same if he faced a heavy bag.
As for television, the decision to match
Vitaly Minakov
against Sparks was pretty sad. Minakov (11-0) looks like a legit heavyweight prospect, but no one could know one way or the other after he put away the 38-year-old Sparks in 32 seconds. Thankfully, Minakov faces
Ryan Martinez
on July 31, who at least appears a threat.
Let me leave on an up note. Bellator's card at the end of July near Albuquerque sets up as a terrific night of fights. Lawal meets
Jacob Noe
in the abbreviated 205-pound tournament finals. Minakov is matched with Martinez. Bellator lightweight champ Michael Chandler returns against gritty
David Rickels
. I'm most interested in watching 22-year-old
Andrey Koreshkov
(who is the embodiment of the anti-Jeremiah O'Neal) fight unbeaten American
Ben Askren
.
GSP-Hendricks is a go
The UFC welterweight championship contest between
Georges St-Pierre
and
Johny Hendricks
was made official this week. It will headline what most people will come to call the UFC's 20th anniversary event on Nov. 16, most likely in Las Vegas.
I'll just say this: I don't care that the UFC couldn't pull off an interdivisional mega-fight at Madison Square Garden to mark the occasion. GSP-Hendricks is absolutely fine by me -- no matter the night, regardless of the commemoration.
Why? Easy. Hendricks appears to be the biggest threat to St-Pierre in the welterweight division. And I think the once-beaten southpaw power-puncher pulls off the upset.
Good news, bad news
Bad news first.
[+] Enlarge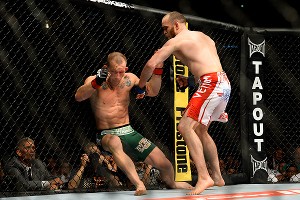 Al Powers for ESPNTJ Grant, right, will get what he deserves: a title bout against Benson Henderson.
Anthony Pettis
needs at least six weeks to recover from an injured meniscus. So he'll miss a featherweight title shot with
Jose Aldo
in early August, and an Aug. 31 lightweight shot in his hometown of Milwaukee against
Benson Henderson
. No young fighter has exhibited more patience than Pettis. (
Ricardo Lamas
might think he's getting stiffed here as well.) But, not to worry, his chance will come. It's inevitable.
Now the good news.
TJ Grant won't get pushed out of a championship spot against Henderson. The 29-year-old Canadian smoked
Gray Maynard
in May to earn the opportunity, and should be the man to face Henderson -- even if some may say it's not nearly as marketable a pay-per-view attraction as a rematch between Henderson and Pettis, Showtime Kick, et al.
Anyhow, like GSP-Hendricks, I'm calling an upset. Grant beats Henderson.
Lombard to 170
There had been calls for
Hector Lombard
to drop 15 pounds and fight at welterweight for as long as the strong Cuban competed in MMA. Yet for seven years, Lombard saw no reason to leave middleweight. He was strong and fast, and won more than enough contests by stoppage to form a convincing argument that 185 was the place to be.
Then he entered the UFC. And a year later, Lombard officially revealed it was time to shed the weight. Losses to
Tim Boetsch
and
Yushin Okami
indicated Lombard wasn't as good as he thought, and larger middleweights who were also viable competitors could stifle his explosion.
What could a 170-pound Lombard do?
Get fans excited, for starters, especially if he carries his power down with him. Lombard posted on Twitter that he wants to fight
Nate Marquardt
, who was also a middleweight convert. That's a nice first fight for him.
The real question is whether Lombard will be able to handle the speed of the welterweight division. For all of the talk of his power, it was Lombard's haste that made him at 185. Absent that advantage and coupled with the realization that he's probably shorter than most welterweights, Lombard will have to make full use of his skills, including a judo game that always seems underutilized when he fights.
Lady Liberty says 'no' to MMA again
Ready for the least shocking news of 2013?
Sheldon Silver, speaker of the New York State Assembly, declined to bring for a vote a bill intended to legalize MMA in the state. That makes Silver 4-0 against MMA legislation, having scuttled the process the past four years.
Because Silver obviously can't watch pro MMA in New York -- the only state in the Union where MMA remains banned -- he might try the Glory event at the Hammerstein Ballroom in New York City on Saturday.
See, kickboxing is legal in New York. Yes, even kickboxing three times on one night -- which is what the winner of Glory's $200,000 prize will be expected to do.
It's insane that New York licenses fighters to kickbox three times in a single evening and prohibits them from competing in MMA at all.
February, 21, 2013
Feb 21
4:16
PM ET
An unprecedented level of media coverage has surrounded the UFC debuts of female fighters
Rhonda Rousey
and
Liz Carmouche
at this weekend's UFC 157. While Carmouche has enjoyed press for making history as the promotion's first openly gay athlete, it's Olympic Judo player Rousey that remains the show's main attraction.
Dimpled, quick-witted and savage, Rousey is expected to emerge as one of the sport's top drawing cards. Having barely broken a sweat in her MMA career, winning seems to be a foregone conclusion.
But magazine covers are no guarantee of success, and not all heavily hyped debuts have gone the way promoters had hoped. Here's a look at fighters who failed to meet expectations their first time out of the gate:
10. Brock Lesnar (vs. Frank Mir, UFC 81, 2008)
A Renaissance man of violent contact sports, amateur wrestler Lesnar acquired his celebrity through a stint as a World Wrestling Entertainment attraction. When he tired of that industry's grueling road schedule, he decided to try out for the Minnesota Vikings despite never having played a day of college ball. When he failed to make the team, his focus turned to MMA -- realizing his dream, he once told an ESPN reporter, to "pick a fight on every street. If I wouldn't lose money, I'd fight ... every day."
Lesnar's UFC debut wasn't his first sanctioned bout: months earlier, it took him a minute to pummel an overmatched
Min-Soo Kim
in a little-seen pay-per-view event. But coming into the industry's leading promotion meant an unprecedented level of attention: Much was made of Lesnar's "lunchbox-sized hands" and a frightening level of agility for being a 280-pound slab of lean mass. It was a promotional tactic used by Japanese matchmakers for years to see if the pro wrestler had any real fight in him.
For a good portion of the 90 seconds he spent against Mir, the answer was yes. Lesnar quickly took Mir down and pounded him through the mat. But referee Steve Mazzagatti's restart -- Lesnar was docked a point for hitting behind the head -- seemed to slow his momentum, and his lack of submission knowledge cost him when Mir locked in a kneebar, forcing Lesnar to tap and exposing his limited training.
It was a painful education, and one Lesnar took to heart considering he practically disfigured Mir in their 2009 rematch.
9. Karam Ibrahim (vs. Kazuyuki Fujita, K-1 Dynamite, 2004)
While MMA has hosted a number of Olympic-level athletes and medal winners, the majority have been either alternates, bronze/silver competitors, or years removed from their prime. The Egyptian-born Ibrahim, however, holds the distinction of being the only mixed martial artist to have a prizefight the very same year he won his gold medal.
A Greco-Roman style wrestler, he was enticed by the promise of a sizable payday from Japan's K-1 promotion. Ibrahim's credentials were impeccable, and their choice of opponent was seemingly a gift as Fujita, an experienced fighter who nonetheless had Greco skills (as a national champion in Japan), paled in comparison to Ibrahim.
Call it an adrenaline dump, pure instinct, or just a temporary leave of his senses, but Ibrahim entered the ring completely forgetting his superior wrestling ability and decided to slug it out with Fujita -- a man dubbed "Ironhead" by the press for his near-inability to be knocked out. Predictably, Fujita brushed off Ibrahim's rudimentary strikes and needed barely a minute to send him crashing to the canvas.
Despite being in his athletic prime and world-class in the same base of wrestling that brought
Randy Couture
great success, Ibrahim never again competed in MMA. He remains one of the sport's greatest "what if" stories.
8. Renato "Babalu" Sobral (vs. Mikhail Zayats, Bellator 85, 2013)
A 16-year veteran, Sobral has fought all over the world and for virtually every major promotion, cultivating a name that made him one of Bellator's highest-profile acquisitions.
"Sobral is an awesome addition to the Bellator family," Bellator CEO Bjorn Rebney said at the time. "He's beaten some of the greatest fighters in the sport, and poses a tremendous threat to every fighter in our light heavyweight division."
While that may hold true, he posed little threat to Zayats, another debuting fighter for Bellator who held zero major wins over seasoned competitors. With seconds to go in the first round, Zayats uncorked a spinning back fist sending a dazed Sobral to the canvas where he was finished with strikes. Bellator's long game of having Sobral meet fellow 205-pound attraction
Muhammed Lawal
down the line was also TKO'd.
7. Satoshi Ishii (vs. Hidehiko Yoshida, Dream, 2009)
As Rousey and predecessors like
Karo Parisyan
have proved, Judo can be an extremely effective base for MMA since few athletes train enough of it to become proficient, and even fewer are prepared for some of the more unorthodox throws and trips that a seasoned Judoka can pull off.
Ishii won a gold medal in the 2008 Beijing Games and almost immediately declared his intentions to pursue a fight career. His credentials were impressive enough for the UFC to take the rare step of entering into discussions -- despite Ishii being a neophyte in the fight game -- before he had even a single bout to his credit.
Owing either to failed negotiations or the realization of the caliber of opponent he'd be tasked with, Ishii instead opted to make history by participating in the sport's first gold medalist-versus-gold medalist bout against Hidehiko Yoshida in Japan. While Ishii was fresh off his win in the Games, Yoshida was nearly 20 years removed from his Olympic appearance and had lost four of his previous five bouts. It was intended to be a passing of the torch, and the likely emergence of a new star in the fading Japanese fight scene.
Unfortunately for Ishii, Yoshida wasn't discouraged by statistics: he dominated Ishii standing en route to a unanimous decision win, smothering Ishii's hype and prompting him to make the unprecedented move of accepting two amateur fights after he had already competed as a professional.
6. Mirko "Cro Cop" Filipovic (vs. Eddie Sanchez, UFC 67, 2007)
You'd have to go back to Mike Tyson to find a striker that prompted more tremors in opponents than Filipovic, a K-1-groomed kickboxer who made a grand entrance to mixed-style fighting in 2001, splitting open
Kazuyuki Fujita's
skull practically down to the bone. Where most strikers could often be nullified by wrestlers, Filipovic -- who had no amateur grappling background -- was able to defend tackles and expose the rudimentary stand-up of his opponents. "Cro Cop" was simply vicious, and his high kick carried the very real threat of serious injury.
Coming into the UFC after a long run in PRIDE, Filipovic had just enjoyed arguably his best success ever: winning that show's loaded Absolute tournament, pummeling names like
Wanderlei Silva
and
Josh Barnett
to claim the championship. Only months later, he was in the United States and facing the uncelebrated Sanchez, a grappler with little name recognition. Coming off a who's who of opponents in Japan, Sanchez seemed like a step backward.
Unlike most on this list, Filipovic did win his debut. But in doing so, he revealed a slower, more apprehensive fighter than he'd displayed during his run in Japan. In the end, there was no spectacular highlight-reel knockout that the announcers had practically guaranteed -- Filipovic knocked Sanchez down and threw some strikes to finish the job. After watching him fold men in half and rip away their self-awareness with a sniper's professionalism, this version of Cro Cop couldn't have been more unexpected. Or disappointing.
5. Norifumi "Kid" Yamamoto (vs. Demetrious Johnson, UFC 126, 2011)
Before the UFC began to heavily publicize the lighter weight divisions, there was one name that made the trip across the Pacific: "Kid" Yamamoto, a dynamic 140-pound fighter with an amateur wrestling background who could easily be mistaken for a striker. Fighting kickboxing star
Masato Shiozawa
, he managed to knock the bigger, far more experienced striker down -- a losing effort that nonetheless opened up eyes to Kid's potential as an all-around threat.
For years, Yamamoto was considered the fantasy matchup for
Urijah Faber
, the WEC's featherweight champion. Kid's 2009 loss to
Joe Warren
in Japan dulled the shine of that bout, but the UFC still pursued Yamamoto when he was contractually available. Making his debut at 135 pounds, Yamamoto was expected to outhustle Johnson. But Johnson -- now the UFC's flyweight champion -- beat Kid at his own game, being evasive and landing swarming strikes. For someone who had been discussed as a UFC hopeful for nearly a decade, Kid's debut was too little, too late.
4. Shinya Aoki (vs. Gilbert Melendez, Strikeforce, 2010)
The sport's one-time tendency of elevating the reputations of Japanese fighters often came from their lack of challenging competition -- it's easy to look fearsome when your opponents are overmatched.
To Aoki's credit, his employers weren't shy about throwing him to the wolves. During a tremendous run in the DREAM promotion, he faced
Joachim Hansen
,
Caol Uno
,
Eddie Alvarez
, and
Gesias "JZ" Cavalcante
-- beating them all and displaying a world-class grappling game that defies description.
That history led to high expectations when Aoki made his U.S. debut in Strikeforce, facing the lightweight champion Melendez. But whatever magic Aoki could conjure in his country didn't seem to make the trip over. He put Melendez in no danger whatsoever, and instead faced 25 minutes of excruciating offense in a ridiculously one-sided fight.
If there is such a thing as a hometown advantage in MMA, Aoki certainly benefits from it: he won his next six fights in Japan.
3. Hector Lombard (vs. Tim Boetsch, UFC 149, 2012)
From his April 2009 debut to spring 2012 exit, Lombard delivered 13 wins under the Bellator umbrella with no losses. (He would take three of those fights in other promotions, with the organization's blessing.) Despite the fact that the competition was underwhelming, Lombard's record and marble-carved physique led to a lucrative UFC deal and the hint of a showdown with
Anderson Silva
. Boetsch, despite going on an impressive win streak at middleweight, was supposed to be a warm-up.
Owing to injury, nerves, or just getting the losing end, Lombard was unable to make any kind of statement against Boetsch, who landed more significant strikes to earn a split-decision victory. An anomaly? Possibly. Lombard went on to destroy
Rousimar Palhares
last December. But you only get one chance to make a first impression.
2. Bas Rutten (vs. Tsuyoshi Kohsaka, UFC 18, 1999)
Rutten was a star of Pancrase, a Japanese fight league that didn't adopt striking with a closed fist until late into its existence. During his tenure, he was a tenacious fighter even with palm strikes. In signing with the UFC, the idea that he could now exchange proper punches seemed like a good reason to keep a plastic surgeon on standby. UFC didn't ignore that potential: the poster for the event discreetly billed him as "The World's Greatest Martial Artist."
Against Kohsaka, a durable grappler who cut his teeth in RINGS, Rutten didn't quite look the part. He was often shut down by Kohsaka's aggression and takedowns, and it wasn't until an overtime round that he finally turned on an offensive flurry that seemed to warrant his advertising copy. (Rutten would compete only once more in the UFC, beating
Kevin Randleman
in a controversial decision for the heavyweight title.)
1. Mauricio "Shogun" Rua (vs. Forrest Griffin, UFC 76, 2007)
Rua's run in PRIDE was nothing short of Hall of Fame material. At 12-1 -- his only loss the result of a poor break fall that left him with a broken arm -- Rua tore through
Quinton Jackson
,
Antonio Rogerio Nogueira
,
Alistair Overeem
and
Ricardo Arona
to be crowned the 2005 Grand Prix Champion. At the time of PRIDE's demise and Jackson's KO of
Chuck Liddell
, Rua was considered by many to be the top light heavyweight in the world.
Griffin, meanwhile, had been alternating wins and losses after winning the first season of "The Ultimate Fighter," and was largely derided as a "reality TV star" who had little business against elite competition. At the time of the bout's announcement, Rua's fans seemed annoyed he wouldn't be getting to work up more of a sweat. A title bout with Jackson seemed inevitable.
But the Rua that dominated the PRIDE ring post to post was nowhere to be found against Griffin, who endured some early aggression before getting Rua's back and sinking in a rear-naked choke. Was Griffin underestimated, or did Rua fail to shift into second gear? Either way, no one has ever entered the Octagon with more hype -- or left with so little of their reputation left intact.
January, 16, 2013
Jan 16
12:40
PM ET

By Josh Gross
ESPN.com
Archive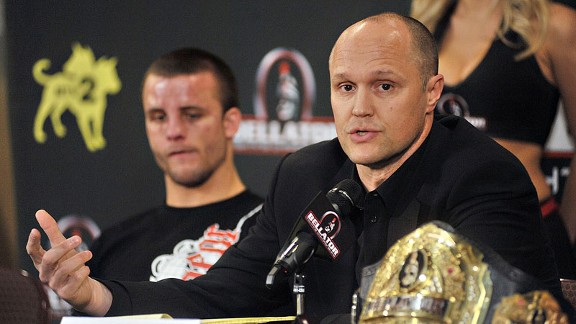 Henry S. Dziekan III/Getty ImagesBellator CEO Bjorn Rebney has had success with fighters staying healthy despite a grueling format.
HUNTINGTON BEACH, Calif. -- He might not like to be reminded of it, but that doesn't change the fact that
Renato "Babalu" Sobral
has entered his 16th year as a professional mixed martial artist.
A sport that paid him well and, to his chagrin, provided a whisper of fame, MMA has changed in so many ways since Sobral represented Rio de Janeiro in his pro debut against Sao Paulo in 1997 by winning an eight-man tournament via leg kicks, punches and stomps, and will-breaking, respectively. Yet through all the rubble, one component has remained a familiar element for Babalu and MMA: tournaments.
Few fighters are more steeped in the concept. Sobral won three of the five tournaments he entered, and came in second to
Dan Henderson
during a mammoth event in Japan in 2000.
On Thursday, the 37-year-old light heavyweight meets Russian
Mikhail Zayats
to begin his first multi-fight quest since 2003 (
a classic one-nighter
promoted by Paul Smith in Denver that featured, among others,
Forrest Griffin
and
Chael Sonnen
. Sobral went the distance with
Trevor Prangley
before guillotining
Mauricio "Shogun" Rua
and decisioning
Jeremy Horn
in the finals. The prize was $50,000 -- before taxes. Sobral hadn't considered that Uncle Sam might want his cut, and anyone walking the bowels of the Pepsi Center heard his frustration).
The prize for beating Zayats (19-6) and two others on Spike TV pays $100,000, plus a Bellator title shot. It won't need to be done on a single evening, yet the Brazilian sized up the challenge as the most difficult tournament format he's faced.
"On one night you can throw all yourself into it. After the fight it's a bucket of ice on the face, a bucket of ice on the hands and then you fight again," Sobral said. "But now, if you go home next day you're going to swell. And you have to be healthy for next time and get back into the gym to train. It's not possible to get beat up and rest. You have to train."
Into its eighth season, Bellator has almost been blessed when it comes to winners staying healthy enough to move to the next round a month later.
Asked about this, Bellator founder Bjorn Rebney knocked on wood.
"We've done, on average, four to five tournaments per season," Rebney said. "I think we've lost four or five guys total who have been declared the winner and been unable to proceed. So the numbers have been really, really good."
Bellator's good luck is rather remarkable considering the injuries that piled up around the Octagon in 2012.
While he was building out Bellator in his mind in 2006 and 2007, Rebney said he spoke with doctors and ringside physicians across the country, trainers and other players in the sport, to get "inside everyone's head" about how to avoid pushing fighters past their limit. Taking into account the typical arc of a television show, Rebney asked, "How many? How long? What could be done?"
"The consensus opinion was you could go one fight a month for three months," Rebney recalled. "You couldn't go longer. There were a lot of parameters. But it worked. The new tag line 'The Toughest Tournament in Sports' is well-founded. Hopefully those odds keep working for us."
Again, he knocked on wood.
Rebney created a scenario in which fighters, if they're good enough to make it to the final round, must maintain grueling training camps for a third of a year, if not longer.
"When you sign that Bellator contract you know that's what you're signing up for," said
Michael Chandler
, the promotion's lightweight champion. "There can't be any excuses. Three fights in one night sounds bad because you're taking more damage in one night. But when you're talking about training two months just for the first fight, then you have another fight and another fight, you're in camp for four or five months -- and that's a long time to be in training camp -- in the gym two times a day, six days a week, getting punched in the face and going through that many workouts and dieting that much and going through the ups and downs of emotions. It is a grueling thing, and it was something I knew I would excel at.
"It's definitely not asking too much, but it's adding a cool little spice to the mix."
During tournaments there's no such thing as a favorite, Sobral said, because "luck" has as much to do with advancing as hours spent toiling in the gym. He believes he's done well in these things because, as Renzo Gracie once told him, "when you choke somebody out, you don't get an injury in the hands."
Chandler and featherweight
Pat Curran
simply outclassed the competition en route to tournament crowns and Bellator belts. The mid-20-something fighters "exemplify what we're all about," Rebney said. "Using that tournament structure to go from unknown to top of the world."
Curran's upset victory over high-priced
Roger Huerta
, whom everyone earmarked for a fight with
Eddie Alvarez
, prompted Rebney to "put all my trust into the fact this tournament would give rise to the best fighters. They're the ones that are going to get through."
Hawn ready for his close-up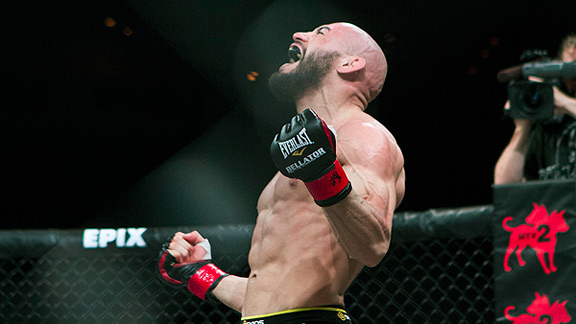 Andrew Hemingway for Sherdog.comAt 36, a rejuvenated Rick Hawn has reinvented himself in Bellator as a power-punching lightweight.
For the next 48 hours,
Rick Hawn
might best be known as
Ronda Rousey's
Olympic judo teammate. But if the 36-year-old Massachusetts fighter upends Chandler in the first headliner of the Bellator on Spike TV era, the power-punching lightweight won't feel that he's been overlooked any longer.
Since shedding 15 pounds after dropping a split decision in 2011 to welterweight
Jay Hieron
, Hawn (14-1) has looked like the real deal.
"My technique and size weren't ready yet, but now I'm coming together as a striker -- as a well-rounded fighter," Hawn said. "With technique comes speed; with speed comes power."
While earning the shot against Chandler, Hawn took two of his three tournament bouts by knockout, capped by a highlight-reel straight right on
Lloyd Woodard
.
"Hawn has looked unbelievable in his last few fights for us," Rebney said. "So few guys are able to go '85 to '70, or '70 to '55, or even '55 to '45 and bring the power with them because they lose so much when they make the cut. But this guy, as an Olympian and world-class athlete, did it. He brought all that power with him."
After years of competing at the highest level in judo, the ability to drop bombs came easily.
"I've heard people say that not everyone has power or can create it," Hawn said. "Some people are just gifted with it and apparently ... I don't know. I don't know if I really buy that or it's something you learn in the gym.
"Judo is all about explosive power in the hips and being able to toss someone who doesn't want to get thrown. All that power generates in the hips, so maybe it's because of my lifetime in the other thing."
All his work has led him to Chandler.
"He can take a punch," Hawn decreed. "It's a tough fight. He's a grinder. I believe I am as well. You just have to get that perfect shot. That's all you need, right? It could be the end of the fight for him. Everyone he's fought he's destroyed or made a great fight out of it. Tall task at hand, but I'm ready to go."
News and notes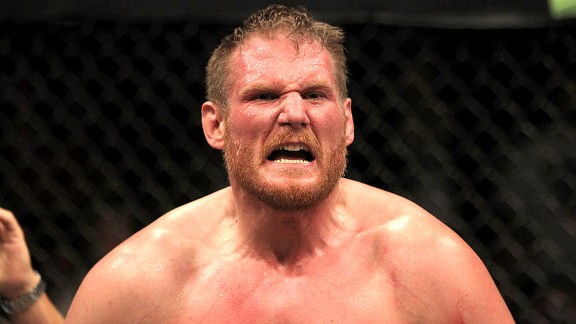 Josh Hedges/Getty ImagesVeteran heavyweight Josh Barnett doesn't appear to be on Bellator's radar right now.
• In the wake of Strikeforce's demise, several fighters will hit the open market. Heavyweight
Josh Barnett
is a free agent with a following, but Rebney said Bellator doesn't plan to make any offers at the moment. "There aren't guys off that roster that I go, 'Oh, we've got to get him and make the move.'" He left the door open to scouring through whatever the UFC passed on, but demurred on the inclination of the tournament format as a divining rod for talent. "In this format, there's no big
Kimbo Slice
-esque superfight," Rebney quipped. "If you're not good enough to compete you're going to get blown out in the first or second round." Barnett is a classy enough heavyweight to have won any of the previous Bellator tournaments, that's for sure. Still: "Josh is a great character and he's had some great fights," Rebney said, "but he's not really on our radar."
• A couple of hours before Bellator held open workouts at
Tito Ortiz's
gym in Huntington Beach, the UFC held a conference call to promote next weekend's Fox card featuring
Demetrious Johnson
defending the flyweight belt against
John Dodson
. Also on the card is one
Quinton "Rampage" Jackson
, who continues to scream bloody murder about the mistreatment he apparently feels he's been subjugated to under a tyrannical Zuffa regime. Basically, he's making it sound like he wants to leave, and, as an example of why, pointed to an inability to flaunt his sponsorship with Reebok. Zuffa, he said, would not allow him to wear it into the cage. Zuffa collects a sponsor tax, which they are well within their rights to do and have done for years. Bellator has not yet. Rebney said fighters are free to wear what they want and the promotion will not impose its own tax. He also said that when Jackson is free, he'd be a fighter that might be worth making a play for.
•
Jeff Curran
, pioneering lighter-weight fighter that he is, is intently focused on his cousin Pat's title defense against
Patricio "Pitbull" Freire
. But he hasn't lost the urge to fight and promises to return this year at 125 pounds. "Big Frog" set as his goal a contract to fight in the UFC as a flyweight.
• Thursday's card at the Bren Center on the campus of UC Irvine is scaled for around 4,000 seats. Bellator expects it to be full. "I think that's where we'll be," Rebney said.
May, 10, 2012
5/10/12
4:10
PM ET

By Chuck Mindenhall
ESPN.com
Archive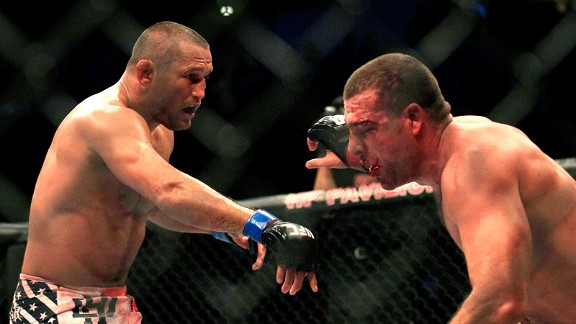 AP Photo/Jeff ChiuDan Henderson's potent right hand could be trouble for light heavyweight champ Jon Jones.
There are at least two kinds of greatness in MMA. Greatness that's current (like
Jon Jones
), and greatness that's always been (like
Dan Henderson
). In a world of immediacy, we warm our hands more quickly to the former.
Henderson now knows the date for his title challenge with Jones, and that'll be Sept. 1 in Las Vegas. He will celebrate his 42nd birthday just a week prior to the fight. In 1987, Jones was being introduced to onesies while Henderson was reciting lines from "Vision Quest" and winning state wrestling championships at Victor Valley High School in California. The vegetation on his ears is older than Jones.
If nothing else, Hendo definitely has the experience edge over the UFC's current light heavyweight champion. He's been at it a long, long time. Yet the books opened in Las Vegas with Jones installed as a 6-to-1 favorite for this UFC 151 clash. The 24-year old Jones would be a huge favorite over anybody in the 205-pound division, so nothing peculiar there. There's no such thing as even money bet with Jones in 2012, unless he borrowed from Anderson Silva's flight of fancy and fought his clone. (Ahem).
Yet what is interesting all these months ahead of the fight is that so many people consider it a foregone conclusion that the prodigy will smash the old ax grinder. In fact, the thing is being discussed as inevitable. Forget about odds,
Henderson has no shot
.
In a game that deals in shaping perception, this becomes the UFC's task to mend for no other reason than this: it's hard to generate buzz on a perfunctory matter. Between now and late summer the idea needs to be that Henderson
does
have a shot. This of course would be best sold as something believable.
And realistically -- why should that be such a tough sell?
Surely over the course of winning simultaneous titles in Pride FC and later taking the 205-pound belt in Strikeforce there should be some love for Henderson here. His list of casualties in the UFC, Pride and Strikeforce -- pan-divisional -- is next to impossible. He was wrecking guys like
Antonio Rodrigo Nogueira
,
Vitor Belfort
and
Wanderlei Silva
during their heydays.
As for his own prime? It's apparently a dozen-year venture. Henderson knocked out
Michael Bisping
with that anvil right at UFC 100. Since then he finished
Renato Sobral
,
Rafael Cavalcante
and
Fedor Emelianenko
, and he decisioned
Mauricio Rua
at UFC 139. He did these things in his late-30s and early-40s. These are feats that, if lost on the media, aren't necessarily lost on his peers.
Last week on MMA Live,
Jorge Rivera
had Henderson in his top five pound-for-pound fighters.
Daniel Cormier
told MMA:30 that he "should be mentioned as one of the greatest fighters of all-time, if not the greatest fighter of all-time, but he's missing that UFC title. He has to be a UFC champion. I think if he is, Dan Henderson will universally be considered the best fighter of all-time."
To be considered anywhere near the greatest of all time you'd have to believe Henderson has more than a puncher's chance to beat the greatest of right now. Yes, Jones' landslide run through the division trumps Henderson's legacy in forecasting how things will play out. If Shogun,
Quinton Jackson
,
Lyoto Machida
and
Rashad Evans
failed to make Jones appear even remotely vincible, what makes Henderson any different? Nothing, it seems.
Jones is not only destroying opponents, but also our sense of imagination.
Yet the other reason that Henderson is unsung goes back to what Cormier was touching on -- he has been decorated as this sort of fugitive champion in other organizations, but not the one that we store greatness by. He hasn't made it to the top of any weight class in the UFC.
And at 42 years old -- or any age, really -- Jones looks like a pretty imposing hurdle to get there. Imposing, that is, not unclearable. Henderson's a guy that fights in squalls and yet has remained a lesson in perseverance for more than a decade. He has a chin, and what he gives up size he makes up for it in leverage, a tangible from his Greco-Roman days. And he has that "H-Bomb" right hand. He's smart on how and when to deploy it.
Does all of that make for a competitive fight with Jones? Not necessarily. It still feels like a reach, as it will continue to feel until Jones is downsized into something human.
Yet given how long Henderson has sustained his own brand of greatness, it doesn't feel like a given he'll lose, either.
December, 5, 2010
12/05/10
6:34
PM ET
Among Mike Goldberg's usual duties -- sponsor plugs, broadcast generalship, tanning -- is reciting the standard "rules of the Octagon" narration over a graphic, which states points will be awarded "based on striking, grappling, aggression and Octagon control." At 10 seconds in length, this will never be mistaken for an instructional video, but it's become very obvious that Nevada judges in attendance Saturday haven't even bothered watching that much.
After handling Leonard Garcia for three rounds, pushing Garcia backward, landing punches while Garcia whiffed in open-mouthed "offense" and even taking a round with a conceivable 10-8 work effort, two judges ignored Nam Phan and scored the bout 29-28 Garcia. (The third saw it 30-27 Phan, cementing his status as human with two functioning corneas.) It stands next to New Coke, "The Phantom Menace" and the Hula burger as one of the worst decisions of all time.
In typically boorish bureaucratic fashion, these judges will never be asked to explain their scorecards, will never be asked to provide evidence of their competency and will probably not be reprimanded in any meaningfully way -- all expected outcomes of virtually every other botched job on the planet.
Nothing can suffocate the enthusiasm of fans more quickly than something purported to be "As Real as it Gets" burdened by the inexplicable presence of officials who use a fictitious set of standards to oversee fights. Athletic commissions are assumed to be competent; as we saw with Chael Sonnen's hearing Thursday, some members can't even tell the difference between a mixed martial artist and a boxer. At this point, it's becoming impossible to tell the difference between a fight judge and a brick.
Next for Phan: Several drinks; head-shaking; more drinks.
Next for Garcia: Providing a green energy source with his punches.
Next for Dan Henderson: Rafael "Feijao" Cavalcante.
Next for Robbie Lawler: Cung Le, if Le feels like tempting fate; Tim Kennedy.
Next for Jonathan Brookins: Not quite ready for prime time; maybe the winner of January's Cole Miller/Matt Wiman bout.
Awards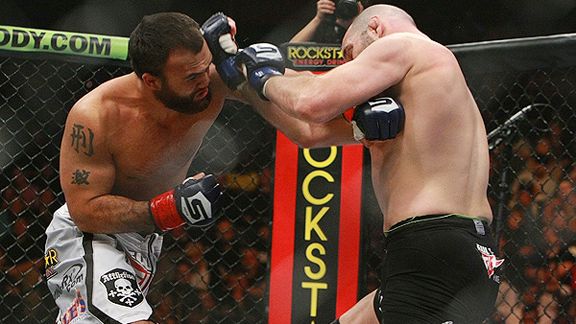 Dave Mandel/Sherdog.com Robbie Lawler brought a new look and the same old power to the cage Saturday.
The look at me award: The anonymous spectator at the Palms who kept screaming out lines from "The Karate Kid" during the Johny Hendricks/Rick Story fight. This was funny in 1995. Briefly. The moment has passed.
The Mr. Rogan goes to Washington award: Joe Rogan, for publicly taking the Nevada commission to task for their ridiculously apathetic attitude toward the state of judging in MMA.
Verbal vomit award: Mauro Ranallo, for his use of "fistic fireworks" and claiming Henderson "has rung more bells than a monk in a monastery." Ranallo could be calling the action between Superman and Muhammad Ali on a space station and it would still feel like too much.
College try award: Mike Kyle, for taking a fight on short notice against Antonio Silva and nearly knocking him out in the first.
The James Lipton award: Lawler, for growing a beard that would make Fidel Castro (and his many decoys) proud.
New questions: UFC/Strikeforce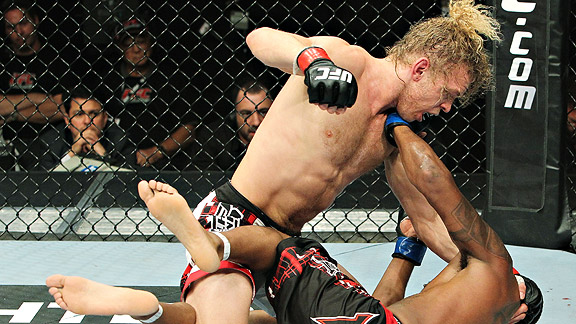 Josh Hedges/Getty ImagesJonathan Brookins, top, isn't quite ready for the UFC's top fighters.
Who can take commissions to task?
Accountability is what keeps most of us competent. If there's no one who can audit our behavior, we might begin to behave in a manner that keeps life easy without sweating the consequences. No one in sports is held less accountable than a fight judge -- appointed by the commission, sometimes out of cozy cronyism, and spared any process that could call into question their competency. As Saturday's Phan/Garcia fight proved, several of these people might need help making sure their chairs are facing the right direction.
Many commissions, like Nevada's, have members appointed by the state's governor; once those appointments are in place, upper levels of government pay them little attention. You could appeal to the department of state business that typically has ties with the commission, but you again deal with parties of lopsided interest. Hitting them all where it hurts -- the wallet -- would only injure promotions who count on revenue from busy regions. What's it going to take? Fighters picketing the offices?
Between the weekend's judging in Las Vegas and Thursday's chaotic Sonnen hearing before the California board, MMA's supervisors have never looked less impressive. The commissions are crafted to keep fighting sports honest. Who keeps the commissions honest?
Is Henderson still a threat?
Henderson, 40 years old and looking every bit the nail-studded club he was 10 years ago, snuffed out Renato "Babalu" Sobral quickly Saturday, which brought up talk of a title bout with "Feijao." It was also enough to dim the memory of a poor performance against Jake Shields last April; a weary Henderson, after dropping Shields early, was ground out over five rounds.
But it's worth noting that most of Henderson's career-best performances came at 185 pounds, where his imposing wrestling and bullet-forward strikes were a threat. At 205, he's dropped decisions to Quinton Jackson, was submitted by Antonio Rogerio Nogueira and had a difficult time with Rich Franklin. Capturing a title in that division shouldn't be a foregone conclusion.
Is Brookins going to survive?
Brookins won the 12th season of "The Ultimate Fighter" on Saturday, but only after a very rocky start: Michael Johnson controlled the pace in the first round, only to fall off the cliff in the lat
ter two. It was a sturdy performance, but not the kind that makes anyone optimistic for Brookins' chances in one of the deepest divisions of the sport. He'll need very small, very incremental steps.
Should Matt Lindland hang it up?
Matt Lindland had one of the all-time poor game plans during the Strikeforce program, settling into the pocket with the younger, faster and more violent Lawler. Bad things were anticipated, and bad things happened: Lawler landed a right hook and one punctuating ground strike that put Lindland out cold. (Lawler even straightened out the stiffness in his legs, which is a little like a serial killer helping police with a body bag.)
Much is being made over Lindland's current fight IQ, but two big knockouts -- Vitor Belfort did the same thing to him in January 2009 -- over a two-year period isn't as harsh a run as other fighters have suffered. Bad matchups are bad matchups; Lawler was awful for him. It doesn't necessarily mean he's no longer fit for duty.
Notes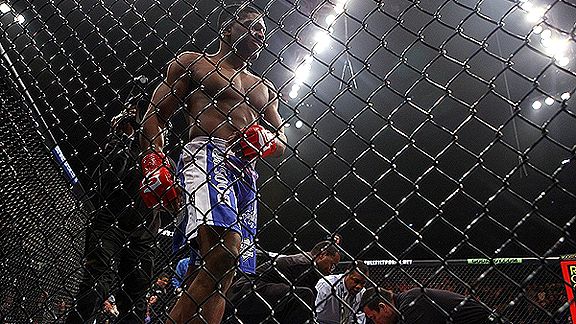 Dave Mandel/Sherdog.com Paul Daley, above, wants another crack at K.J. Noons.
• After making Scott Smith look like an amateur, Paul Daley told the St. Louis crowd he was interested in a fight with K.J. Noons. It's easy to see why -- both are disinterested in wrestling -- but Noons doesn't have a lot of business as a 170-pound fighter. Daley against Nick Diaz is far more interesting.
• More from the bad strategy department: After knocking down Silva and then getting nowhere with hammerfists, Kyle might have been best served by allowing Silva to struggle back to his feet and trying to capitalize on his pre-rung bell.
• To help ease the pain of a ridiculous decision loss, Phan split a $60,000 "Fight of the Night" bonus with Garcia. Leonard's heart is impressive, but his method -- swinging in comically overcommitted offense -- is a poor representation of technique. I'm not sure it deserves acknowledgement.
• Strikeforce CEO Scott Coker told MMAJunkie.com that he's optimistic a deal will be reached with Fedor Emelianenko soon. How negotiations can drag out for this long after Emelianenko lost much of his mythical status in a spring loss to Fabricio Werdum is beyond me, particularly when he brings little additional revenue to North American box office or ratings. He's a great fighter, but not a deity. Enough already.
December, 2, 2010
12/02/10
9:59
AM ET
Saturday marks the first time the UFC and Strikeforce have aired live programming opposite one another, but there's really not much to be made of that: Showtime airs in only a fraction of the homes Spike does, making any real comparison of viewership a mess of semantics, demographics and relative numbers. Dave versus Jay is a pretty fair ratings match; this one requires a lot of handicapping.
If anything can be figured out, it'll be based largely on the drawing power of promotional names, not athletes: Strikeforce lost a draw in Herschel Walker last week, while the UFC is dealing primarily with ungroomed "Ultimate Fighter" participants and a well-liked headliner in Stephan Bonnar. The Strikeforce card has more intriguing and rankings-relevant bouts, but its top draw -- Dan Henderson rematching Renato "Babalu" Sobral -- may be a somewhat muted affair. Unless Sobral can catch Henderson in something, there's not a lot of breaking news to anticipate.
What's really remarkable Saturday: Fredson Paixao and Pablo Garza will mark the first time featherweights have competed under the UFC banner; Will Campuzano and Nick Pace introduce bantamweights the same night. Athletes who work every bit as hard as the rest and who helped bolster an entire company have earned the platform the UFC provides. More than anything, we'll probably remember the event as the night they finally got what they deserved.
What: "The Ultimate Fighter 12" finale, from the Pearl at the Palms in Las Vegas; Strikeforce: Henderson versus "Babalu," from the Scottrade Center in St. Louis.
When: Saturday at 9 p.m. ET on Spike ("TUF 12" Finale); 10 p.m. ET on Showtime (Strikeforce)
Why you should watch: Because Demian Maia against Kendall Grove is a nice puzzle of Maia's jiu-jitsu against Grove's rubber limbs; because Paul Daley against Scott Smith is one of the sport's few money-back guarantees of a knockout; because fights taken on short notice -- as in the case of Mike Kyle's bout with Antonio Silva -- usually mean explosive, strategy-free action; and because Bonnar is rarely in a boring fight.
Fight of the night: Daley-Smith, for as long as it lasts.
Hype quote of the show: "Even some of my closest friends, when I told them who I was fighting, they were like 'oh Maia, oooohhh,' ... it kinda p---es me off, and what a lot of people don't know is that I asked for this fight." -- Grove, on making life harder on himself, to UFC.com
Questions: UFC/Strikeforce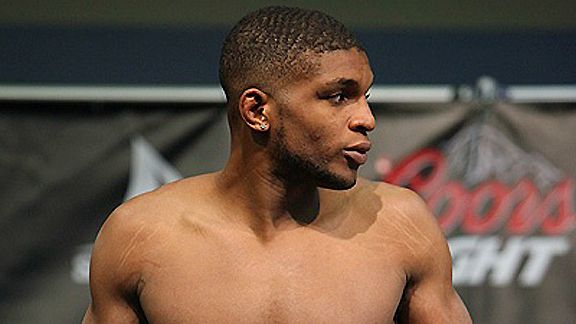 Dave Mandel/Sherdog.comPaul Daley's reward for sucker punching Josh Koscheck is being the new Josh Koscheck.
Can 'The Ultimate Fighter' still create stars?
The first season of Spike's "Ultimate Fighter" was initially seen as a free pass into UFC contention. "Regular" fighters had to come up the hard way, while the reality stars got there faster; winners weren't celebrated so much as resented.
If the show was planned as stunt work, it worked better than anyone could've expected: Forrest Griffin, Chris Leben, Josh Koscheck and others went on to become champions or contenders. But in its 12th season, the show might finally be arriving full circle -- as a vehicle for prime-time programming over actual recruiting. Recent winner Efrain Escudero was cut; Ross Pearson had a good run interrupted by Cole Miller; and no contestant since Season 3 winner Michael Bisping has approached a level that impacts box office revenue. The winner of Saturday's Michael Johnson/Jonathan Brookins bout might discover that they haven't necessarily earned relevance -- just the chance at it.
Can Matt Lindland still create problems?
It was only a few years ago that some observers lobbied the conspiracy theory that UFC brass were so nervous smothering wrestler Matt Lindland would beat marketable Rich Franklin that they found a reason to oust him from the promotion. Lindland reportedly wore a sponsor shirt that was not allowed, and was subsequently fired. Truth to the explanation? Who knows.
The 40-year-old has struggled since, dropping fights to Vitor Belfort and Ronaldo "Jacare" Souza. Beating Robbie Lawler on Saturday might reintroduce the idea that Lindland is no particular picnic for anyone he fights.
Is Daley the new go-to villain?
The moment he struck Josh Koscheck after the bell during a May UFC event, Daley became the poster child for impropriety. (He was fired the same night.) Fans have good memories: When Sean Sherk was alleged to have tested positive for banned substances, he returned to boos. Whether Daley plays that up or tries to be contrite is something the audience might wind up helping him decide.
Red ink: Henderson versus Sobral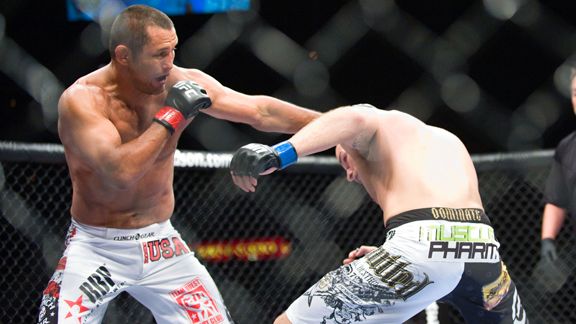 Martin McNeil for ESPN.comAn older, wiser Dan Henderson should have little trouble with Renato Sobral.
Think you can get a handle on Saturday's Strikeforce rematch between Sobral and Henderson by watching their February 2000 fight? Forget it: So much time has passed that the footage is irrelevant. An overweight Sobral scored with leg kicks and even took Henderson down. But under Rings rules, no one was able to strike to the head on the ground. With both men exhausted from prior fights the same night, it's not much more help than camcorder footage from a tough sparring session.
The only thing unlikely to change is Henderson's ability to muscle Sobral around in the clinch: He hasn't gotten any less dangerous there or elsewhere, while Sobral has had a hot-and-cold career in the years since. A second win over Sobral is not going to be one of the more notable marks on Henderson's résumé, but following a loss to Jake Shields in the spring, it's a fair test of what the 40-year-old former Pride champion has left.
At stake: A possible title shot against Rafael "Feijao" Cavalcante; for Henderson, enough juice for a higher-profile fight against Fedor Emelianenko.
Wild card: Were Henderson's problems against Shields attributable to a hard weight cut -- as he claims -- or simply a war-torn body finally showing its age?
Who wins: Henderson tends to struggle more as a light heavyweight, but Sobral probably isn't looking at many chances to win outside of a submission during a scramble. The Big Right Hand, the pace and the clinch work are all still enough to put away just about anybody in the sport. Henderson by decision.
September, 8, 2009
9/08/09
12:09
PM ET
By Jake Rossen/Sherdog.com
ESPN.com
Archive
A good drubbing of Renato Sobral apparently has given Gegard Mousasi plenty of confidence against Brazilians. After former middleweight WEC champion Paulo Filho challenged him to a bout, Mousasi responded through USA Today, calling Filho a "little donkey" who needs "magic stuff" to perform. He does not mean vitamin C.
"We all saw what happened when he came to America," Mousasi said. "He got beat up. Now he's back in Japan and feels like a kid in a candy store, I think. He can use all kinds of steroids. I think the steroids have gone to his head. … He's a little donkey who thinks he's a running horse."
Filho had previously told Tatame that he would submit the Strikeforce light heavyweight champion, a challenge egged on by that promotion's plans to co-promote with Filho's Dream employers. Expect a frothing Filho rebuttal shortly.
July, 28, 2009
7/28/09
3:42
PM ET
By Jake Rossen/Sherdog.com
ESPN.com
Archive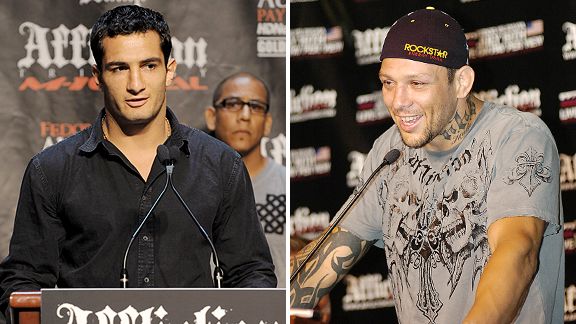 Wire Image/Icon SMILeft for dead after Affliction's demise, the Gegard Mousasi-Renato Sobral fight is back on.
Renato Sobral and Gegard Mousasi, two light heavyweights forced off the Affliction Titanic last week, are on solid footing once more: Strikeforce has picked up the intact bout for its Aug. 15 event in San Jose, Calif.
Fortuitous, because the card had its share of problems. Nick Diaz is now without an opponent, because Joe Riggs dropped out. Josh Thomson made noise during an MMAJunkie radio spot that he may (again) postpone a bout with Gilbert Melendez to later in the year. And Alistair Overeem reinjured his hand, wiping out a title bout with Fabricio Werdum.
There are suddenly a lot of in-shape replacements available, but whether Strikeforce is capable of matching salary requests and the UFC will tie up its contracts in mediation if it has first crack at the Affliction rubble is up in the air. (Sobral had a pre-existing relationship with Strikeforce and remains its light heavyweight champion.)
Gilbert Yvel and some of the lighter-weight Affliction athletes might be within financial reach. Yvel, who is unlikely to be of interest to the UFC, thanks to a spotty behavioral record and a lax ground game, made just $30,000 for a fight with Josh Barnett at Affliction II in January. He could probably be convinced to punch someone on short notice. He may be punching someone at this very moment, sans compensation.
Less likely: Vitor Belfort, who made $225,000 for a KO of Matt Lindland in January, and who would probably balk at taking a pay cut.